Hello lovelies! Today we're continuing with the theme of updating our most popular posts from the early days of SBB. One of our greatest hits was a post I did on wedding cake alternatives, back when that was still something quite new. Since then, I've seen all kinds of fun cakes and not-cakes at weddings but by far the biggest trend has been the candy buffet or dessert table. And it's not hard to see why, since it's more than just a dessert – it doubles up as decor, as a favour – even as entertainment. It creates a gorgeous focal point in one part of your reception, a striking visual reinforcement of your colours or theme. I love these tables, but what I love even more maybe are the ways that even this alternative has sprouted alternatives! With personalised menus being a big trend for 2013, the specialised food station really comes into its own, and can be a fun twist to the dessert table, especially if you're planning something a bit different like a brunch wedding. And it's not limited to food either – you can apply the same principle of taking a basic treat and turning it into a visual feast and apply it to drinks as well. Here are ten of my favourite dessert and candy buffet alternatives.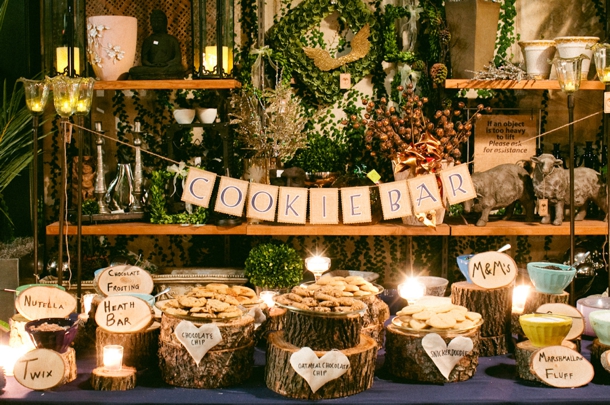 Credit: Abby Rose Photo via Bridal Guide
1. The Cookie Bar
Not a far cry from a dessert table, the great advantage of a cookie or biscuit bar is that it's something you and your friends and family can DIY, since it's possible to make ahead of time if properly stored. You could ask your loved ones to each contribute a specialty, or you could make a few bases and then provide toppings and dips for guests to choose their own. Add little glassine bags to the spread and encourage guests to take a selection for the trip home or a midnight snack.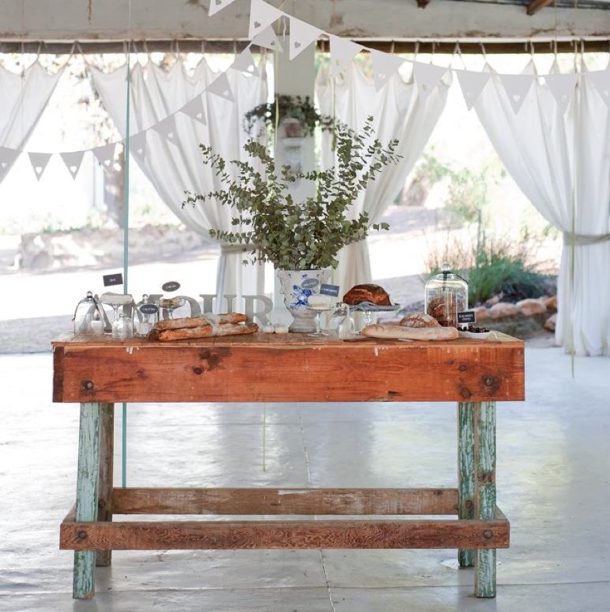 Credit: Cheryl McEwan/SouthBound Bride
2. The Cheese Buffet
I'm a big fan of this one, in case you hadn't already noticed. I styled the one pictured above, and I had so much fun playing around with different artisan breads and cheeses. I think this makes a great accompaniment to a pre-reception wine tasting, or an alternative to a sweet dessert for savoury-loving couples. You can have a cheese cake as your centrepiece and then surround it with breads, fruits, chutneys, etc. or spread out the cheeses themselves in belljars and on different stands and platters. Make sure there's a variety of heights and include textures like ribbon tied around loaves or cutlery.
Credit: Jen Fariello Photography via Martha Stewart (left); Nessa K Photography/Elizabeth Duncan Events via Style Me Pretty (right)
3. The Charcuterie Station
Speaking of savoury loving couples, charcuterie is another delicious way to spoil your guests during cocktail hour, as this couple did (don't you love the idea of presenting it on a cart?). As always, variety is key, so get a range of meats, cheeses, breads and crackers, dips, chutneys and butters, as well as extras like different kinds of olives. Add lasercut tags or special labels so guests know what everything is. This is perfect if you have a bit of a Mediterranean theme to your decor (although it isn't necessary, of course!) or just a rustic vibe going on.
Credit: Sybrand Cillié/Aleit Wedding Coordination via The Loveliest Day
4. The Whisky Bar
Show me the way to the next whisky bar… no need to ask why, when it looks as pretty as this one. Add cigars and this is a little paradise for the boys, one they'll be talking about long after the big day. We have a great little DIY article on how to put your own whisky bar together from a real SouthBound bride.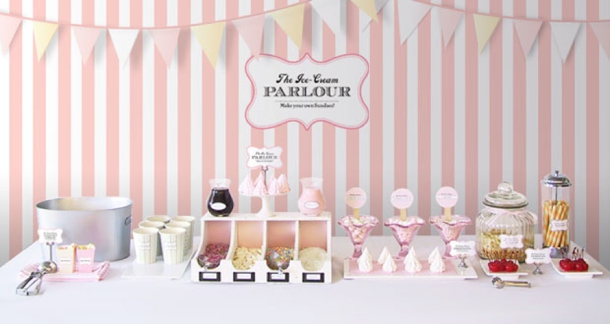 Credit: Eat Drink Chic via Pocketful of Dreams
5. The Ice Cream Parlour
The perfect beach version of a candy bar – your guests will love the childhood delight of being able to build their own ice creams and sundaes and it'll keep them cool on a summer day too. Styling the ice creams, cones and toppings to look like an old school ice cream parlour adds to the fun and nostalgia. See here for a DIY tutorial including downloads and templates if you like the look above.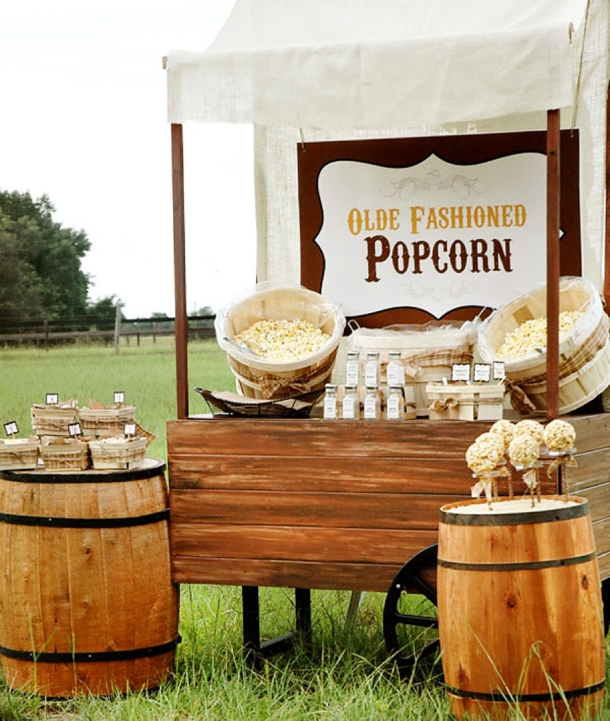 Credit: Pen N' Paperflowers Studio & Design via Hostess With The Mostess
6. The Popcorn Bar
Okay, you KNOW that many of your guests are going to just adore this idea! I mean, who doesn't love popcorn? By all accounts, this is a really simple alternative to a dessert bar, and one that guests can interact with if you include a number of toppings and flavourings. I love the rustic styling of the one above, but you could make this work for any setting by customising the labels and table.
Credit: Bo Peep Productions/Natalie Hunfalvay via 100 Layer Cake
7. The Tea or Coffee Bar
If you're hosting a morning wedding or if the bride or groom have a real passion for tea or coffee, this is a fun way to go. Provide a number of varieties, beautifully laid out, and encourage guests to try a few. Make sure you include lots of visual variety so it doesn't just look like the tea table at a PTA meeting.
Credit: Jessica Claire/Brooke Keegan Weddings and Events via Style Me Pretty
8. The Cereal Buffet
Brunch weddings are so awesome, and the food is a big part of what makes them so fun. I love the idea of a cereal buffet (even if I personally loathe cereal) – it's such a fun breakfasty twist on the candy buffet! This kind of cheeky twist is exactly what makes alternative food stations so fun, and a real talking point for guests. Who hopefully like cereal more than I do.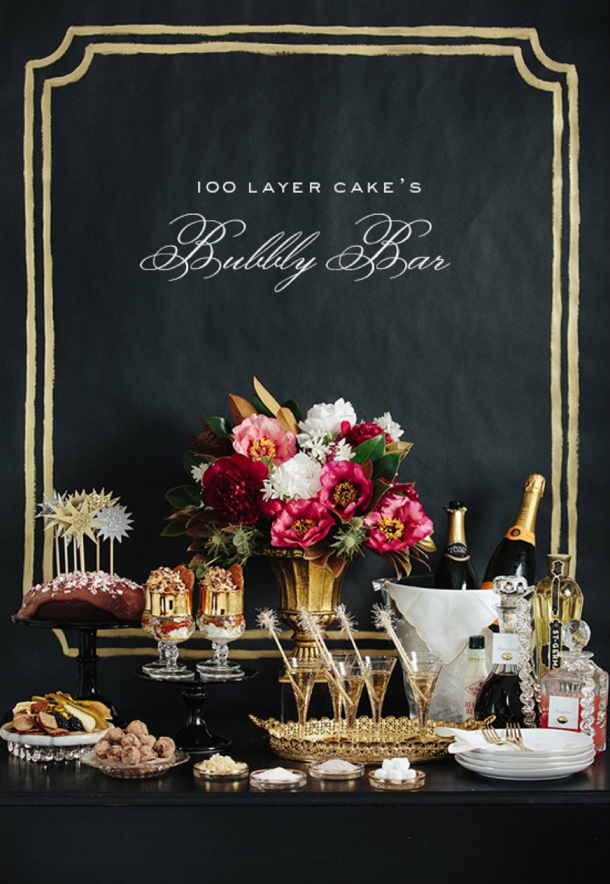 Credit: Erin Hearts Court/Brown Paper Design via 100 Layer Cake
9. The Champagne Bar
Make your guests feel like VIPs with their very own champagne bar! Be creative – add syrups and mixers, pretty swizzles, fruit pieces, etc.
Credit: Anne Marie Photography via The Knot
10. The Bruschetta Bar
That's broo-skett-ah, in case you're wondering. With my Italian heritage, I obviously love this idea, but if you'd like to pay tribute to a particular culture you can adapt this accordingly, depending on that culture's speciality food. And I have to admit, I am dying to see someone do a really awesome braai bar!