You know who really deserves to feel special and amazing at a wedding? Apart from the bride, obvs. It's the mom of the bride (or groom, for that matter). She doesn't get to walk her daughter down the aisle, she doesn't get to make the speech, but oftentimes she's done half of the work organising the big day. She's the one shedding a tear in the church, bursting with pride at her little girl all grown up. Moms are amazing (and I should know, because I have the BEST ONE). So as I say, they deserve to feel like the bee's knees on their daughter's big day. Here is an essential guide for your mother to buying an outfit, with the best tips and tricks to looking your best on the big day!
****************************************************************************
1: Choose an outfit that will flatter the shape of your body
If you are an apple shape, consider teaming what you wear with a belt to give your waist definition. If you're naturally slender, choose something empire line or with a cowl neck to give definition and shape to your bust. Frills can also give shape and definition to less ample figures. Something that suits any shape or size would be an outfit with a scooped neck. A knitted dress is an obvious and bang on trend choice.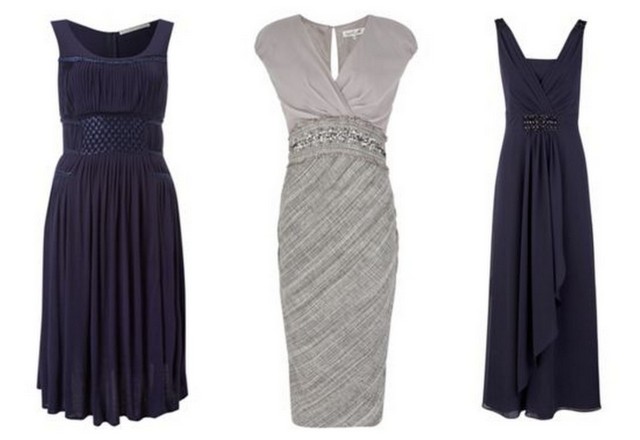 All dresses: House of Fraser
2: Comfort is a must
Whatever you are wearing you will have on for twelve hours or more – so while it's good to be fashionable and up to the minute, you need to think about choosing fabrics that breathe and move with you. Ideas for these would be chiffon, organza or cotton. In the colder months think about something maybe made from wool.
3: Whatever you decide to wear, pick it well in advance
Then you have time to make any necessary alterations (you might gain or lose a few pounds according to how stressed you are!). It also helps to avoid clashes with what the mother-in-law may be choosing to wear and assures that you have plenty of time to get your accessories correct, as well as shoes, bags and fashion jewellery can all be bought to fit around the dress or suit you have chosen.
4: Venue, Date & Time
It may seem obvious, but think about the venue, date and time of year the wedding will be held and dress accordingly. If it's an outdoor wedding, plan a shorter, jazzier outfit. If the wedding is in spring, pre-empt the sunshine by choosing something floral. Weddings that are held in indoor venues require a smarter dress, something longer with a more sedate print or fabric.
5: Don't forget the fit!
How your dress or suit fits is very important. If at all possible try and get a professional fitting for whatever you wear then you know it will flatter you correctly and you will be in balance. If you buy a dress than doesn't fit you properly this could make the difference between you feeling comfortable and confident or out of place and unsure.