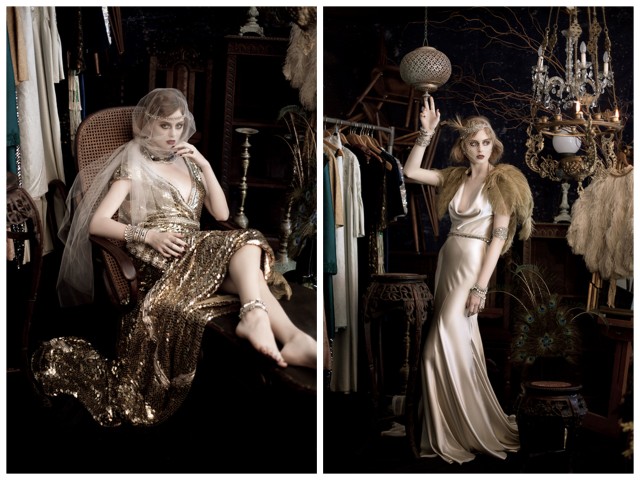 I hate to admit it but sometimes Australia gets all the best stuff. For example: my three godsons, who live in Sydney. Or Indecent Obsession (well, they were awesome when I was 14 anyway). And certainly Johanna Johnson. South African brides may not have heard of her yet, but if you ever check out the spectacularly beautiful weddings coming out of Aussieland right now, you will definitely have seen her work. I adore its art deco styling, which manages to be retro but also fresh and modern at the same time – I'm pretty sure brides didn't actually look this good in the 1930s. The fabrics are luxe, the draping is exquisite, and although not all brides can carry off this look, those that can are sure to draw gasps as they make their ceremony entrance. Johanna recently released her latest collection, which she's called Luxor – I can't think of a better name. It brings together the art deco fascination with the exotic (especially with Egypt) with the glittery opulence that I'm seeing coming into wedding styling regularly at the moment. I absolutely love it, and not just the dresses – check out the headpieces and other accessories too.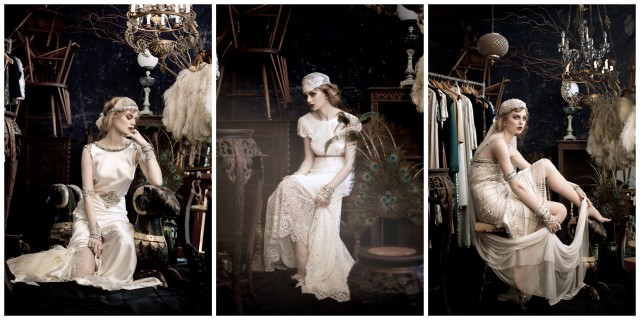 Here's a bit more about the collection:
The inspiration for the 'Luxor' collection celebrates the heady days of the Luxor temple where Egyptian metals, golds, onyx, kohl, precious metals, deep emeralds and rich rubies lay in the heat of the golden sands. 'Luxor' exudes old Hollywood glamour with unsurpassed fit and exquisite embellishment. With individual pieces taking over 100 hours of work to complete, the romance and craftsmanship of yesteryear are at the heart of the collection. Art deco inspired design lines and silhouettes transcend modern day glamour to the elegance of past imperial dynasties.
Stones, colour ways and designs in this collection are all custom designed by Johanna and crafted with exclusive Parisian lace, creating a collection of truly unique gowns. To maintain bygone glamour, hand selected 'vintage finished' sequins have been delicately sewn individually onto silk georgette, overlaid with additional hand beaded Swarovski embellishments. Each gown has been customized with Egyptian inspired panelling throughout the collection.
For those brides not based in Australia, the good news is that Johanna Johnson ships internationally as well – contact them for details and availability.