I've been so luck to meet some amazing people in this industry, both home and away, including today's lovely guest! Although some of my wedding friends are still virtual (although it never feels that way!) I've been lucky enough to actually meet Naomi on a trip to London, and she was every bit as fab in the flesh as she'd seemed online. She's become a dear friend, and I'm so excited to have her here today! Naomi has a knack for finding the best stuff, so she's the perfect person to follow on Pinterest, both for wedding and lifestyle inspiration. You can find her blogging about her finds on Inside the Lovely, the blog portion of her website. Bookmark! Thanks so much, Naomi :)
Hi I am Naomi! I'm so happy that my sweet friend Gaby has asked me to guest post on her blog! I am the creative director & lead designer of At First Blush & Co. Events based in Southern California. The events we produce are timelessly classic yet modernly chic. I personally love the look of understated glam. Leonardo Da Vinci said "Simplicity is the ultimate sophistication" and that pretty much sums up my personal style which transcends over to my interior décor and the weddings that I collaborate on with my couples to design. Translating simplicity isn't always easy, especially with all the amazing trends and ideas out there, but here are some of my favorites.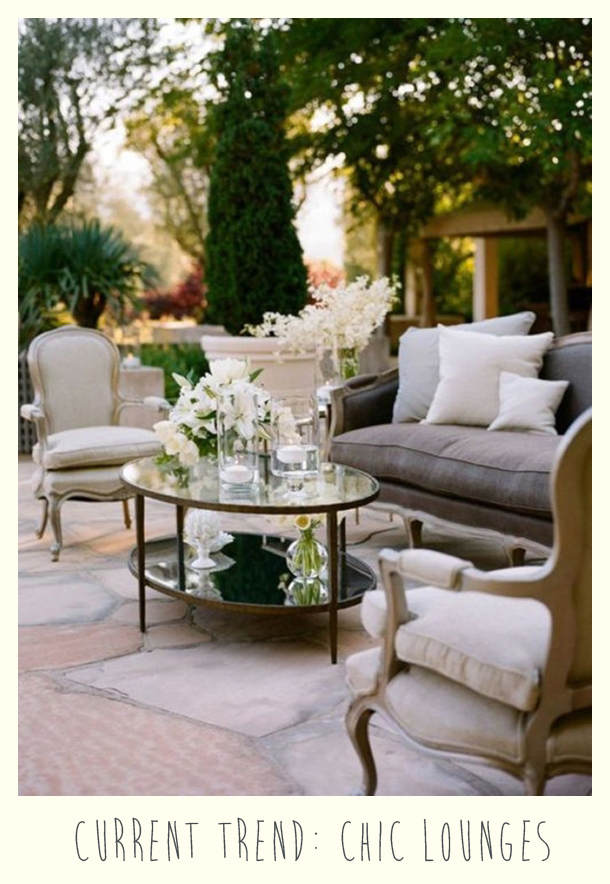 Lounge areas are no longer a trend, they seem to have become the norm now. However, as of late they aren't the typical cold white leather cubes and modular furniture that we are accustomed to seeing at weddings and events. Elegant upholstered settees and loveseats with equally gorgeous side chairs, that truly mimic one's own living space, are replacing the former. Creating lounge areas gives your guests a place to steal away and chat for a while with other guests. Comfort is key…even at weddings.
Pin from At First Blush & Co.'s Gardens & Outdoor Spaces board (Original source: Kathleen Deery Design via arianna belle)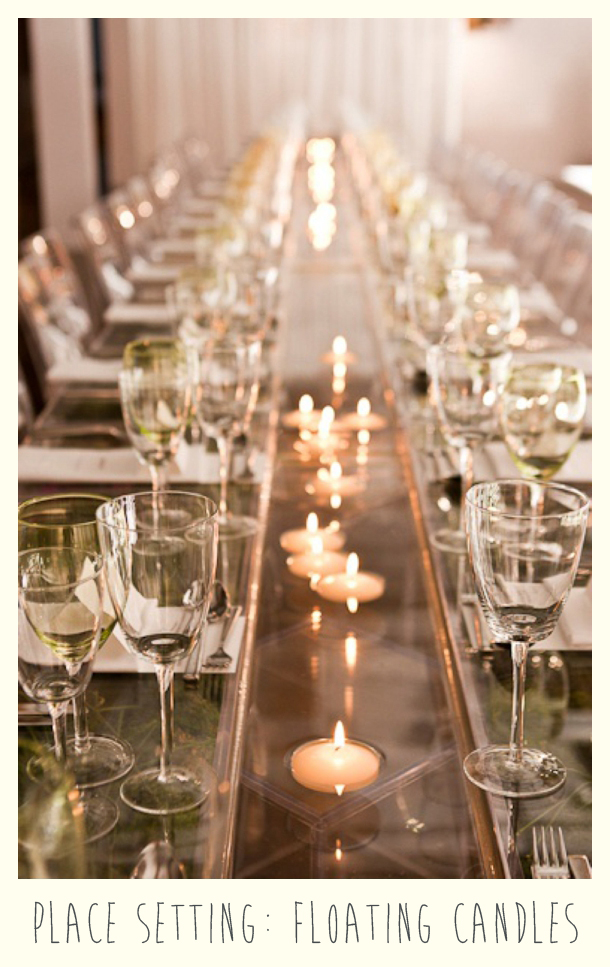 Flowers are beautiful no one can deny… they are an essential in a wedding. However, candles create a warm glow that makes everyone and everything look amazing! Do away with big obtrusive flower arrangements that can block guests from conversing with one another. Everyone loves candlelight… and this floating candle centerpiece is perfection – think of what a conversation starter it would be!
Pin from At First Blush & Co.'s Wedding Inspiration – Place Settings & Table Design board (Original source: Sugarlaws)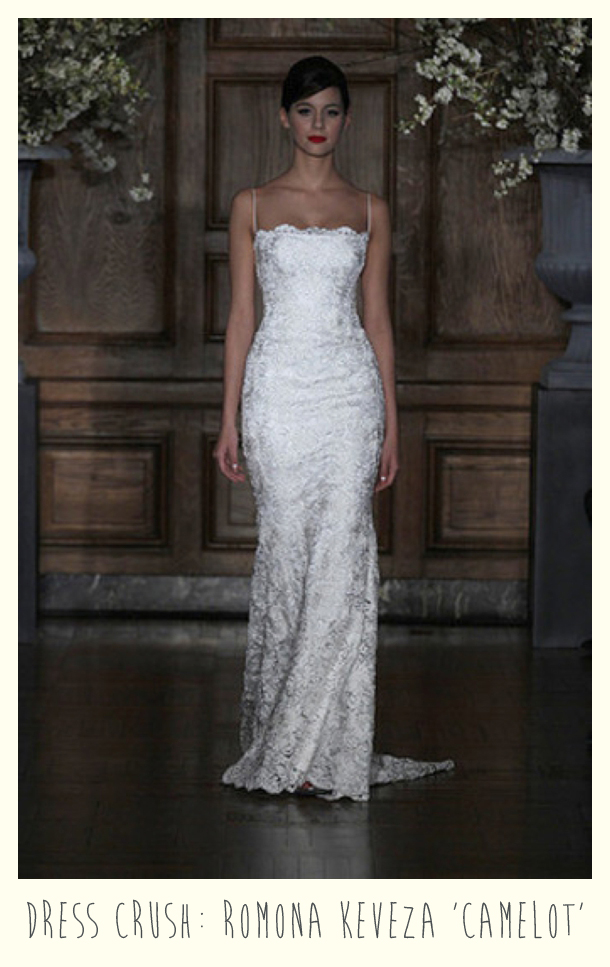 This Romona Keveza dress is simple, chic, and is the epitome of understated glamour.
Pin from At First Blush & Co.'s Wedding Inspiration – The Gown board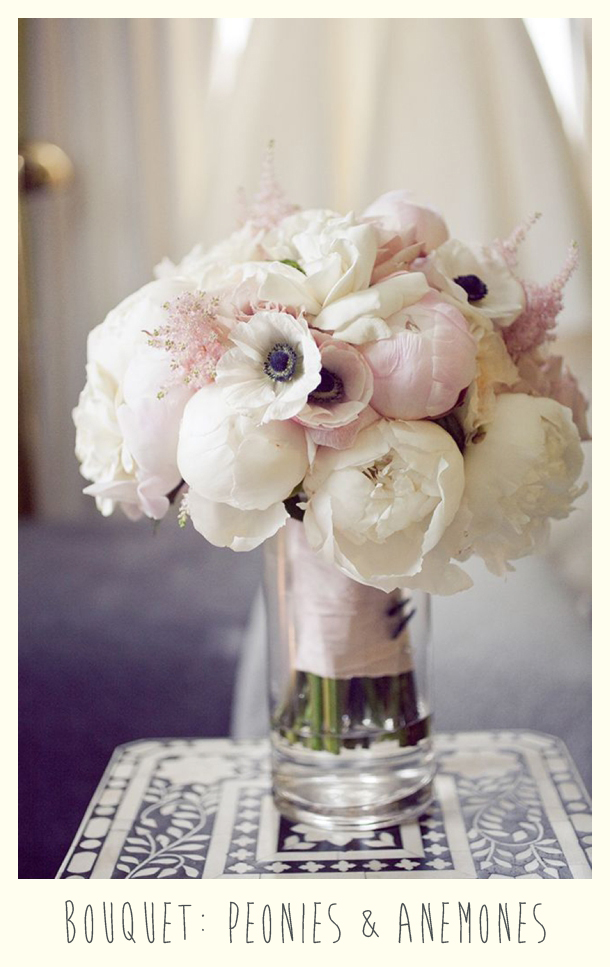 I love romantic bouquets that don't compete for attention with the bride's dress but still stand out…and these blooms are some of my favorites! When working with a florist, anemones are my go-to flower when a sweet bouquet needs a touch of modern.
Pin from At First Blush & Co.'s Wedding Inspiration – Blooms & Bouquets board (Original source: Katie Slater Photography via Belle the Magazine)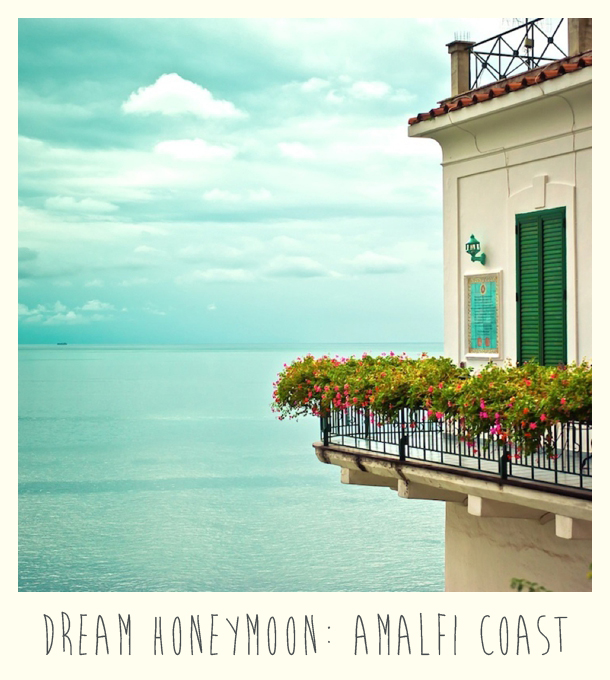 Pin from At First Blush & Co.'s Travel Plans board (Original source: Cuba Gallery via My Modern Met)
Naomi's wedding advice:
Don't sweat the small stuff, no one will notice that the ribbon is chocolate instead of espresso. Enjoy the best day of your life… because it really goes by so quickly. Don't let an insignificant "flaw" take one minute away from your state of married bliss!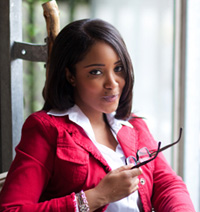 About Naomi:
Naomi is the creative director & owner of At First Blush & Co. a full service wedding and event design boutique based in sunny Southern California. She is an avid world traveler, reader, decorator and obsessed with event design details. She is also the editor of the inspirational blog Inside the Lovely, a modern wedding, and lifestyle blog.
Blog: Inside the Lovely | Pinterest: pinterest.com/naomivgoodman