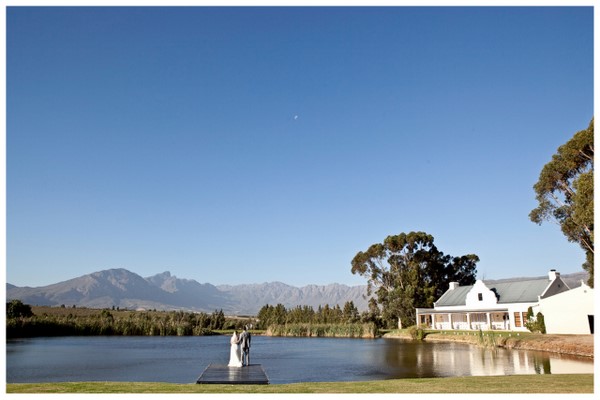 Some days as a blogger, it feels like you're talking to an empty auditorium. You see the page view stats, but you can't help wondering, who's actually reading? Is this really helping anyone? Then there are the good days. The days you get an email from a bride telling you just how much you have helped, that you really have inspired or advised them as they planned their big day. Those emails make my day. Every time. And today's post started with one of them. Back then, the lovely Louise (who was planning her wedding) got in touch to tell me how the hen party I organised had inspired her own, and we started chatting. Turns out Louise has excellent taste, and from what she told me I knew her wedding at Morgansvlei was going to be gorgeous. Fast forward a few months, and I found out just how gorgeous! I immediately demanded Louise allow me to feature her Big Day. I mean, we are talking a classy, intimate soiree with clean lines, pops of incredible colour (the florals might be my favourite EVER), stunning stationery (don't get me started on wedding branding, but this is what it's all about) and all captured by one of my favourite photographers, Christine Meintjes. It's heaven. But there's more! After it was all over, Louise decided to join the blogging world herself and started Bijoux Bride. It's all about intimate weddings, and if you haven't checked it out yet, GO. So now Louise is one of my bloggy friends, who I get to hang out with here in London. It's your basic wedding blog fairytale complete with happy ending, and in true Disney style I'd be singing a song right now if only my voice didn't scare people. But I am totally singing in my head. So… Louise – thank you for being a Cap Classique reader and introducing yourself, and THANK YOU to you and Andre for allowing me to feature your beautiful day. So. Much. Awesomeness. Here we go!
From Louise:
Andre and I met almost eight years ago. I was studying for my degree in Interior Design, he had just arrived from South Africa, and we ended up working in the same bar. We worked together for a few months before finally getting together one night watching movies after work. Andre was only meant to be in the UK for a couple of years before heading back to SA. Obviously after meeting me that didn't quite work out (we're still happily living in London) but South Africa has always been an important place in our relationship. Andre proposed on Camps Bay during one of our many trips to SA. This trip was all the more special as it was the first time we brought my parents along too! We strolled along the windy beach at sunset, when he dropped on one knee and pulled out the most beautiful ring (which I'd actually unknowingly chosen on a previous SA trip!) and asked me to marry him. Of course I said yes! We celebrated with dinner at The Raj, overlooking the bay.
Being a commercial interior designer I had a pretty clear idea of what I wanted, but if you'd told me a year before the wedding that my colours would be orange and grey I'd have thought you were insane! I became addicted early on to wedding blogs for amazing inspiration. Our colour scheme was inspired by an image of a pincushion protea on our photographer's website. Orange and grey, the perfect marriage of the hot African sun and a foggy London morning. Stationery was an important part of our theme. I designed a logo based on a wallpaper design I loved, and I incorporated as much bilingual text as I could to represent Andre's Afrikaans and my English backgrounds.
The concept for the flowers was modern, structured and African, which Annegret from Leipzig interpreted into the most stunning arrangements! Our guests took these home at the end of the weekend as they loved them so much! We chose the beautiful Morgansvlei (which we found through Cap Classique – thanks Gaby!) for its stunning location, and intimate feel. It had all the elements we love about South Africa, the big blue skies, majestic mountains and beautiful old Cape Dutch architecture. Our guests (we had a guest list of just 45) were able to stay on site, so we began our celebrations on Thursday and they lasted until Sunday evening!
Our ceremony took place in the cute old chapel, a very modern ceremony with a message of love. Andre's two oumas (grandmothers) gave readings during the ceremony – it was so special to have them involved! Andre recited his vows in Afrikaans, and I said mine in English. Afterwards we served champagne and cocktails to our guests in the shady garden. They were entertained by the beautiful sounds of a marimba band while we went off for our couple shoot. The evening reception was set up on the patio area of the main venue hall (which we didn't use), illuminated with candles and fairy lights which created a cosy, intimate atmosphere.
We chose a champagne called 'Suikerbossie' (also found through Cap Classique!) by Boer & Brit wines which was pretty personal to our own Dutch and British ancestors! I designed and made all of the paper details, invites, programmes, guest book postcards, table plan, menus and more. We added simple touches like displaying menus in picture frames to make them feel more special, and included photos from our engagement shoot. The bridesmaids' dresses were a labour of love, altered and adjusted by Andre's Gran and his mum. Instead of traditional favours we set up a candy bar and a cigar & whisky bar for our guests to enjoy. My dress was customised for me, removing a boho floral shoulder strap, and adding a beautiful sash finished with an organza flower from the unused strap. We also used the smaller organza flowers on my shoes and the ring cushion, both patiently made by my mum!
Seeing all the details come together perfectly was a highlight of the day, and watching our guests enjoying themselves. Our ten-year-old flower girl was the last one standing on the dance floor long after we all wanted to go to bed!
I read lots and lots of wedding blogs, collected 1000s of images, read magazines and scoured pages and pages of Google results to find the perfect suppliers and products. For SA inspiration I would highly recommend Cap Classique and The Pretty Blog, but also some of the coordinators' sites, Aleit and Wedding Concepts for great ideas that can be adapted to suit your budget. Most importantly, it's your day – don't lose sight of your dreams!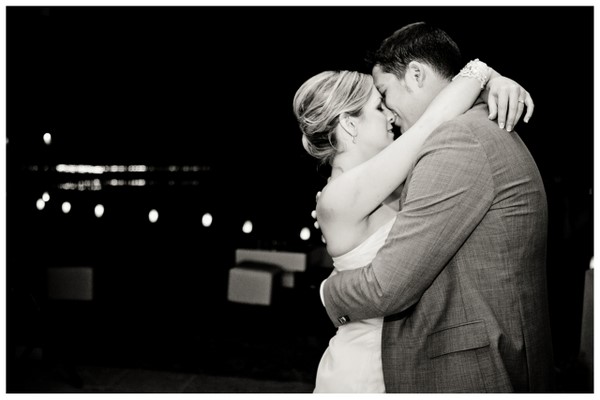 Andre and Louise – wishing you both a lifetime of happiness together! And of course a massive thank you to the wonderful Christine Meintjes. You can see more on her blog, and Louise has a full roundup of the wedding (including inspiration and engagement shoot!) on Bijoux Bride!
SERVICE PROVIDERS
Venue: Morgansvlei | Catering: Anien at Cognito | Photographer: Christine Meintjes | Florist & decor: Leipzig | Cake: Kanya Hunt ([email protected]) | Sweets: The Treat Co. | Letterpress printing: Blush Publishing | Bride's dress: Kelly from Augusta Jones, customised | Bridesmaid's dresses: Big Blue | Hair & makeup: Sanmarie | DJ: Alwyn from Baha Entertainment (brilliant!) | Other: Other decor from In Good Company and Not on the High Street
SBB ♥ Leipzig Wedding and Function, a featured member of our Directory