Afternoon, lovelies. It's the end of what has probably been my best blogging week ever, with record numbers of readers (hello, new friends!), a feature on Wedding Chicks, and seeing one of my posts mentioned on the Martha Stewart blog (I can pretty much die happy now). I'd go out and celebrate, but I'm already nursing rather a large hangover – first I've had in a while! Last night one of my friends threw a fabulous 40th birthday bash – he's a musician, so he got all his musical friends to perform at one of London's best-known music pubs, the Half Moon in Putney. So fun! I also managed to catch up with Louise of b.loved for some business planning yesterday – and some amazing chocolate brownies :) Hope you all have been having a lovely weekend too. Today I'm introducing a new feature – SouthBound Sundays, which will be replacing The Love List. Here we go!
♥ WEEKLY FAVES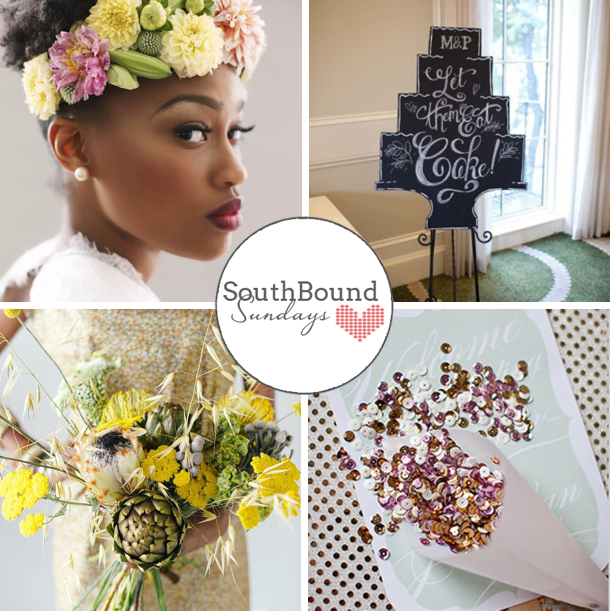 First up, as part of some behind-the-scenes upgrades, I've been upping the awesomeness in our SBB Pinterest page. Pinterest is a great tool for brides (as you may already know), so now you can find all my weekly favourites in the 'SBB's Weekly Faves' board. Lots of loveliness, including an awesome neutral and neon shoot, a fun chalkboard cake sign, and an African tea party – such gorgeous South African design on that one. Of course, the big highlight for me was our 'How to create an elegant pastel wedding' on Wedding Chicks – still pinching myself about that one!
♥ WEDDING NEWS
In this section, we'll be rounding up any wedding-related news, including special offers and dates for the diary. Suppliers, please let me know if you would like anything included by mailing [email protected]
♥ SOUTHBOUND ROUND-UP
Just in case you missed any of the goodness on the blog this week!
♥ WELCOME NEW SPONSORS
We love our sponsors here at SBB, since they make it possible for us to do what we do. I'm delighted to introduce you to some new ones!