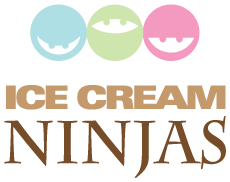 As a wedding blogger, I'm always on the lookout for something new and different that can add an extra spark to a wedding day, making it extra memorable for your guests (and often, keeping them entertained, so your photographer can take lovely pictures of you and your groom). So when I stumbled across the concept of Ice Cream Ninjas, I was super excited. You guys, it's like Cocktail (Tom Cruise style), but with ice cream. I'm going to say that again. Cocktail… with ice cream. It's bloody genius. And I cannot think of anything more fun at a beach or summery wedding.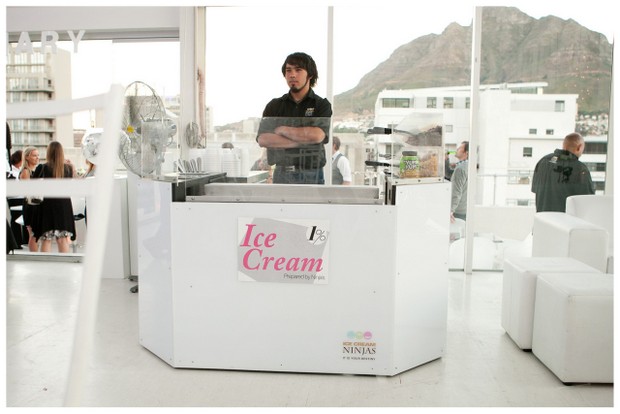 At Ice Cream Ninjas, they believe that buying ice cream should be an experience instead of a transaction. They engage with the customer in a playful way, and offer a huge range of flavours and goodies that are added into the ice cream right in front of you. At their Tyger Valley store, they have over a million possible combinations!
The Ninjas also love being at weddings, as either a replacement for the traditional post-ceremony canapes or as a full-on dessert option. I would have assumed the first would be more common, but owner Anton Fester makes a great point about the final course: "Desserts are, unfortunately, a bit of a non-event in the flow of a wedding or event. They're either a sweet buffet that few people interact with, or it's a sweet thing that gets placed on a table that very often goes uneaten. That's where we go full ninja and throw ice cream around!" The mobile units can put together between 550 and 5000 combinations, including favourites like the Brown Bear (chocolate ice cream, brownie, Caramello Bear and milk chocolate sauce), the Nutty Latte (coffee ice cream, caramalised cashews, pecan nuts and fudge) or the Sweet Seduction (coffee and creme ice cream, cookie dough, fudge, Oreo and peanut butter). (Um, hello, YUM!) They can also (*pricks up ears*)  offer alcoholic options. Pricing is comparable with the dessert option from a top end caterer or wedding venue.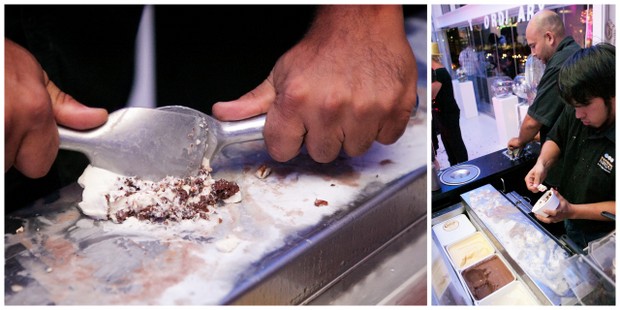 I'm dying to feature a wedding with these guys on the menu, so if you'd like to know more, head over to their site to check out some in-action videos. They have stores in Tyger Valley, Somerset Mall or Greenstone Shopping Centre in Gauteng.
Website: www.icecreamninjas.co.za | Twitter | Facebook | Email: [email protected]
All images: Zarazoo