It's the end of boho month! And I can't think of a better way to finish than with the second part of our popular Ten Tables series, where we break down a series of gorgeous tables into their components to help you mix and match your own. Part 1 was a big hit with you guys, and today we have five more lovely tablescapes, reflecting five more boho styles. Which is your fave?
Table #1: Boho Luxe
SUGGESTED FLOWERS: Roses, anemones, ferns & hypericum berries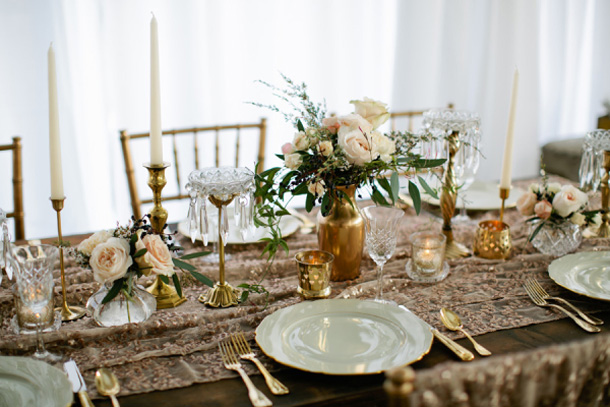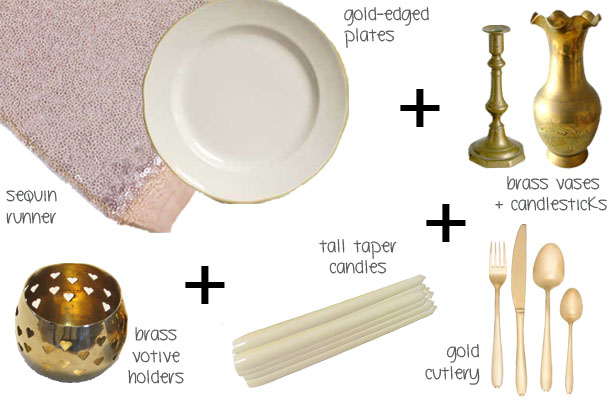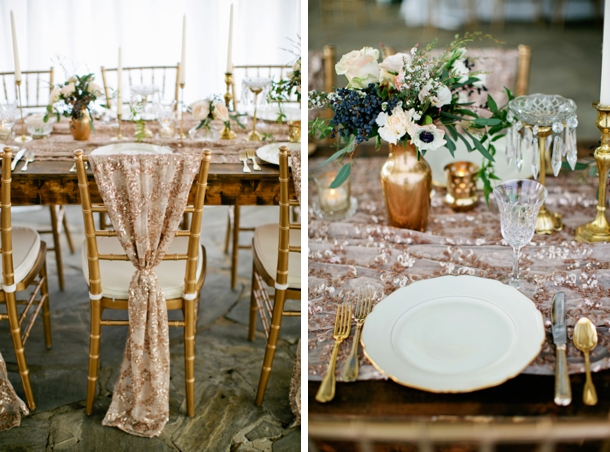 Just because you're going boho, doesn't mean you have to abandon luxe! In fact, I love the mixture of these two styles, in the form of lush florals, rich fabrics, and a collection of metallics, crystals, ceramics and antiques. The tablescape above is just too gleaming gorgeous,  but it's actually relatively simple to put together with some quality hiring. Pretty sequin fabric used as a runner, gold-edged crockery, gold cutlery, brass vases, candlesticks and candleholders, as well as crystal glasses and vases, and tall white taper candles.
TOP TIP: Using the same fabric for your runners and as chair swags is a great way of bringing everything together – if costs prohibit you doing this on all the chairs, then simply keep the bride and grooms' chairs as the decorative focus.
SHOP THE LOOK: Gold heart votive holders | Brass candlesticks | Brass vase | Rose gold sequin runner | Scalloped gold-edged plates | Gold cutlery | Tall white tapers

Source: Kristyn Hogan/Cedarwood Wedding via Elizabeth Anne Designs
Table #2: Budget Boho
SUGGESTED FLOWERS: Poppies, ranunculus, daisies and garden roses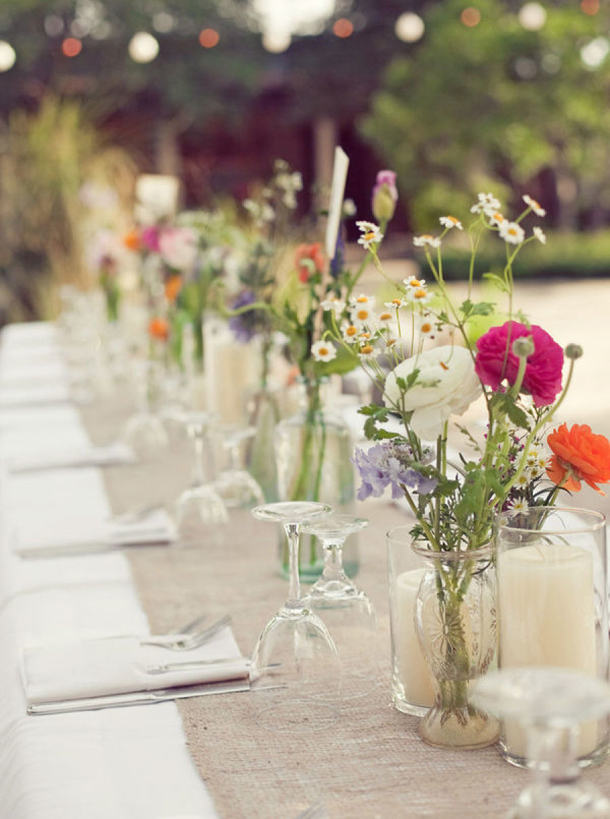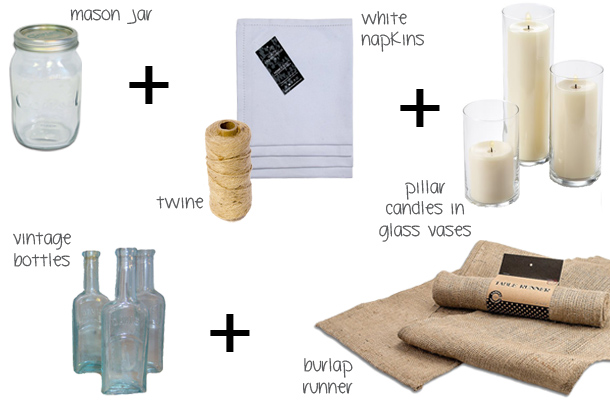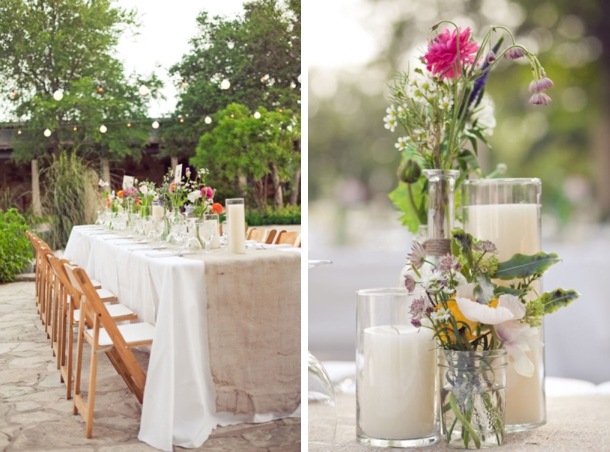 This is the perfect table for a laid-back rustic wedding on a budget. Everything is simple, but so pretty! Start with a basic white tablecloth and napkins, add a burlap runner and pillar candles in glass vases, place pretty colourful blooms loosely in mason jars and mismatched bottles of different heights and sizes… It really is as simple as that! Add some café lights strung above, and you have the perfect look for a backyard wedding and a night under the stars. Plus, this is the kind of look where doing your own flowers is no problem – another budget friendly choice.
DIY DETAIL: Use twine and a little hot glue to add an extra pretty rustic touch to wine bottles and vases
SHOP THE LOOK: Pillar candles in vases | Burlap runner | Vintage bottles | White napkins | Twine

Source: The Nichols/La Fleur Vintage via Style Me Pretty

Table #3: Woodstock Bohemian
SUGGESTED FLOWERS: Poppies & (banksia) proteas!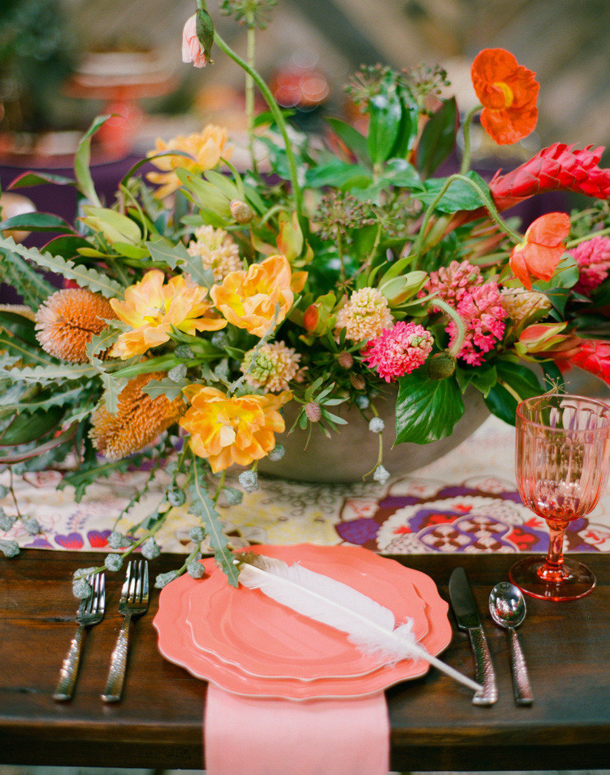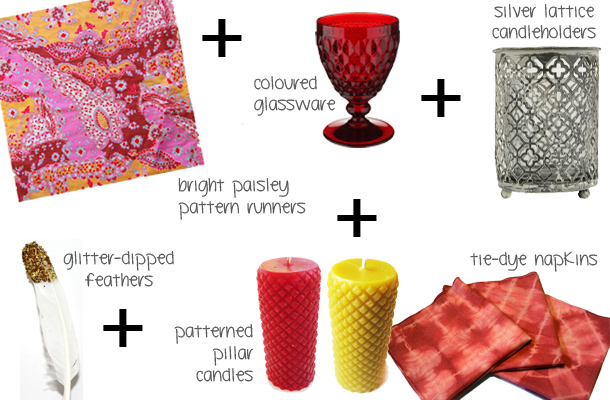 For a bit of a 1960s hippie-style boho vibe, think colour! This tablescape gets it just right, with a bright runner, coloured glassware, pretty Moroccan-influenced candles and votive holders, watercolour/tie dye napkins, and a trule spectacular centrepiece arrangement. Look around to see what's available before deciding on a colour scheme so you don't drive yourself mad – but don't be too matchy matchy, since 'bohemian' is after all the key word!
DIY DETAIL: We especially love the little glitter-dipped feathers at each place setting. Make your own using this tutorial.
SHOP THE LOOK: Paisley print runner | Red glass goblet | Lattice-style votive holder | Tie-dye napkins | Patterned candles | Glitter feather

Source: White Loft Studio/Style Me Pretty/Forêt Design via Style Me Pretty

Table #4: Midsummer Boho
SUGGESTED FLOWERS: Roses, wildflowers & foliage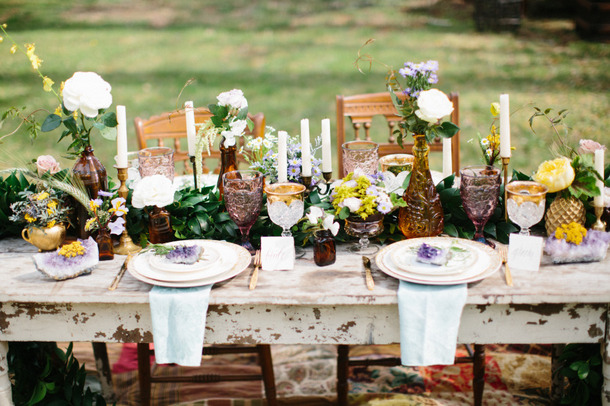 How seriously gorgeous is this tablescape! There's a lot going on (often the case with styled shoots), but that doesn't mean you can't steal the key elements for your own wedding look. First off, that foliage runner is amazing (and flower free, bringing costs down a little). Then there are some boho-ish elements we've seen before – coloured glassware, medicine bottles, brass vases and candlesticks, white taper candles, gold cutlery. Amber glass also makes an appearance here – I love the use of vintage bottle finds. The gold-dipped glassware is a touch of serious luxe, and then – my favourite element – little amethyst geodes as favours, sitting pretty on each plate along with a sprig of rosemary. So lovely!
DIY DETAIL: Want to create your own table swags? Martha Stewart tells you how to do it here!
SHOP THE LOOK: Brass candlesticks | Tall white tapers | Amethyst geode | Amber glass vase | Medicine bottles | Gold wine glasses | Gold cutlery

Source: Michelle Lyerly/Studio Flora Diva via Style Me Pretty
Table #5: Moroccan Boho
SUGGESTED FLOWERS: Paper flowers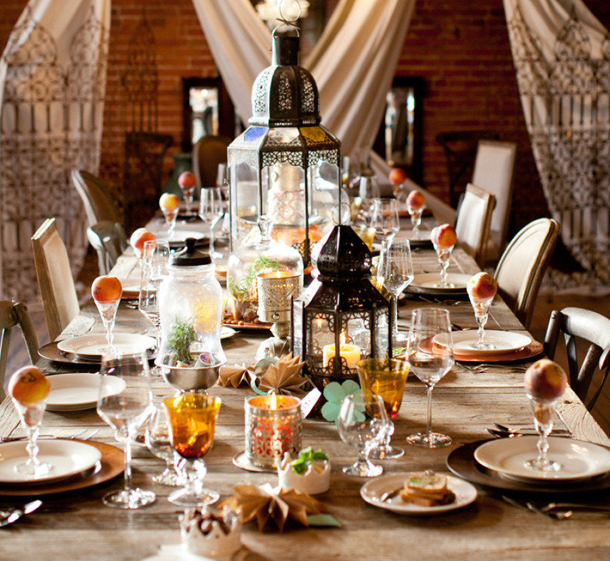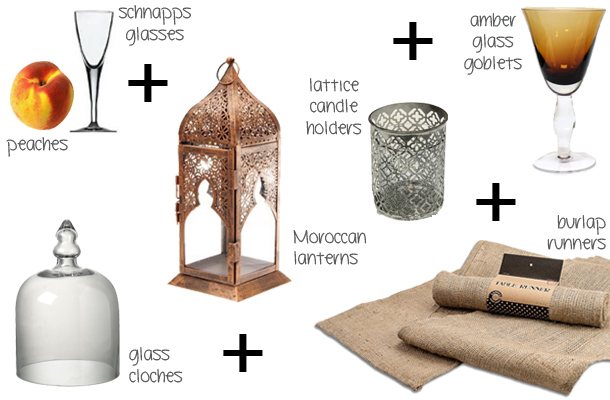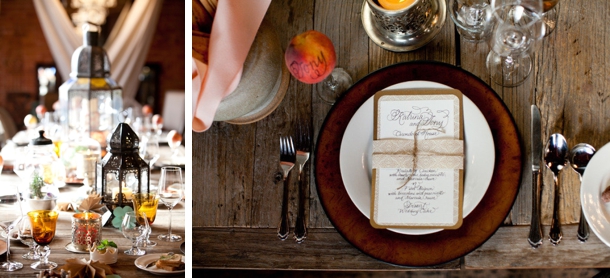 There's such a link between Morocco and bohemian style that there's no way we couldn't include a pretty Moroccan-influenced table. This one is chic as a Parisian souk, mixing gorgeous Moroccan elements like lanterns and candleholders (all easy to hire, and always a style win). Instead of real flowers, paper flowers are interspersed with cloches and candles, with amber coloured glassware and – my favourite touch! – a schnapps glass balancing a peach that doubles for a place card at each setting. To be fair, the original setting doesn't have a burlap runner, but I think it would work really well if a pretty rustic wooden table isn't available.
DIY DETAIL: Go wild with the paper flowers! There are tons of good tutorials online – here's a link to some of them.
SHOP THE LOOK: Moroccan lantern | Lattice candleholder | Amber glass goblets | Liqueur glasses | Burlap runner | Glass cloche

Source: Picotte Weddings/Fri Forjindam + Glenn Sturgis via Style Me Pretty