Happy Sunday friends, and happy jubilee weekend to those of you based in the UK! I'd say coming back to a long weekend was a brilliant idea (especially since I only found out it WAS a bank holiday weekend yesterday), but unfortunately it's brought rubbish weather (as usual). Hey ho, all the better to stay inside and drink red wine with. Plus, I have been lining up a host of awesomeness for the week to come – can't wait to share!
First, the week that was… We started off with my current colour crush, peach, and were inspired by two lovely real weddings – DIY country goodness at Beloftebos and classic beauty at the Lord Charles Hotel. Love bloomed at a super-sweet greenhouse engagement shoot and we also took inspiration from fairytales for three stylish tables. Plus, we gave you tips for dressing the all important MoB, and hilarious (but practical) advice on changing your surname from the author of The Irreverent Wedding Guide: South Africa. Don't miss these fab features! And if you're in the UK, pick up a copy of the latest You & Your Wedding for more SBB goodness!
Here's what else I am loving from around the web: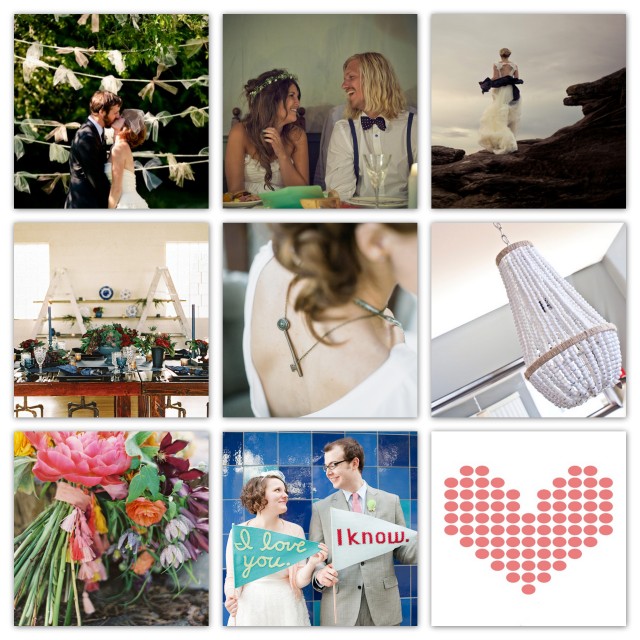 PLUS, if you've been hiding a rock and have missed it, you have to see this incredible proposal video. It made me drizz.


WEDDING OF THE WEEK
It had to be this sumptuous destination Guatemalan celebration! I love the stunning backdrops (especially the many flowers against exposed brickwork for the ceremony), the charming rustic chic decor, the incredible photographs and seriously, the best dress/bouquet synchronicity I have EVER seen. Absolutely stunning.