Hello lovelies! How has your weekend been? I have mostly been recovering from a MANIC week – amazing how it can take it all out of you! The weather has been hideous (although I can't complain, since it managed to pull itself together for improbable sunshine on Wednesday, allowing us to shoot in a field – still can't believe our luck!) so today I think I'll curl up in bed with a hot chocolate and dream up some wedding inspiration for the week to come. As always, I have some really lovely weddings and ideas to share, and we'll also be introducing a brand new Real Life Bride to the team, which is very exciting! But first, the week that was. Here's what you missed on SBB: Coral + sparkle = fabulous | A special rehearsal dinner for our RLB | A gorgeous Moroccan-themed wedding | What to expect from your dress consultation and fitting | A barefoot farm wedding with fruit on the tables and flowers by the barrow | Show me the way to the next whisky bar… | The Aleit/Uwe Koetter Bridal Experience | A stunning bush wedding + video | Loving this Simon's Town e-session | Bridesmaid 101 | Gorgeous bridesmaid pic inspiration.
And here's what I loved from the rest of the web: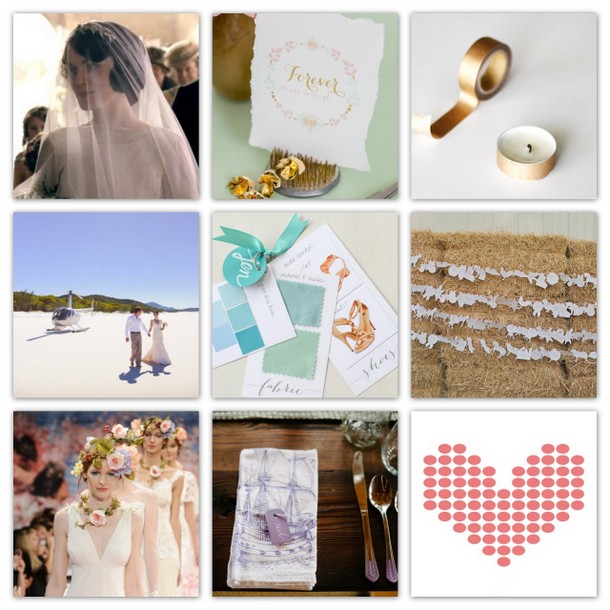 WEDDING OF THE WEEK
It's a bit different, but I was so charmed by this gorgeous wedding from Sally T Photography. There were so many fun touches – the bride's gold wedding dress (and aqua shoes), the colourful flowers, street food (pizza and fish and chips), home brewed alcohol, a ballroom ceremony and a marquee decorated with all sorts of pics of the couple and their guests. I think one of my favourite touches was this string of creative RSVPs – I'm guessing the couple specifically asked their creative friends to do this, and it made such a lovely, personal touch! If you're on a budget and still want to create a beautiful, warm and memorable wedding, this is the way to go.