Good morning, lovelies! It's been such an exciting weekend here at SBB headquarters, with the Olympics hitting London! I have been well and truly getting into the spirit – I watched the amazing opening ceremony with friends on Friday, and then yesterday I was lucky enough to have tickets to an event (women's volleyball, USA vs Korea and Turkey vs Brazil). I hadn't watched volleyball since high school but wow, what a fantastic evening of sport – those ladies were just amazing, and both games were so exciting. It was such a thrill to think "I am at an actual Olympics event", and to be able to cross one more item off my "100 things to do in my life" list. Today I'll be heading to my old home in Putney to see the cycling go past, and I have more Olympics stuff coming up next week. So yay! I hope those of you who are here in London are enjoying it as much as I am!
On another note, this has been a great week on the blog, not just because I have been lucky enough to have amazing content to share, but also because of you. On Monday I asked for submissions for the next Real Life Bride (you can still do this, by the way, until Tuesday) and I have been so heartwarmed by the response! Sometimes as a blogger you feel like you're talking to yourself, but to hear your stories and know some of my readers better has been wonderful – it's going to be so hard to choose! Anyway, thank you. And here's what you missed on SBB: Beach Gleam | Peaches and Cream | Menu Supreme | Rustic Dream | Grey Colour Scheme | Pretty Extreme | Ice Cream Team. Stay tuned for more fabulousness next week!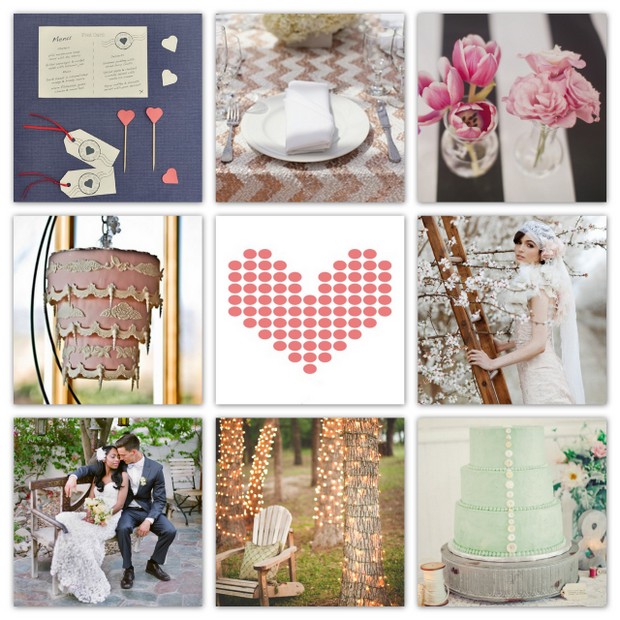 WEDDING OF THE WEEK
This wedding in a gallery is so clever. It manages to combine soft, countryside styling with a chic urban loft vibe, absolutely effortlessly. Amazing florals, including this pretty bridesmaid bouquet and lots of hanging single and bouquets of blooms, as well as hanging glass bubbles, giving it an installation feeling, but still weddingey. I love it. Oh, and PS? Totally approve of the soft orange and grey colour scheme!