What a week it's been. And I have been so very privileged to be able to be here in London for the Olympics, and I have been making the most of it! (So if you've mailed me and I haven't responded yet, I apologise!) Last weekend I went off to see some women's volleyball (who knew how awesome a sport that was?), then on Weds three of the girls and I spent the day at Wimbledon, where we saw both Federer and Sharapova in their singles matches and cheered for Team GB watching Andy Murray go through. Yesterday I soaked up the atmosphere at House of Nations in Tower Hill with two friends who have come to the Olympics for their honeymoon (and caught a glimpse of the rings at Tower Bridge – so cool!) and tonight it's women's hockey at the Olympic Park. So exciting, all of it, and hopefully there'll be a bit more next week as well if we can snag some last minute tickets. And even though I haven't been able to cheer for Team SA live, I am so unbelievably proud of our swimming and rowing medallists, and of Oscar Pistorius who made history this morning by running in the 400m heats. Yay for them all, many times over. :)
But even though I've been Olympic-ing it up, that doesn't mean I've been neglecting my little blog. So here's you may have missed on SBB this week. First off the starting blocks was an Olympian blue inspiration board, followed by my picks from the new Mr Price online. Then we headed to Cape Town for a medal-worthy handmade shabby chic wedding, followed by more of the shiny shiny with a styled shoot that had a touch of sparkle. On Weds we considered mismatched shoes as a bridesmaid accessory, and gave wedding gold to an inspirationally beautiful eco-chic celebration. Finally, we met husband and wife photographers Piteria Photography, and then introduced you to the latest member of Team SBB: our DIY bride, Sam.
And here's what else caught our attention around the web: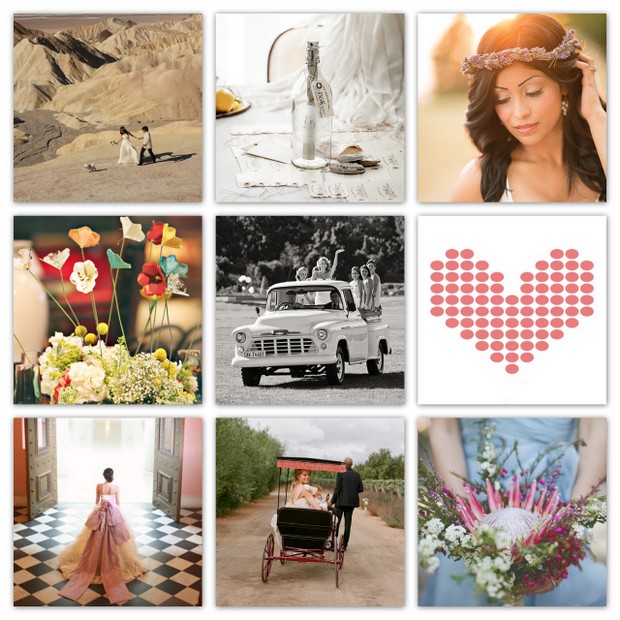 Images by Jagger Photography via Green Wedding Shoes
WEDDING OF THE WEEK
I just had to pick this sweet scrabble-themed wedding as my Wedding of the Week because of how cleverly the DIY bride and groom transformed a plain, low budget venue (their church hall) into something really pretty and unusual. The details were quirky and amazing, and included lots of scrabble tributes (which tied into the history of their relationship), superhero boutonnieres, a ribbon ceremony backdrop, etched glass bottles, a coloured string ceiling and personalised bouquets. This is so inspiring for budget-conscious brides!