Hooray, it's the weekend! And with a Bok victory already under our belts, it's going to be a good one! I've had a pretty chilled one at home so far, although had breakfast this morning with a lovely lady who I'll introduce you to soon. In the meantime, here's what we packed into the week on SouthBound Bride…
We started with an inspiration board perfect for South African brides who want a little Cape Dutch twist on the shabby chic/protea/vintage look that has dominated the last season, then followed it up with even more pretty inspiration on Tuesday from SBB sponsor Creation Events (a Mediterranean-inspired shoot at Morgenster). Our weddings were just beyond on the blog this week as well: Zoe & Paul's fun French-inspired wedding (complete with stripey bridesmaids dresses); Nick & Nicola's farm fiesta; and Stacey & Greg's lavish feast for the eyes at Rustenberg. We had more new twists on last season's trends on Wednesday, and then on Thursday we transported ourselves to beautiful Bora Bora for a sweet honeymoon shoot. And then I wrapped up the week by boasting about the best meal, ever.
Here are my finds from the rest of the web…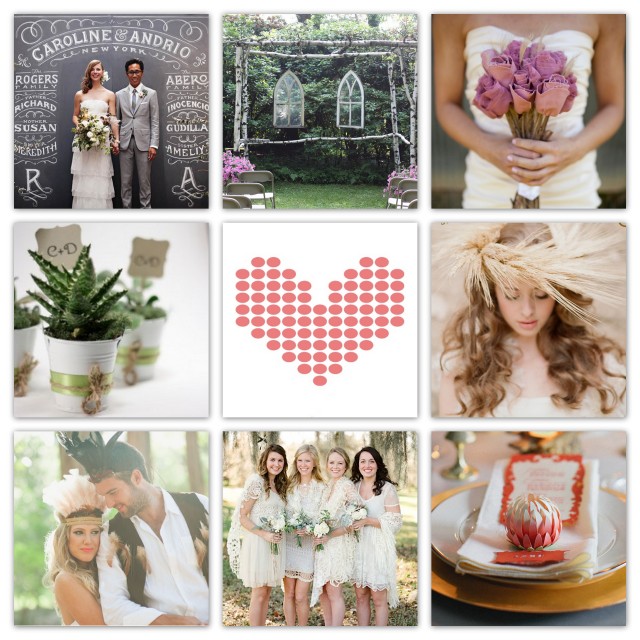 WEDDING OF THE WEEK
I am absolutely in love with the soft colours and classy details in this wedding. It's the combination of the soft mauve and ivory palette, the succulent accents and beautiful bouquets, the outdoor setting and the stunning bridesmaids' dresses (loving those necklaces too!) that add just that extra little bit of sparkle. It's perfect.