SouthBound Bride is the ultimate online destination for South African weddings. Whether you're planning your own wedding in SA, or simply inspired by our beautiful celebrations, you'll find the best of real weddings, inspiration, advice, venues and service providers on our pages. From romantic vineyard to boho beach, gorgeous game lodge to city chic, rustic farm, traditional, cross-cultural, or other unique celebration, if it's beautiful and local, it's here. We also spotlight top trends and ideas from around the globe, and bring you the latest in bridal and bridesmaid fashion. Over the past five years, we've gained a reputation at home and abroad for quality content with a South African twist, and have been featured in a number of print and online publications.
SBB is a proud member of Aisle Society.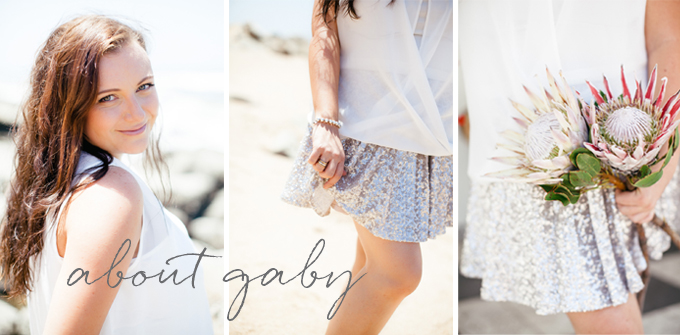 Hello! I'm Gaby Frescura, the proudly South African owner and editor of SouthBound Bride. I started SBB in May 2010, as a way to showcase the beautiful weddings of my home country, and to connect brides both local and long-distance with the best of wedding pros. I've been inspired by my readers and industry friends ever since. I never thought when I started this journey that poring over pretty things and romantic love stories would lead to becoming a full time girlboss, or meeting the amazing friends and colleagues that I have along the way, but I'm so lucky that it has!
As well as running the blog, I'm a freelance editor with a background in book publishing. I've lived in New York, Milan and London, and am currently loving my home base of Durban, South Africa.

CONTACT SBB
We love to hear from readers, suppliers and bloggers from South Africa and all over the world.
Got something to submit? See our submission info and links here.
Would you like to advertise with us? You'll find the info you need over here.
PLEASE NOTE: SouthBound Bride is not a wedding planner or a venue, and we don't sell the items you'll see on the blog directly – all images are credited, so please follow the links to find more information.
For all other queries, complete our enquiry form HERE.
THE FINE PRINT
SouthBound Bride contains paid advertising banners and some contextual affiliate links to products that I personally like and recommend. An affiliate link means that SBB receives commission on sales of these products if you click on a link. All sponsored posts and giveaways are marked with an appropriate banner. This blog does not share personal information with third parties nor do we store any information about your visit to this blog other than to analyse and optimise your content and reading experience through the use of cookies. You can turn off the use of cookies at any time by changing your specific browser settings. We are not responsible for republished content from this blog on other blogs or websites without our permission. This privacy policy is subject to change without notice and was last updated on 23 August 2014. If you have any questions feel free to contact me directly here.
I try to ensure every image I use is properly linked and credited, so if you spot a mistake or if I've used an image that belongs to you and you'd prefer I didn't, please email me and I'll be make the changes immediately. If something here inspires you (yay!), and you'd like to share it on your site, please CREDIT APPROPRIATELY (and preferably ask permission). Play nice. We don't like plagiarism here.
Images by Fiona Clair Photography | Logo design by Pearl & Pixel
Save