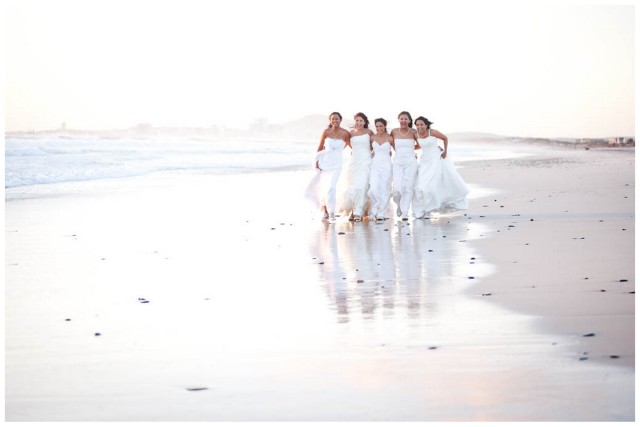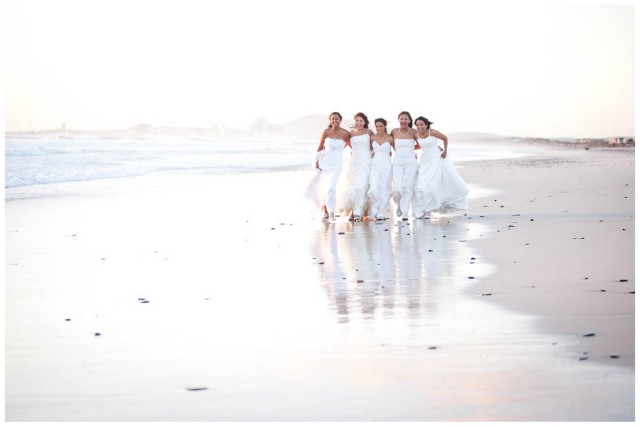 Good morning friends! I have something a little different for you today, but I absolutely love it! A trash-the-dress/rock-the-frock session with a difference! I was intrigued when I spotted these pics over on Joanne Markland's blog, of five bonny brides walking along a Cape Town beach. It turned out that this was a very special photo shoot put together by five cousins: Hailey, Melissa, Leigh, Rene and Robynne-Leigh. The girls decided that, once the last of them got married, they would all get back into their wedding dresses one more time and have photographs taken together. Jo shot Robynne's wedding last year, and soon after, the cousins came to her with their idea.
Unfortunately on the day it was extremely windy and cold, but this didn't dampen anyone's excitement and enthusiasm as they put on their sneakers and played princess on Sunset Beach near Milnerton. As they said: "it was great fun and created memories… ones we will never forget".
What do you think? Would you rock the frock with your besties?