Good morning! It's Friday, but I have that Sunday feeling today as I pack up from a week in Cape Town and finally board that flight back to London. Just in time for my housemates to inform me that the summer is probably over, as the sunshine has disappeared. Boo! Hopefully I'll be able to smuggle some of it into my suitcase! In the meantime, I'm feeling very cheerful about today's posts, as I have a double dose of fabulous for you! Just a few weeks ago, a friend told me about The Irreverent A-Z Wedding Guide: South Africa, and I was intrigued. Then I got chatting to one of the writers, Francesca Bourke – a real SouthBound Bride who comes from Ireland but married her South African boy here, and got my hands on a copy. You guys, it is awesome. Fran and co-author Martin Heller write in such a combination of hilarious and practical that it's the perfect antidote to wedding craziness. It has TONS of info especially tailored to South African couples, laugh-out-loud horror stories, tongue-in-cheek bridezilla tips – plus some very flattering mentions of the former Cap Classique (thanks, authors!). And as a book publisher in my other life, I love the production values – it's the perfect size to fit into a handbag but hardy enough to survive months of being toted about, it's easy to navigate, and it's a little bit shiny and gold and special. I very much recommend you get your hands on a copy! It's available at all good bookstores in South Africa (for UK availability, please drop me an email) and you can find out more on the book's website or Facebook page. Today on SBB I'll be sharing a Q&A with the woman behind the book, Francesca Bourke, and later this afternoon you can read an extract.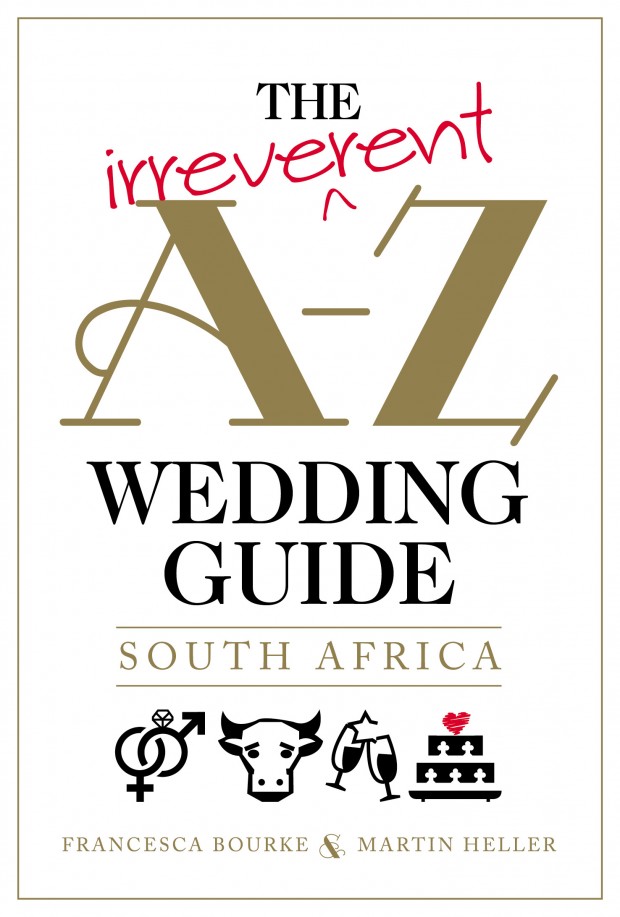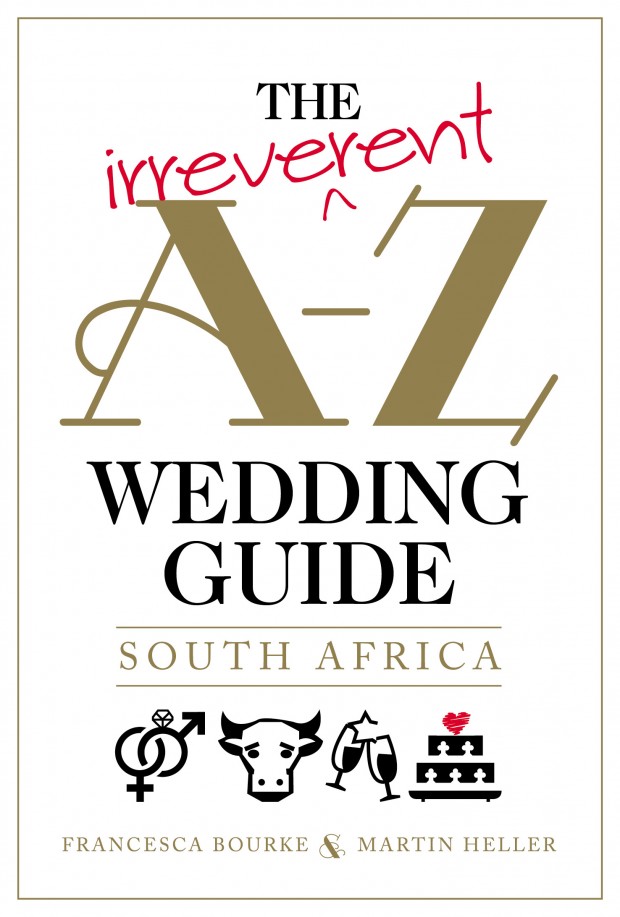 Hi Fran – thanks for agreeing to answer some questions today! Tell me a bit more about yourself and your book. How did you find yourself writing a book about weddings?
Well, I'd never been the kind of girl who dreamt of her wedding day. In fact, I never thought I'd get married and then suddenly here I was with a ring on my finger, blissfully in love and completely lost! I both envied and scoffed at all those girls who seemed innately to know what a boutonniere was… and then I realised that there must be other women out there like me who just didn't have a clue and needed open, independent advice… minus all the drama. So The Irreverent A-Z Wedding Guide: South Africa was born.
What was your own wedding like?
Very, very hot! We married in Paarl and on our wedding day we had a freak heatwave – 40C! It was the best day of my life though, despite the heat. I had lots of friends and family over from Ireland so we had a week long party. If I had to choose a favourite part of the day it would be sneaking off with my husband during the reception to have one final photo taken. It was the night of a super moon – the first time in 20 years that the moon was as close to earth – and we decided to have a shot taken in the moonlight. There was something very special about standing on top of a small wall staring into my new husband's eyes in the moonlight! Things like that can't be planned and that's what makes them so special.
Your book is full of tips for bridezillas – would you have considered yourself one?
Hahaha! I hope not. A bridezilla is certainly not something to aspire to – they're selfish, self absorbed and competitive in a nasty way. If I'm honest, I think I was a kind of reverse bridezilla: I was so conscious of NOT being a bridezilla and so cynical about weddings in general at the beginning that I may have rolled my eyes a bit too much at the bride who was naturally very excited about her wedding. Thankfully, a lot of my cynicism has died away – although not completely! I'm now an avid defender of the excited bride. It's the way she should be and I think that a lot of women are – like I was – scared of showing their excitement for fear of being called a bridezilla.
I also love the horror stories in your book – what was the best one you came across in your research?
There are so many shocking stories! I think my favourite has to be the ring bearer horror story… suffice to say that animals should have no part in your wedding retinue. Ever.
You're originally from Ireland – what do you think makes a South African wedding different?
Well obviously for me, the weather is a huge plus! Honestly though, there are so many talented South African entrepreneurs in the wedding industry: from make up artists to photographers, bakers to musicians – there's just so much choice. It's also – without a doubt – one of the most naturally beautiful countries in the world. And of course, the wine selection is pretty spectacular!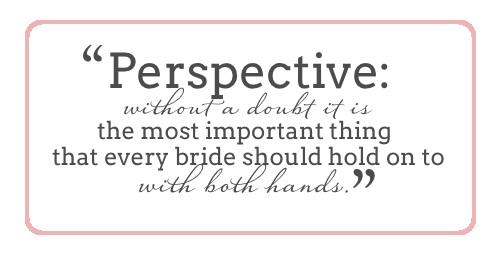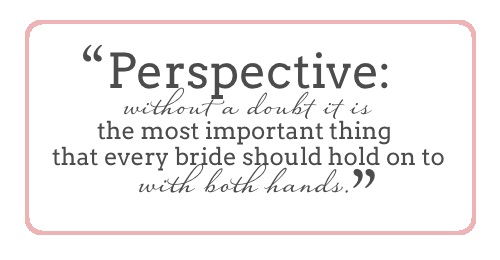 What three pieces of advice do you think are most important for brides-to-be?
Perspective: without a doubt it is the most important thing that every bride should hold on to with both hands. A wedding is a party – a wonderful party that celebrates the most important commitment that you're ever going to make – but at the end of the day, it's still just a party.
Compromise: Contrary to popular belief, it is your groom's day too. If he really wants something, let him have it… there's nothing worse than turning up to a wedding and seeing the bride's stamp all over the day and the groom's taste is nowhere to be seen. You're getting married. Learn how to share.
Relax: I know! What a stupid thing to say! How can you relax when you've got a to-do list the size of Gauteng to complete? Firstly, stop worrying about what your guests will think – they don't count and if they are the kind of people who you fear will 'judge' your wedding, they shouldn't be there in the first place. Secondly, yes, it's annoying that the photographer you had your heart set on is already booked but there are literally thousands of great photogrpahers out there – you'll find someone equally good – promise! And finally, your momzilla is driving you nuts; take a breath and remember that she's just excited for you. It really is coming from a good place.
And what's the one thing every groom should know?
The big day for you was the proposal. The big day for your bride is the wedding. Remember this when you're getting frustrated at her ever-increasing excitement and try not to dampen her spirits. Also, keep an eagle eye on that budget.
Apart from your book (obviously), which other resources are most useful for a planning bride?
Without a doubt, websites like SouthBound Bride. They are invaluable for fresh ideas, mood boards and keeping abreast of new companies/service providers in your area. Don't feel shy about asking questions on these sites either – need a recommendation where to buy flower girl dresses? Ask away. These websites are experts in knowing who's who in the wedding industry.
Sum up your wedding 'philosophy' in one sentence.
My wedding philosophy is a quote I found and is written on the last page of the book:
"A wedding is a party not a performance. If at the end of the day you are married to the one you love, then everything went perfectly."
I'm passionate about… people.
If I won the lottery I would… help the funding of the thousands of small NGOs in South Africa who do such great work but need finance. I'd also go on another honeymoon. ☺
South Africa is… beautiful, frustrating, challenging, the land of opportunity, full of surprises and the best place on earth to live.