Happy Friday, SouthBound brides! Almost the weekend! One thing I haven't had much of a chance to do since I relaunched the site is to tell you about what I got up to when I was in South Africa, and today I want to share a particularly awesome day I had last week in Cape Town. (Can it really be JUST last week?) But it didn't start off awesome. Nooo. I'd got up and glammed up, only to be comprehensively rained on while I packed the boot of my rental car. And I don't rain on pretty, let me tell you. Frizz deluxe, mascara everywhere, damp, limp cardigan. I looked awesome. I had errands to run, and ended up being super late to meet the wonderful Vicki of I Want That Wedding for coffee (having been rained on AGAIN walking all the way up Kloof Street because OMG-where-is-the-parking-in-Cape-Town?). She took one look at me and burst out laughing, which was the only appropriate response really. So by the time I made it back down the hill to see my friends at Wedding Concepts (who you'll know from the beautiful weddings they have co-ordinated that I have featured here), I was feeling more cheerful but still pretty frazzled.
But of course, the WC crew are used to frazzled nerves, since they deal with stressed out brides on a daily basis. They took me in and fed me cupcakes and cappuccino, and told me all about their rebrand into the Concepts Collection. Pretty snazzy, I can tell you (just look at the new wedding blog!). This now encompasses weddings, travel and events, and they told me all about how these work together harmoniously for someone planning their South African wedding. Think: plan your wedding, get your guests over at the best travel rates (all part of the service) and then spoil them with some pre- or post-wedding events. How much fun is that? I particularly liked the way they think of all of these as 'experiences'. Especially for brides and grooms (or their families) who are travelling to SA, there are so many amazing experiences to be had in our gorgeous homeland. And then came the best part: I was lucky enough to be treated to my very own 'experience'. Yep, I am SPOILT. Be jealous.
First, a friend and I headed off to En Masse in Gardens. I kind of got lost on the way (as my friend said, I could get lost getting out of a bath – if you happened to be passing a girl shouting at her Satnav to justshutupalready as she went round the block for the eighth time, that was me). I walked in feeling pretty highly strung – those girls had their work cut out for them! But a couple of hours later, I seriously walked out a new woman. En Masse is totally different to any massage place I have ever been before. For one thing, they don't play that plinky plonky dolphin music that makes my ears bleed. There's no oils, and they don't make you take your kit off. Instead, you head into a chilled out little cubicle wearing comfy white linen, and you get a muscle workover second to none. I had a Thai massage (total convert) and my friend Robyn had a wonderful Shiatsu. Then we both had a long tea, curled up on the couches downstairs. I could have stayed forever. What I also liked was that En Masse does a walk-in service and the prices are reasonable, so you can make this sort of relaxation a way of life and not just for special events (although Robs and I  both thought this would be awesome for a bridal shower, or for a couple to do together). I just wish they had an office in London.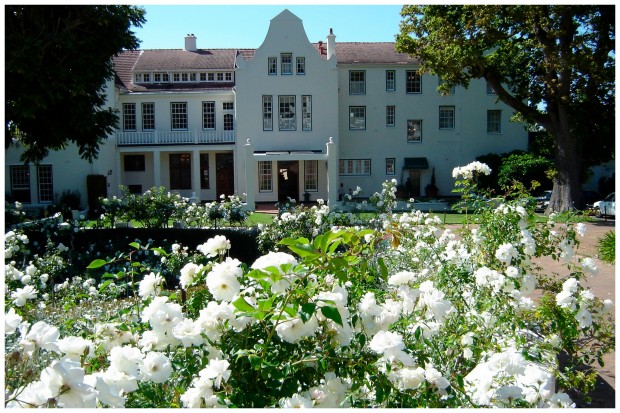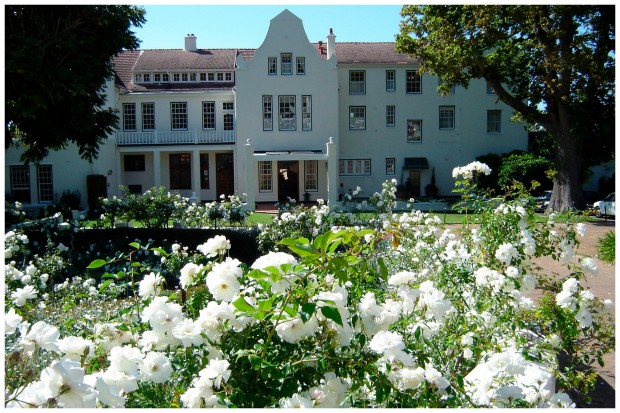 The Cellar Hohenort. Pretty, no?
After En Masse I headed down (up? down? I told you I'm a dyslexic geographer) to Constantia, to check in at the five star Cellars Hohenort hotel. From the minute I turned into their lush, leafy driveway, I was in heaven. I don't think I've ever had better service or been made to feel more at home. I should tell you, nice hotels are one of my absolute favourite things, so after walking around my suite for a while going "ooh, robes!" and "ooh, underfloor heating!", I drew a bath, poured myself some complimentary wine and lay back in my lovely big bathtub.
I have to admit, I was thinking, "all this for little old me? What's that about?" But then I remembered all the times I sat working until 2am, or got up at the crack of dawn just to make sure I had a blog post ready on top of holding down a demanding job and a murderous commute. And the six weeks of hard work and stress I'd just put in to get the new website launched, and organise the photo shoot for the next day. And I think for the first time, I finally felt quite proud of myself, and that maybe I'd earned a bit of pampering. In a way, I was finally tasting the fruits of my labours.
Well, my labours tasted DELICIOUS. That evening, after sprucing up a bit, Robs joined me again for dinner at Cellars' restaurant, The Greenhouse (which has been named top restaurant in South Africa, under chef Peter Tempelhoff). WC's Hannes clearly knew who he was dealing with when he came up with my Concepts Experience, because a seven course tasting menu with wine pairings is pretty much the key to my heart. YOU GUYS. I consider myself a bit of a foodie, and I have eaten at well-known (Michelin starred) restaurants here in London, and that meal was among the best I've ever tasted. It was inventive, it was exciting, and most importantly it was mind-blowingly yummy. From the super cute greenhouse-themed hors d'oeuvres (which come disguised as a little pot plant) to the multiple mouthwatering morsels and the final camembert 'cheesecake' (not to mention the incredible wines), it was perfect. And I got what the Concepts team were talking about, because it really was an experience.
In fact, the whole thing was, from beginning to end, and it transformed an ordinary (not so brilliant) day into an extraordinary one. Which is exactly what you want for a special occasion. A proposal. An engagement party. A wedding. A honeymoon.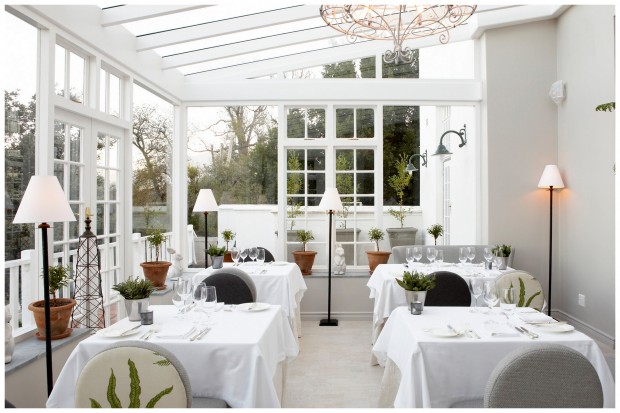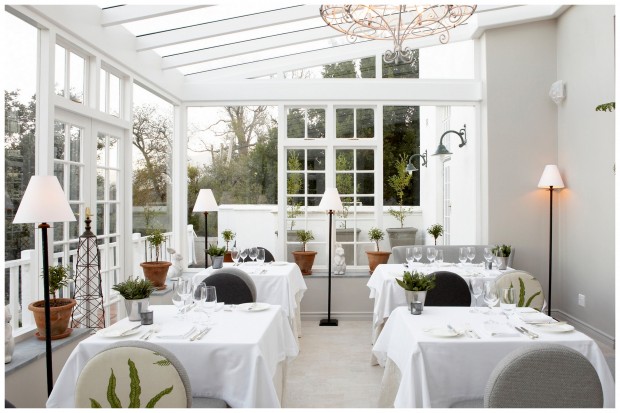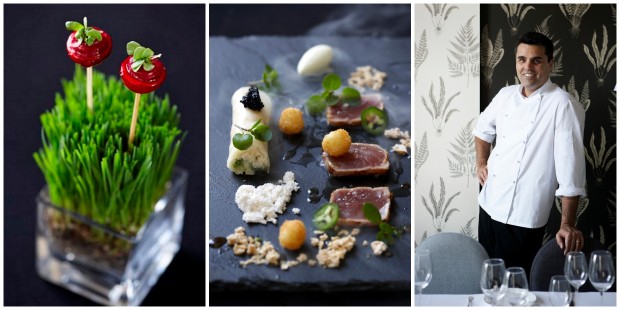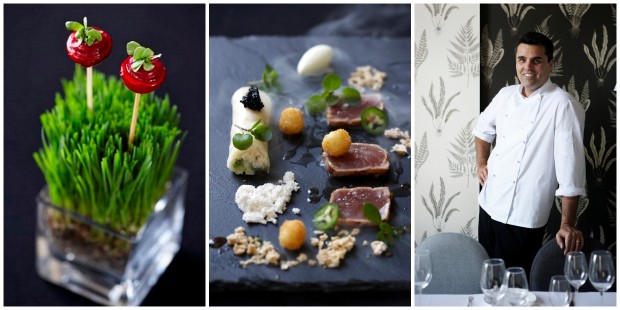 How pretty is the decor at The Greenhouse? I'd love to feature a wedding here. And look at that food! I ate all that. It was even better than it looks.
You'll be hearing more from the Concepts team in future about how to give yourself or your guests an experience to remember before, during or after your wedding day, but for now I just want to say a massive thank you to them for treating me, and to the awesome staff at both En Masse and the Cellars.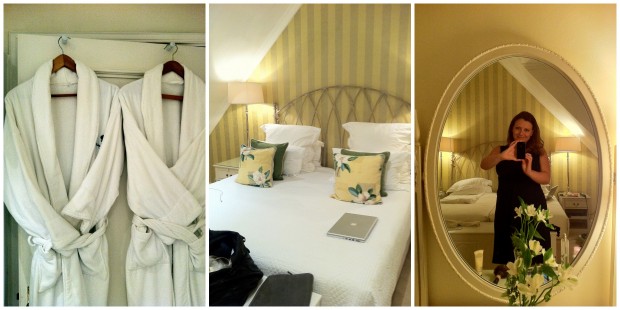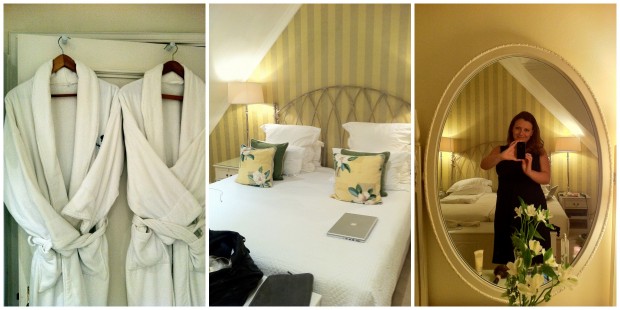 Awesome room. Soft robes. Full tummy. Roadmap for a happy Gaby.
Oh, and if there are any guys reading this who are planning a proposal? RUN to book at the Greenhouse, because trust me, there's not a woman on earth who would say no after that meal!
SBB ♥ Wedding Concepts, a featured member of our Directory