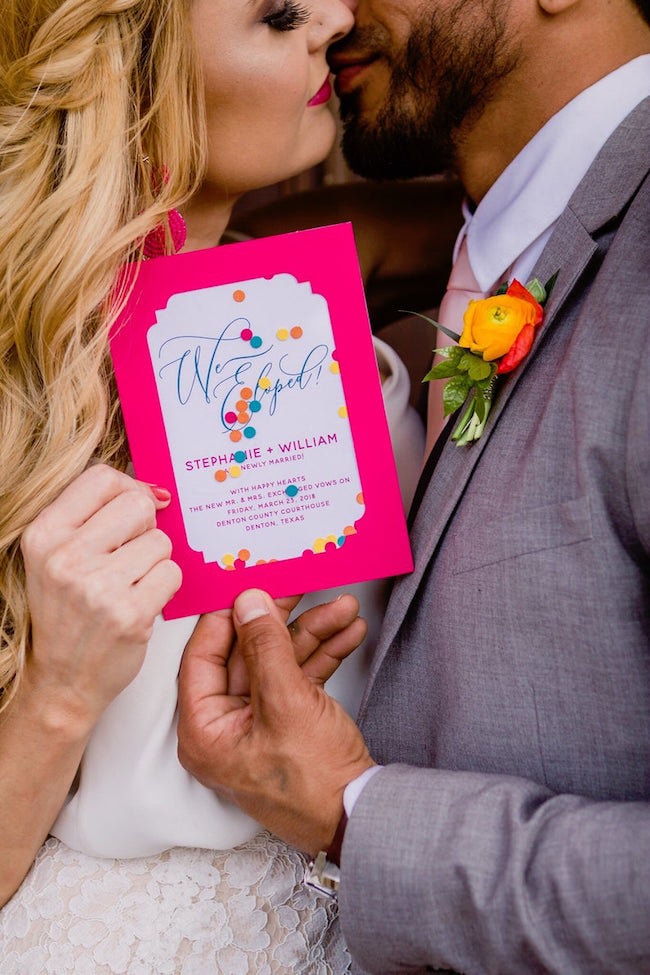 Brightly Colored Elopement Wedding Invitation by Brown Fox Creative
*Updated for 2020 + Coronavirus Elopements* A few years ago, when my friend Sarah and her lovely fiancee stopped in London after a round-the-world trip, a group of us girls threw her a fairly impromptu hen night. All night, we drank trays of flavoured vodka and toasted their lives together, and sent them off back to Joburg expecting them to set a wedding date. Instead, as soon as they'd had a chance to tell their parents in person, we got an announcement – the sneaky minxes had in fact eloped while on their trip. And you know what, we loved it! There were all these gorgeous pics of the two of them, so in love and sharing this special secret moment on the other side of the world. I still think they looked like one of the most relaxed couples I've ever seen on their wedding day. So ever since then, I think elopements are pretty awesome. Sure, they're not for everyone (and there can be hurt feelings from family members and friends who want to be included), but there really is something special about a wedding with a guest list of 'just us two'. And in the era of COVID-19 wedding options, an elopement may be your best option for getting wed in 2020. BUT here's the thing – if you're going this route, you'll want a classier way to let your nearest and dearest know than just changing your status on Facebook. Something to let them in on the excitement, to let them know they were in your heart if not at the ceremony. Maybe even something to invite them to a party that you throw back at home or when social distancing restrictions relax. And that's where the elopement wedding announcement comes in. The good news? There are tons of sweet, fun and pretty elopement announcements for you to say 'we did'. Here are some of my favourites from the makers at Etsy, including 12 designed specifically for a Coronavirus elopement.
*Links in bold denote affiliate links. The cost to you remains the same, but SBB may receive a commission for any sales made.