I think it's a gut thing. Or an equilibrium thing. Or something to do with getting that sense of peace and calm and 'wow, I can imagine it this way' feeling. That's how I knew that the church was 'the one', that's how I chose my dress, it's how I chose my cake, and it's how I have been trying to choose all the many things in between. And so when we started thinking about themes and places that have inspired us, it didn't take us long to decide.
Versailles. Paris. Does one really need reason to be inspired by such things? I had heard of the beauty and magic of France and was proud of my French heritage, but it wasn't until I'd climbed up from the metro and experienced it, that I really knew. And I say experienced because it wasn't just a storybook-like beauty that greeted me, but an air of something, a feeling, a magic – you couldn't get this from pictures. "Every man has two countries – his own and France", and we felt just that as we stood looking over the Seine with perfect snowflakes falling ever so gently, or when we went back in the spring and sat around a fountain in the Jardin des Tuileries eating our breakfast baguettes. Paris swept us off our feet, filling our minds with possibilities and creative aspirations. A day trip to Versailles made the word 'wow' seem completely overused, but it was on a return trip to Marie Antoinette's Petite Trianon and Hamlet where we really found the four-year-old-in-Disneyland, 'I can't quite believe this is real' type of happiness. And so that was it. Marie Antoinette had seemed to love beautiful things – dresses, cakes, shoes, opera – interests which she'd famously indulged, but she'd also loved nature, and the sanctuary of her Hamlet. And these are the elements we would like to bring into our wedding. There will be no palace or attempts at creating one, but perhaps the finer things might be brought through in the details. Marie Antoinette enjoying tea in her garden perhaps. Royal, but familiar.
When I picture our wedding I picture one of three things. The first is the ceremony, walking down the aisle with my dad, and seeing Justin waiting for me at the altar; another is an aerial view of myself, arms out and spinning slowly, taking all the prettiness in, taking in the magnitude of the day, trying to store it all in memory, and trying my very best not to let it pass too quickly. The third is more of a feeling that accompanies the image of myself staring at our finishing reception through a window, feeling excited, happy, content. Feeling that everyone knows how much we love them, everyone knows how incredibly special they are, people are happy, and that it was a good day.
Enjoy the prettiness!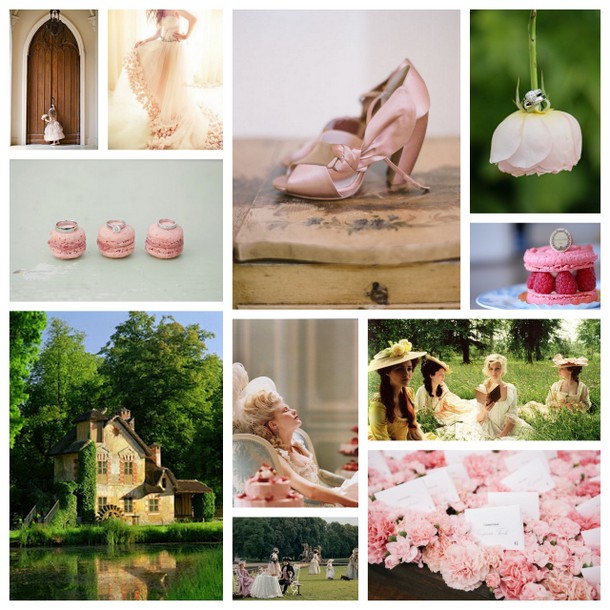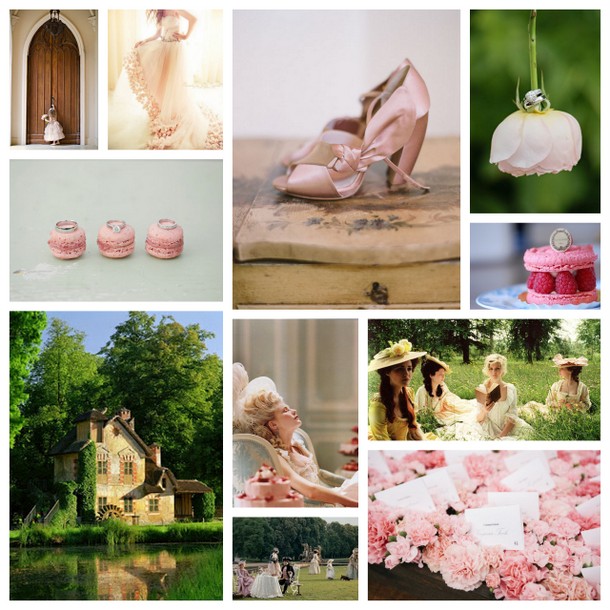 Sources: Flower girl {S: Tamara Menges; P: Archetype Studio Inc.}; dress with flowers; macaroons with rings {S: Plan On Forever Events; P: Ruth Eileen Photography}; pink shoes {S:Catherine Sheppard of The Life Styled; P: Elizabeth Messina}; rose with ring {S: Lovelee Affairs; P: Paperlily Photography}; Laduree cake; Marie Antoinette's hamlet; film stills from Marie Antoinette by Sofia Coppola (2006); escort cards with carnations {S: Before I Do Events; P: Josh Elliott Photography}