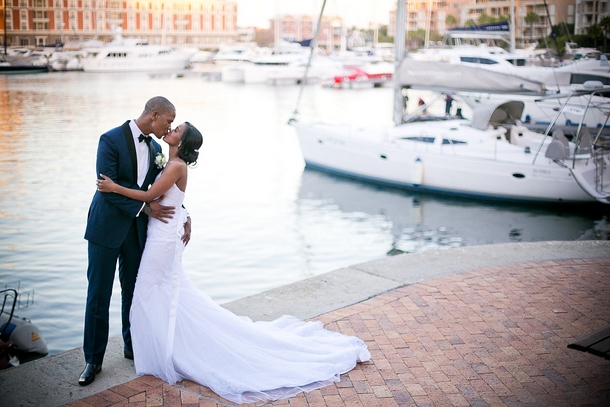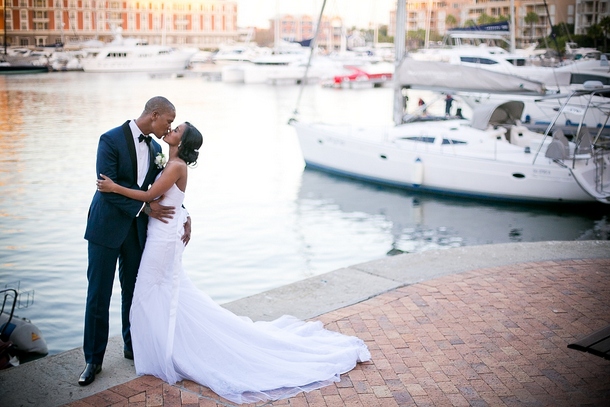 Today's wedding is all about modern elegance and simplicity. Against the breathtaking backdrop of the V&A Waterfront in Cape Town, Salubona and Olivia celebrated their wedding with family and friends, taking full advantage of the Mother City's abundant natural charms. Just looking at the light glinting off the water, at Table Mountain striking a pose in the background, at the range of guests suited up in both fashion-forward and traditional Swazi attire, reminds me what makes Cape Town so special. I love that Olivia and Salubona let this vibrant city speak for itself, accenting it with graceful white flowers, navy suits for the boys, and pretty baby blue for the bridesmaids. Like Olivia's philosophy on her gorgeous wedding dress – she wanted to wear the dress, not let it wear her – this couple struck the perfect balance with their nuptial style, and the fab Lindy Kannemeyer of Lindy Photography was on hand to capture every sun-kissed, romantic moment.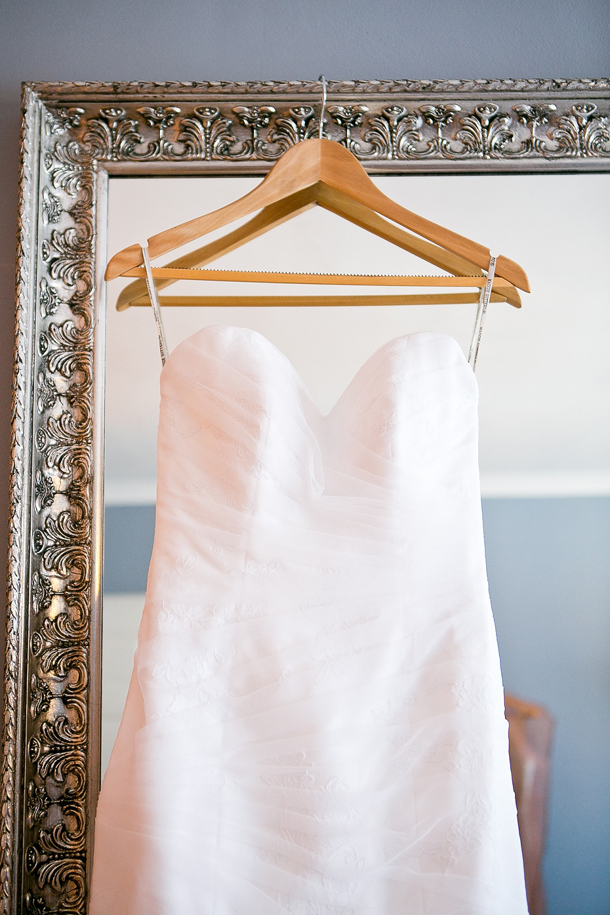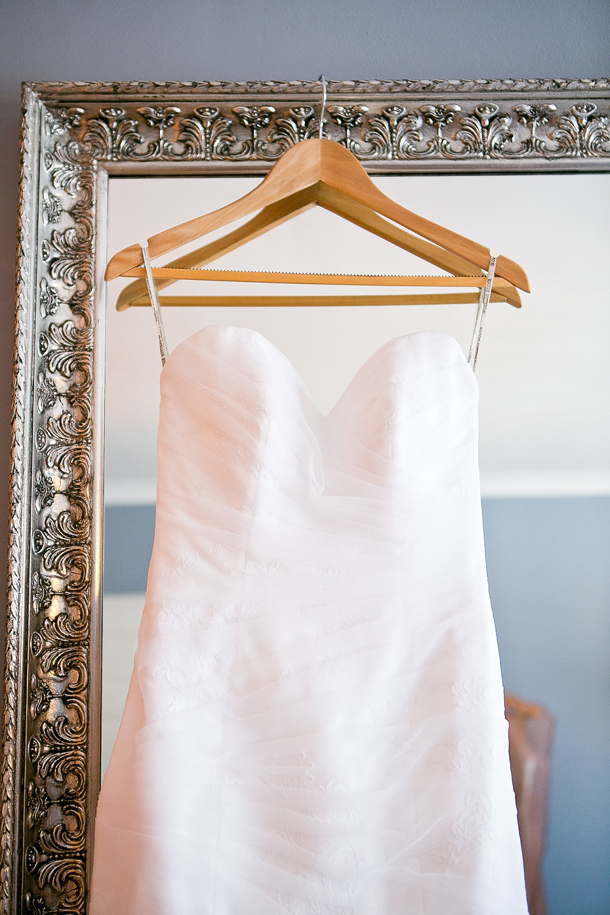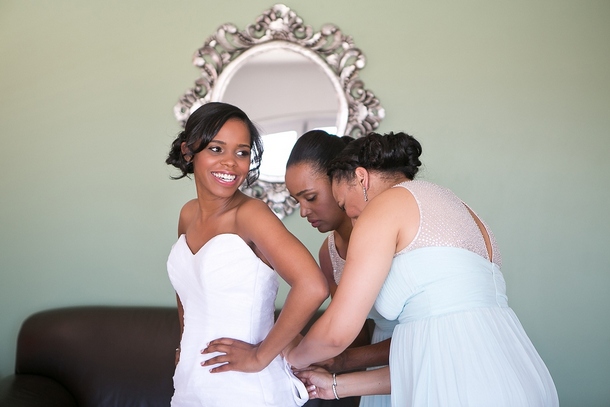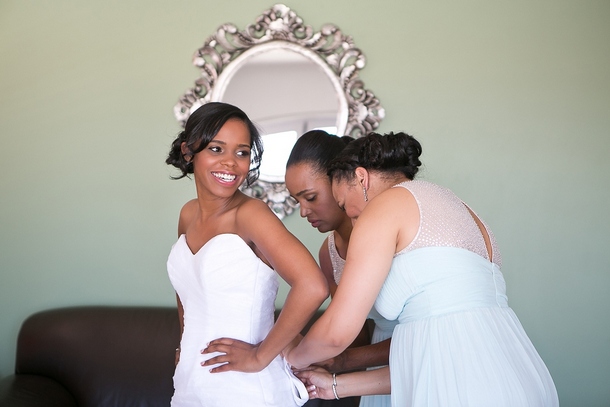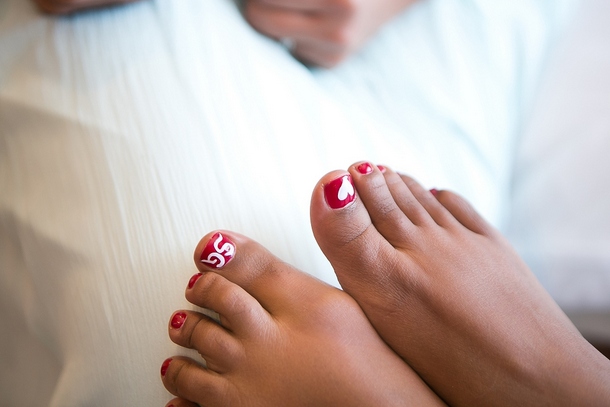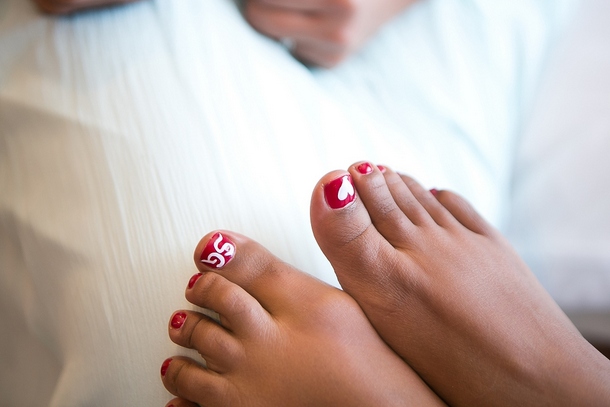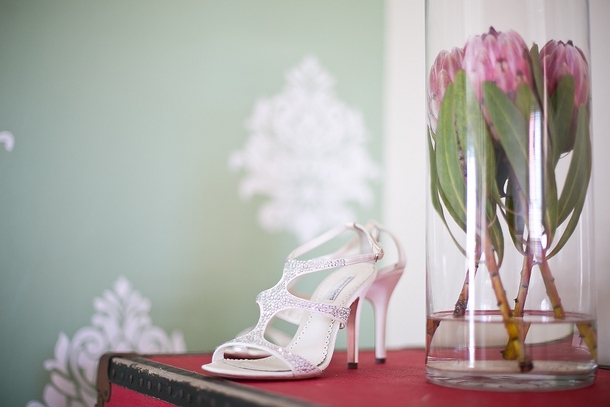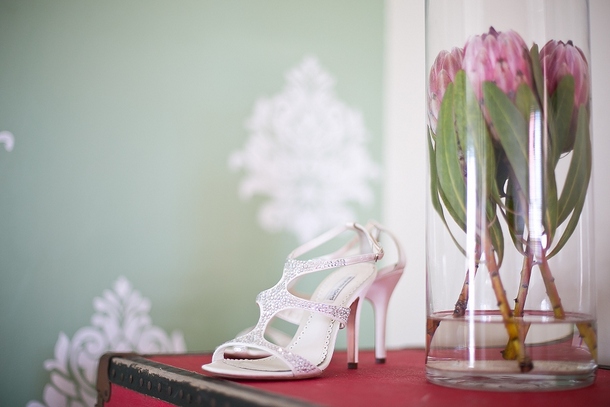 Love Story
We met through friends who had actually set us up. For months I had been hearing about this guy who just moved back to SA from the UK. Then we were both invited for a braai in Newlands Forest. Whilst I was in the dark about the set-up, my husband was fully aware. When I met him I kept thinking "Wow, this guy is so friendly".
The Proposal
We had been planning the wedding for a while, without being officially engaged, so the proposal was expected but how it was done was not. My now husband had secretly arranged to have the ring picked up and arranged for dinner at the Sandton Sun. He even arranged for the waiter to take a video of the moment he knelt down and asked me. He denies to his friends that he got down on one knee, but I fortunately have evidence to prove it!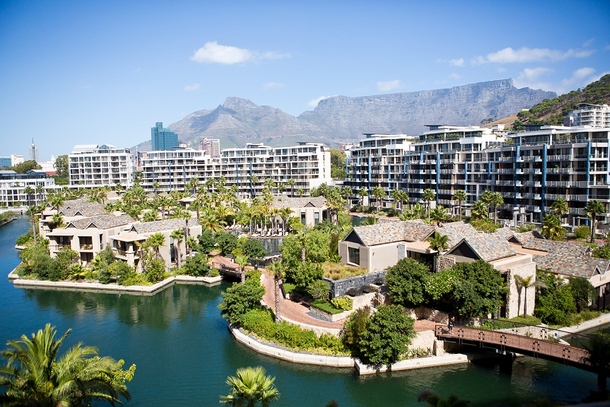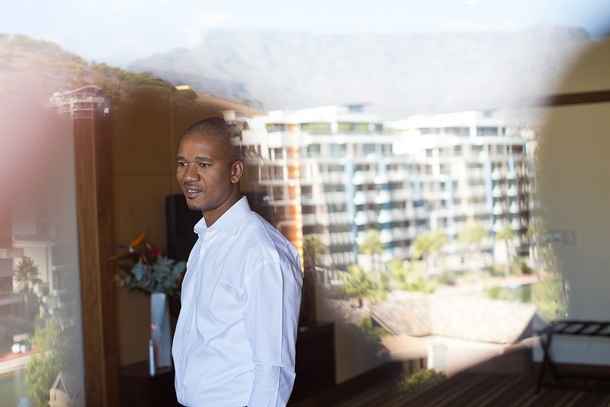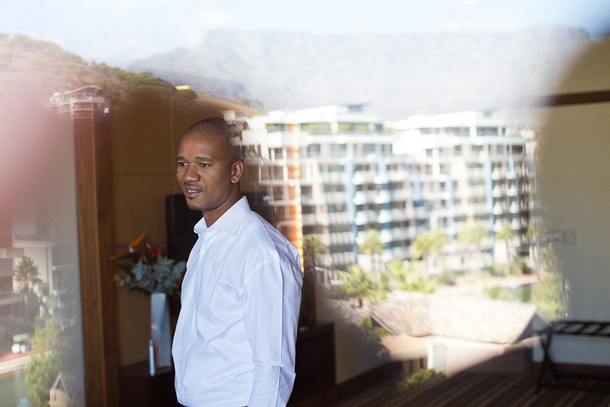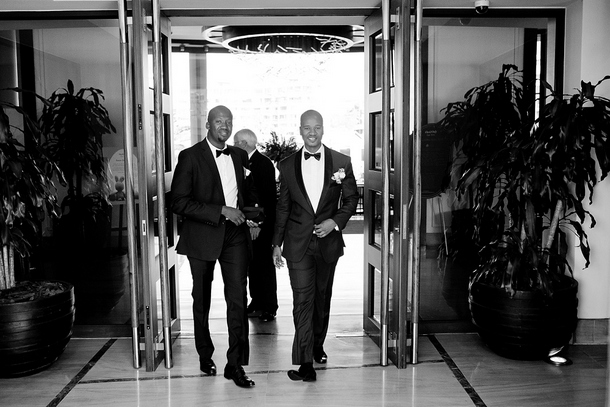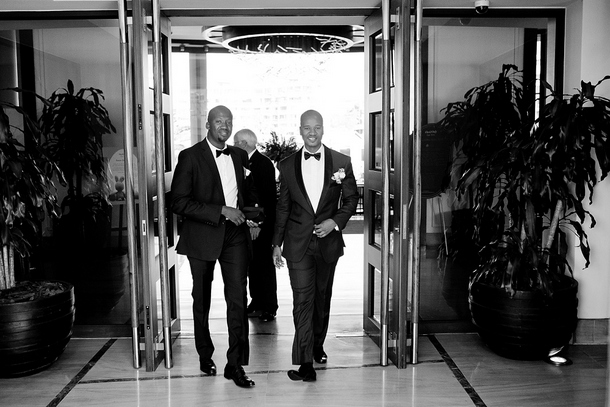 The Wedding in 3 Words
Happy, family, modern.
The Venue
We chose the ceremony venue, St Mark's Church, based firstly on our religious beliefs, and then secondly because it was in District Six, where my dad is originally from – it meant a lot to my family. It was also close to the reception venue, and I didn't want our guests to be driving far between the venues.
In terms of the reception venue we went there to view the site one day, and immediately knew it was where we wanted our reception. The One and Only, Cape Town gave us both the outside space and the inside space that was perfect, and it was very modern.
Wedding Style
There was not a specific theme for the wedding; we just knew we wanted everything to be very modern. For my husband we selected a navy blue tux, and the bridesmaids were given free range to decide on the colour they wanted to wear. Luckily they choose a very complementary colour.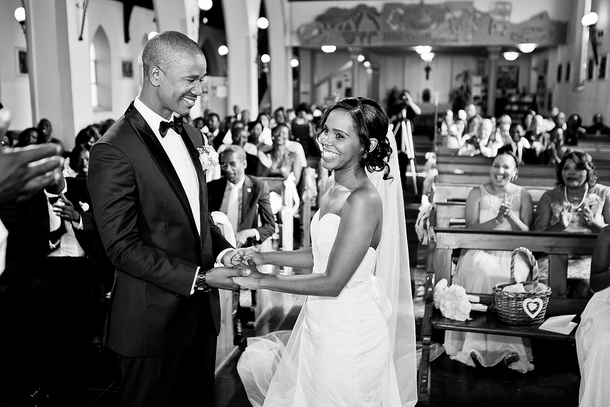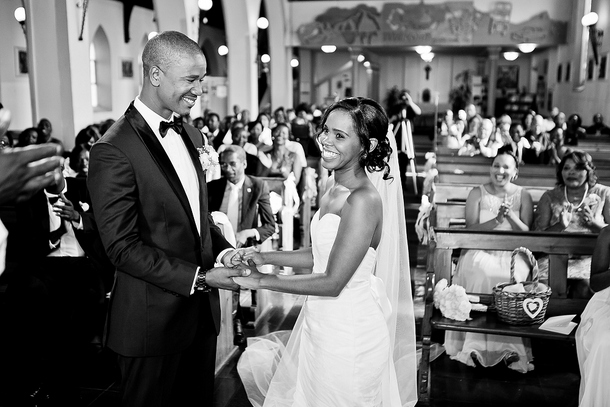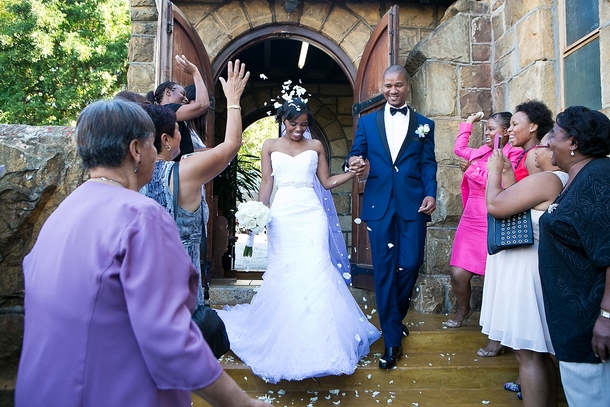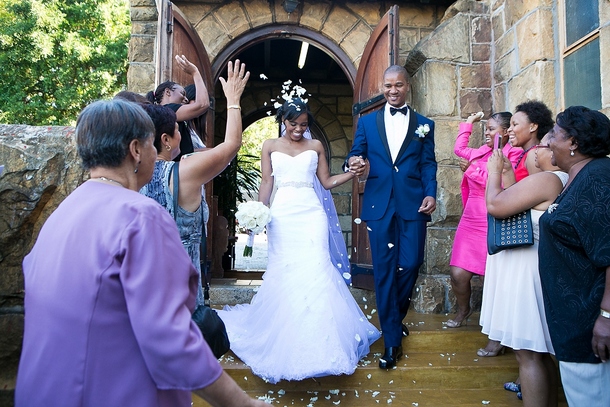 Wedding Details
We had a cake made which was a storyboard cake telling our own story, with the start being in a forest, and it ending up with an image of our house in Swaziland.
DIY Elements
The seating plan was a bit of a DIY project. Because the guest list was changing even the day before the wedding we had to come up with a plan where we could easily change the seating plan without it taking too long. So my sister came up with the idea to use a photo frame. It was relatively inexpensive from Mr Price Home, and had twelve smaller frames in it, so we had space for both the seating plan and for some engagement pictures. It turned out to be great, given the changes.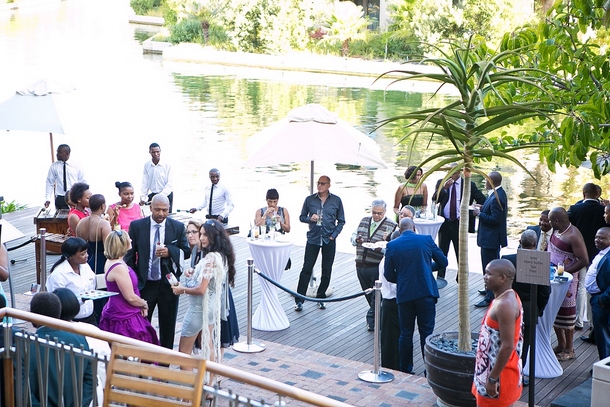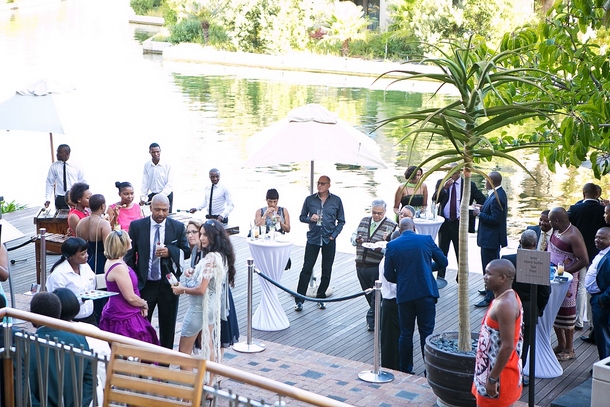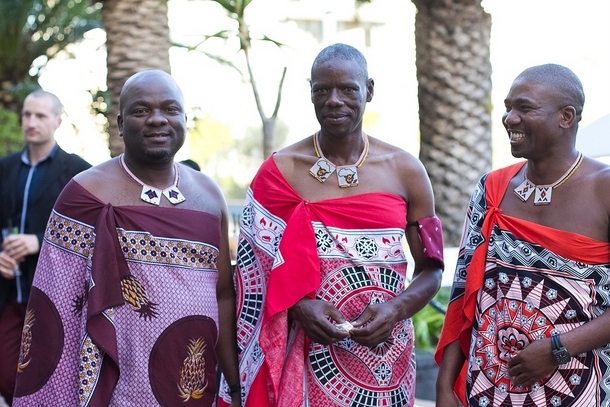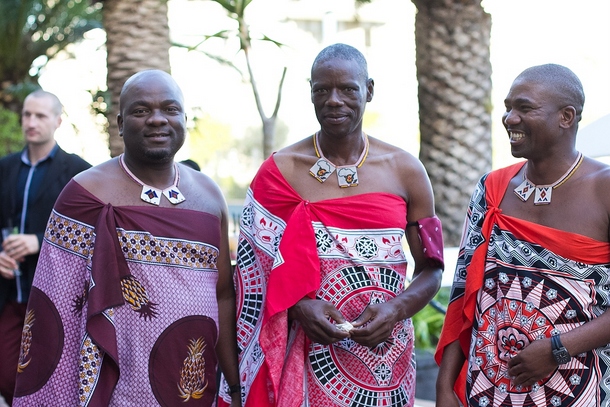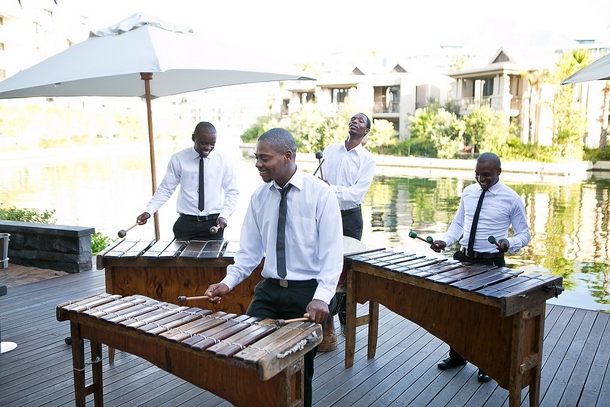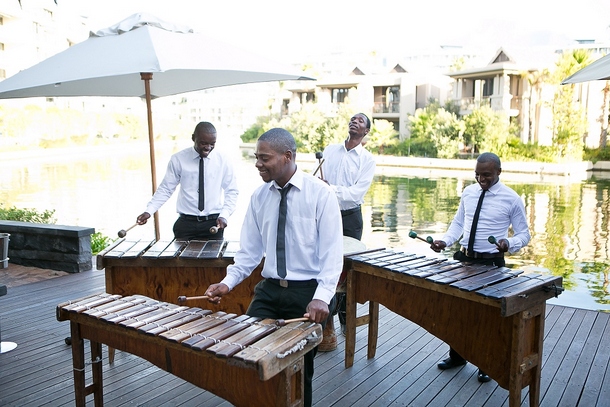 The Flowers
Our flowers were kept very simple and elegant. They were all white; I basically gave our florist the brief to do anything as long as it was white. The only other guideline I gave them was to ensure there were flowers in the foyer, because I wanted the entrance-way to look as beautiful as the actual reception area, and also to have flowers in the bathrooms.
The Dress
I found my wedding gown at Eve's Bridal in Durbanville. I wanted something very elegant with not too much fuss about it. I always wanted people to comment on how I made the dress look, and not the way the dress looked on its own. I also didn't want it to take attention away from the way I looked.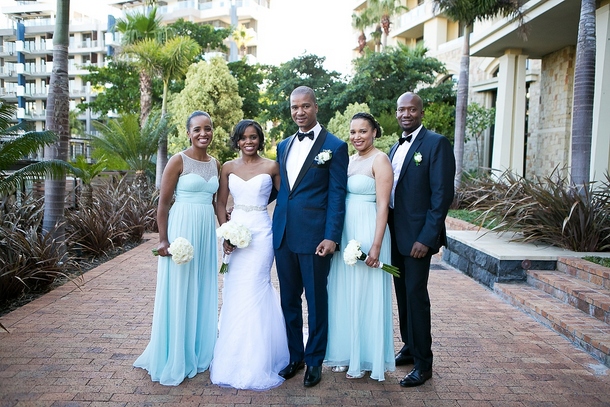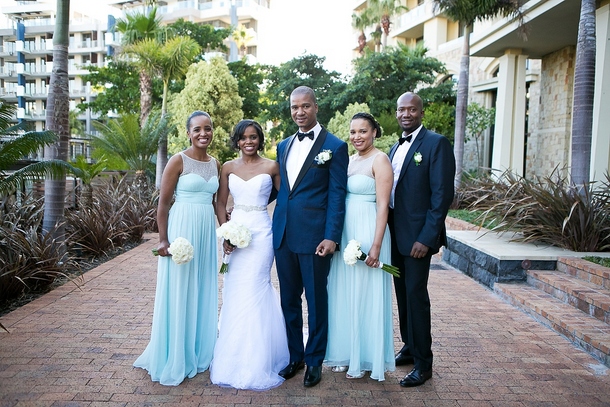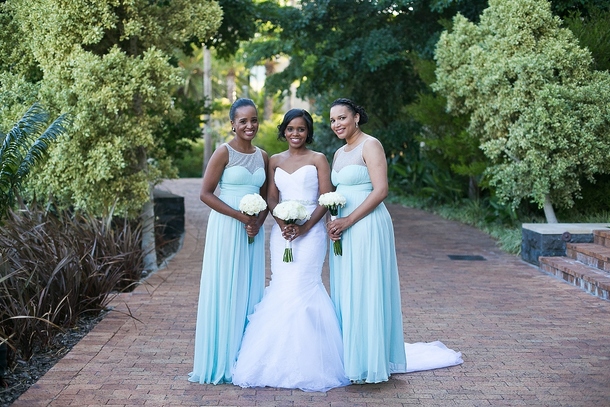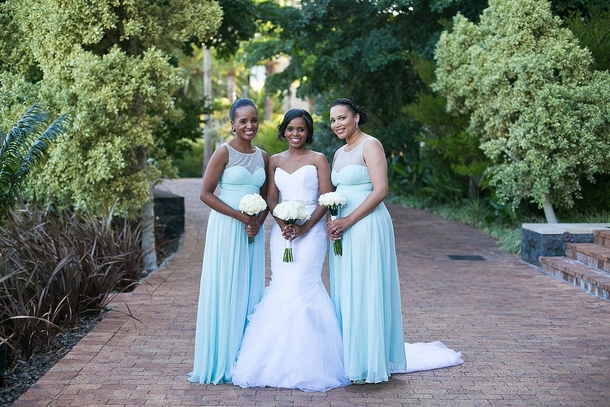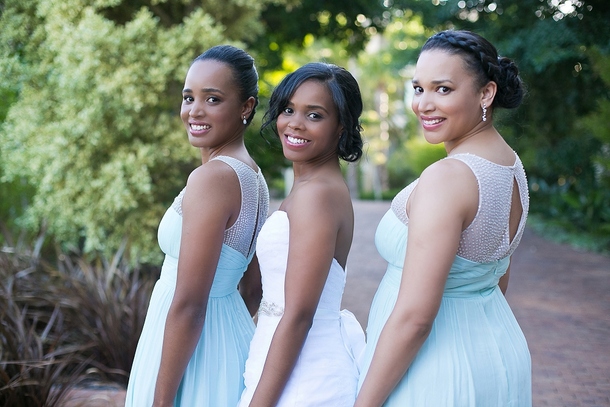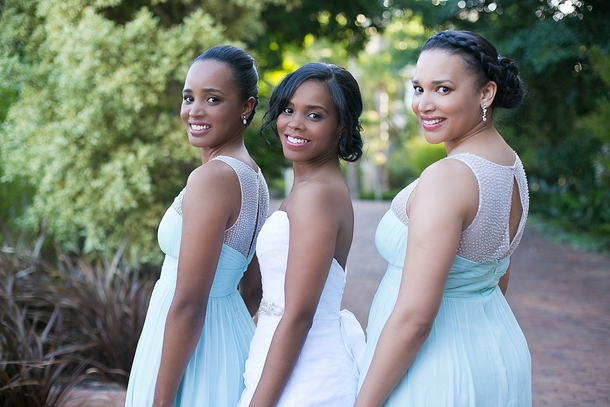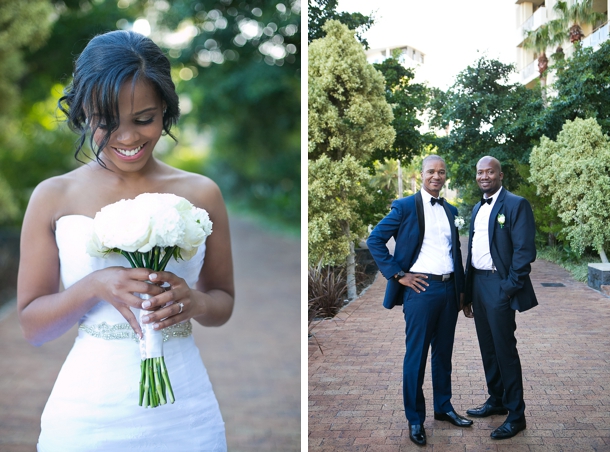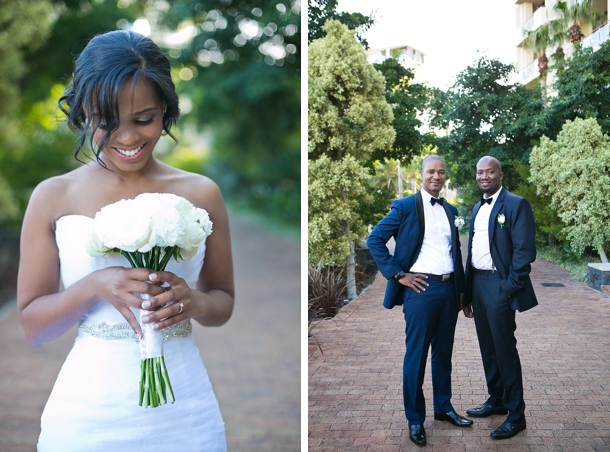 Memorable Moment
The memorable moment was our entrance into the reception venue, the song that played was "Happy" by Pharrel Williams. It summed up everything that we were feeling about that day.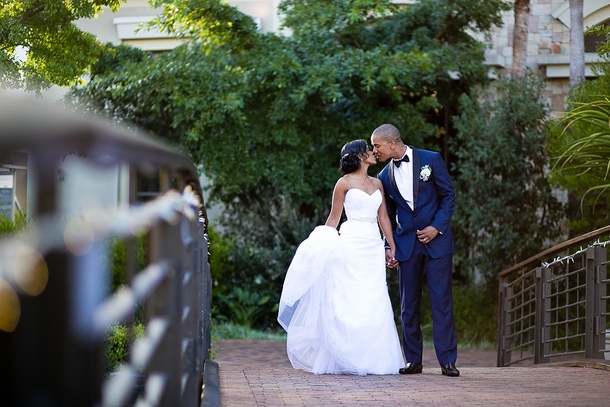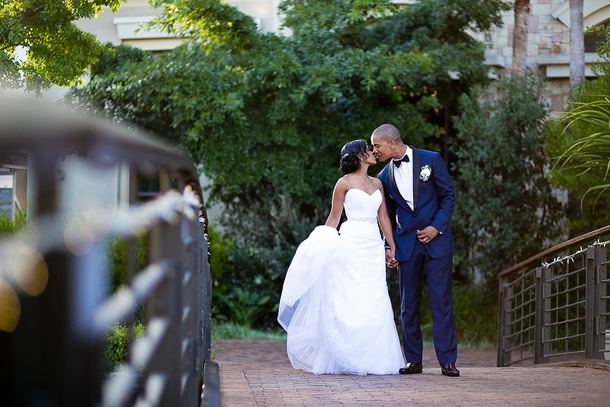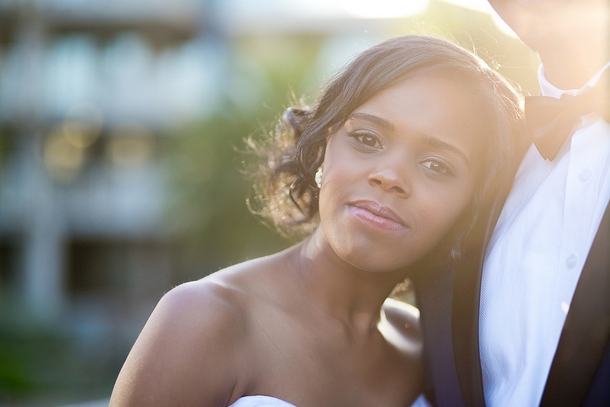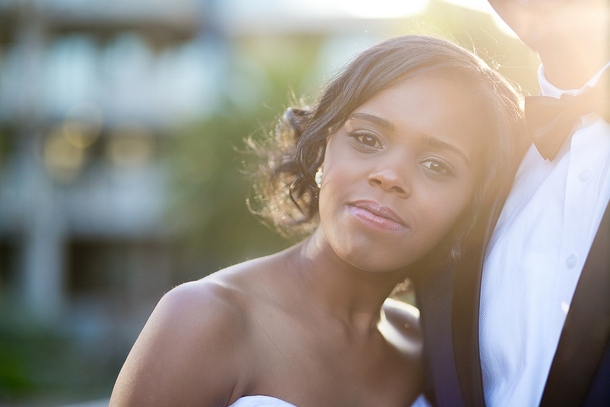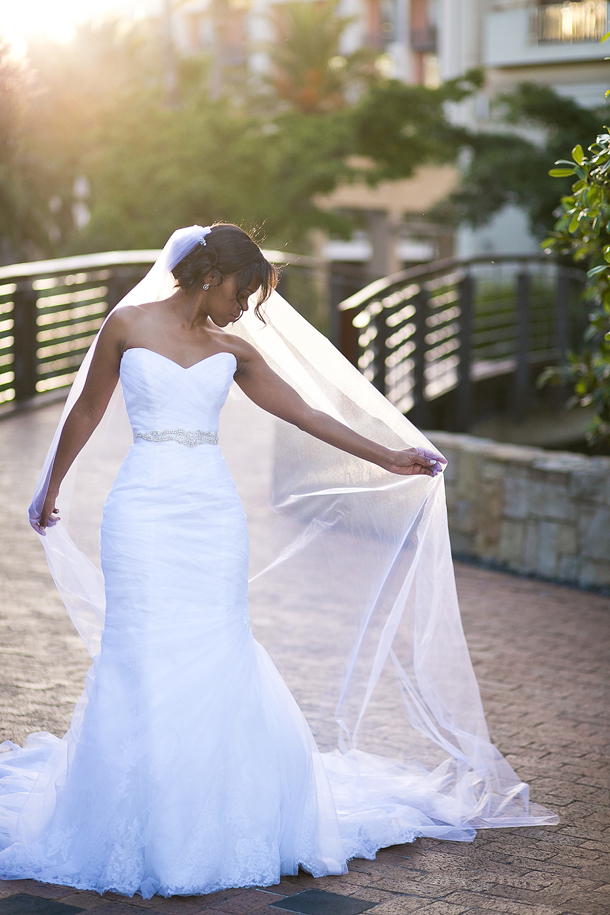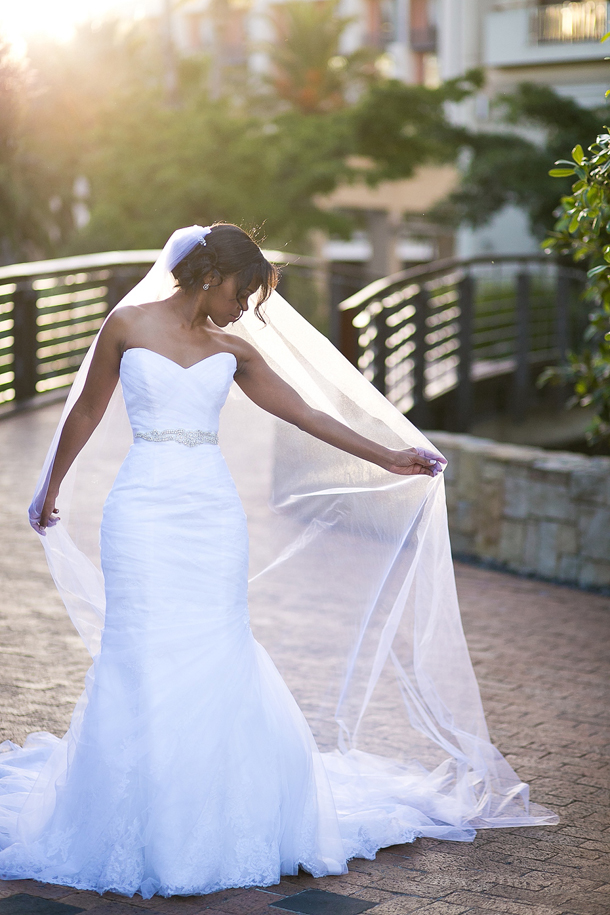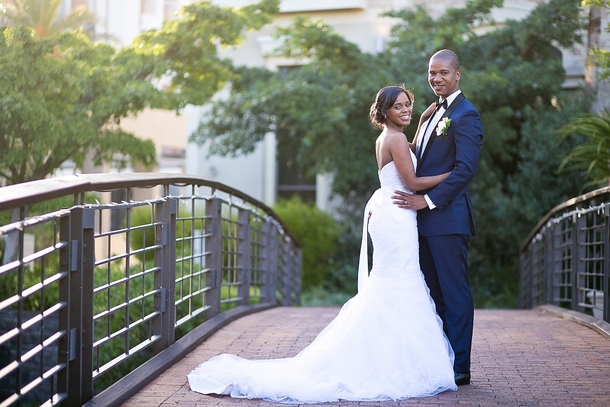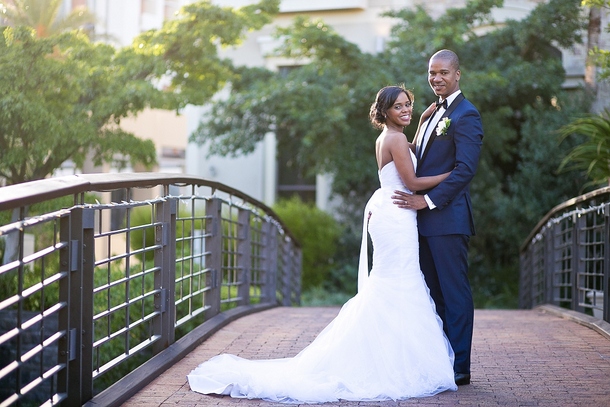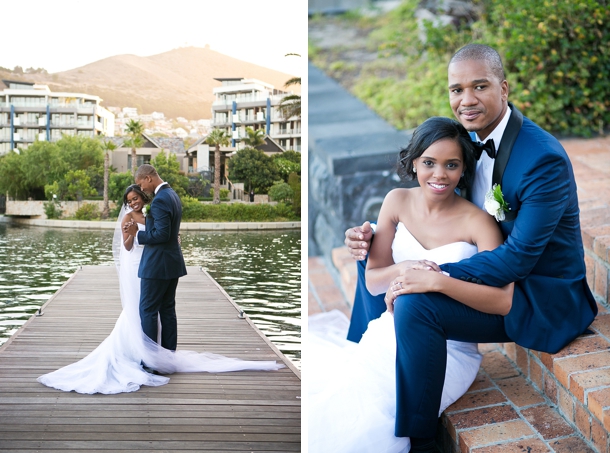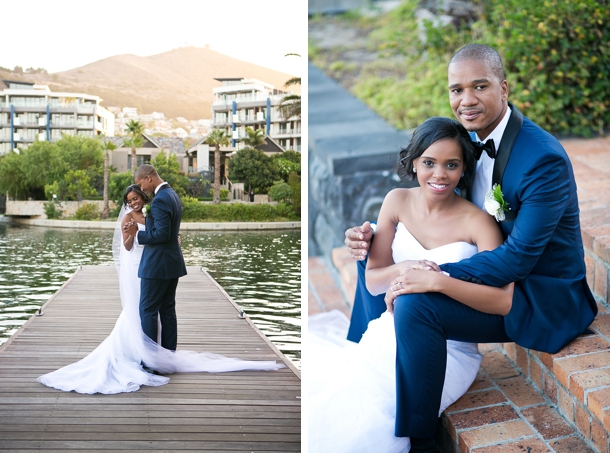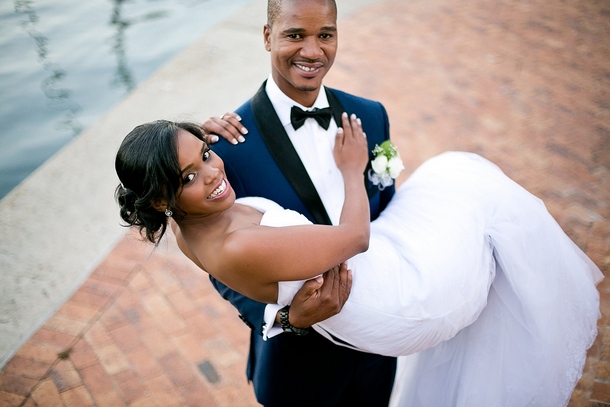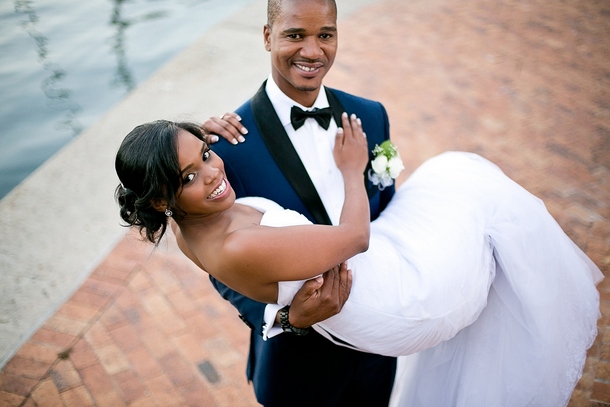 Proudly African Details
We didn't have any South African traditions, but as my husband is from Swaziland, we asked all our Swazi guests to wear traditional Swazi attire.
The Honeymoon
We went to Jamaica, and then to New York and Dubai to do some shopping.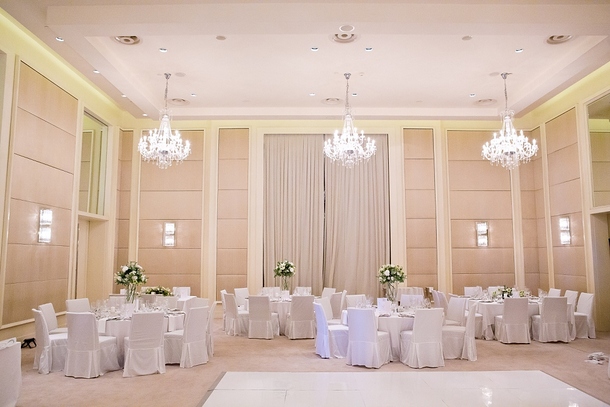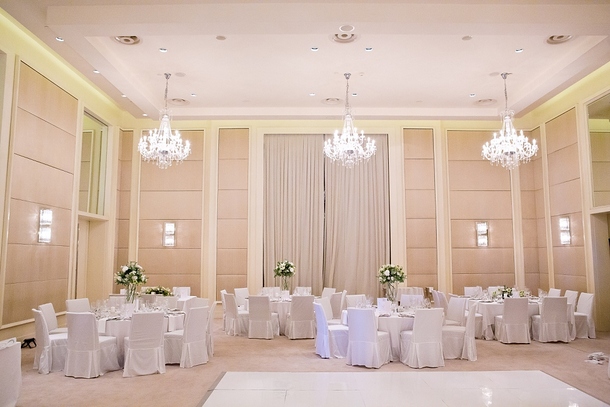 Advice for Future Brides & Grooms
Book well in advance – it was difficult for us to find a venue. Fortunately we had to get married in the week, for religious reasons, so it was a little bit easier to find a venue.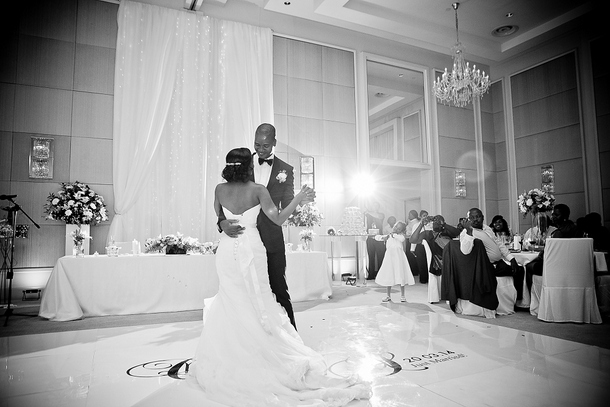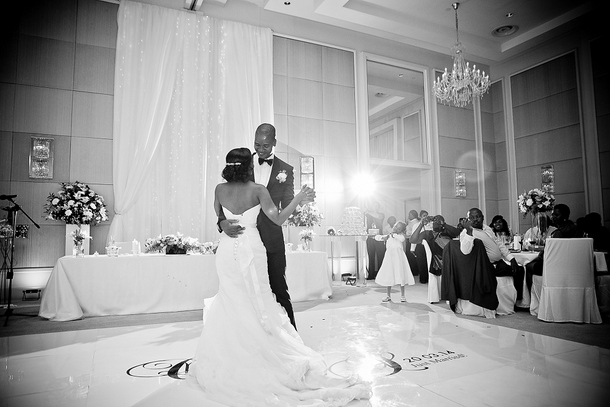 You can see more from this wedding on Lindy's blog.
SERVICE PROVIDERS
Venue & catering: One and Only Hotel, Cape Town | Photography: Lindy Photography | Co-ordinator: Adele Bennet, One and Only Hotel, Cape Town |  Videographer: FJS Productions | Cake: Wade's Cakes | Stationery: Lee's Stationery | Ceremony venue: St Marks Anglican Church, District Six | Bride's dress: Eve's Bridal | Bride's accessories: Swarovski | Hair: Stylestar | Bridesmaids' dresses: Forever New | Groom's attire: Mavericks Stylewear | Lighting: Sound FX Entertainment