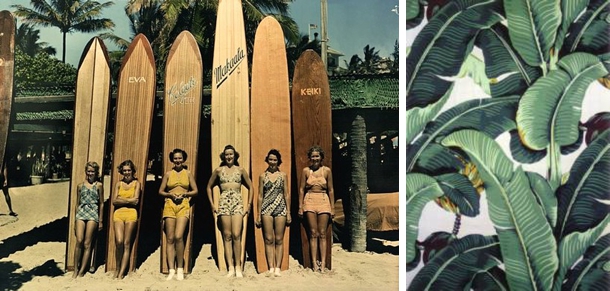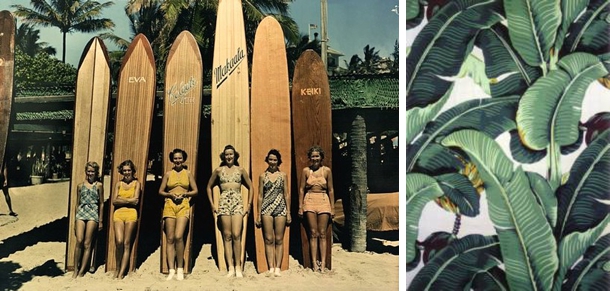 Sources: Surfer Girls; Beverley Hills Hotel Wallpaper
We're havin' a heatwave… a tropical heatwave… (Ha, I wish. I can hear rain on my skylight as I write this.) This is a theme I've been dying to do for ages (probably because of just how much I love a kitschy retro surf design) but I knew the moment had come when Amanda of 100 Layer Cake showcased her vintage tiki shower recently. It was AWESOME. This is such a perfect shower theme – ideal for beach bums, coast lovers, surfer girls, vintage fans, kitsch creatives… the list goes on. The best part is that surf retro sort of merges seamlessly with a Hawaiian luau or a tiki bar vibe, and these are the kinds of themes that really get guests going. So fun. In fact, I'm liking this mishmash of a theme so much that I think it's going to be showing up in my birthday celebrations this year… Anyway, put on some Beach Boys, because we're going on a surfin' safari. Here's how to throw a fabulous tropical/vintage surf bash.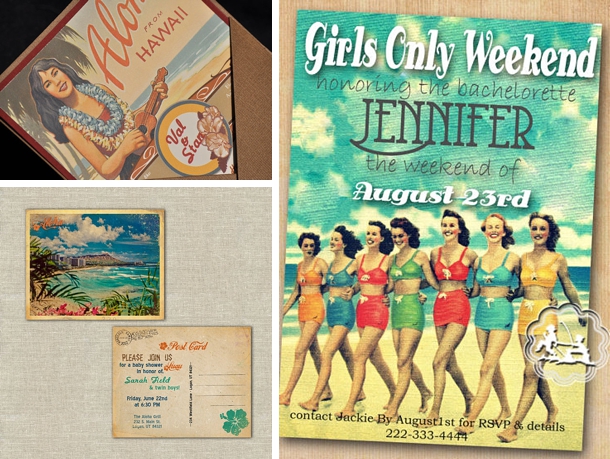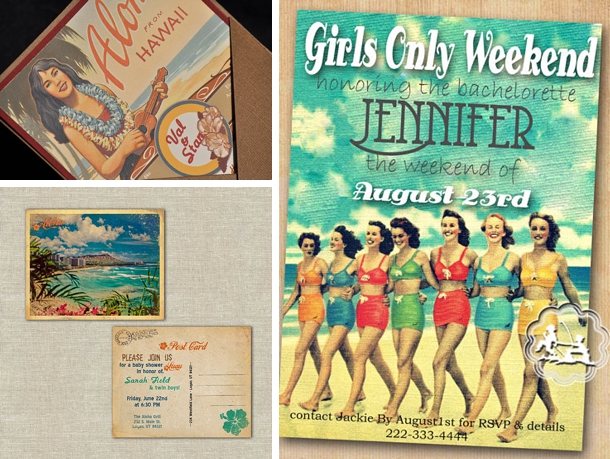 Sources: Hula girl invitation; postcard invitation; pinup girls invitation
Invitations
The invites on the right (above) are actually what first inspired this post – I absolutely loved this pic to inspire some hen night/weekend fun! Then I fell in love with the other two, particularly the vintage Hawaiian postcard – how cute is that! All are readily available from Etsy, or you could DIY your own, having fun with retro surf or travel images (and you'll find plenty of them online). The invitation is a great way to set the tone and get the theme across to your guests (trust me, if you start saying 'surf retro' or even 'tropical' you'll get blank looks).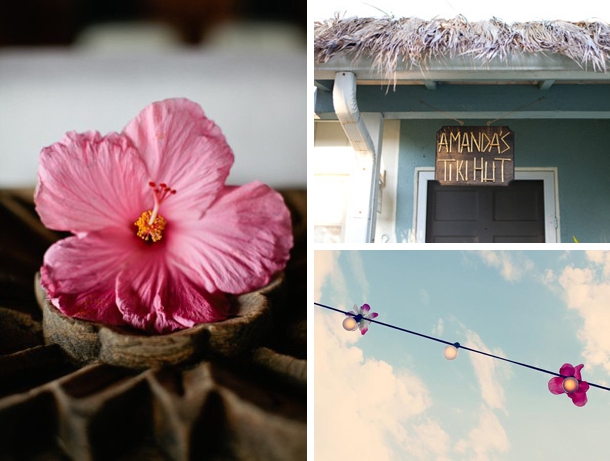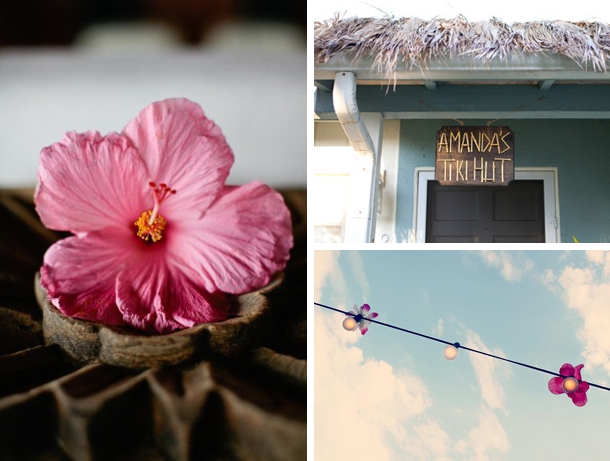 Sources: Hibiscus from Rebecca Arthurs via Elizabeth Anne Designs; Tiki hut sign from Birds of a Feather via 100 Layer Cake; Lights from Oh My Creative via HWTM
Decor
This is so the fun part. In terms of colours, I'd probably steer clear of having anything too set in stone, because a bit of a clash is all part of the look, but you'll want to be focusing on bright, tropical colours – greens, pinks, oranges, yellows. Prints are a big part of the look – for the 100 Layer Cake bash they used what is surely the ultimate tiki-style print, from the Beverly Hills Hotel (you can see it right at the top of this post), but have a look at your local fabric store for inspiration. You could also look to our Hawaiian Honeysuckle wedding inspiration board.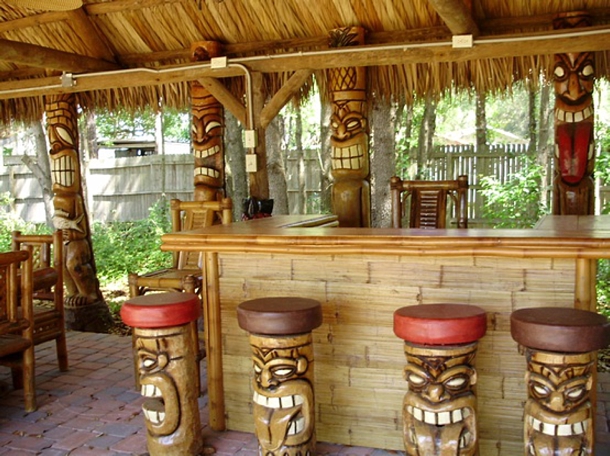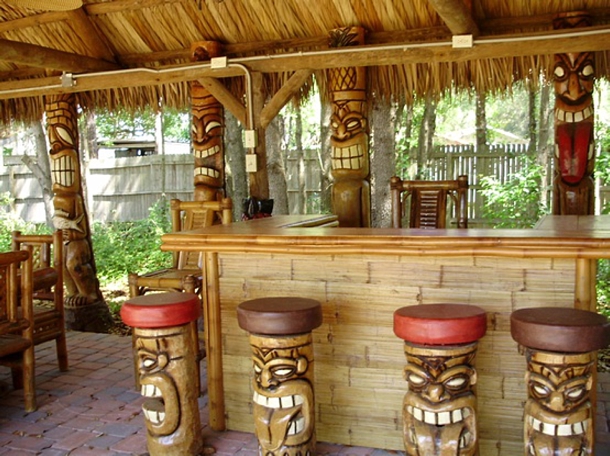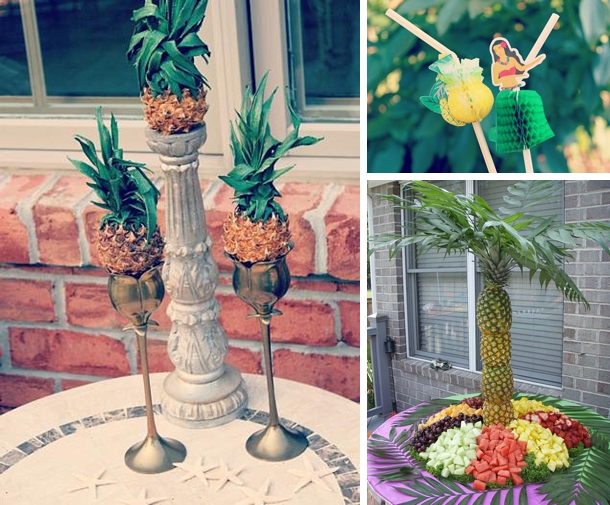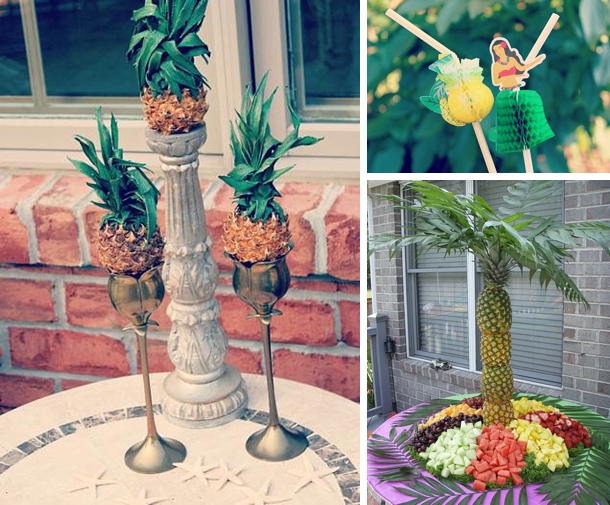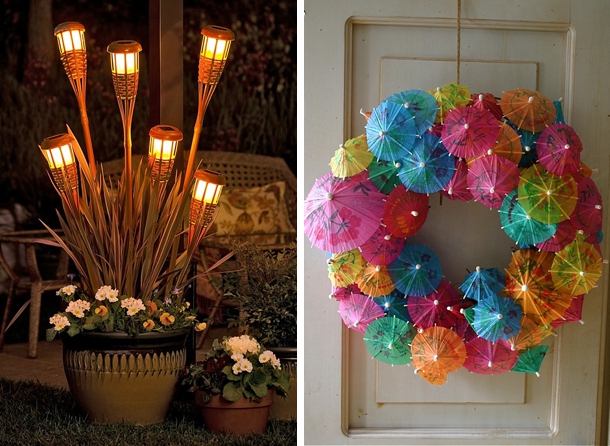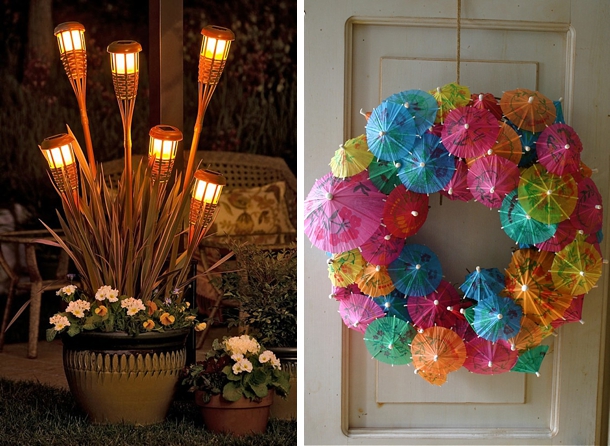 Sources: Tiki bar; pineapples in vintage vases + drink stirrers from Oh My Creative via HWTM; pineapple palm tree centrepiece, tiki torch planter, cocktail umbrella wreath
Of course, we don't all have access to a proper tiki bar, but you can add touches of the tropics to whichever space you use, by including elements like fruit (how much do I love that pineapple 'tree'), bright, lush flowers, and palm fronds. If you're having the party around the pool, string up some lights and then add cheap silk flowers to each one to create a pretty string. You can also have fun with kitsch elements: hula girls, cocktail umbrellas (how amazing is that wreath?), tiki torches, flamingo drink stirrers, etc.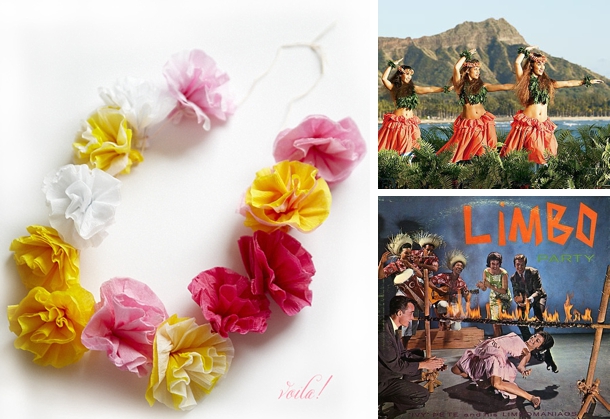 Sources: Lei via 100 Layer Cake; limbo record
Venues & activities
Whether you're celebrating summer in South Africa, or somewhere chilly like London as I am, this is do-able. If I was throwing this party in SA, I'd probably do it at home and make it a pool party, maybe with a braai. In London, I'd probably book a space at one of the tiki bars on the scene – there are quite a few, and they range in price from the Made in Chelsea fave, Mahiki, to its less exclusive Clapham cousin, Sugar Cane. Neither of these necessarily need an activity, but particularly if you're hosting at home, you may wish to offer a couple of fun things to do. At the 100 Layer Cake party, they had a tropical flower arranging session and this is a great idea, but you could also get the girls to DIY their own leis. Or why not try a spot of hula hooping or limbo dancing? Or you could hire someone to give you a session on tropical cocktails, since they're such a big part of the whole experience!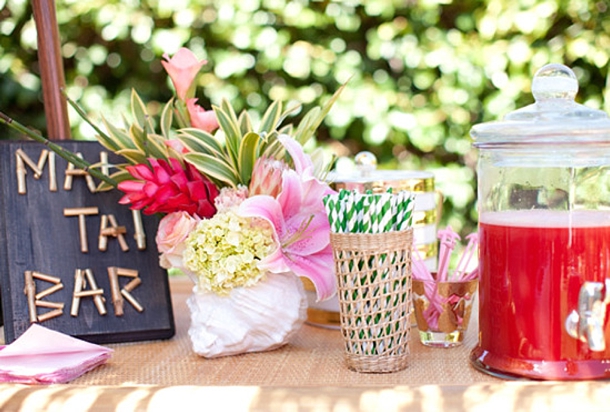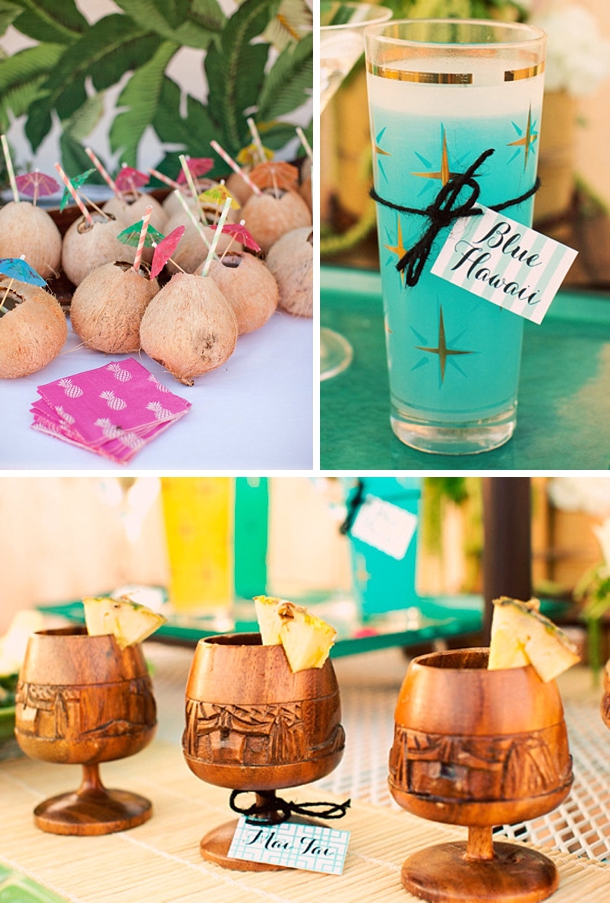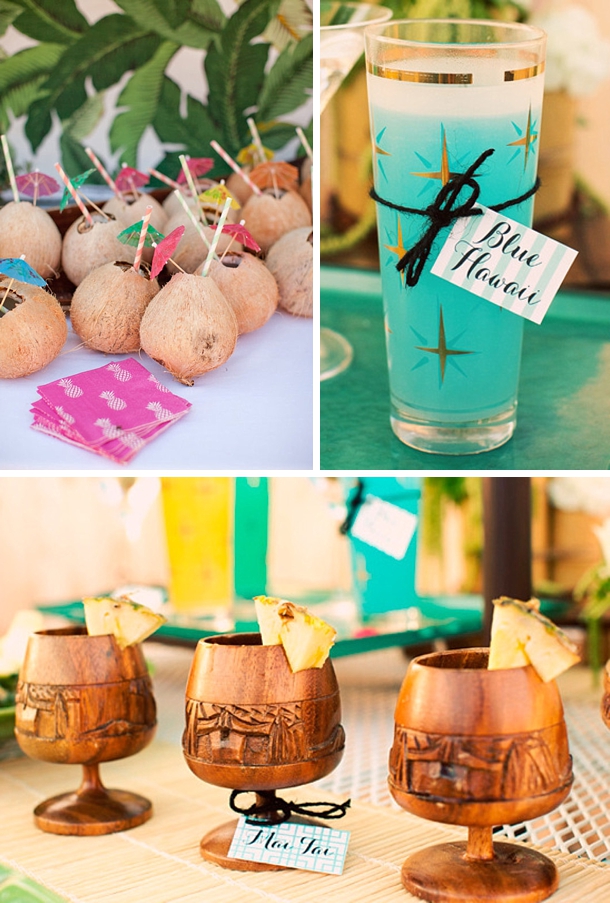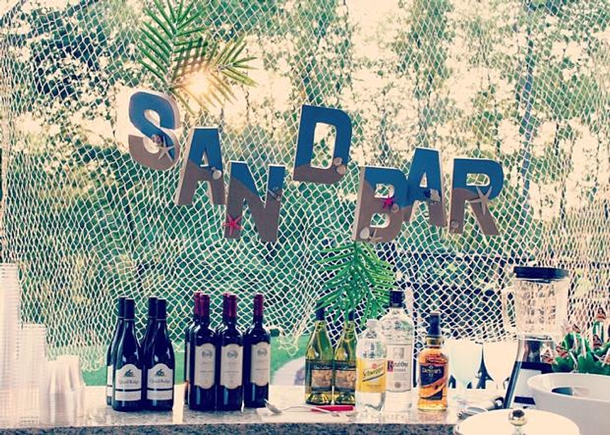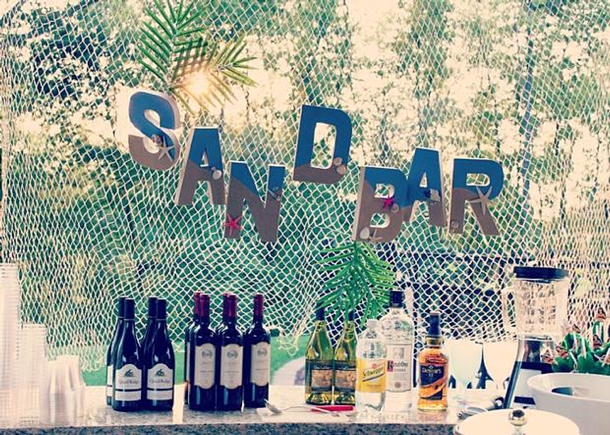 Sources: Rows 1, 2 and 3 from Birds of a Feather via 100 Layer Cake; bar from Oh My Creative via HWTM
Food & drink
Speaking of cocktails, this is the perfect time to have some fun making tiki classics like a Blue Hawaii or a Mai Tai. Click on each link for recipes from my favourite cocktail guru (Lena at A Crimson Kiss), or just serve a budget-friendly tropical punch. Serve out of hollow coconuts for a real island vibe, or just buy a load of cocktail swizzlers and umbrellas. Let's be honest, it isn't every day you get to have so much fun with your drinks! I also love the idea of using fisherman's netting as a backdrop for a bar, as above.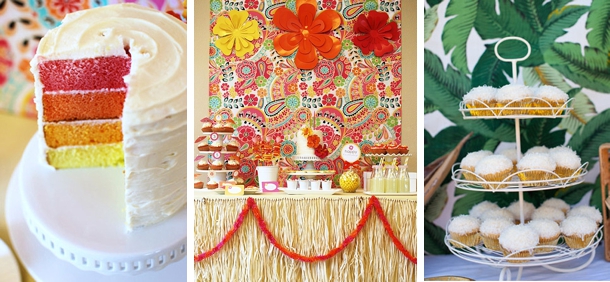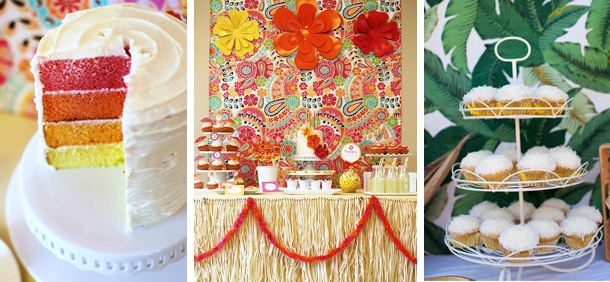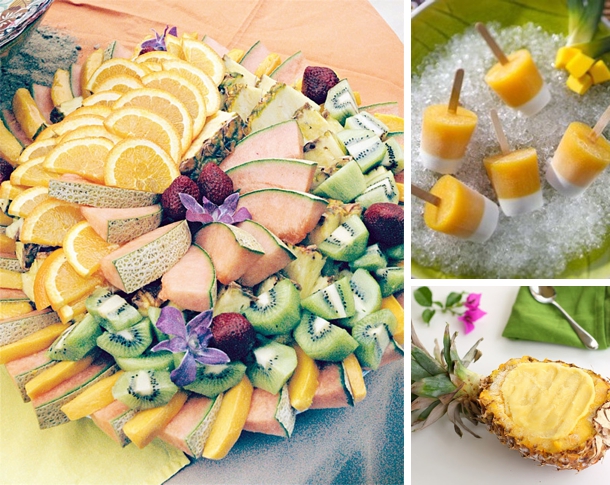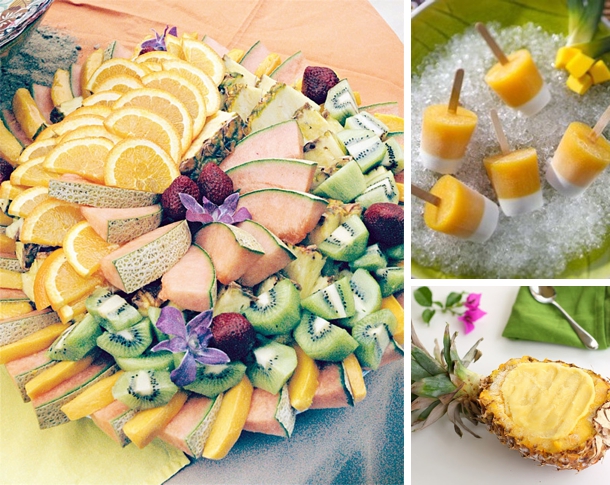 Sources: Cake and dessert bar from Stefanie Richter via HWTM; coconut cupcakes from Birds of a Feather via 100 Layer Cake; fruit platter from  Modern Mindy via HWTM, mai tai pops; pineapple sorbet
For food, fruit is the obvious choice, and you can have some fun in how you display it. For example, make fruit kebabs (or leis) or serve pineapple sorbet inside hollow pineapples (be sure to freeze these with the ice-cream inside). You could even turn your cocktails into popsicles! So adorable for a pool party. A cake display never goes amiss, and I love the tiered cake with a real colour punch to it, or coconut cupcakes. For real tiki food, you're probably looking at pan-Asian finger food, but really I think this is an occasion where you can largely serve whatever you like.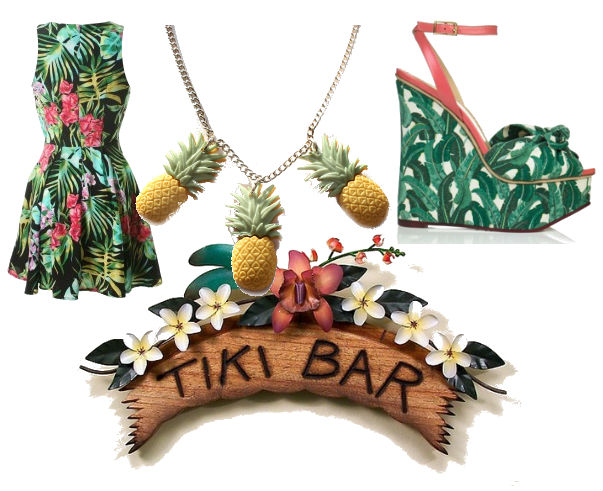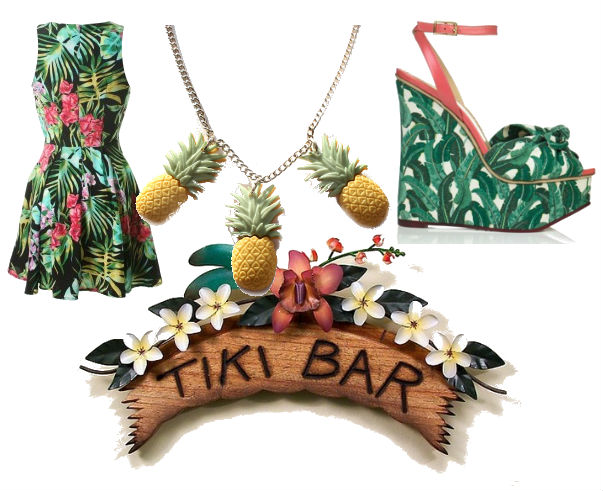 Sources: Dress; necklace, Charlotte Olympia shoes; tiki bar sign
Dress
If you're having it by the pool, cossies and grass skirts (maybe with a coconut bra for the bride-to-be!) are the business, or else ask everyone to wear bright summer dresses. Or, if you're planning it as an evening out, just give everyone a lei, and perhaps give the bride a pretty flower for her hair. Of course, if you really want to dress up, there are tons of tropical prints all over the place at the moment, so you could give into your inner Magnum PI and sport one of them!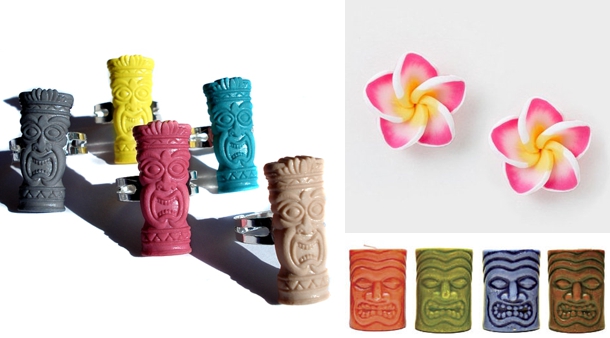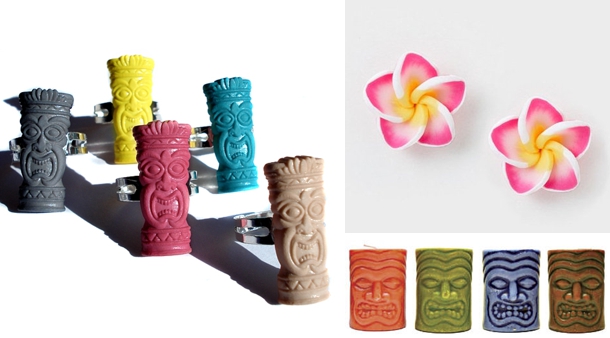 Sources: Rings from Bow & Crossbones; earrings from Claire's; candles from Tikimaster
Favours
Again, have some fun with these, if you're offering them. If you wanted to spend more, real tiki cups are AWESOME and available on eBay, but they do cost about £10 a piece. Otherwise, you can fake it till you make it with tiki head rings (so cute, and very reasonably priced) or candles. Or how about these cute earrings from Claire's? Also a budget-friendly option.
So, what do you think? Do you love this theme as much as I do?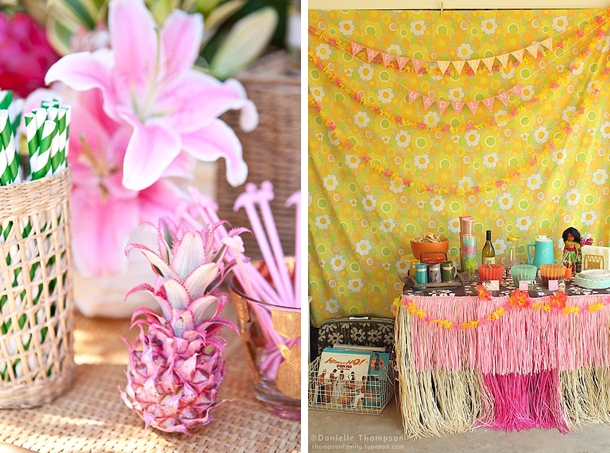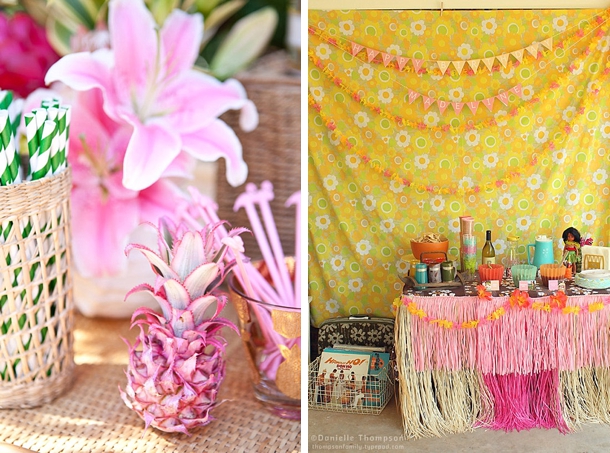 Sources: Left from Birds of a Feather via 100 Layer Cake; Vintage tiki print backdrop