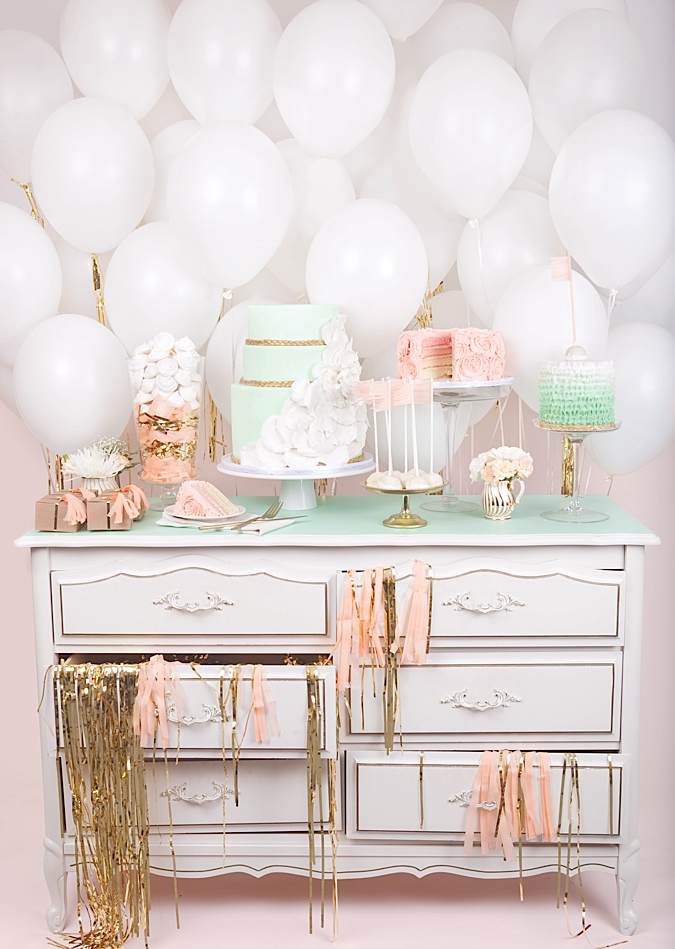 Credit: Jenna Rae Cakes/Tracey Kiansky Photography/One Plus One Design via Weddings in Winnipeg
It's a couple of years now since candy buffets burst onto the wedding scene, and for a while there, it seemed like everyone HAD to have one. That trend has calmed a little, but I still think that a well-designed dessert display makes for an amazing focal point at a wedding, and one that will definitely put your guests in a happy mood! That's especially true when we're talking pastel weddings, because the mix of colours that can be achieved with a few sweet treats is particularly complementary to a mismatched pastel colour scheme. So I thought that we should break down how to go about creating a pastel dessert display, step by pretty step. You can use these same instructions for any colour scheme really – just adapt the dessert buffet display ideas here as needed! *Links in bold denote affiliate links. The cost to you remains the same, but SBB may receive a commission for any sales made.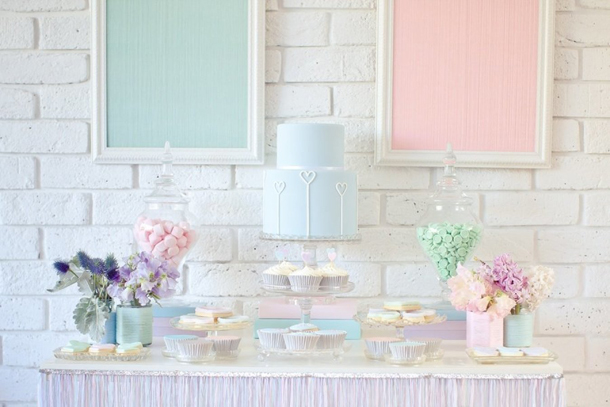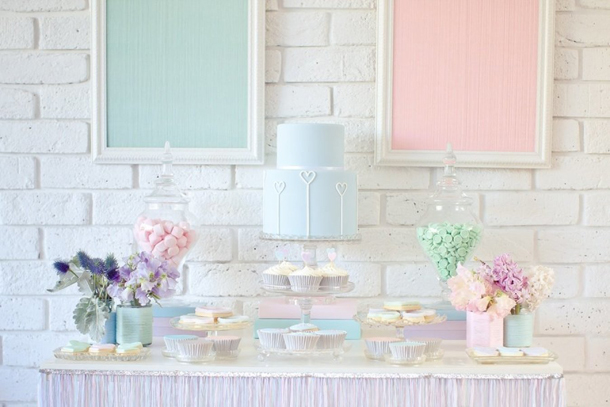 Source: Love Joy Faith/White Room Events via Style Me Pretty
STEP 1: Decide on your colour, theme and budget
This is relatively easy when we're talking weddings, because of course, you'll already have your colours picked out or your theme determined. You'll probably also have an idea of general budget, but make sure you lock down a number before you get started, because depending on where you shop, specialist sweets and pastries can get expensive. On the other hand, a sweets table can double up as dessert and favours (not to mention decor), so you're getting a lot of Ooh! for your buck.
STEP 2: Pick your desserts
This is the fun part! You can get really creative, and be sure to include all of your and your partner's faves. Even better if there's an element of whimsical childhood nostalgia – after all, we all love to feel like a kid in a candy store… literally! (For a pastel wedding, how about candy necklaces? Flying saucers? Or love hearts?) This is a good time to decide on your centrepiece – will you be using your wedding cake as the main attraction, surrounded by some other sweet fancies? A cupcake tower? A range of cakes? Or will you have a cake, but keep it separate from the dessert buffet? How about sweeties – be sure to include a selection of: chocolate, hard candy, gummy sweets, mints, lollipops. We've put together a selection of lovely (delicious) ideas below to get you started, and be sure to click through to the sources, because there are lots of DIY options and recipes on this list.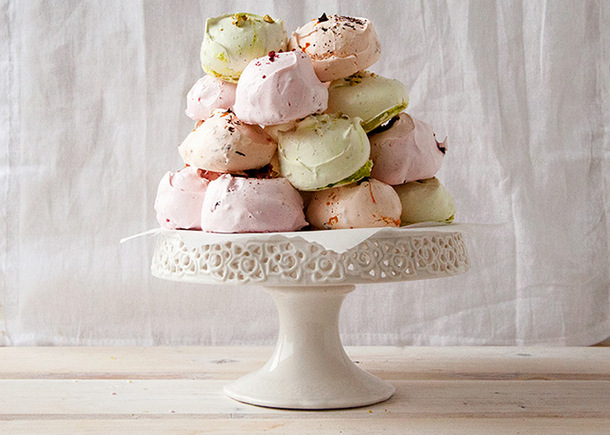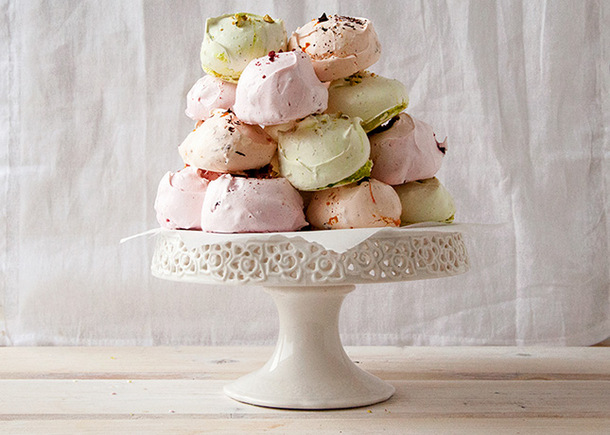 RECIPE Gourmet meringues by Brit + Co.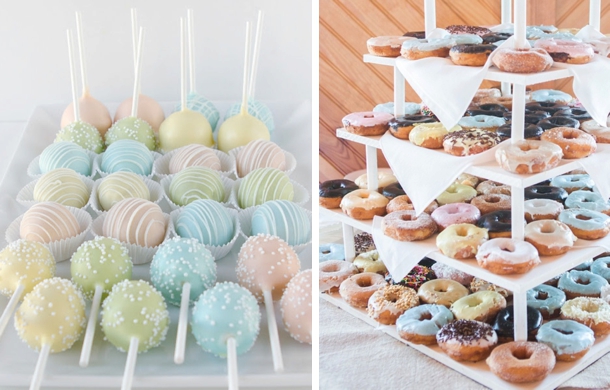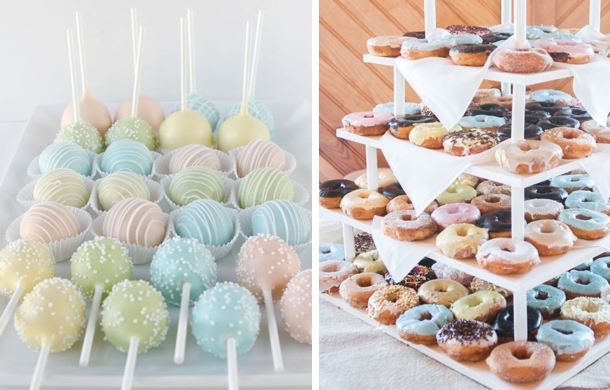 RECIPE Pastel cake pops by These Peas are Hollow | Pastel donuts by Elizabeth Henson Photos/Duck Donuts via Tidewater & Tulle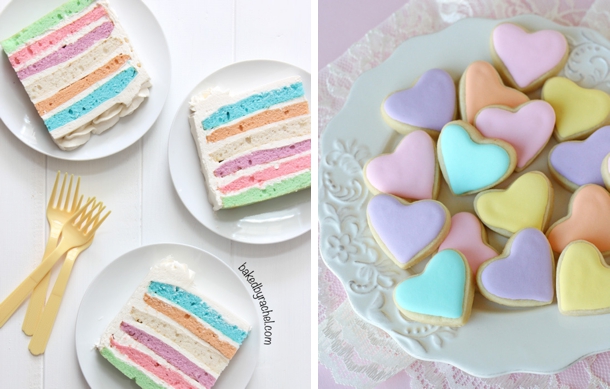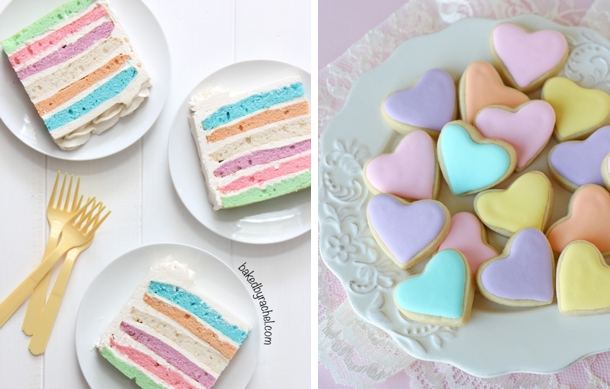 RECIPE Pastel layer cake by Baked by Rachel | RECIPE Heart cookies by Glorious Treats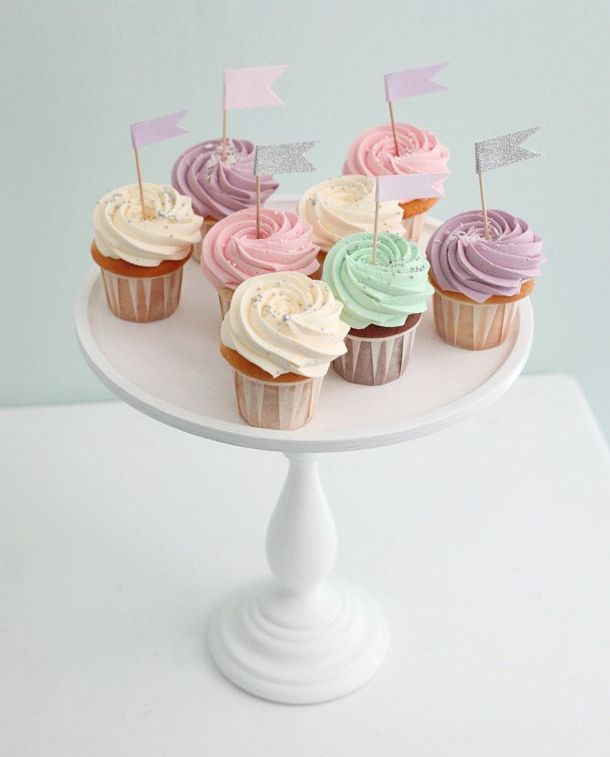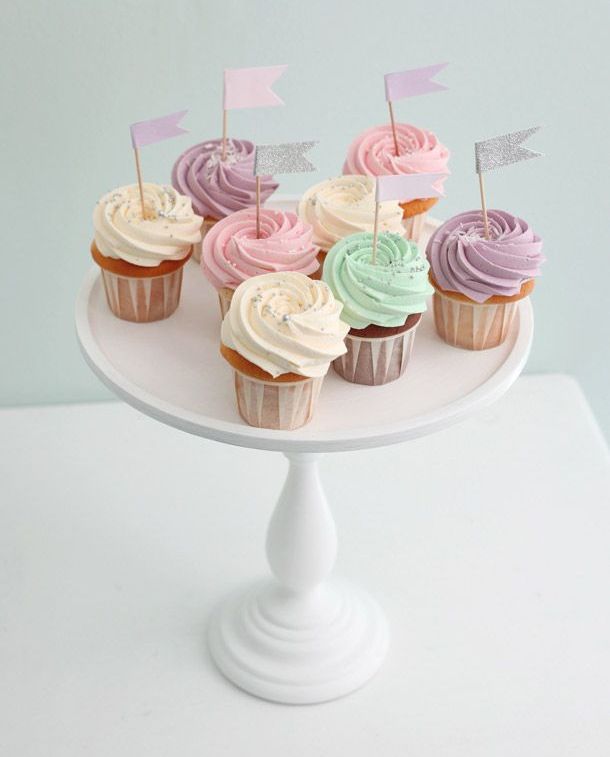 Pastel cupcakes by Zuchermonarchie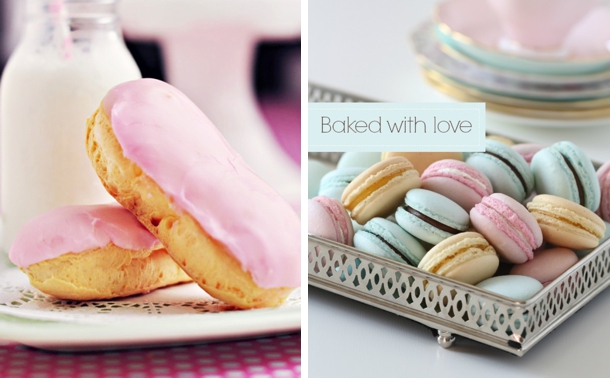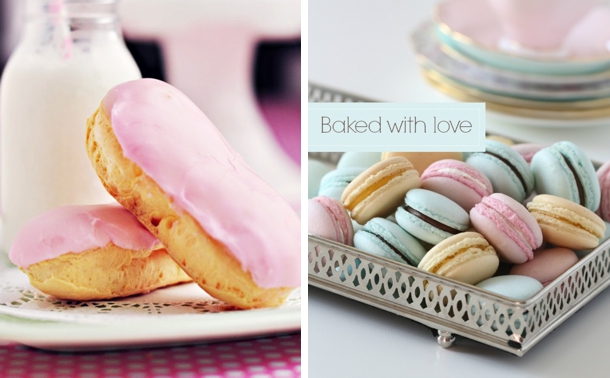 RECIPE Pink eclairs by Amy Atlas via Sweetapolita | RECIPE Pastel macarons by Passion for Baking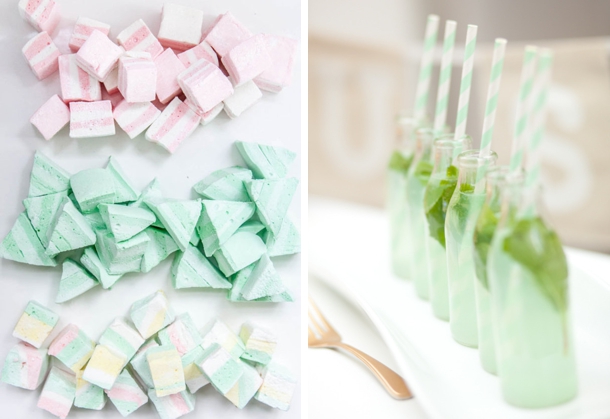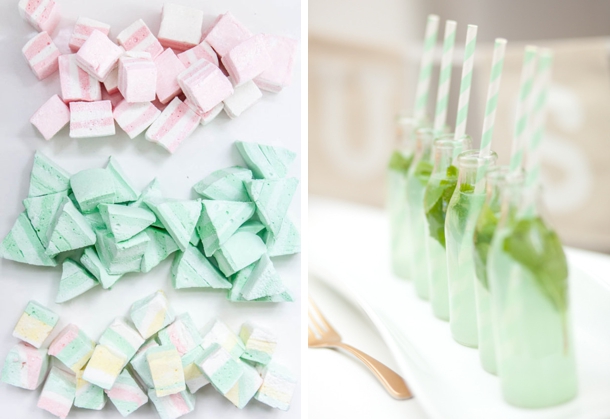 RECIPE Marshmallows by Andrea Pimental/Paul Ferney via Oh Happy Day | Mint lemonade by Haley Photography via Style Me Pretty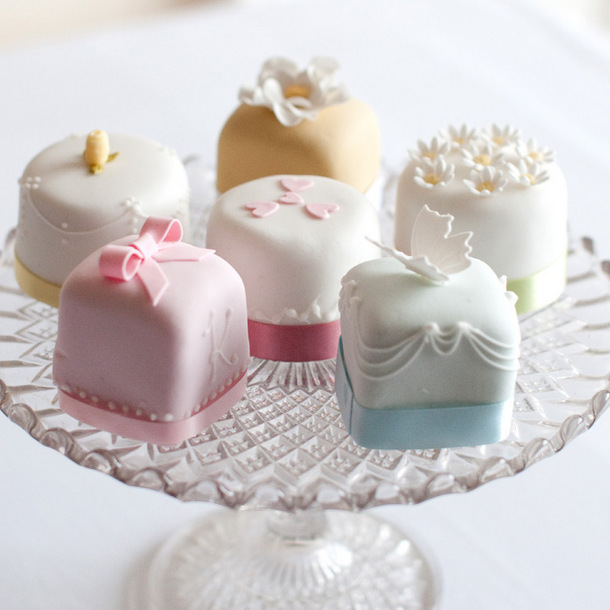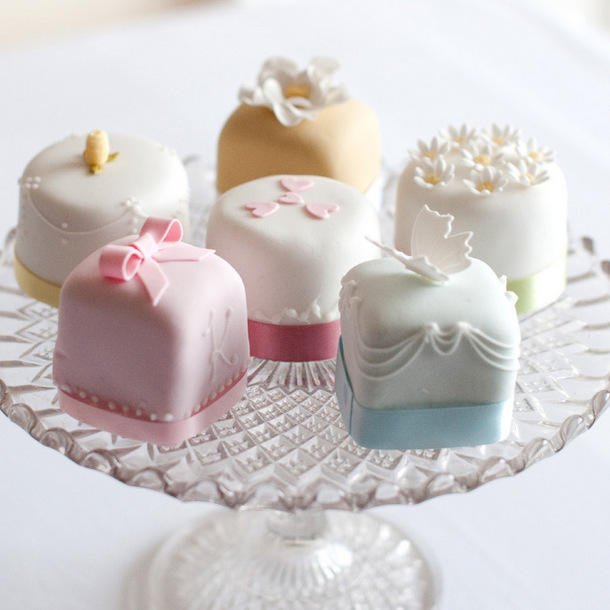 Petit Fours by Fiona Kelly Photography/Pretty Cakes of London via Bridal Musings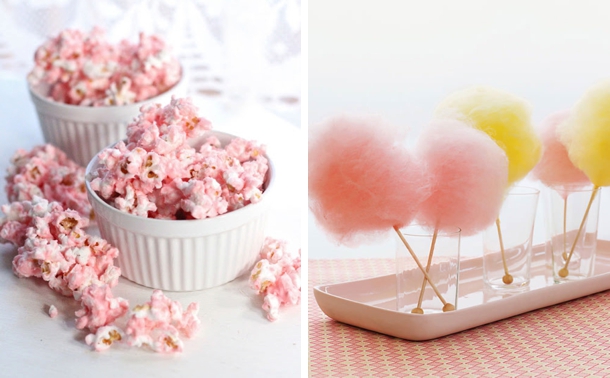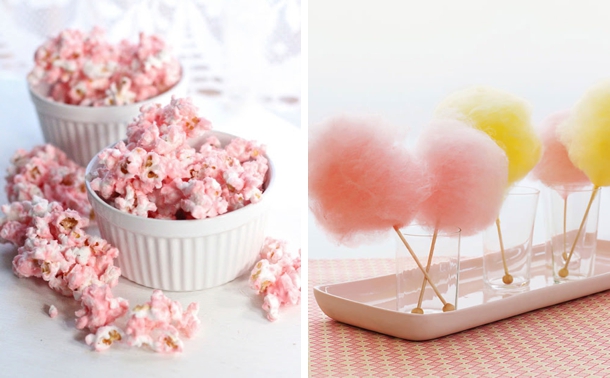 RECIPE White chocolate popcorn by Eat Good 4 Life | Mini candyfloss by Martha Stewart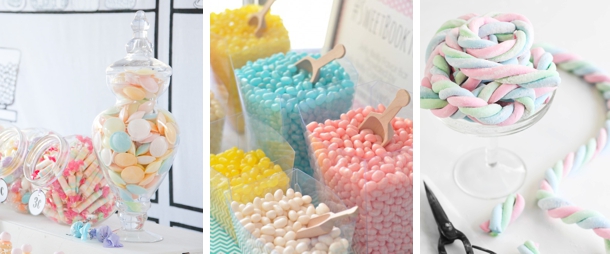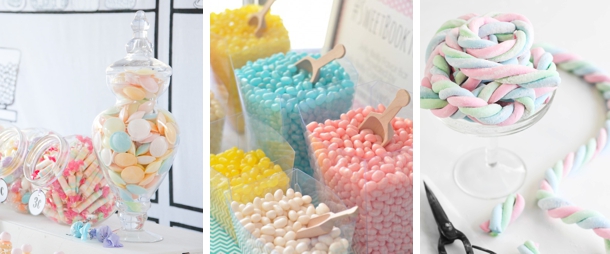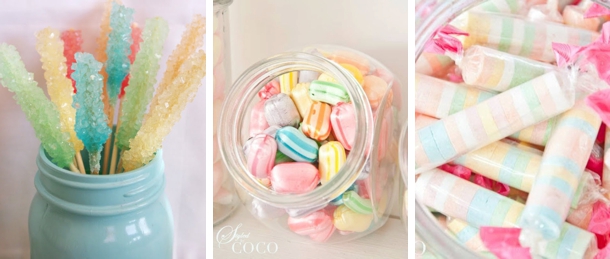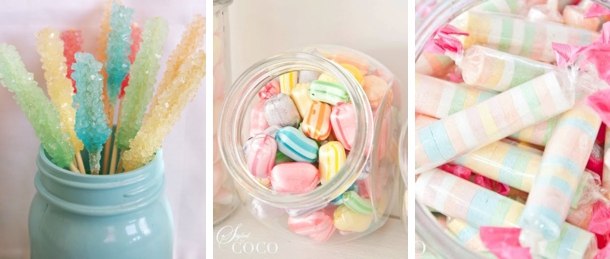 SWEETS – Flying saucers by Styled by Coco | Jelly beans via Get Creative | RECIPE Marshmallow ropes by Sprinkle Bakes | RECIPE Rock candy sticks by Happiness is Homemade | Hard candy by Styled by Coco | Rolls of sweets by Styled by Coco
STEP 3: Pick your containers and check quantities
The next thing is to start scouting for pretty containers, either from your own collection (or that of friends) or via rental agencies. Apothecary jars are always good, but most glass vases and jars are a fine option (a few opaque containers are also fine, but glass will show off the colours of sweets especially). Aim for a range of height and, to some extent, width, and look at cake stands as well as plates and dishes. Bell jars are also a pretty addition for a bit of visual interest. Once you have chosen your vessels, be sure that you have ordered enough cakes or candies to fill them – you don't want to get caught on the day with a half-filled jar. Other supplies you'll need to get are a tablecloth (or runner), and a backdrop (the same effect can be created with hanging pompoms or a wall of ribbons).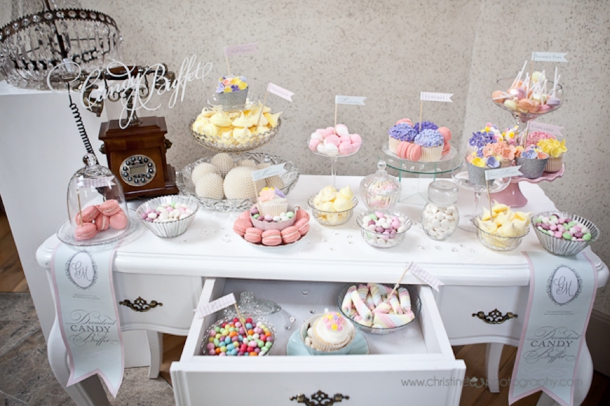 Source: Christine W./Jade Customised Events/Over Indulgence Cupcake Creations via SouthBound Bride

STEP 4: Do a dry run
This is part of checking for quantities, but it's also a good idea to play around with how you want your table to look ahead of time, which will save you a ton of stress and energy on the big day! It also means you can rope in a friend to set up for you if necessary. Whether you're doing it yourself or not, I'd recommend snapping a few pics of your final placement as a reminder. In terms of the layout, you'll want to follow some basic rules of composition – have the highest vessels in the back and the shortest in the front of your display, keep things balanced on both sides of your centrepiece (which can be a cake, a floral arrangement, or even a decor item like a birdcage). If you'd like more guidance, I found this article super helpful!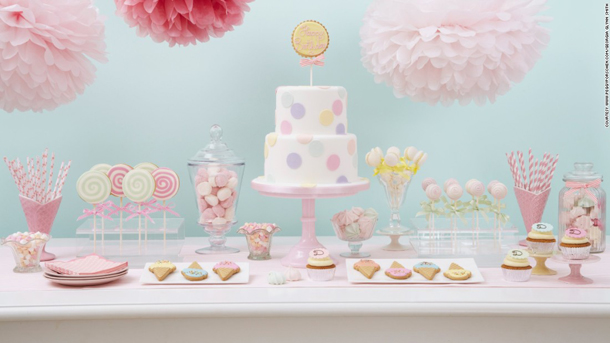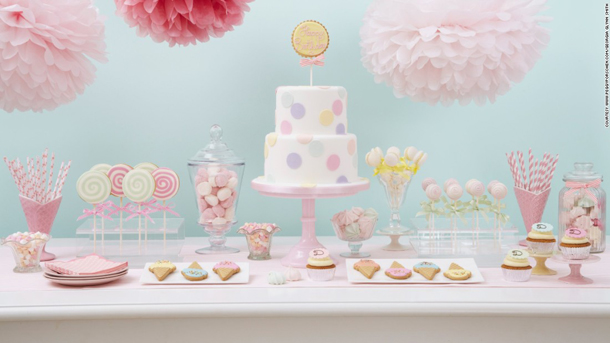 Source: Peggy Porschen via You and Your Wedding

STEP 5: Add the finishing touches
Funnily enough, it's those little finishing touches that can really make or break how 'pulled together' a dessert display looks, so make sure you give them some thought. I personally think ribbon is the easiest win here – choose a selection of pastel ribbons that go together nicely and tie them on each of the jars and vases you use. Another idea you will have seen is little signs and flags – you'll find tons of downloadable options on Etsy that will tie into your theme, or better yet, have your stationery designer whip up a set that ties into your existing wedding style. If you're working with candy, you'll want to include some bags or boxes for guests to put their stash into. Last, but DEFINITELY not least: scoops, spoons, serving implements.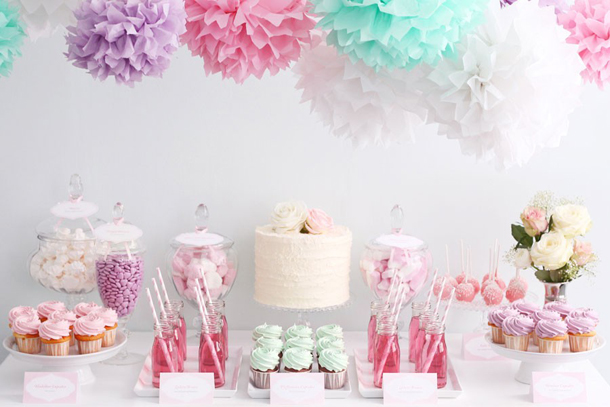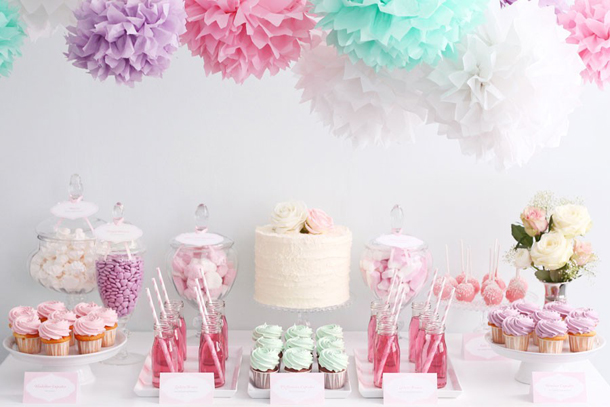 Source: Zuchermonarchie via Hochzeitswahn

Here's some lovely pastel candy buffet and dessert display decor and details from Etsy!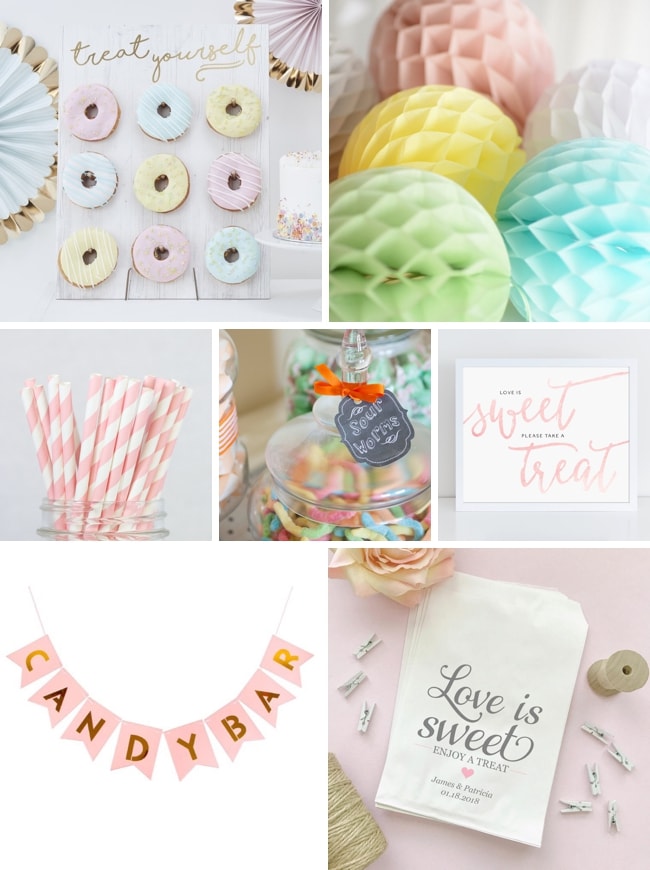 Top to bottom, left to right: 1- White Treat Yourself Donut Wall by Unicorns and Kisses; 2- Pastel Colors Paper Honeycombs Set of 7 by DECOPOMPOMS; 3- 25 Cotton Candy Stripe Paper Straws by Social Bash And Co; 4- Printable Chalkboard Labels by Melinda Bryant Party; 5- Printable Love is Sweet Sign by Paper Minx Printables; 6- Candy Bar Bunting by Party Chic Shop; 7- Wedding Candy Bags by Dazzling Daisies Co
And there you have it! Have fun creating your very own pastel sweet table!
FIND MORE PRETTY PASTEL WEDDING IDEAS ON PINTEREST: