Hello friends! How are you enjoying your Tuesday? Where I am (in Durban) it's raining like mad… hm, time to head for the English summer again, I think. ;) Big thanks to all of you for the blog, facebook, twitter and email love for the new site – very, very much appreciated! This afternoon I have a fun little inspiration board for you, which was created especially for one of our featured brides whose sister is now taking the plunge. The plan is to have a sort of market feeling, celebrating 'the abundance of life'. Guests will get to serve themselves from an amazing spread of market-style food – how fun is that? I just love this idea, and I was pleased to find that farmer's market-style weddings are a growing trend across the pond. There are so many cute things you can do here, and you all already know how much I love including fruit and vegetables in your decor. So here's my take, using bright colours and rustic natural textures. Mason jar lights are perfect here, as are the adorable vegetable escort cards (and a carrot as a boutonniere? why not?!), kraft paper and chalkboard details, and Bashews soft drinks. I love the idea of creating a whole market display, especially when guests are given brown paper boxes or tote bags, and able to take home produce as their favours. Flowers are mixed and natural, and I like the mix of little jars and potted arrangements. I can just imagine the bride wearing a pretty short dress, like the one shown here – so fun! Hope your sister likes this, Kerri – keep us posted!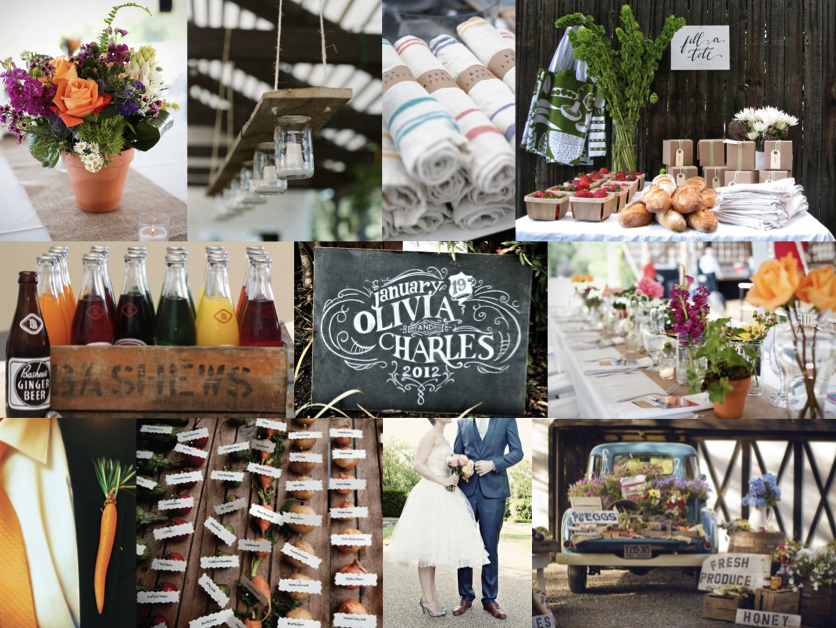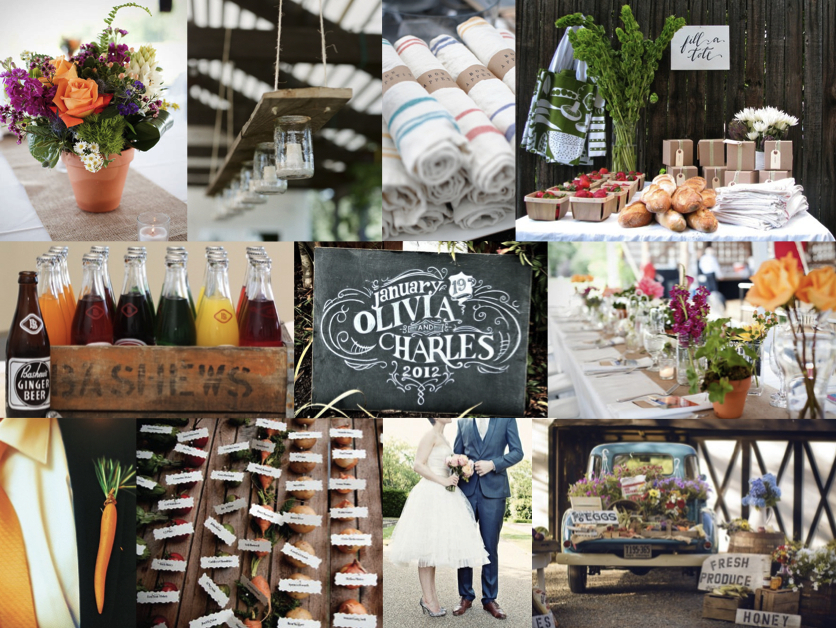 Top row (l-r): Potted flowers (A Southern Soiree/Robin Lin Photography via Style Me Pretty); mason jar light (Tanja Lippert via Style Me Pretty); napkins with kraft bands (grace happens); produce favour display (You Are My Fave via Ruffled)
Row 2: Bashews colas; chalkboard sign; colourful flowers (A Southern Soiree/Robin Lin Photography via Style Me Pretty)
Row 3: Carrot boutonniere; vegetable escort cards; bride & groom (Emma Case via Ruffled); farmer's market display (Terra Dawn Photography/Holly Chapple Flowers via Elizabeth Anne Designs).