What isn't there to love about cake?
A cake is an experience. From the whisking and mixing of the ingredients to its delicate artistic finishing it is a feast for the every sense. A cake is a birthday with re-lightable candles, a celebration, a gathering, a gesture of love. It's happiness on a sunny day, sprinkling breadcrumbs in the garden for the birds and eagerly waiting for your mum to call your name to lick the spatula. It's running through excitedly and devouring every last bit of the raw cake batter goodness, sometimes wondering why it ought to be baked at all. It's that distinct, warm scent of deliciousness that makes you hold your hands over your face whilst you stare longingly into the oven, barely waiting for your creations to achieve the much anticipated golden brown colouring. It's wearing pearls in the kitchen pretending to be Julia Child. Indeed, a cake is a memory, and so being, is a wedding decision deserving of some thought.
In the movie Father of the Bride, wedding planner Franck suggests that one begin the planning process by thinking of the cake, as the cake will determine the wedding that one ends up having. The cake suggests colour, formality, tone, and in line with Franck's advice, choosing the cake was actually the very first wedding planning decision that I remember making… A 2005 decision to be exact! :) Flipping through a magazine, I had seen it, torn it out and kept it. A decision easily made, and a cake I just can't wait to see!
Recently, however, it is actually this, the Father of the Bride movie cake, that I have found myself staring at bizarrely often. The rich butter coloured cake seems to almost twinkle with the magic, warmth and comfort of the Disney classic and seems to say 'wedding' with an inspired confidence.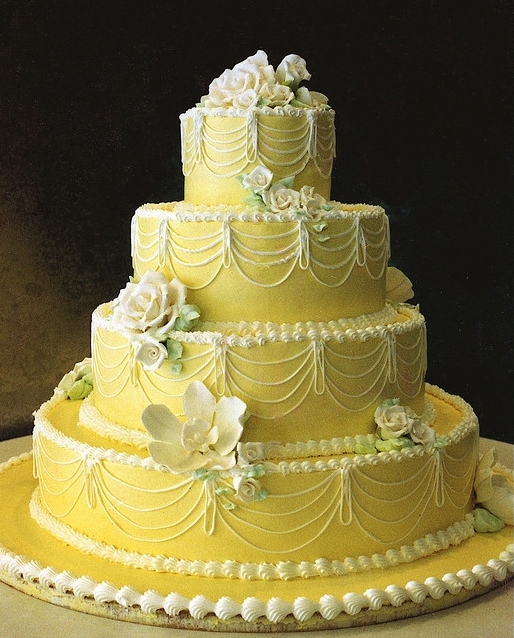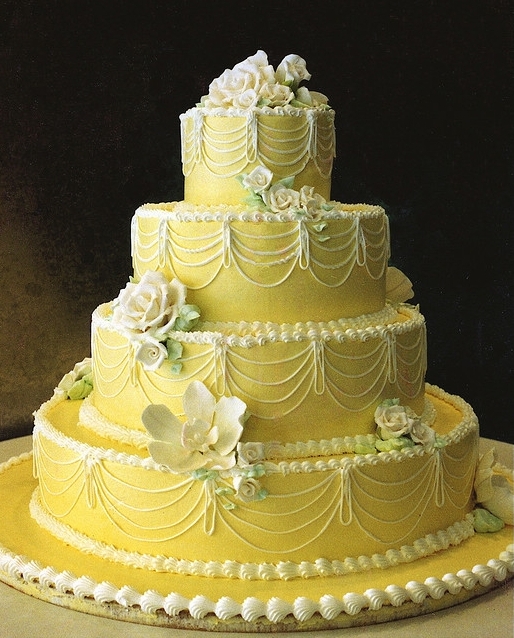 Of course this isn't THE 2005 cake – not matching our theme or colour scheme – but since I haven't been able to take my eyes off it, I started thinking about what it was exactly that I loved about it, because these things would be important when thinking about our cake specifications and how we would like our cake to be brought into our wedding day celebration.
So what is important to us? A bit of thought allowed us to come up with the following:
The cake should fit the occasion. It should be something unmistakably wedding – a little like the wedding cakes shown in old movies.
It's important to us that the cake be yummy, something we really enjoy eating, and for it to be made in our favourite flavours. Black forest for Justin, and lemon for me.
The cake should have a central role in the celebration and not be an afterthought at the end of the evening or last on the list of the evening's formalities. We want our cake cutting to be a daytime experience, sunny and happy, and to be shared outside.
Fresh flowers! I love fresh flowers and would love there to be fresh flowers adorning the cake.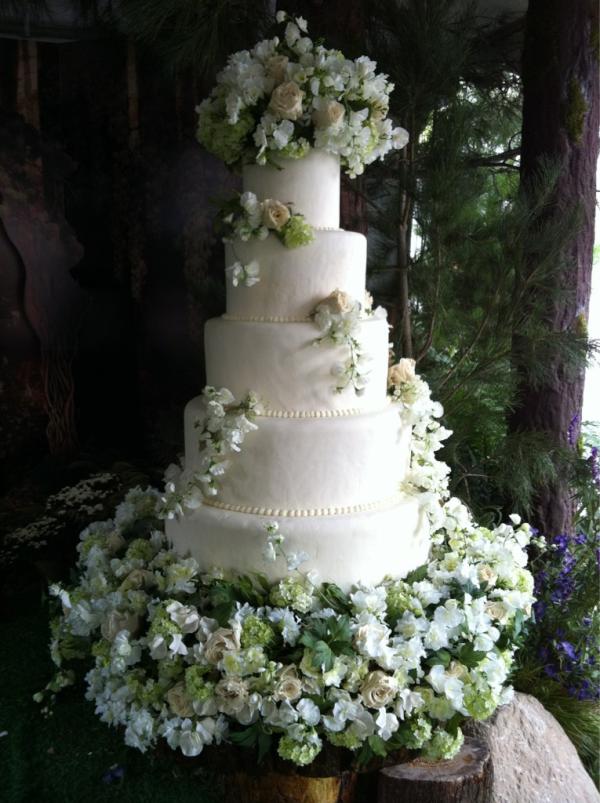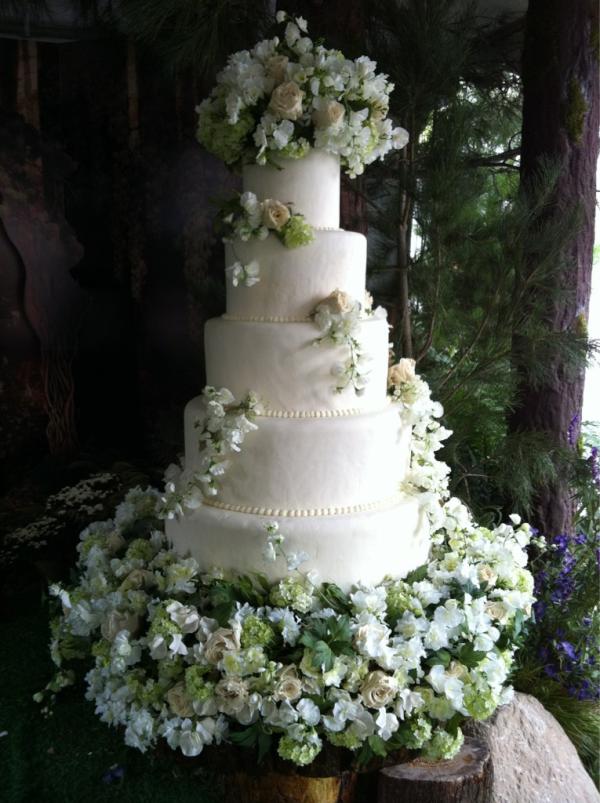 We would like to keep alive and embrace some wedding tradition and ceremony  – making our cake's top tier fruit cake to save for our first wedding anniversary or our child's Christening for example. We also plan to cut our cake with a sword and attempt the ancient game of trying to kiss over a multi-tiered cake without knocking it over. :) But mostly we'd like to keep in mind what the rituals represent: unity in cutting the cake together, and that in feeding each other we are affirming that we will care for each other throughout our marriage.
And finally – we would like the wedding cake and the whole experience around it to have some sparkle and allow for a bit of wedding magic.  After all, it is said that an unmarried male guest who keeps a piece of wedding cake under his pillow as he sleeps will increase his chances of finding his sweetheart and that an unmarried female guest who does the same will dream of her future husband.
Dare I say "Let them eat cake"?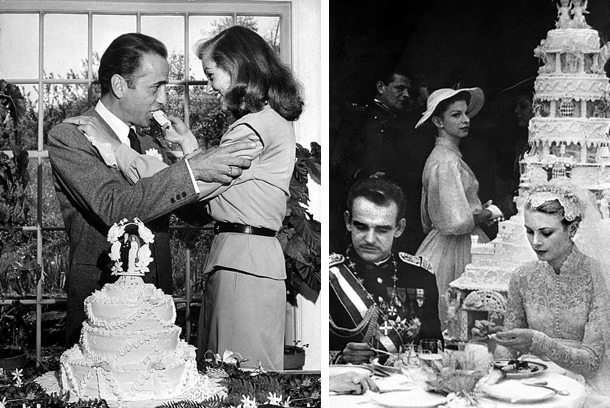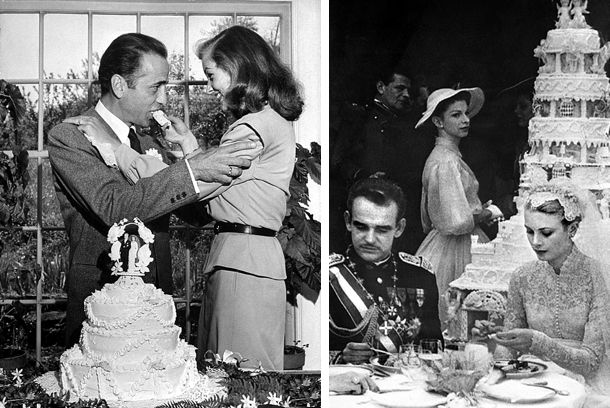 Images: 1- Cake from 'Father of the Bride'; 2- Cake from 'Twilight: Breaking Dawn Part 1'; 3- Humphrey Bogart & Lauren Bacall's wedding; 4- Grace Kelly & Prince Rainier's wedding
Who knew there were so many wedding cake traditions! Next time, Candice considers the littlest members of her wedding party…
The series so far: The Proposal | The Inspiration | The Venue