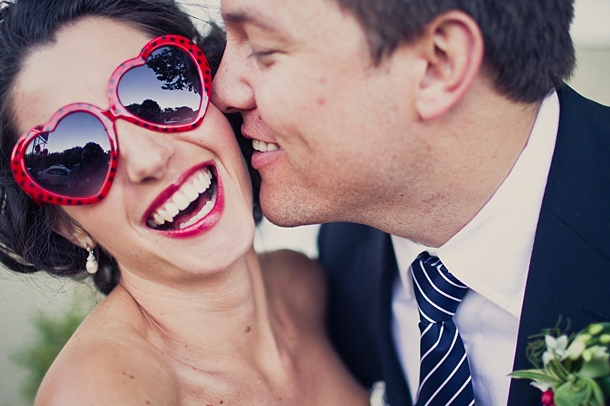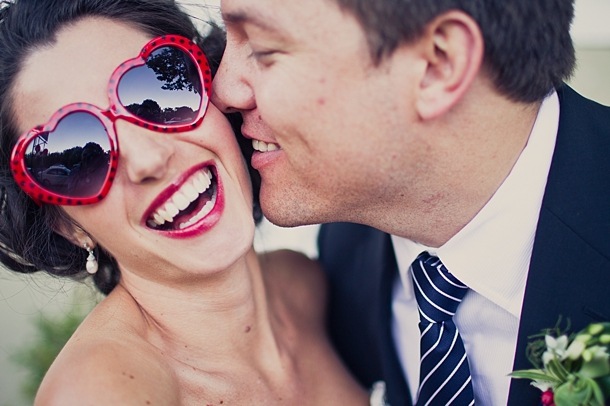 I don't think I've said this before, but my first love as a wedding blogger was inspiration boards. Even before they were 'invented', I was always putting together ideas for friends who were getting married and I'll never forget stumbling across Snippet & Ink and The Perfect Palette and just adoring what they were doing (and that was before I even was introduced to the other board legends who are Magnolia Rouge and Postcards & Pretties). You guys seem to like what I do with the boards every week, but the truth is that even if you didn't, I'd probably still be making them, because they're a piece of creative work that gives me a lot of pleasure. So when I started the blog, a day I really looked forward to was when I could feature a wedding that owed some of its inspiration to one of my boards. And friends, that day is today. I didn't create the 'Valentine Red' board especially for reader Elmiene, but when she wrote to tell me that it had been part of her design concept, I was thrilled – and even more so when I saw pictures of her cherry red, white and navy wedding with its cheeky touches like bright red shoes and heart-shaped sunglasses. I love love love how she included handmade elements like crocheted flowers and sewn hearts and acres of Petersham ribbon. Not to mention her candy-striped cake and cake toppers. It all works perfectly with their venue, Café Felix, which is the perfect mix of elegance and whimsy to offset this super fun wedding. I couldn't have dreamed it up better myself. The cherry on the cupcake for me is that Elmiene and Jonny had Jaco le Roux as their photographer, as I've been looking forward to sharing his lovely pictures with you here on SBB. Which all in all, makes this a very good day for me. Yayness.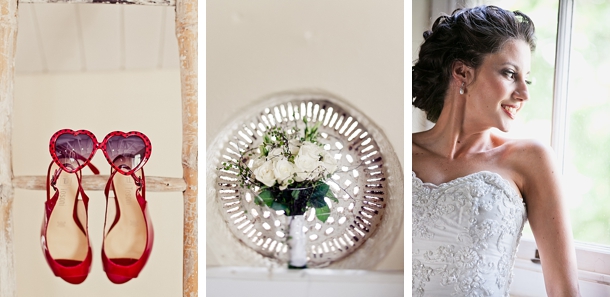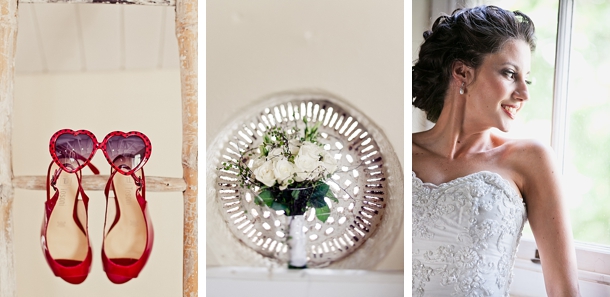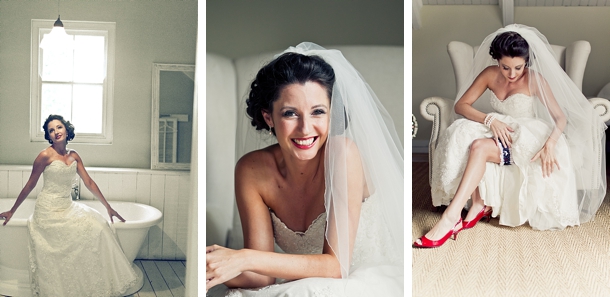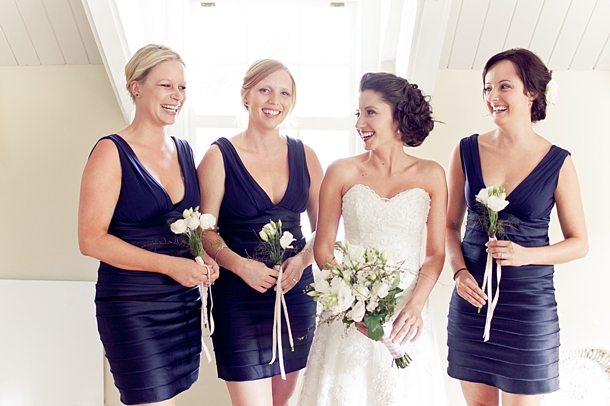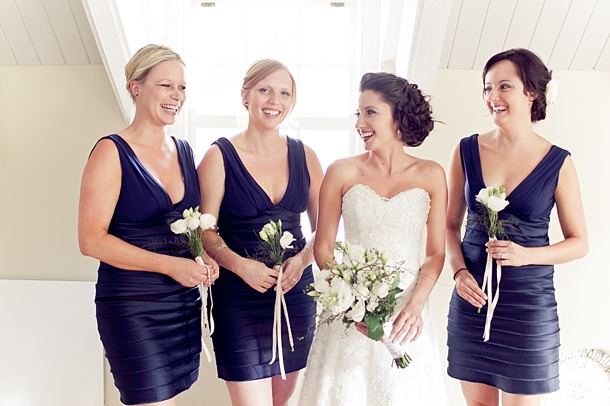 From the lovely Elmiene:
Johan and I met through mutual friends at the Queen's Plate horse race. After lots of wine and even more flirting, Jonny asked for my number – we dated for about two years before he proposed.
Jonny is quite romantic at heart, and sent me on a scavenger hunt around Cape Town before his proposal. That morning, we had breakfast with a friend – after the meal he disappeared to the gents and never returned. The waiter brought me a letter where he told me he loved me and to follow the clues, starting with going to the place we had our first date – luckily I remembered that it was Beluga in Greenpoint. There I was instructed to go to 'the place where we love to chill, drink wine and read' – I was stumped! Lots of thinking and a few cocktails later, the answer came to me, so off we went to Kirstenbosch Gardens, where I was given a 'map' with a big X on it (although with all the paths at Kirstenbosch it was hardly a map!). After climbing half the mountain (or at least it felt that way!), I found Jonny under a tree. With a perfect view and a lovely picnic, he asked me to marry him and presented me with a plain band with the words 'Trou Vrou' on it (it loses something in the translation, but loosely corresponds to 'The One'), which also meant I could choose my dream ring myself. It was one of the best days of my life!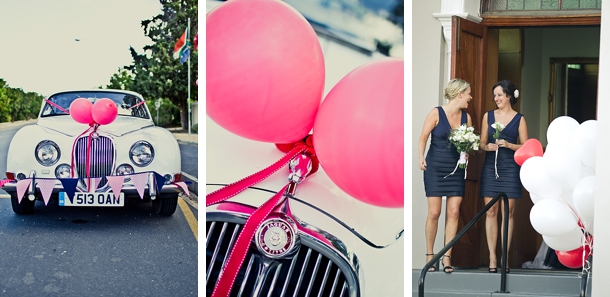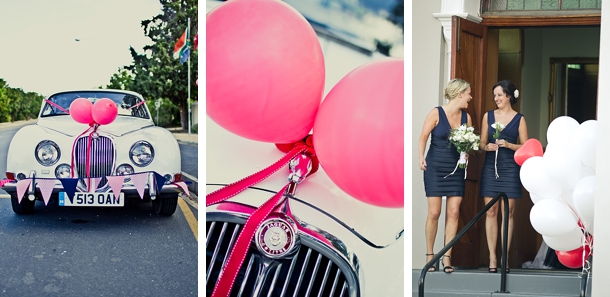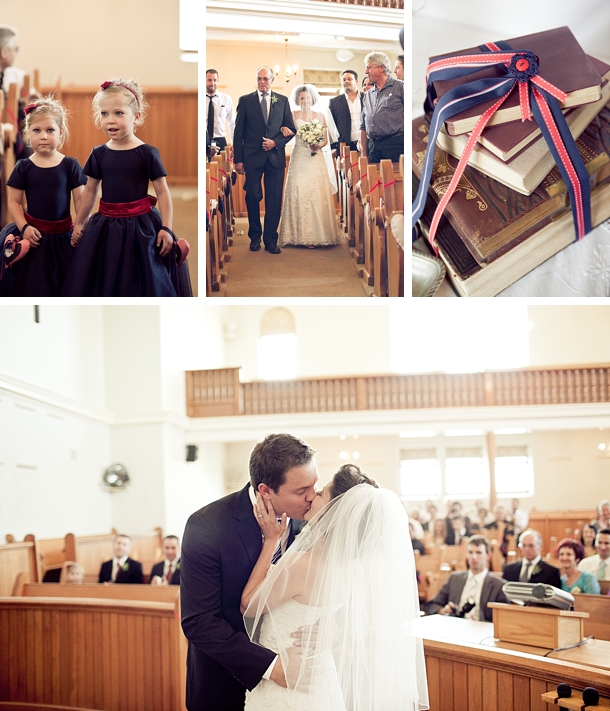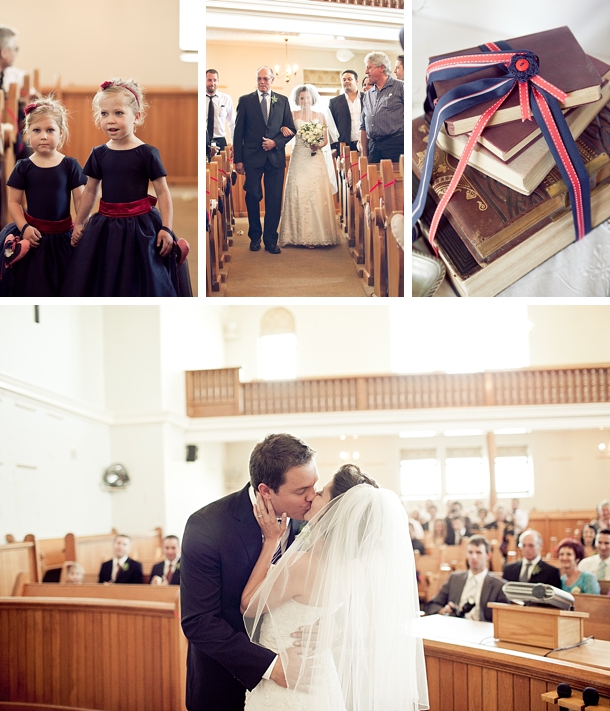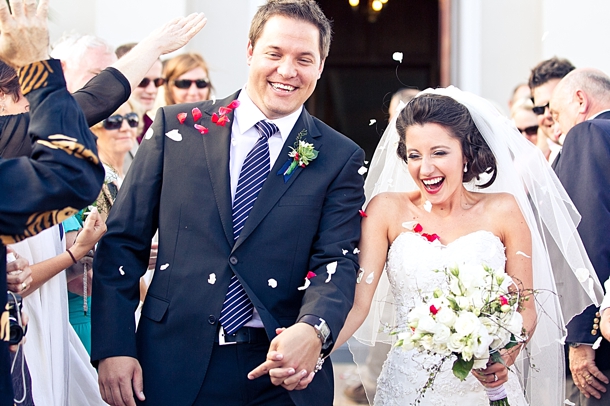 It was very important that our wedding represent both our personalities and tastes. I involved Jonny in all the decisions, from picking a colour scheme to selecting a venue. We found this (Café Felix in Riebeeck Kasteel) by going to look at venues in that area. I had seen their website before but was not prepared for its true charm. I immediately fell in love with the relaxed French countryside style.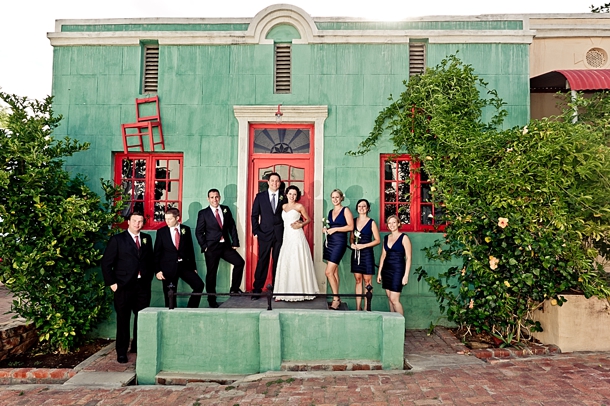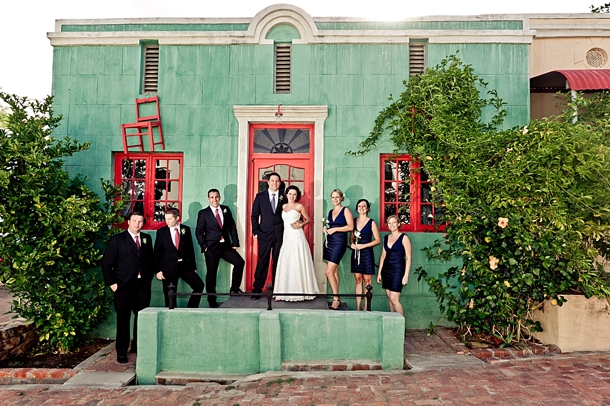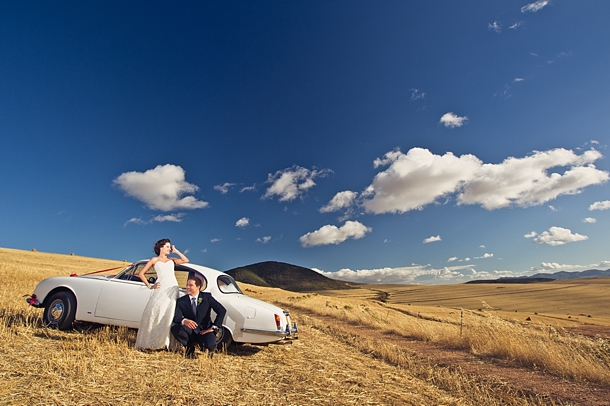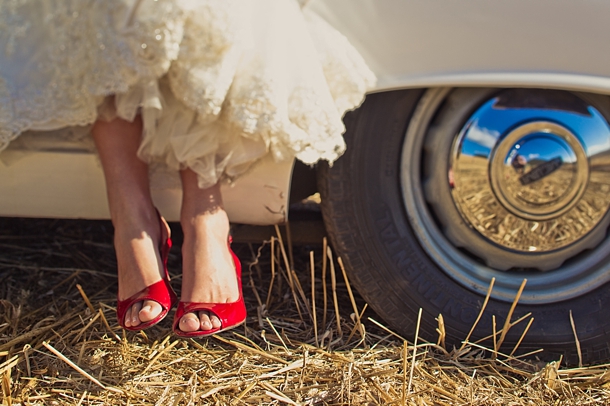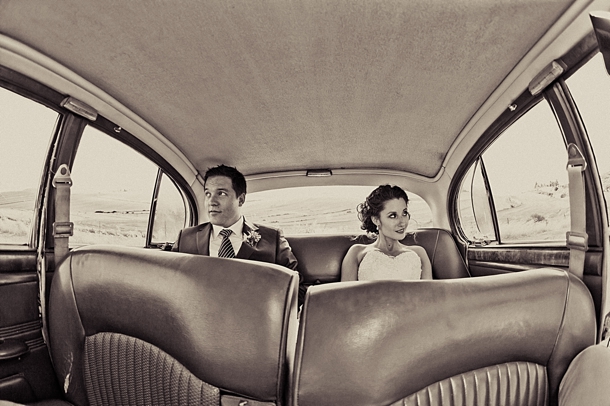 SouthBound Bride (or Cap Classique as it then was) gave me great inspiration and ideas. I used the mood boards to narrow down the colour scheme and the real weddings gave me ideas for the theme and mood. The 'Valentine Red' board inspired our colours, and we used the Rob Ryan image for our invitations. It also gave me the idea to wear red shoes. I love Petersham ribbon and used this throughout the wedding, from the invites to the décor. This worked very well with the vintage/French countryside theme of the venue.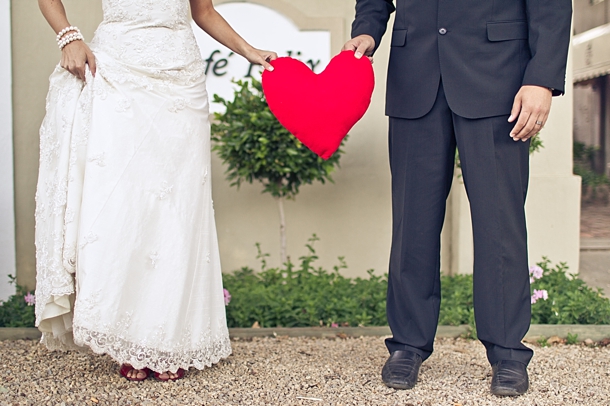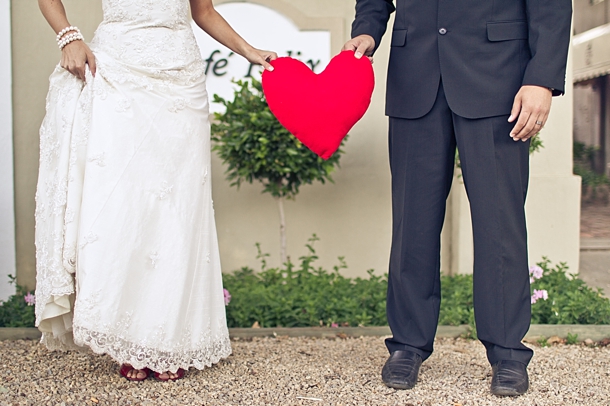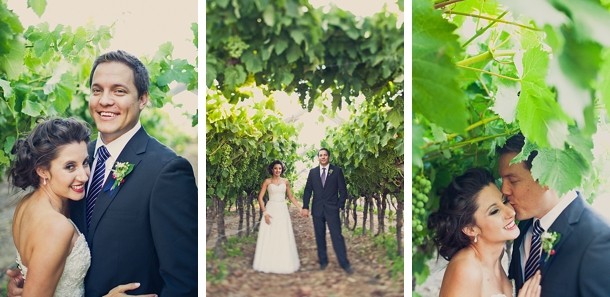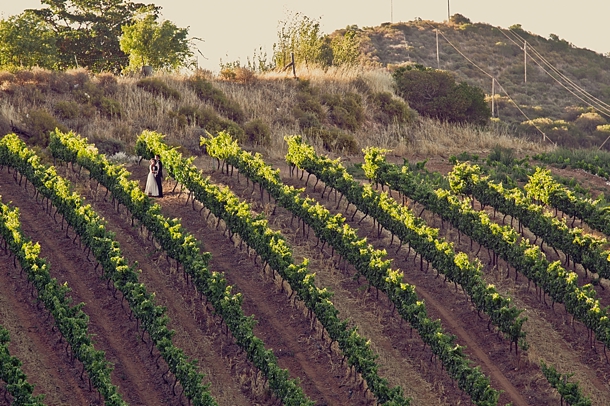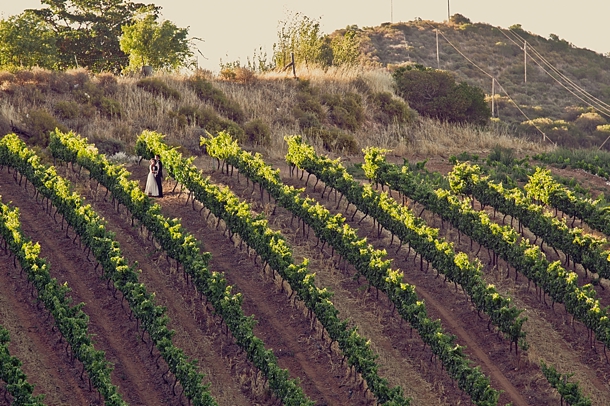 My mother made quite a lot of the décor items and the wedding favors. She is a perfectionist so every stitch and every button was in its right place. She made the stuffed material décor hearts, the bunting, crocheted flower brooches and the throws that were used as wedding favors. My mother-in-law made the crocheted flowers. She and a close family friend also made the wedding cake and snacks for the sweets table. This made our wedding even more special because we could see how the hard work of family and friends came together to make our dreams come true.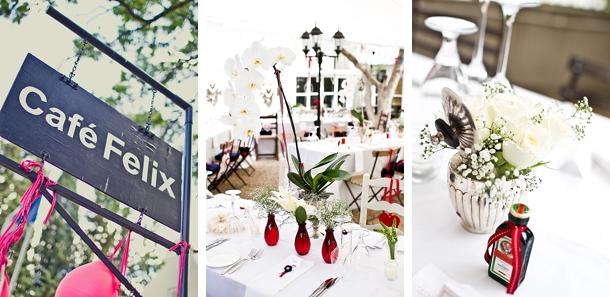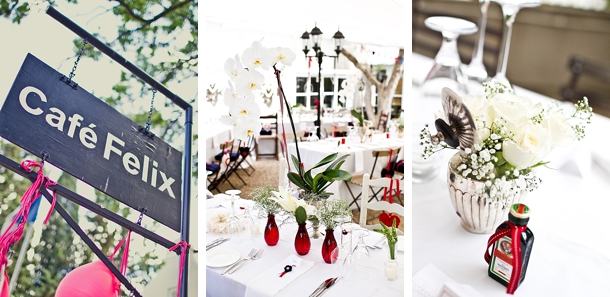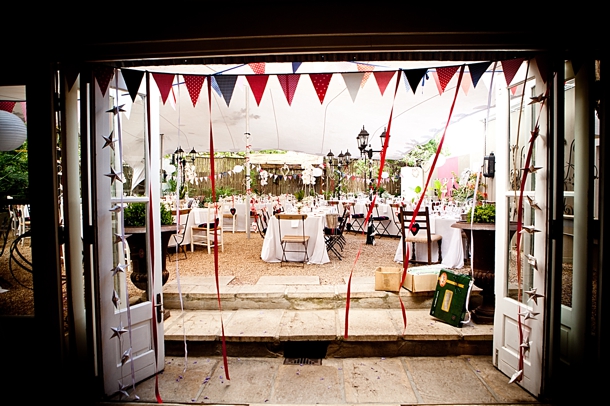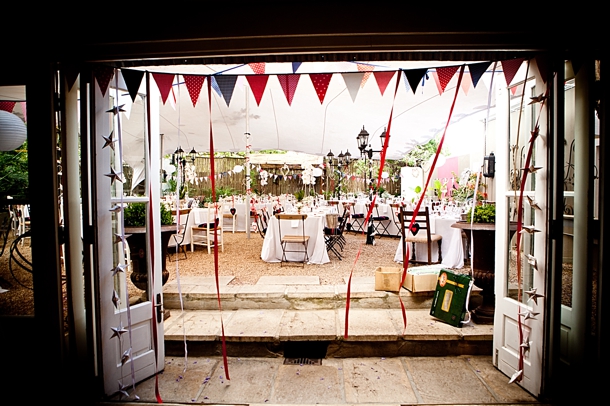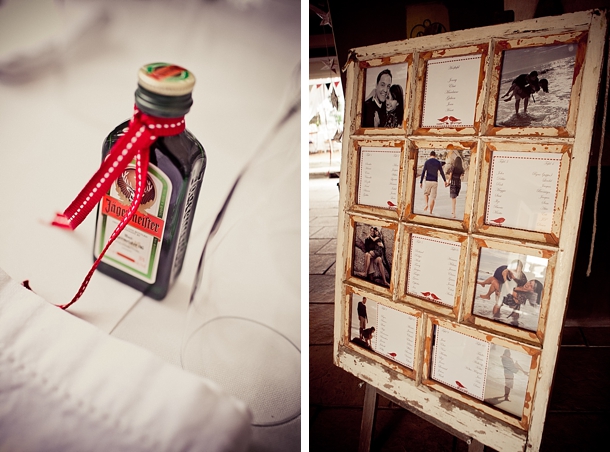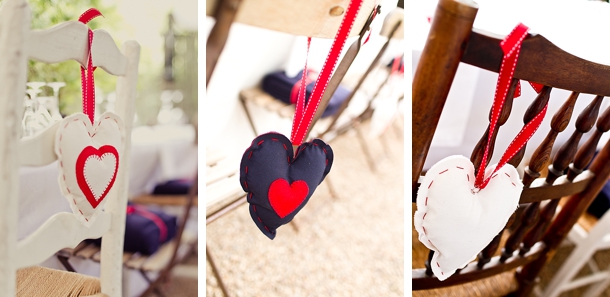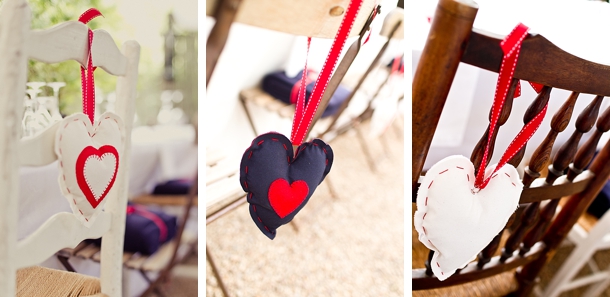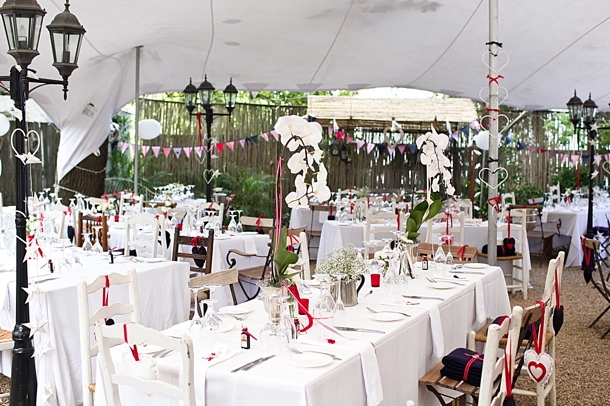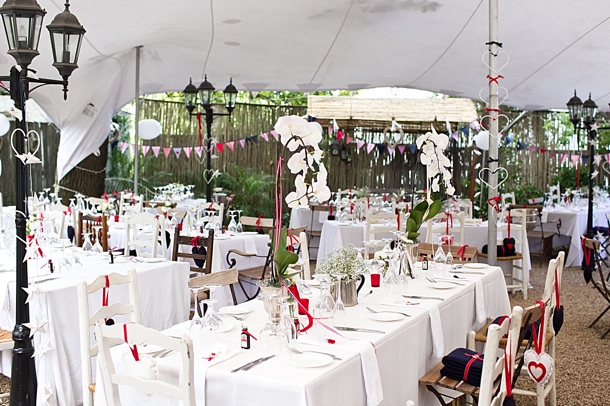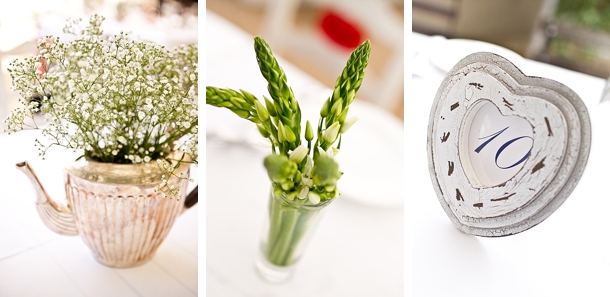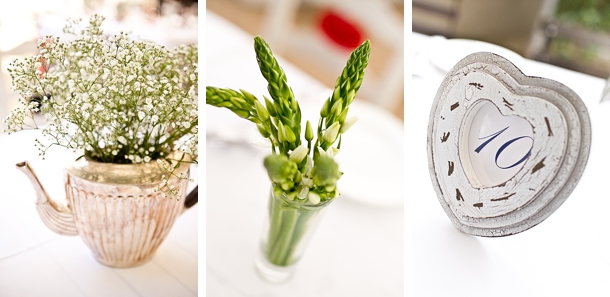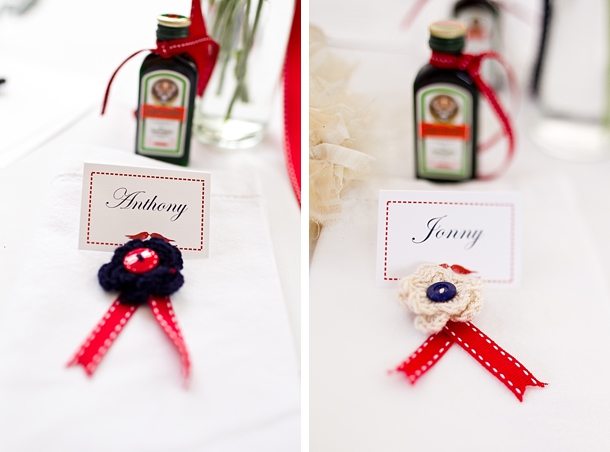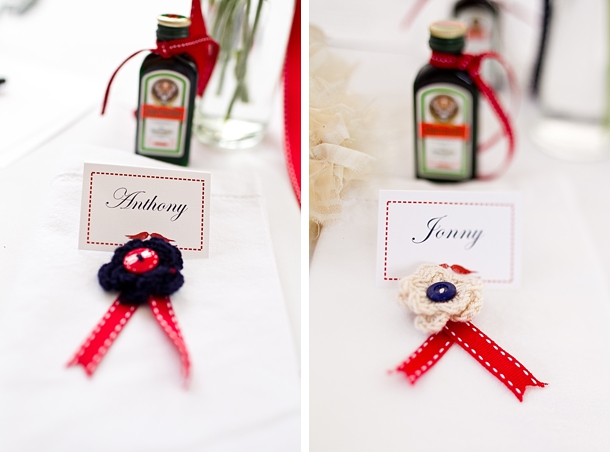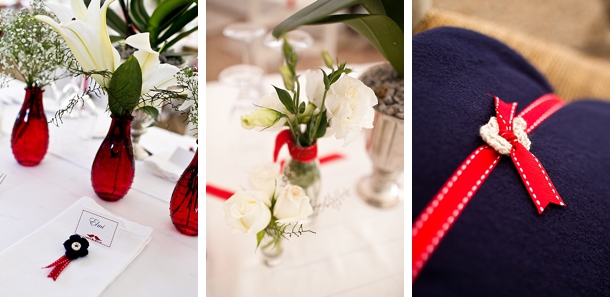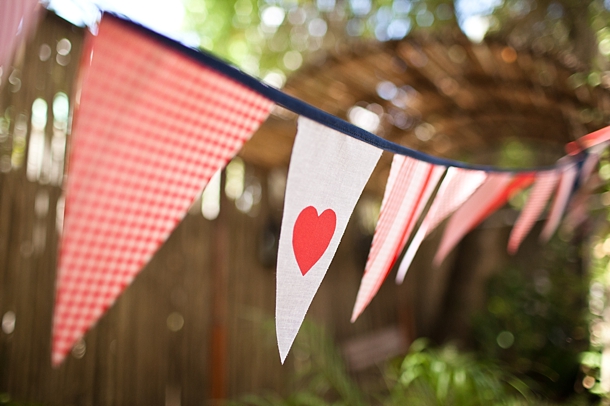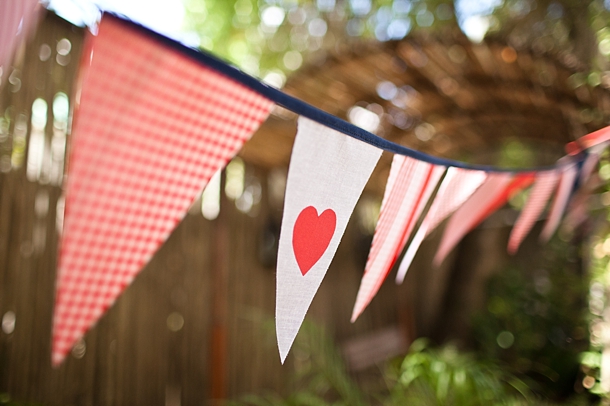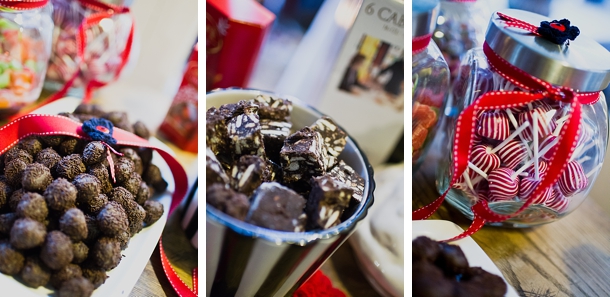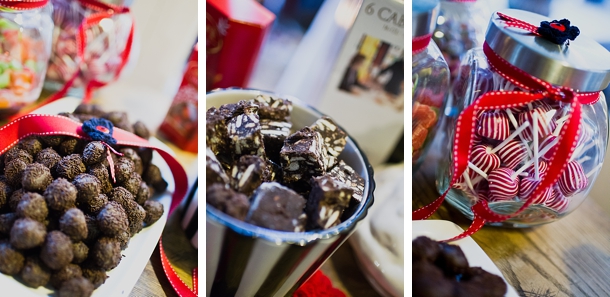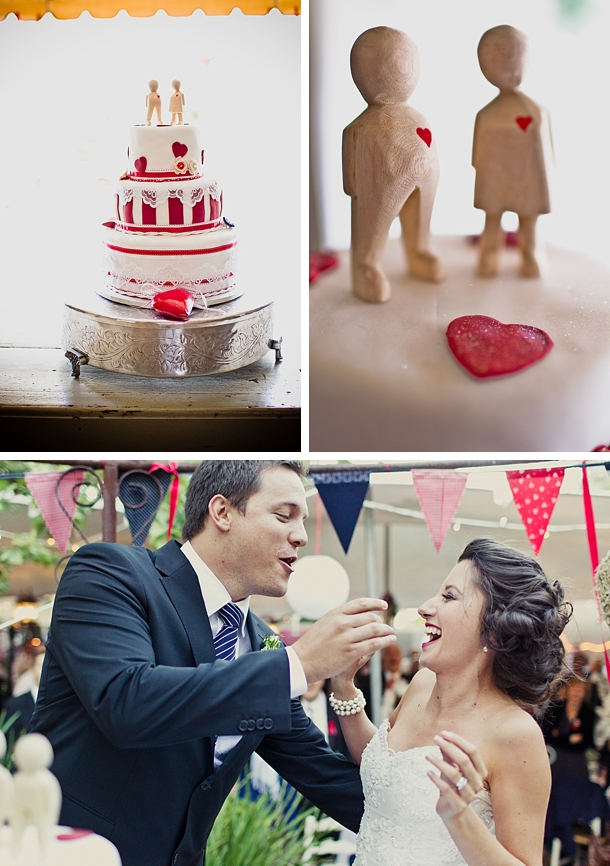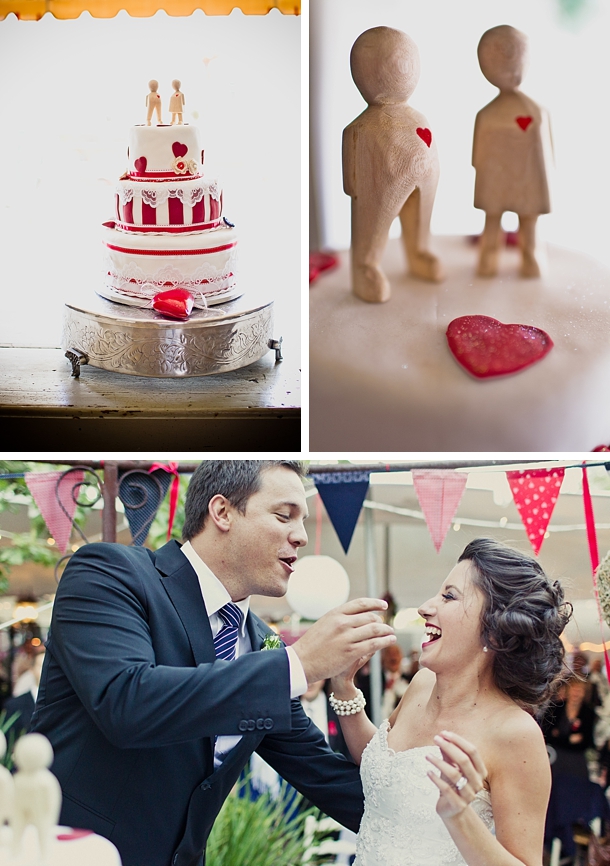 My advice to future brides is to enjoy the planning process and don't get too stressed out about it. It is important to realise that everyone at the wedding loves you and won't judge you. Don't lose perspective. It is ultimately a day to celebrate you and your husband's love for each other. As long as he shows up nothing can really ruin the day. Also, get family and friends involved. You can't do it yourself and they enjoy being a part of your special day.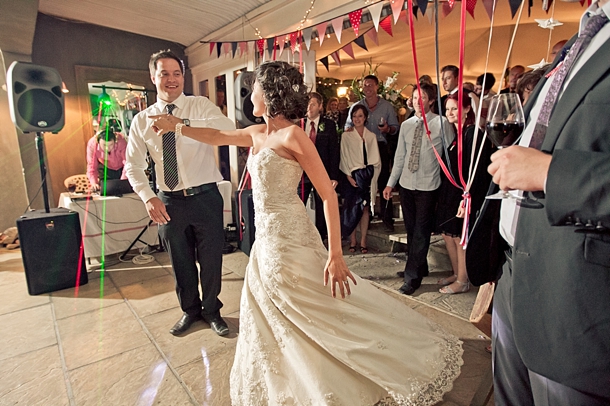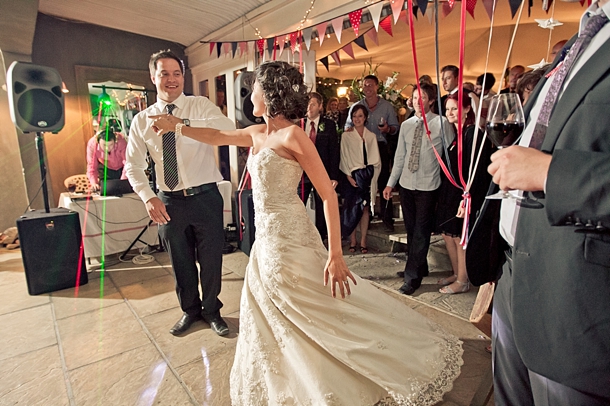 Elmiene and Jonathan – I'm so happy that you found help and inspiration here, and congratulations on such a stylish wedding! A big welcome and thanks also to Jaco, and I hope to feature more of his work here again soon! You can see even more from Elmi and Jonny's wedding over on his Facebook page.
SERVICE PROVIDERS
Venue & catering: Café Felix | Photography: Jaco le Roux | Flowers & decor: Marelize Roux from Aitsa ([email protected]) | Stationery, hair & makeup: Jana Jonsson of Lime Life Studios | Bride's dress: Ilse Roux | Bridesmaids' dresses: YDE | DJ: DJ Dean | Ribbons: Ebony & Ivory