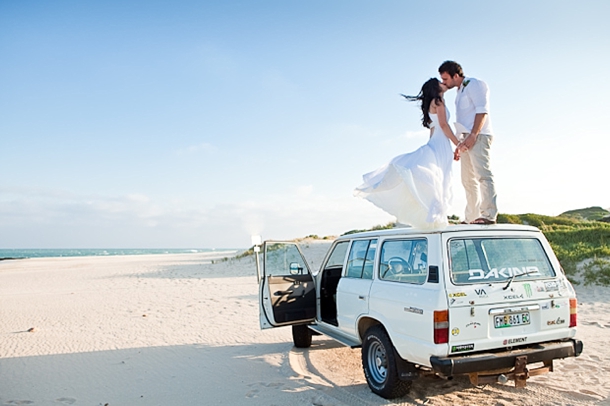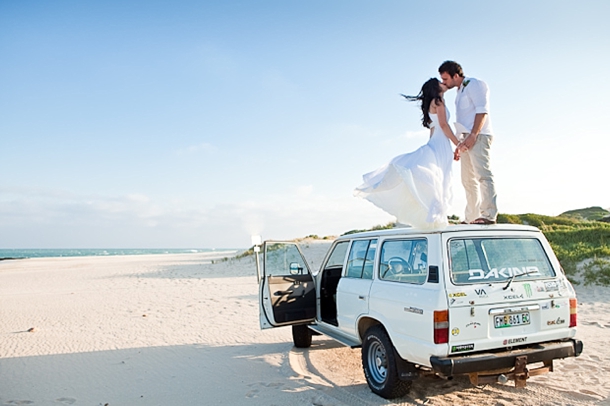 Ah, Jefferys Bay. Home of the Supertubes. During my high school surf chick phase (and by that, I mean, wore Roxy t-shirts, not actually had the balls to surf) this is where you could find me during the Billabong, sitting on the beach trying to look cool and pretend I wasn't eyeing up all the pretty surfer boys whose tans were better than mine was ever going to be. I loved JBay, so I'm stoked that today's wedding at Die Walskipper gets to be from there. It perfectly reflects JBay's laid back beachy style, and there's such clever use of readily available materials. For example, brown paper printed up with 'sand, see en liefde' (sand, sea and love) used as a wall hanging and again as a table runner. Shell lanterns, string globes, a typography motif. Tin cups and twine-wrapped napkins. Tropical leaves instead of flowers (except for a beautiful protea bouquet). It's coastal rustic at its finest, and perfectly reflects Carmen and Evert's casual style. Pictures were taken by Monica Dart, and they're absolutely mesmerising – I love how Moni combines her fine art eye with documenting genuine moments, and you just have to look at guests' faces to see what a special day this was.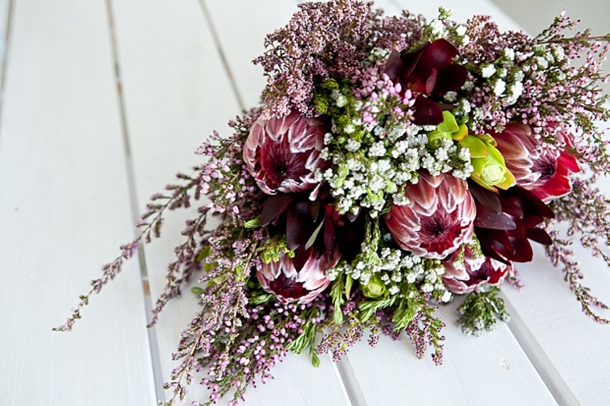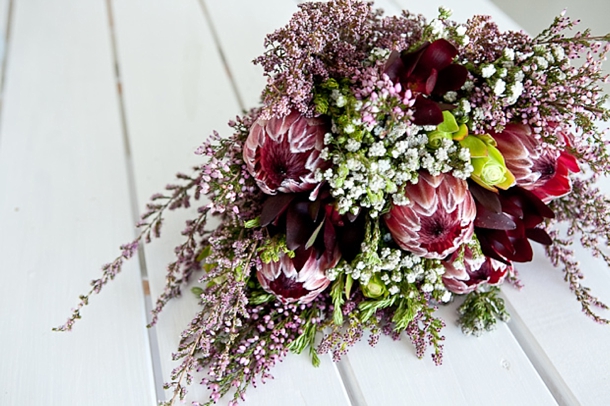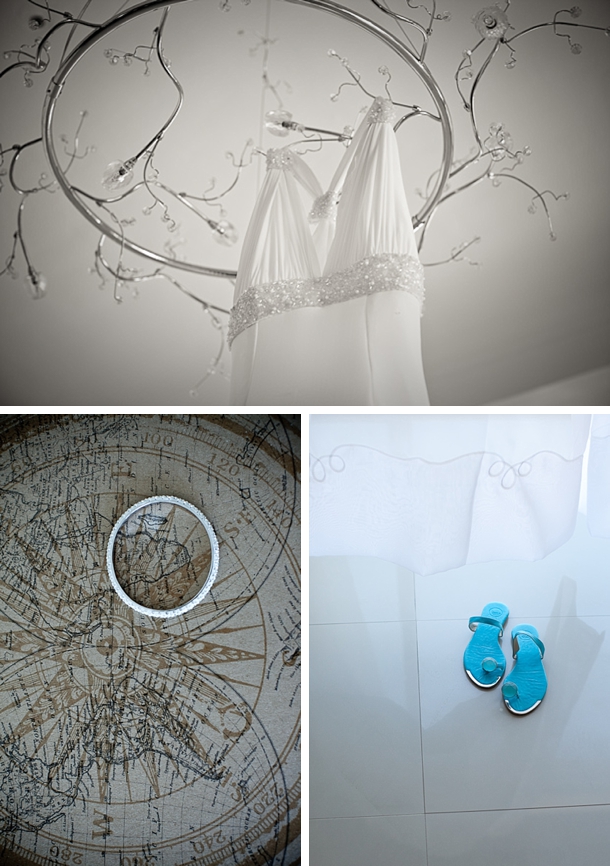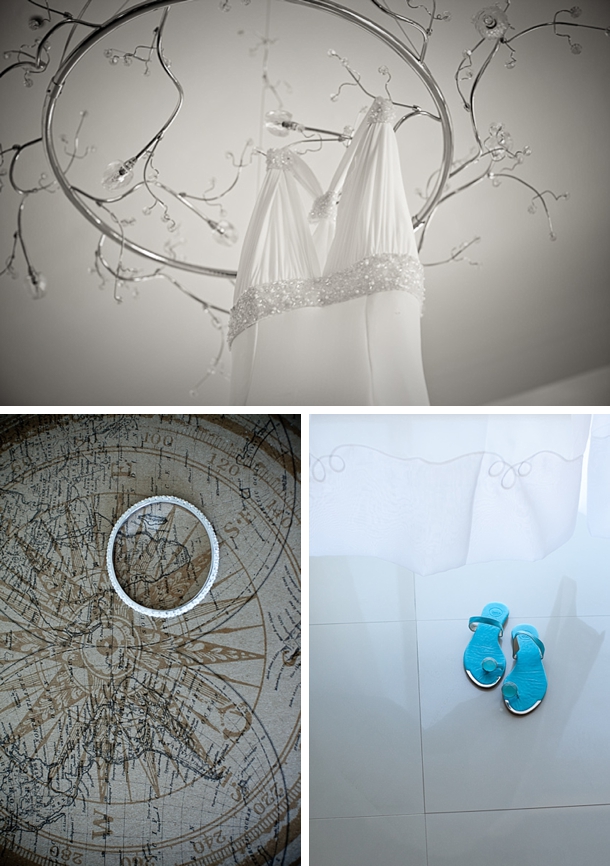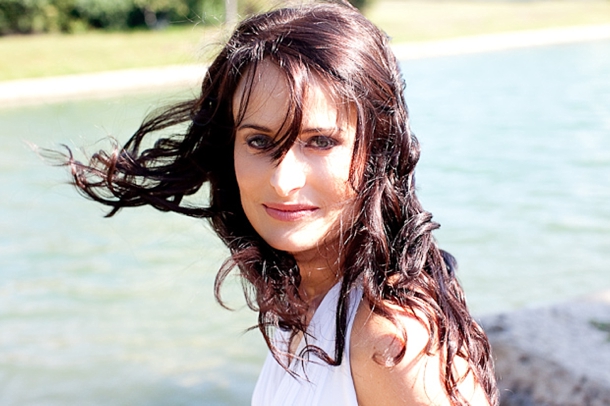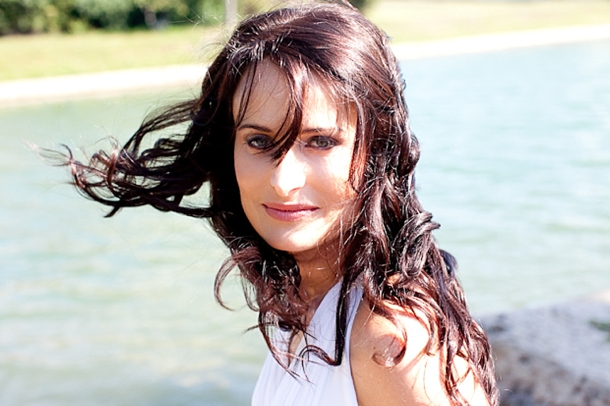 From Carmen, the bride:
Evert and I are both dentists, and we met at a course in Cape Town. We fell in love when I came to visit him in JBay, and started kitesurfing together.
On the day he asked my father for my hand in marriage, he flew to Johannesburg, drove three hours to Mokopane, gave my dad a (very unattractive) chicken for 'lobola' and drove right back to me! I'm a big foodie, so he proposed at Roots restaurant.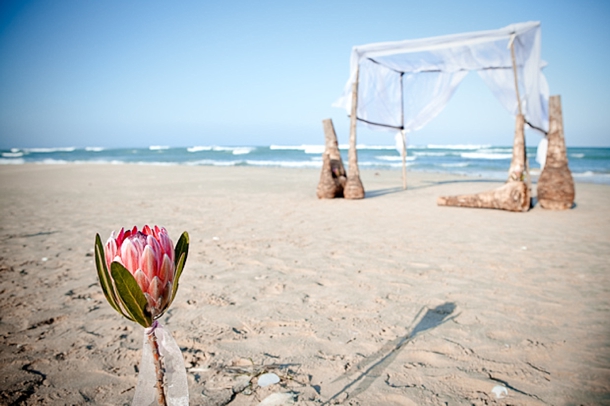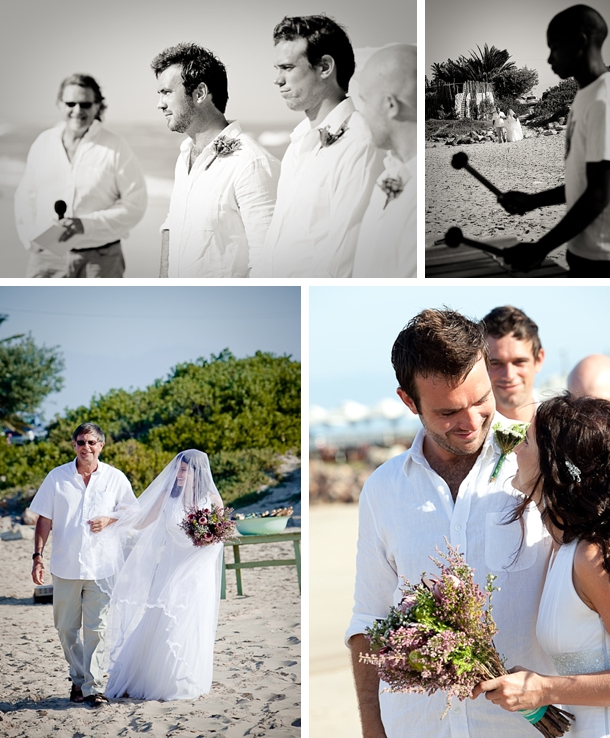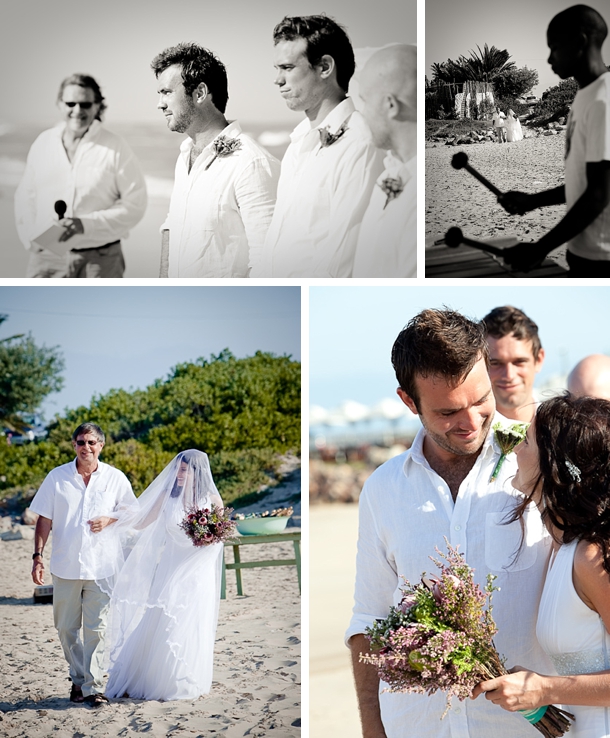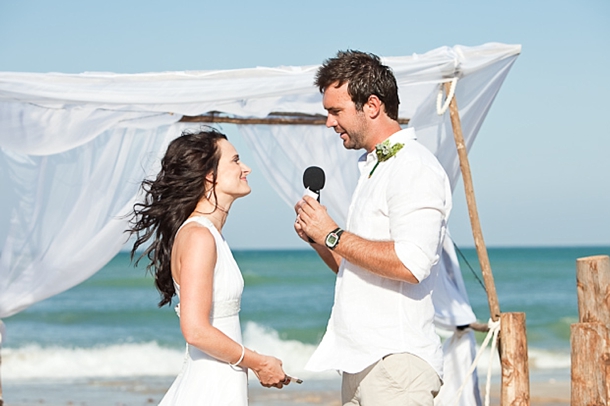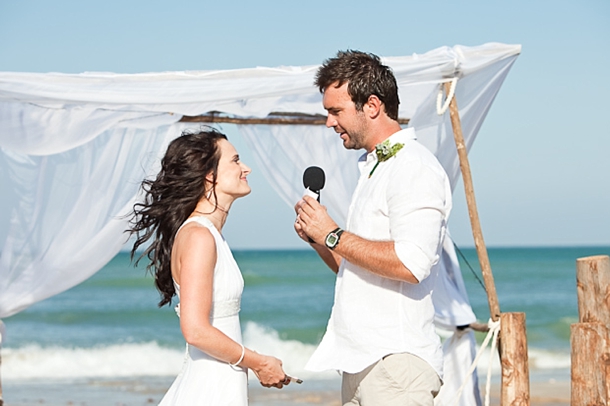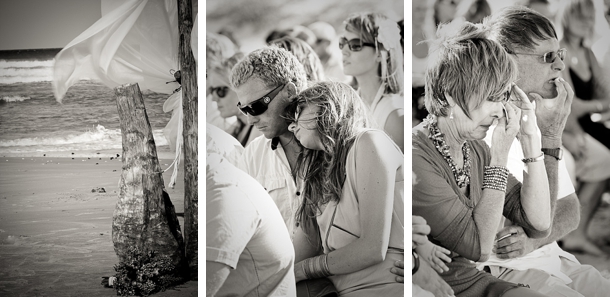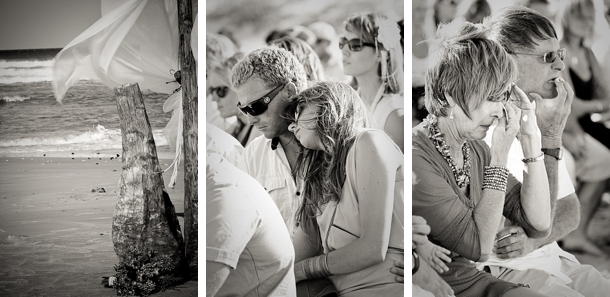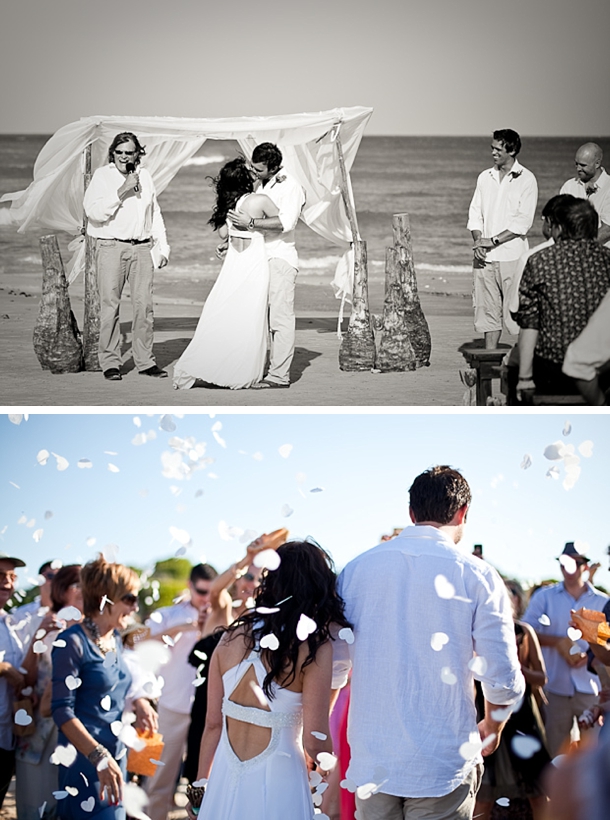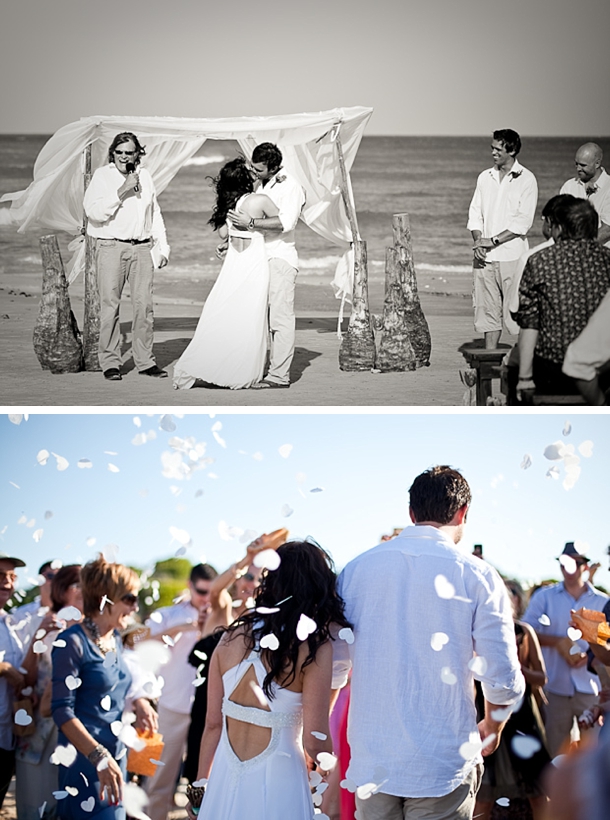 We planned the wedding in eight weeks, and wanted our feet in the sand. I was more focused on natural elements and texture than colour. We had water, sand, wind, beautiful candle light, stone, wood and glass.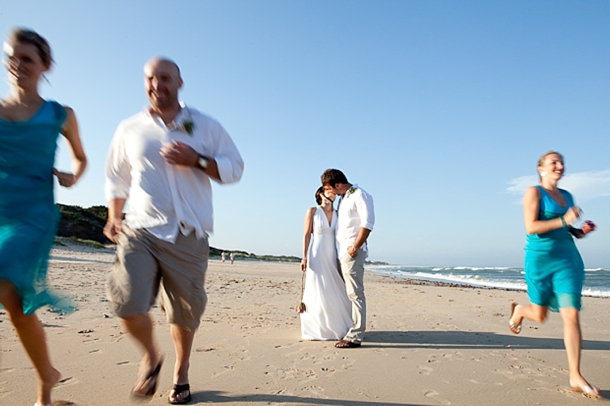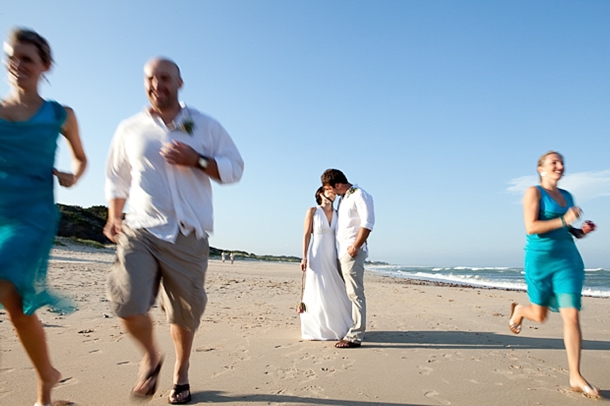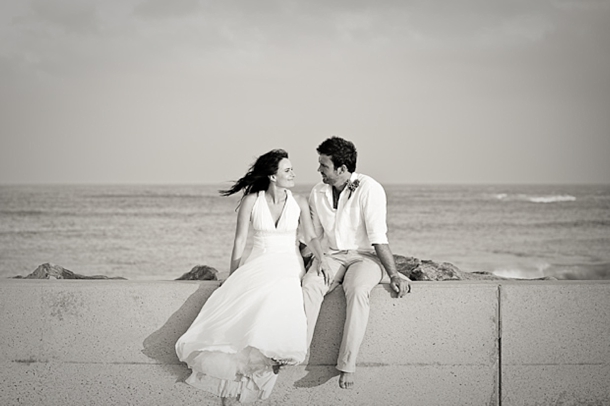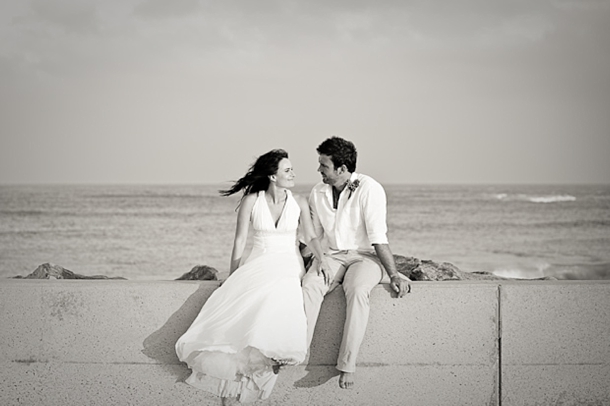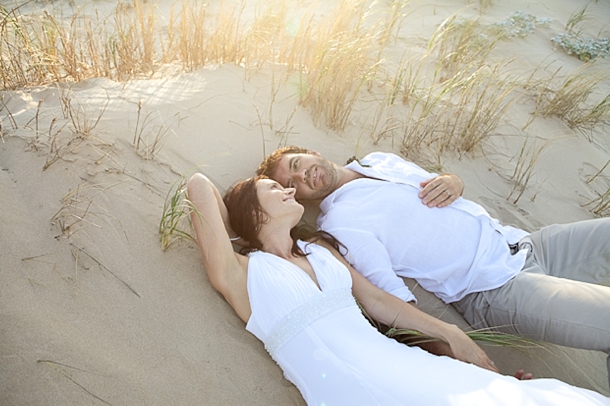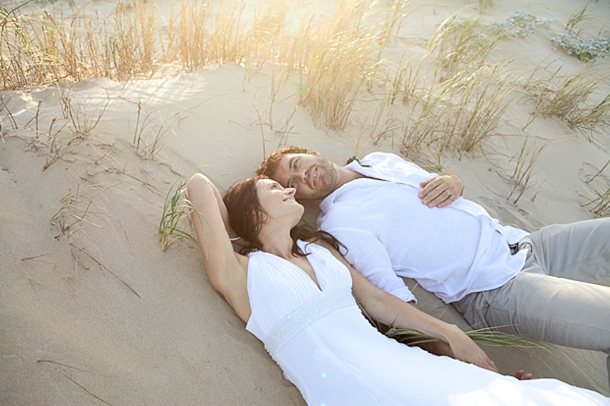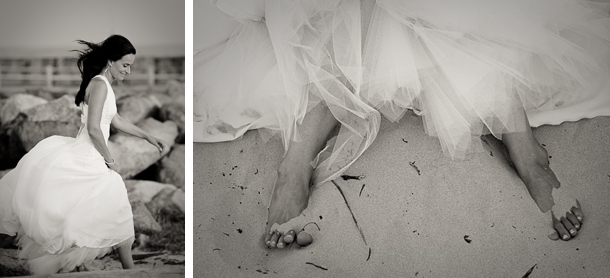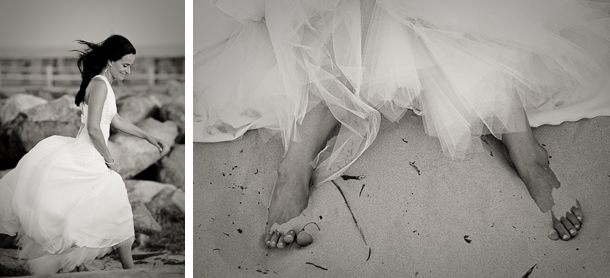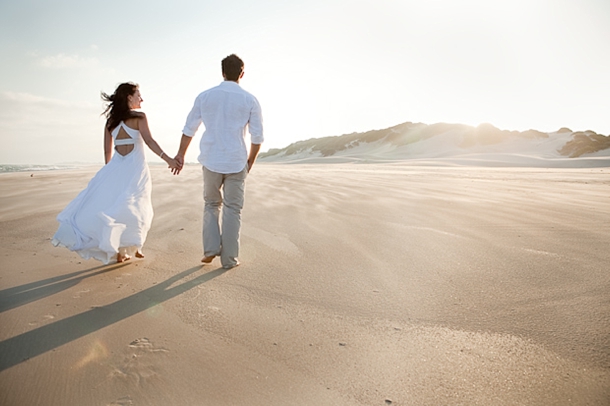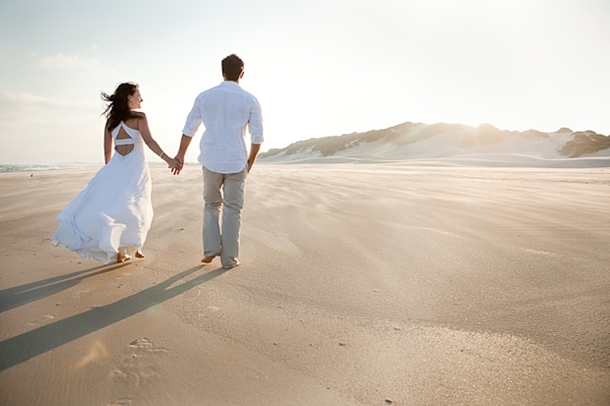 We made a lot of our decor ourselves, including the balls made with string and glue, the wooden boards on the tables and even the little boma on the beach! Evert's sister printed our runners.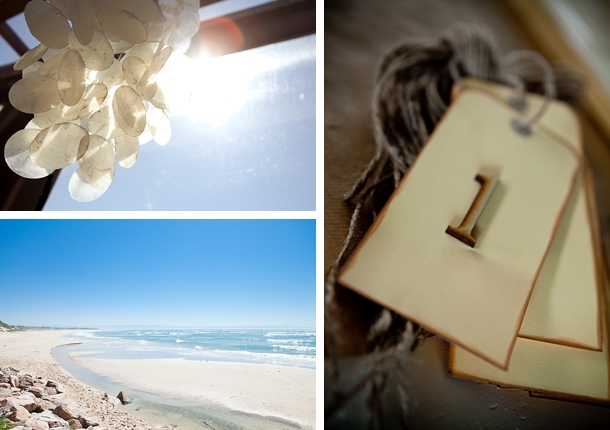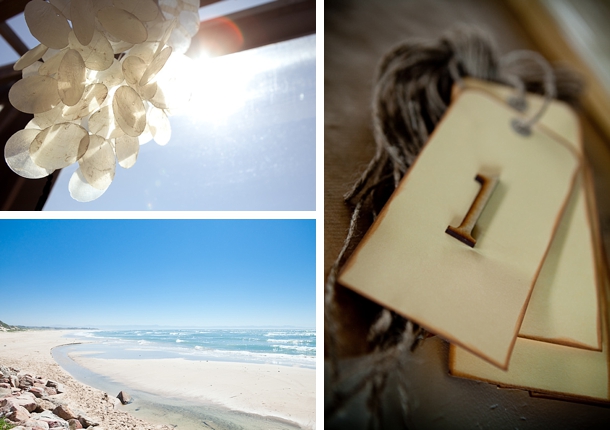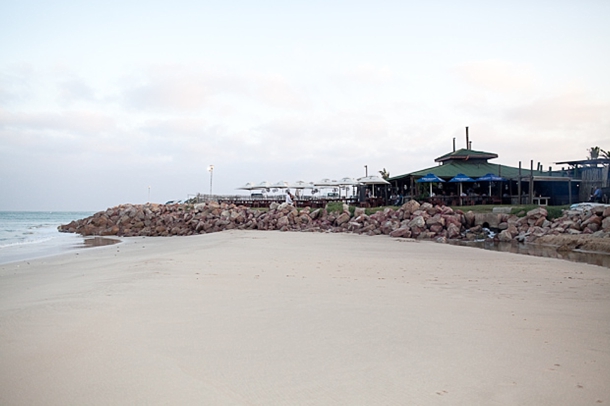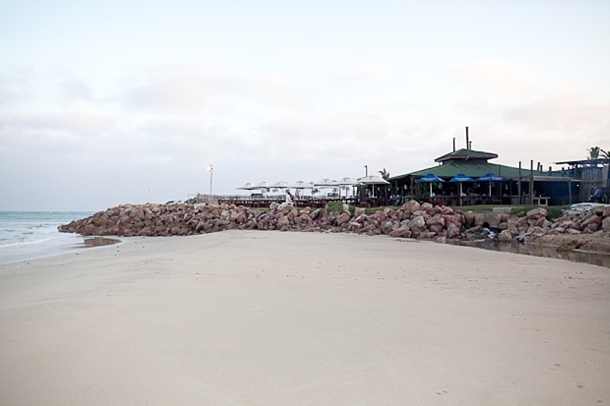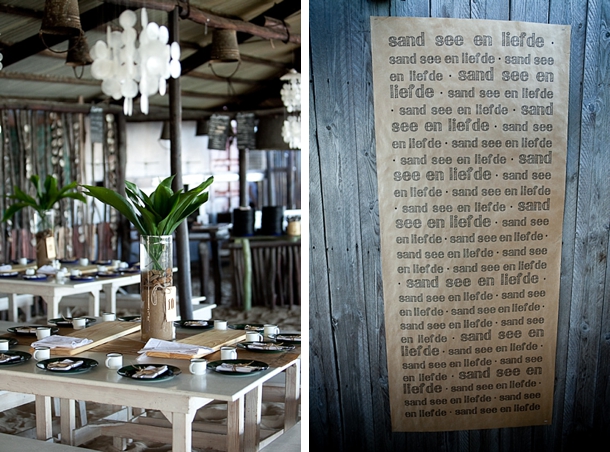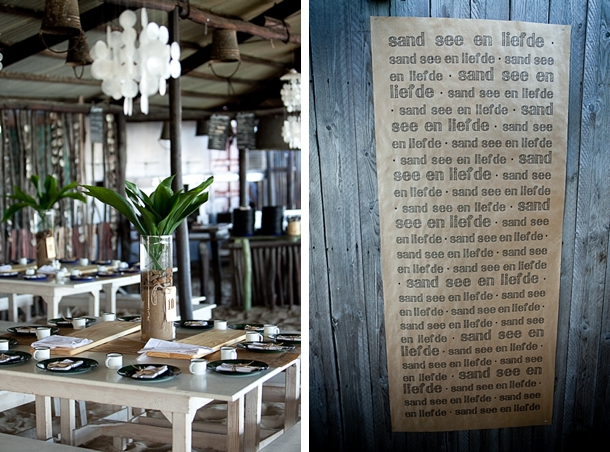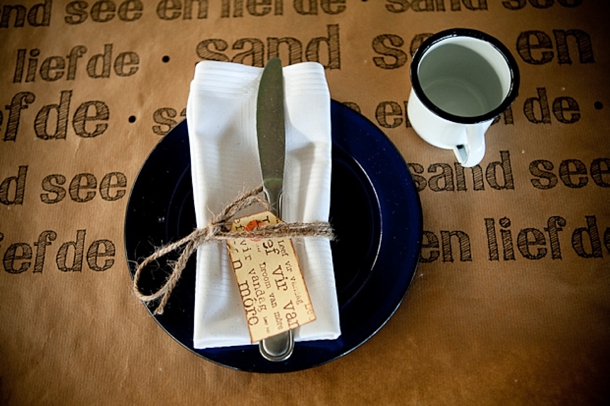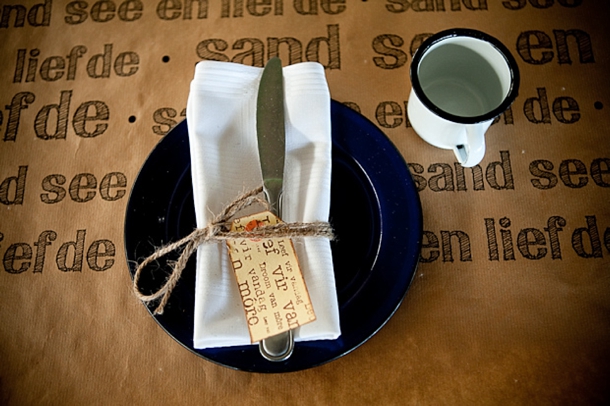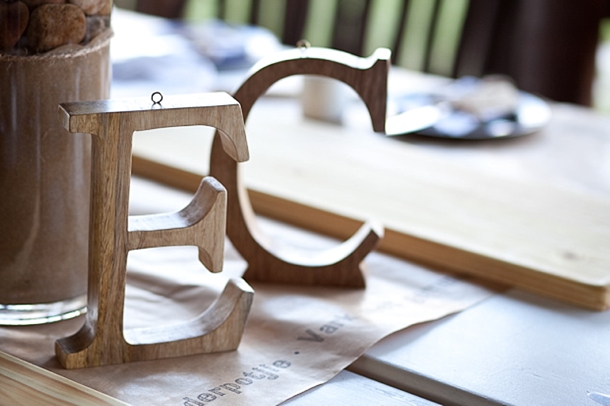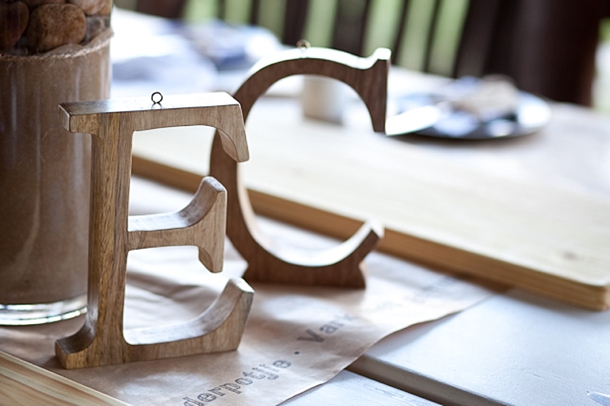 Our day was so natural, warm and relaxed – even our pastor was kissing his wife on a sand dune with a beer in his hand after the ceremony. We had so much fun and felt so loved – love and beauty was all around!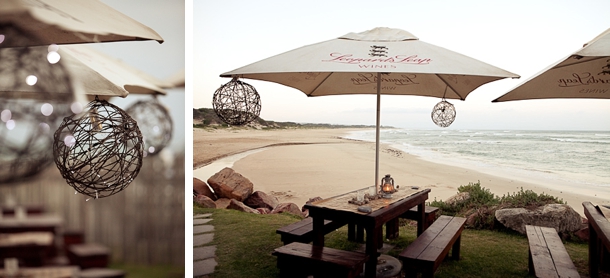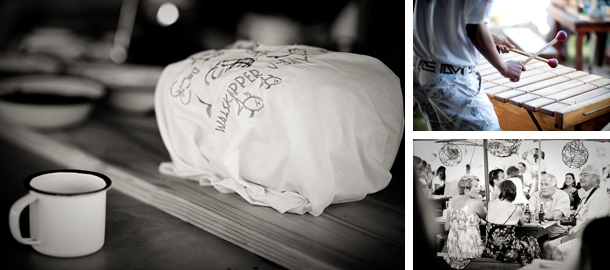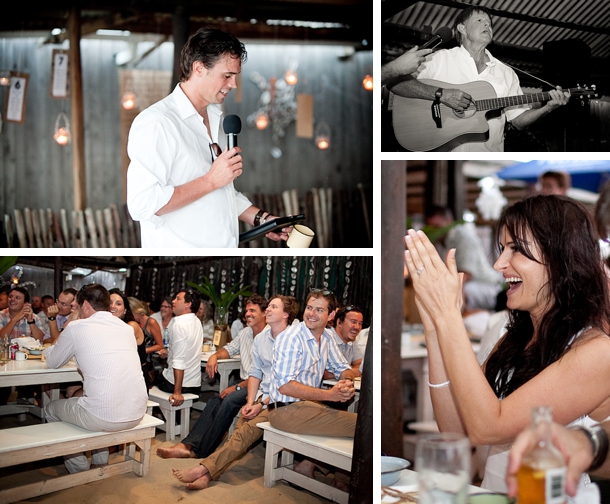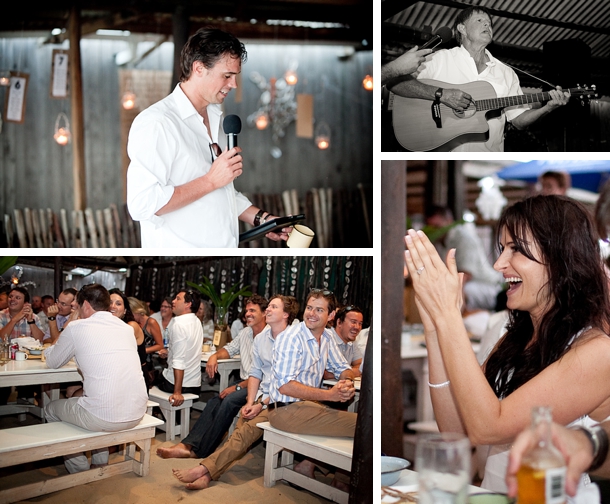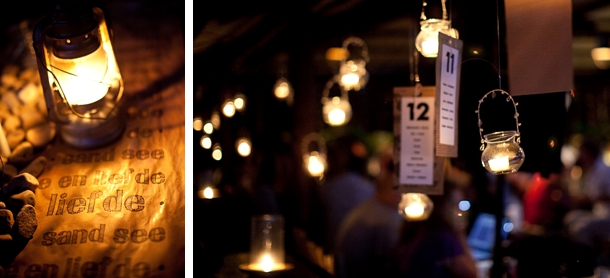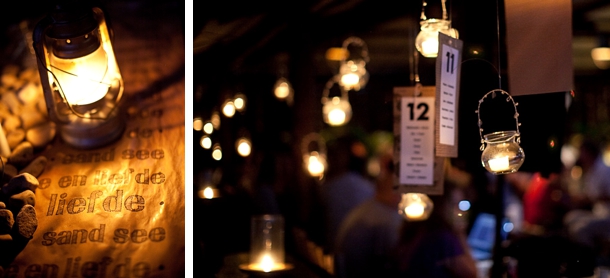 My advice to future brides is to use the internet – it proved so resourceful! We found everything we needed there, and websites such as SouthBound Bride and Pinterest really helped.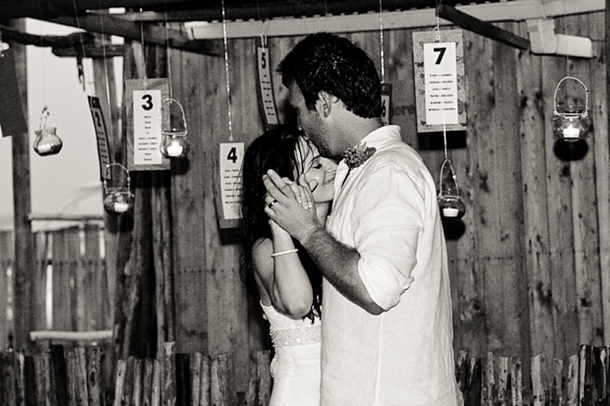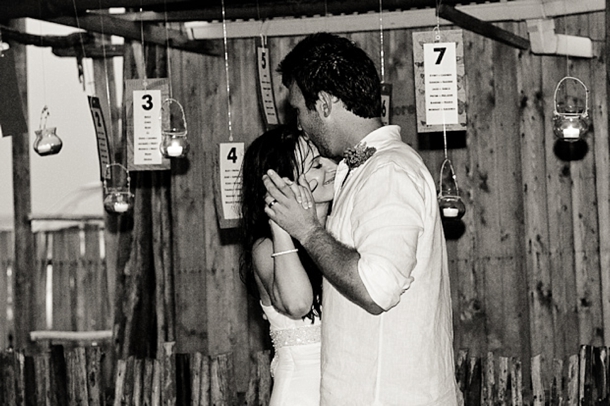 My many thanks to Carmen and Evert for sharing their beautiful day, and a big shoutout to the lovely Monica – you can as always see more of this wedding over on her blog (which, by the way, is new and awesome, so check it out anyway).
SERVICE PROVIDERS
Venue, catering & cake: Die Walskipper | Photography: Monica Dart | Bride & bridesmaids' dresses: Fairytale Designs, Boksburg (0836594458) | Hair: Tario (0720493483) | Makeup: Lizelle of Aqua Spa (0422962583) | DJ: Paul Roets (0722761503) | Hiring: Ansie's Elite Hire