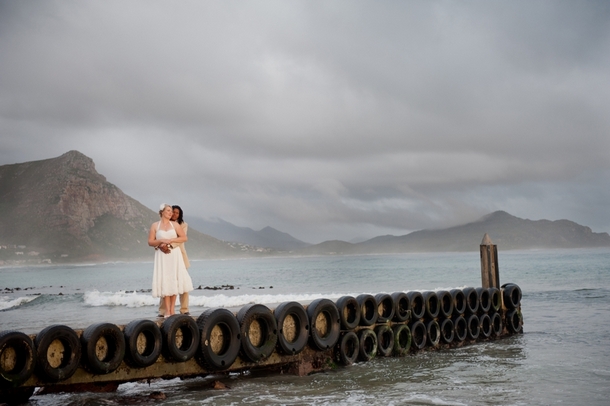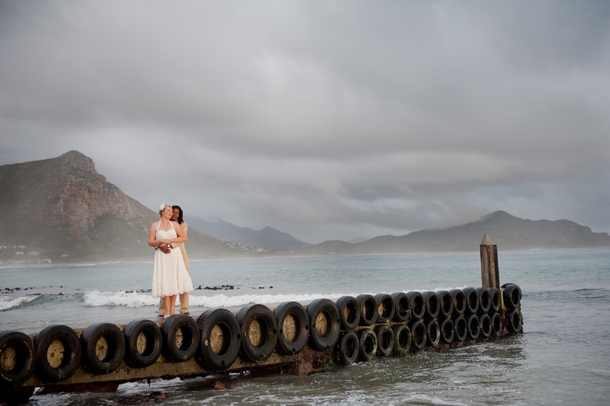 Oh I do love a beach wedding, don't you? I can never get enough of them. So when today's laid-back, rustic beach beauty turned up in my inbox, in the softest shades of blue and taupe, from one of our fave photographers, Cheryl McEwan, I couldn't wait to share it with you. As well as the gorgeous colour scheme, which runs through the wedding like a magical thread, there are the kind of clever touches that make my toes curl with happiness – hand-painted 'take-away' and 'shebeen' menu boards, fun original table names, crochet mason jar covers… And how much do we love a bride in a tea-length gown? This gorgeous couple's relaxed attire and baby blue getaway car complemented the rest of their wedding perfectly.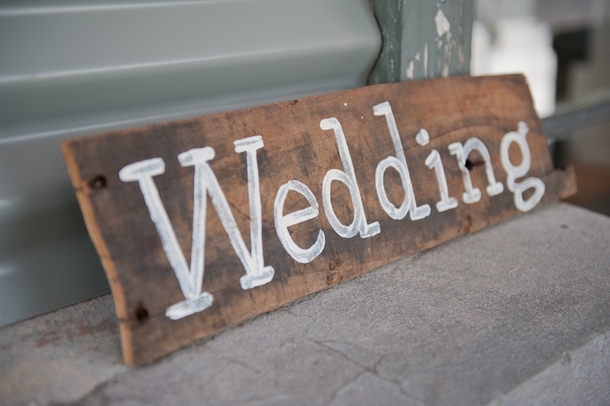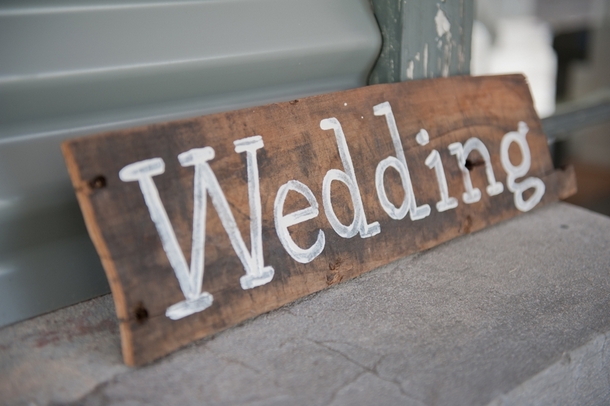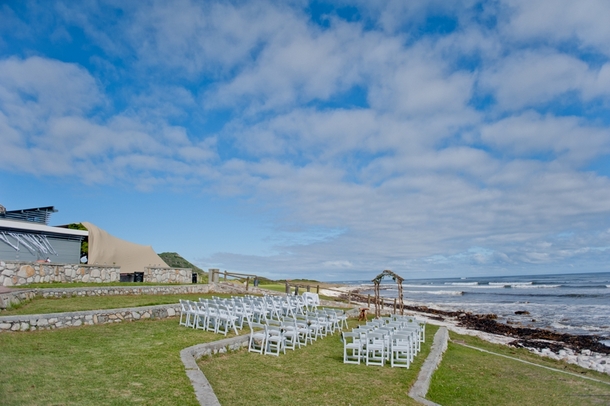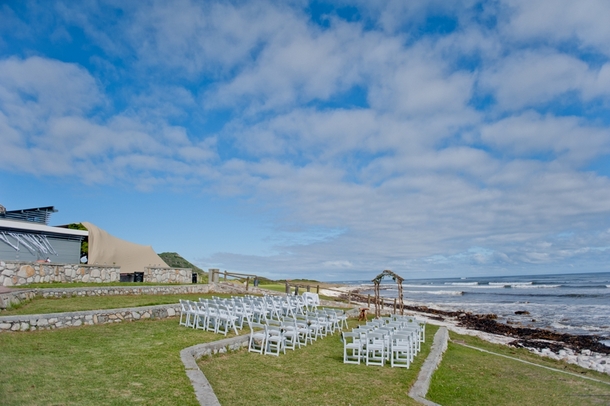 Love Story
Trevor and I actually worked together for the same environmental non-profit organisation but didn't really know each other well. We also both volunteered for the eMzantsi carnival, an annual event bringing together communities in the far south, and we ended up building a "ghost ship" float together for the 2007 carnival, which led to us getting to know each other better. At the carnival "after party" in Soetwater we got together and have been together ever since.
The Proposal
On our five year anniversary Trevor took me for a picnic at Cape Point Vineyards and after a lovely picnic with awesome views he got up on one knee (we were laying on picnic blankets) and proposed!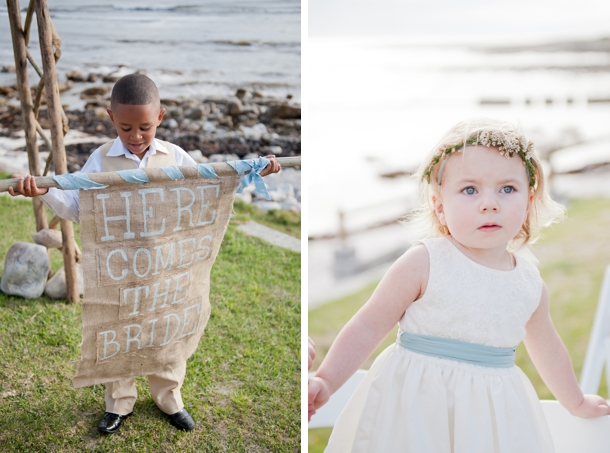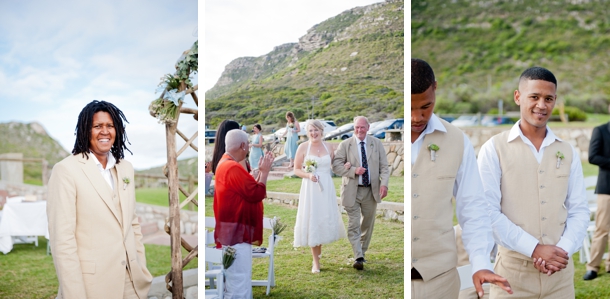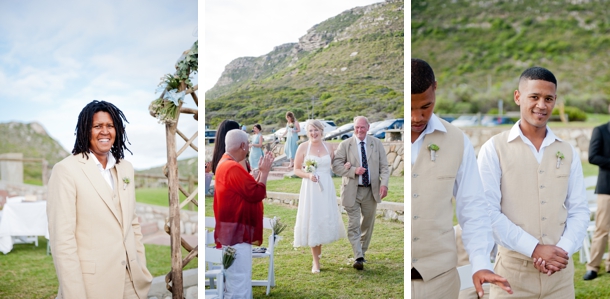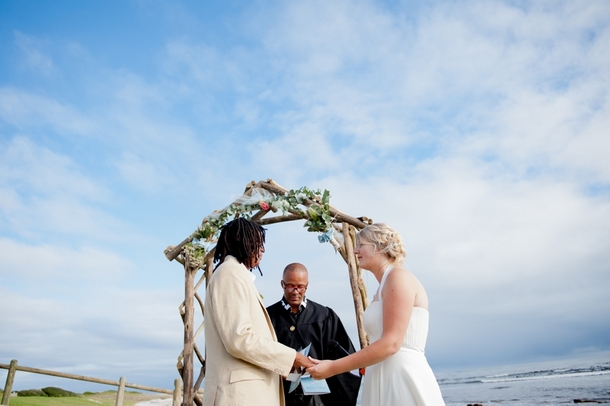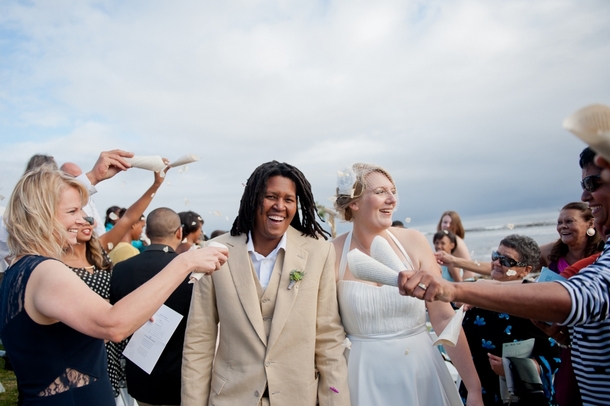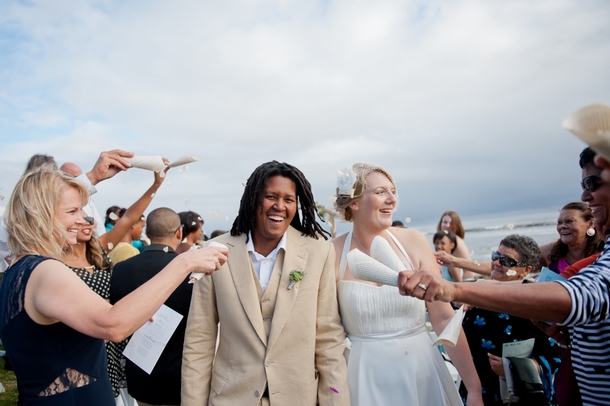 The Venue
It is the exact spot of the carnival after party where we first got together. We also ended up working about 200m up the road for a couple of years, so the whole Soetwater reserve is special to us for a number of reasons.
Wedding Style
It was very important that the whole style and feel of the wedding reflected Trevor's and my personalities: relaxed, natural and comfortable. We love the outdoors and the environment we live in, so really wanted that to feature strongly in the day. The inspiration really came from the venue, it was so stunning it really just needed a few touches to give it a "wedding" feel, but otherwise we tried to keep it as natural as possible.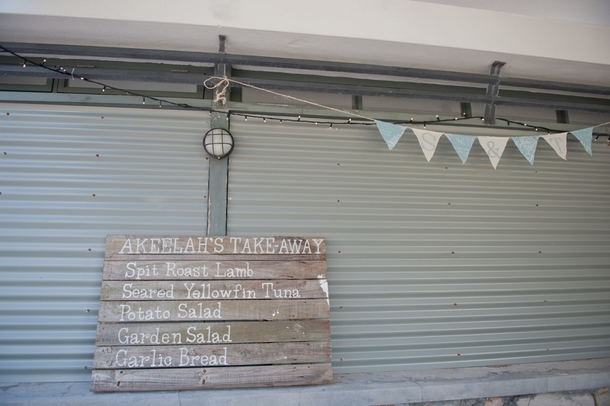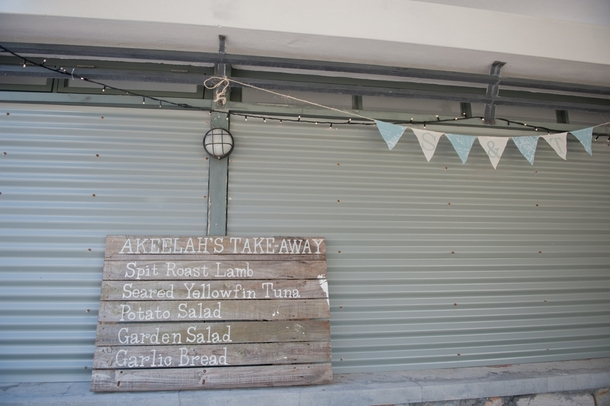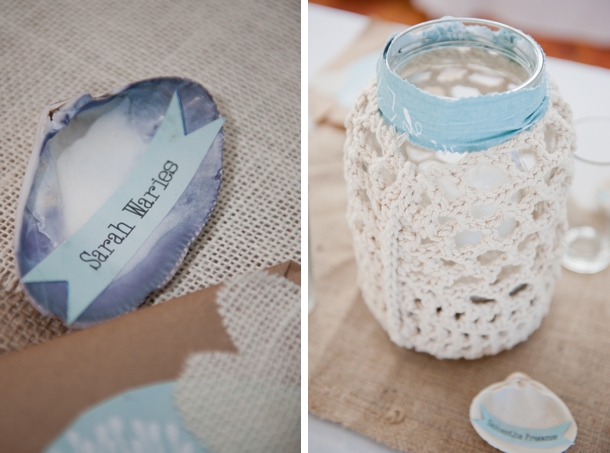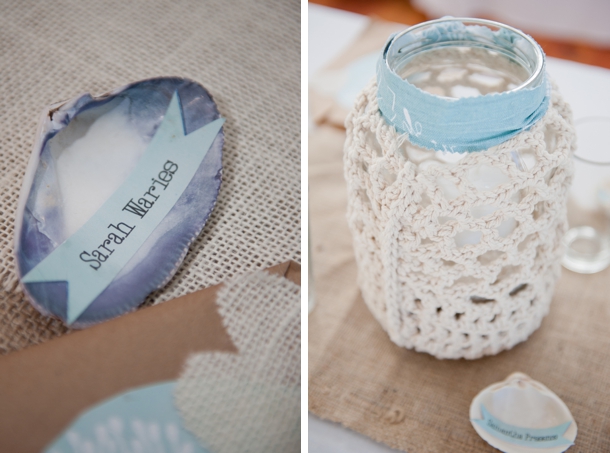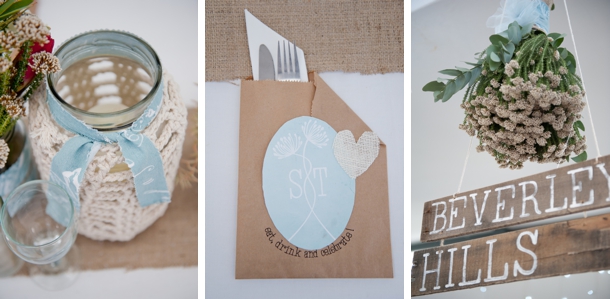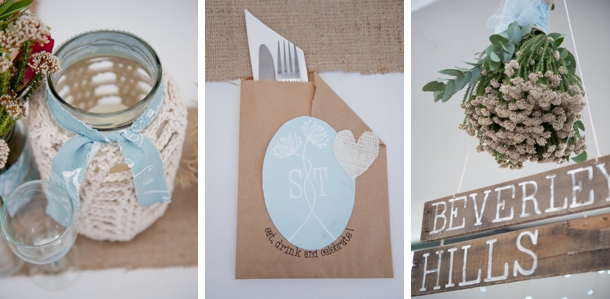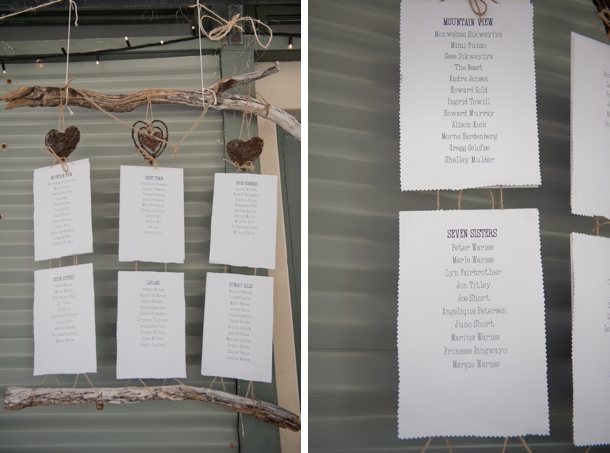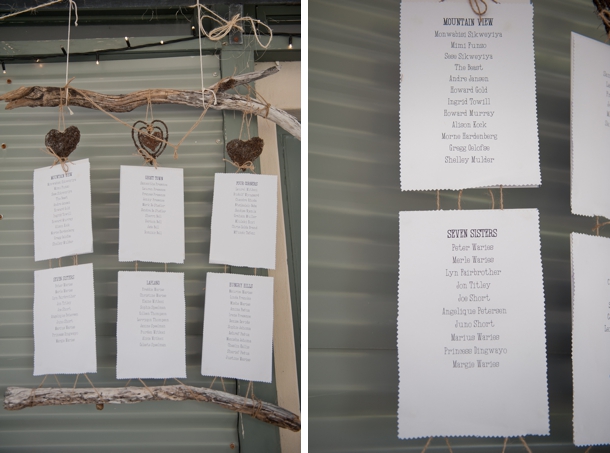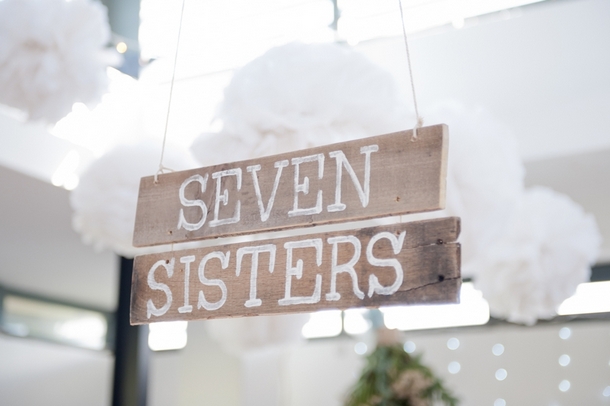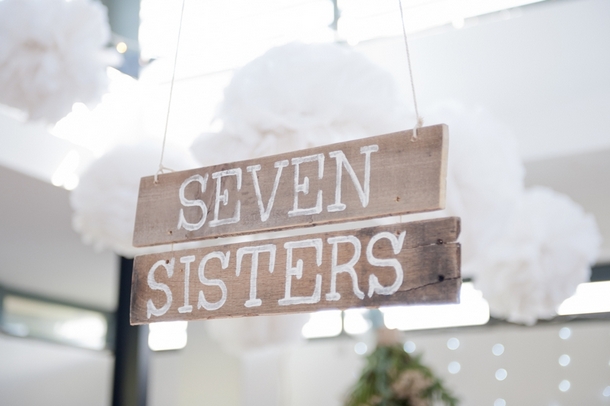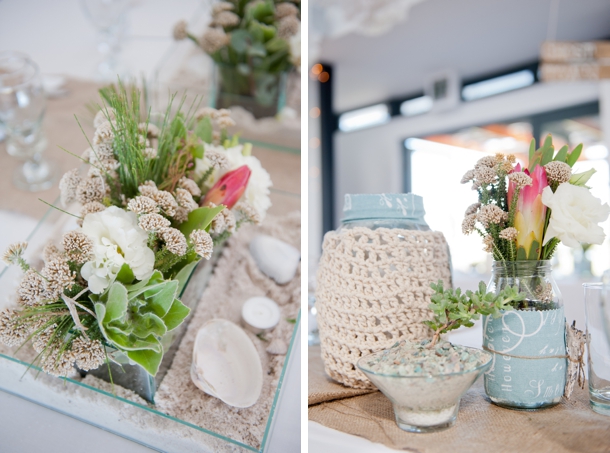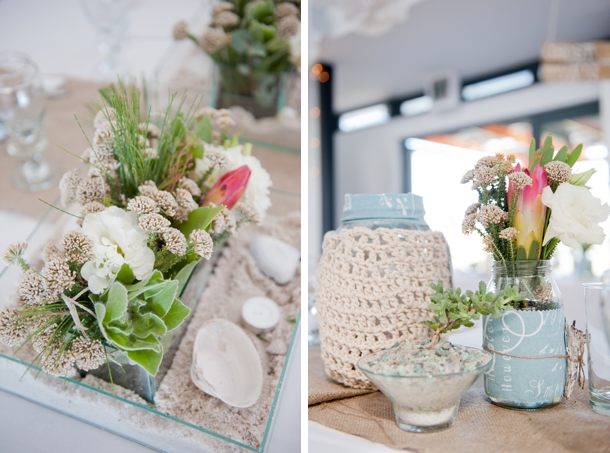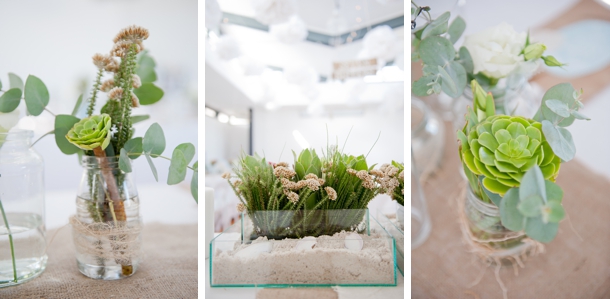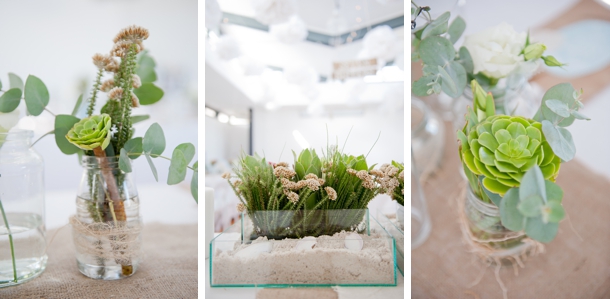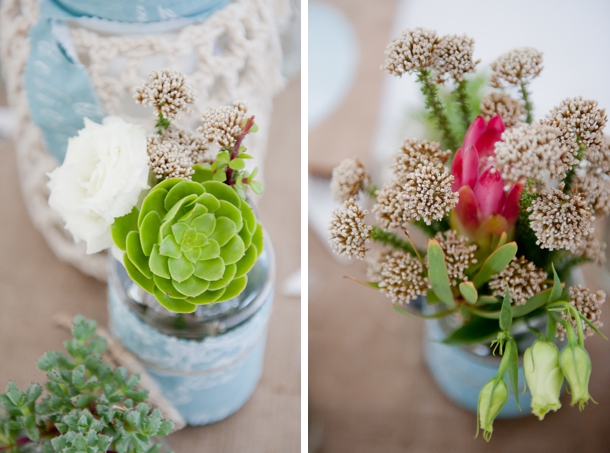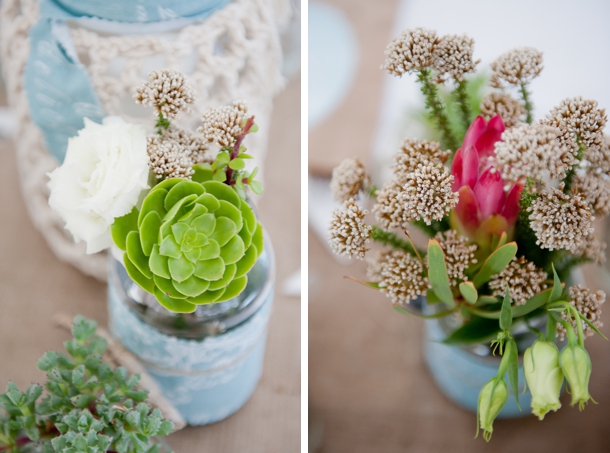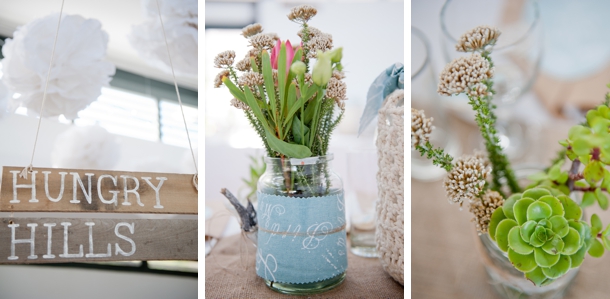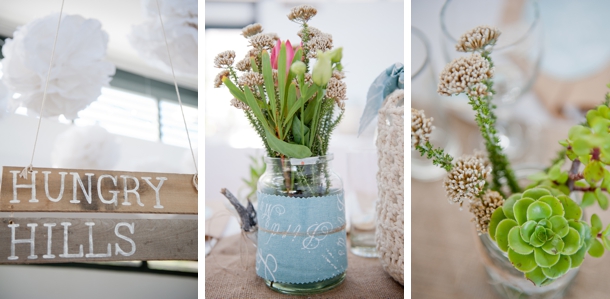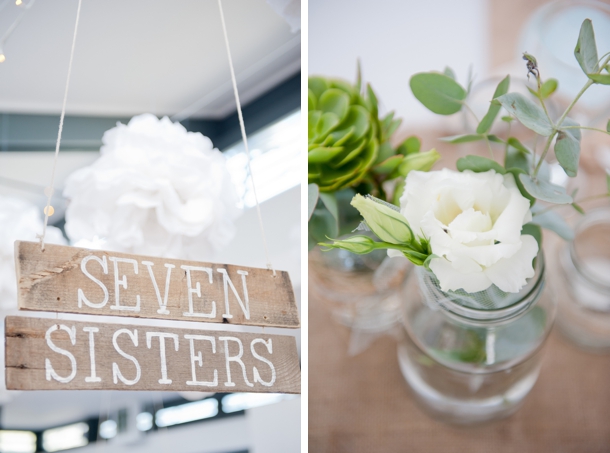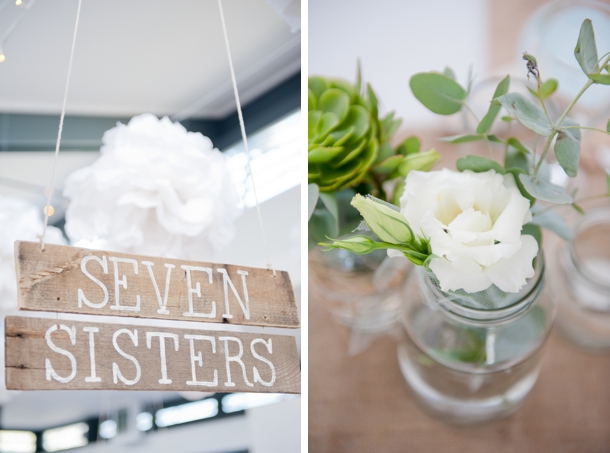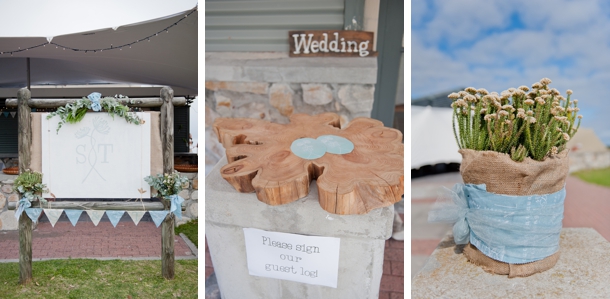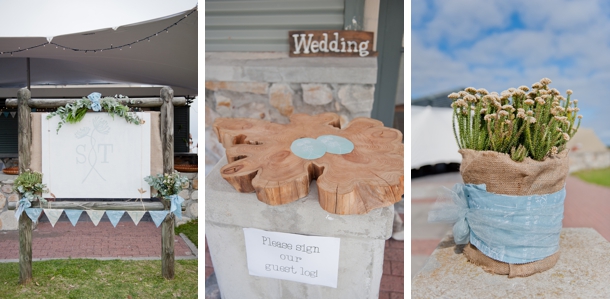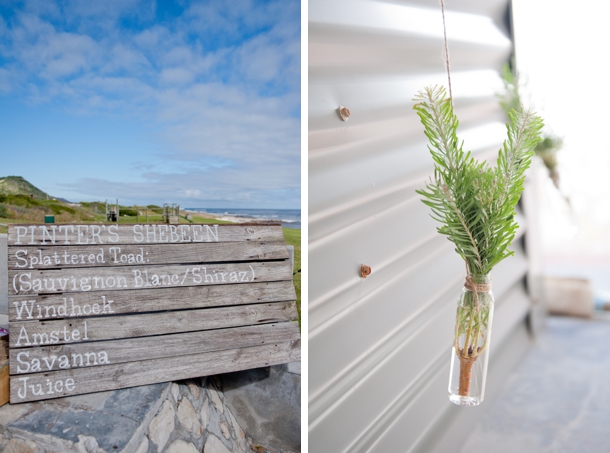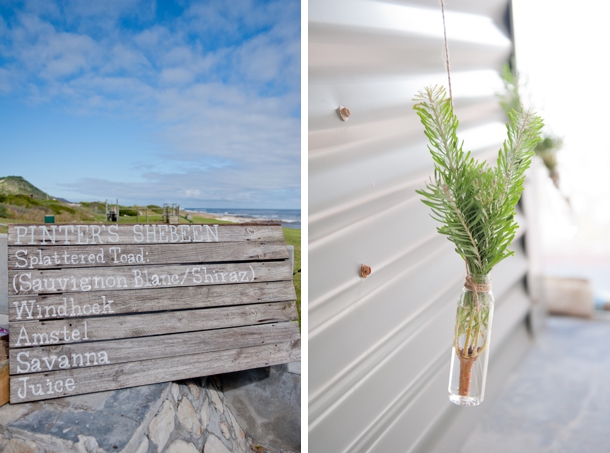 DIY Wedding Details
I think everything in the wedding related to us personally! There are too many details to think of but as some examples; my mother made the pom poms, Trevor's mother crocheted the candle holders, all the glass jars and bottles were recycled, my friend donated most of the proteas from her garden, her husband gave us a tuna, the knife used to cut the cake was given to us by my dad (it was a Kukhri, which is a knife from Nepal where I grew up), my mother made the wedding cake, one of my oldest friends in Cape Town did the catering, my bridesmaids made crackers and an awesome photo board with pictures of Trevor and I when we were younger, we picked and dried the confetti ourselves, and made the confetti cones out of an old romance novel, my brother in law did all the design of the invitations etc, my sister did the reading and organisation on the day, Trevor's brother did the awesome signboards – all the table names were slang names for areas where we live, it goes on and on! We also bought the arch so it can be planted in our garden, and donated all the flowers and decorations to the local churches after the day so people could continue enjoying them.
What made the day so special was everyone's contributions, it was a real family effort, and that was what was important to us, that it was not just our day, but all our friends and family contributing and sharing in the celebration, it was just lovely!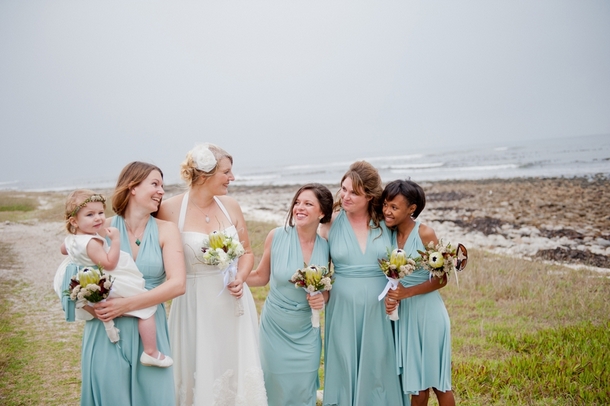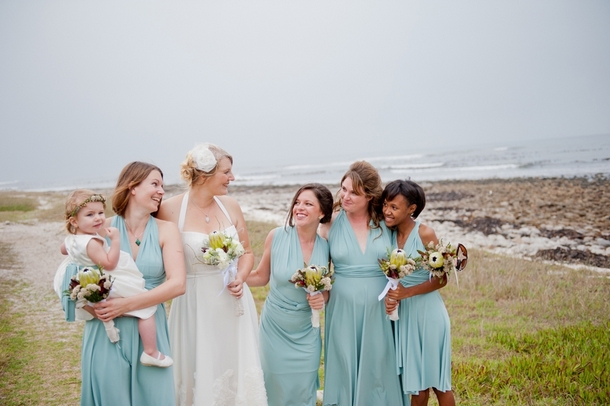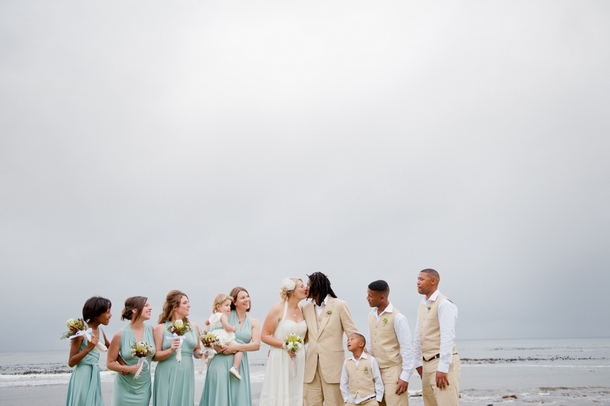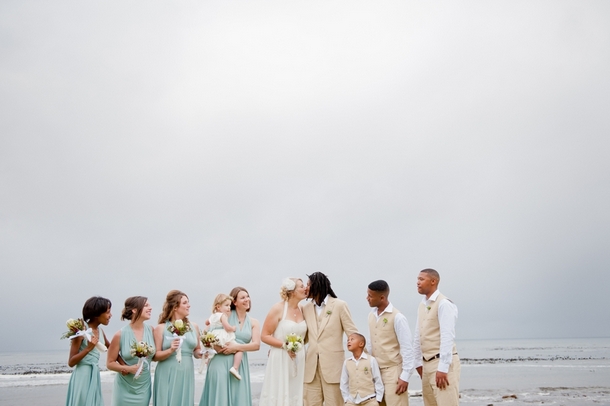 The Flowers
We wanted to use indigenous flowers as much as possible, and got a lot of the proteas from my friends plot, as well as the metalasia for the hanging bouquets. My bouquet and the bridesmaids' had white proteas, as those were in season at the time and locally available. We used a lot of local plants, including some living plants that we have since planted in our garden.
The Dress
My wedding gown was a tea length dress custom designed by Jagadi Haute Couture in Claremont. My bridesmaids and I did the normal dress hunting and I tried on lots of different designs but did not feel comfortable in any of them. I am not a very girly girl at all, so even though the traditional dresses may have looked ok, I really didn't think any of them reflected my personality well. We stumbled upon Jagadi when looking for another bridal boutique, and Javaid, the designer, was great at taking an idea I had of a tea length dress and turning into something much more than I could have imagined. He was great at including details that I would never have chosen but looked really beautiful and made it extra special, like the hand sewn flowers on the bottom of the dress. I really felt the dress was very 'me', and I felt comfortable and happy in it all day!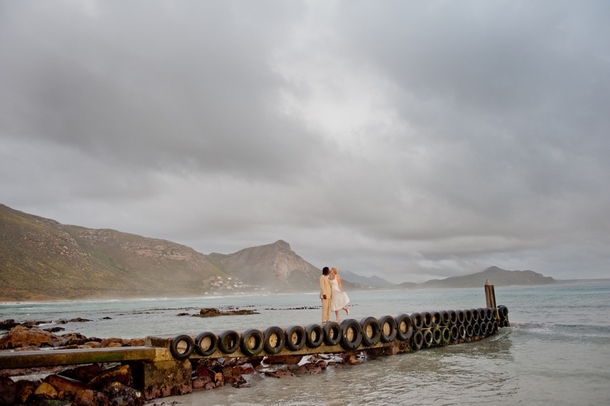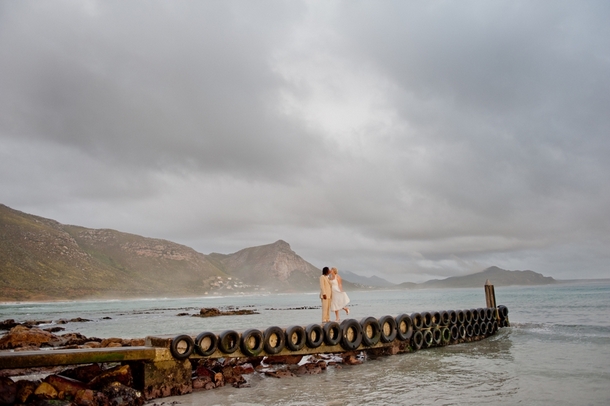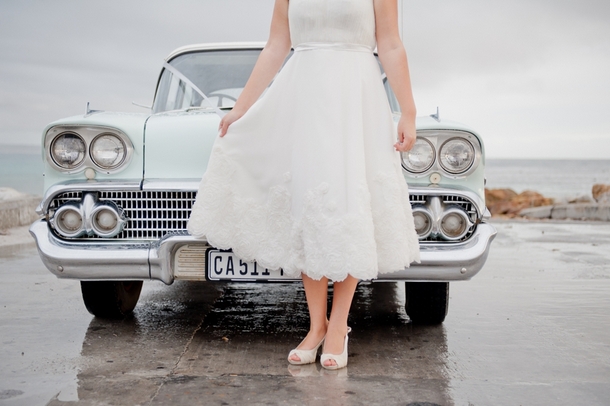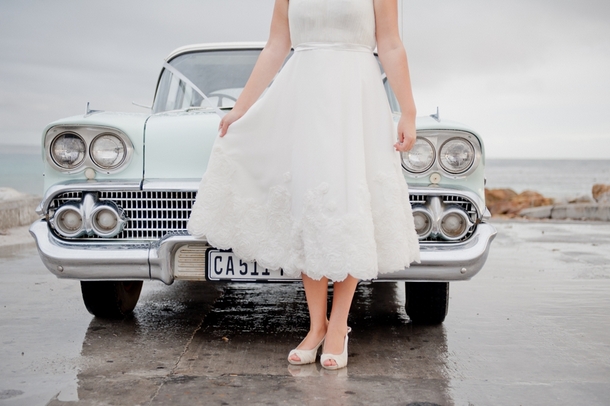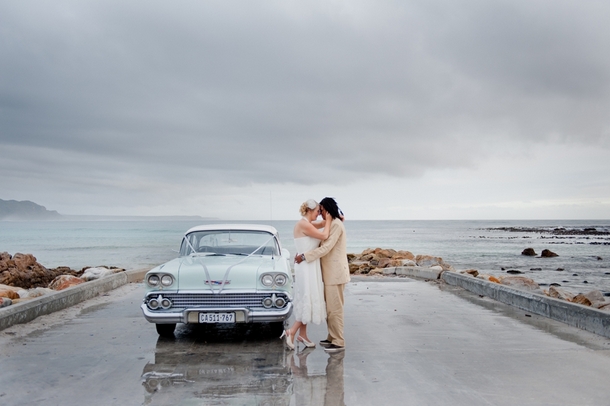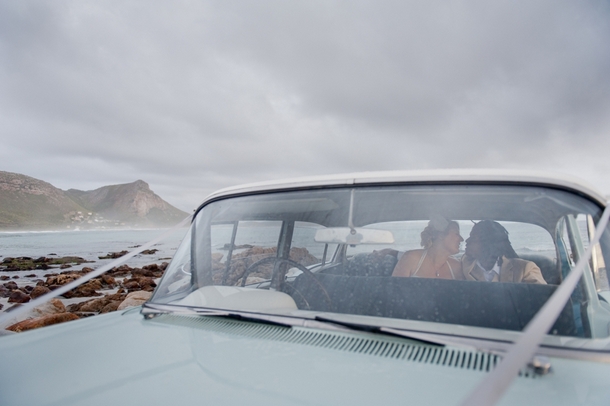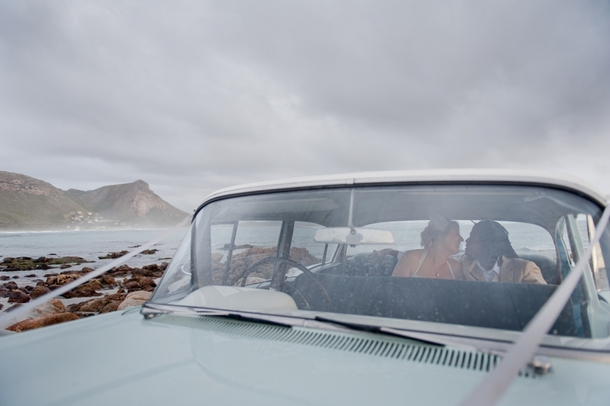 Favourite Detail
I think my favourite detail was Ingrid's "attention to detail"! She did the most incredible job at tying everything together and producing the most stunning décor ever! Walking into the room with all the candles twinkling and seeing just how stunning it looked really took our breath away. It was beyond my wildest imagination and she thought of including little details that never would have occurred to me but made it just that extra bit special!
Proudly South African Details
We used as many local, indigenous and recycled materials as possible.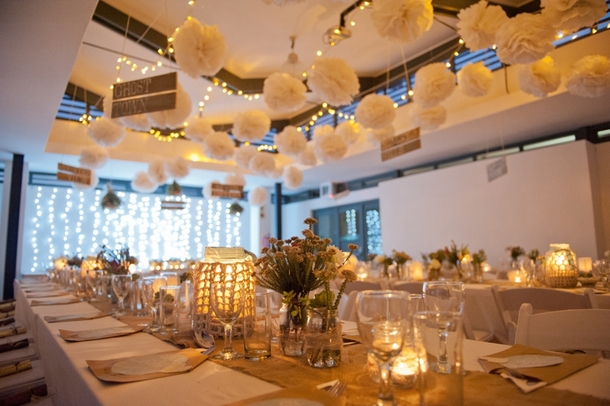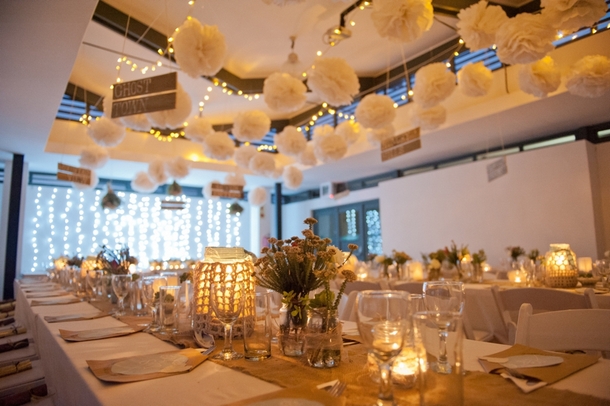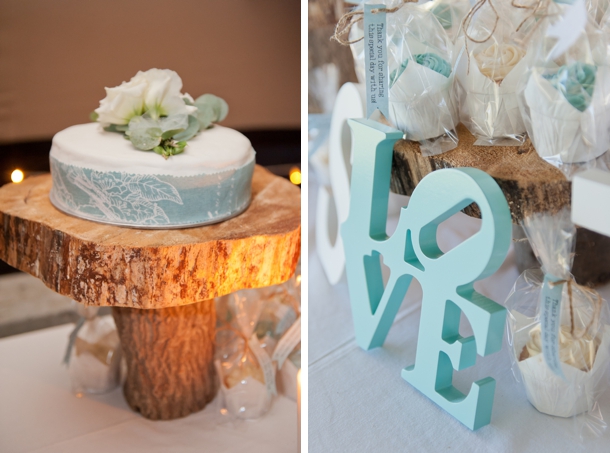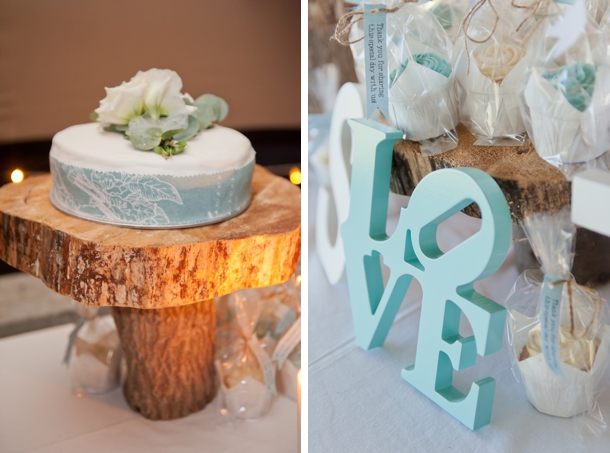 The Honeymoon
We didn't go on honeymoon as my family was over from the UK so we wanted to stay and enjoy the time with them after the wedding, which was really awesome. We just had a weekend in Durban which was a "mini-honeymoon" but are hoping to go on a longer trip next year.
Advice for Future Brides & Grooms
Probably all the cliché advice that other people give, but get as much help as possible, don't do too much yourself as you won't be able to enjoy the day! And really make it personal, it should reflect what you and your fiancé are like as people, not some glitzy magazine image of weddings!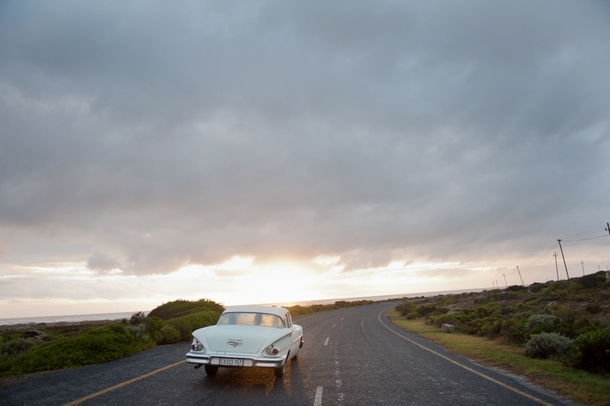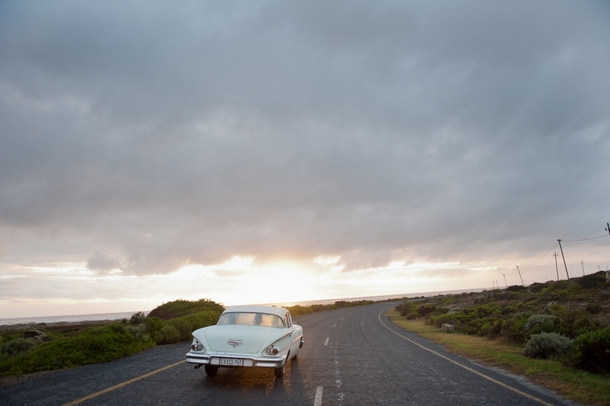 You can see more from this wedding on Cheryl McEwan's blog.
SERVICE PROVIDERS
Venue: Soetwater Resort | Catering: Vernon Bell of Little Apple Foods | Photography: Cheryl McEwan | Co-ordination, flowers & decor: Ingrid Towill | Bride's dress: Jagadi Haute Couture | Hair & makeup: Amanda Bosman (0798794897) | Bridesmaids' dresses: My Walk In Closet | 
Groom's attire: Manuel & Sons Tailors, Ocean View
SBB ♥ Cheryl McEwan Photography, a featured member of our Directory