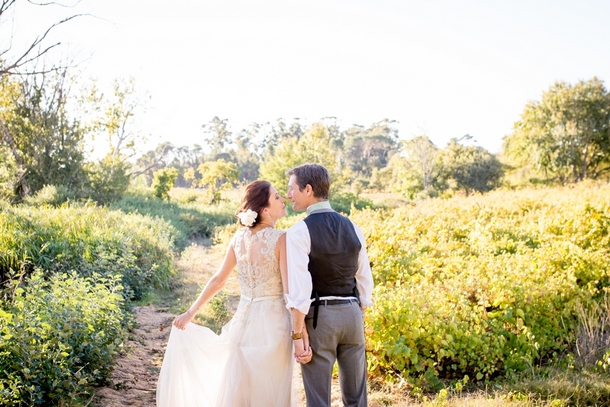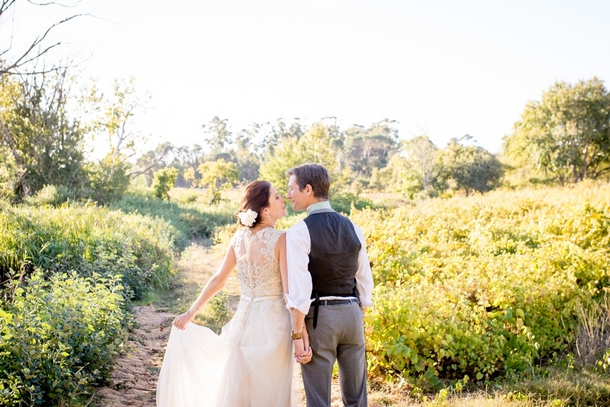 I'm a true blue South African girl (or should that be true green and gold?) so the thought of a wedding full of indigenous flowers is my idea of paradise. That's exactly what inspired today's bride and groom, who filled their reception with a whimsical mix of succulents & proteas, with little touches of lace including Jenna's seriously gorgeous Maggie Sottero portrait lace-back gown. It's the perfect mix for a laid-back country celebration with a big heart, that includes a doggy attendant and a sweet mint and white colour scheme. SBB favourite Cheryl McEwan shot these gorgeous, light-filled images of the couple's big day.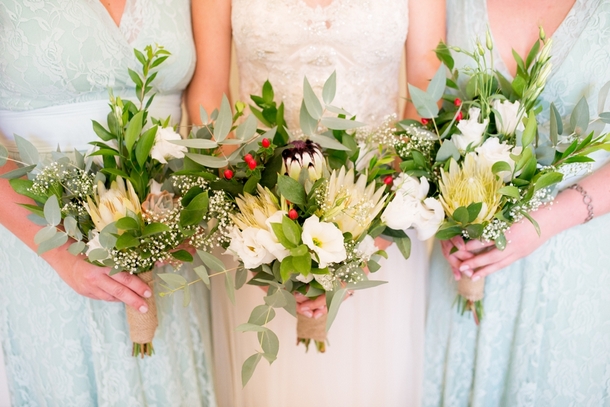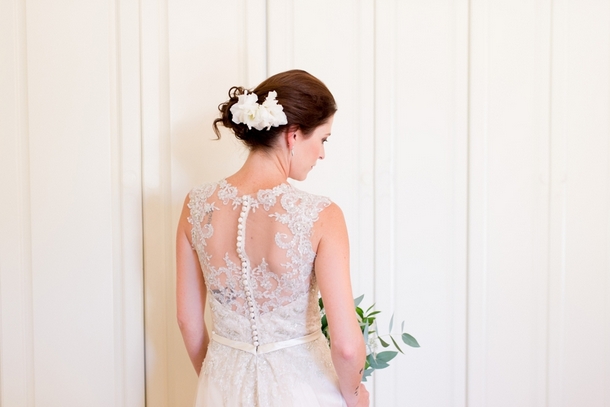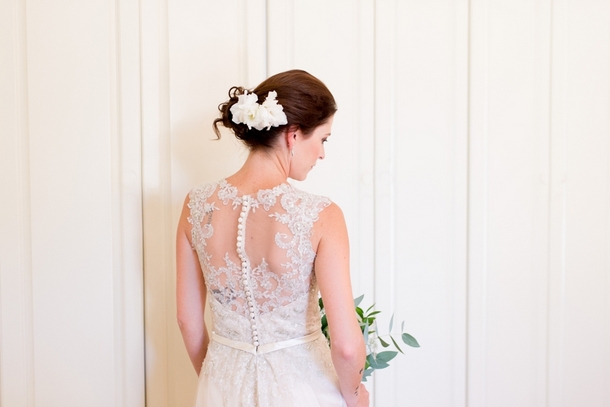 Love Story
Our love story is a different one… we met one night out on the town on Long Street at the Dubliner. Alan approached our table and started chatting to us. Before long it was just me he was chatting to, he took my number and messaged me the very next day to go out on a date.
The Proposal
It was simply beautiful, we had booked to go to Egypt at the end of October 2014 for some diving and then ending off with a Nile cruise. It was our anniversary and we were sitting at the front of the boat, cruising along the Nile. He got down on one knee and asked me to marry him.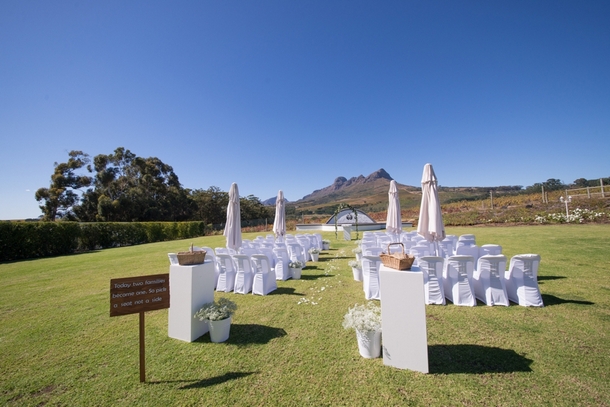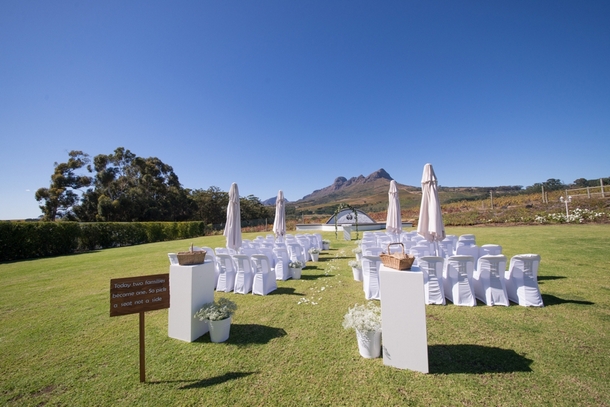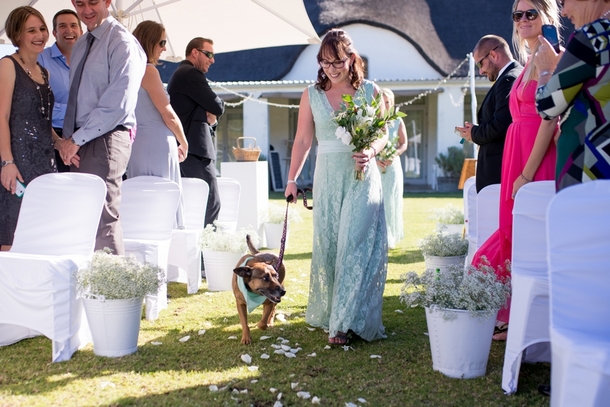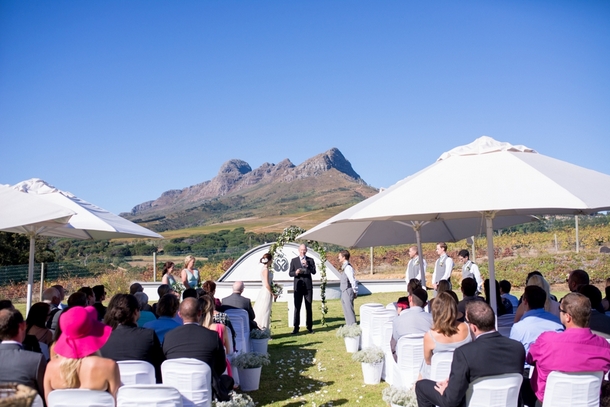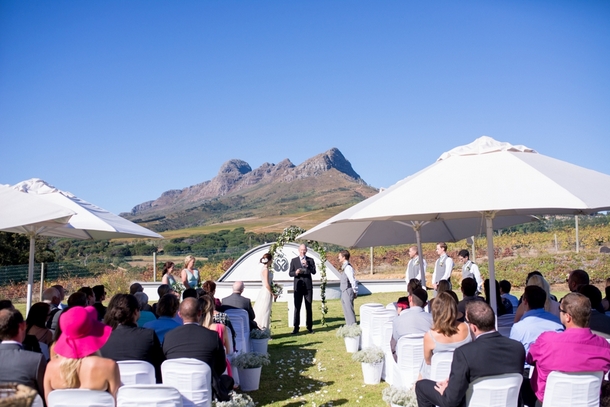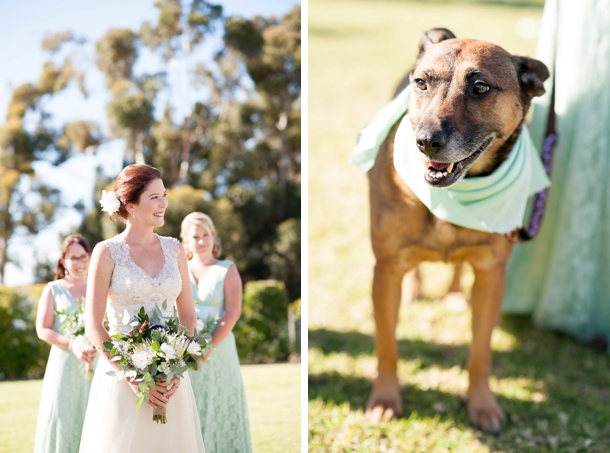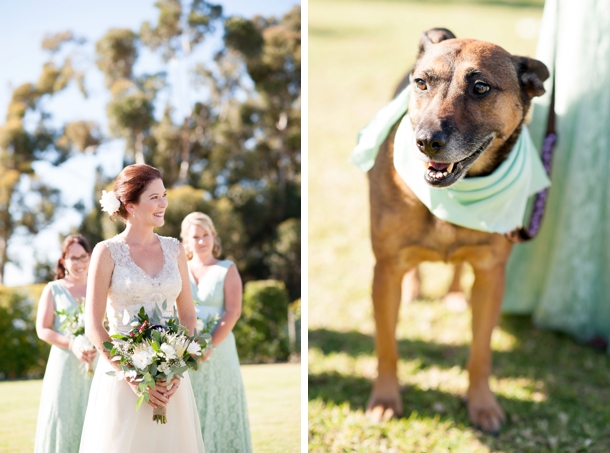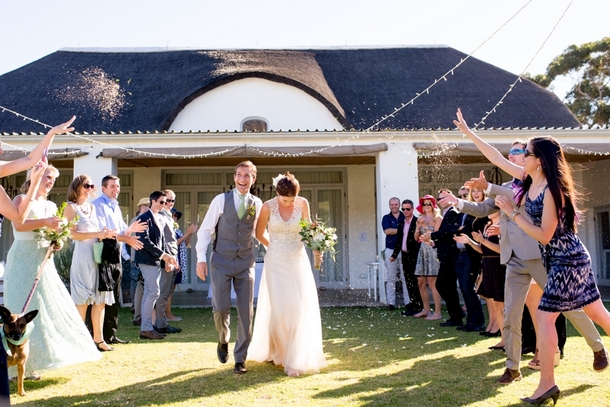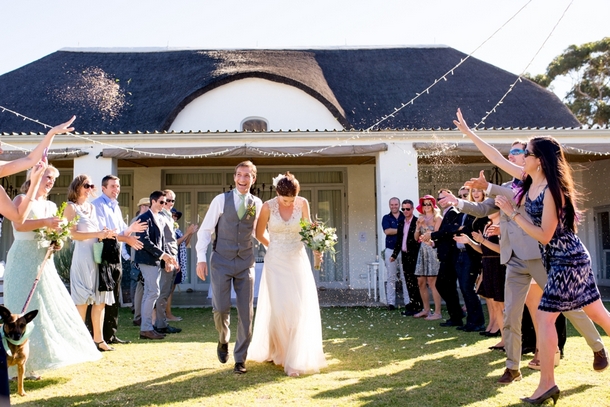 Wedding Style
I wanted to go with an indigenous/rustic theme. I love the colour green and wanted it to look as natural as possible.
The Venue
In the Vine had the look I was looking for, as well as the added benefit of being able to have the ceremony on the grounds. The view of the mountains behind us during the ceremony was just what I wanted.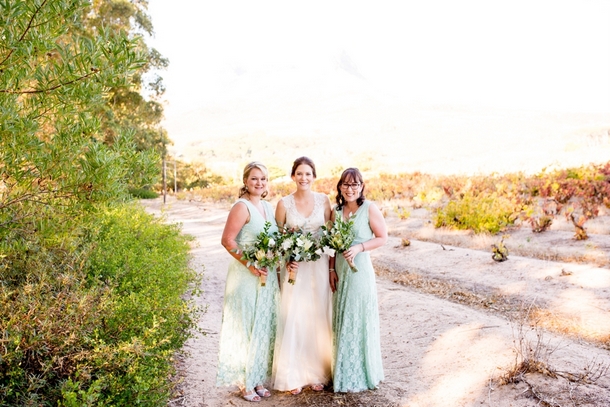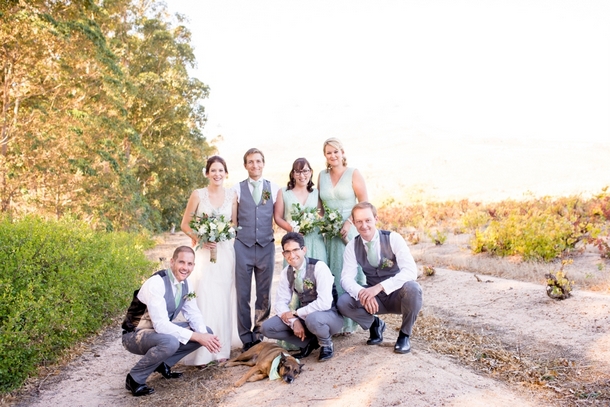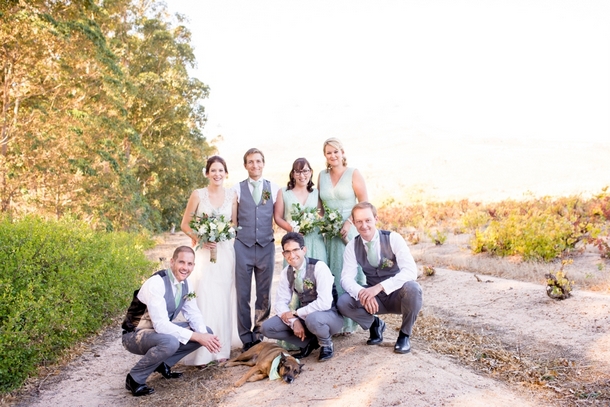 Wedding Details
The one thing we do love to do together is have a good time. We love to dance, love music and our friends. We wanted our day to be fun and as laid back as possible and that it was. There were no rules or scheduling must dos which reflected our personalities well.
DIY & Budget Elements
We wanted to give our guests something to remember the day and both loved the idea of succulents in a little pot. Unfortunately we realised that it would be quite expensive so we contacted the Rust Bucket who put them together for us for a very good price. My bridesmaids and I on the day then wrapped ribbon around them. We also didn't have any specific seating arrangements but encouraged our guests to sit wherever they preferred which saved us on stationery. Our wedding save the dates and invitations were via email to save paper.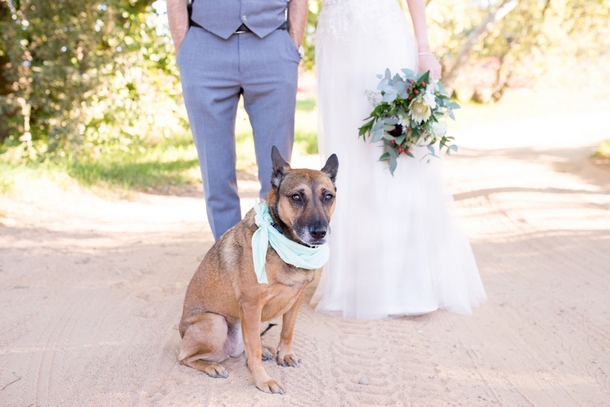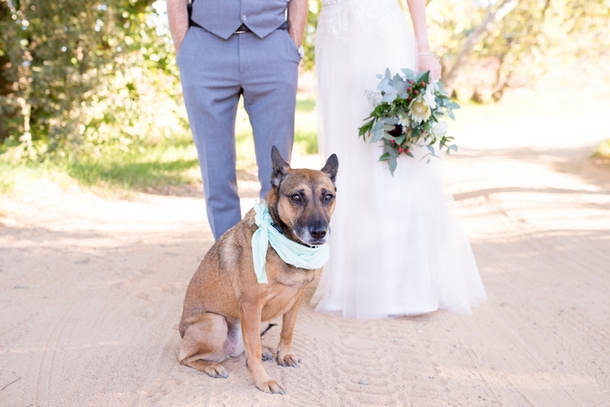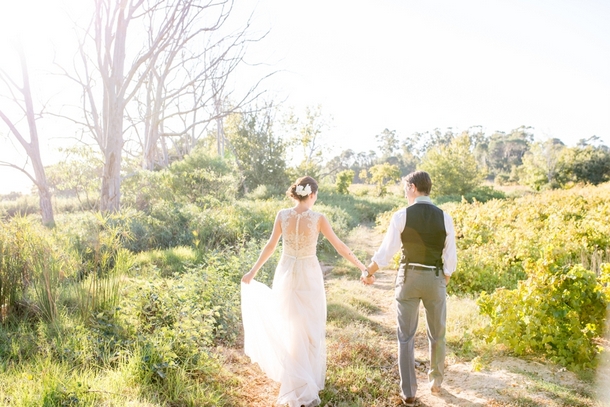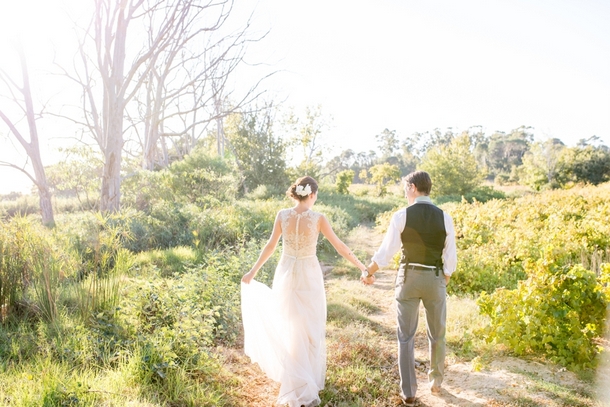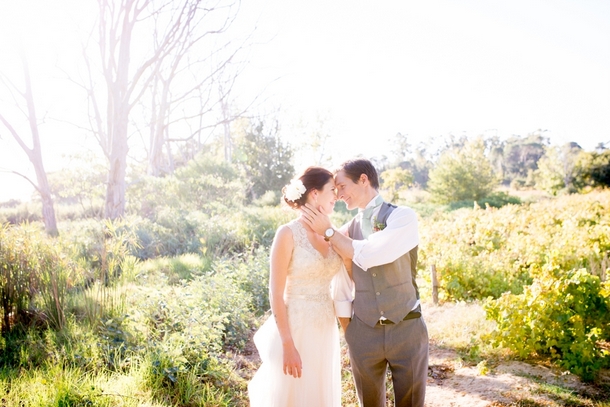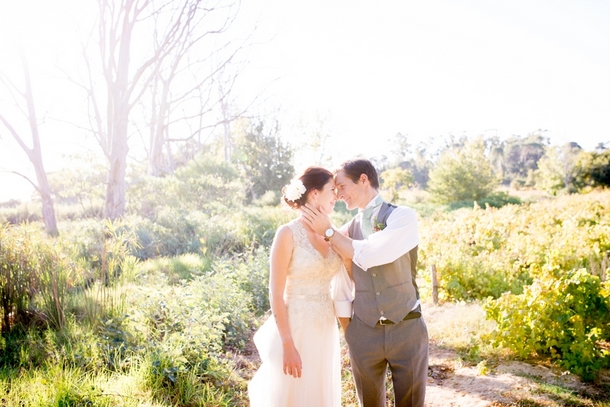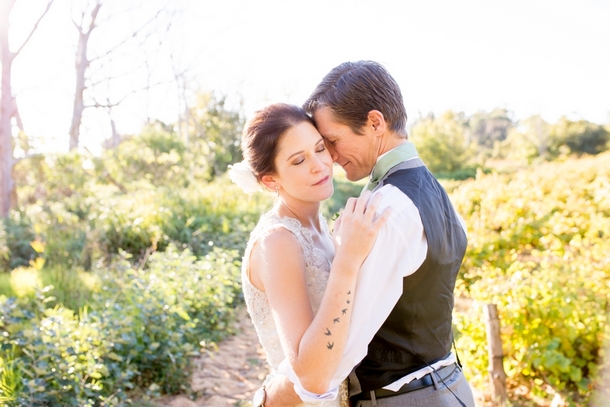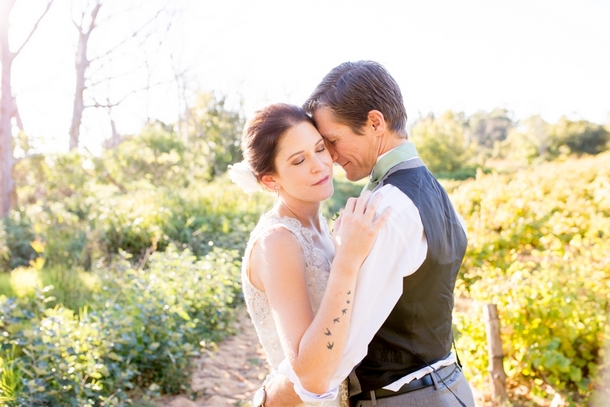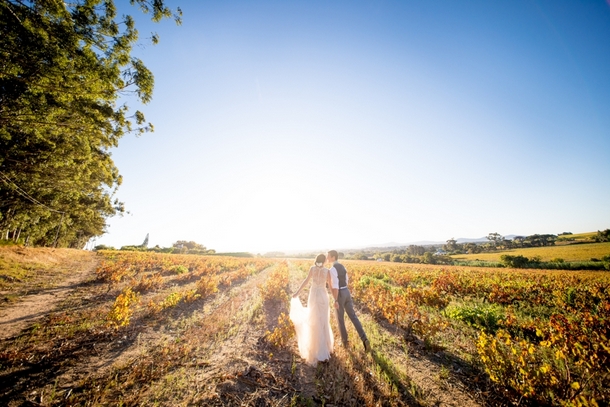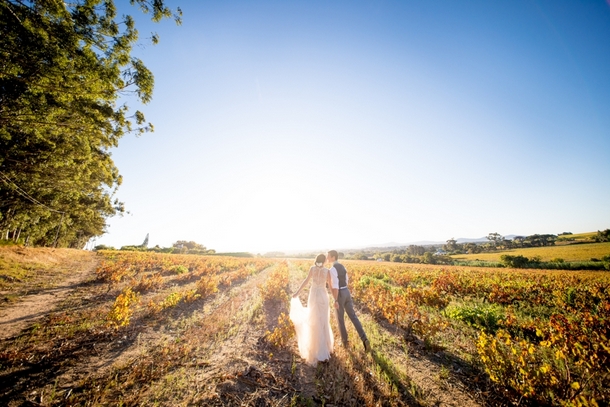 The Flowers
I only wanted indigenous flowers and I love succulents. I also didn't want anything that was too large or over the top and found My Green Love Affair on the internet. Lauren and Carmen were amazing in helping me pick out the right flowers and vessels to hold them in.
The Dress
We found it after much searching on the internet! My mother had actually found the designer Maggie Sottero whilst looking through magazines and online. I fell in love with her style and proceeded to browse her website. I then looked up stockists here in Cape Town of her dresses and ended up at Eve's Bridal in Claremont. My mother was visiting from Johannesburg and we had only the one morning to try find a dress. I tried on eight dresses in an hour and then I found the one I wore and loved. It was bohemian style which is everything I wanted, complete with the lace back.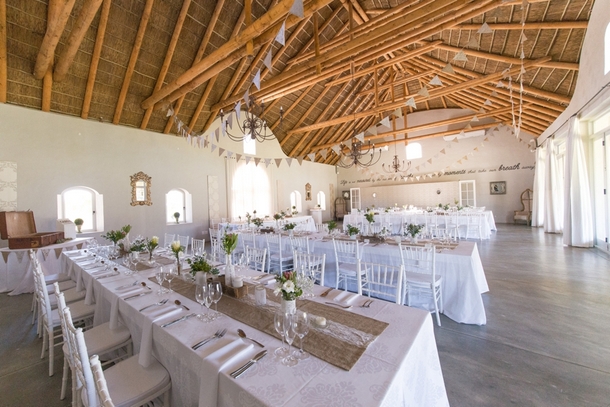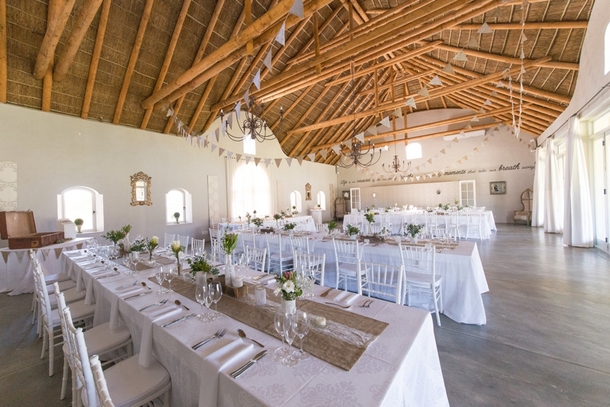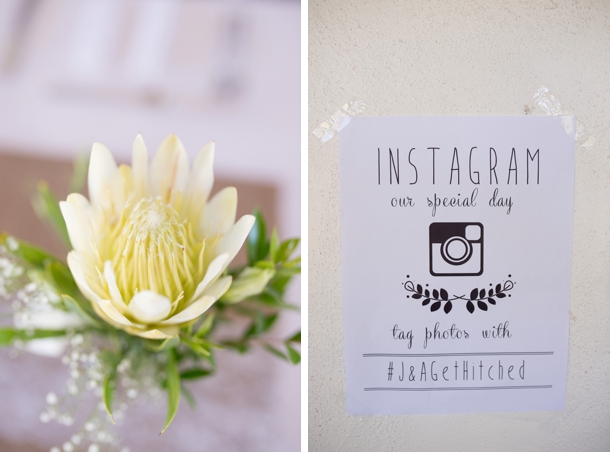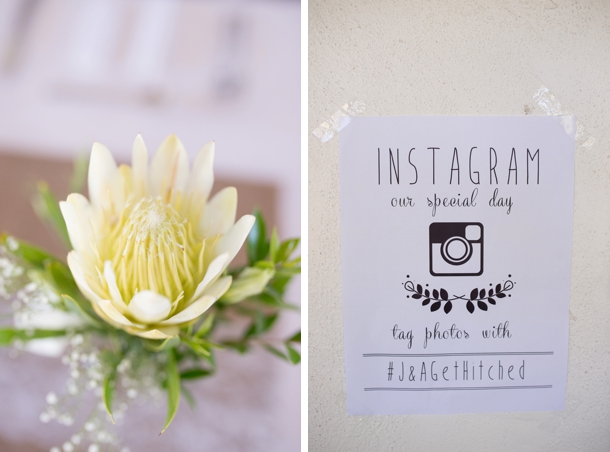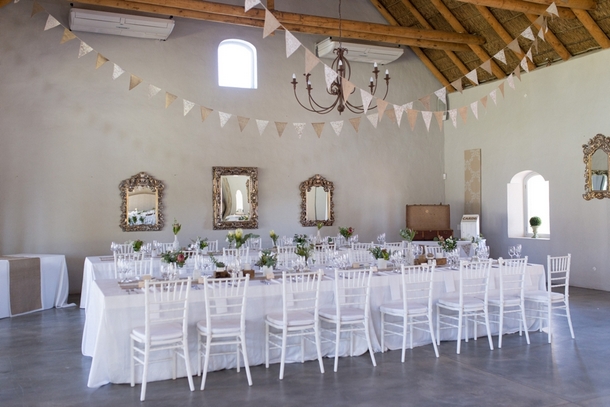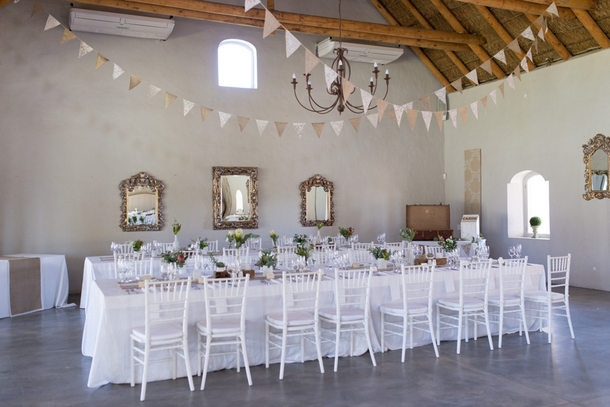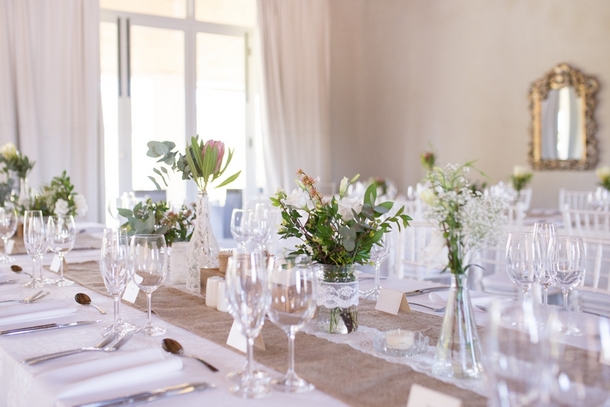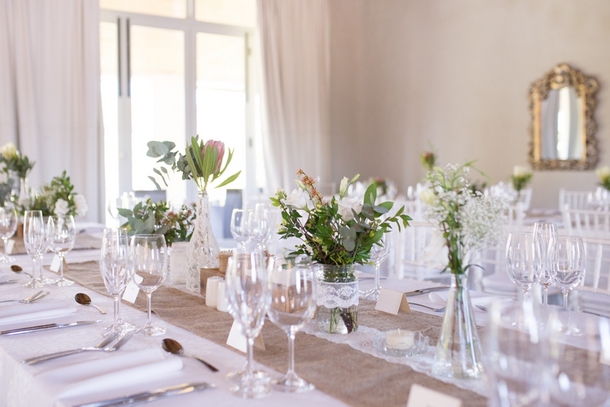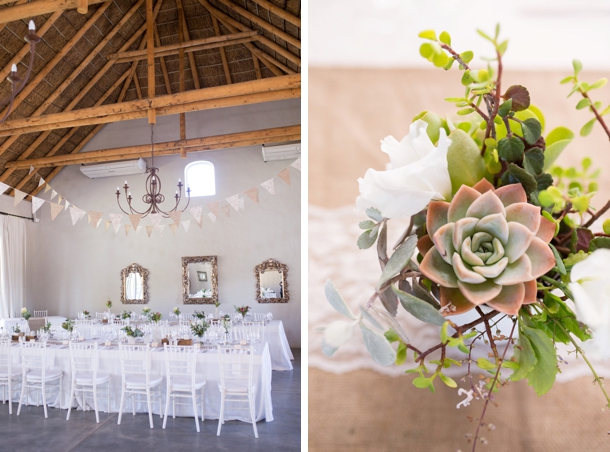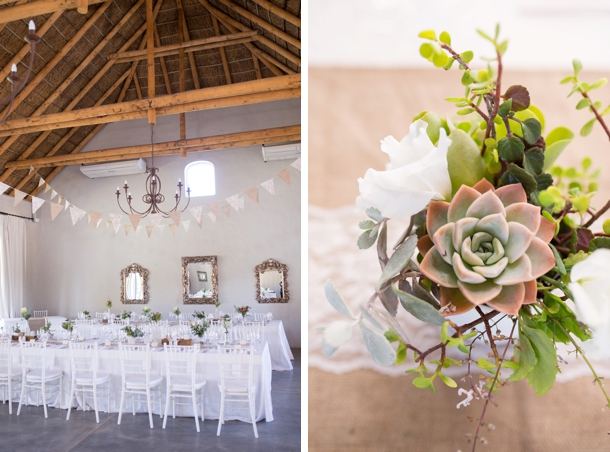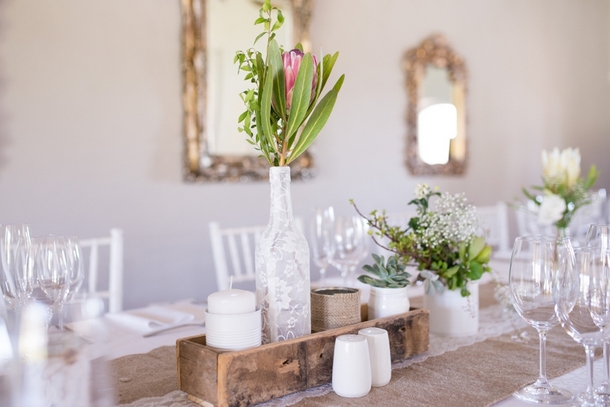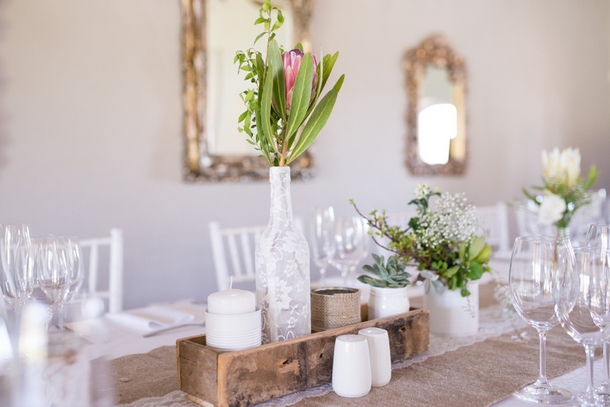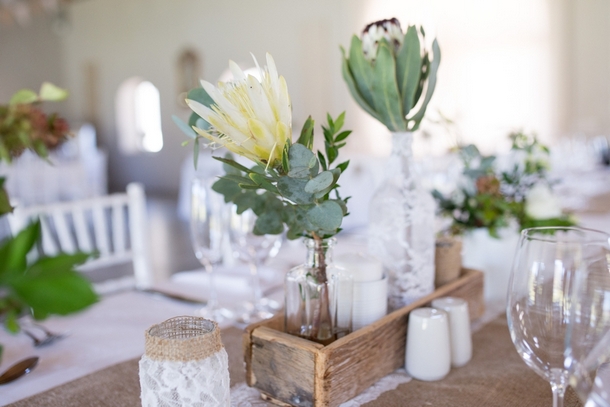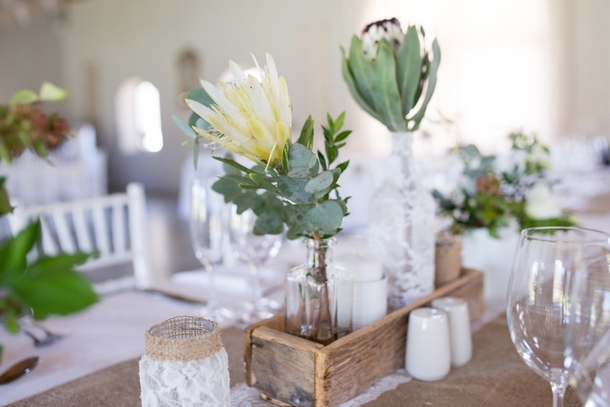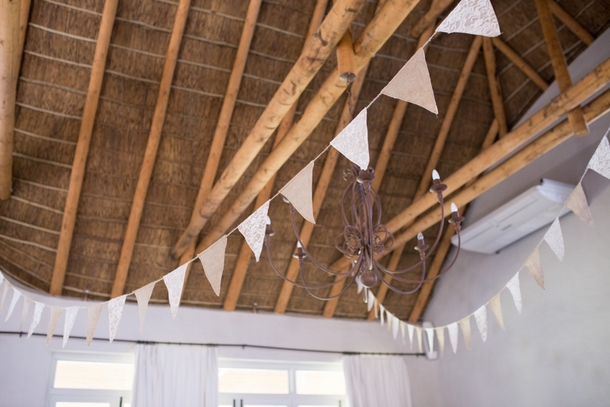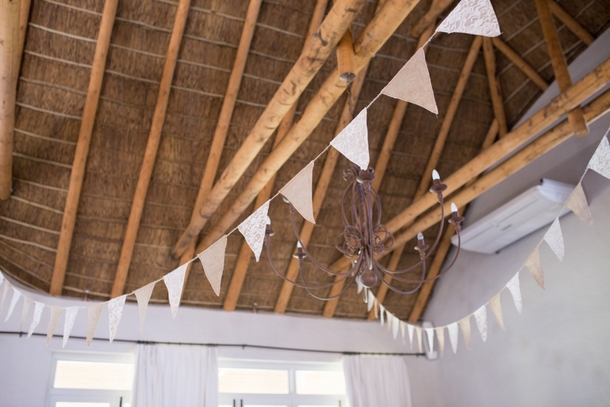 Memorable Moment
I really struggle with picking out just one moment or detail of the day. I loved everything about it, I loved that we had a huge party and that our friends had an amazing time to celebrate our day with us.
Proudly South African Details
I had all indigenous flowers as well as confetti which was indigenous flower petals as opposed to rice, etc.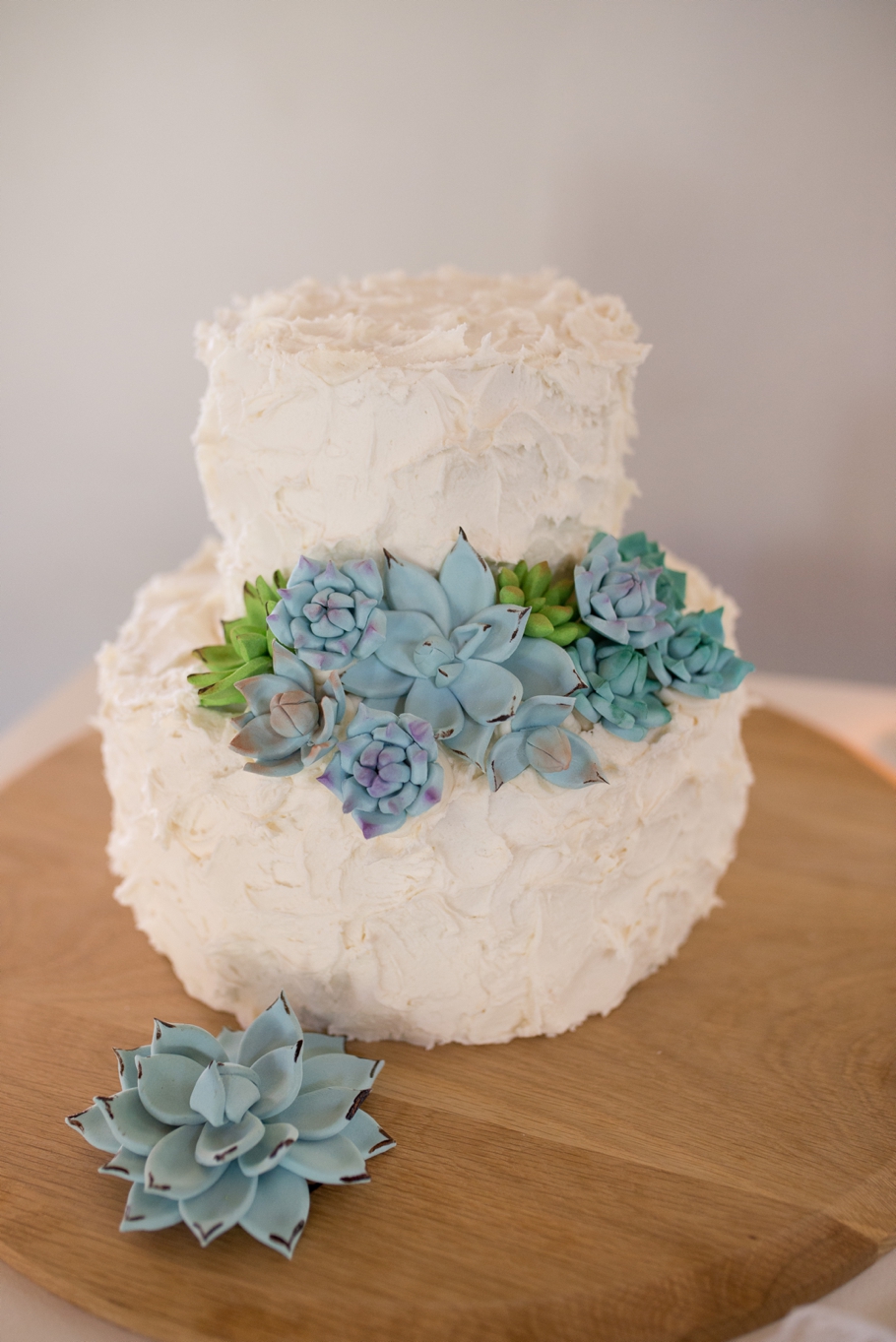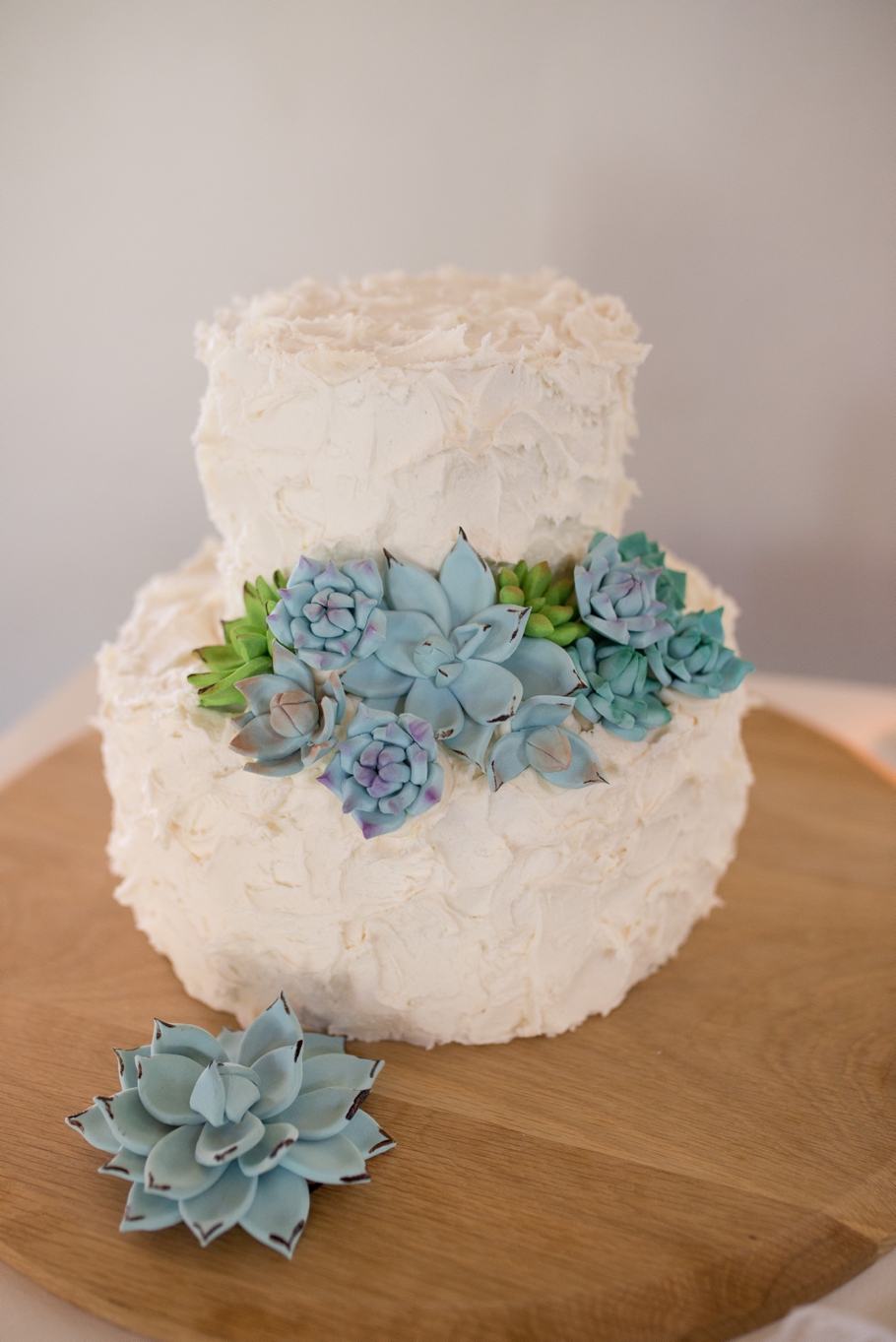 The Honeymoon
We decided to wait as we wanted to go to Europe for a festival and built our honeymoon around that! So we'll be visiting Turkey and Venice. We planned it together as my husband helped me with the wedding as well.
Advice for Future Brides & Grooms
Don't sweat the small stuff! Just enjoy the planning and the day and when in doubt – dance!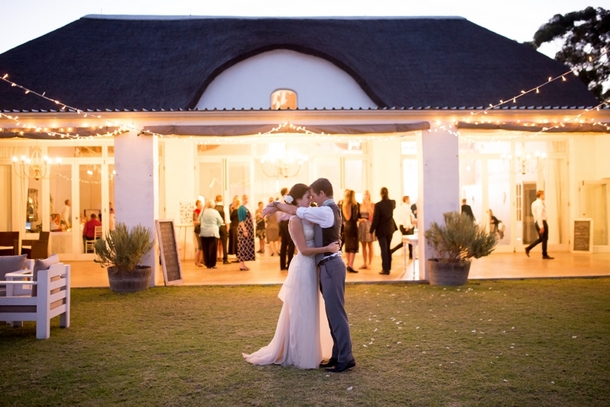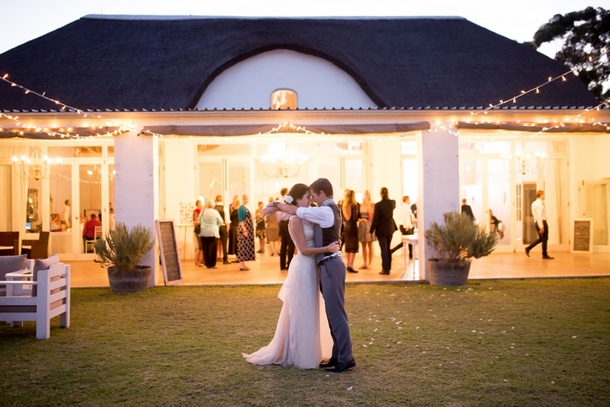 You can see more from this wedding on Cheryl McEwan's blog.
SERVICE PROVIDERS
Venue & catering: In the Vine | Photography: Cheryl McEwan | Cake: Lyndsay McEwan, Lulubelles Bakes | Flowers & décor: My Green Love Affair | Bride's dress: Eve's Bridal | Hair & makeup: Helen Cook Makeup | Bridesmaids' dresses: Jacoba Clothing | Groom's attire: Eurosuit | Hiring: My Green Love Affair, Blooming Wonderful | DJ: DJ Ray Orrie | Other: The Rust Bucket