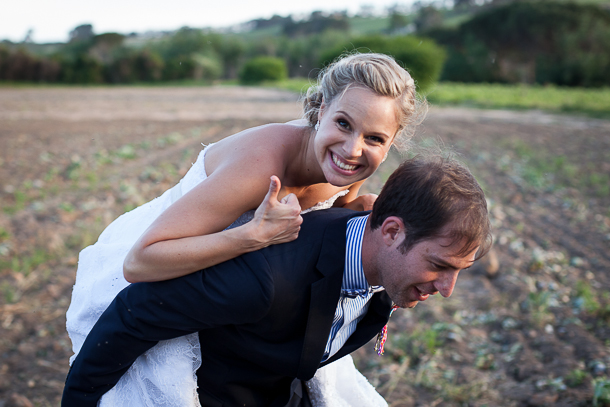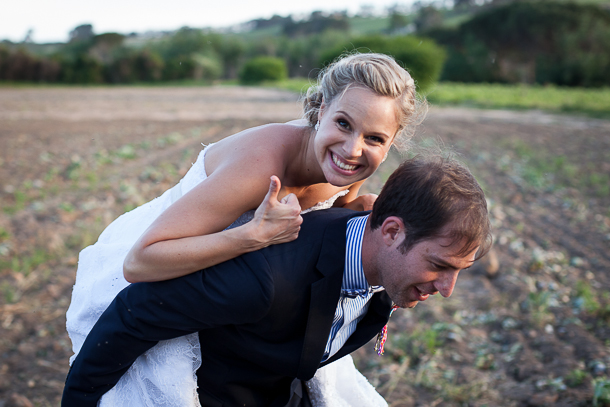 Some weddings have me at hello, some have me at a beautiful bouquet or an unusual theme, but this one had me at putt-putt. Ja, putt-putt (that's mini golf to you, America, and crazy golf to you, Brits). Most awesome wedding lawn game ever, right? Of course, that was just one fun detail in what's an incredibly fun wedding – a fun, fresh and colourful wedding at that. Instead of canapes, Trevor and Kerstin had carnival-style booths with eats and drinks (with a boere-orkes for entertainment). Their theme was 'colourful', their flowers and decor were mix and match brights, and the smiles… well, the smiles were huge and infectious. This wedding brings the love in buckets, and Linda Fourie's pictures capture it to perfection.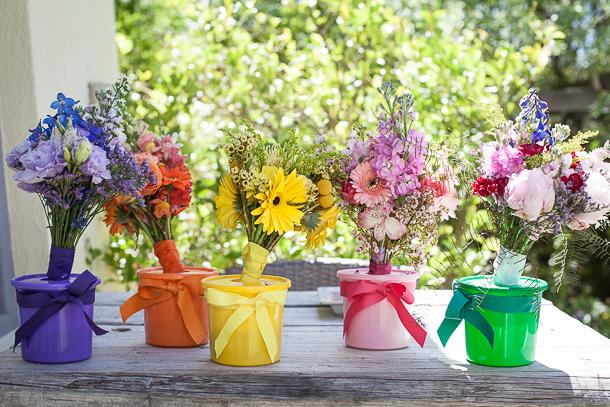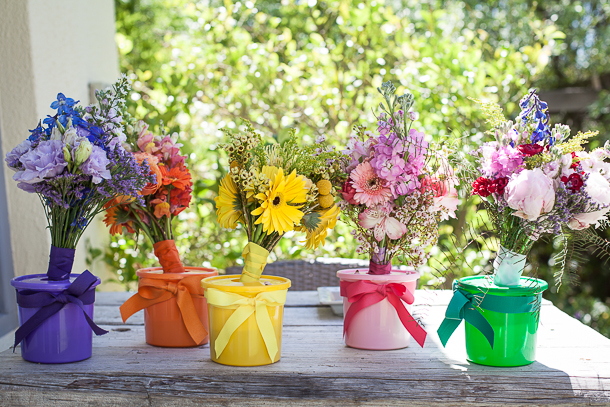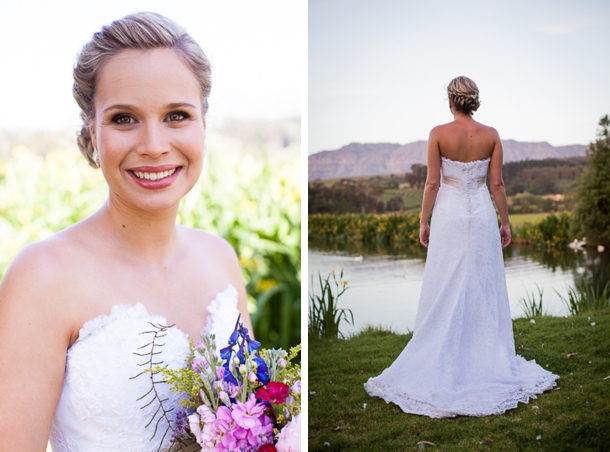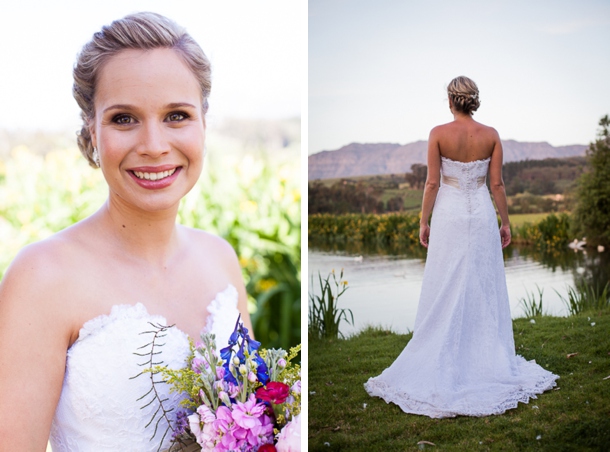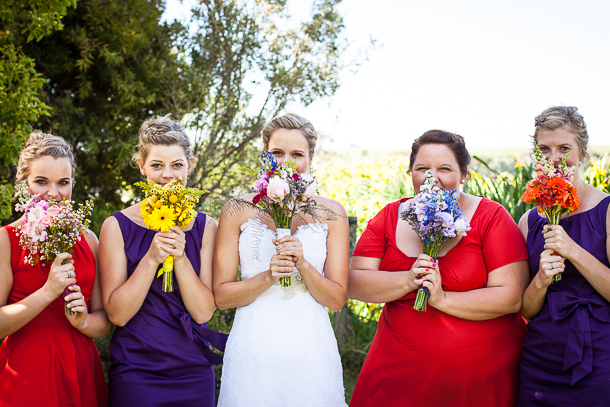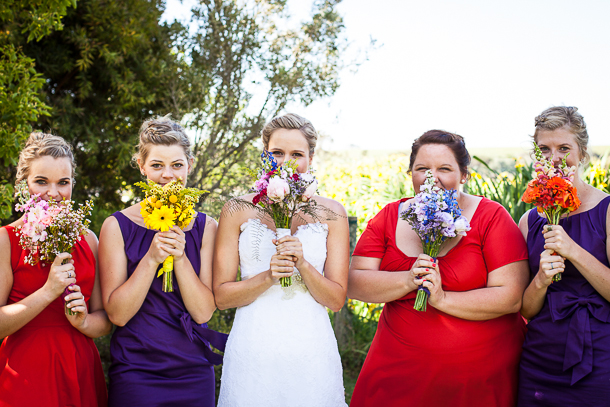 Love Story
I was born and raised in Windhoek, Namibia, and came to study at Stellenbosch University where Trevor (who is from Bellville) also completed his studies. We met through mutual university friends, but I can honestly say it wasn't love at first sight! Trevor is a crazy monkey and I couldn't imagine myself dating him at all – I can even remember saying once: "I wonder who will marry Trevor one day?". From his side, he describes me as the 'German drama queen' exaggerating everything, and also couldn't imagine dating me. Who knew that thiis German drama queen would fall for the crazy monkey and vice versa.
The Proposal
It all began when we spent a weekend in Johannesburg – on our return we stopped in Kimberley so Trevor could see a 'potential client' – as it turned out, it was a goldsmith! One weekend after that, we spent a weekend on his friend's farm in the Northern Cape. Early in the morning, he told me we should go jogging – he had planned the route and everything. While we were jogging, our friend and his girlfriend went up the mountain to prepare everything for us – as we jogged past, we saw them there and Trevor suggested we join them. As we got to them, they blindfolded us both, so I was under the impression that this was a surprise for us both. But while we hiked up, he took off his blindfold (faking crashing into bushes and so on) and later sneaked up on me and took off the blindfold. There were all my favourite things laid out in a heart shape – Flake chocolate, wooden hearts, droewors, biltong and Easter eggs. Trevor went down on one knee and I freaked out!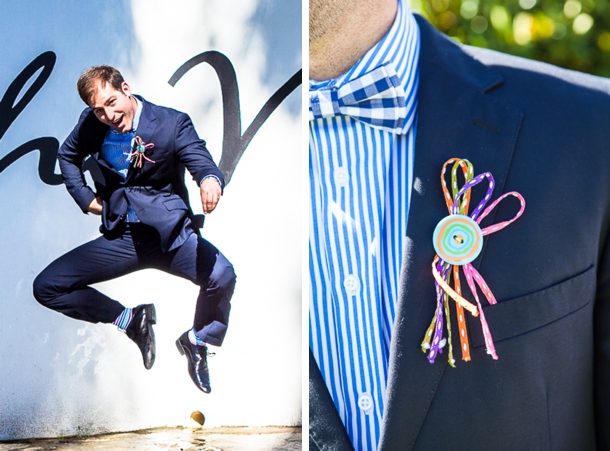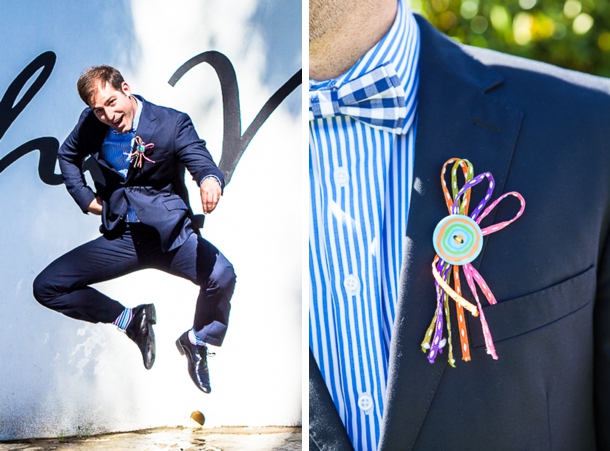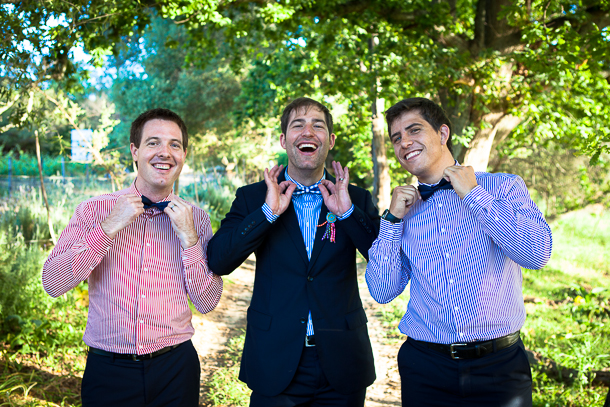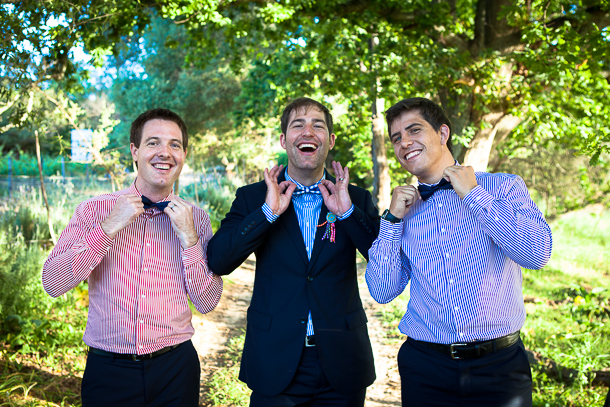 Wedding Style
Our overall concept for the wedding was colour. We wanted to create a relaxed atmosphere for the guests and to just make them feel 'at home' at our wedding. Outside on the grass, we had six wooden booths where we served snacks, alcoholic and non-alcoholic drinks – the idea was to create a market vibe where one could go around tasting at each of the booths. Just below this was a putt-putt area where guests could entertain themselves, and there were also garden couches and chairs arranged where they could relax and enjoy their pre-reception drinks while we were taking photos.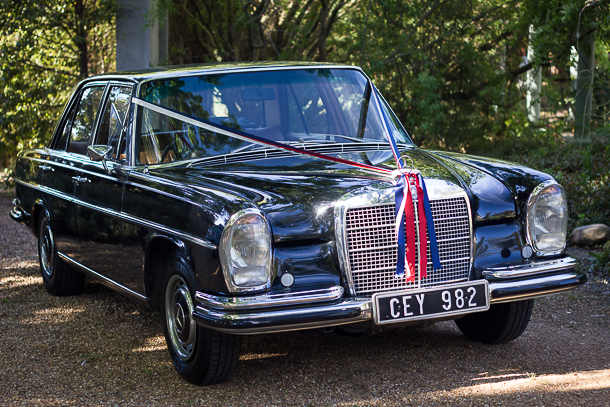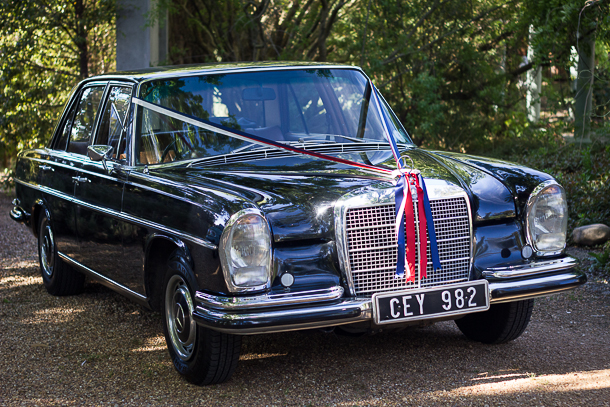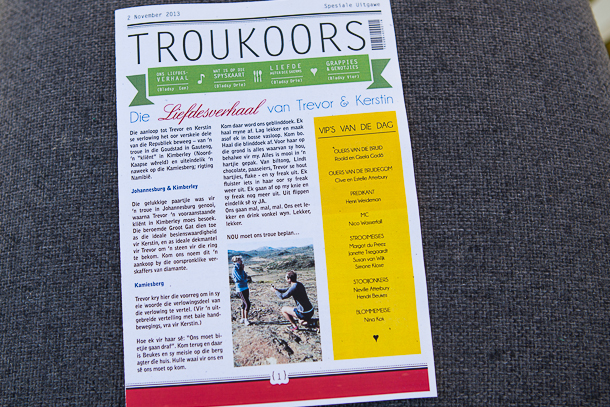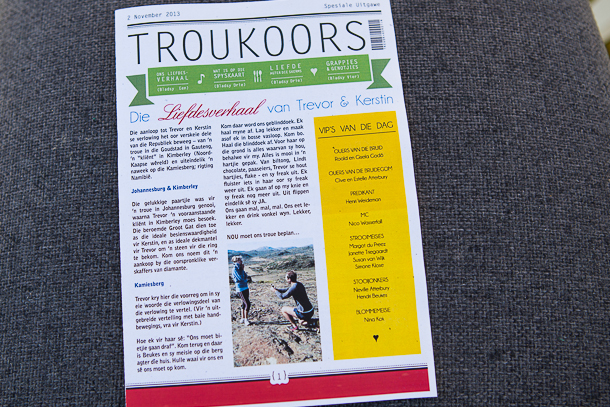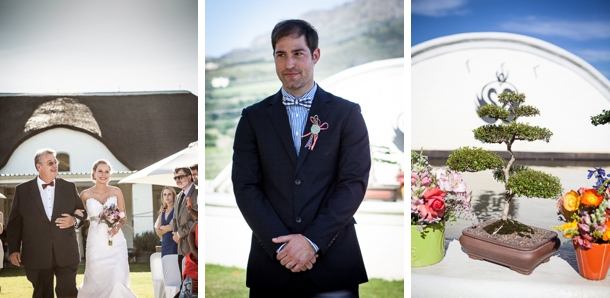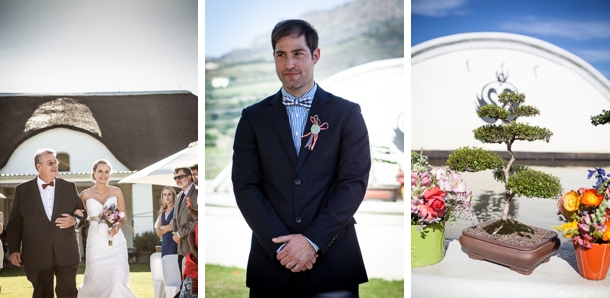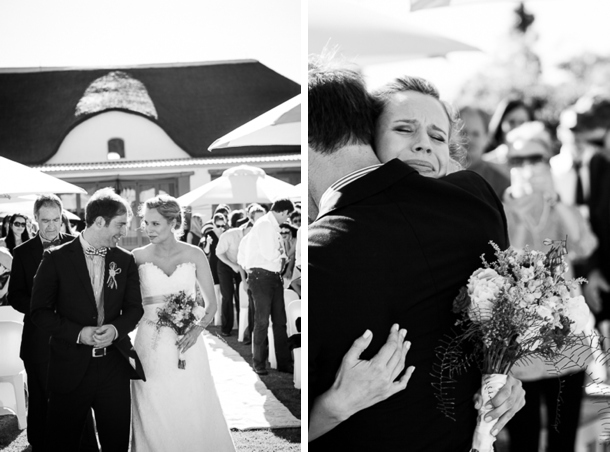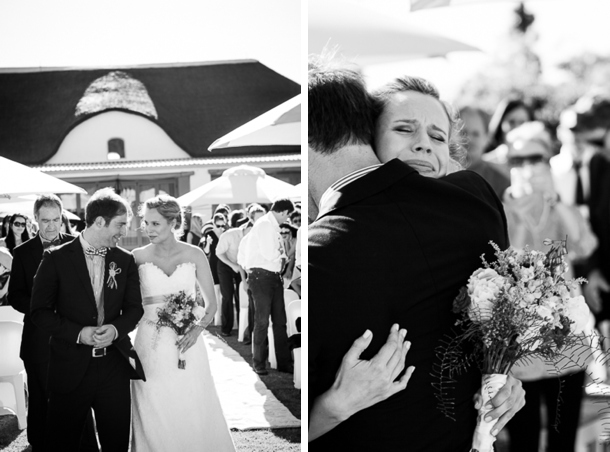 Wedding Details
Everything just worked out so perfectly on the day – we had such a fun and joyful wedding. Trevor's mom really did a great job with the flowers and decor! We had colourful macaroons on each table – this was a perfect idea, which blended in so well with our colourful theme, and the guests loved them. I also loved our wedding car – an old vintage black Mercedes belonging to my Granddad.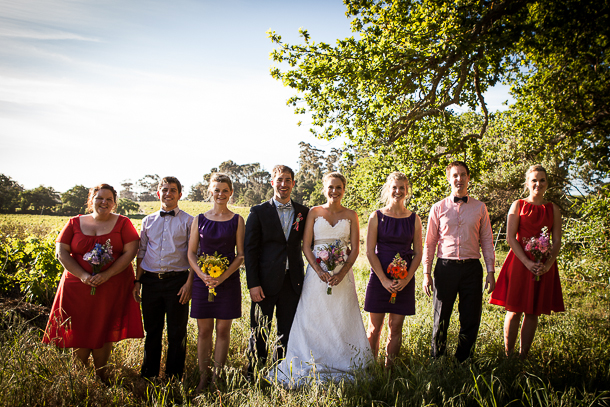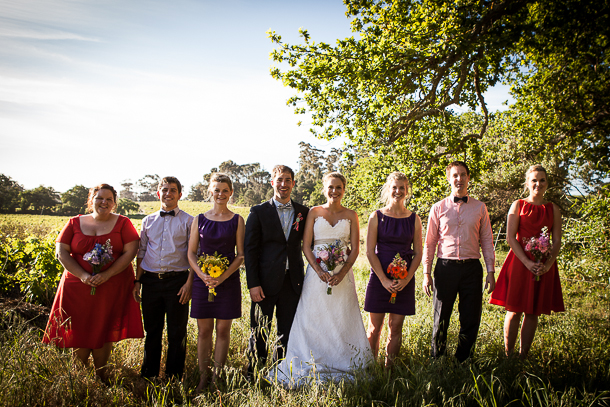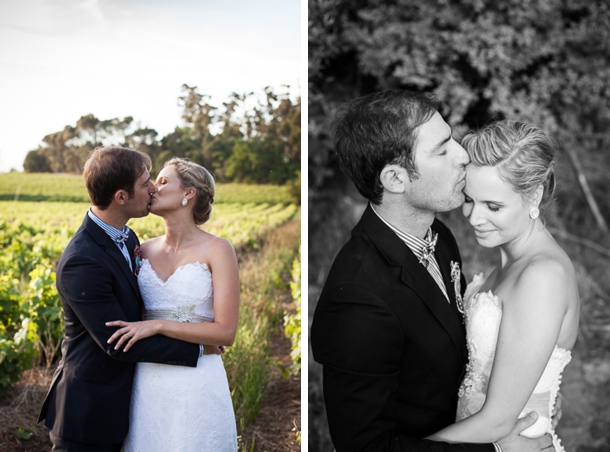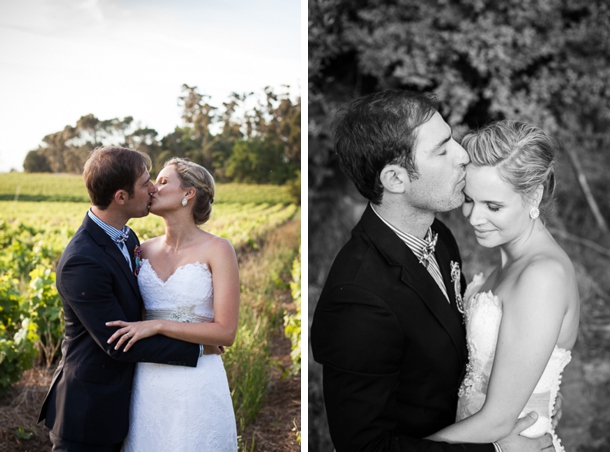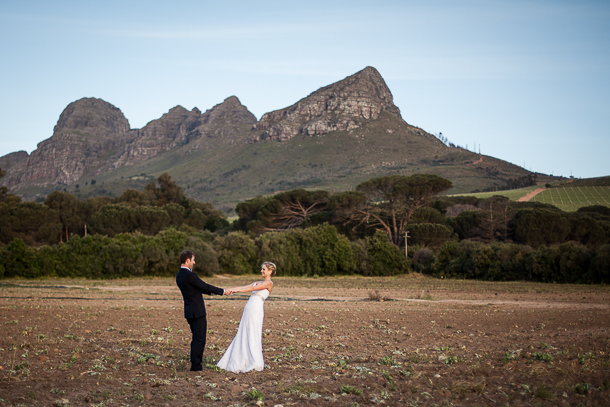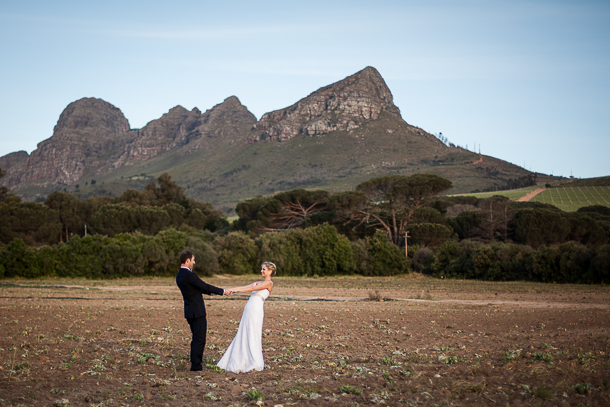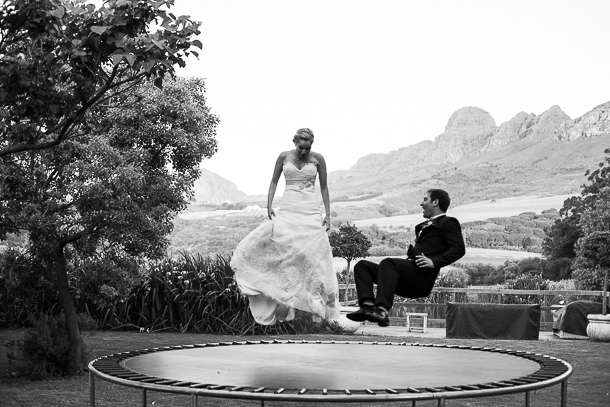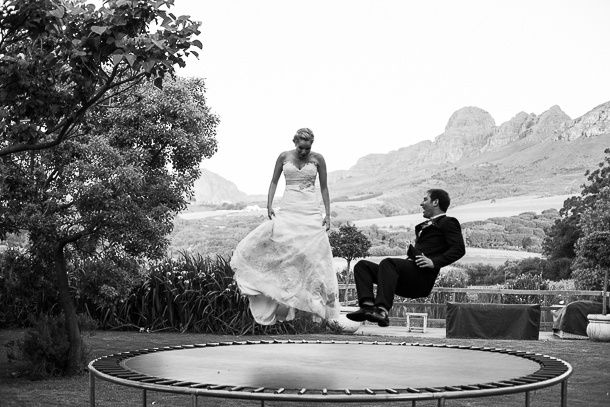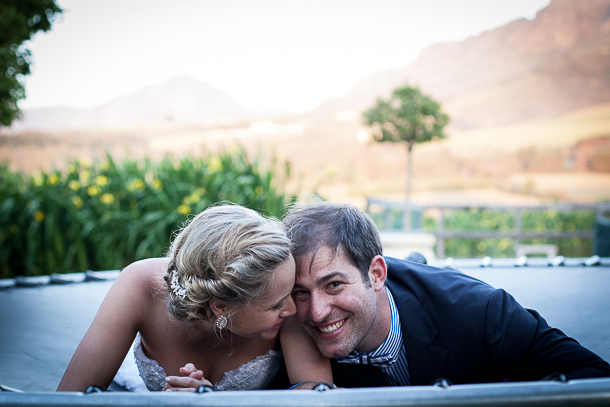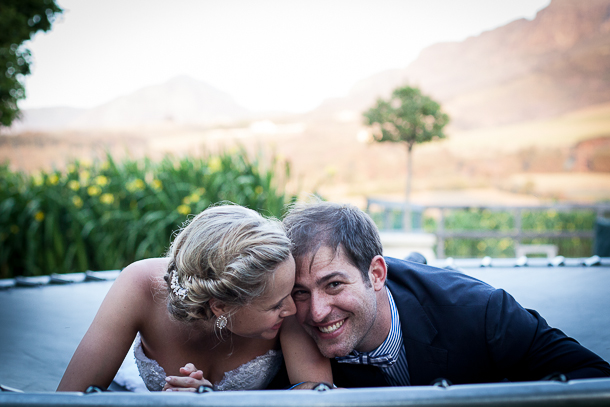 DIY Elements
I'm so thankful for my bridesmaids, who helped with a lot of DIY, like the post box for gift envelopes, the seating plan, the phrases on the booths and much more. As a thank you gift, we made our own CDs with a mix of songs.
The Flowers
Trevor loves bonsais, so on the tables we had small bonsais and also at the ceremony on the fountain wall, which was really special.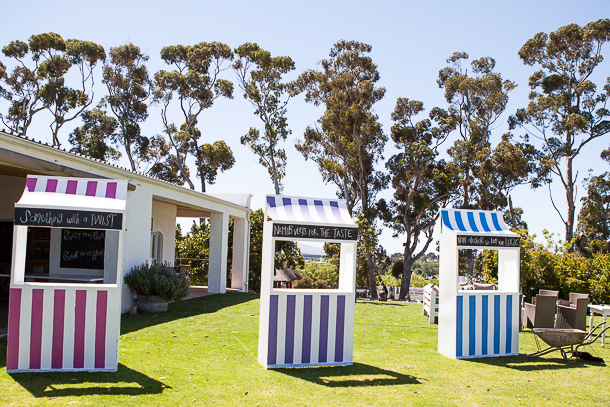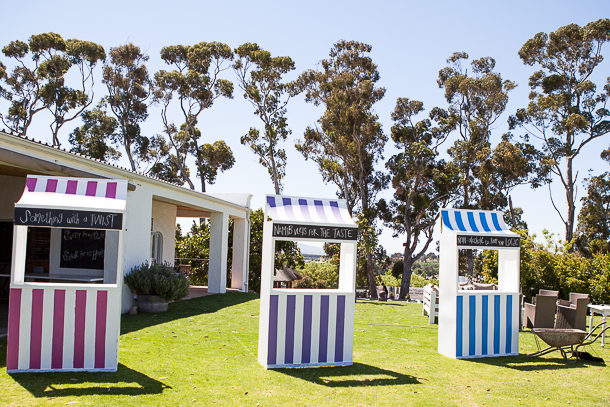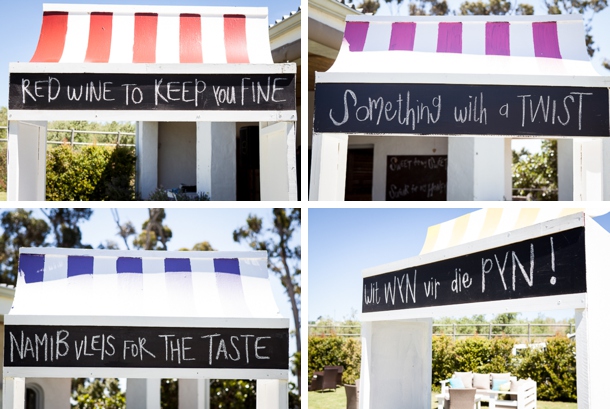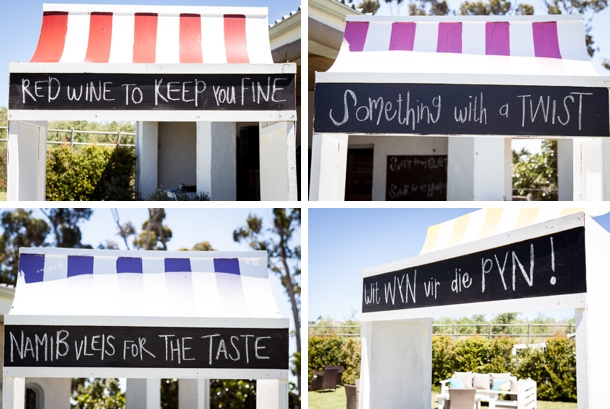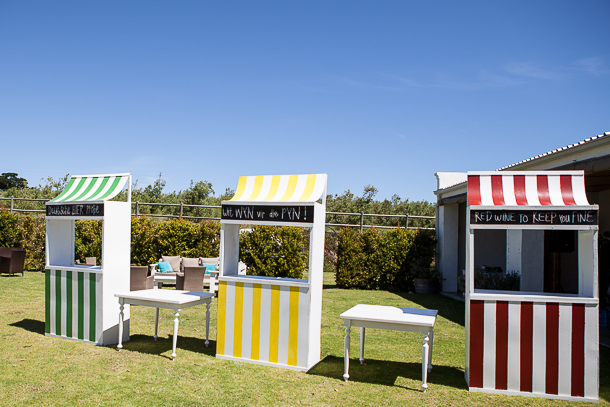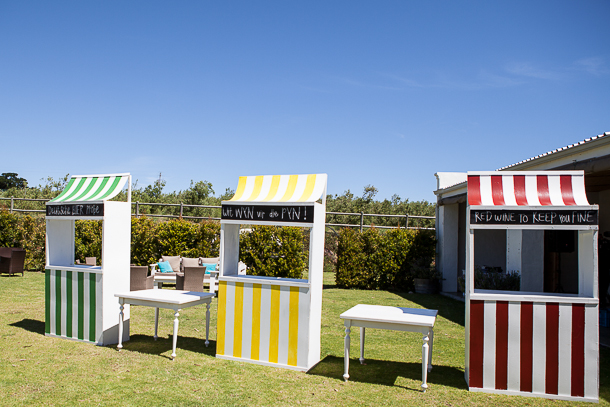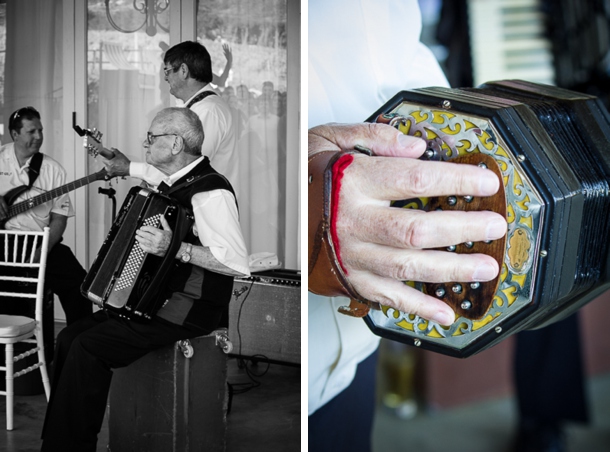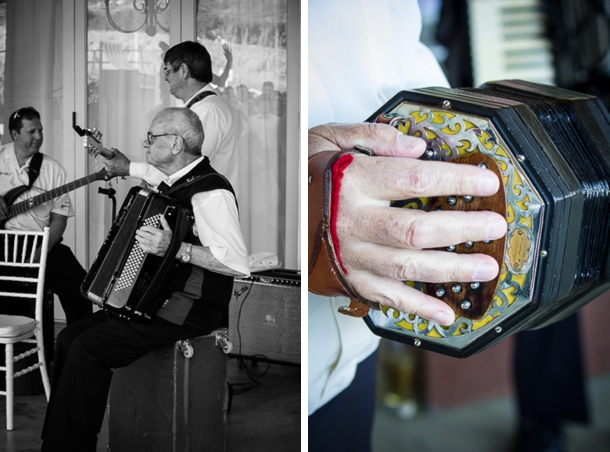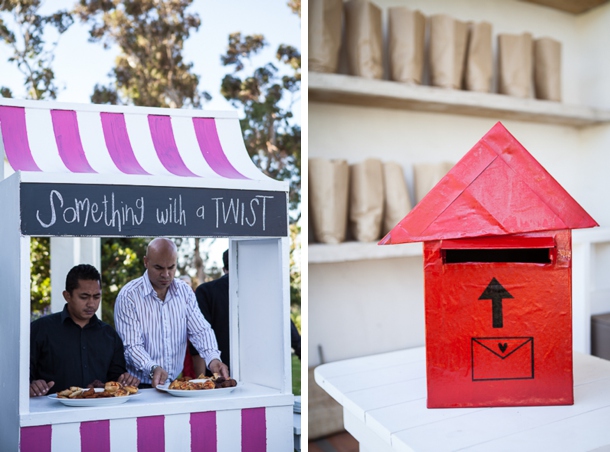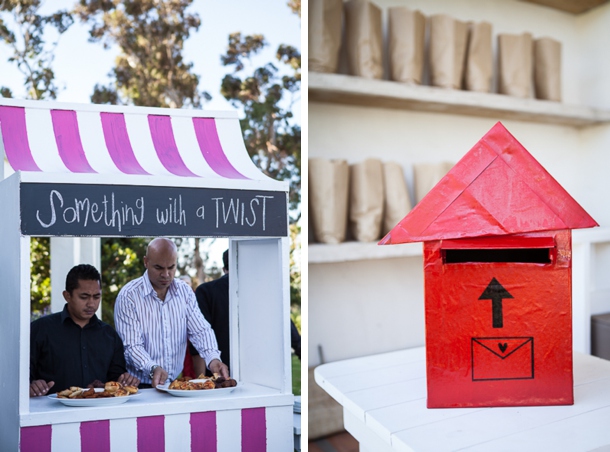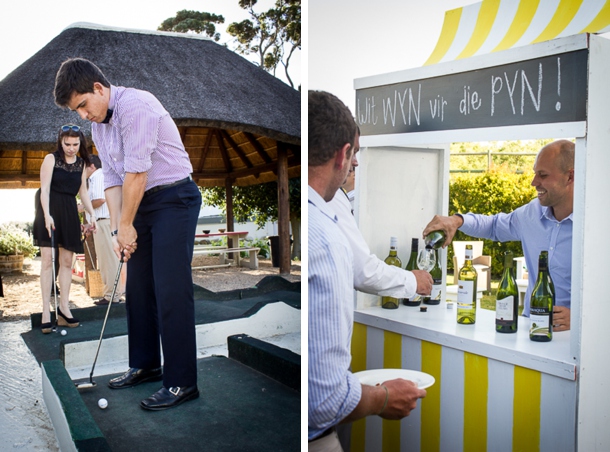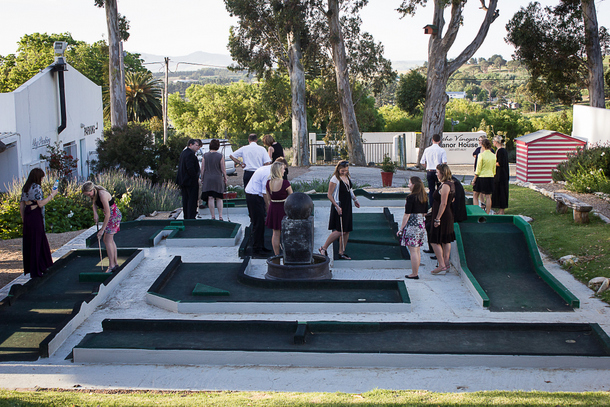 Memorable Moment
One of the highlights for me was Trevor's secret dance Trevor – it was a total surprise! After our first dance, I was seated on a chair on the dance floor, and he and four of his friends performed a surprise dance, which was so much fun and so energetic that Trevor's trousers ripped – luckily he had a spare pair!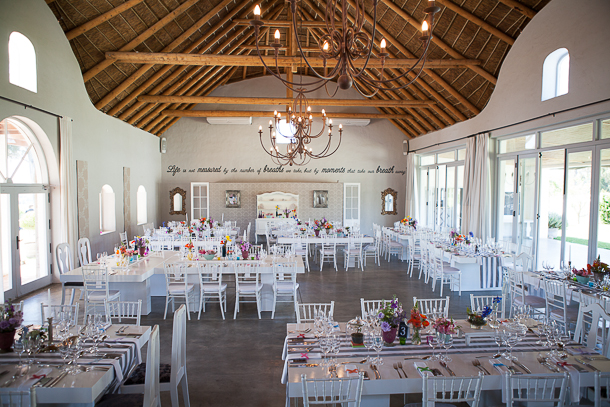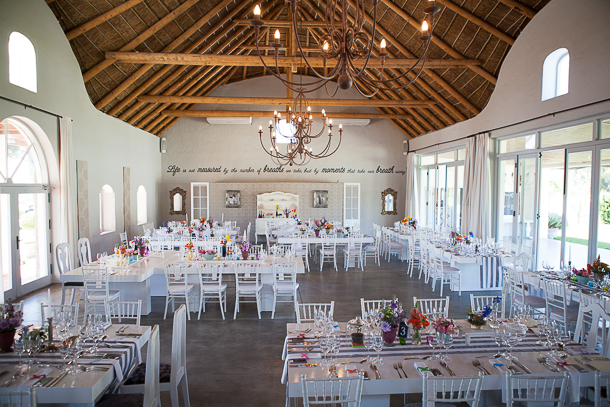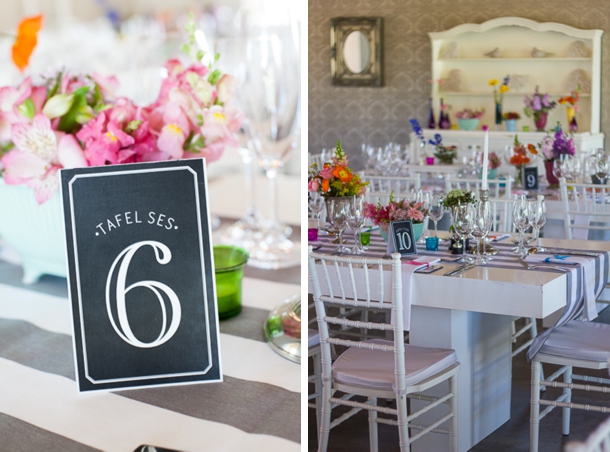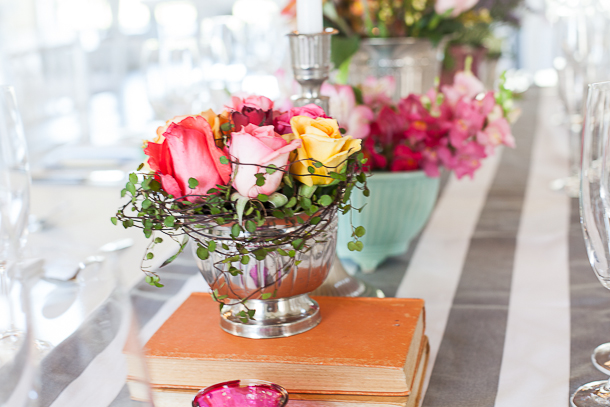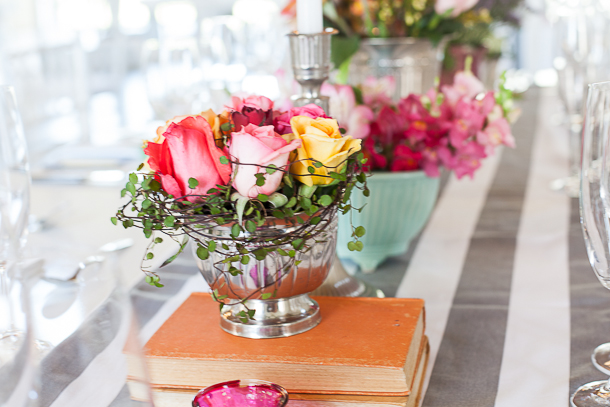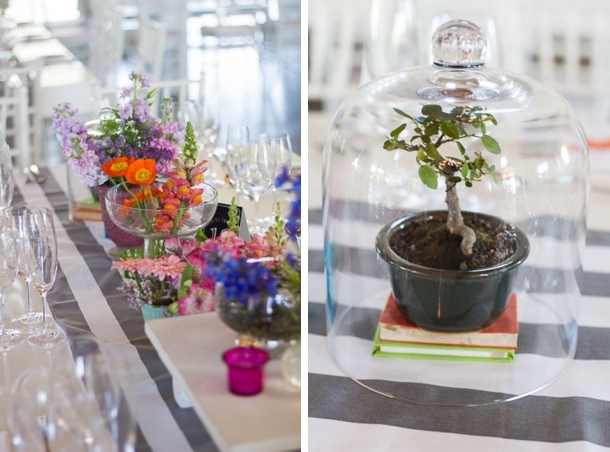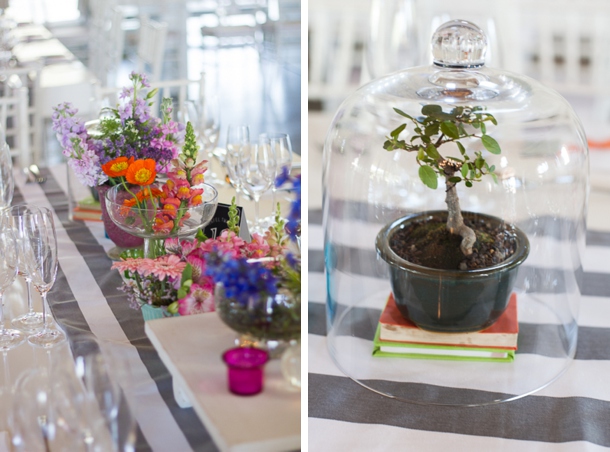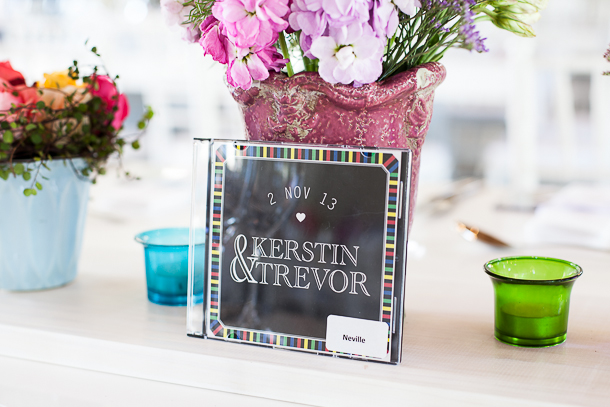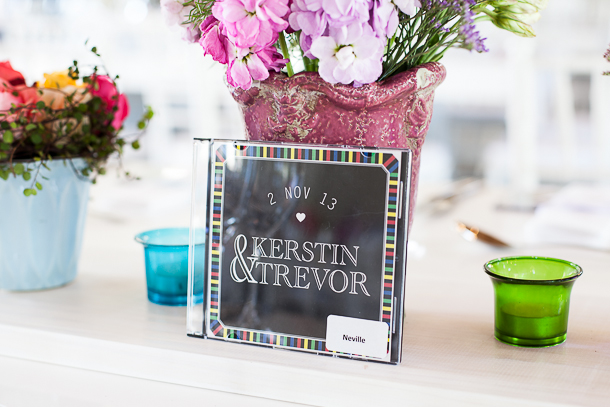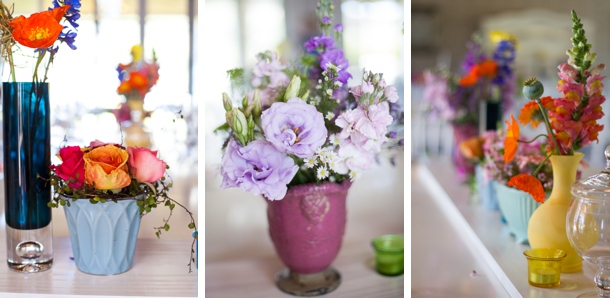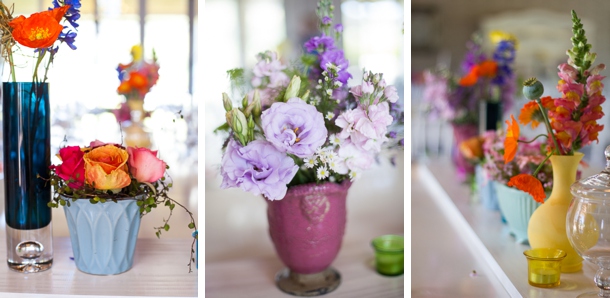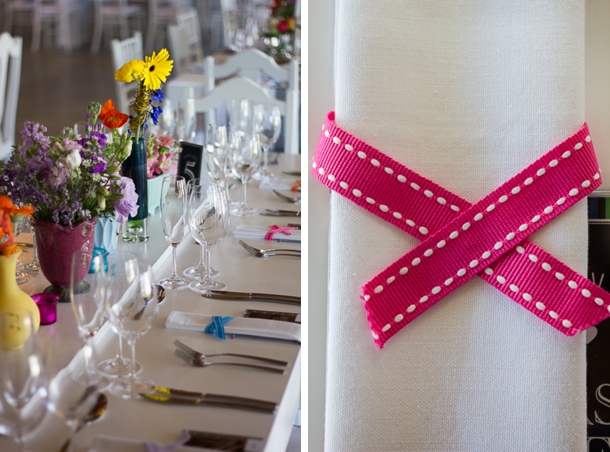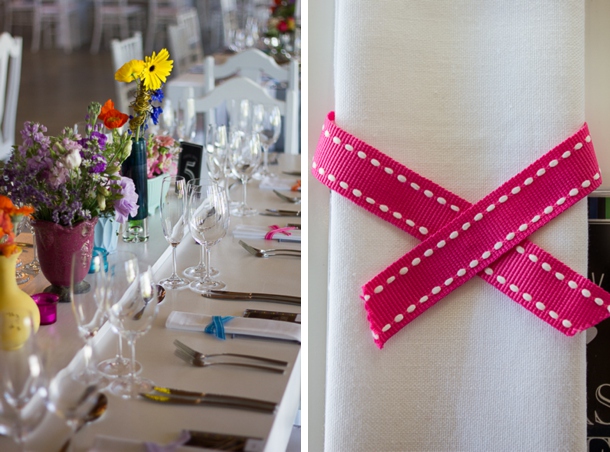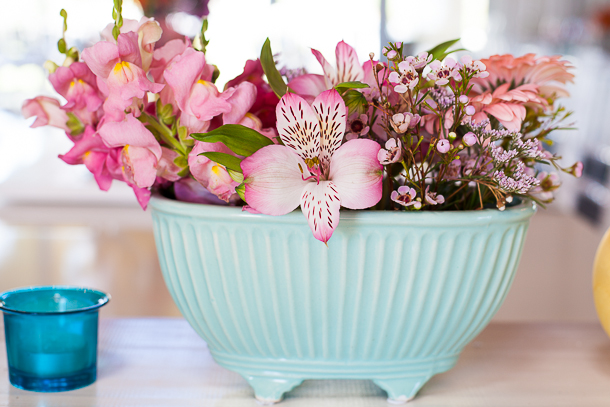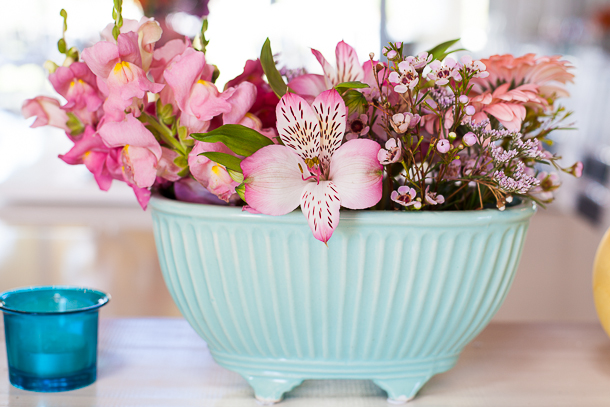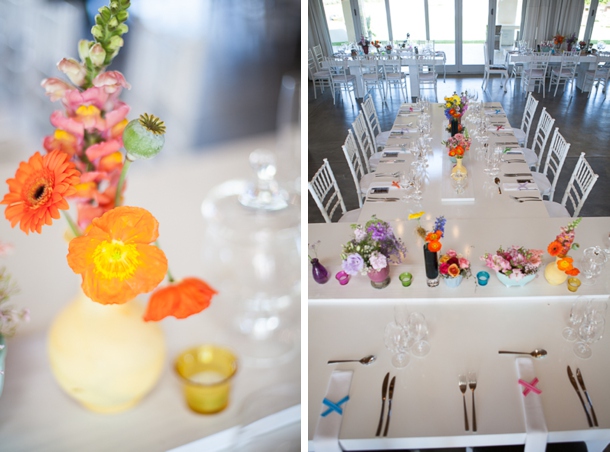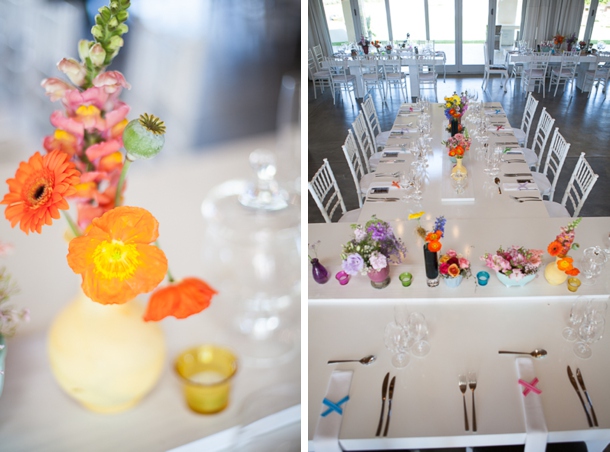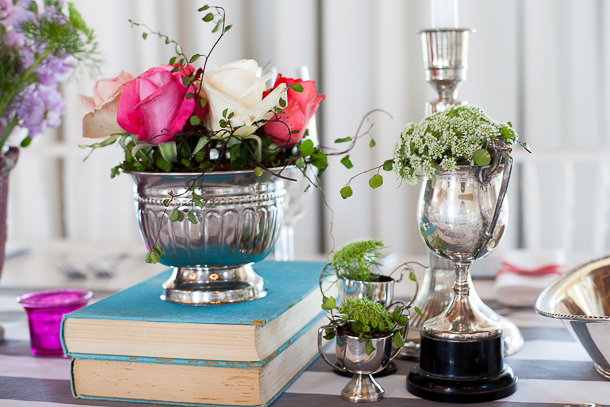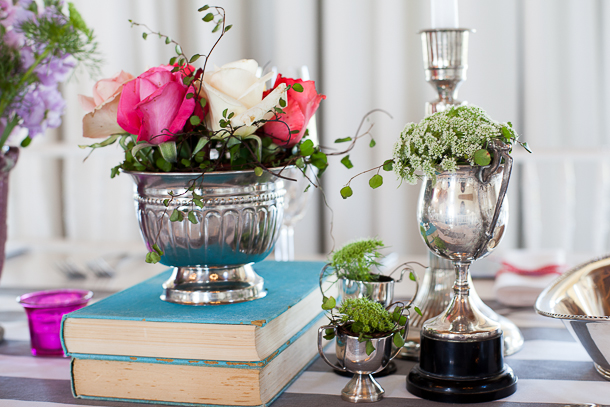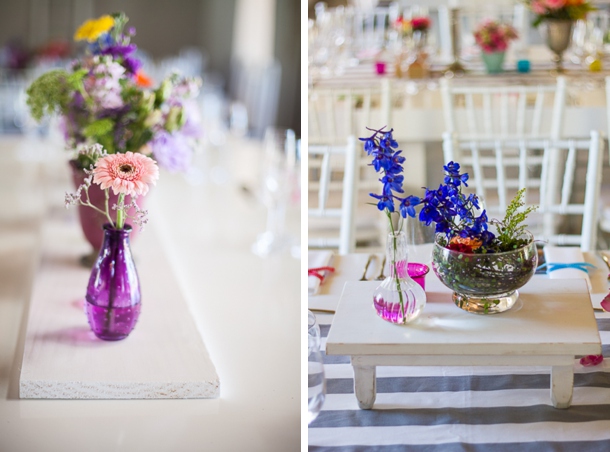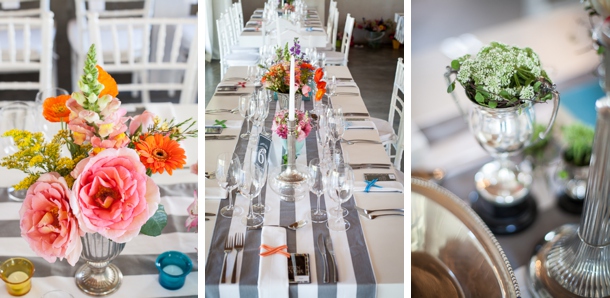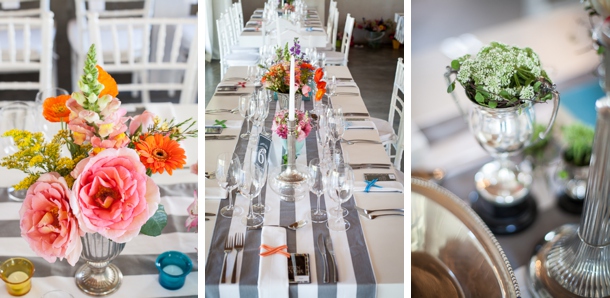 Advice for Future Brides & Grooms
Trevor was a great help – he was like my wedding planner! As he's a financial planner he dealt with all the finances and budget and had most of the ideas and plans, which was awesome. So I can say that if the men have ideas and want to be part of the planning, pull them in and get them to help wherever they can and want to. It takes a lot of pressure off you, as the bride. Also, the internet is an amazing tool – use it! Search bridal websites, go on Pinterest, and gather your ideas together.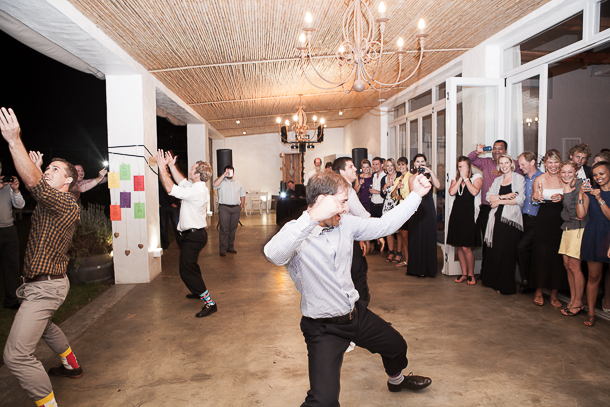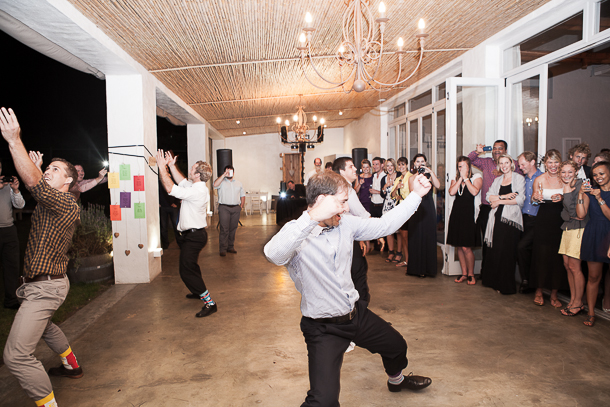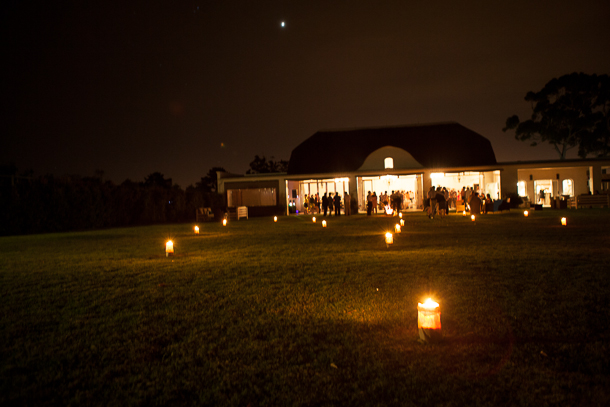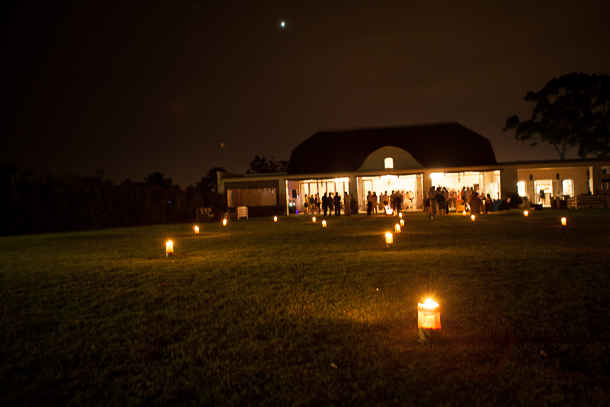 Head over to Linda Fourie's blog to see the rest of this lovely wedding!
SERVICE PROVIDERS
Venue & catering: In the Vine | Photography: Linda Fourie | Flowers & decor: Estelle Atterbury (Groom's mother) | Stationery: Madre Kohn Creative | Bride's dress: Elizabeth Stockenström | Bridesmaids' dresses: Non-European Clothing | Hair & makeup: Madeleen Health and Beauty | Hiring: Glee Events | Hiring: To-Netts | DJ: Johan Kotze for TR Sound & Lighting