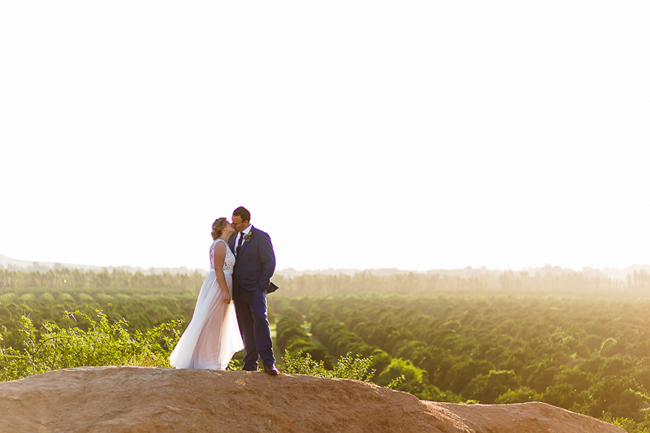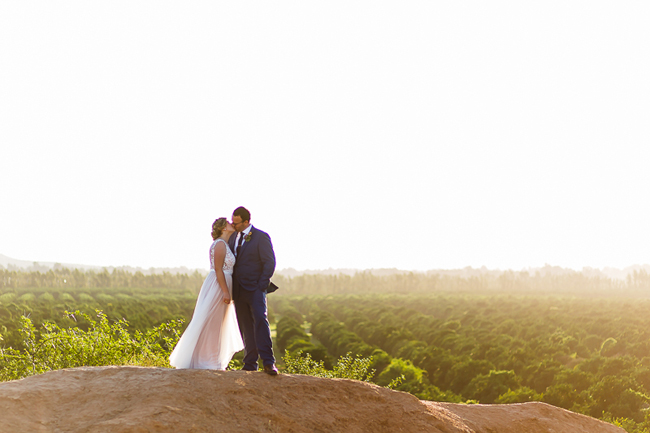 They say it takes a village, and although the expression is supposed to be about raising a child, it could just as easily apply to the way that family and friends pitched in to make Minette and Louis' vision of their beautiful big day come to life. From the flowers arranged by a talented aunt, to the wooden doors that were a beautiful focal point at their outdoor ceremony (built by Minette's dad), to the army of crochet-ers who helped create the doily runners on their rustic vintage tables, it was all a labour of love and togetherness that'll have farm wedding lovers jumping for joy. My personal favourite detail is the blue glassware – a simple but super clever touch, because of the gorgeous pops of blue the glasses bring to the reception. And speaking of pops of blue, Minette's MOH crop and skirt combo is amazing (second only to her own, dreamy lace gown!). But best of all is the relaxed, happy vibe that the couple projects, which was as much part of their day as the decor itself – no wonder their 'village' were happy to pitch in to make their wedding dreams come true. Linda Fourie captured these beautiful images.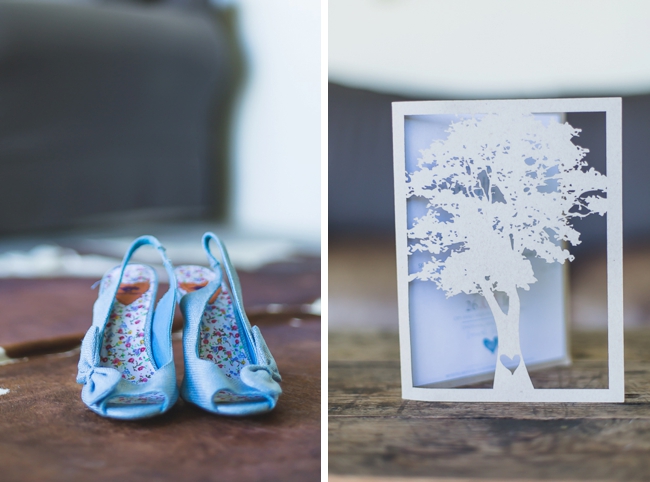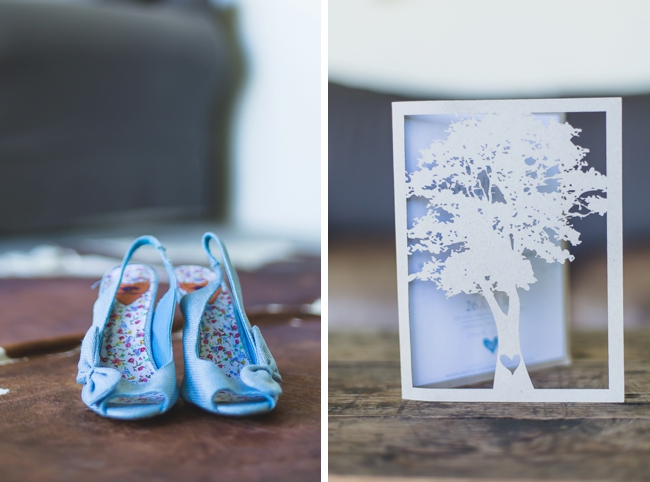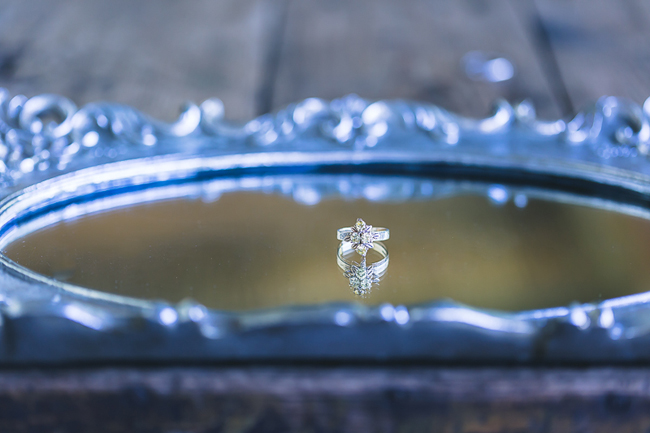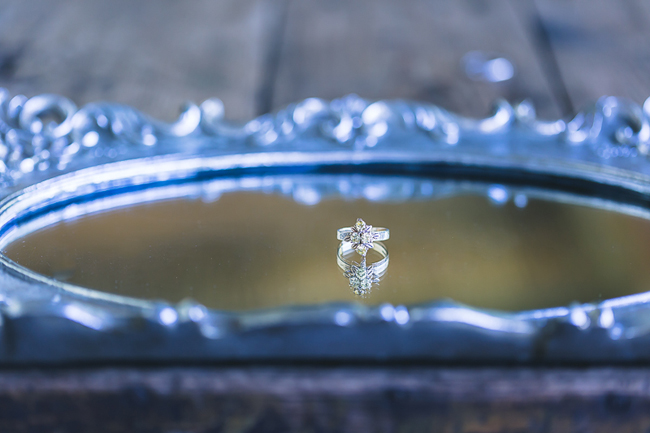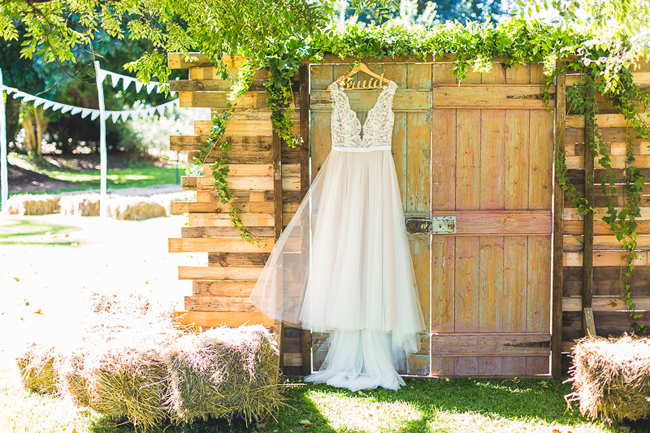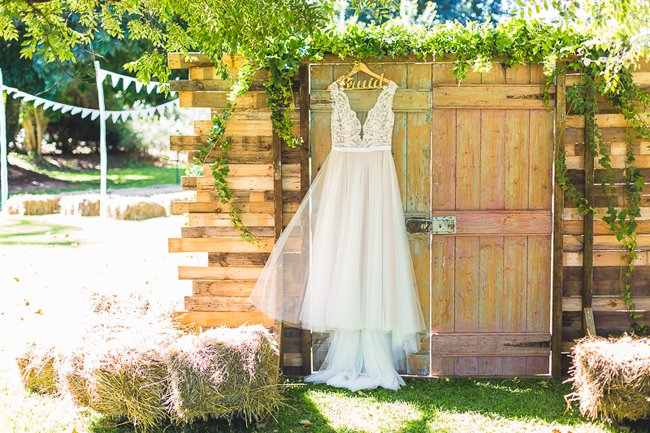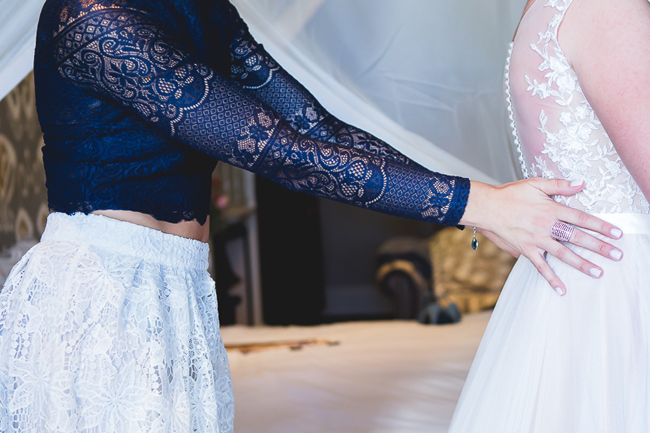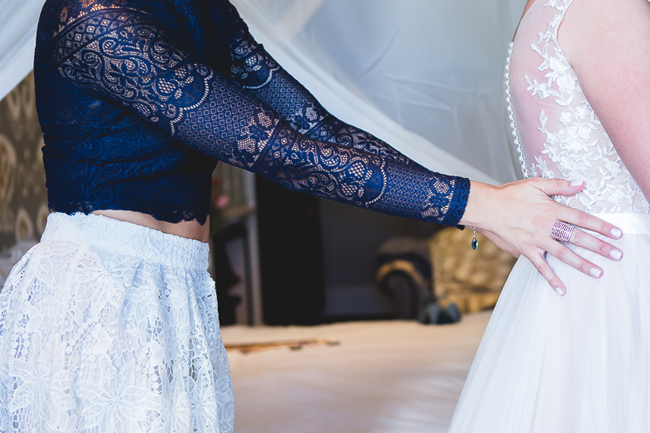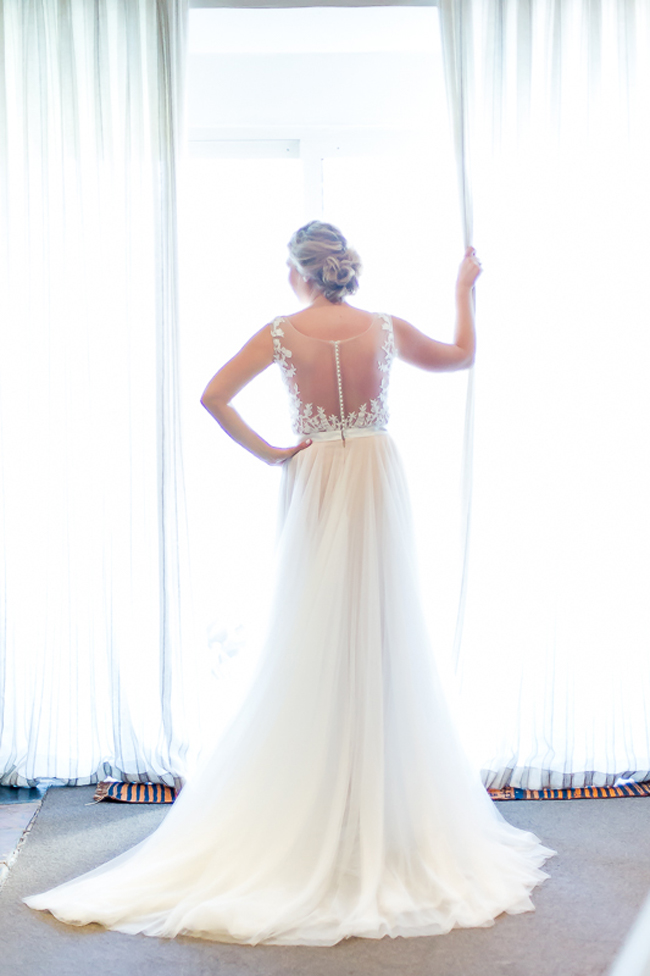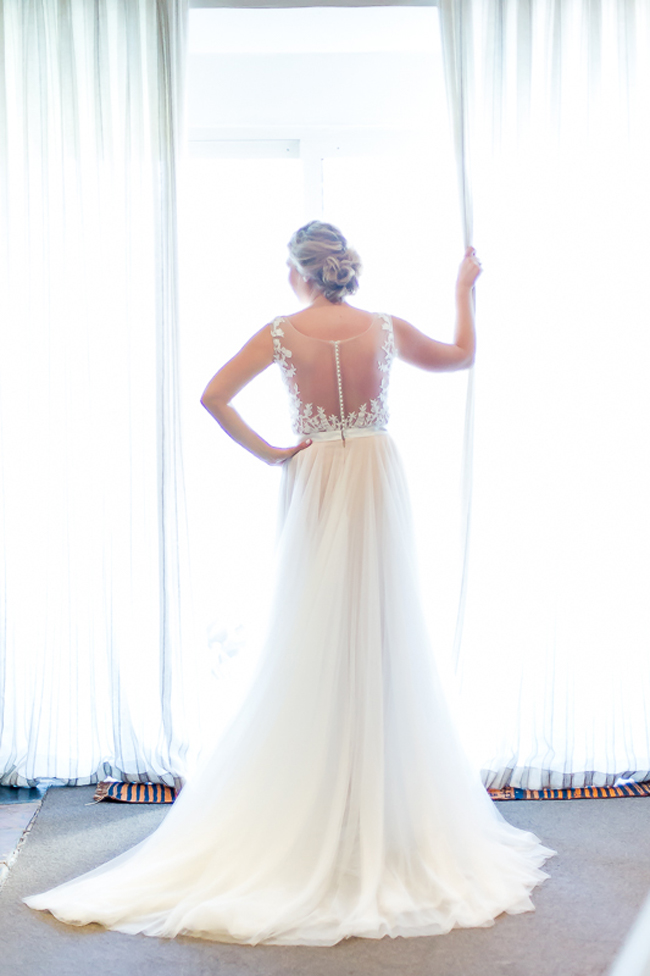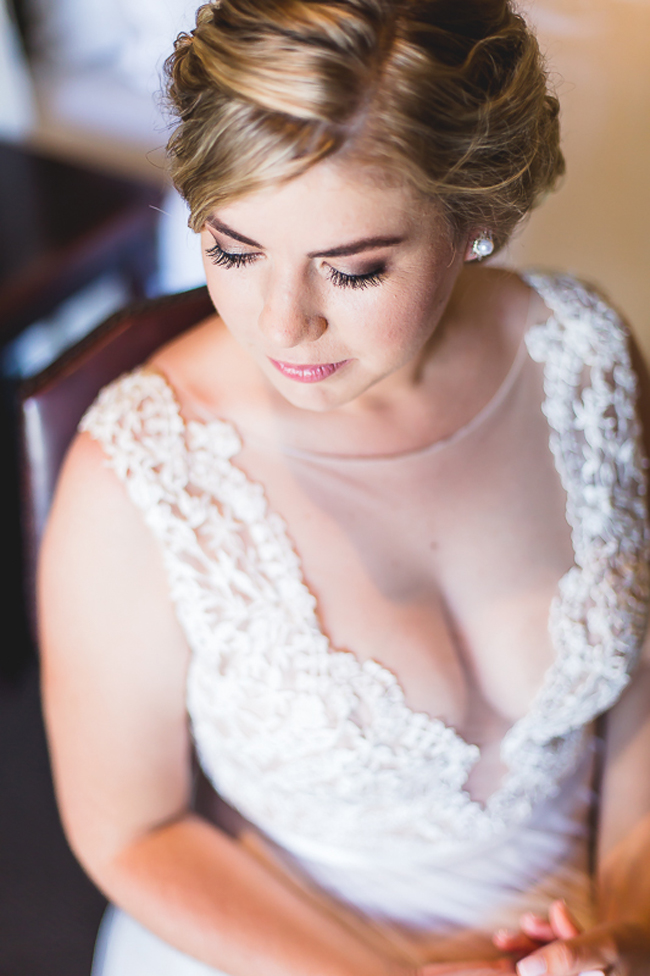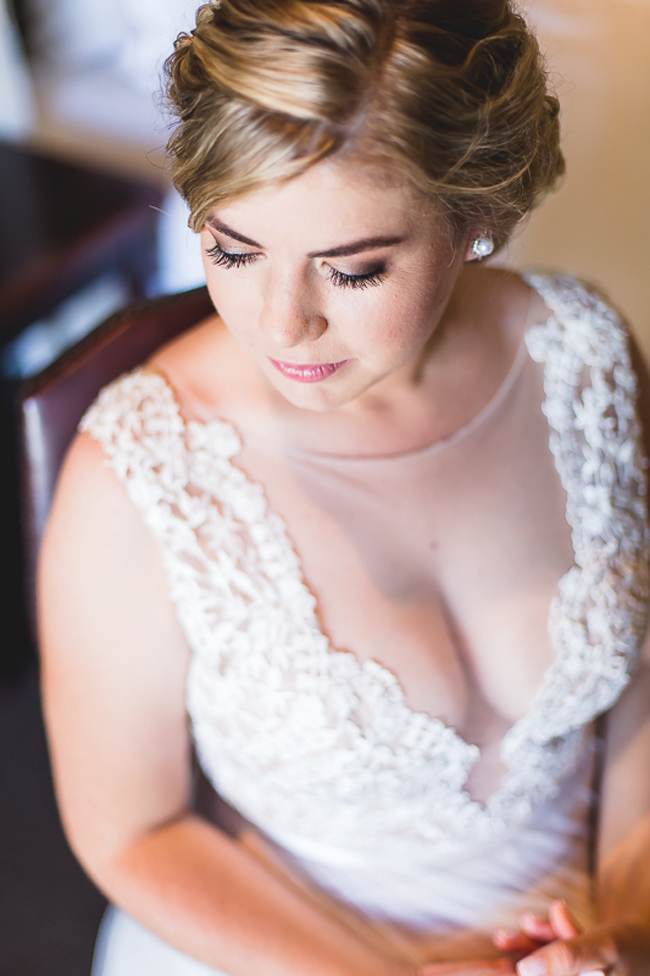 Love Story
We met at North West University where we were both in hour Honours year of Physiology. He was this mysterious guy with long curly hair which he wore in a ponytail. According to him, the first time we spoke, he asked me to borrow a pen. I can't remember this, but I'm sure it's true! According to me it was in the Draak (a restaurant on campus), when a few of us went for a drink and he was there as well. After that, a couple of us started hanging out together and so we got to know each other a little bit. After we completed our Masters year, we both got bursaries at the same company and ended up working on the same project. During our first year there, a couple of us decided to go to the Drakensberg for a long weekend, but a few days before the trip, everyone else cancelled. The two of us decided to go anyway, as I had never been there before seeing as I am a Capie (from the Eastern Cape). This is where the magic started!
The Proposal
Minette: Louis took me away for the weekend. I did not know where we were going, all I knew was that it was somewhere in the Drakensberg. We arrived at Cathedral Peak, one of the most beautiful places I have ever been. We came across a hike you could take to one of the waterfalls and decided to do that on the Saturday morning. When we got there, after about 45 minutes of hiking, we stood around and took pictures – it was so beautiful! I told Louis I wanted to take pictures from behind the fall, and it was as we got to the other side, with the water falling round us, that Louis told me he loved me very much, went down on one knee and asked me to marry him. And of course I said YES!
Louis: I decided to take Minette to the Drakensberg for the proposal as that's the place where, as she put it, the magic started. I found this place called Cathedral Peak, which apparently has this gorgeous view of the mountainous valleys. The original plan was for us to hike to the top and I would propose on the mountain. It was, however, a ten hour hike to the peak, and…well, we reached consensus that this hike was not going to happen… Luckily there was an awesome waterfall not too far from the hotel, and proposing underneath a waterfall seemed just as romantic as proposing on top of a mountain, so we headed there. I think she expected the proposal, but the joyous expression on her face when I asked and she said yes is one I'll never forget.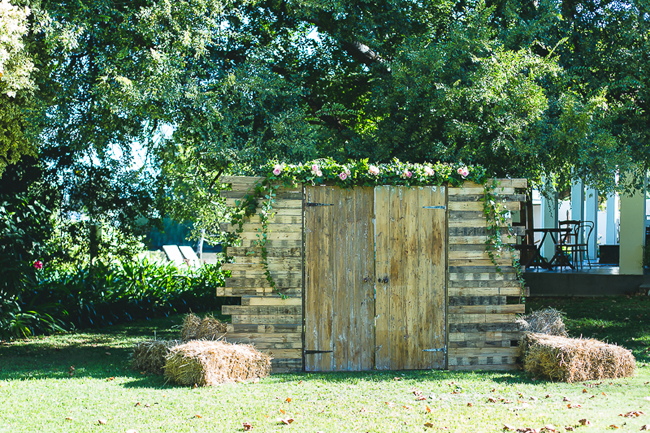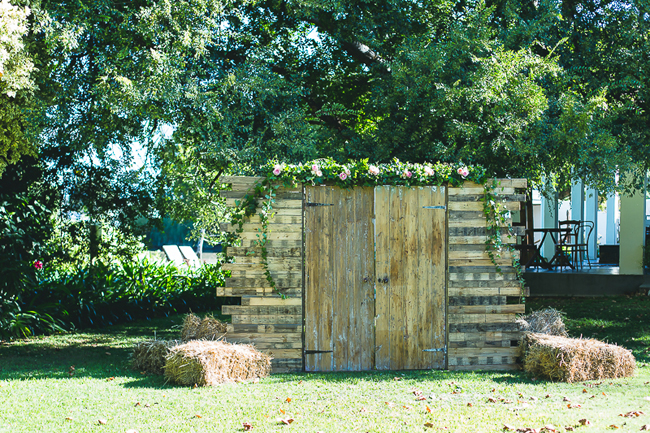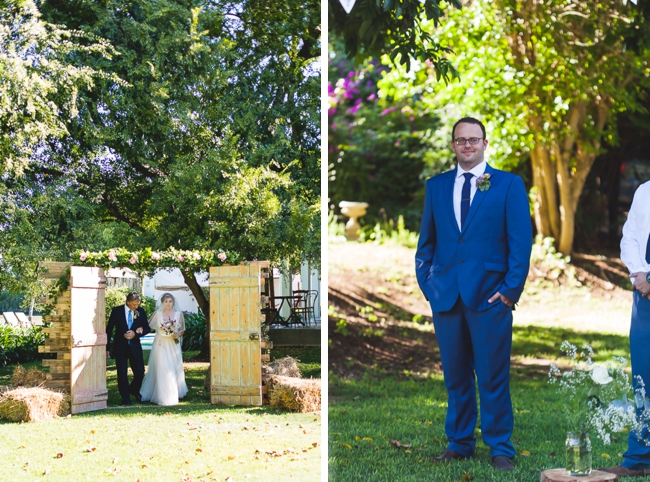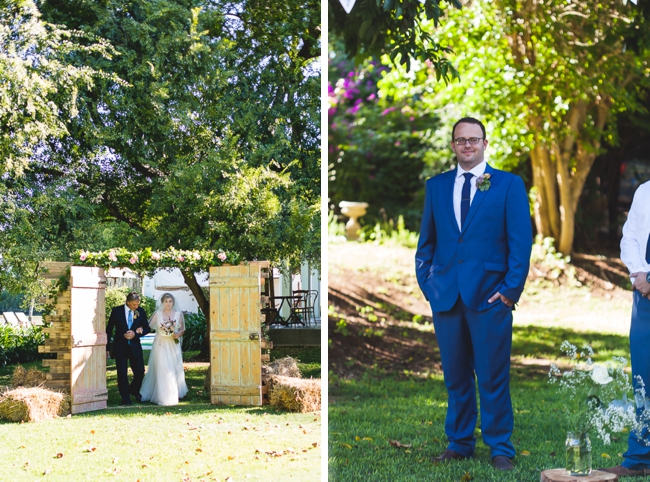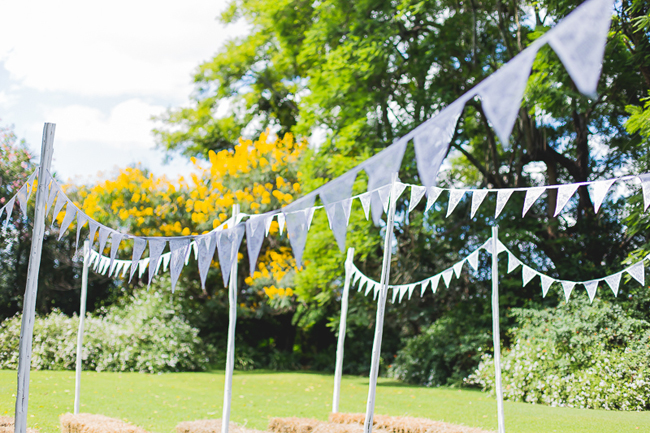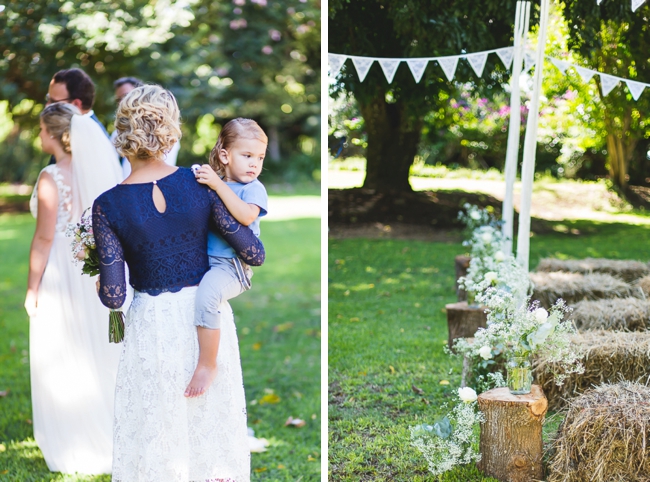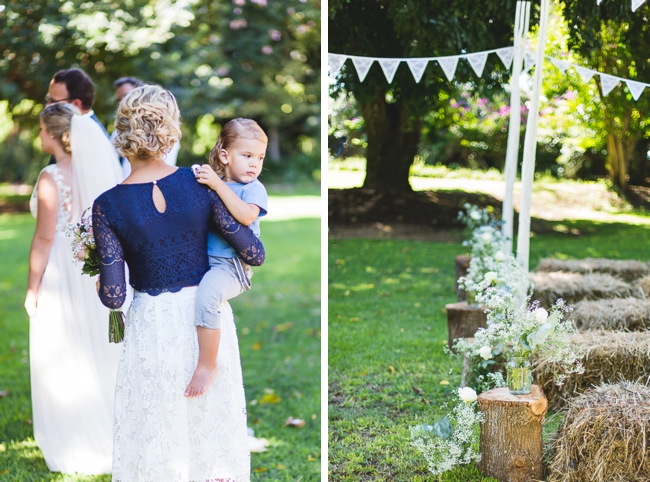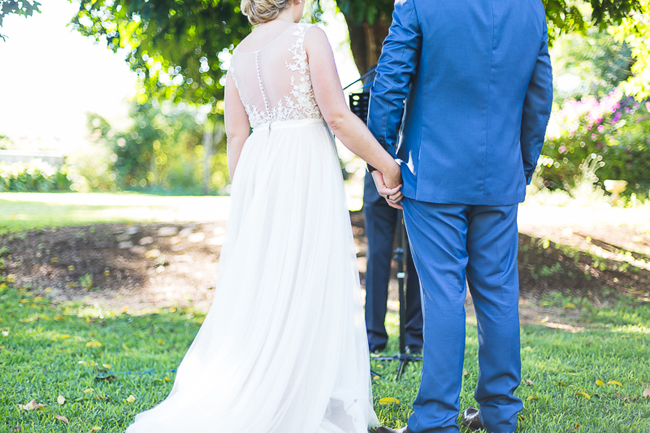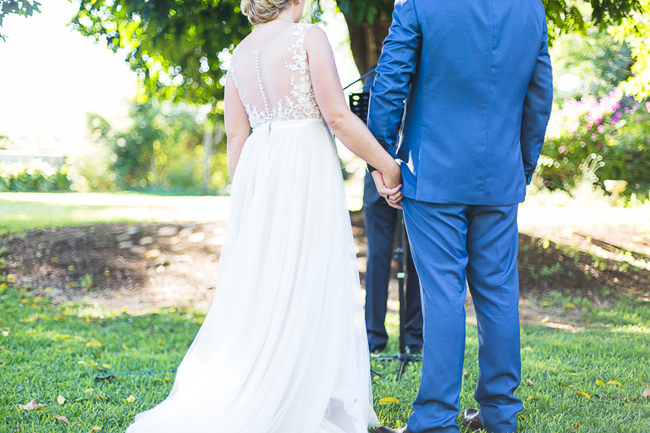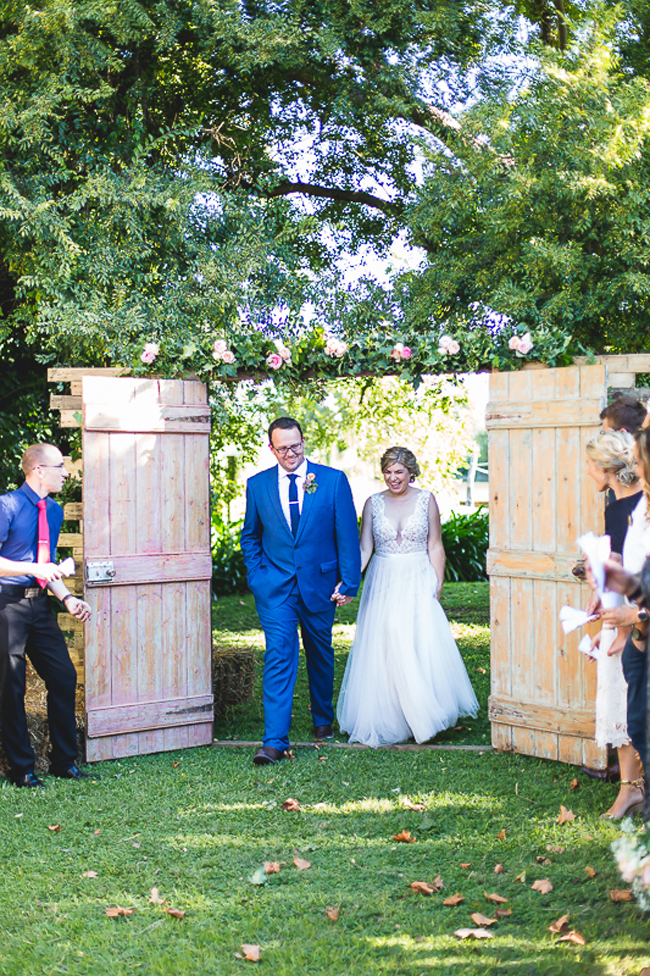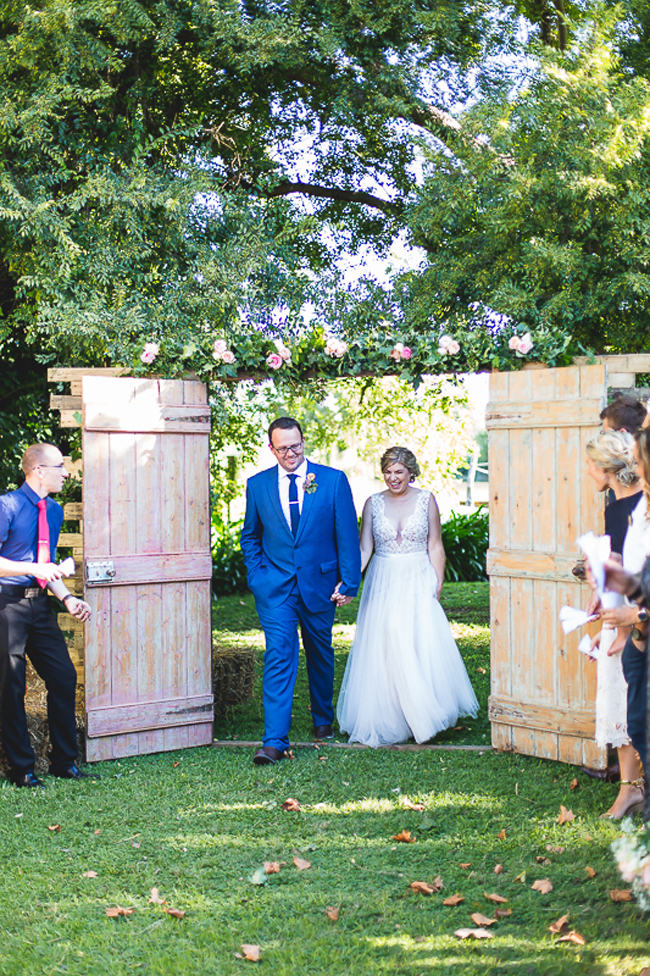 The Venue
Our wedding was in my beautiful hometown of Kirkwood, in the Eastern Cape, where I grew up. The ceremony was at Broadlands Country House and the reception was on our family farm (Rooiwal) in the garden. Very relaxed, earthy and natural. We did not want it to be a stiff affair; we wanted a nice relaxing vibe and to just enjoy it with our family and friends. The surrounding of the wedding and reception was so naturally beautiful, so we did not want to do too much and take away from the natural beauty. So we tried to just incorporate our vision into the existing beauty of the location. Both of us are very relaxed people and there are not a lot of things in the world that bother us, so we wanted this to be the feeling surrounding the wedding, and we think it worked out perfectly.
Wedding Style
We wanted to stay with the natural feel, so a lot of wooden elements were used (wooden tables, wooden logs, wooden crates, wooden doors). Right at the beginning I knew that I wanted coloured glasses on the tables. We found these blue glasses that fit my vision perfectly. The glasses were the main colour focal points on the tables together with the vintage look of the doily runners and the soft, natural colours of the flowers.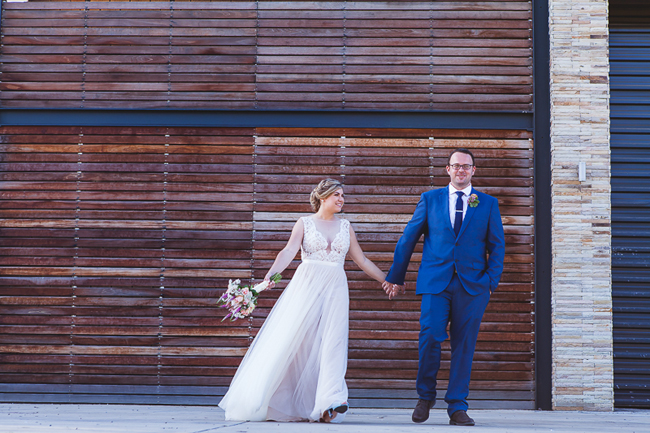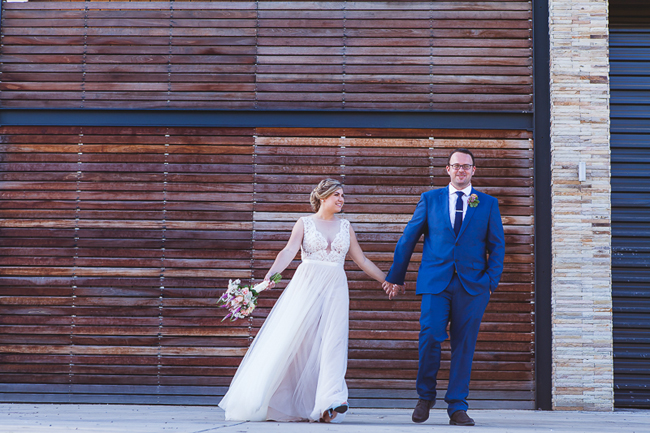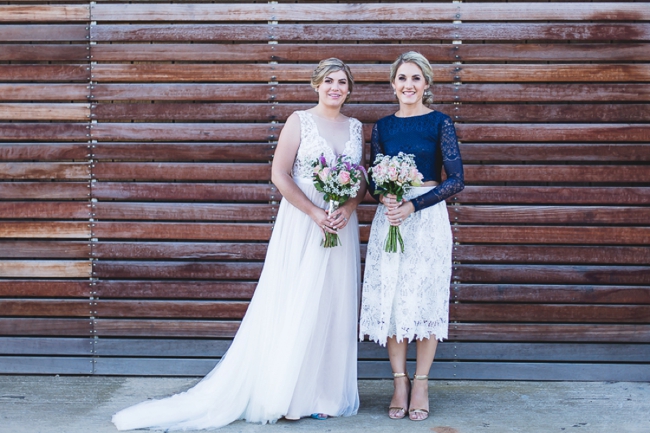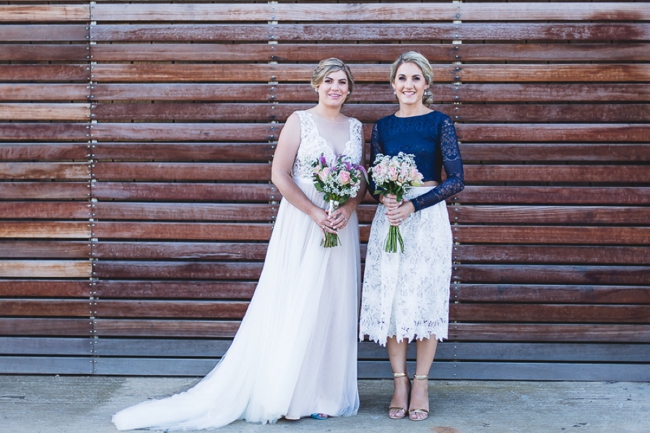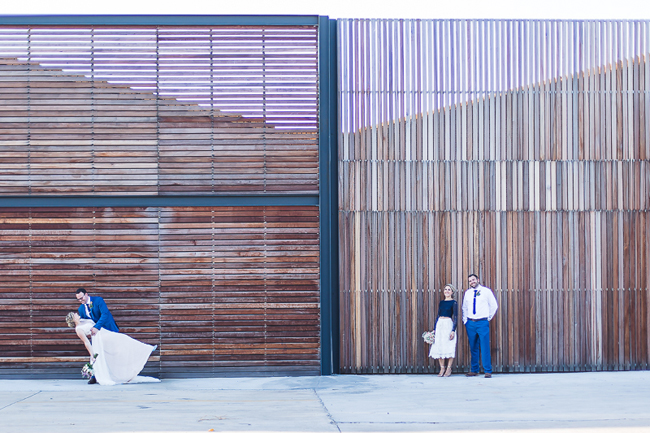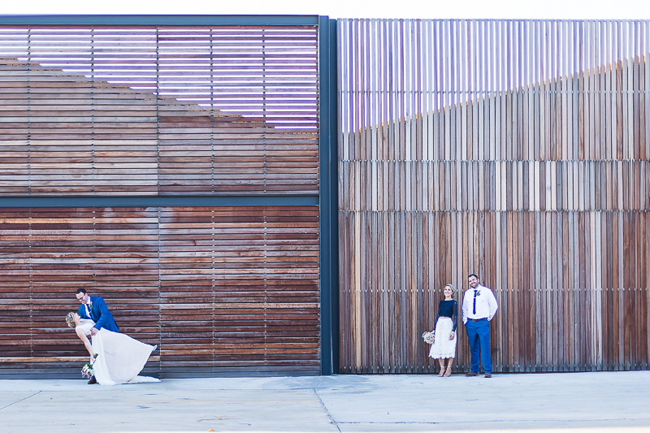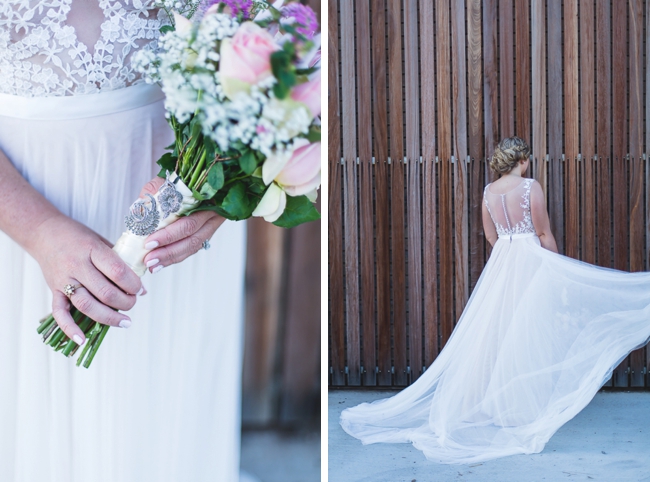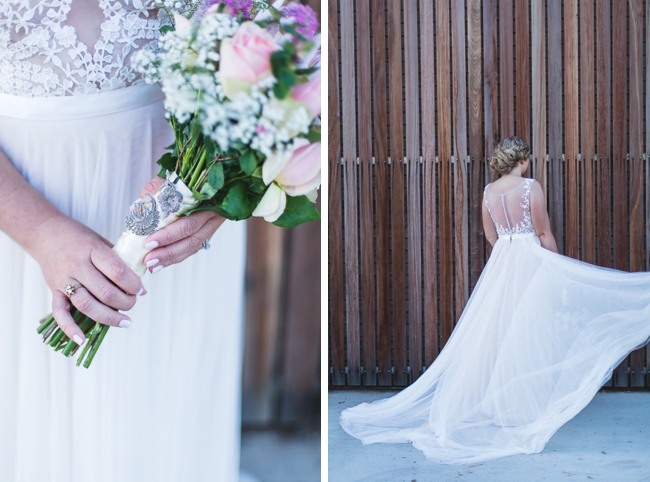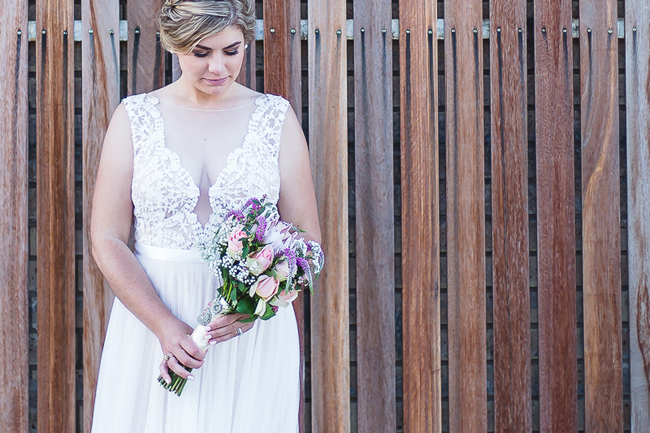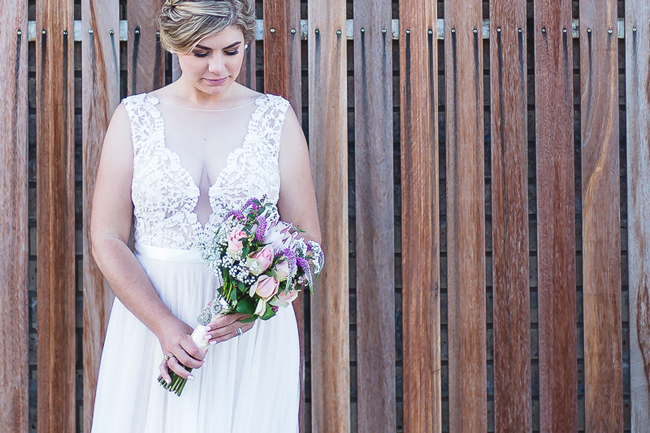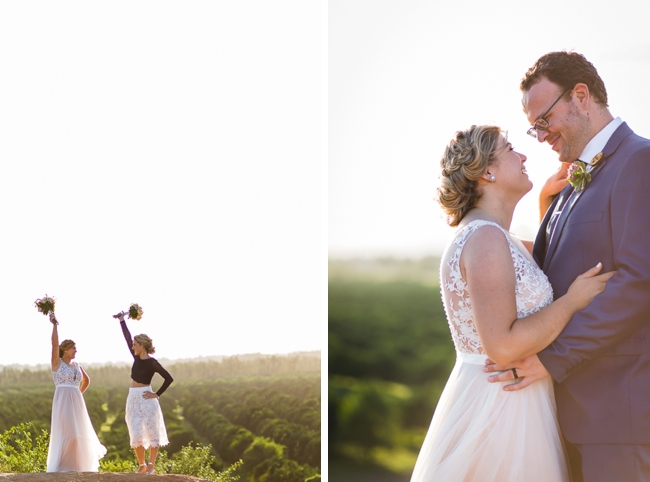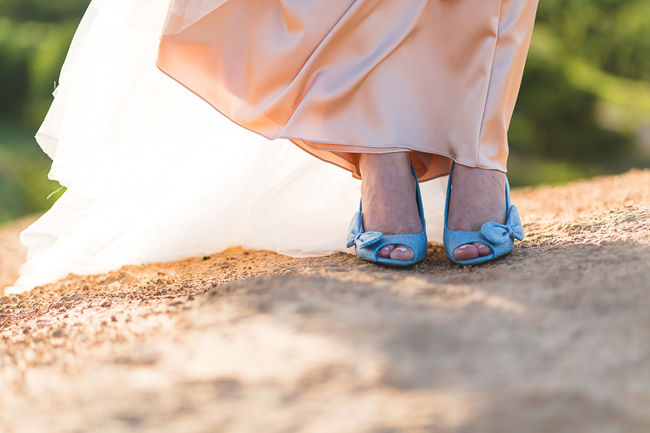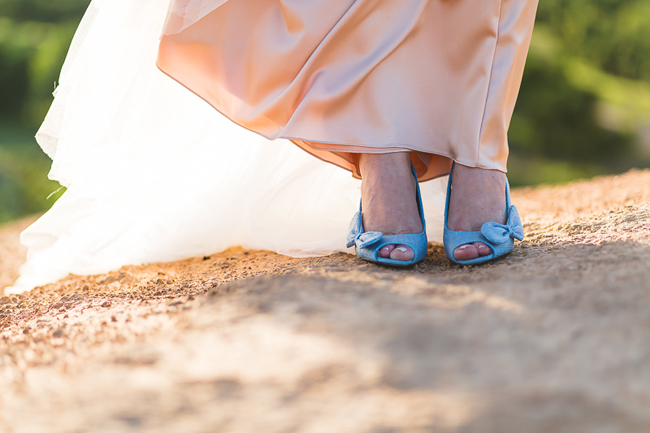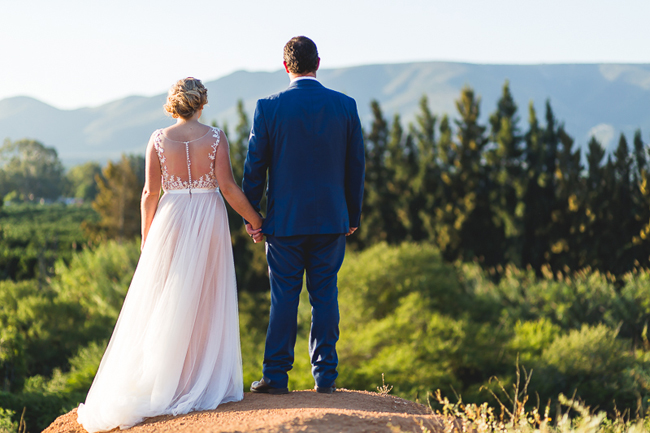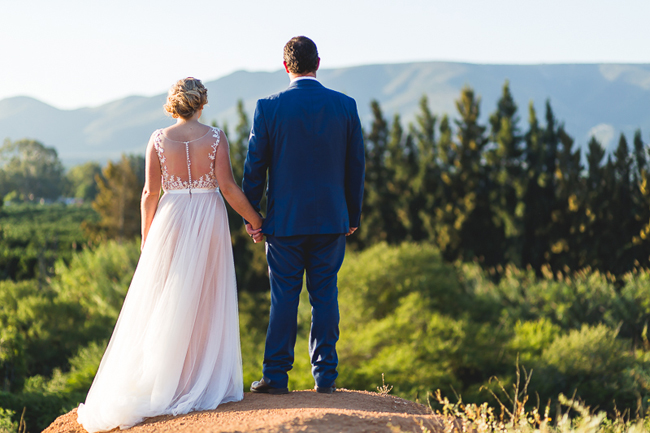 DIY Elements
Since the wedding was on the farm, we did everything ourselves. We did hire some decor from service providers, but we put everything together the week of the wedding and on the day, and also created the cocktails and flavoured waters for the canapés ourseves. My dad built the wooden doors at the ceremony, as per my vision, and they looked absolutely stunning. He also built the bar from some of the wooden crates they use on the farm.  Bar – My father build the bar from wooden crates they use on the farm. My aunt did all the flowers, and she made my vision come true. We had various people crochet the doilies in different sizes for us, and I stitched them together in different patterns to fit our tables.
The Flowers
Our wedding flowers were done by my aunt and I could not have asked for anything better. We made use of king proteas as the centerpieces and then we used variations of dusty pink roses and greenery in between.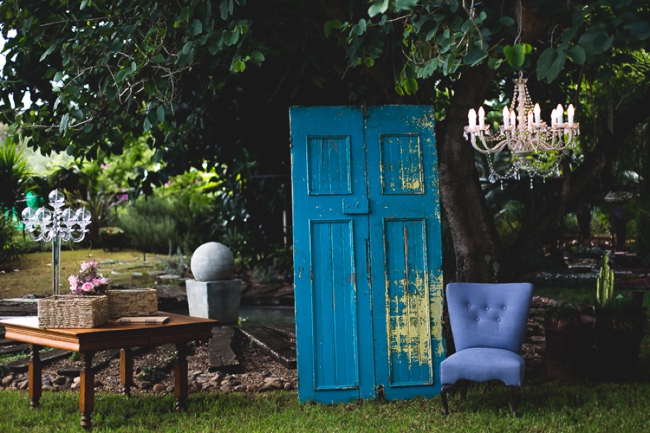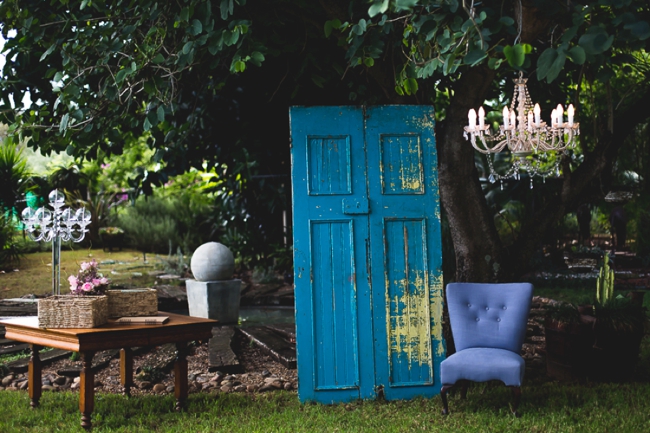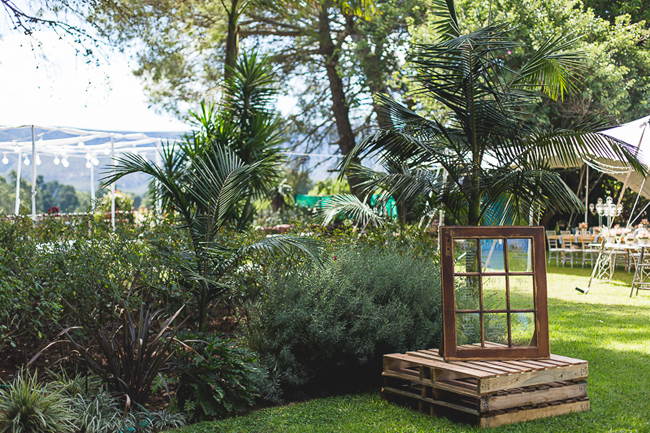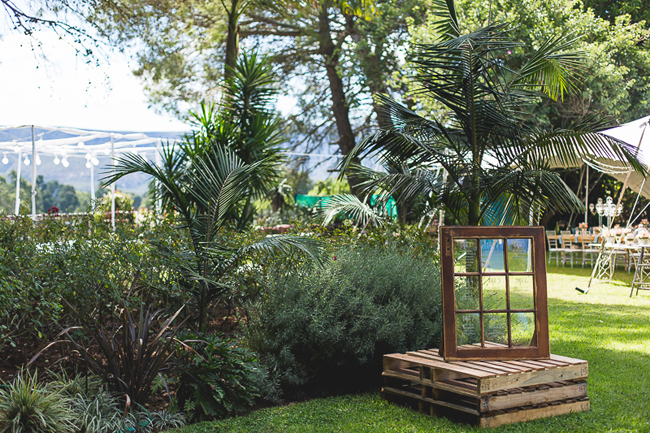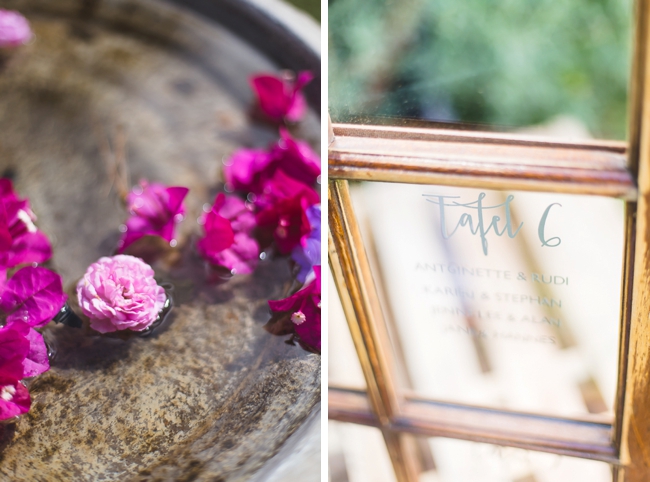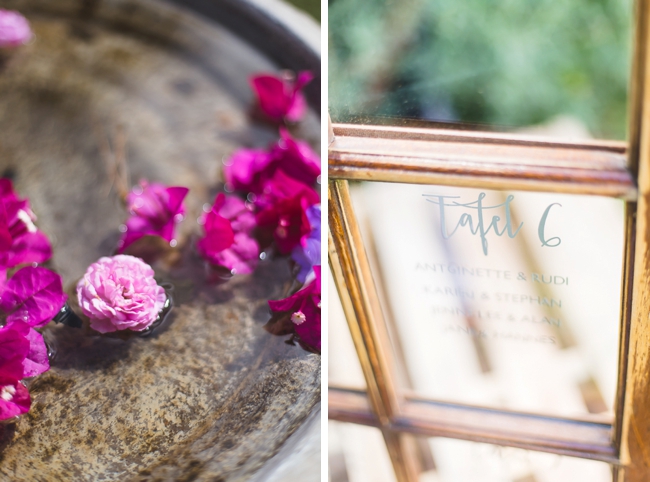 The Dress
My wedding dress was bought at LOCA bridal boutique in Port Elizabeth. They have the most beautiful wedding dresses. I fell in love with this dress as soon as I put it on. It was everything that I was looking for. It was flowy, romantic, vintage and absolutely stunning.
The Bridesmaids
My sister was my maid of honor. I also wanted to stay with the vintage earthy style for her outfit, so we went with a lace skirt with flower detail and a blue lace crop top that fit in with the blue colour of the wedding.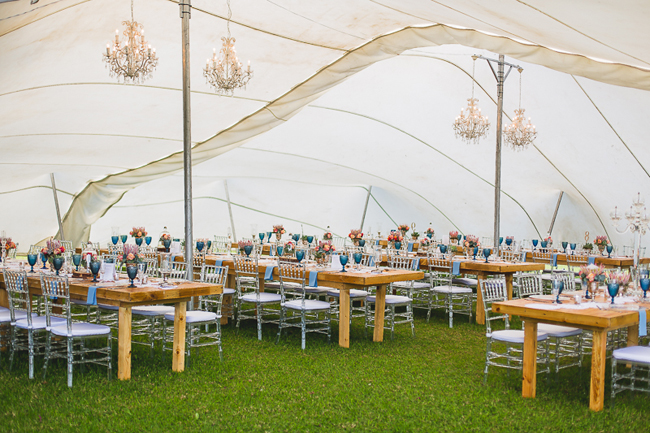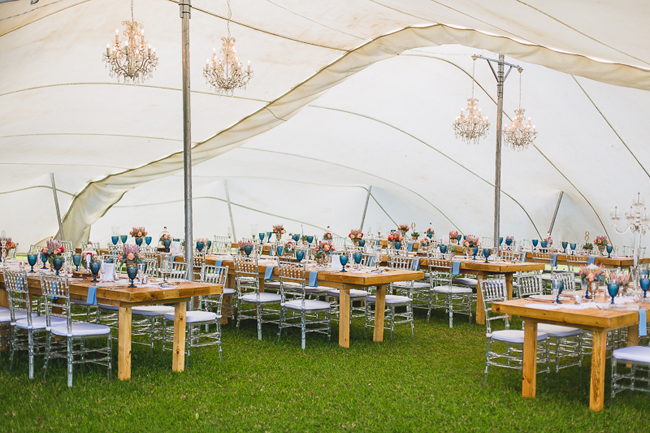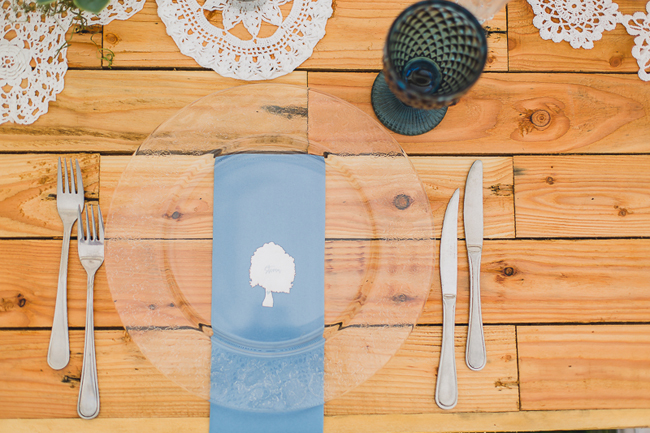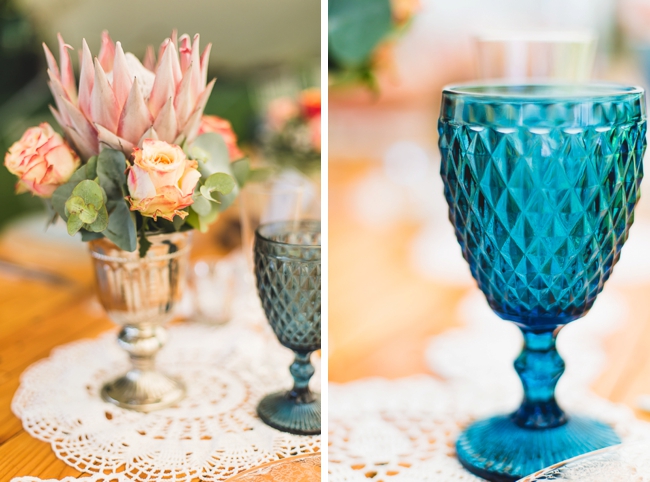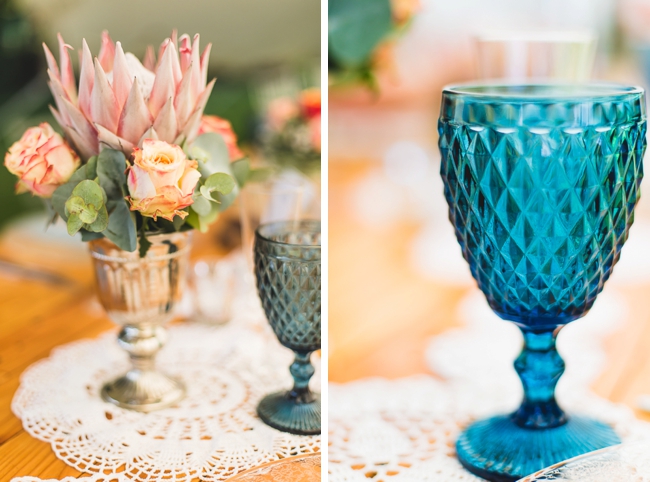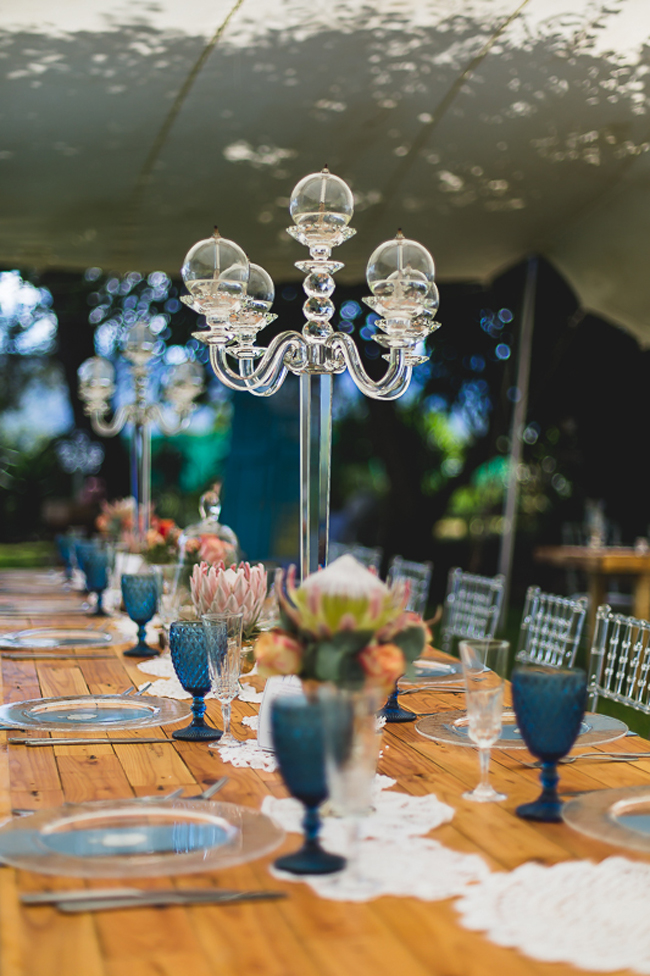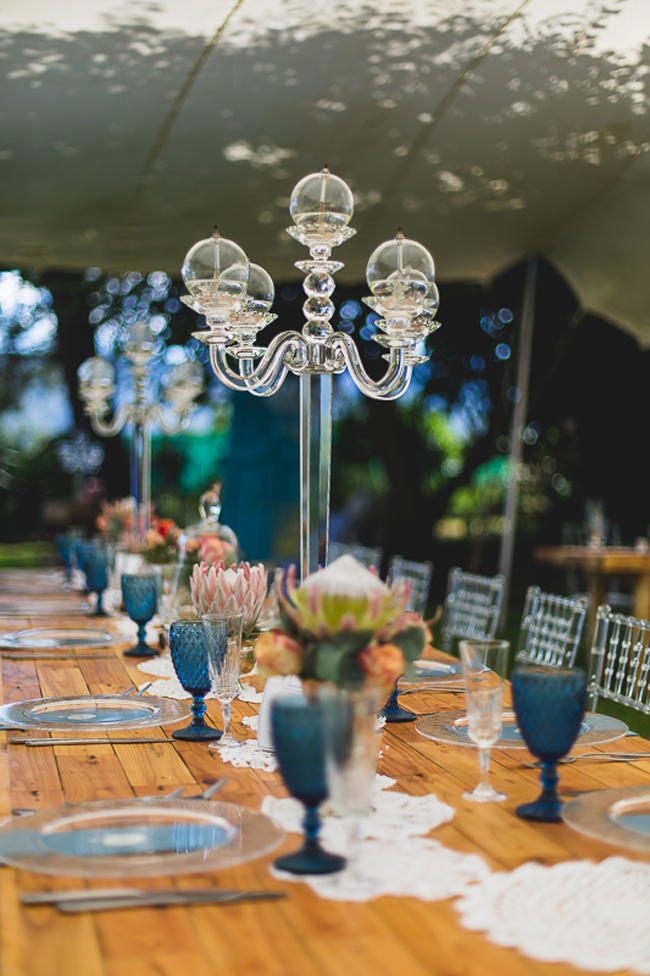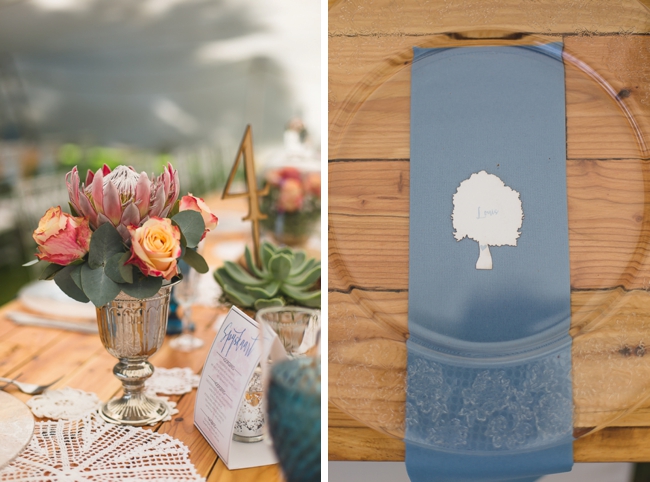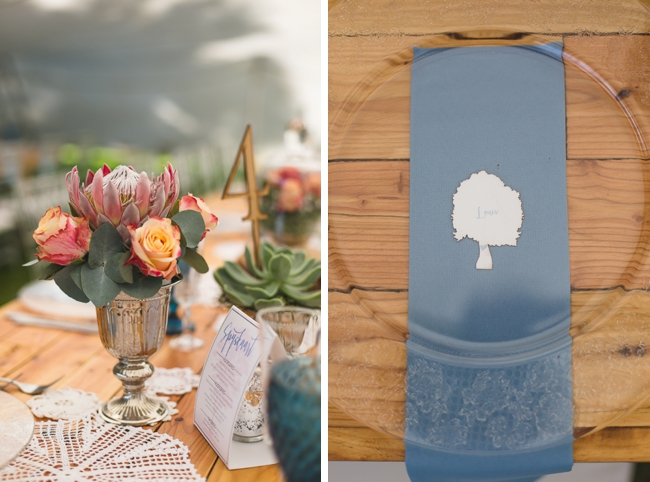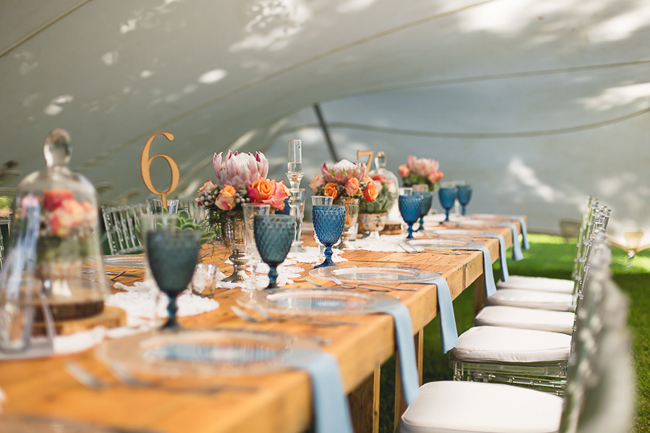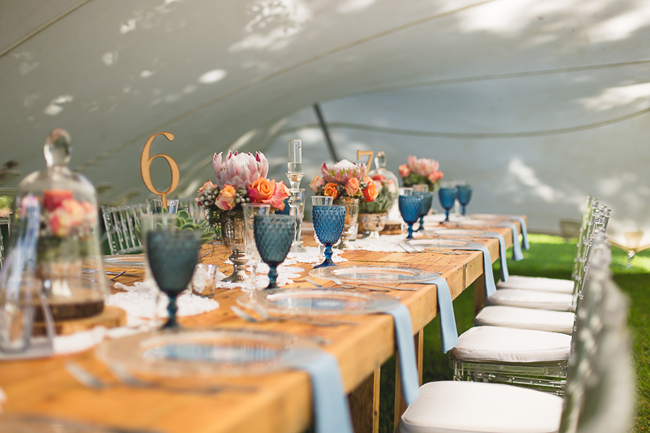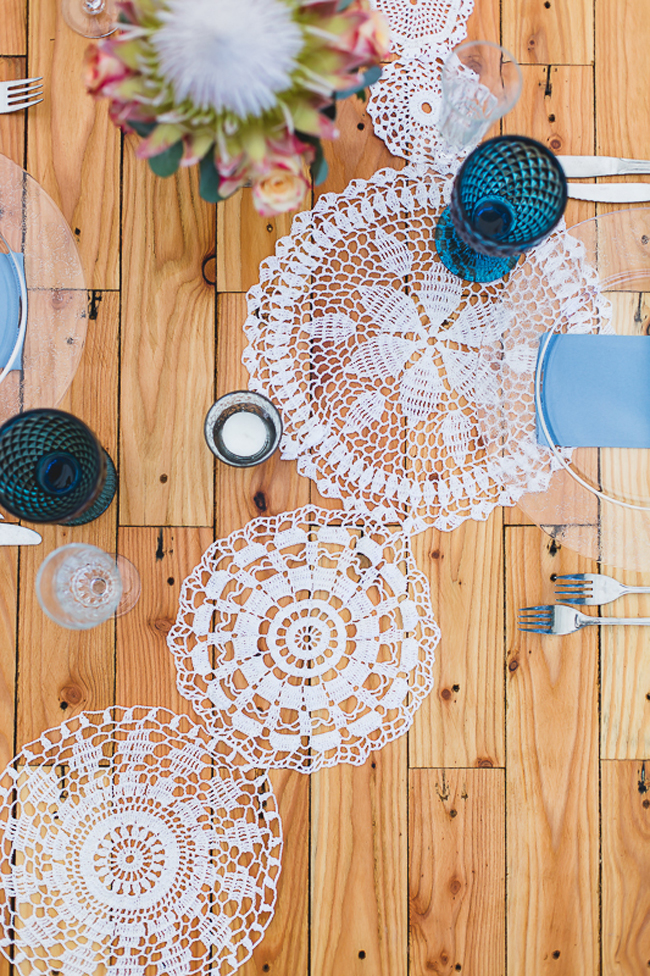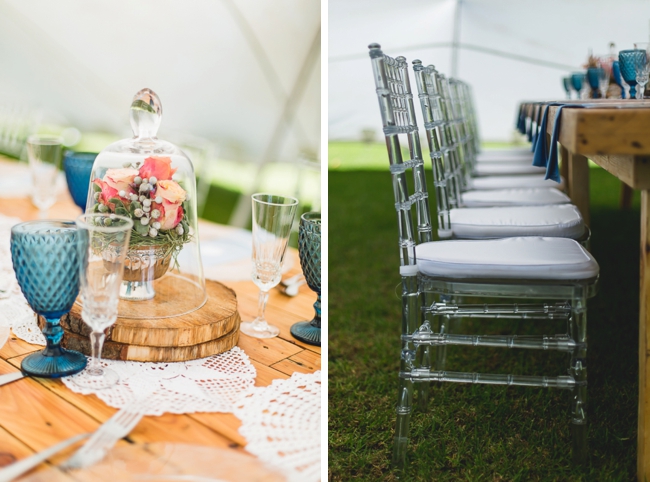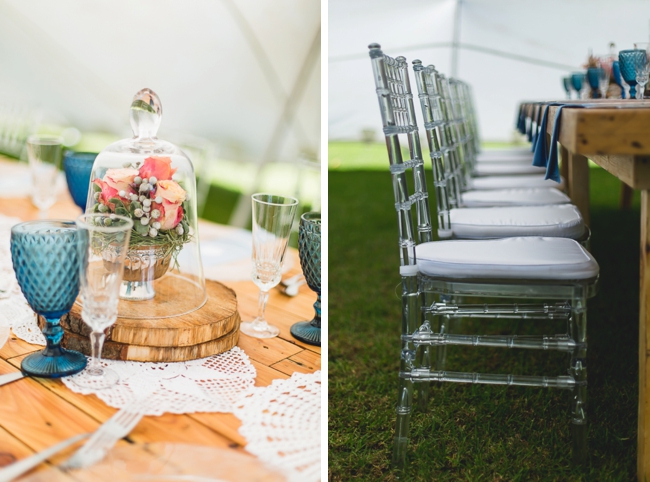 Memorable Moments
Minette: Getting ready with all the special ladies in my life… having my father walk me down the aisle… our first dance as husband and wife… my new husband singing me a song he wrote himself – unbelievably romantic! Enjoying the day and night with family and friends.
Louis: Minette walking down the aisle- magic! The ceremony and exchanging of rings… the big 'I do'… the speech and the song I sang (originally composed – I was very nervous, but pulled it off, I think!)
Proudly South African Details
We used proteas as our main flowers which are very South African of course.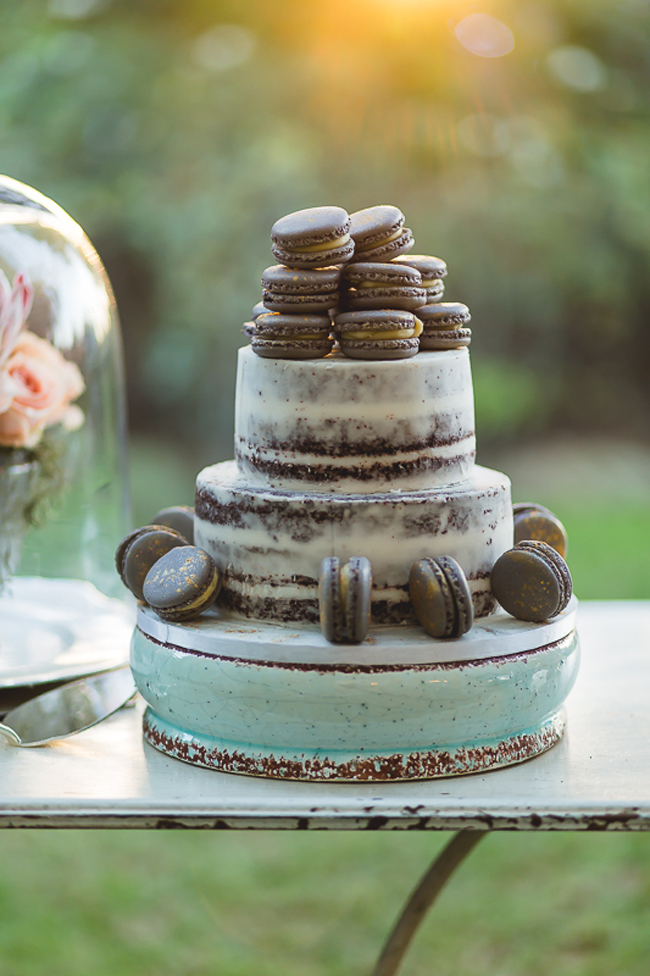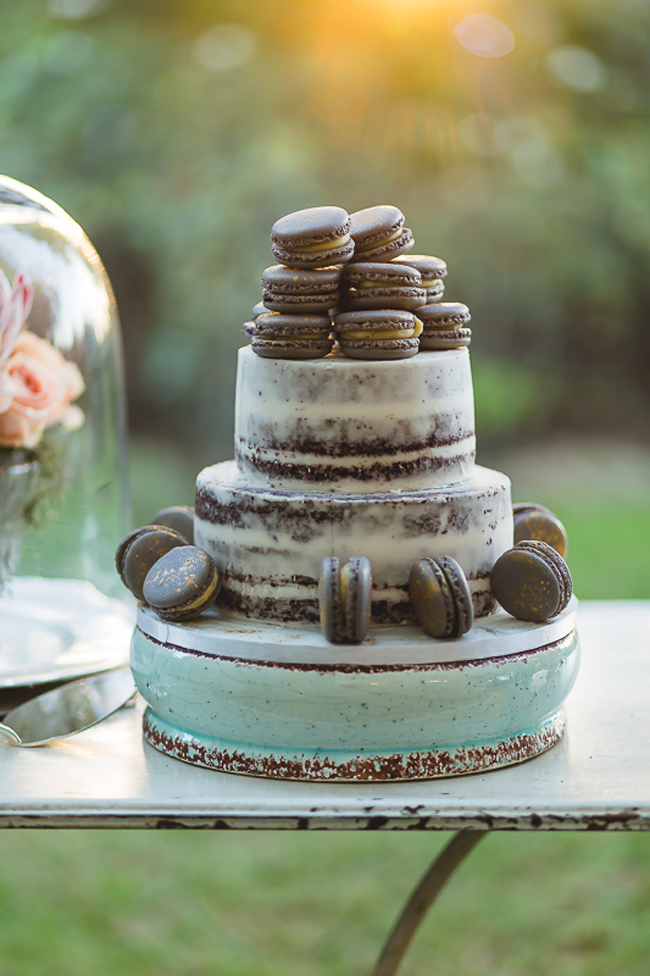 Best Decision
Having my family help with all the planning. This meant I had a lot of support and did not have to take all the stress of planning a wedding on to myself.
Advice for Future Brides & Grooms
Don't stress..LOL! I know it is easier said than done. I am by nature a very calm and relaxed person, so I was so calm and relaxed during the whole wedding planning stage (sometimes too relaxed according to my mother and sister!), and that made it such a wonderful experience. I was able to enjoy every aspect of planning our wedding. I had a lot of assistance from my family. My mother, sister and father helped with all the details that I wanted at our wedding. My aunt (Dulcie Ehlers) helped me with all the flower arrangements and on the day she did all our flowers, and it looked ABSOLUTELY STUNNING. I could not have asked for anything more. There were so many other family members who assisted, especially the week of the wedding. Without them it would not have been as special as it was. FAMILY and FRIENDS definitely made our day exponentially special.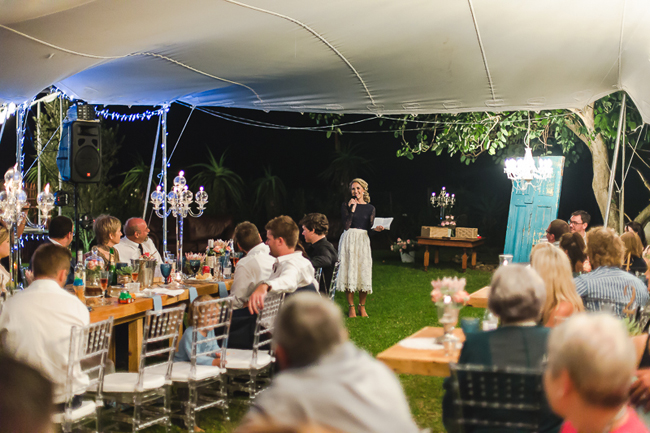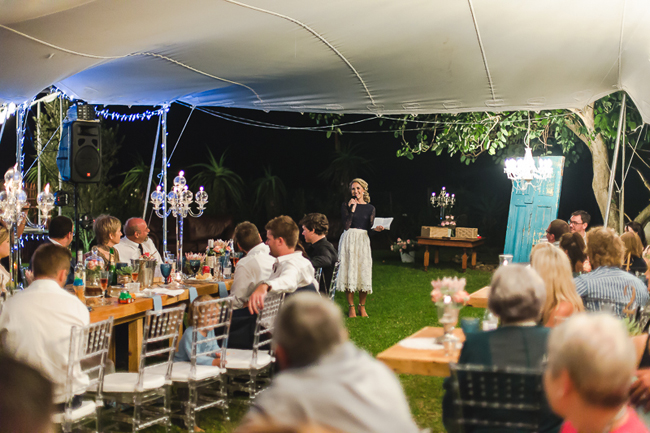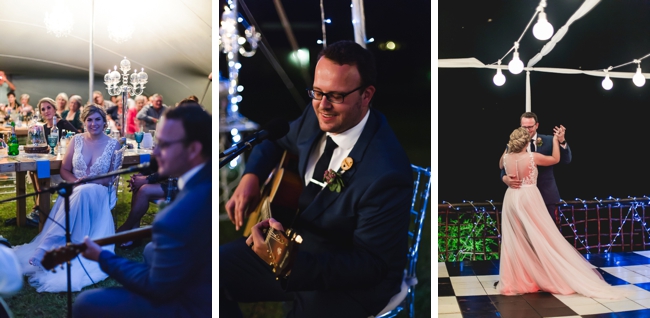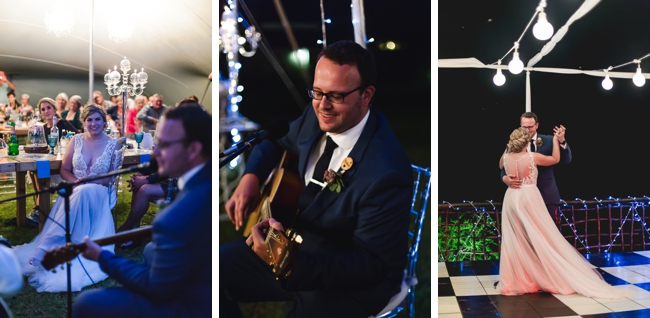 You can see more from this wedding on Linda Fourie's blog.
SERVICE PROVIDERS
Reception venue: Private farm | Ceremony venue: Broadlands Country House | Catering: Fat Cats Catering | Photography: Linda Fourie | Flowers: Dulcie Ehlers | Stationery: Blooming Wonderful | Cake: House of Bakes | Bride's dress: LOCA Bridal | Bride's jewellery: Marion Rehwinkel Jewellery | Hair: Kevin Johns Hair Design | Makeup: Anneke Basson | Bridesmaids' dress: Forever New & ZARA | Groom's attire: Woolworths | Hiring: Madiba Bay Events; Party Designs; MTE: Elite Hire | DJ: Herman Ferreira