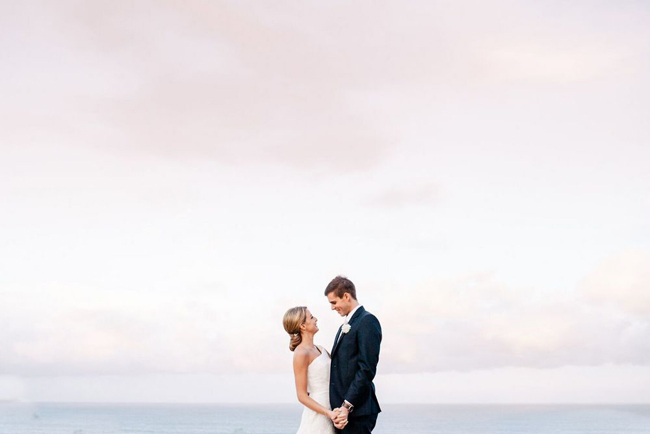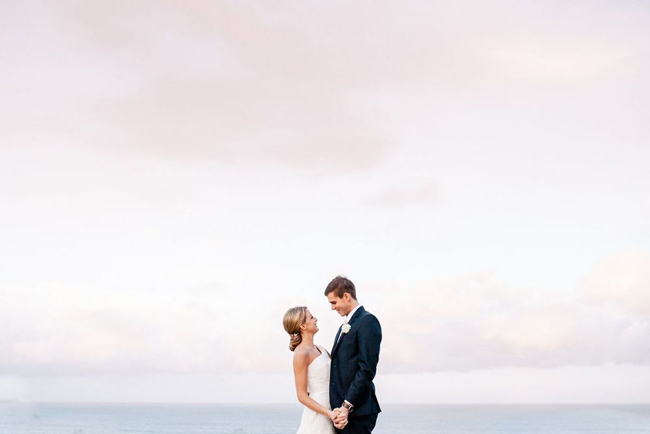 Where do I even start with this incredible wedding? Everything about it is elegant and beautiful, and deeply personal. And to be honest, those were some of the qualities that struck me about The Venue Fontana when I first came across it, researching wedding venues for the SBB Collection (which is how I came across Cameron and Dina's wedding in the first place). Although it's gone on to be a huge hit with KZN couples this season, at the time The Venue had hosted precisely one wedding, and this was it. Cameron and Dina are high school sweethearts whose romance blossomed into a lifelong love, so when choosing a venue for their nuptials, there was no better place than Dina's family farm, which held so many memories for the pair (including the place when Cameron proposed). Of course, the fact that there was no actual wedding venue on the farm was no problem for this dynamic family, who jumped in and custom built the most perfect place imaginable, a mix of rustic barn style, rough industrial elements and Italian sophistication. It's a magical place, and this wedding was the labour of love that started it all. From ceremony to gorgeous reception, it was a day filled to the brim with family, tradition, joy and romance, captured exquisitely by Vanilla Photography. I could go on about it all day, but I'll let the pictures (and Dina) speak for themselves. (Better yet, make a plan to visit The Venue, and experience its heartfelt welcome in person!)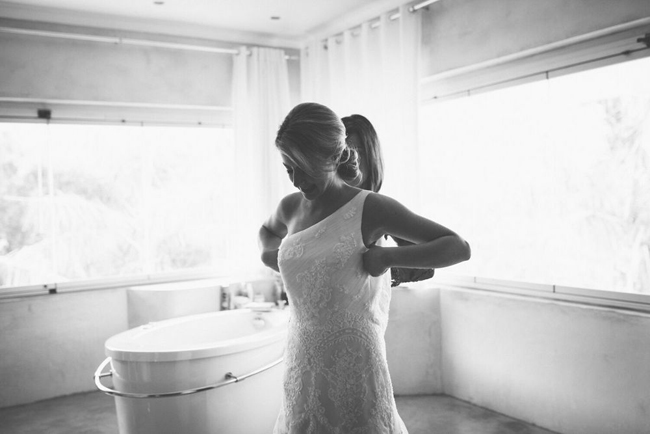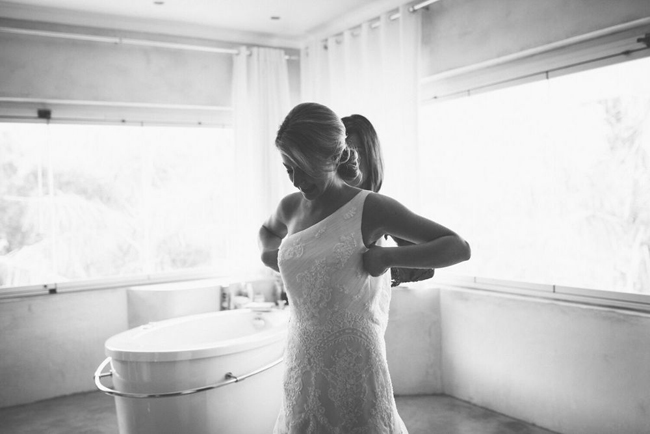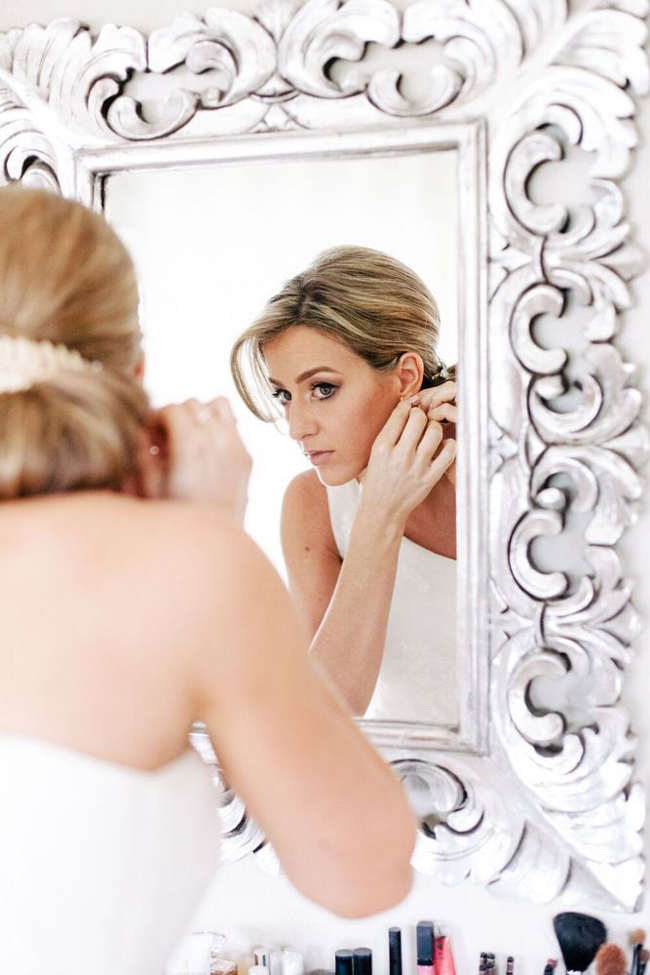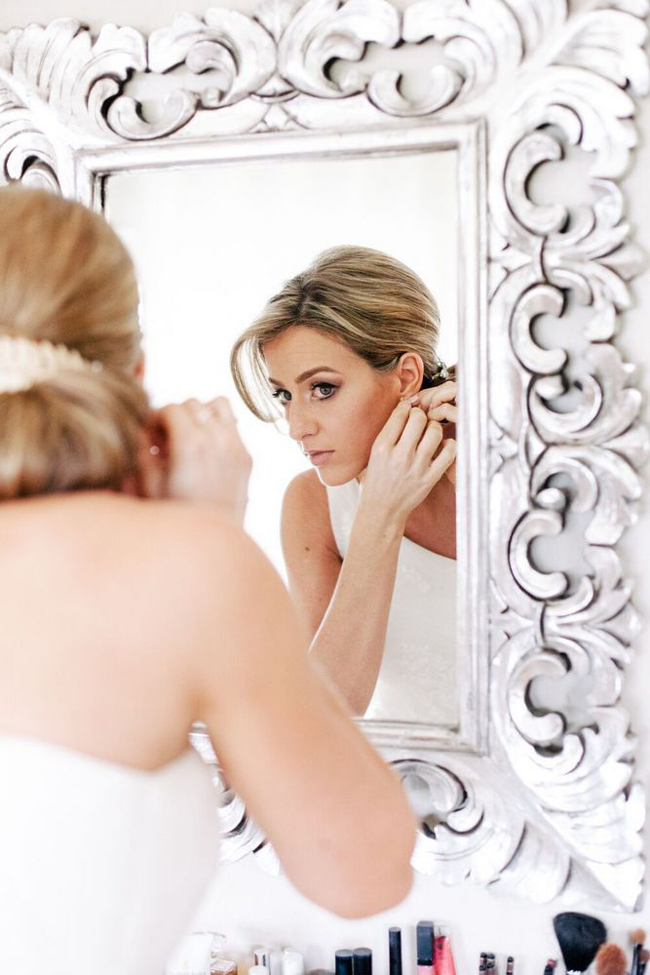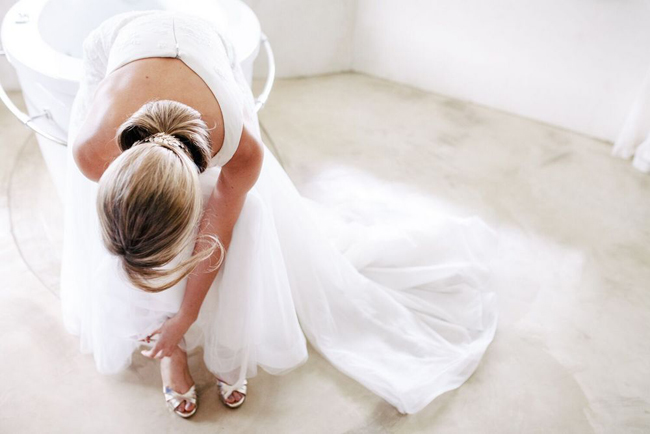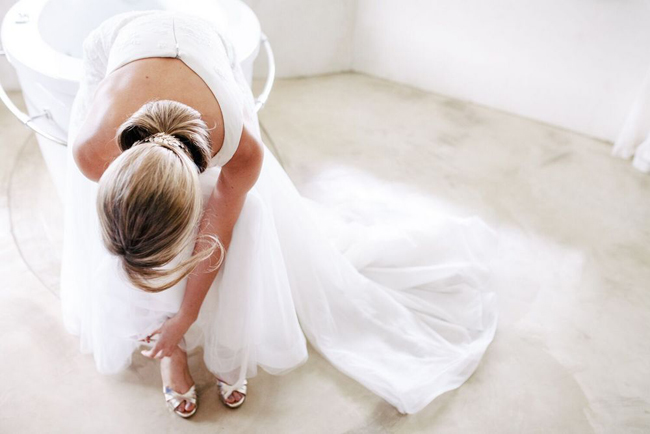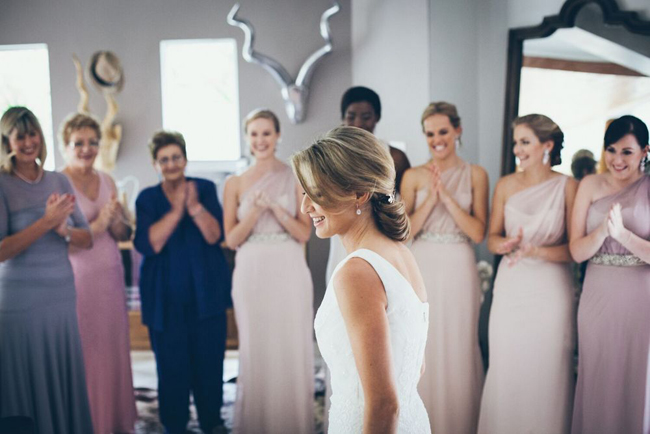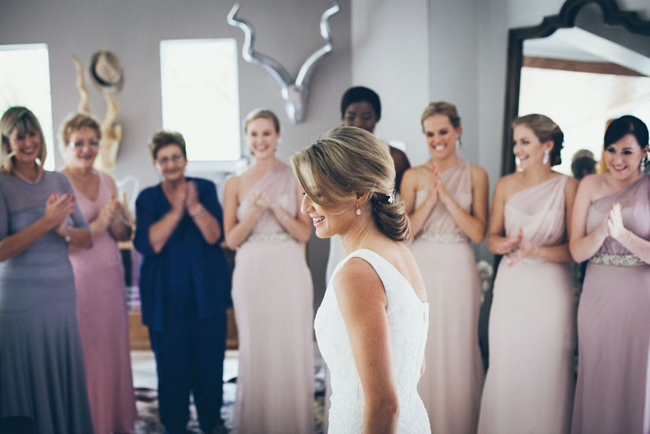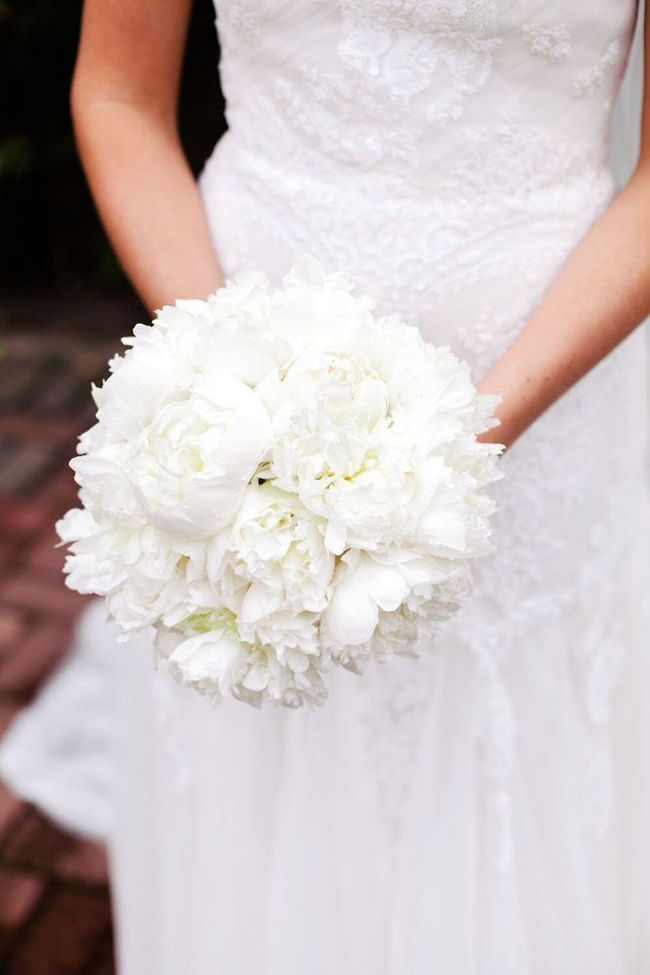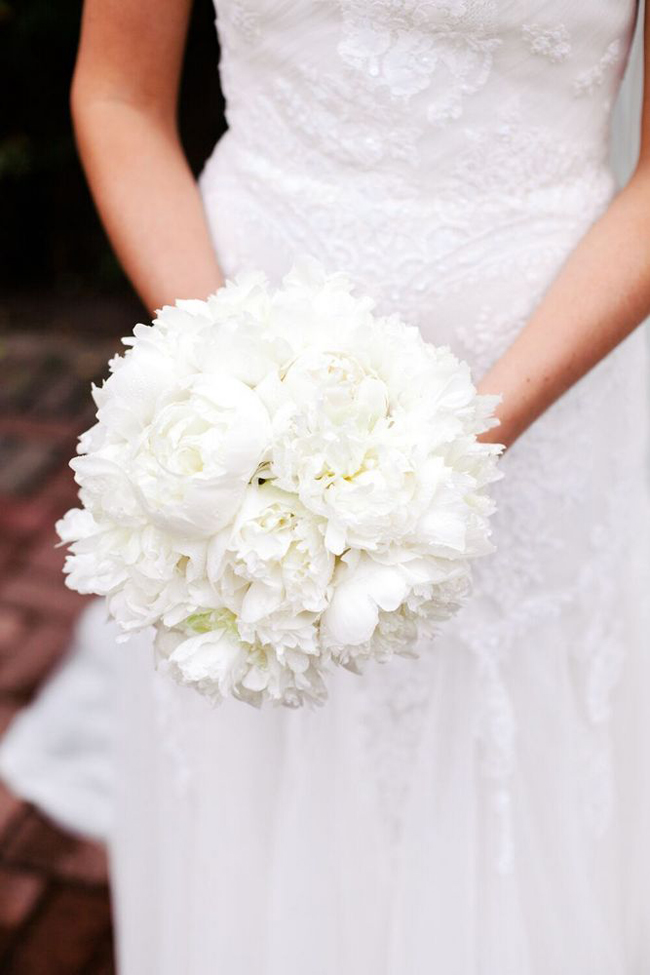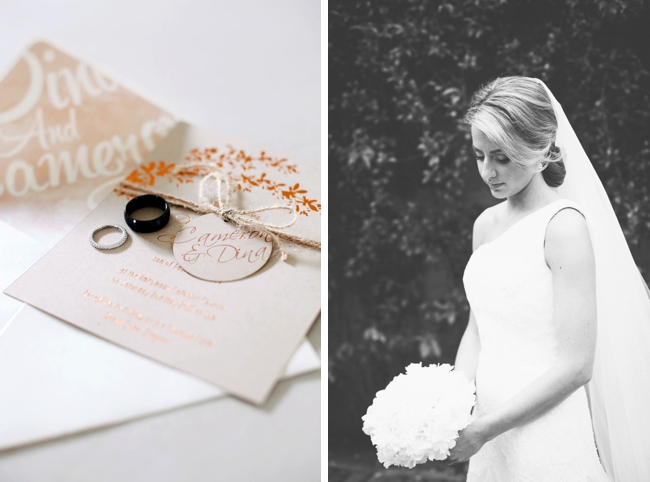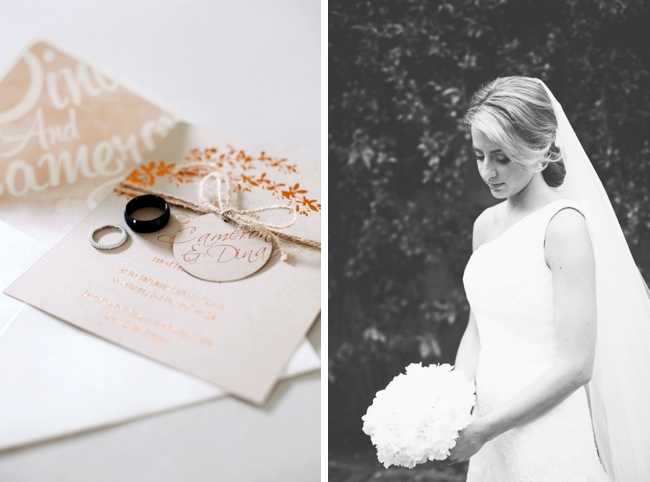 Love Story
Cameron and I actually met at a swimming gala in High School twelve years ago.
The Proposal
After a lazy Sunday afternoon nap, Cameron persuaded me to get off the couch to take the dogs for a walk, as we ordinarily do. Dressed in my tracksuit pants and t-shirt I reluctantly agreed and off we went. Completely oblivious to what was happening, we took a stroll down to the river on our family farm. Once we reached the riverside, under a beautiful tree, I turned around to find Cameron on one knee… the moment could not have been any more perfect and looking back I am so happy that it was just the two of us (and of course the dogs). After taking it all in we slowly walked back to the house where I was yet again surprised to find both of our families waiting to celebrate!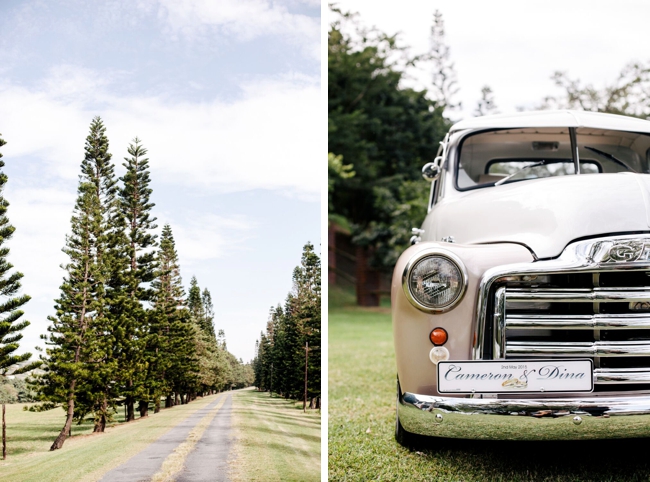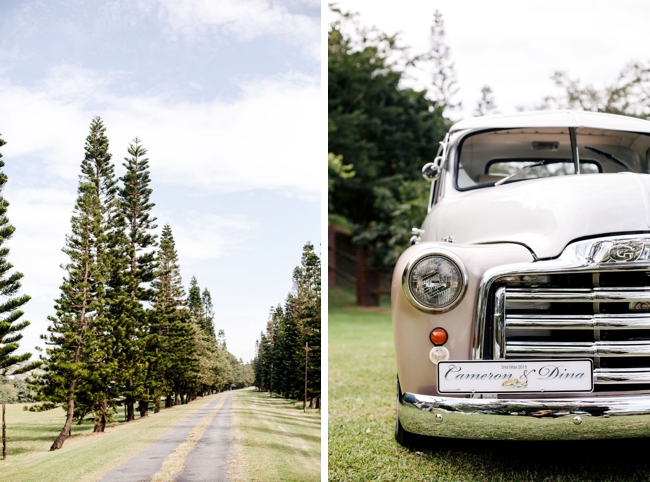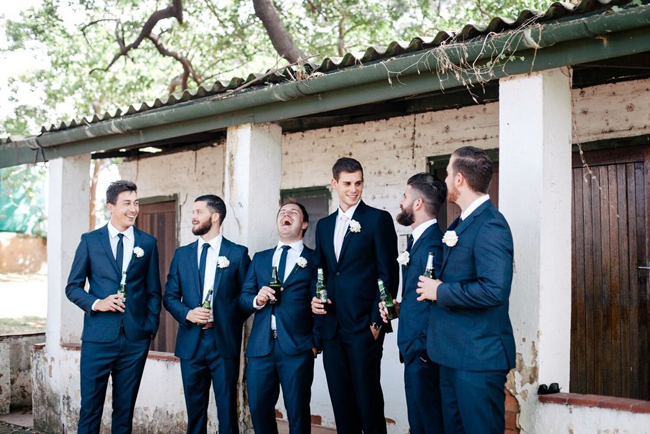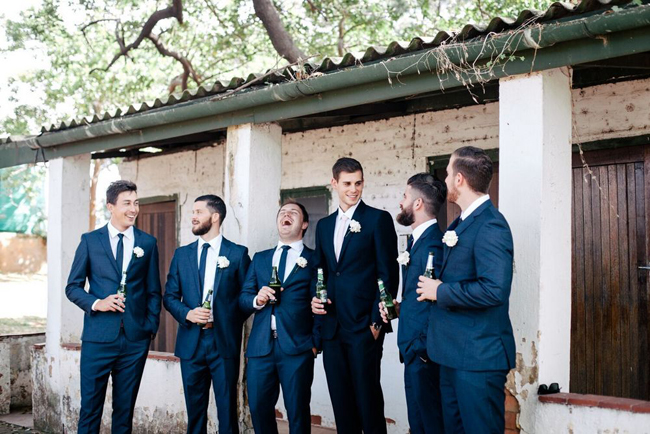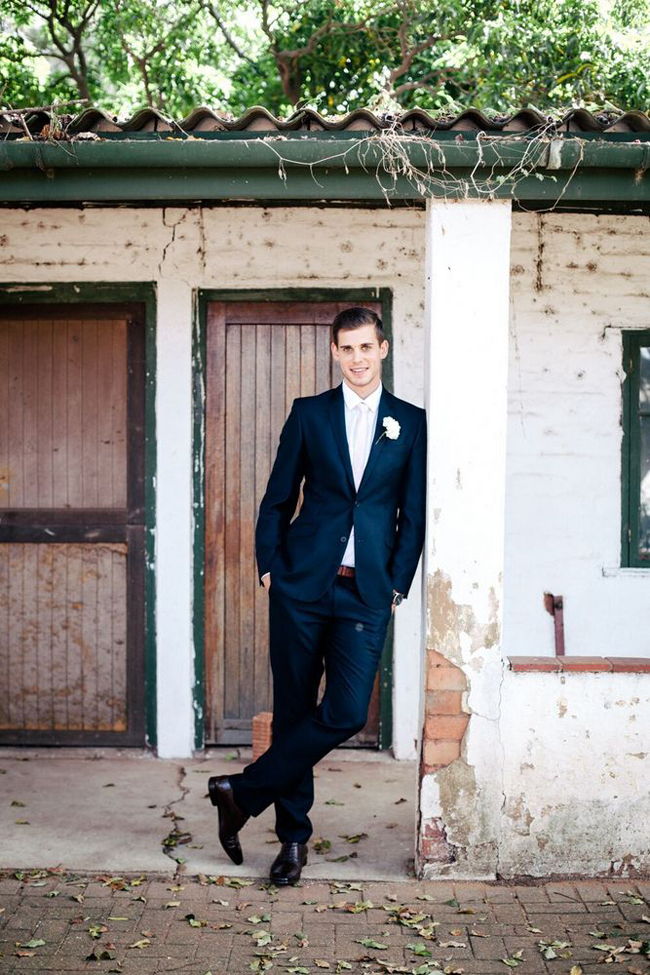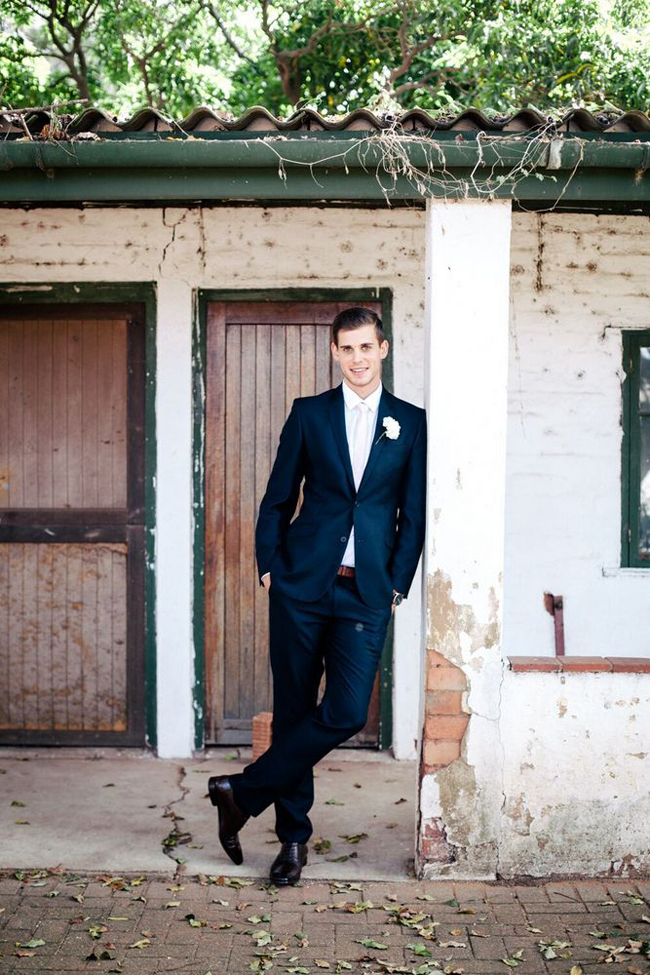 The Venue
Cameron and I went to various wedding venues and although they were all very beautiful something just always seemed to be missing. My parents had the whole venue planned out on our farm before we were even engaged, but they were very patient in letting us make our own decision. We wanted something that was different and special, so jumping into the craziness of building our very own venue was a no-brainer.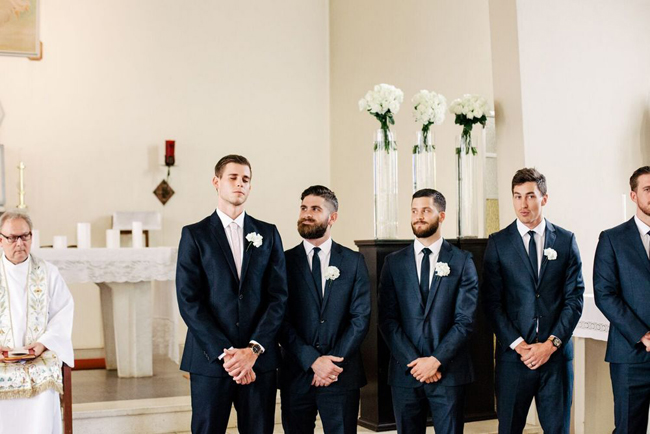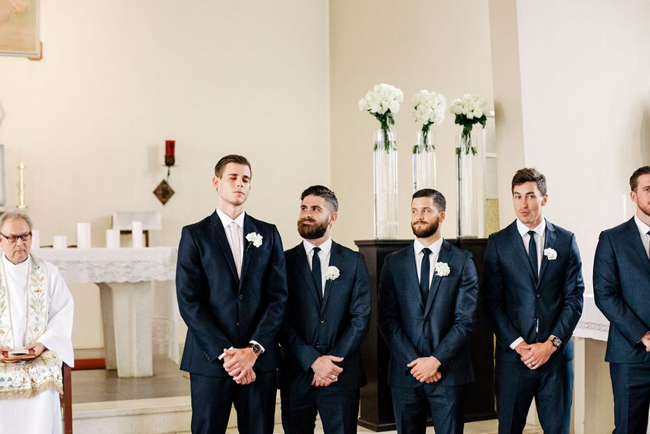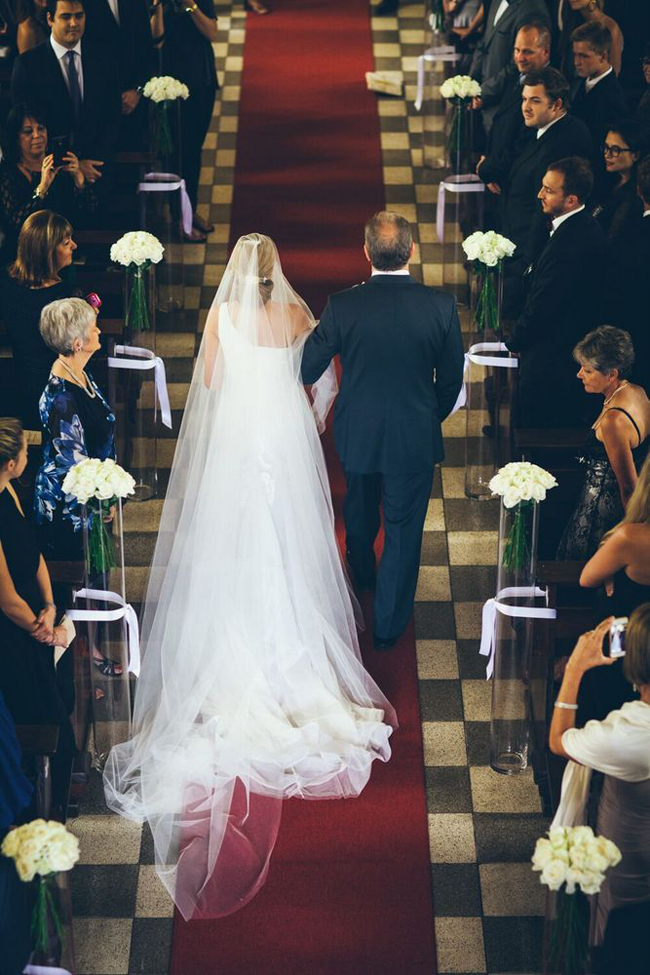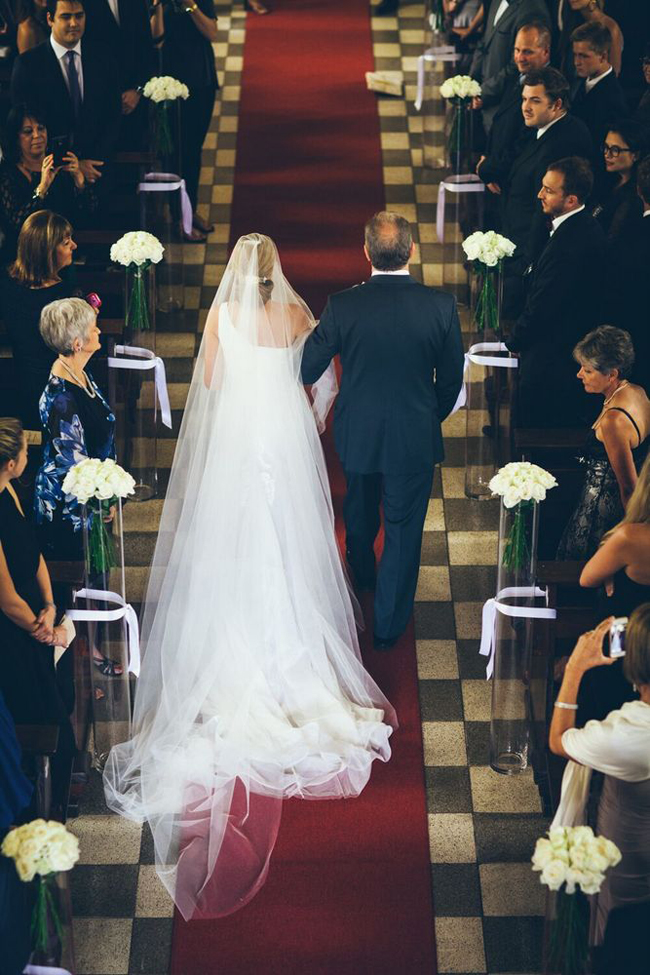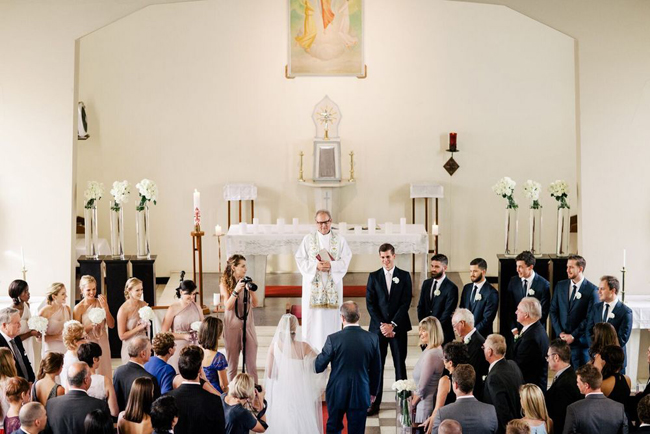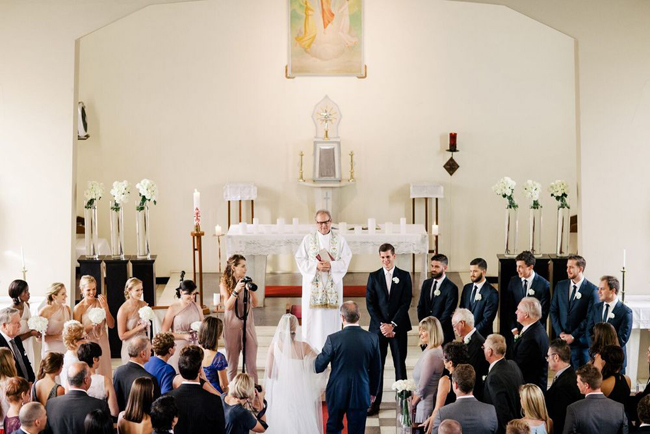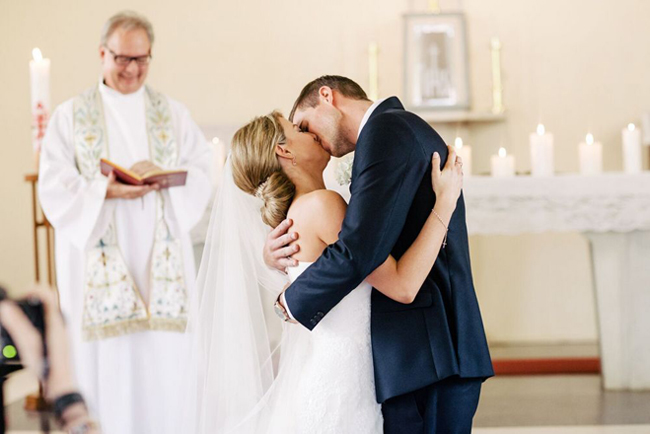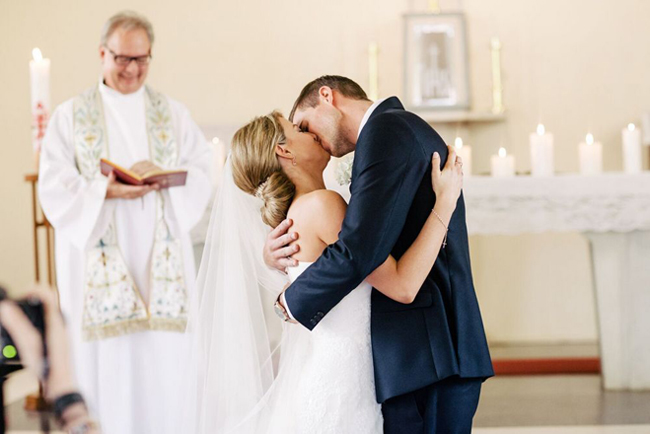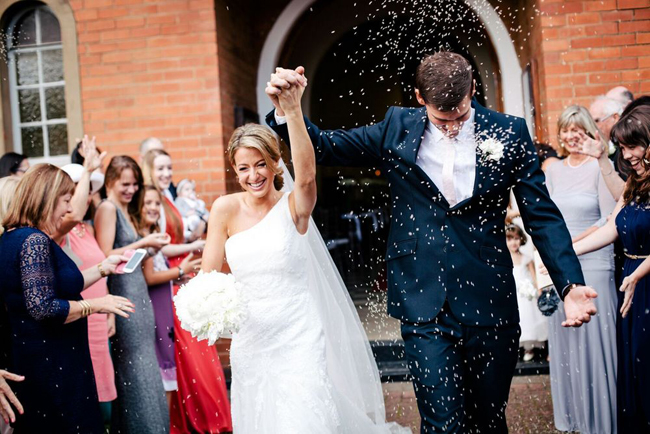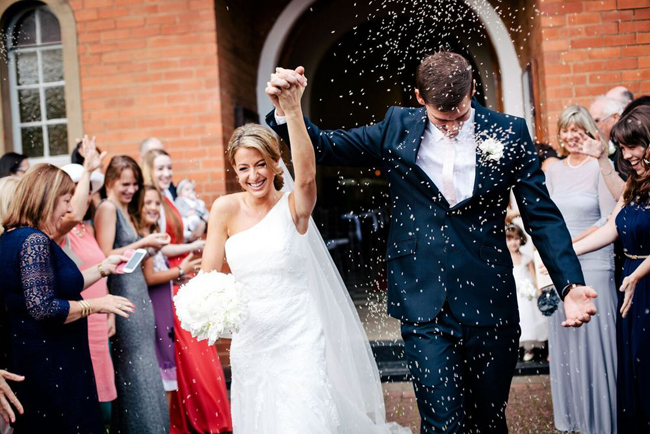 Wedding Style
The entire inspiration was rustic versus elegant. We kept the details of the actual building finishes simple, rustic and raw, by bag washing the walls, using recycled old pallets and branches from the farm. In contrast to this all of the decor, lighting and flowers were incredibly elegant. We hung crystal chandeliers in front of wooden pallets, we had orchids hanging among raw branches and our amazing cake was placed on a tree trunk. While all of the flowers were kept white, the color scheme was all natural: nudes and blush tones with touches of rose gold everywhere.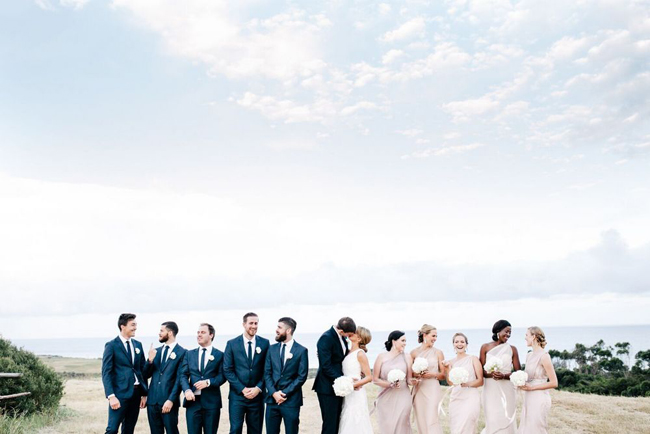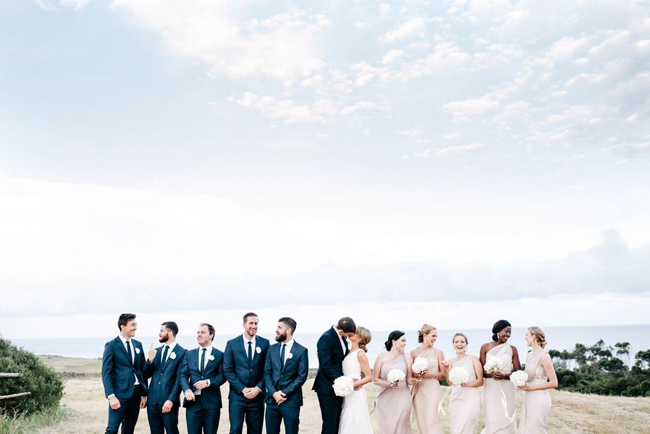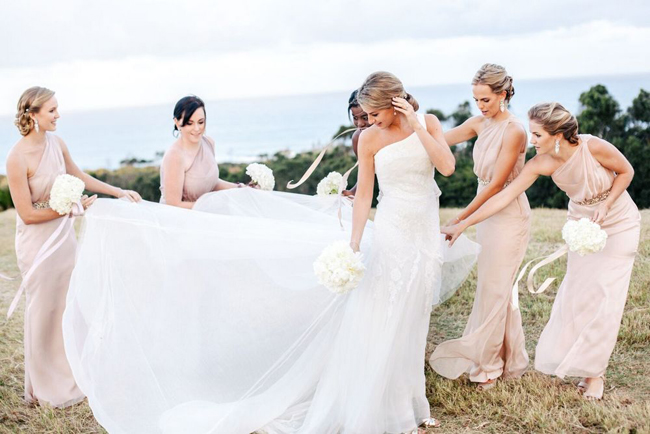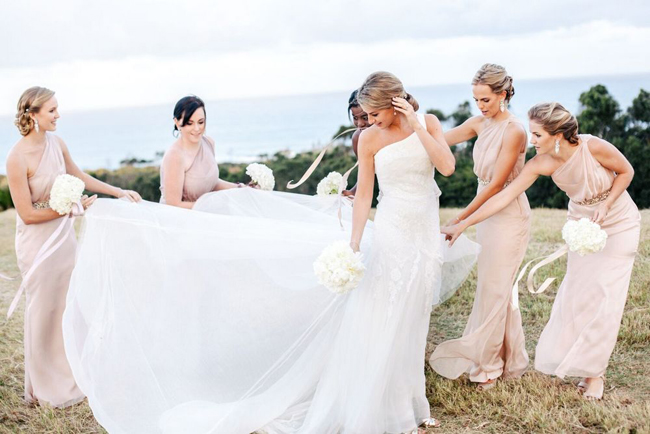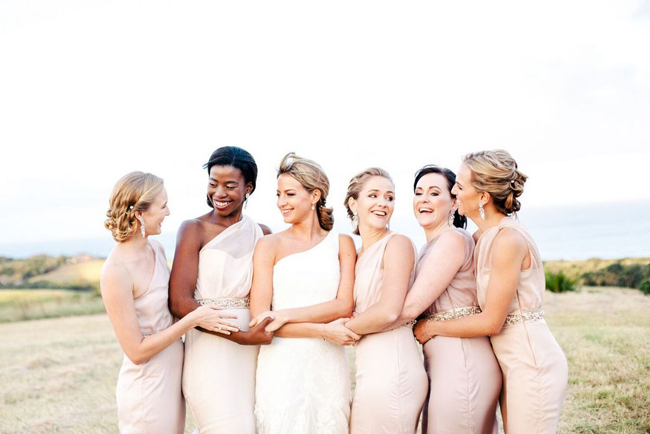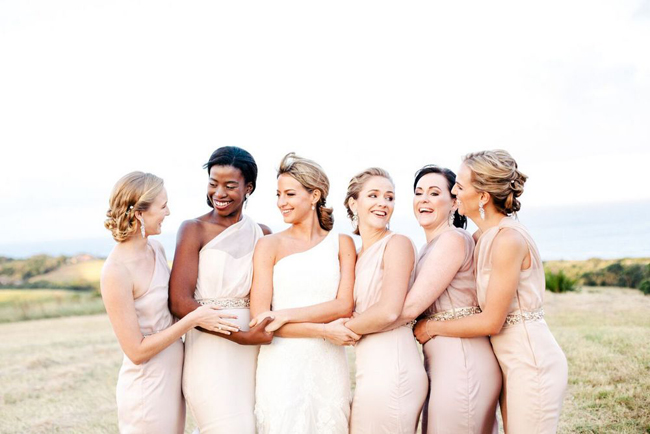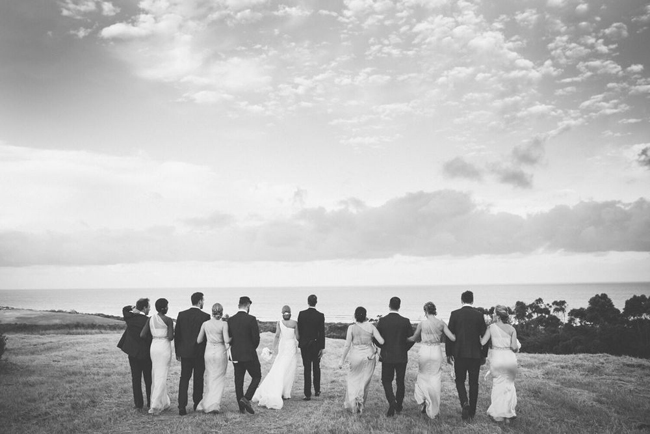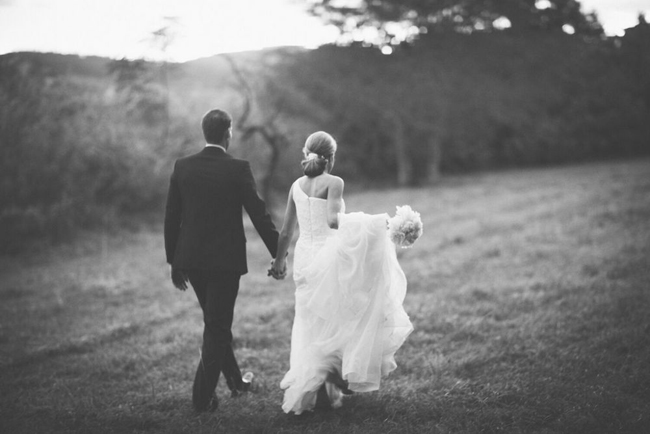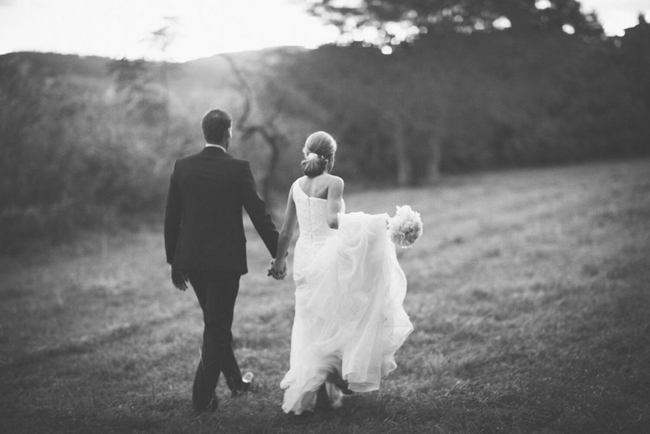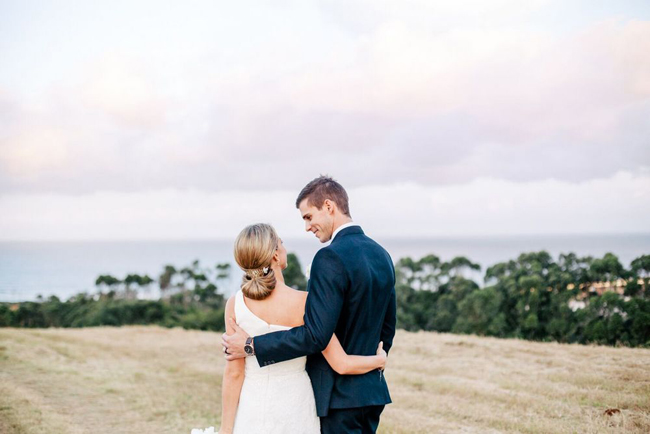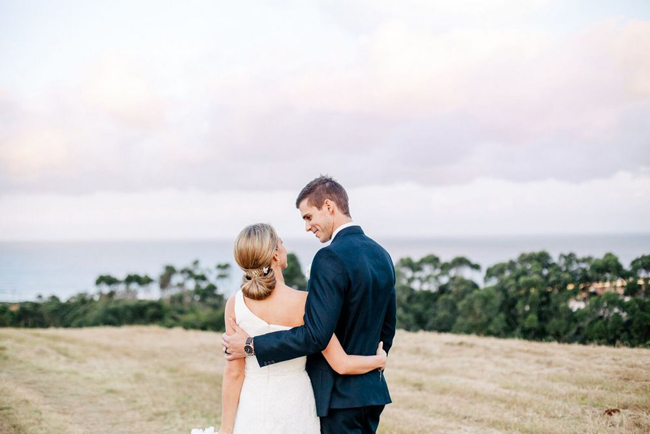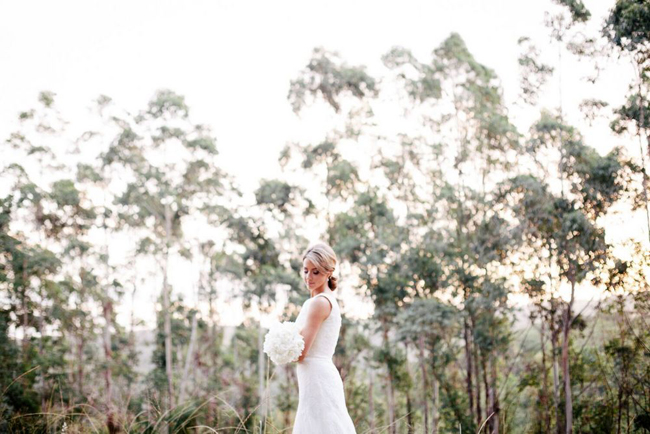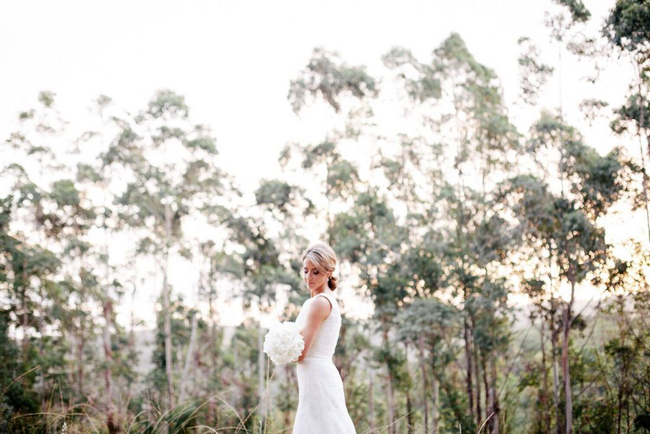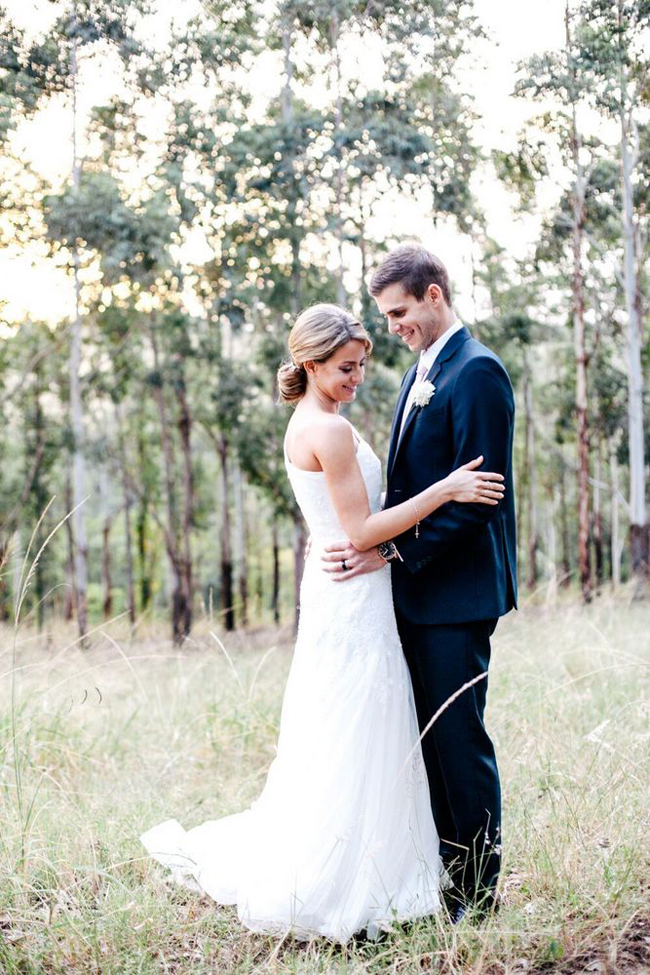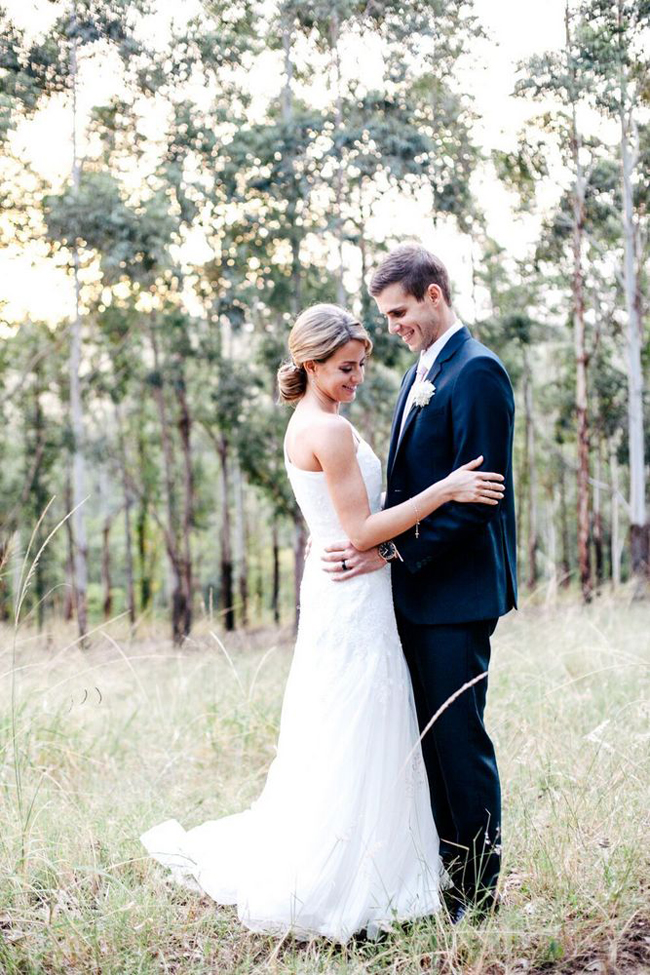 Wedding Details
Being Italian, the food was a big part of the wedding and it was also very important to Cam. We had a selection of Italian antipasti served on wooden boards, a huge Italian buffet, and a trio of desserts served to each guest after dinner.
DIY Elements
We built our own venue so just about everything was done ourselves, but one of my favourite handmade elements was the handmade Italian favours. Each of the ladies received a wedding favour called a bomboniere which were made by a local italian lady who is a special family friend. The bomboniere were filled with five sugared almonds that symbolize health, wealth, happiness, fertility and long life. The limoncello was also made by my mom and bottled in miniature bottles for each of the men to take home.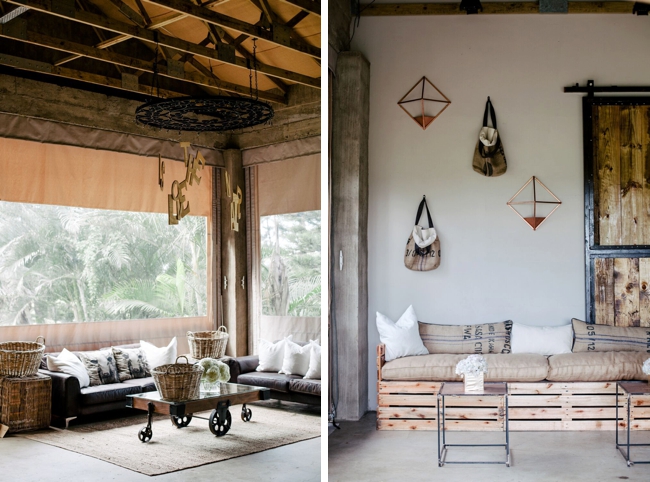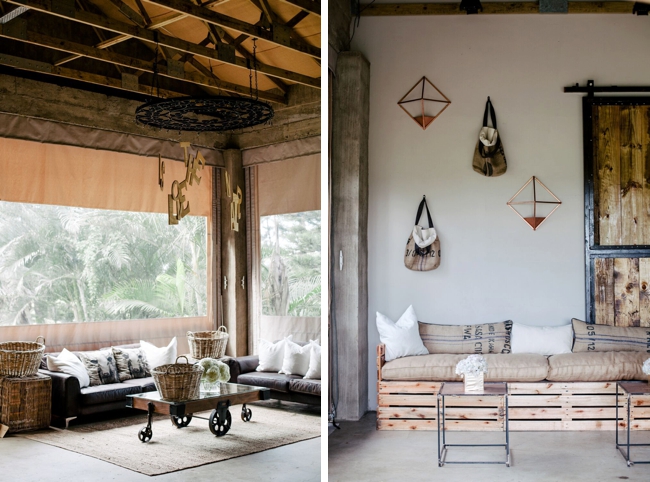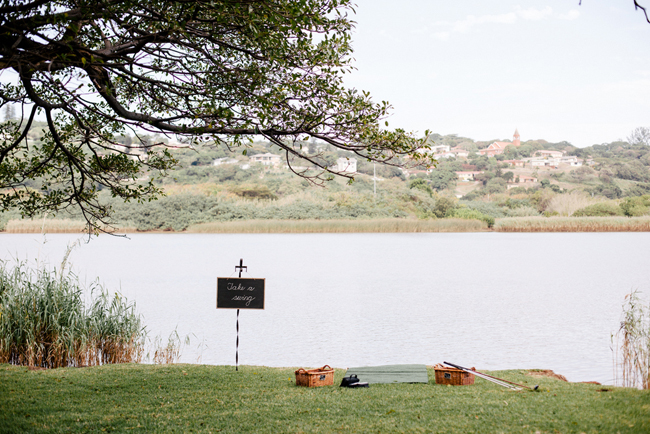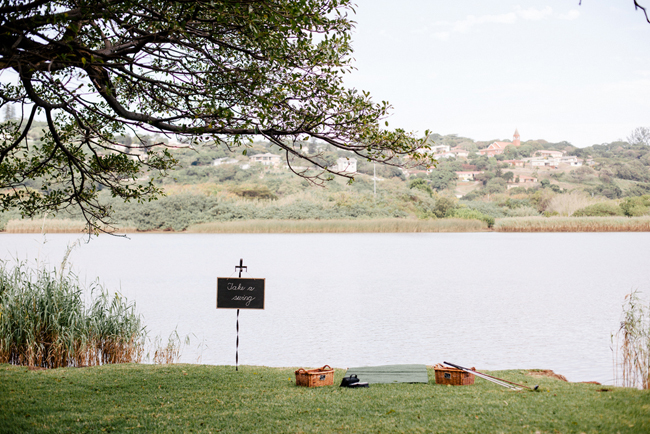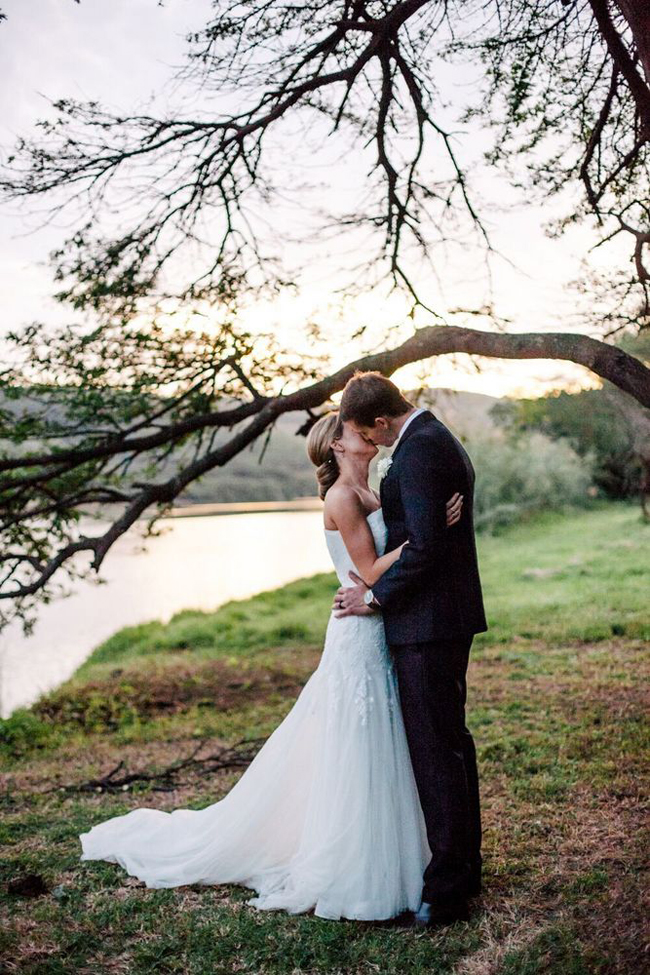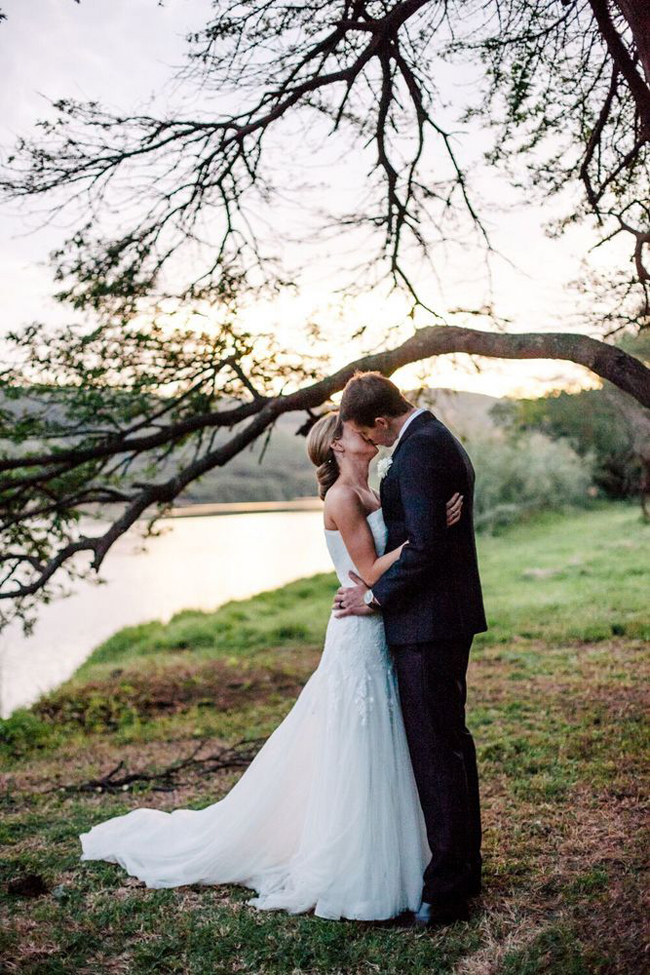 The Dress
Not only was I Iucky enough to have a Pronovias wedding dress, but I found it in Italy in the very region that my family originates from, with my Mom, both my nonnas (grandmothers), and some of my cousins. I had lost count of how many dresses I had tried on and was ready to call it a day. It was the very last dress that I tried on and everyone cried the moment I stepped out in it. Once I had decided on the dress, the seamstress took my measurements and one week later it fitted like a glove!
The Bridesmaids
I had five bridesmaids who were an absolute dream to work with. I chose five different shades of nude chiffon and went with an off the shoulder style with beading under the waist. I wanted them to look elegant and feel beautiful!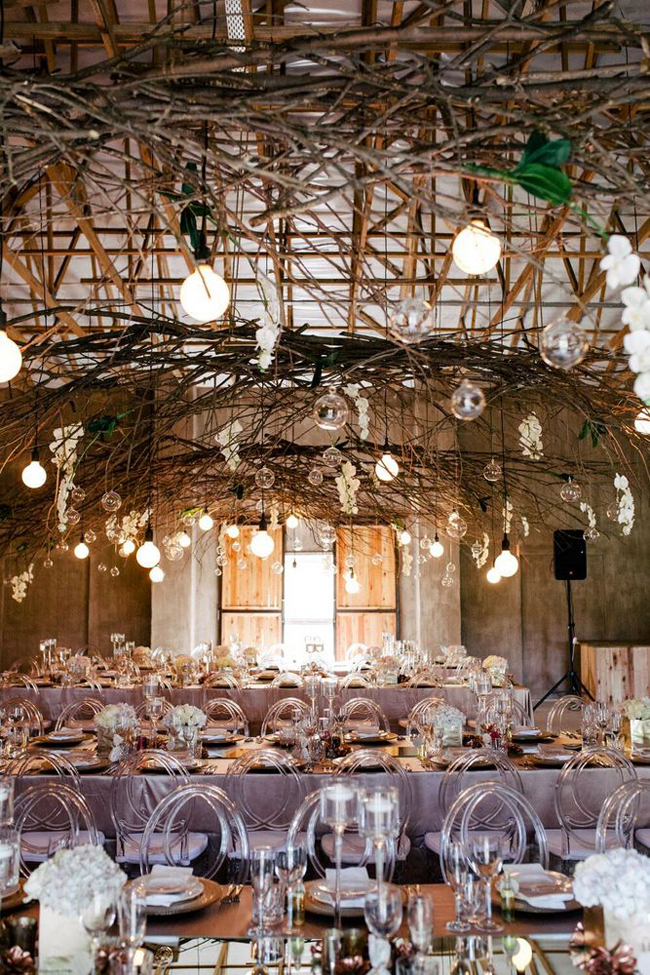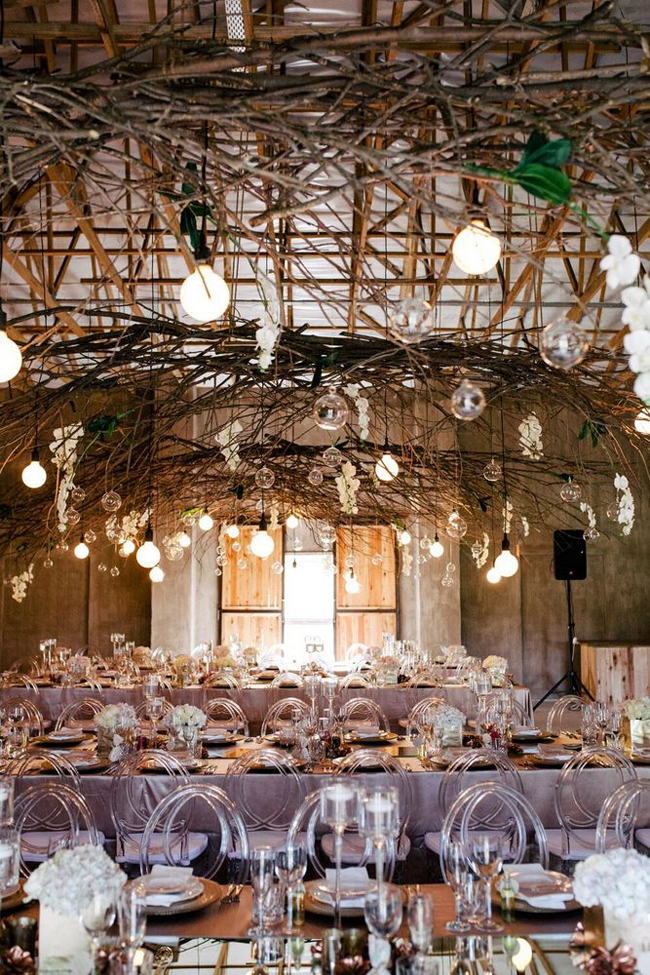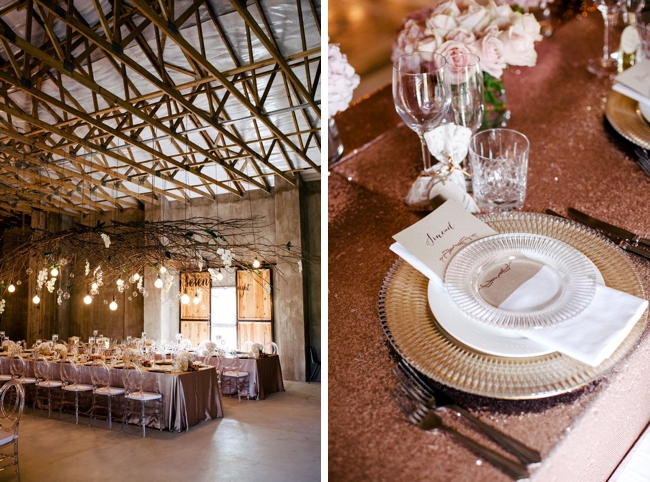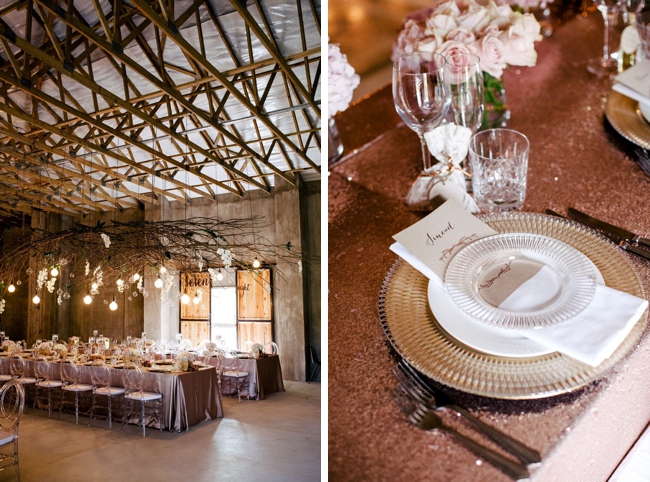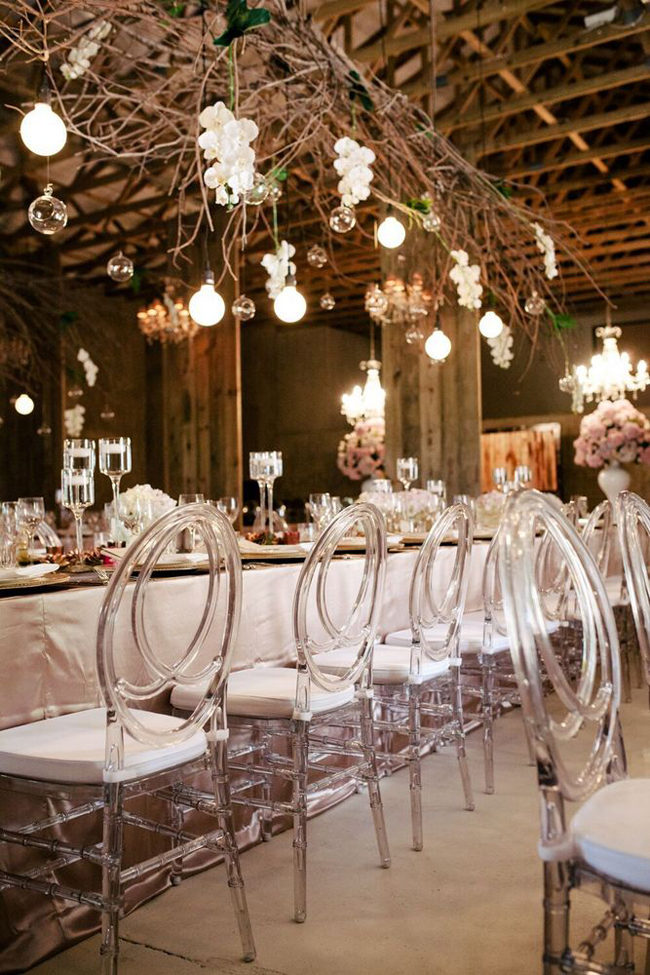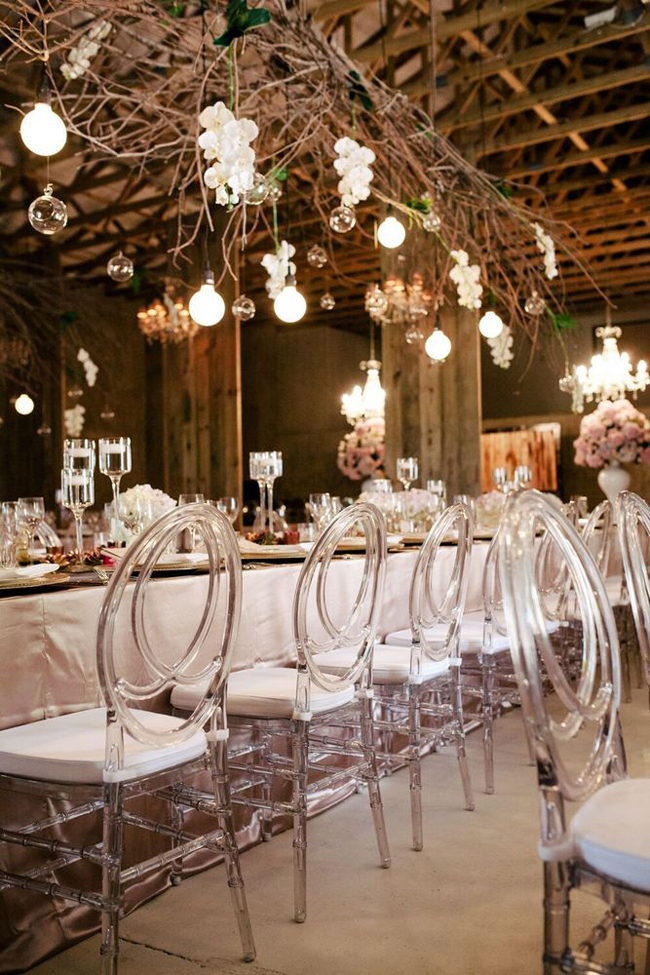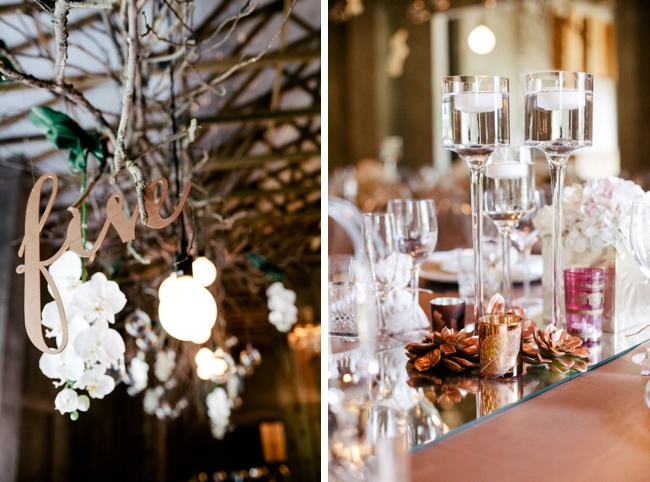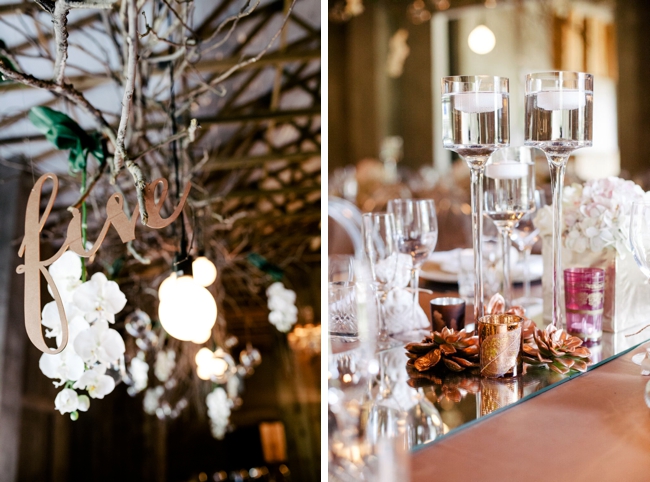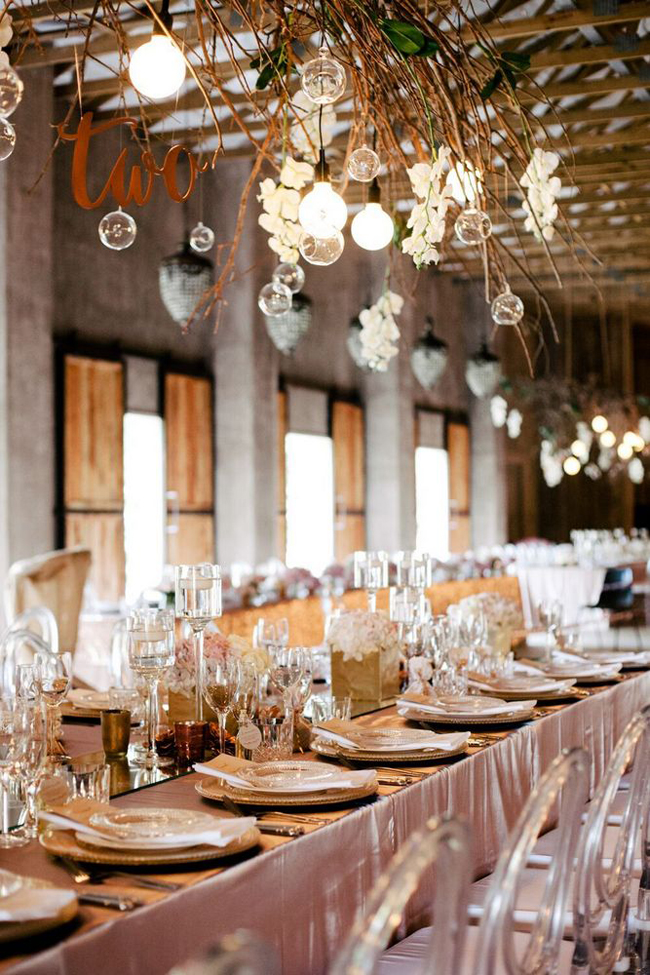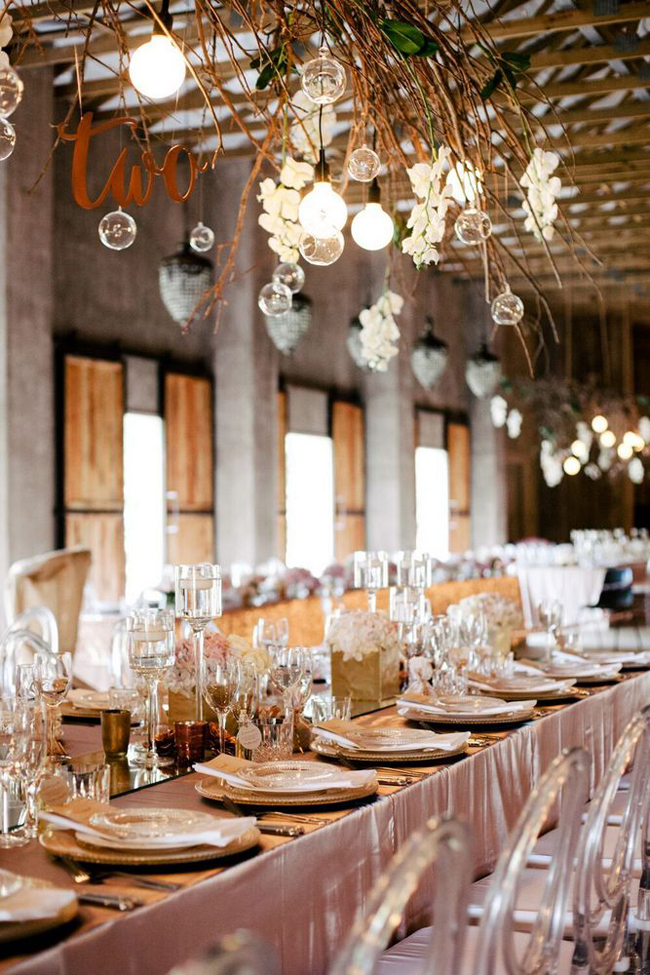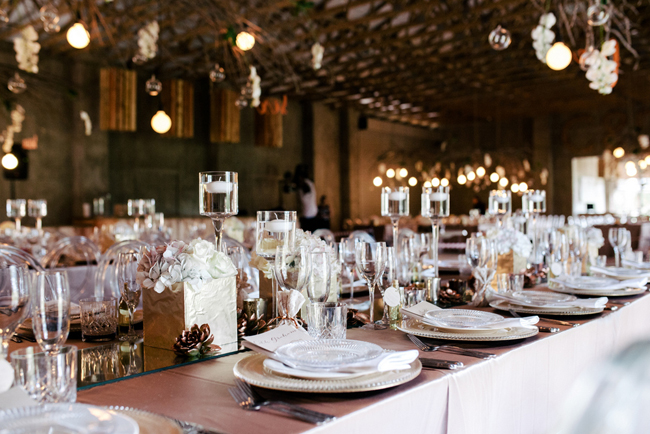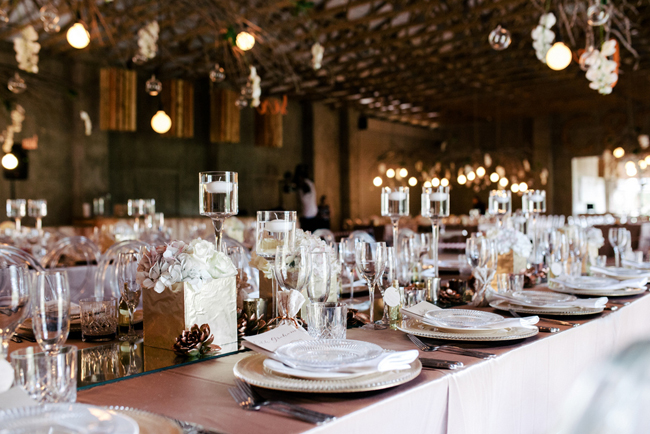 The Flowers
My wedding flowers were one of my favourite things about our wedding. I was desperate for white peonies and white hydrangeas but was constantly told that it was impossible since those flowers were out of season in South Africa during the time of our wedding. After meeting with Gideon, he simply said that he would do his best to try get me what I wanted, and specifically said that he could not promise me peonies. Lo and behold, the man is a flower god, and when white hydrangeas arrived from South America accompanied by hundreds of white roses, orchids, and my bouquet of white peonies all the way from Holland (which he kept a secret until the morning of my wedding), I was absolutely blown away! Some pink hydrangeas arrived along with the other flowers and although we hadn't planned on them Gideon worked his magic to create two huge arrangements and covered our main table with them which really complemented the rose gold table cloth that we had on our main table.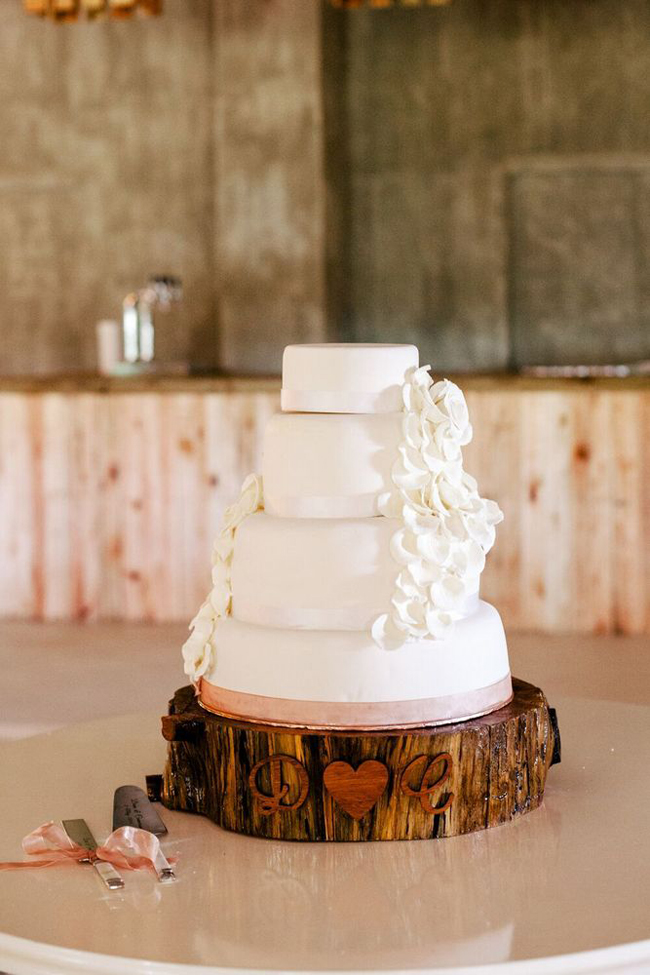 Memorable Moments
There are just so many memories but what I loved the most was how incredibly happy all of our friends and family were for us. The atmosphere was truly one of celebration and the dance floor was full the entire night!
Family Traditions
One of the most special parts of our wedding was getting married in the same church that my parents were married in almost 30 years before us and having Father Wim from Stellenbosch (where both Cam and I went to university) marry us. My Dad had his old Chevy re-done and surprised me by driving it into the living room on the Thursday before our wedding. He later revealed a 'pulpit' which was made from all of the old car parts and even had a hooter that he used to silence everyone during his speech! Cameron's Mom made our gorgeous wedding cake, and we even had my brother's craft beer on tap for the very first time! And let's not forget the hand painted dance floor with all of our immediate family names incorporated in the design.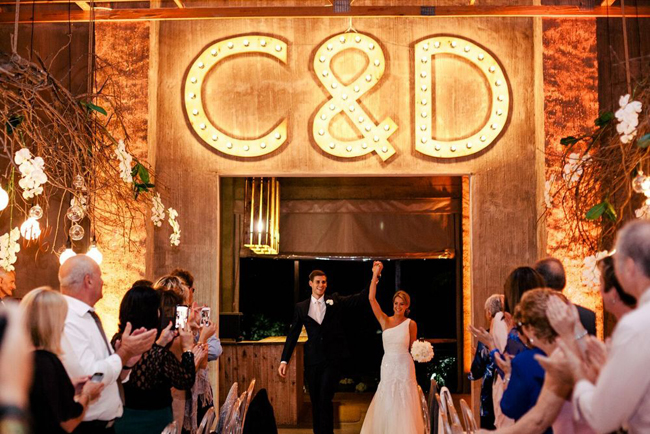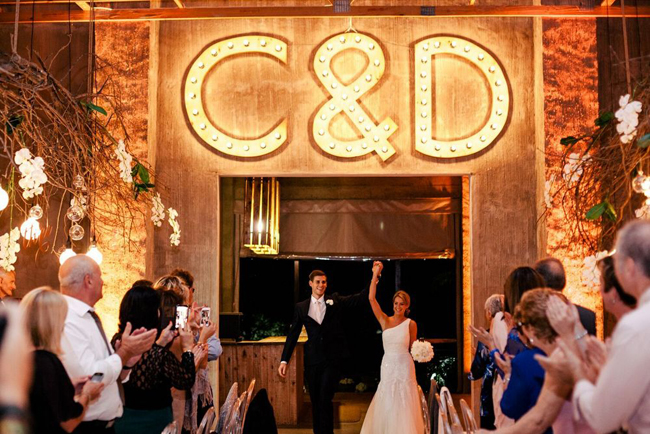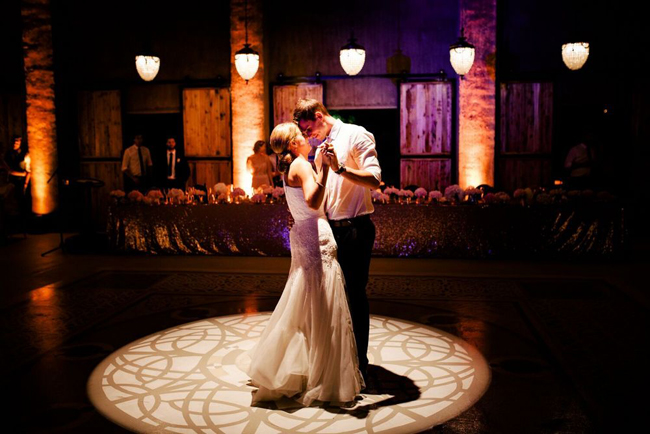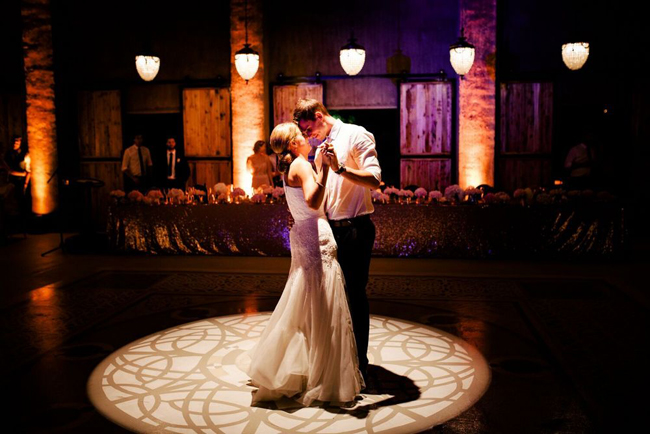 Best Decision
Deciding to do it all ourselves. We wouldn't have been able to have incorporated all the special touches at another venue and at the end of the day it was those little details that we loved the most and meant so much.
Advice for Future Brides & Grooms
Start with all of the big decisions first and have peace with the fact that you aren't going to be able to please everyone. Compromise is important. Don't forget what it's all about and take time out together… especially on the night! Cameron literally pulled me aside and we just stood in the corner together taking it all in!
You can see more from this wedding on the Vanilla Photography blog.
SERVICE PROVIDERS
Reception venue: The Venue Fontana | Ceremony venue: Umkomaas Catholic Church | Catering: Blue Strawberry | Photography: Vanilla Photography | Co-ordination: Kate Bain of The Wedding Company South Africa | Flowers & décor: Gideon's Flowers & Functions | Stationery: Crystal Print | Video: Carita McCririe | Cake: Bev Johnston | Bride's dress: Pronovias | Bride's accessories: Dean Gorrie; Mark Gold; Carla & Gabbi Pasqualotto; Belle & Bravado | Hair: Innovations Hair Co. | Makeup: Camilla Kerr | Bridesmaids' dresses: Esther Talbot | DJ: Rudi Prigge of KZN Pro Wedding DJs | Lighting: Black Coffee Design CC


Save