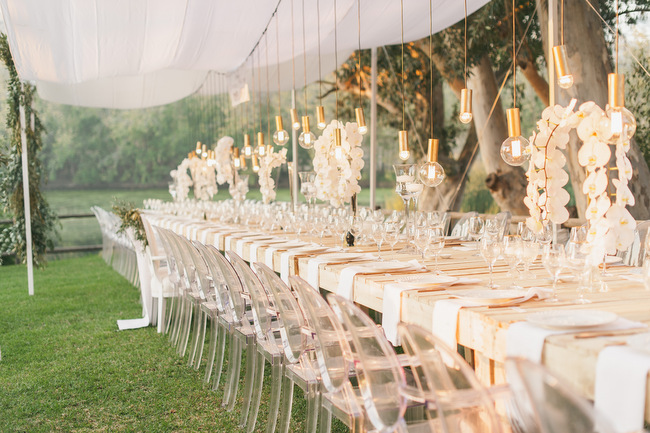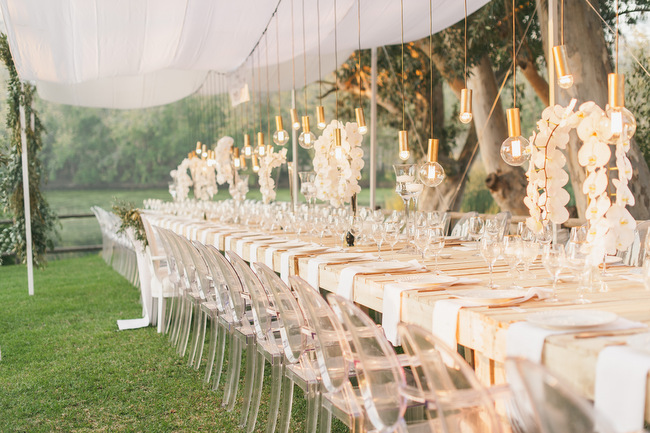 Hello lovely ones! I'm super SUPER excited today, because I finally get to start rolling out the brand new, all-singing, all dancing (okay, it doesn't sing and dance, but it's still pretty awesome) SBB Collection, our new directory specifically for venues. We've been working with the best of SA's places and spaces over the last few months, and we'll be adding them in small groups over the next couple of weeks so that you get a chance to 'meet' them all properly, before the full directory is in place. At which point you'll also be able to download it as a pretty (and handy) magazine! Yay! (Be sure to check it out HERE.) And here's one of the reasons I love our new directory so much – we've tried to make sure that the listings are not only pretty but extremely functional – we've included all the info you need to know before making an enquiry or heading out for a site visit. After all, we know what it's like – you get engaged, you see some gorgeous places online, friends are throwing recommendations at you every day… ack! It's overwhelming! And while there's the exciting stuff (the style! the features! that adorable place for photos!), it's the practical aspects you need to keep an eye on because the last thing you want to do is fall in love with a venue that's too small for your guest list, for example, or isn't available on that date you've already carved out as yours. Because let's be honest, some things are just going to be a non-negotiable, but those things vary from couple to couple. So, to help you out, we've compiled the essential list of questions to ask when researching venues (take a peek at the bottom at how our new listings answer them!).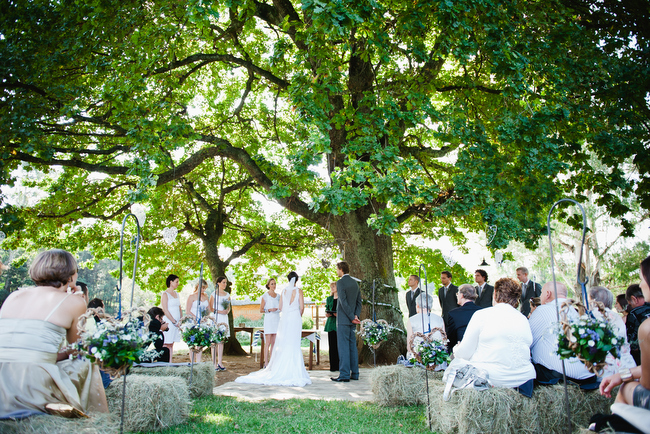 What's their capacity? There's no point in viewing venues that only cater for up to 100 people if you're planning a 500-guest extravaganza, and equally, trying to fill a huge space when you only have 20 people. (Not sure how many yet? Follow our step by step guide to writing a guest list here).
What dates are available? If you're dead set on a date or even a season, you'll want to check in with the venue straight away to find out what they have available. That said, it can be worth being a bit flexible if you adore the space – you might even find that a winter wedding is more your speed than you thought, for example.
Is the venue exclusive? Some of the bigger dedicated venues allow more than one wedding party to get married on the property on the same day, and this is something that doesn't suit all couples. Equally, if you're choosing somewhere unconventional like a restaurant, you'll want to find out about hiring out the whole space or booking a private room, and the same goes for hotels. This comes down to personal preference, of course, but it's important to know ahead of time.
What is the venue hire fee and what does it include? Both parts of that question are equally important! Many couples fall into the trap of asking one price, but each venue expresses its rate differently. Some will include major extras like accommodation, so that when you work out the full cost spread across the different budget categories, they may be more affordable than you think. Or on the other side, a venue that can sound super cost effective might require a lot of extras hired in.
Is there accommodation on-site/nearby? Here in South Africa we love our weekend destination weddings, and I'm a big fan for the drink driving aspect if nothing else. Besides, who doesn't want a lovely weekend away? But that whole vibe does get spoiled when your guests have to be shuttled backwards and forwards for long distances. Check to see what the venue offers on-site, but be sure to also ask whether there's sufficient accommodation (and at a range of price points) nearby, so everyone is catered to. Another thing to bear in mind is that if you're far enough away from a major city, your suppliers will also have to be given accommodation, so include them in your planning.
What is the closing time/noise policy? This is a big one for SouthBound couples – we know you love to keep the dancefloor open all night long! Many venues offer a closing time with an extension option, but some are limited by local noise restrictions, so be sure to find out upfront.
What are the indoor/outdoor alternatives? We do love an outdoor ceremony and an al fresco reception, it's true, but the fact is that rain (and wind, and chill) can get in the way, no matter the season. Make sure that your venue has a Plan B that you like, even if you spend the next year praying you don't have to use it!
Who is the contact person? One of the things that makes many of our favourite venues stand out is that they are owned or staffed by the most incredible people, who will go the extra mile to make a day special for their brides and grooms. Get to know them early – they will be your new best friend!
What are the ceremony options? Nowadays, many couples are choosing to get married on-site, as opposed to a church but if you're still looking to go the traditional route, you'll want to make sure your venue is in a short driving distance from your ceremony. Even if you do opt for doing it all in one place, you might have a choice of outdoor locations and indoor spaces or even a chapel. Make sure you know all the options that are available.
Do I have to use an in-house caterer/bar service/other service providers? Sometimes it can be a relief to have a list of suppliers given to you by a venue – they know and trust these folks, and it can make your life a lot easier. Many of the caterers attached to SA's best known venues are truly amazing. But if you have your own ideas of who to book, or if you'd like to explore options like corkage instead of using venue-provided wines (not an option at most wine estates, obvs), you'll want to discuss that upfront.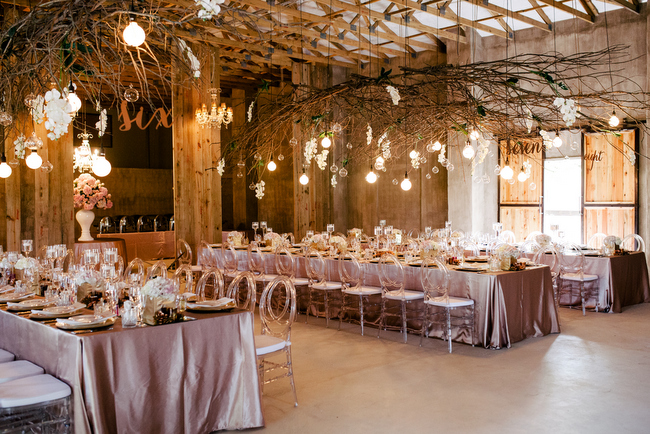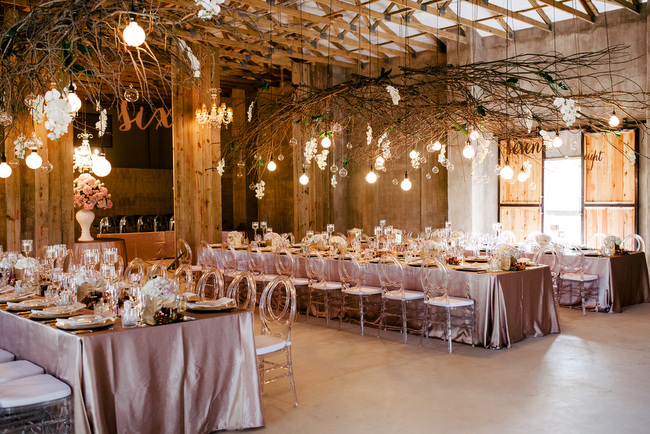 So, how do our new listings help to make the whole thing easier? Check out our little infographic below to see where you'll find the answers to each of those ten questions – and more of course!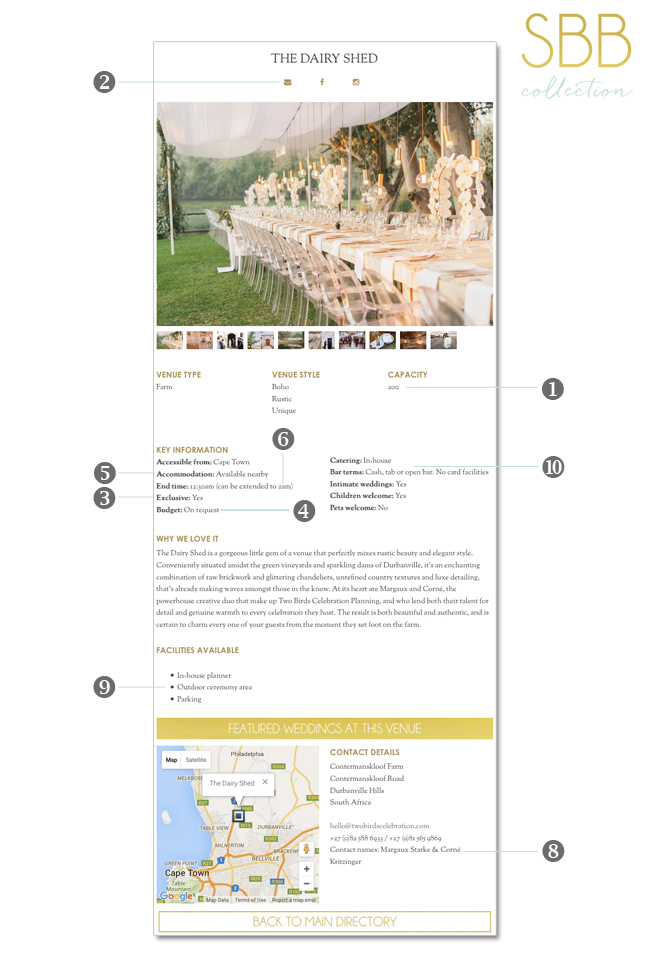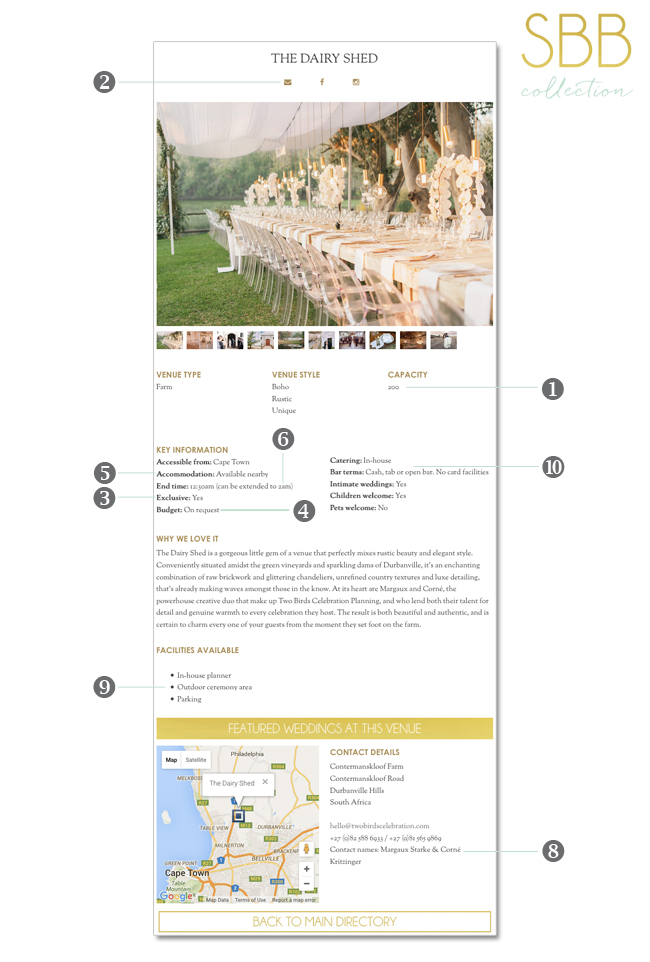 Capacity: The venue's max capacity is up front and centre
Availability: One-click contacts so you can ask about dates
Exclusivity: Easy to find – most of our venues are exclusive, however
Budget: For ease of use, most of our venues are ranked by low ($), middle ($$) and high range ($$$), but do enquire for full details
Accommodation: Details on-site and nearby
End time: Given, plus extension option
(and 9.) Facilities: Both ceremony (indoor/outdoor) and other facilities detailed here
Contact names: Don't forget to use them!
See 7
Catering/bar services: Terms in brief
Some other features I love? A gorgeous image gallery, a map alongside the physical address details, type and style details, a link to real weddings in our archive at each venue, and a short rundown on why we chose the venue to be included in our collection. Each has something really special about them (or many somethings!), and this is where we tell you, in our own words. So… what do you think?
Need more advice on choosing a venue? Follow our complete guide HERE or just download our handy worksheet HERE.
Images: 1- Angelique Smith Photography/The Dairy Shed; 2- Brightgirl Photography/Cranford Country Lodge; 3- Vanilla Photography/The Venue Fontana