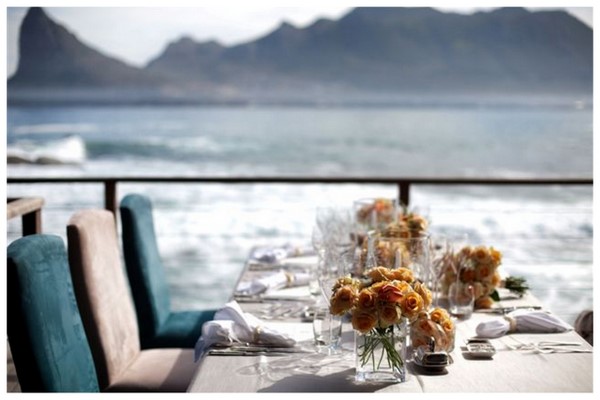 Source: Mehtap & Paul's Tintswalo Atlantic Wedding (Photography: Zarazoo)
Hey hey, it's Friday! And it's the best kind of day for me, as I'll be heading over to Cambridge as you read this so I can attend my lovely friends Kerenza & Matt's wedding. Yay! Not only do I love weddings, but Kez and Matt are the loveliest. Anyway, never fear, because not only do I have a lovely bonus inspiration board for you this afternoon, but this morning I'll be leaving you in the very capable hands of my friend Theresa of Creation Events. Theresa is a full service wedding c0-ordinator based in Cape Town, and as one of our treasured SBB sponsors, I've been keeping a close eye on what she's been doing this season. Recently, Theresa has been sharing her extensive expertise in planning on her own blog in a series of 'how  to' posts, and I've convinced her to share one of them exclusively with you here today. And it couldn't be a more important one, since the venue is the cornerstone for any design you are going to put together, and probably the first thing you'll book after saying 'yes'. Over to you, Theresa!
PS You can download a free worksheet to help you follow Theresa's advice in this post HERE
*************************************************************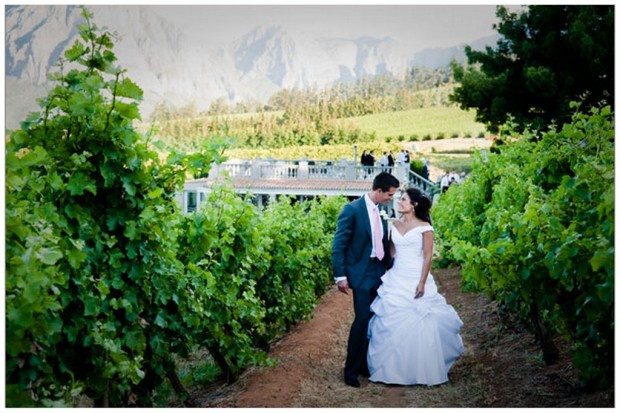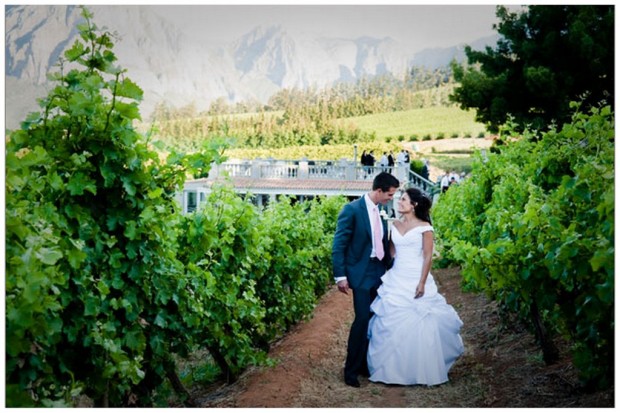 Source: Ine & Riaan's Wedding at Clouds Estate (Photography: Lauren Kriedemann)
One of the first things on any Bride's "to do" list is finding and booking a venue. This can be very overwhelming as there are so many out there and they all offer a different package. Therefore, it is really import to do your homework well beforehand. Here are a few tips to help you make that very important decision.
First of all, decide in which area you would like to get married. In other words do you want a country wedding, a winelands wedding, a city wedding, etc. Find out which venues are available in that specific area. Talk to your fiancé about: indoor vs outdoor ceremonies, traditional church ceremonies vs alternative unconventional areas, tented receptions vs a reception hall, and seasonal preference. If you do not have a clear idea of this you might end up looking at fifteen possible venues all over the province and drive yourself close to insanity!
Secondly, determine roughly the amount of guests that you will be inviting. There is no point looking at a venue that you can't have because they only cater for 50 guests and you are inviting 120. In the same breath, you do not want to book a venue that caters for 300 guests and you end up having to fill the venue with hired props to make it look full and cosy.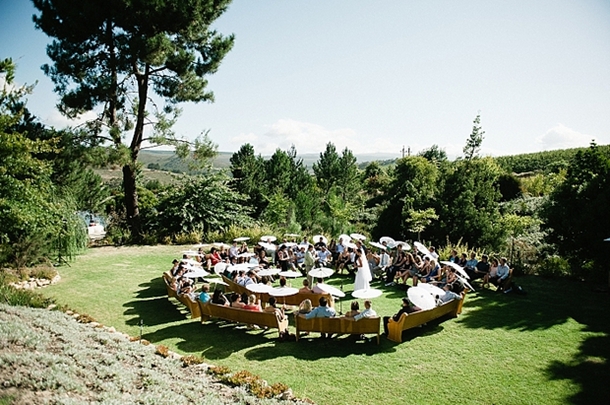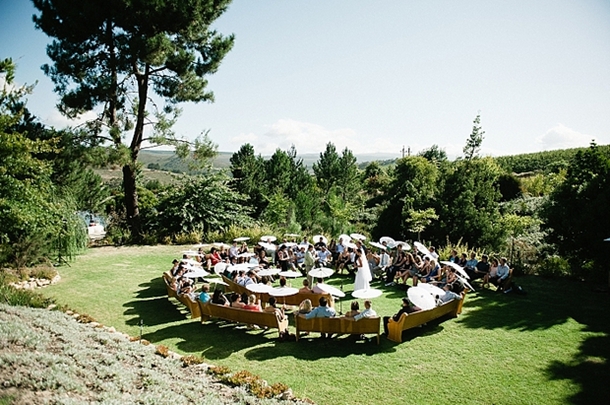 Source: Amé & Karel's Wedding at Old Mac Daddy (Photography: Love Made Visible)
I would recommend initially only viewing five venues. Often the venue actually finds you and you not the venue. It truly is a 'love at first sight' kind of thing. ☺ If you are a little more budget conscious (and let's face it, most of us are), decide on three potential venues and compile a budget for each of them, taking into consideration what each offers. You may just be pleasantly surprised that the venue which initially looked the most expensive could be the most cost effective overall as it includes everything you need on the day.
Some aspects to consider when viewing a venue:
Does the venue offer adequate parking for your number of guests? How far is the parking from the reception venue? Is the path and parking area adequately lit?
What is the venue's noise policy? If your guests are a party crowd, a midnight shutdown might not be ideal.
If you are considering any outdoor areas during the event, make sure the venue can offer a 'Plan B' in case of bad weather.
Are you happy with the interior style of the venue? It is always better to rather enhance what the venue already has than trying to change the venue into something it is not. Trying to change the venue often ends up being very expensive and if not done 'all out' could look aesthetically out of place.
Are all the areas easily accessible by all the guests? It might be an exquisite experience to let guests walk through a vineyard from the ceremony to the reception, but make sure your granny or Uncle Roger (who is in a wheelchair) can join in the fun or at least is taken care of.
If you would like a traditional church ceremony, how far away are the closest churches/chapels from the reception venue? Make sure you are aware of the church policy with regards to different religions. Also some religious establishments have very specific terms and conditions with regards to decorations, flowers and candles.
Enquire if the venue includes any accommodation in their package, as well as what alternative accommodation the area offers. If you do end up including a list of accommodation suggestions in your invitation, make sure there is enough to suit everyone's pocket. Many venues do however include a certain amount of accommodation in their package, which is a great help when it comes to the overall budget.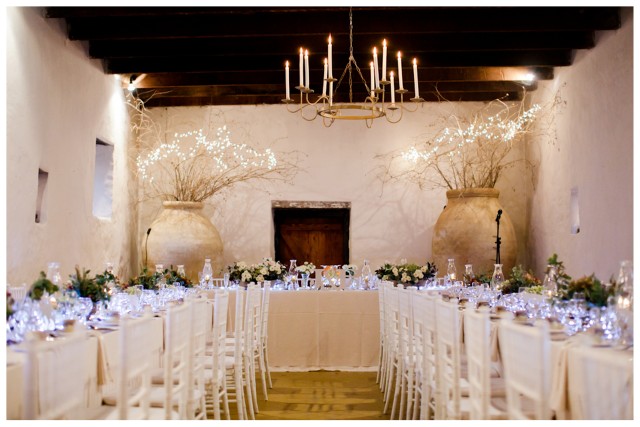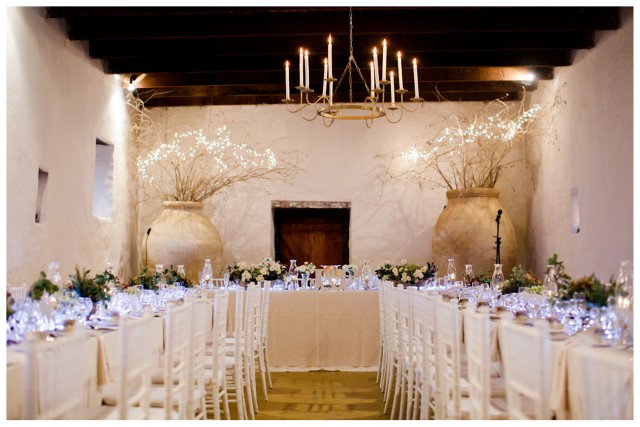 Source: Elmarie & Jacques' Langverwagt Wedding (Photography: Vivid Blue)
Once you have shortlisted your preferred venues and are ready to compile comparative budgets, make sure you go through the various venue packages with a fine tooth comb as often they have additional costs that you may not have noticed on your initial glance at the contract. Some of the things you need to look out for are:
Are there additional fees for hosting the ceremony on the property
Does the venue supply enough tables, chairs, basic linen, glassware, crockery and cutlery for your amount of guests
Are you happy with the quality of the venue's tables, chairs, glassware, crockery and cutlery? If a venue does not replace their stock after a few seasons it can look worn and shabby and you may feel that you would like to hire better quality equipment. In the same breath also make sure you are happy with the aesthetic aspect of what venues offer. You and your groom might like a lovely big wine glass and the venue's standard range may be smaller than you would like – be prepared and know early on that you might want to hire your own glassware for the wedding.
Pay attention to the venue's staffing policy and make sure they have enough staff to cater for your guests. I always recommend 1 waiter to 8/10 guests, although you may be able to have a couple less if you are going to have a buffet meal. Also ask about who will over look the set-up before guest arrival and who will run the logistics on the day. Many venues include a coordinator but they tend to focus on the service of the kitchen and not necessarily on the wellbeing of the guests. You may want to consider hiring an external coordinator to run the logistics on the day and would therefore need to add this additional cost into the budget.
Most venues only work with preferred caterers. Make sure that the kitchen hire is included in the price. Also make sure you are happy with the quality of the catering – try getting references from previous couples.
Check the venue's bar facility and what their terms are, especially if you would like to serve a particular wine or beverage.
If you know your guests are going to party huge, inquire about the venue's overtime policy. Include the overtime expense into your budget from the beginning. (Keep in mind that your staff and entertainment suppliers will also charge overtime and, if charged to the main account, the bar expenses will also increase.)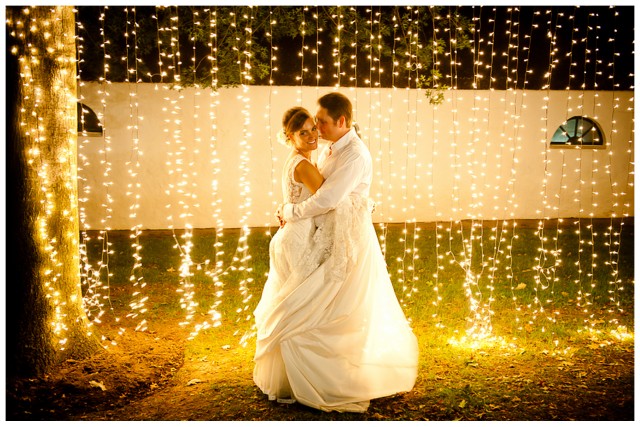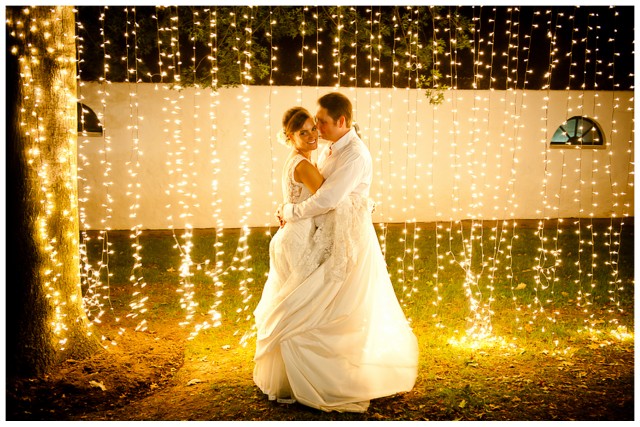 Source: Stacey & Greg's Wedding at Rustenberg Estate (Photography: Lauren Kriedemann)