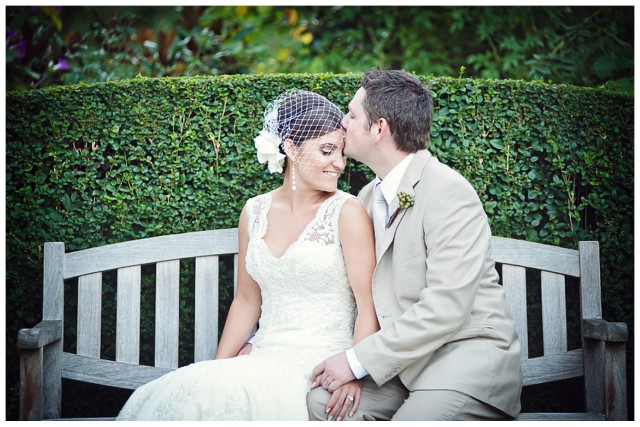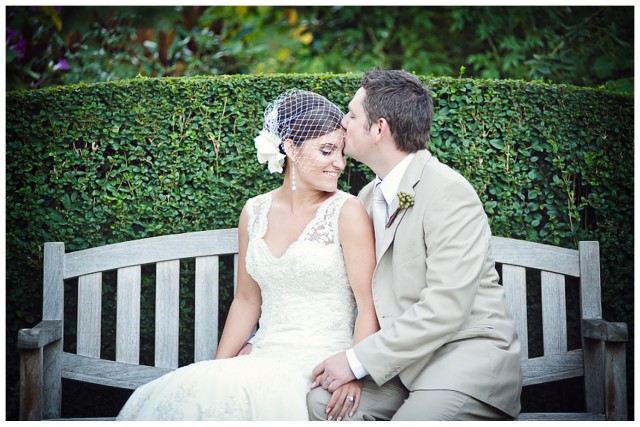 There's just something about a garden in summer, isn't there? I came back from South Africa to find my housemate and his mum had been hard at work and ours looks amazing, all lush and green and dappled in sunlight. And in the evenings (which are long), it's the perfect place to sit with a glass of wine and some dear friends and talk until it's dark. Stacey and Greg's Rustenberg Estate garden wedding captures that feeling, and turns it into the most gorgeous mixture of elegance and romance. I'm in love with the way that they mixed fruit and flowers on their table in beautiful platters and vases (all the different heights and textures are such a feast for the eyes!) and I'm in LOVE with the way that the amazing Lauren Kriedemann has so beautifully captured every last detail – I feel like I could step into these photographs, hear the laughter and chatter around the koi pond, smell the roses, taste the wine. Enchanting, intoxicating. I may have gone a little overboard on the pics, but there was just too much pretty to cut down! PS This was only the second event at Rustenberg Estate, a must-check-out new venue in Stellenbosch. Oh, and PPS future Cape brides: Stacey and her friend have just set up a new event lighting company called Let's Get Lavish, so head over to their Facebook page to find out more. 
From the lovely Stacey:
Greg, an electronic engineer from Joburg, and I, a BA airhostess at the time from Cape Town, met at a party, to which, funnily enough, we were both unwillingly dragged. I sat in the corner with a bottle of bubbly wanting to be left alone, but of course, once spotted by Greg… he obviously thought the opposite! I wasn't all that nice to him but apparently he loved the challenge. Two weeks after having my number he finally called and we went on our first of many dates. As we now live back in Cape Town, Greg decided to propose in Joburg as he knew I would never think it would happen there. I had planned our usual once-a-month dinner with my best friend. She mentioned that there was this new estate called Tintswalo Hotel and Resort and albeit pricey, she really wanted to try it. This was all part of Greg's master plan. Our friends called to say they were running fifteen minutes late and we should have a drink in the meantime. Upstairs on the deck, the cocktail menu arrived and the first page inside was printed with "Will you marry me?" A private dinner and the luxury suite was booked for us and there were petals and candles and champagne EVERYWHERE! Our friends never showed up ☺
Our wedding was simply a romantic summer garden fiesta. A dash of vintage, lots of champagne, a live band around the koi pond and guests in colourful summer attire (including my bridal party in creams, earthy neutrals and dusty pinks). The venue was approved from the moment we set foot on the farm. Rustenberg Estate has lavish gardens, dense, tall trees, pristine lawns and flowers of every imaginary colour. The ceremony and the reception was held in the gardens, and just being there with family and friends while the sun set was one of my favourite parts of the whole day.
The entire wedding was an expression of our personalities. Relaxed, funny, colourful, soft, elegant, vibrant, love. Greg, being an engineer, hardly ever has spare time, so I got to do the whole wedding! I made plenty little hand-made goodies myself as I love that personal touch. From small hanging hearts off the back of the chairs to "S" and "G" painted letters hanging from trees. I also made the seating plan and menu myself.
My advice is to start planning as early as you can! Even with a co-ordinator, weddings are like having children – there is so much advice, but no one can really prepare you for how much there actually is to think of constantly and do. Calm as you may be, watch out for that last week! On the up-side, though, you'll lose weight – fast! ;)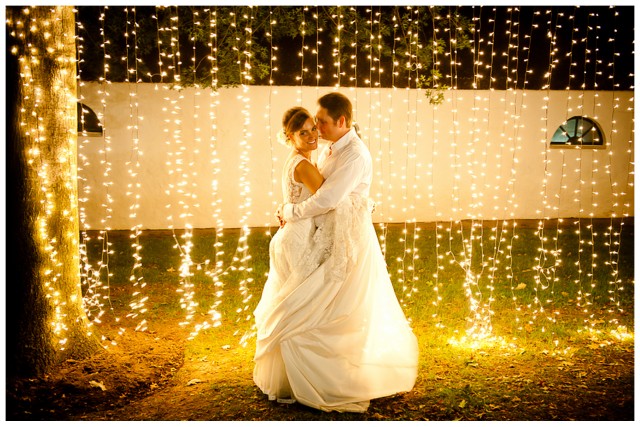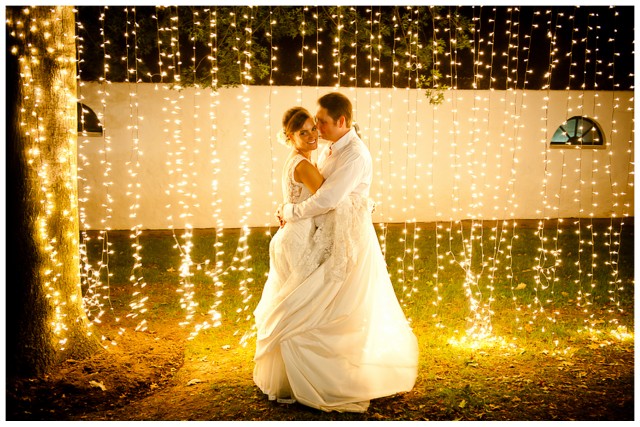 Thank you so much for sharing your day with us, Stacey & Greg (and Stacey, I look forward to seeing your lighting work again here on SBB!). And to the lovely Lauren, thanks also! You can see more of her amazing pics from this wedding on her blog.
SERVICE PROVIDERS
Venue: Rustenberg Wine Estate | Catering: Dish Food & Social | Photography: Lauren Kriedemann | Co-ordination: Barry Geyer for Event & Design | Florist & decor : Die Gieter | Cake: Neelie | Stationery: Event & Design | Bride's dress: Mayers | Bridesmaids' dresses: Forever New | Hair & makeup: Sebastine Pepler | Band: True Blu | DJ: Andy of Cape DJ's