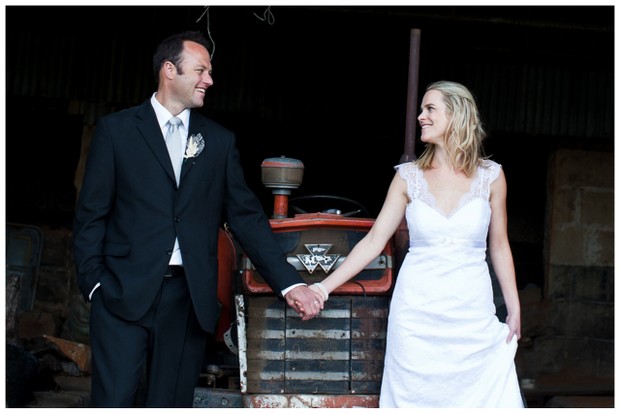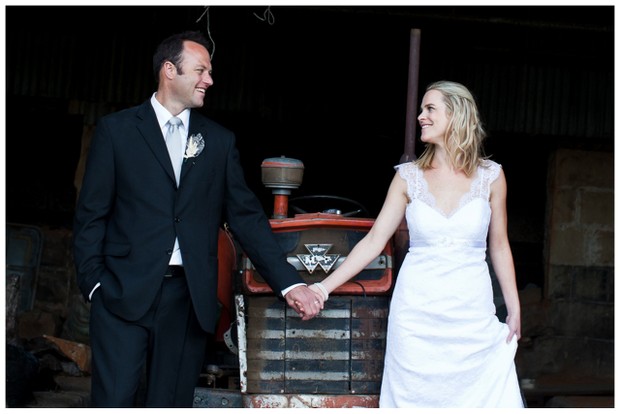 I think one of my favourite parts about working with real weddings every day is hearing the 'how we met' stories. That unique conglomeration of circumstance that puts two people in one place, at one time, on the same page, in the same headspace, where they can fall in love. We're funny creatures, human beings, full of sharp corners and rough edges, so it's pretty incredible to me sometimes that this happens at all. But it does. Every day. It's like a series of tiny miracles. And some of my favourite stories are of the people who don't see each other across a crowded room and immediately: thunderbolts; but rather find that timing is everything. Nick and Nicola are one of those couples – I don't know them, but based on the fact that we were all at Stellenbosch at the same time, I'm pretty sure I bumped elbows with both of them at the Terrace at some point or another. They were just friends. And then, one day, they were more than friends. Another tiny miracle. There's so much happiness in these lovely pictures from brand new SBB contributor Kiekie Photography (welcome, Schantel!), and all the fun of a rustic, family-oriented, down-home barn wedding. And I love the little details, especially the light-hearted chalkboard quotes. To paraphrase one of them, moments like these are avocado bits in the salad bowl of life. Enjoy!
From the lovely Nicola:
Nick and I met at Stellies Uni and were friends for years. He was a very wild student and I was no better! So a meaningful relationship was not on the cards for either of us then. We both lived in London for a few years, so were in and out of each other's lives – in fact Nick and my brother were housemates for a while. When I moved to Cape Town from Johannesburg, Nick was one of the friends I called to give me some direction in terms of career prospects, as we both happened to be in Property Development at the time. It was amazing for us, how our friendship of thirteen years suddenly changed in a heartbeat.
The proposal was incredible! Nick took me to Franschhoek for the day/night (where we first got together at our good friend's wedding). After a day of wine touring and lunching, back at our cottage, he hugged me tight and asked me to marry him. It was the most surreal, incredible moment of our lives! Such a high!
We were very blessed in that Nick's family have the most amazing farm in Clarens, with a rustic barn that had previously been used for weddings, so when they offered it to us, we jumped at the chance. Nick's parents did major renovations, and were such stars working round the clock to get it looking as magnificent as it did. Clarens is a special place for us, not only did Nick grow up there, but after spending holidays with him and his awesome family, hiking on their farm and getting to know the friendly locals, I would move there tomorrow, I just love it!
There were loads of fun, quirky things that gave our wedding personality. The overall design was unfussy, laid back, rustic farm style, along the lines of shabby chic. The flowers were wild farm flowers with a few extra shipped in, very simple groupings in bottles and jars. Hessian and lace were the overall look and feel. We wanted authentic farm décor, so Nick's very creative sister trawled the farm looking for implements to use. She found an old rusted bath to keep the drinks cold, an old hoe and tea garden sign. They chopped down trees to make benches and seats for canapés.
My mom was an absolute champion, getting 'work parties' together to make the décor (for example, her friend made big oak cheeseboards, they tied ribbons around bottles & jars, cut out birds, etc.). The week before the wedding was a highlight – our two families had to muck in to get the barn ready, so my brother was getting blisters from chopping sandstone for the garden path, my dad was hanging lanterns and mom was best friends with the glue gun! We had 'action meetings' on the farm stoep every morning, which were hilarious! Nick's dad cracked us up. And when our bridesmaids and groomsmen arrived a few days before, it heightened the excitement even more! The girls worked like Trojans and the men got stuck in too, literally arranging flowers! Everyone was amazing!
The ceremony was incredibly moving and special to us both. Being Christians, making our vows before God was sacred and unforgettable, and having our pastor from Cape Town marry us was very personal. The music was most definitely a highlight too – we flew in an incredibly talented band that we love from Cape Town and they rocked the barn. Live music gave the party such a vibe! Our special friends and family danced well into the night – it was such a celebration. And we loved the photobooth, a fun addition.
I searched a lot of wedding blogs and copied images of themes I liked and tried to incorporate these. But at the end of the day, don't stress the small stuff, the day is so amazing and your wedding will have your unique personality. Your wedding takes it's own shape as the weeks progress, hiccups happen and you just re-adjust to where it's headed. It always, always comes together in the end. Everyone is so full of love and goodwill towards you and genuinely wants to help.
Congratulations Nick and Nicola! Wishing you a wonderful life together. And big thanks to Schantel – you can see more of this wedding on the Kiekie blog.
SERVICE PROVIDERS
Venue: St Fort Farm, Clarens | Catering: Granaat | Photography: Kiekie Photography | Co-ordinators: Graham and Leana | Cake: Valley Bakery, Drakensberg | Stationery: Vix Harris of Jensen Harris | Bride's dress: Debbie Henshilwood | Hair & makeup: Lauren Marshall | Hiring: Hernel Funksie Verhuring | Band: Me and Mr Brown