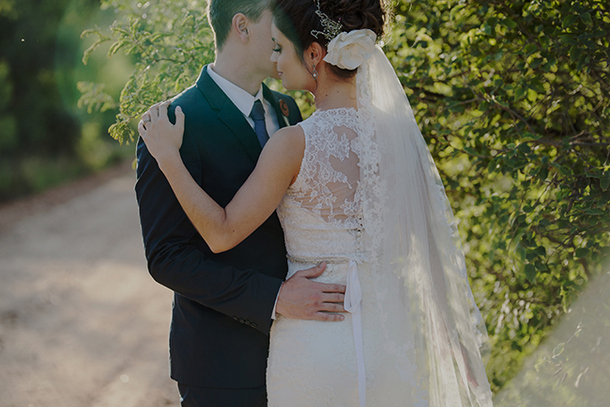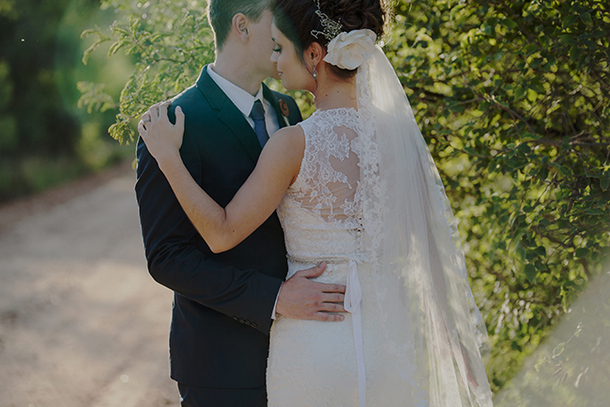 I'll tell you why today's wedding really has my heart, you guys. I mean, we all love some classic South African country vintage decor – proteas, and succulents and lace. Add in bold navy stripes and a sense of bringing the outdoor in with woodsy details like moss and raw wood, and you have a gorgeous wedding design. But what I really love (and this won't come as news to any of you who have been reading SBB for more than five minutes) is that the conception of this pretty, pretty colour scheme and set of details was based entirely on the couple's personalities and tastes. Which in my book, is pretty much everything a wedding ever needs to be. That attention to detail reaches right on down to the choice of wine, and includes a SUPER romantic gesture by the groom during his speech – a song written just for his bride. Swoon. So there you go. Navy, sage and blush and love all over. Captured to perfection by GingerAle Photography!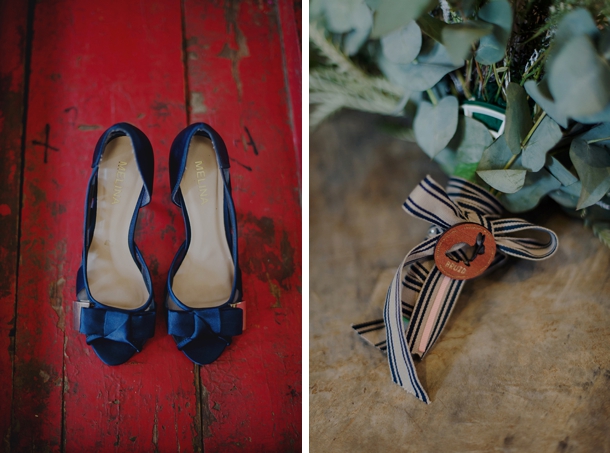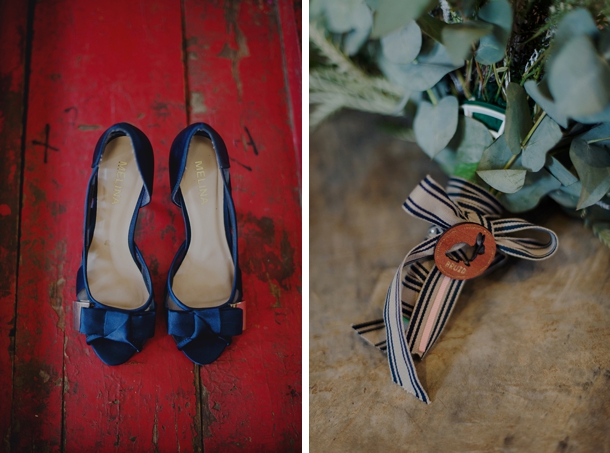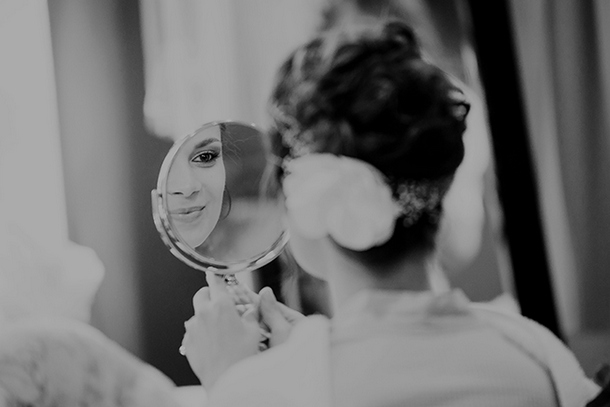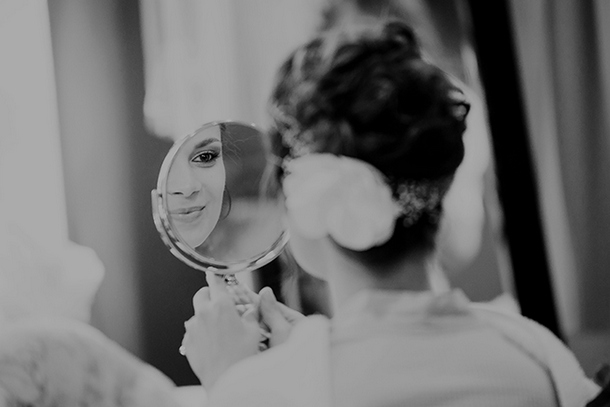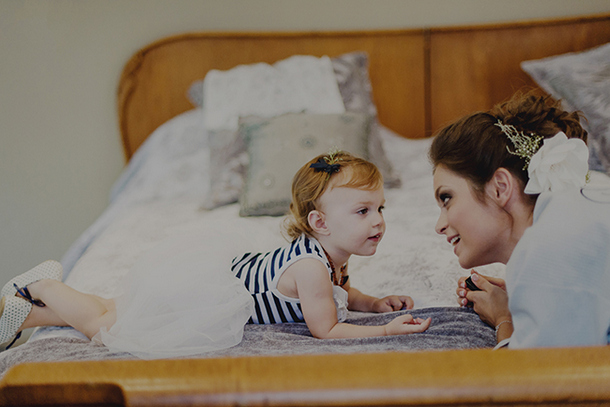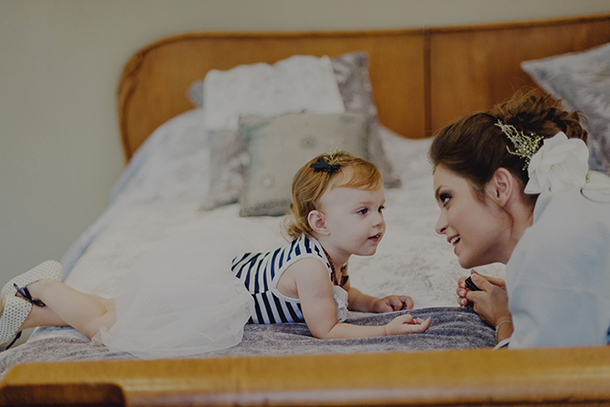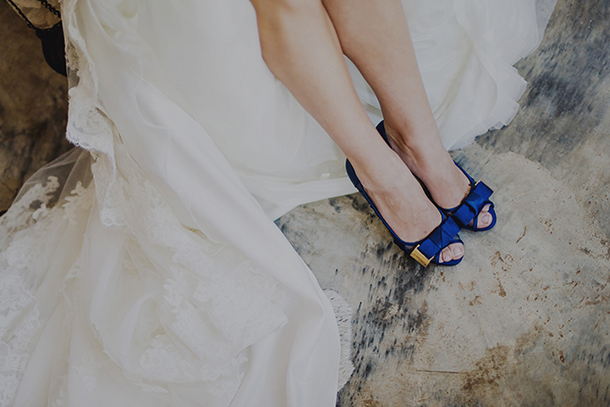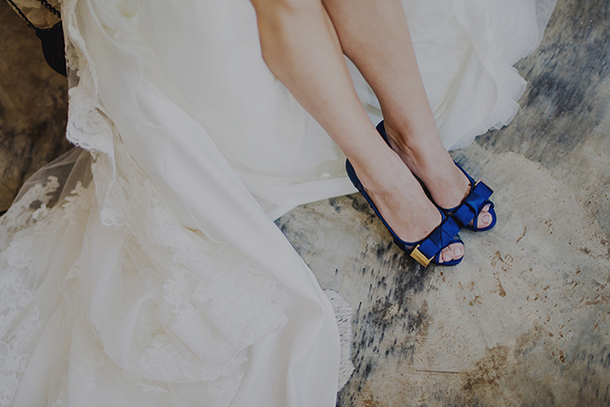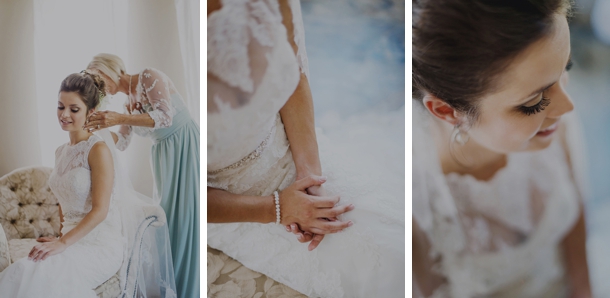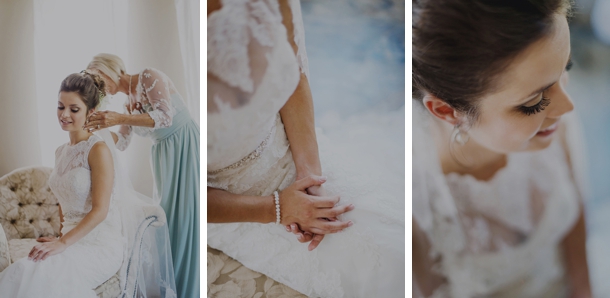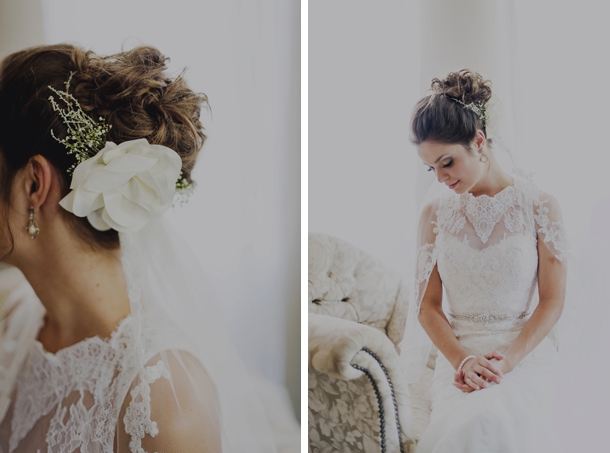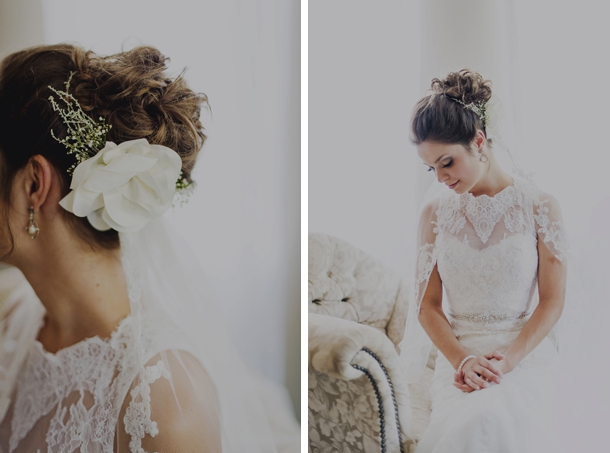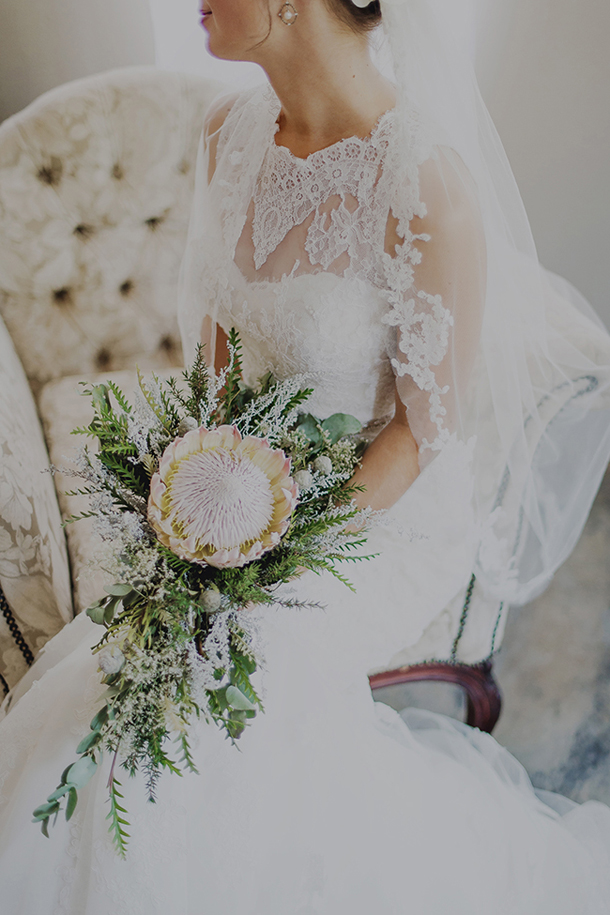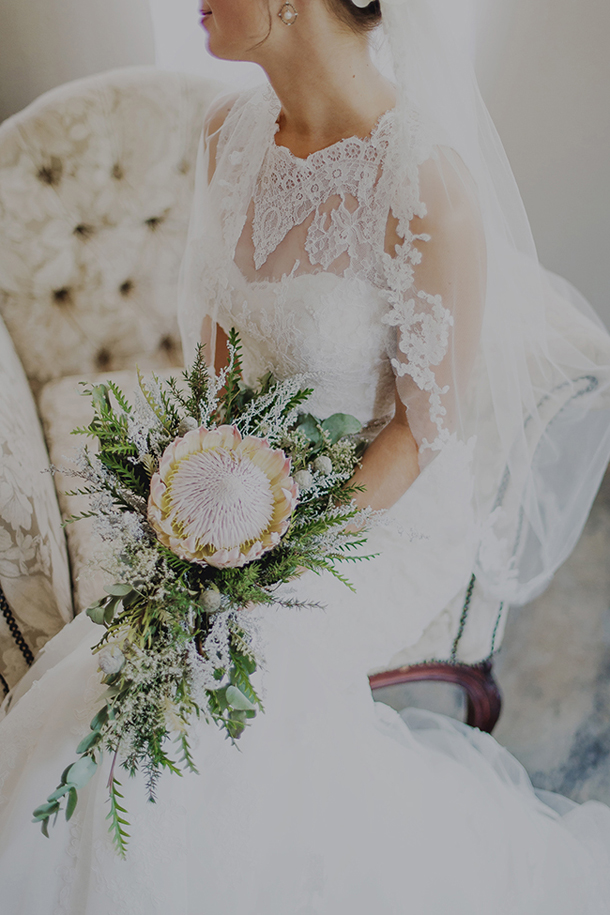 Love Story
Our love story started in a rather unusual way. One can talk about the where, the what and the why but to sum it all up: I thought I knew him and half jumped, half hugged, half screamed at him on the corner of a road. To me he looked rather familiar and without even doubting I greeted my 'long lost friend' in a way only an excited 17 year old girl could. After the embarrassment of realising that we had never met before, we did the obvious and introduced ourselves to each other. From there an amazing friendship developed. A friendship that took two years to develop into a fun, trusting, loving, spontaneous, poetry-filled romance.
The Proposal
Renardo took me to a private game reserve for my birthday. That morning, I woke up early to the sound of someone walking into the bed in the pitch darkness. Turned out it was Renardo trying to get my 'birthday' gift from his suitcase without waking me up. I was frustrated that he'd broken his promise of not buying me a birthday present that year, but he'd painted me a beautiful card himself with the most beautiful poem inside. Knowing that his poems usually give me a hint of what's in the gift bag, I noticed he had used words like 'forever' and 'encircled with rose gold'. I broke out in a cold sweat because it seemed that after seven years the time had finally come for him to propose to me… and opened my gift to find a beautiful rose gold Fossil watch inside. I was disappointed but didn't want to show it, and forced an excited smile. He said I should get dressed as the game ranger would be there in a few minutes to wake us for an early morning game drive, but as he stood up he made a funny circle movement and when I looked up, he was on one knee. I have never stared at my hand during a game drive – but that day, I did!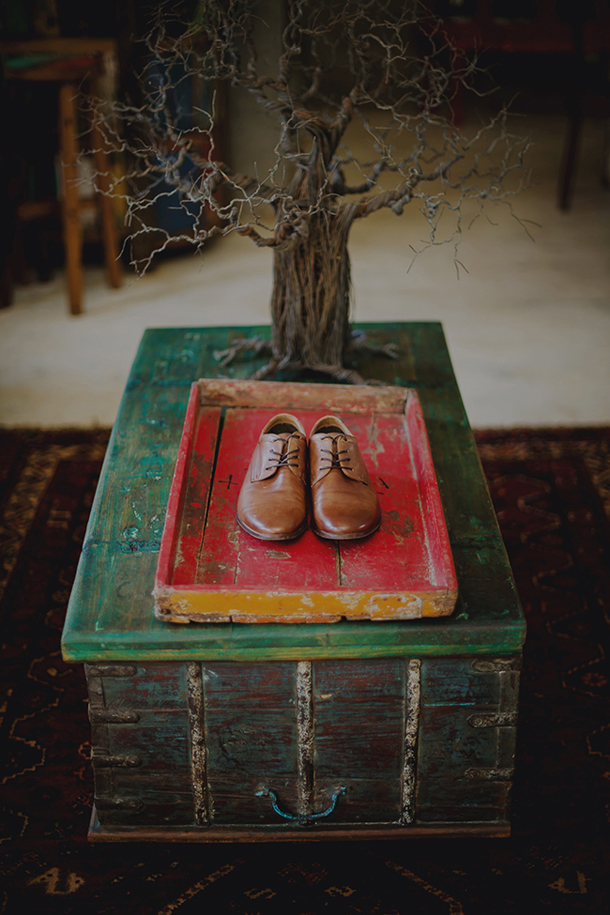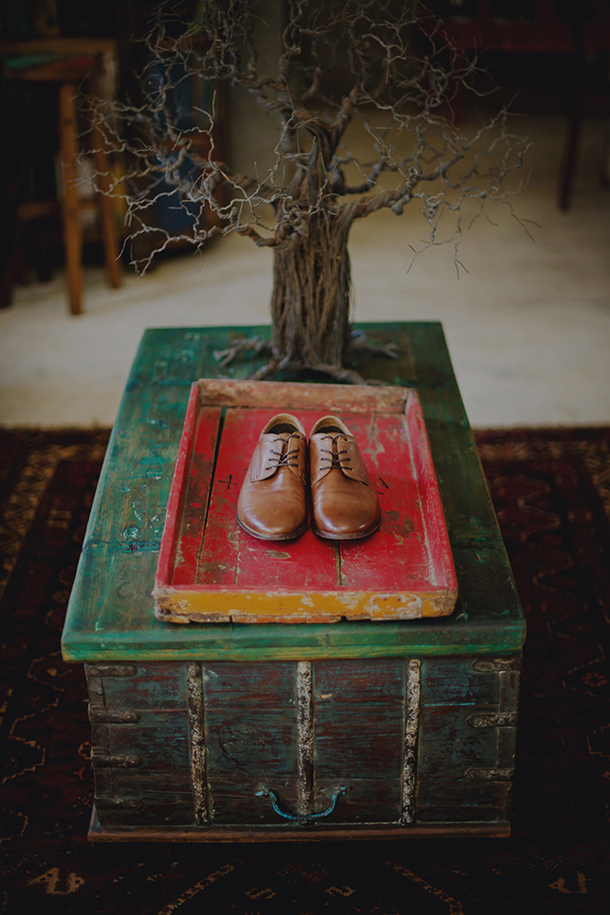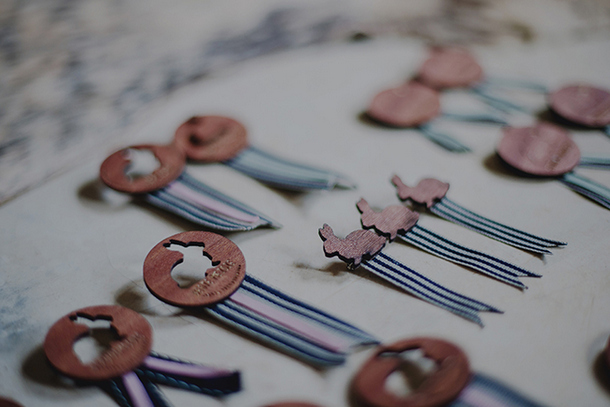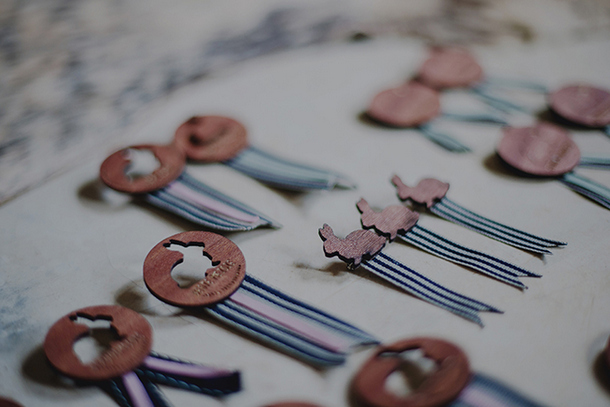 The Venue
As I mentioned above, we wanted to get married somewhere where nature was a big part of the wedding venue. By chance I came across The Nutcracker Country Retreat and we decided to take the road to Parys in the Freestate. On our way there nature's beauty already stole our hearts and when a friendly dog greeted us as we got out of the car, the venue had already sold itself to me. Lying tranquilly next to the Vaal River, it had the beauty and the rustic elements we wanted from the word go. On top of that, the people made this venue the first one we visited and the last one we wanted to visit. They were inviting, spontaneous and flexible. It also helped that their passion for food captured our philosophy of quality over quantity. It was just the right venue in every single aspect.
Wedding Style
We had a modern, rustic, indoor woodland theme. How did those elements fit together? I really don't know, but they did. Pinterest helped a lot, but we did not want a theme that was popular and used by everyone. We wanted with all our hearts for the wedding itself to portray our personalities and we wanted it to be fun. We wanted to get married under trees in a wood, but because of practical reasons we could not do it, so we brought nature inside and used a lot of natural elements like wood slices, tree branches, succulent plants and my favourite, bunnies. I was concerned that the natural elements would be too dull, so we also incorporated modern elements like striped patterns, paper flowers and glass. The main colour of the wedding was navy and we paired it with natural beauties like 'rock rose green' and 'protea pink' – or navy, sage and blush.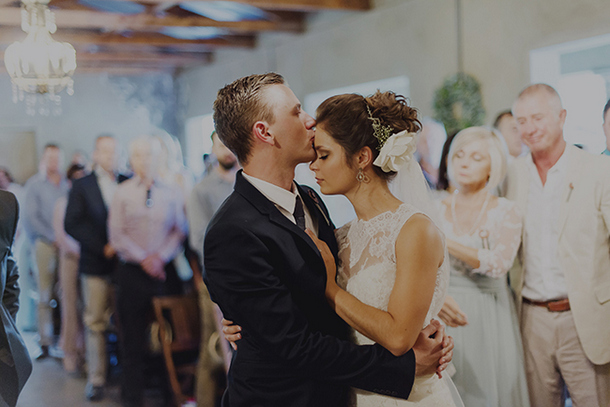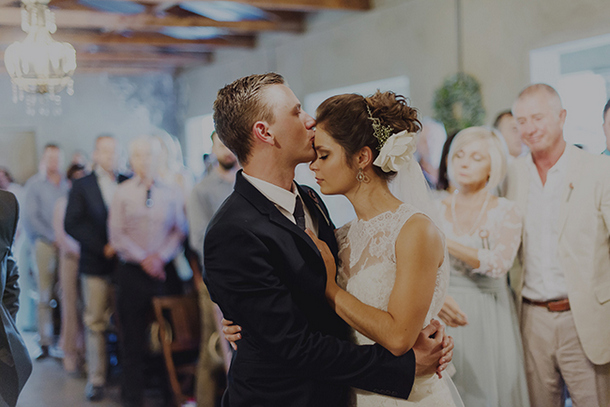 Wedding Details
We really wanted our wedding to display our love for each other and our guests and we really wanted the day to be personal and fun. There were so many small details on our special day. During the ceremony we read our own promises to each other and it was special that we could share those promises in front of all the people we love so much. We had pallettes with pictures of our family as well as the bridal party, each with a short poem. Renardo handpicked the wines for our wedding, each unique and special to us in different ways. The red wine was exceptionally special and a big surprise to me. It was Kallie's Dream from Akkerdal winery. The reason why it was so special is because my dad's name was Callie, and it was my biggest dream that he could have shared this special day with us. We gave printed coupons for each guest to retrieve a drink at the bar and we made sure that the guests enjoyed themselves. 
DIY Elements
We had a lot of DIY elements at our wedding. Most of the decor was done by us, from heart punched leaves for confetti to handmade boutonnieres and lasercut table names. My sisters helped a lot with these DIY components of the day. Together, we designed all of our stationery and signs ourselves. The girls made wreaths from embroidery rings and air plants and the guys made direction signs. Renardo came up with the idea to give the guests Nespresso pods as gifts to use at our new house. I loved this idea. My mother did my makeup, my sister did my hair, my mother-in-law basically grew all the succulents in her garden and handpicked them for the day, one of my bridesmaids made my garter, another made their bracelets, one of Renardo's groomsmen and my father-in-law made some of the garden games and basically everyone helped to attach paper flowers to dry branches and to set the tables the day before. It was a lot of hard work, but this was the personalized detail we wanted and it was so worth it!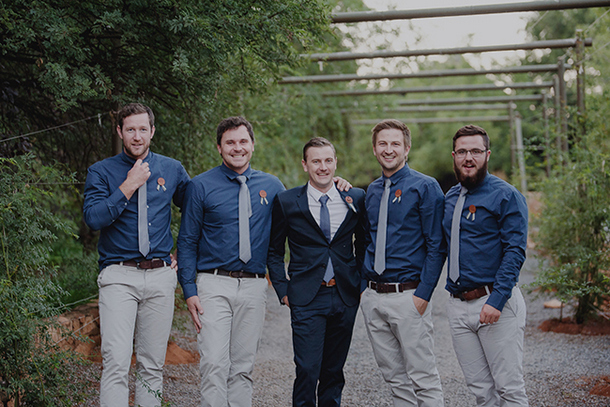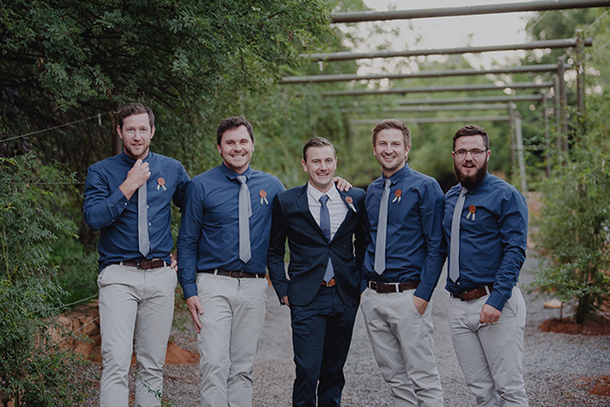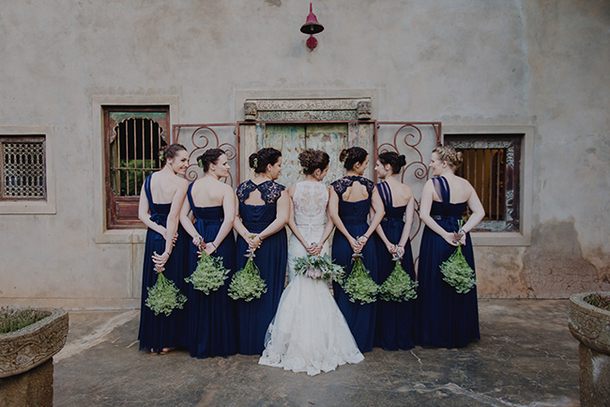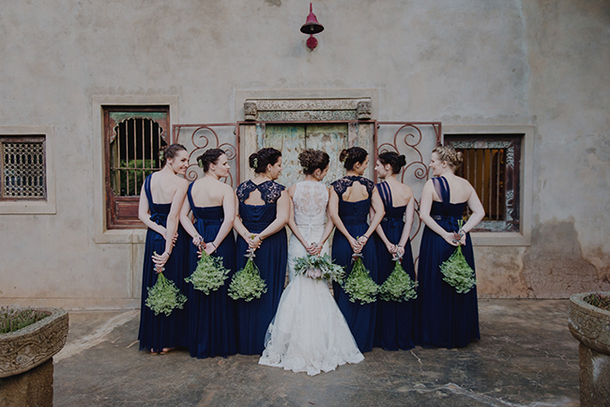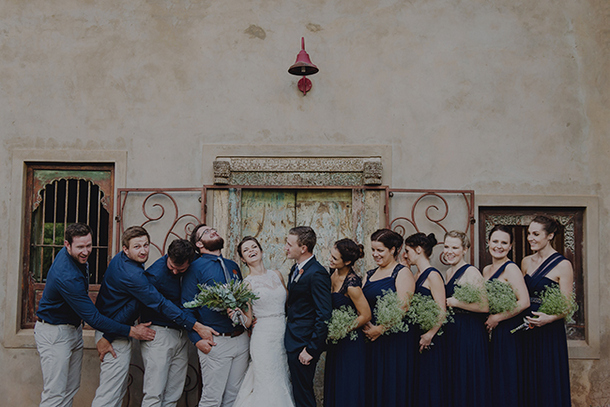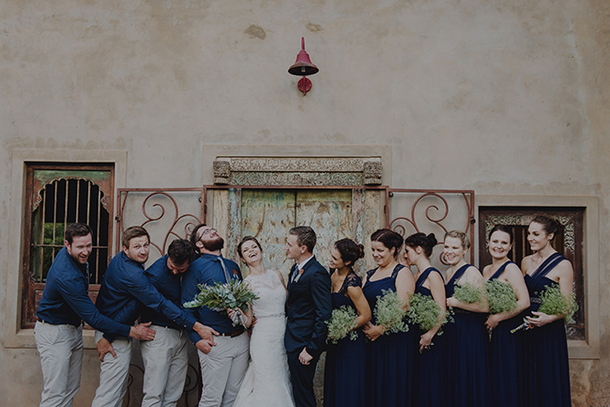 The Flowers
We wanted to bring as much greenery as possible into the reception hall. We made use of rustic wooden boxes and filled them with a lot of moss and beautiful greenery (mostly succulents from my mother-in-law's garden and fynbos). To add a touch of colour we used proteas, heide, limonium as well as white roses. A friend of mine and her mother helped me to put all of my scattered ideas regarding the flowers intobeautiful table settings. Without them, I'm afraid it would have looked like a garden on a table in there!
The Dress
Ask any woman at any time what she would want her wedding gown to look like and she will tell you in more detail than you bargained for. My wish was simple: I wanted lace, and a lot of it. When my sister got married she wore an Enzoani gown, she looked absolutely breathtaking and I knew that when I got married I wanted to do so in an Enzoani gown too. I took some pictures with me on my first visit to Bridal Wardrobe and Edette was helpful and really efficient. She actually told me that some of the dresses I wanted to fit were not the best options because of my small figure. She made me fit some of the dresses that she thought would look good and she was absolutely right! I ended up choosing one of the dresses she suggested. She made one of the most difficult choices much easier than I anticipated and for that I am truly thankful.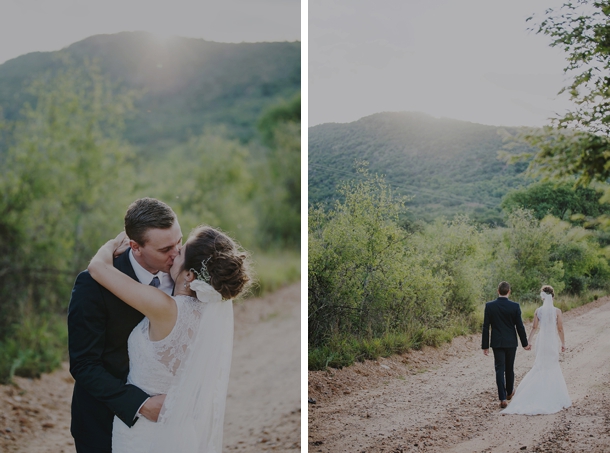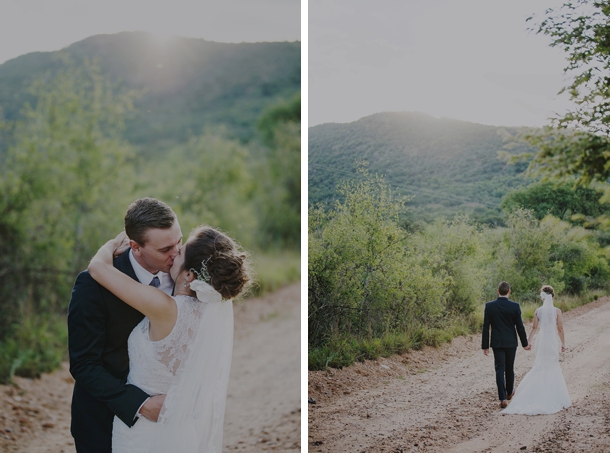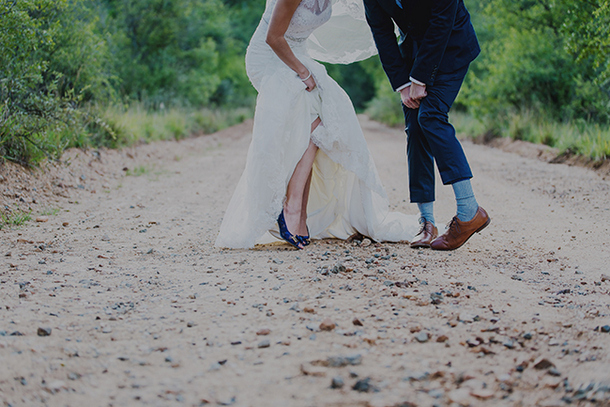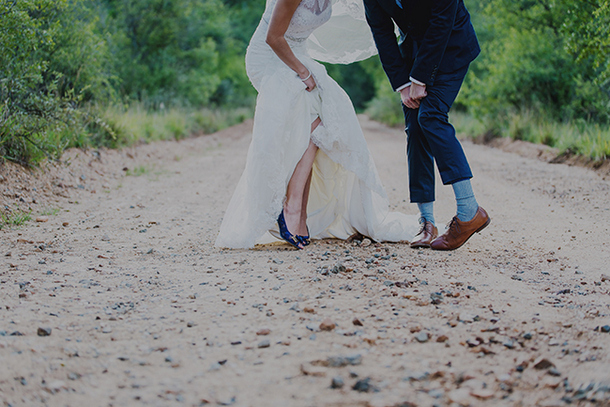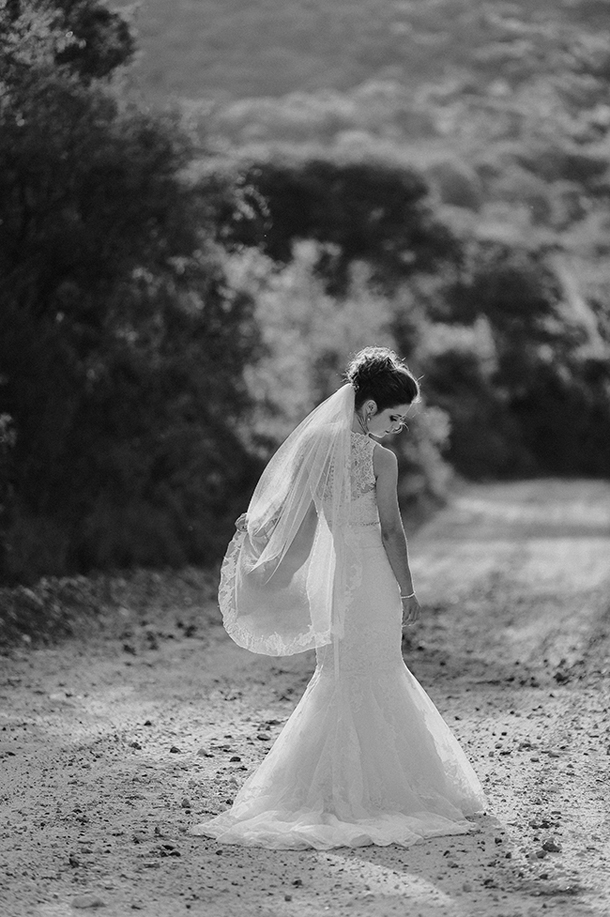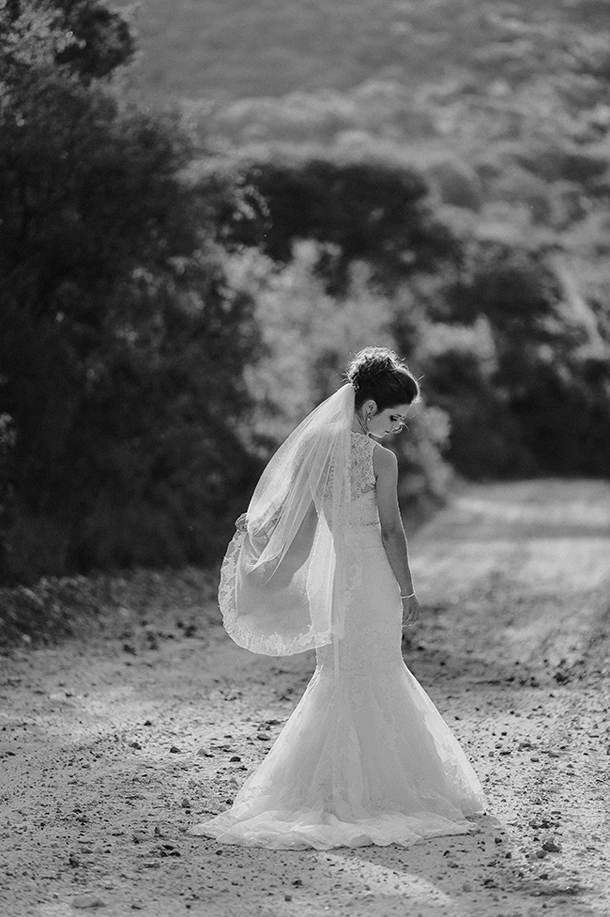 Memorable Moments
Walking down the aisle towards my future husband must be one of the most memorable moments of the day. I still remember feeling overwhelmed with emotion of having my mother on my side and my emotion-filled husband at the end of the aisle. Another moment that will never be forgotten must be when Renardo played a song during his speech that he wrote for me. Never in my life would I have imagined having a song that captured our love for each other the way this one did. He wrote it and a good friend of ours, Jacques from Joshua na die Reën composed and performed it. It still gives me goosebumps every time I listen to it and it had everyone in tears. What an amazing memory from the most amazing husband. 
The Honeymoon
It was a huge surprise and I only found out when we checked in at the airport. How he managed to keep me from finding out for such a long time is a miracle in itself. I only knew that we were heading somewhere warm and relaxed. We went to Mauritius and it was a true dream come true.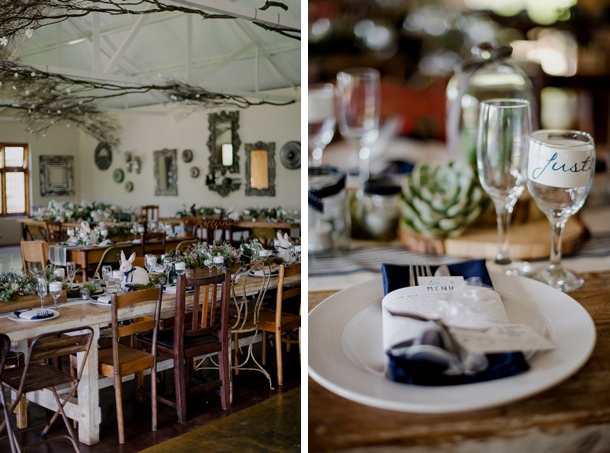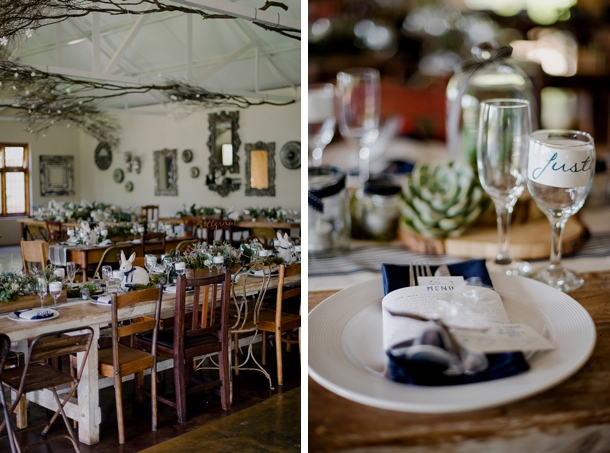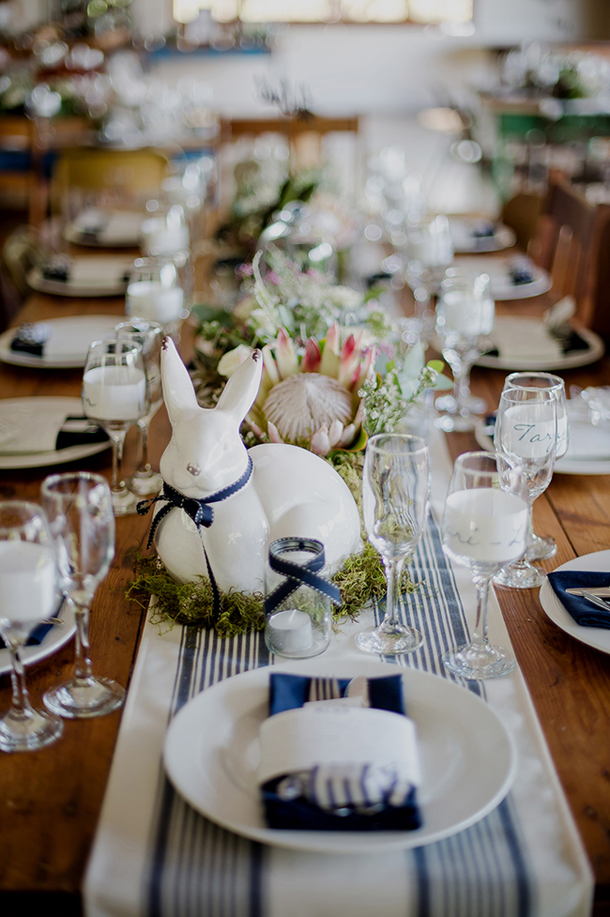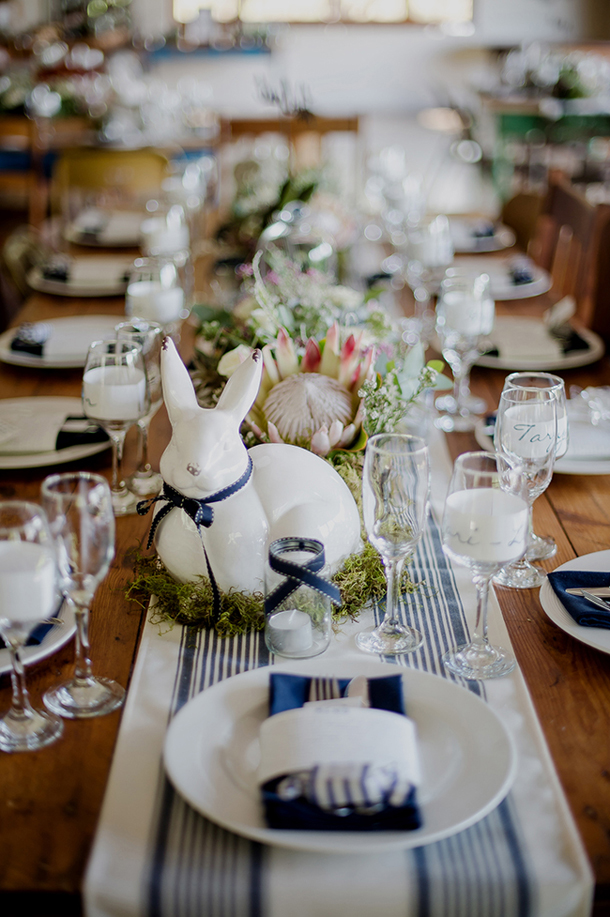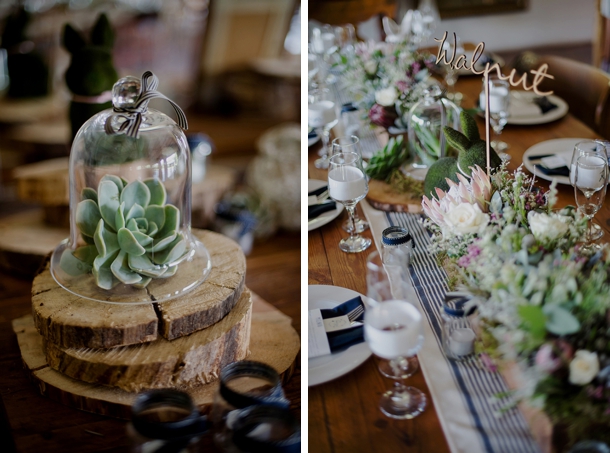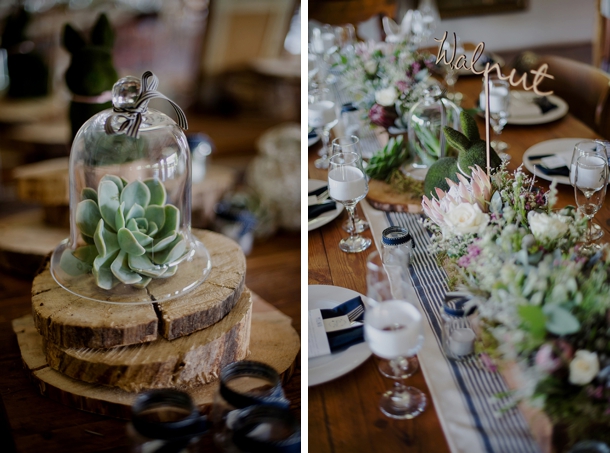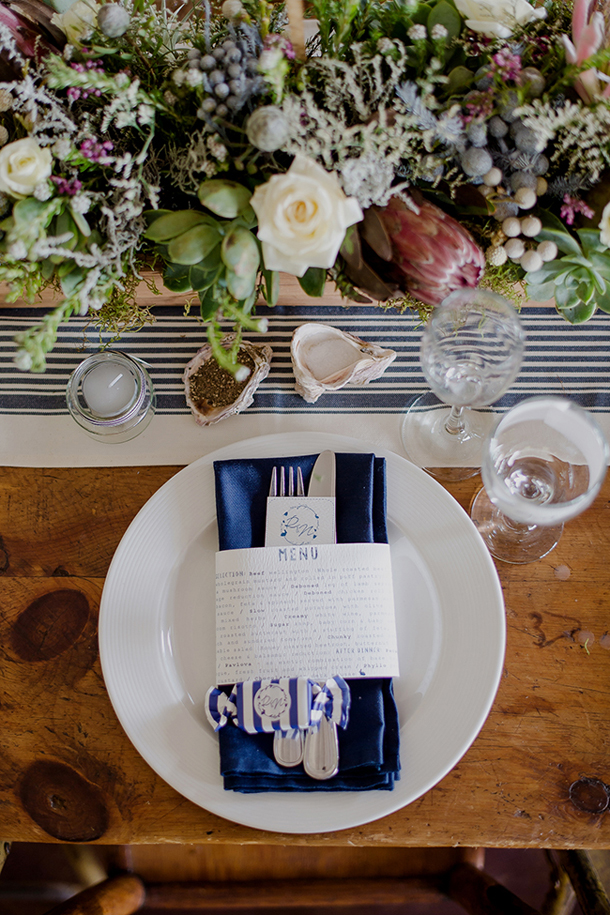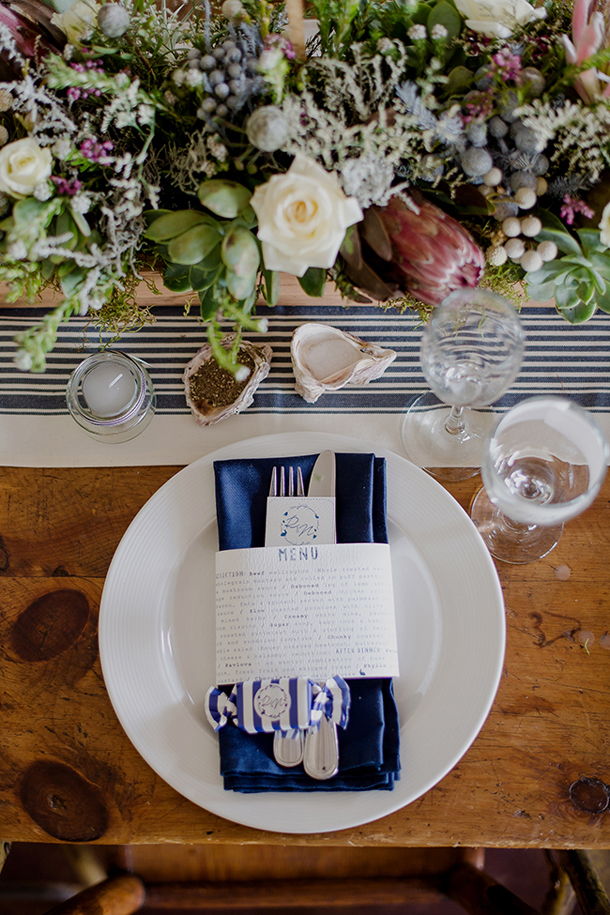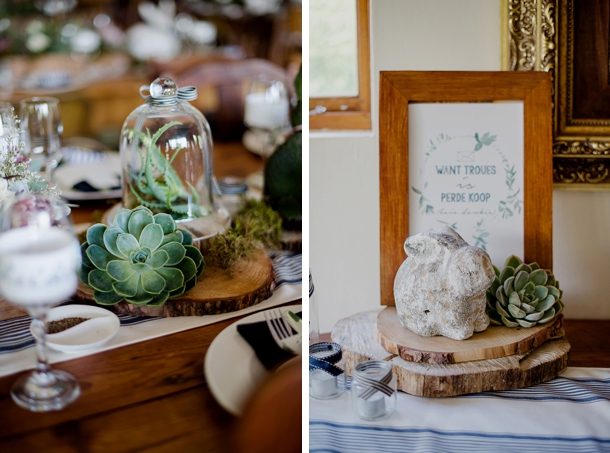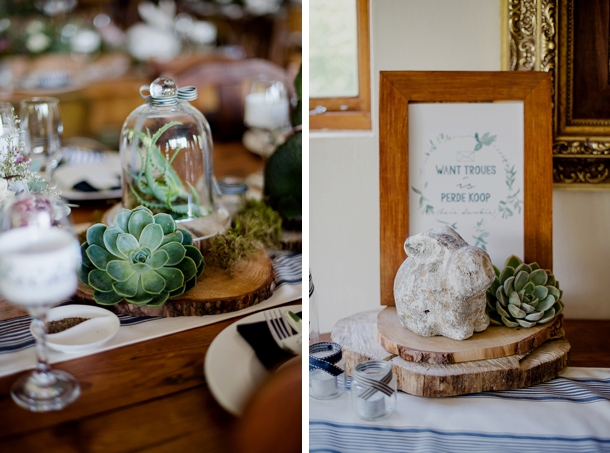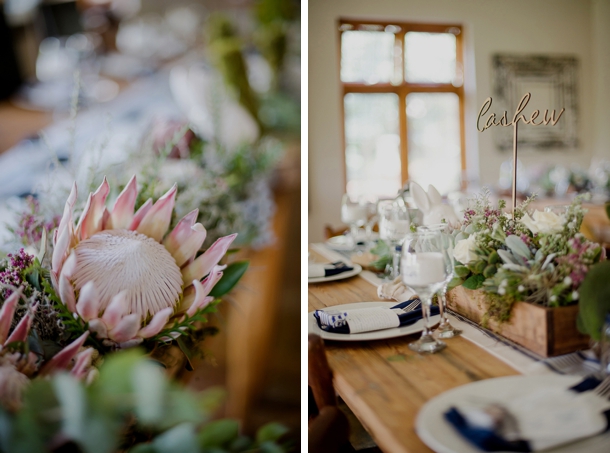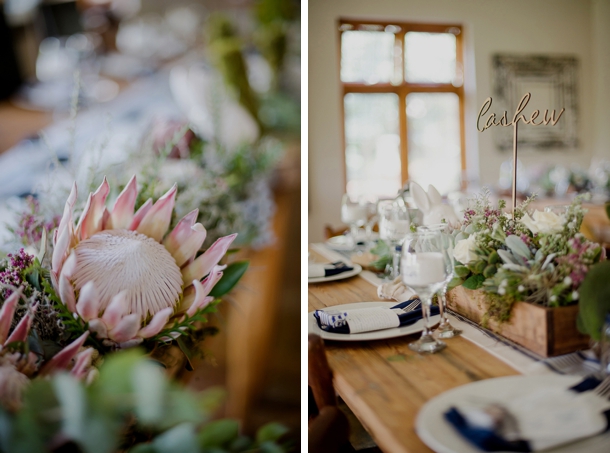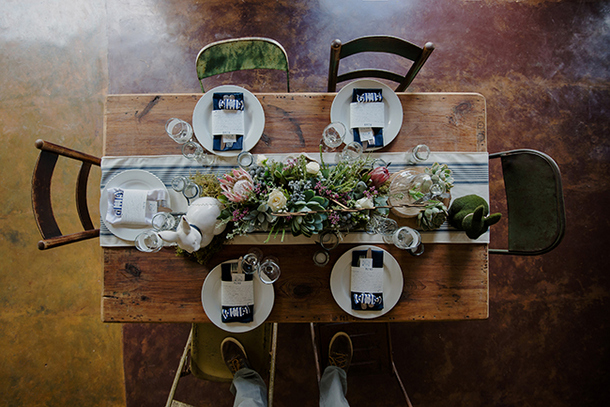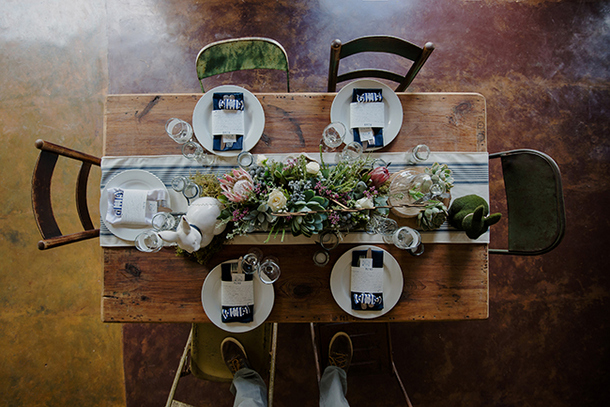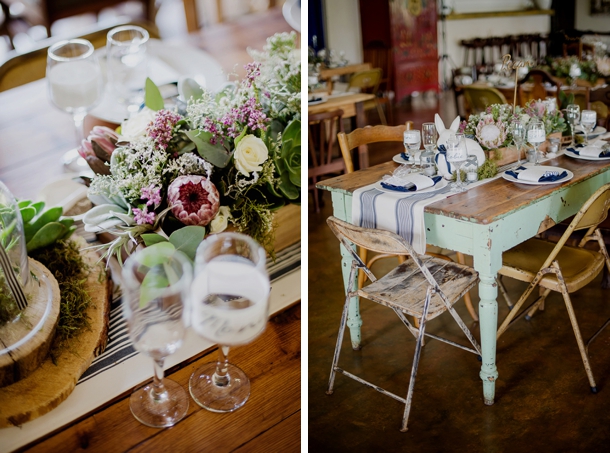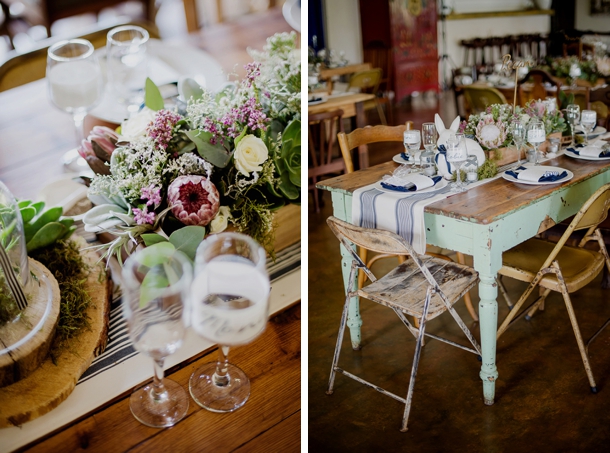 Advice for Future Brides & Grooms
Stop trying to make other people happy. Your wedding day is YOUR day, nobody else's. Listen to advice and get some tips, but never change something or do something that you do not want to. Remember to always work with a budget and never go over it, it will make you stress and have sleepless nights. Enjoy yourself! The day goes by so quickly, be sure to take a moment, step back and breathe in every single detail. Drink the wine and eat the food, even if it will make your dress fit a little tighter. Lastly, make sure you have an EXCELLENT photographer (like GingerAle Photography) and videographer (like Bravo & Thatcher) and be sure to tell them exactly what you want. You don't want to be in a position where you wish you had more photos of your tables, etc.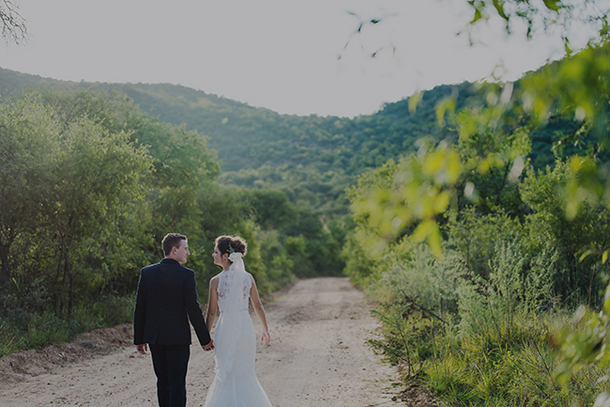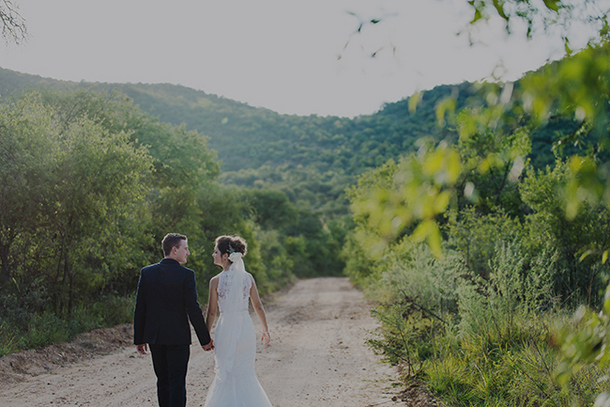 You can see more from this wedding on the GingerAle Photography blog.
SERVICE PROVIDERS
Venue & catering: The Nutcracker Country Retreat | Photography: GingerAle Photography | Videography: Bravo & Thatcher | Cake: Levia Weddings | Flowers & décor: Dine Devine | Stationery: Rozanne Samouris | Bride's dress: Fiji by Enzoani from Bridal Wardrobe | Bride's accessories: Marion Rehwinkel | Hair & makeup: Helen Basson | Bridesmaids' dresses: Forever New | Groom's attire: Hilton Weiner | Hiring: The Linen Box | DJ: MSM Productions