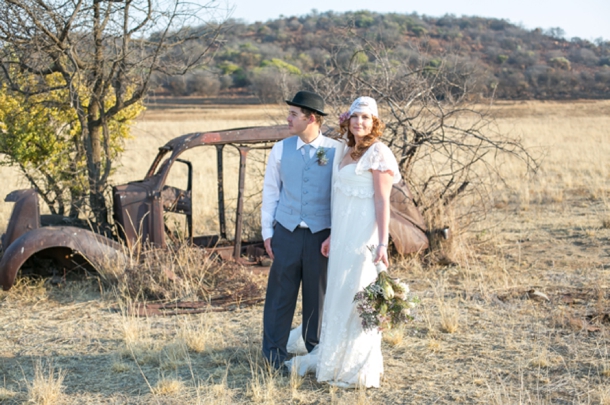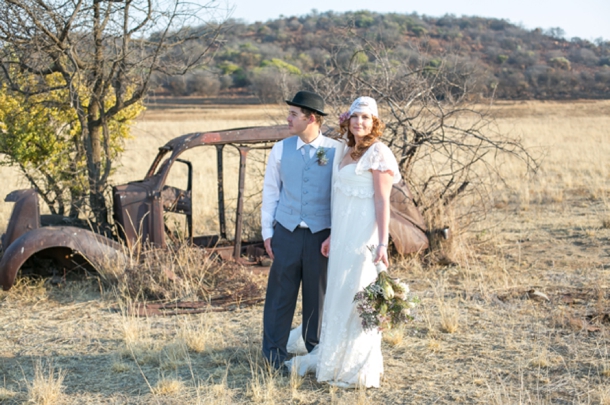 Good morning, brideys! How has your week been so far? Mine is not ideal, as I am nursing the flu (again? seriously?) but the cure for everything is a pretty wedding, and I have a lovely one for you today. As you all know by now, I am a huge sucker for couples who infuse their personal style, taste, likes, etc. into their wedding design, and Natalia and Darryl really did that. Although it's a rustic vintage wedding, and that's a popular style right now, every detail was thought out and included with love, including many heirloom pieces and special touches. The couple, being landscapers, have a huge love for nature, and I also love that they tried to complement the beautiful surroundings of their venue, instead of making it over. Their flowers and decor reflect the soft tones of the veld, as captured so strikingly by photographer Melanie Wessels. And you guys, how much are we loving Natalia's juliet cap veil? So, so pretty!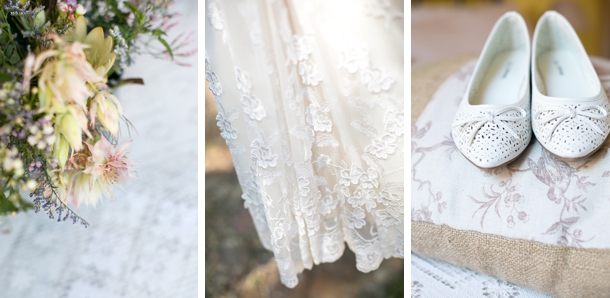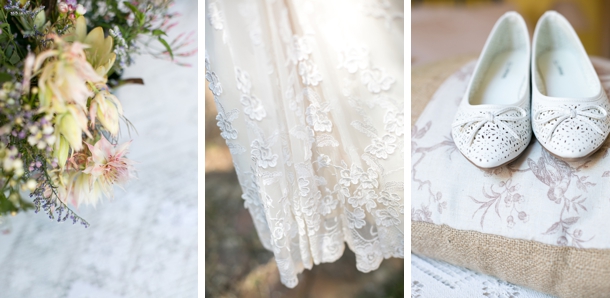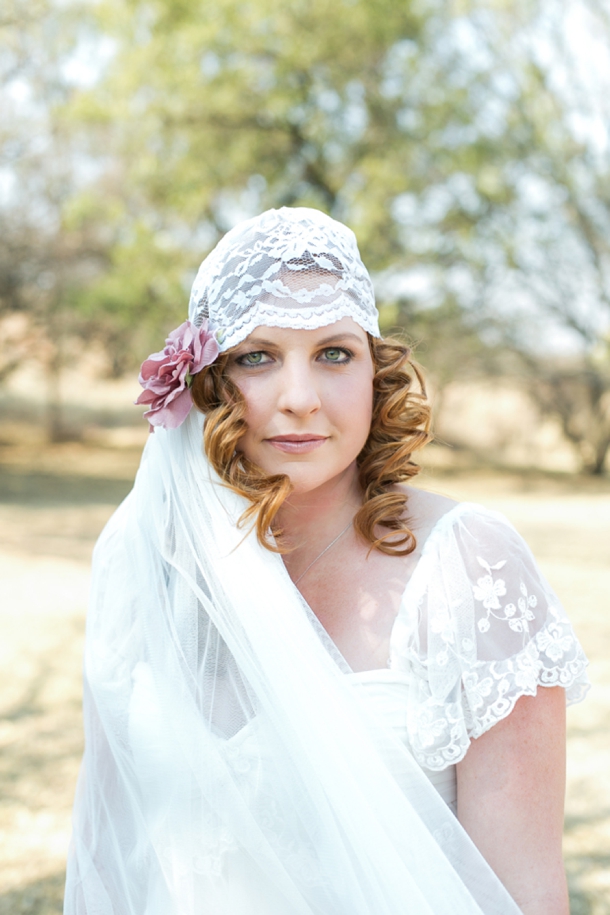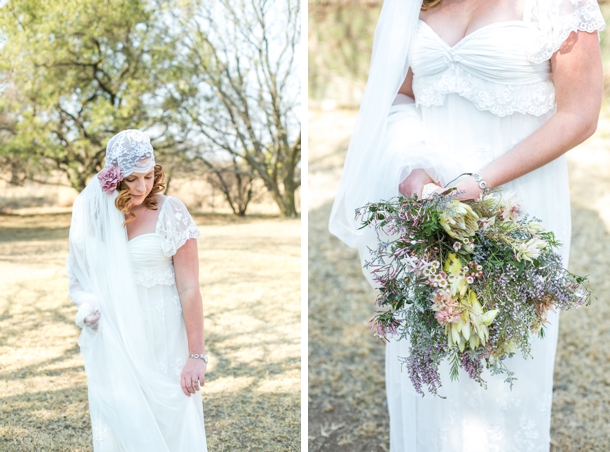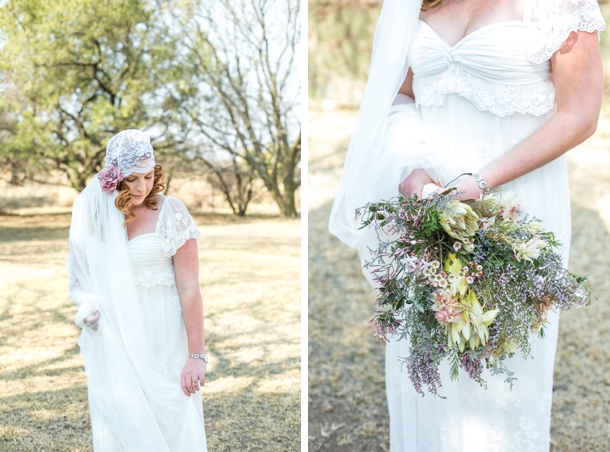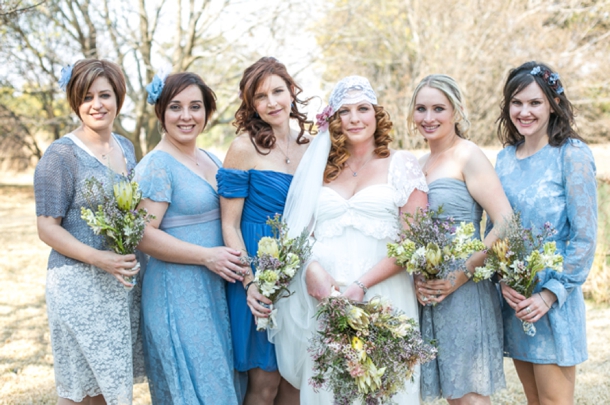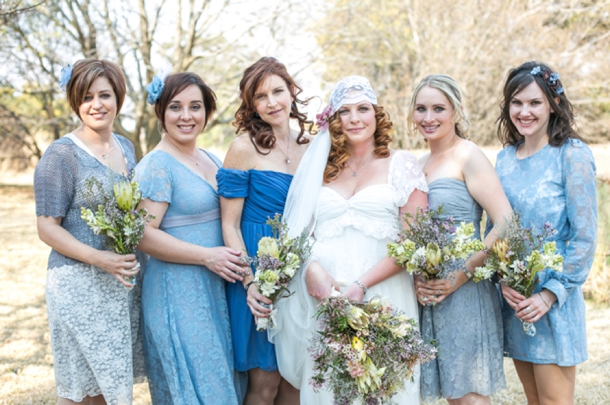 From Natalia:
We are both landscape designers – we met while we were studying our landscape design course at Lifestyle College. At the time, I was working for another landscaping company and Darryl was running his own business. After a few years I decided to join him, and now we run our business together.
It was a very romantic proposal. Darryl pretended that we were going on a fishing trip with his friend somewhere in the Drakensberg. Despite ending up at the Golden Gate National Park and heading towards a log cabin at the top of a mountain range (and his friend nowhere in sight), he strung me along until the next day. After a hike in the nature reserve I was taken to the top of the mountain range for a picnic. With a Wildebeest as our witness he knelt down and asked me to marry him with what felt like a view of the world behind him. I was in tears with a big yes!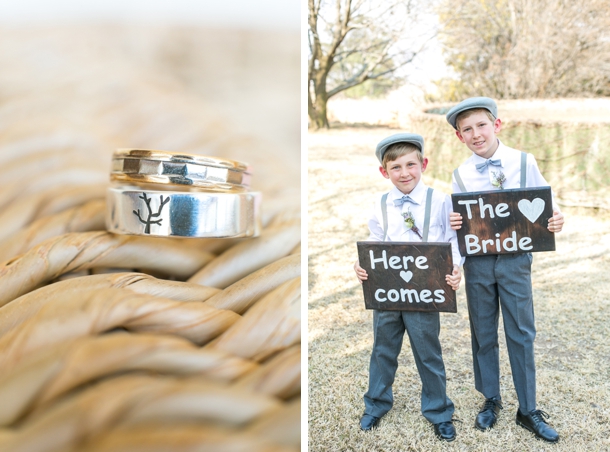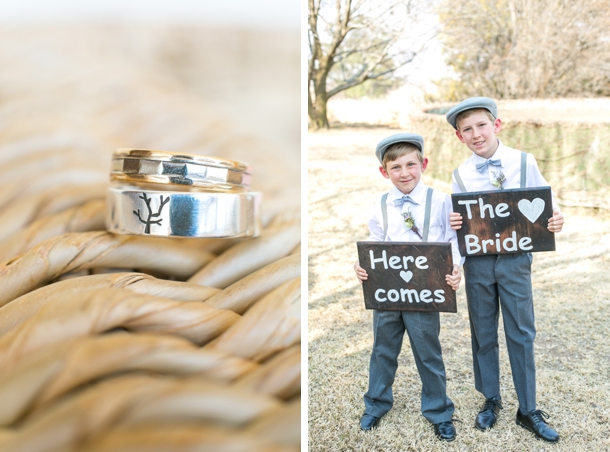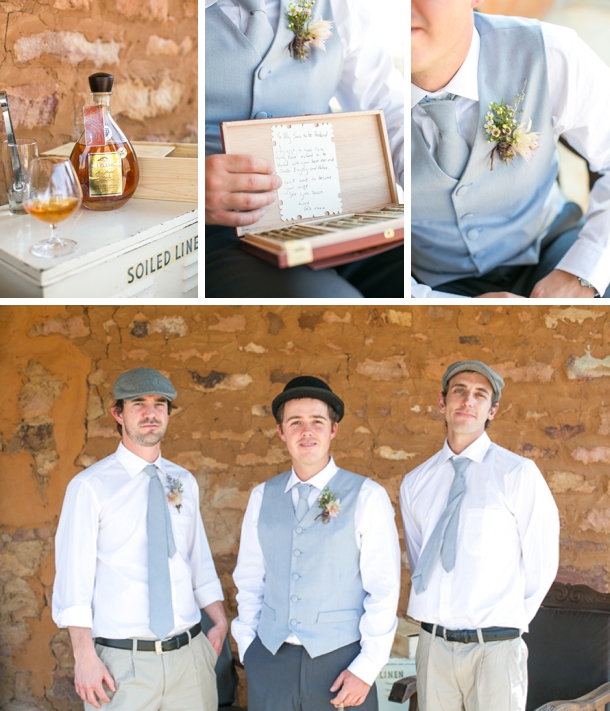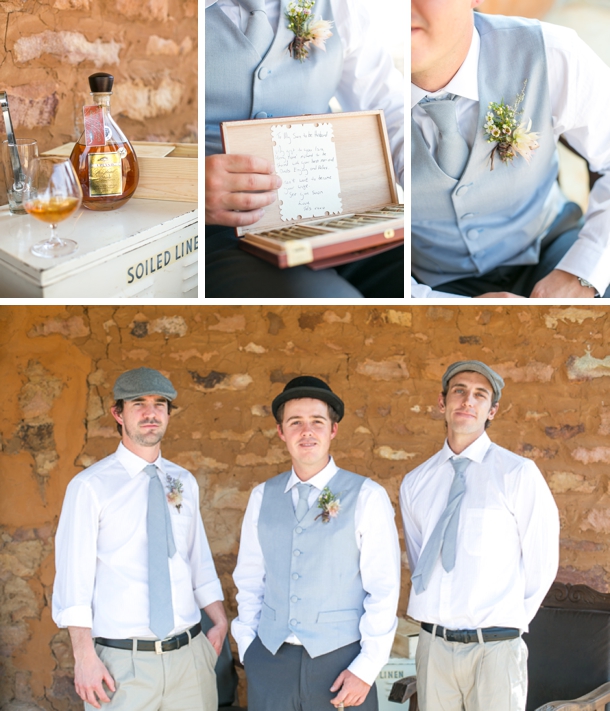 We both love nature, so it was very important to us that we get married in a place that reflected that. After a lot of searching, by pure luck I came across Die Klipskuur. As soon as we saw it we knew that this was the special place we had been looking for. It has all the charm and beauty from its natural outside setting, so our décor and mood was designed to complement this.
Every detail for the wedding held a sentimental and personal meaning. My engagement ring was Darryl's great grandmother's and is about eighty years old. I wanted to plan the theme around the ring as well as my surroundings, so a rustic vintage theme came into play. The beautiful old barn from the 1940s was just the look I was envisioning for the reception. Its neutral earth tone colours complemented my color pallete of soft muted hues of dusty pinks, blues and creams. These were incorporated into the bunting which we made using the off-cut material and lace from the bridesmaids' dresses, so that everything linked together. Vintage books were used to make the butterfly mobiles; lace and boho bunting were made from crocheted doilies that my gran had made. We hung bird cages in between the mobiles and placed tea light candles in beautiful candle holders that when lit cast a lacey pattern onto everything, bringing the lace theme into play in the evening. Paraffin lanterns hung from the rafters and added a warm soft glow to the setting. Rustic wooden crates with vintage bottles held informal flower arrangements. A vintage picnic basket my father found in Holland continued the outdoor theme with a sign inviting cards for our gifts.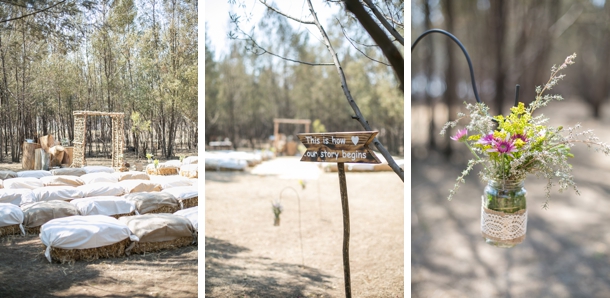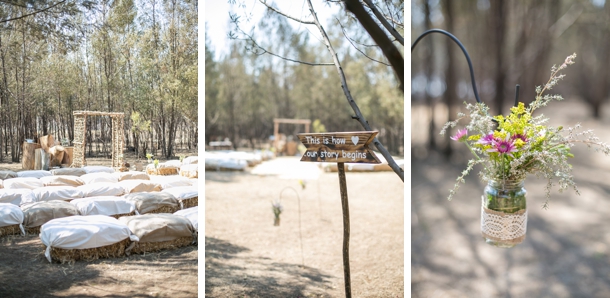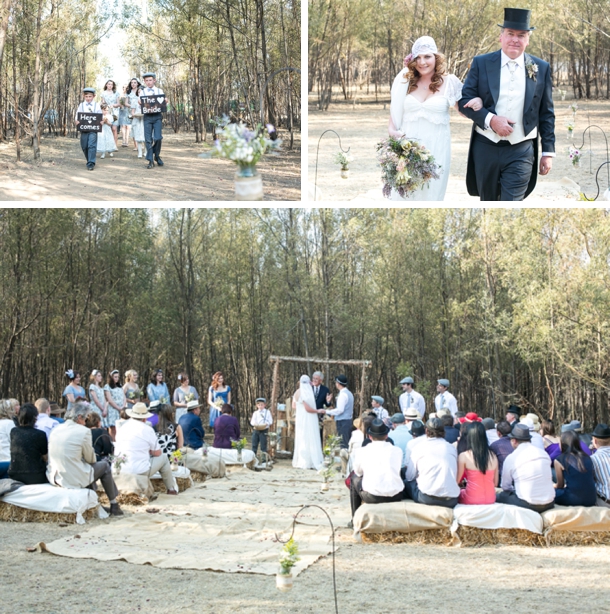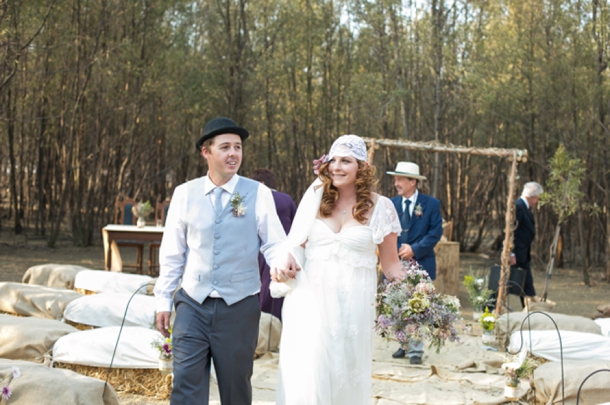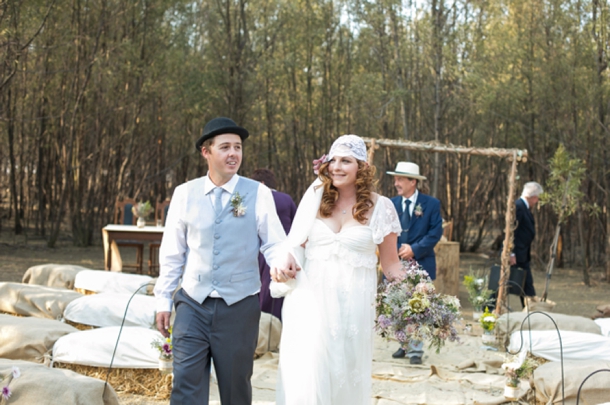 My mother in law hand sewed potpourri hearts made in the colors of the wedding as place settings. Our dessert table continued with the colour scheme and the flowers that were used in our bouquets were used to decorate the wedding cake. I was lucky with my flowers, as I love fynbos and proteas, and all these were in season. The colours fitted my pallete perfectly. Butterflies were another big part of my theme from the invitations to the handmade mobiles. They are a symbol that reminds my family of my granny. She played such a big role in my life, so having them as a part of the theme honoured her memory. Instead of a guest book I hand painted a tree and guests made the leaves with their thumb prints – some people were very creative! This again reflected a bit of our personalities. We also grew small trees and wrapped them in hessian these were given out as gifts for all our guests to take home and grow so that they could remember the day after all the festivities. We even choose our wine to link with our theme as we both are very aware of our environment, so the wine was special organic wine from Upland wineries.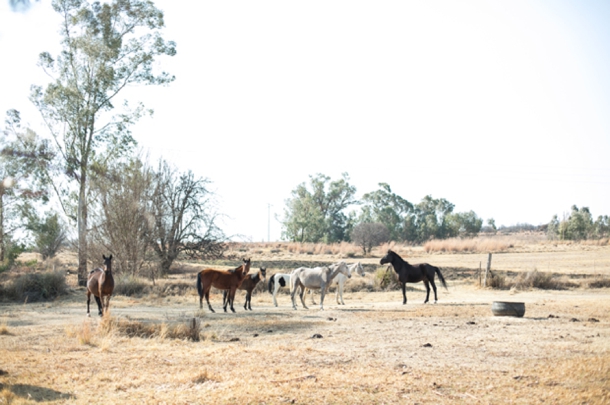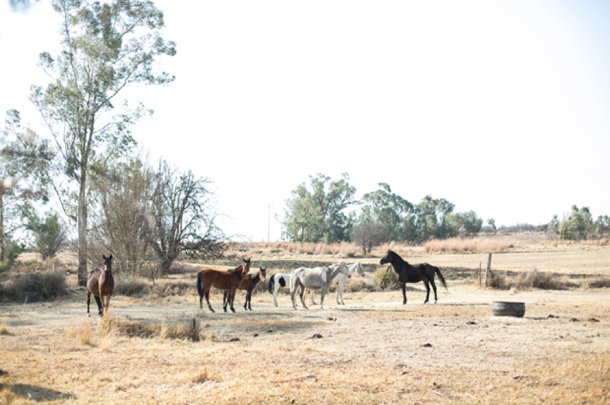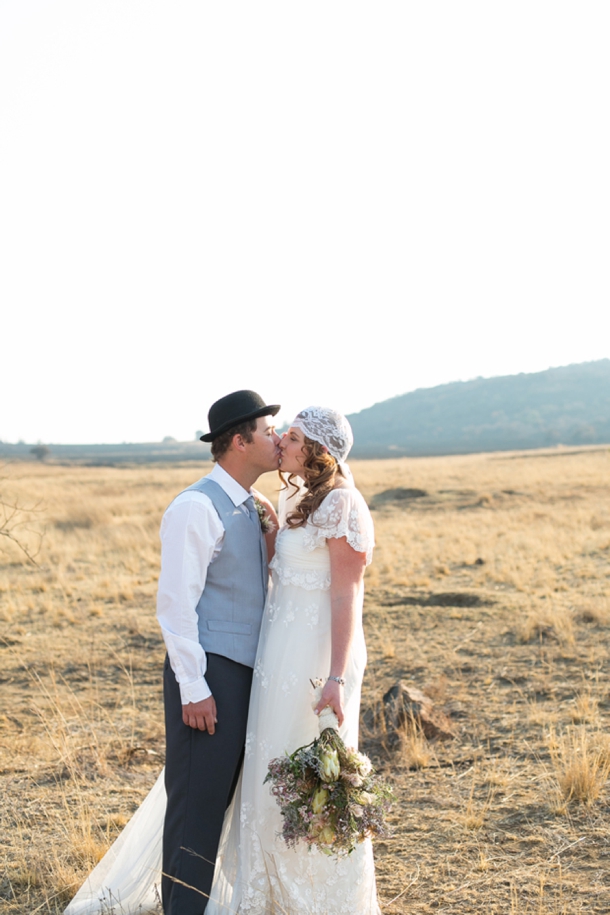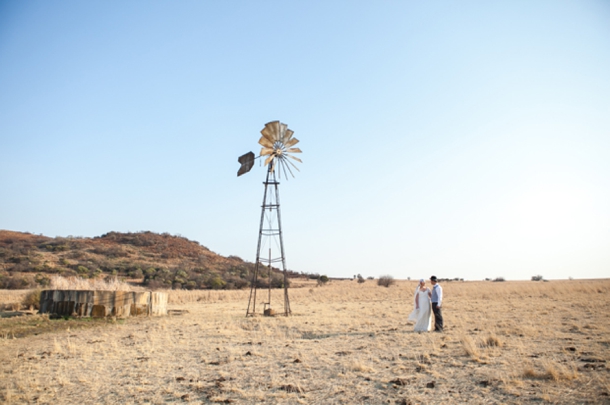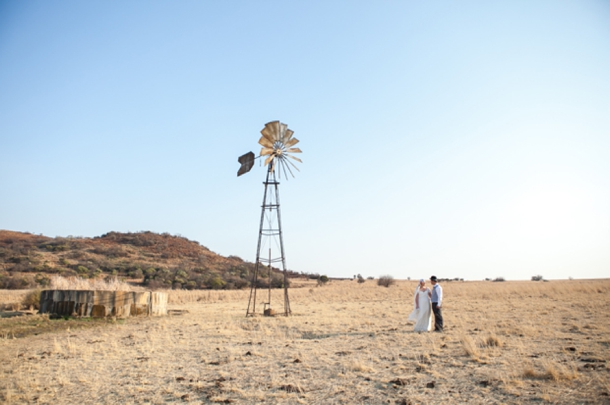 We had our ceremony outside in the forest; guests were bought in on a big tractor. They sat on hay bales, with metal hooks holding informal flower arrangements lining the aisle. Walking into the forest clearing and seeing Darryl at the end of the aisle was one of my favourite moments of the day, and exchanging our vows was such a powerful moment. I was overcome with so many emotions; this will remain one of my happiest memories. After it was all done, guests threw bird seed as confetti, which was wrapped in hessian bundles – the idea being that after we were all gone the birds would fill that special place. However bird seed we soon found out is not very pleasant when being thrown at you – it is quite sore!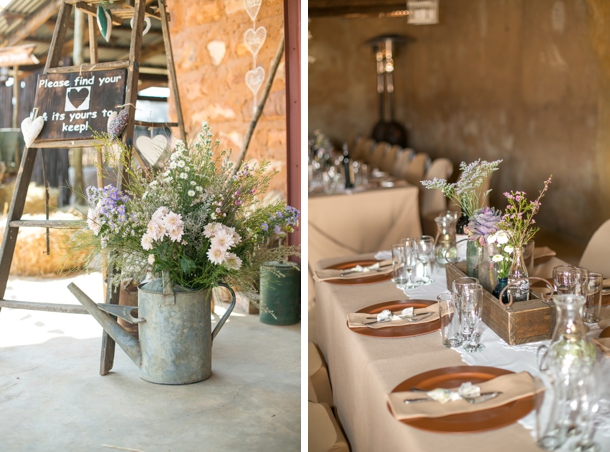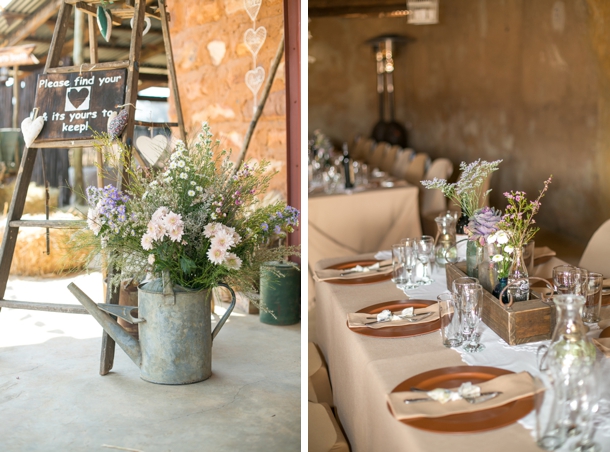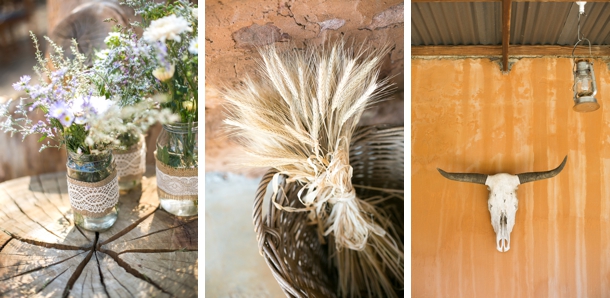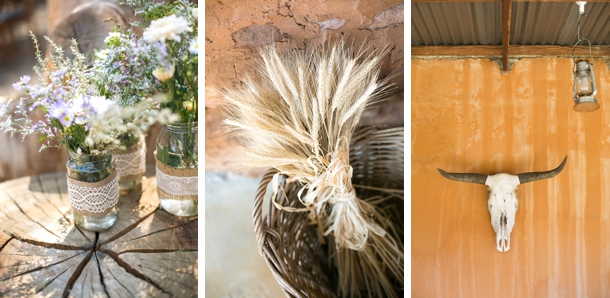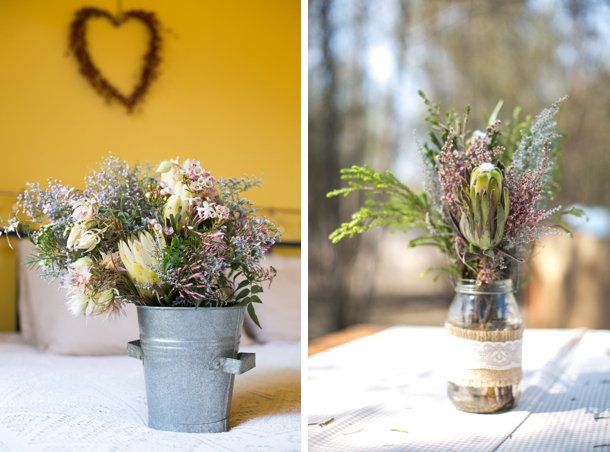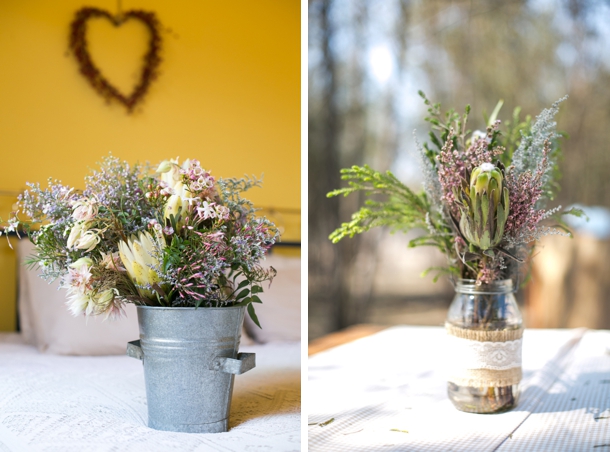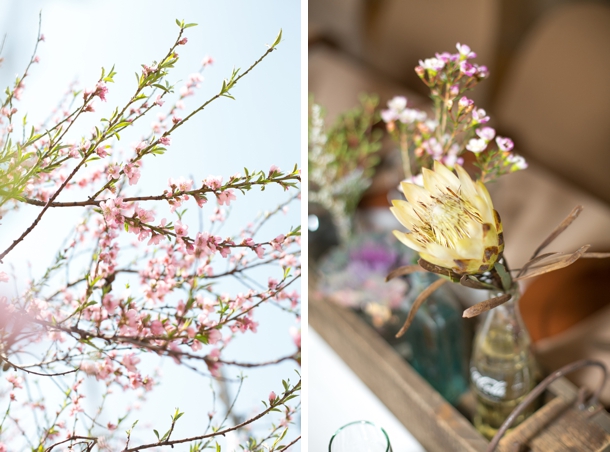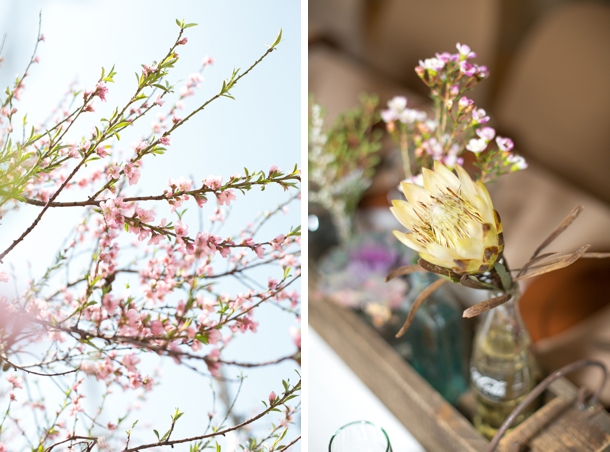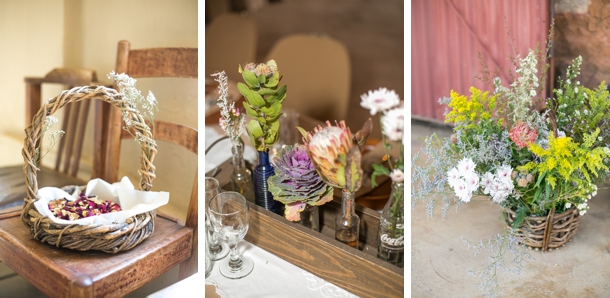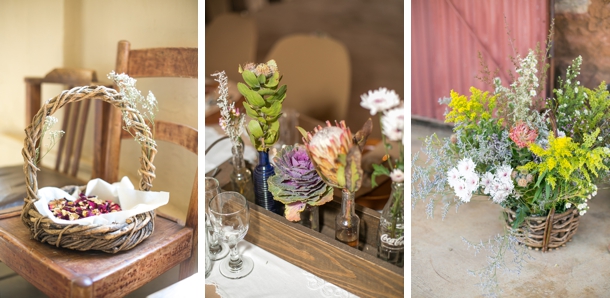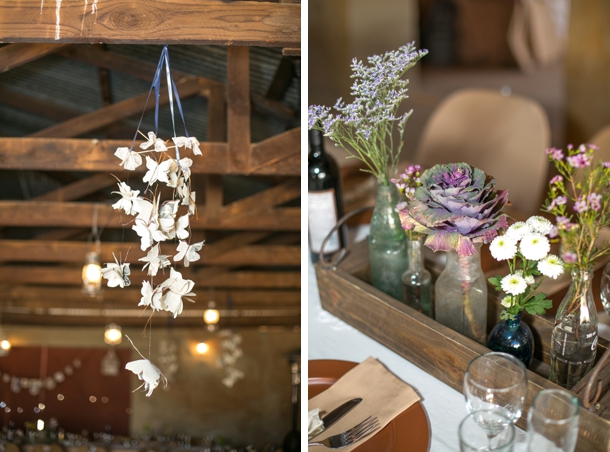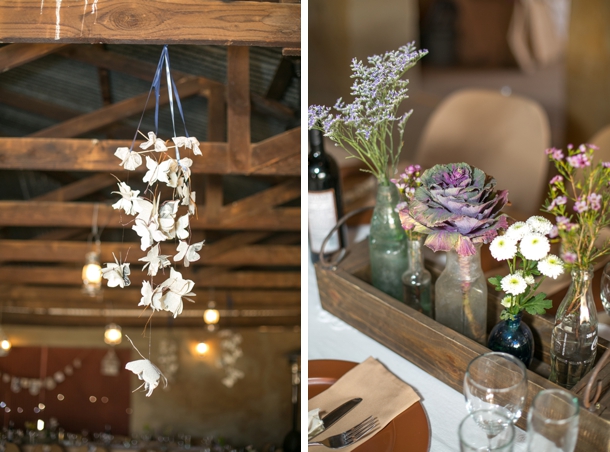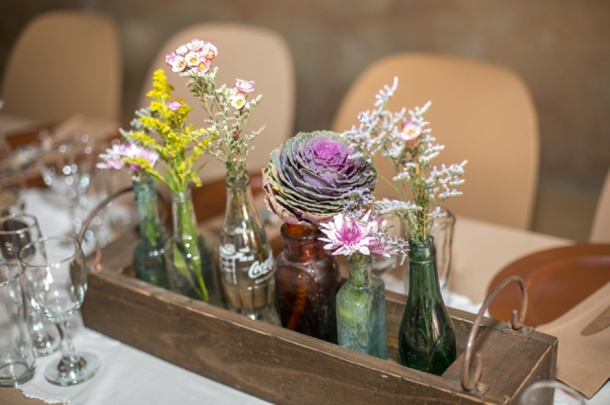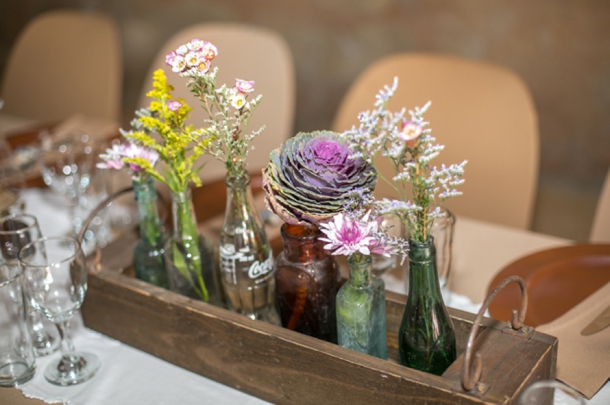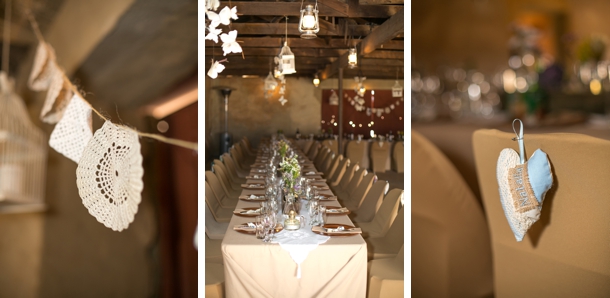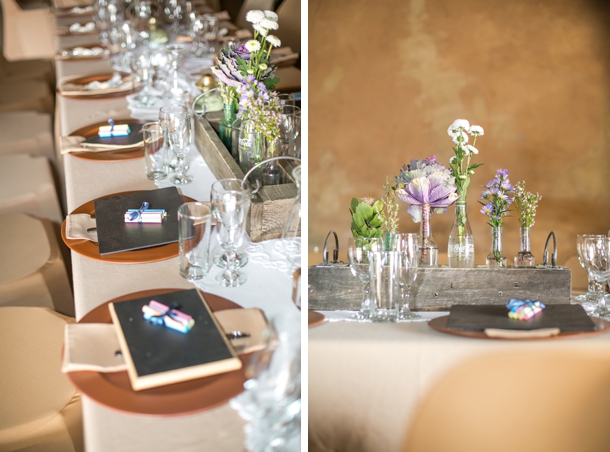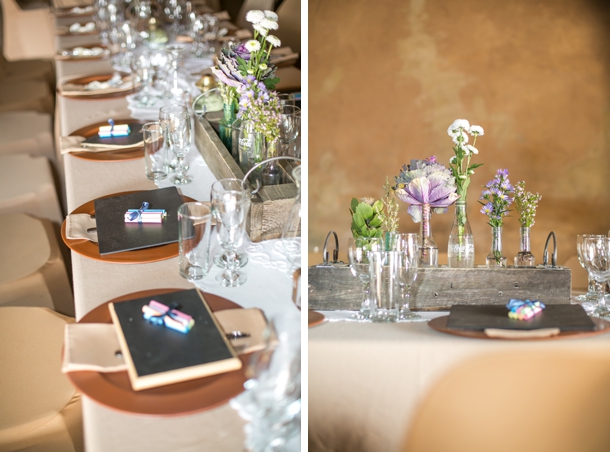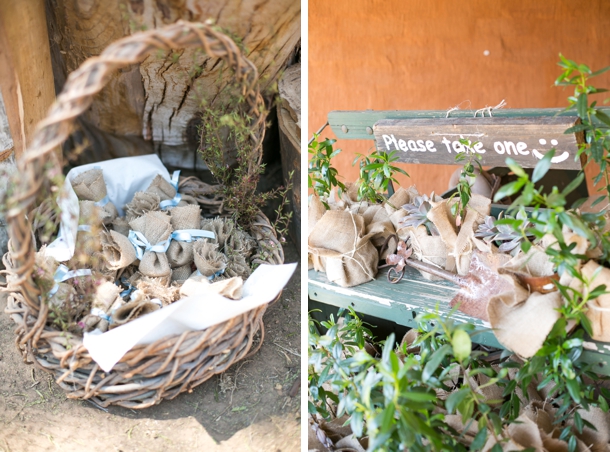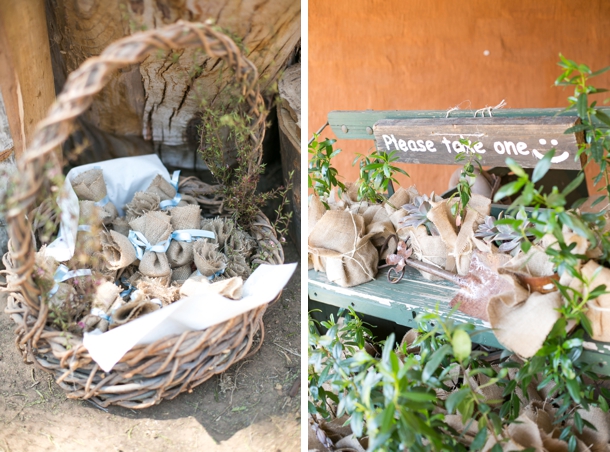 To see all the planning and hard work from our family and friends come together is something that we will always remember – it makes your day feel even more special as you are surrounded by things that hold so many memories. Celeste and her family who own Die Klipskuur were amazing and really went out of their way to make all our dreams come true; they thought of everything down to the candle light lanterns and trail of rose petals that led us to our honeymoon suite in the koppie.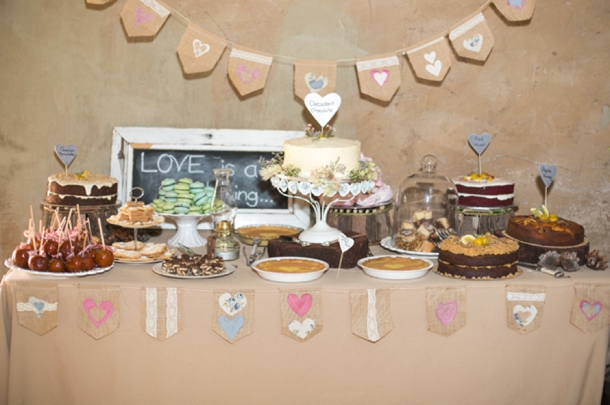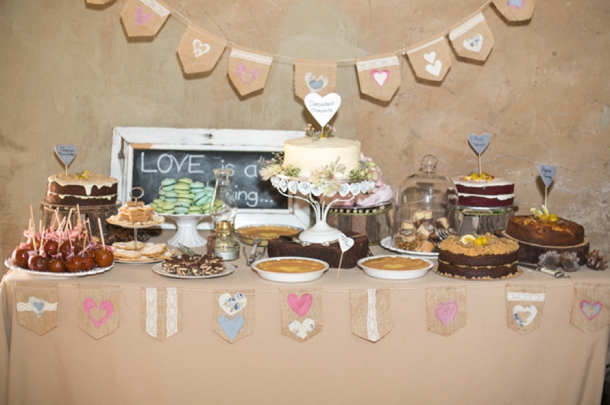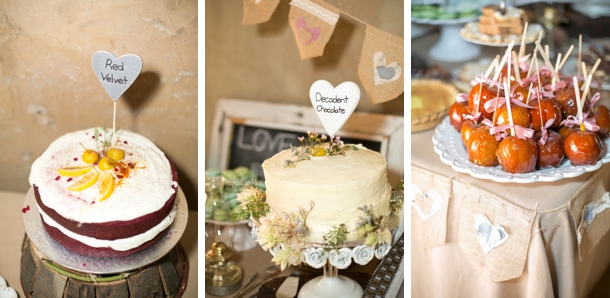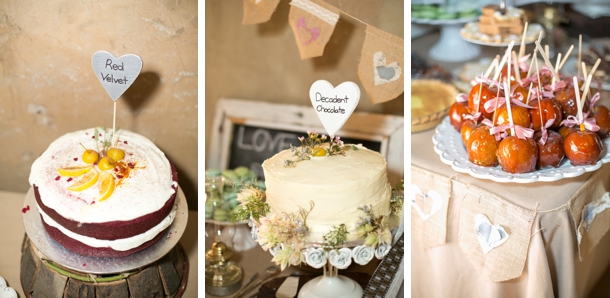 My advice to future brides is to choose a theme that reflects both of your personalities. Make a board, as this will help you get a better idea of what style and colours you like. Pinterest is a great site to get inspiration from. I also spent a lot of time looking at wedding blogs and magazines. Ask for help from family and friends, but most importantly, have fun and never let anyone push you into something you do not feel comfortable with. The day is about you and your husband-to-be.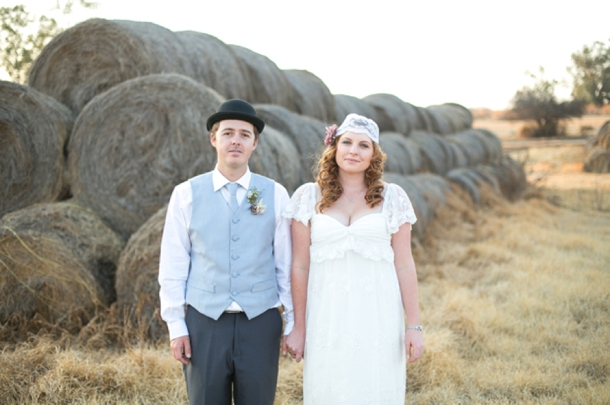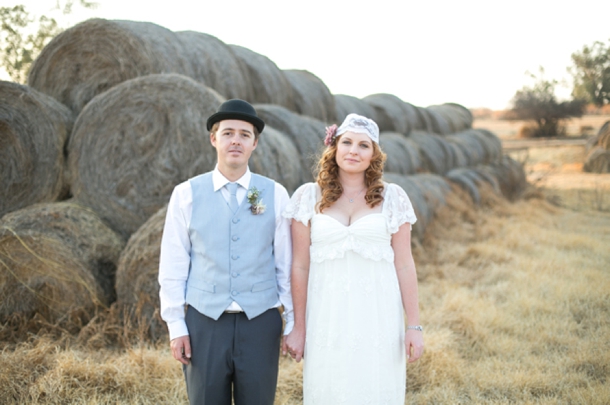 You know the drill! Thanks to Natalia and Darryl for sharing such a lovely day, and to Melanie – please do head over to her site for more from this couple's big day.
SERVICE PROVIDERS
Venue & catering: Die Klipskuur | Photography: Melanie Wessels | Cake: Petits Fours | Bride & bridesmaids' dress: Sally Higgs (082 293 7618) | Hair: Jingles | Makeup: Cosmetiek | DJ: Anything Goes Mobile Disco | Groom's ring: Milame Handmade Design