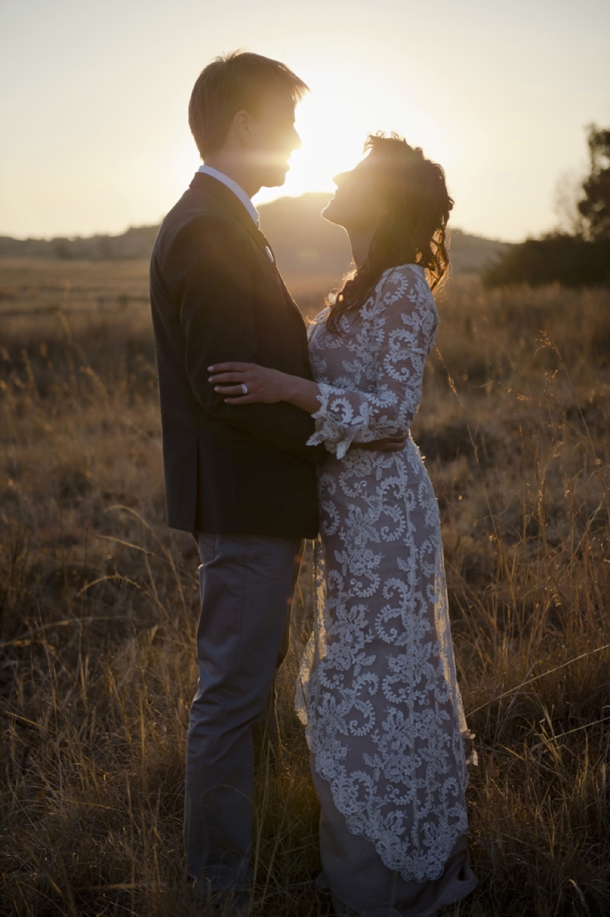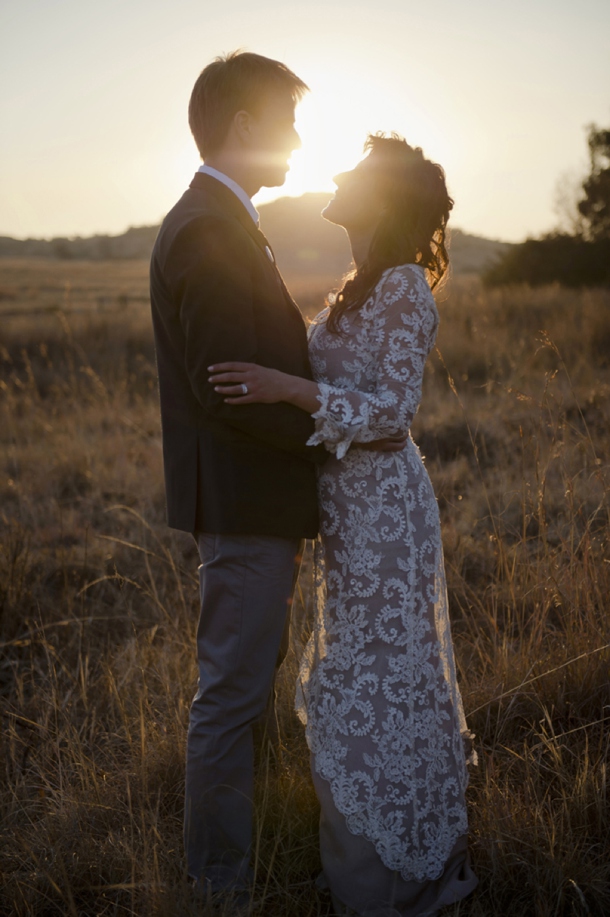 Where do I start with this wedding? Honestly, I don't know. Is it the whirlwind love story that brought these two lovebirds together? Or maybe the fact that they planned their wedding in just TWO months (not that you could tell – the rustic farm-style details are so beautifully put together!) How about the novelty of a Sunday morning wedding in winter, with all the relaxed warmth of a family luncheon? Or how about Haloise's incredible lace dress? Or maybe the fact that so much of this wedding was eco-friendly, right down to the gifts. Or the gorgeous atmospheric photographs from GingerAle Photography? It's impossible to choose, so I'm just going to start at the beginning. Which is after all, to quote Sound of Music (hopefully for the only time ever), a very good place to start. :)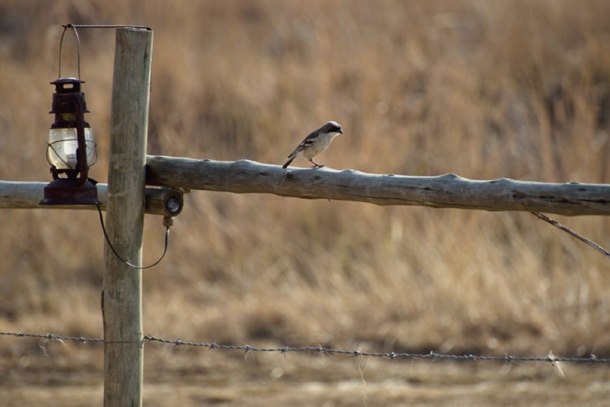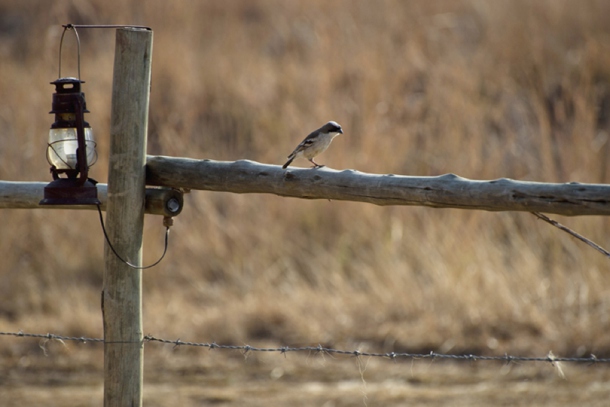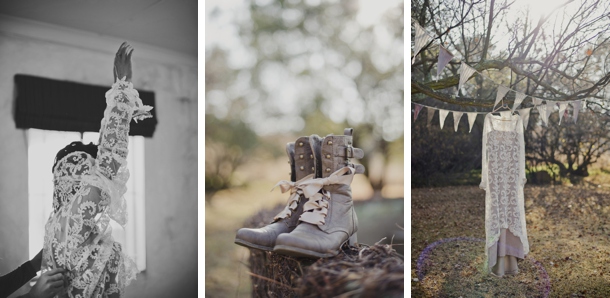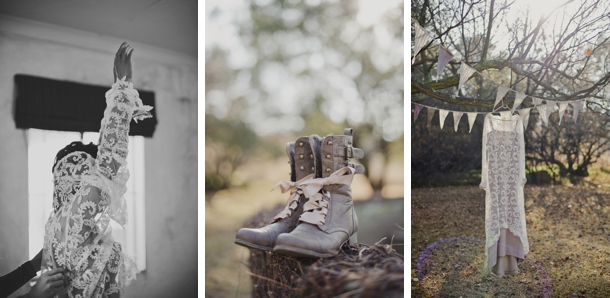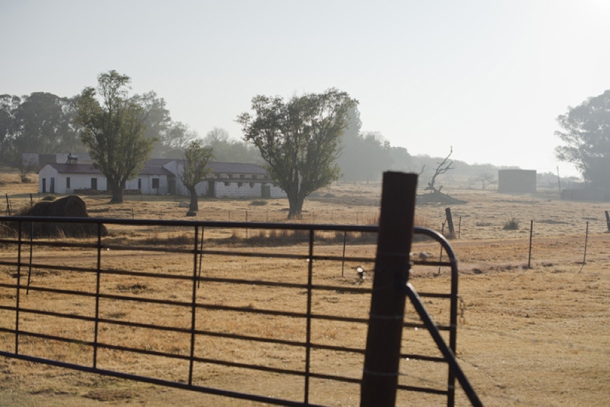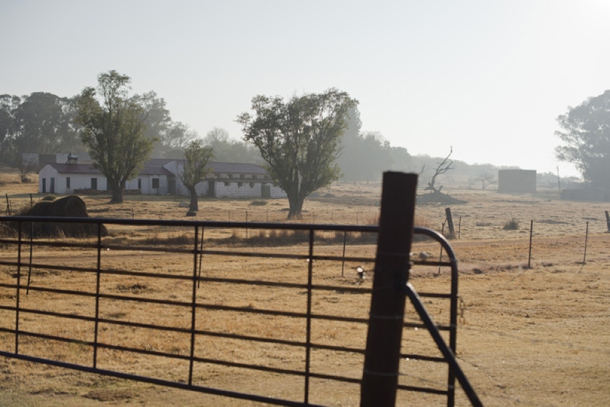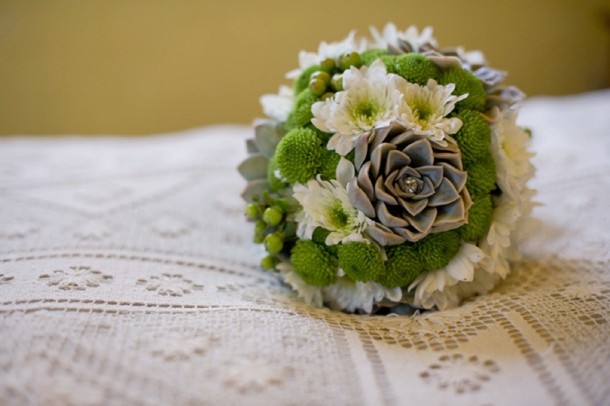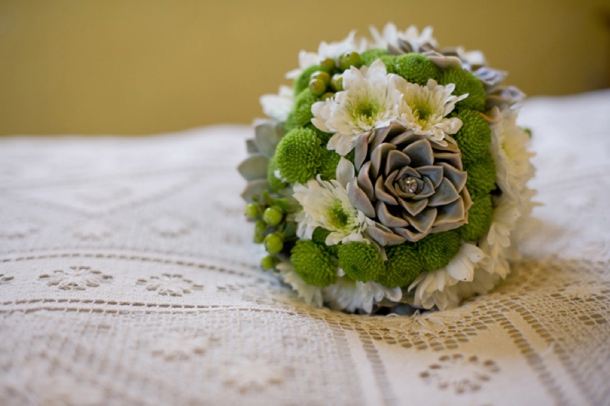 Love Story
A mutual friend introduced us, but at first nothing came from it. Then, sometime after we met, Jaco accepted a job in America and we became online friends. In March last year he visited South Africa for the first time in a year and a half, and we fell in love the second we saw each other again. Unfortunately, he had to go back to America after two weeks.
The Proposal
Every morning at 4am, Jaco would phone – after hours of talking and debating, we decided to get married, and I had three months to throw a wedding together. He arrived in South Africa two days before – after all the wedding arrangements and planning, it was only then that he 'formally' asked me to get married. We were engaged for one day!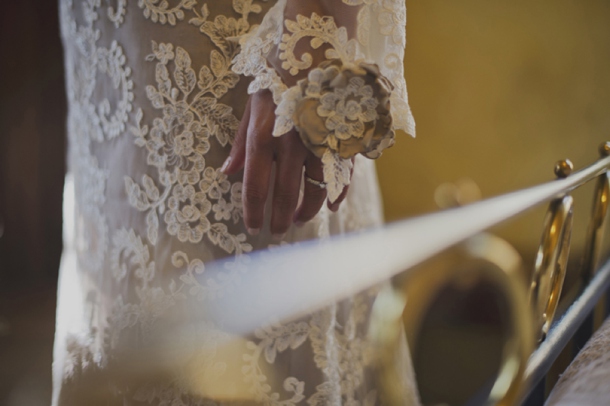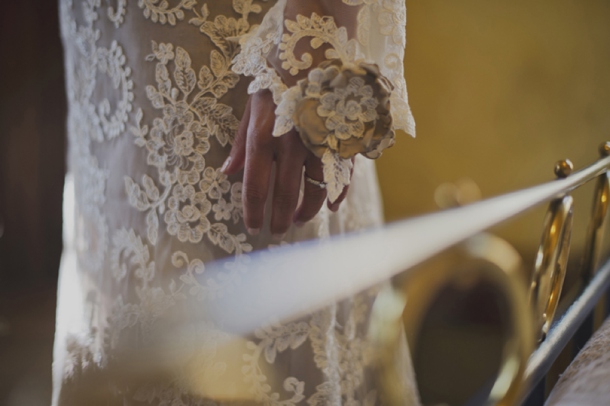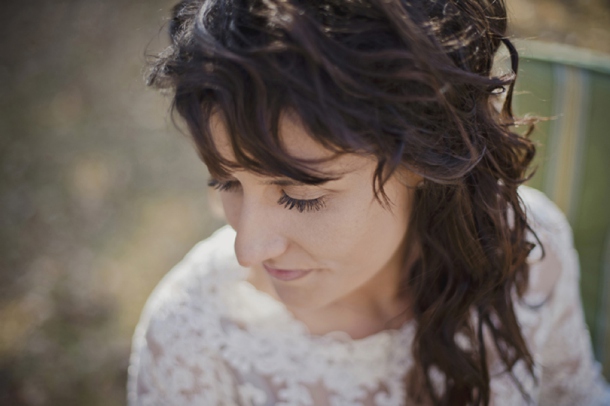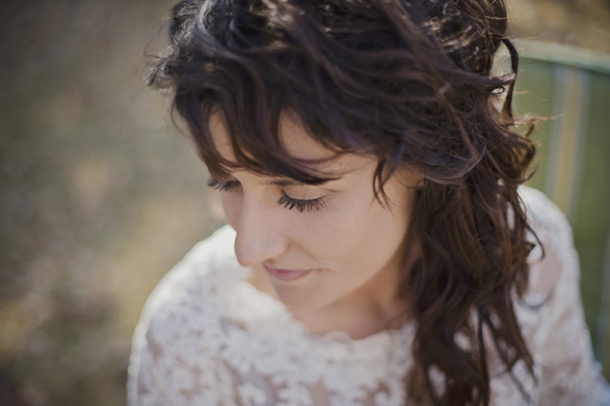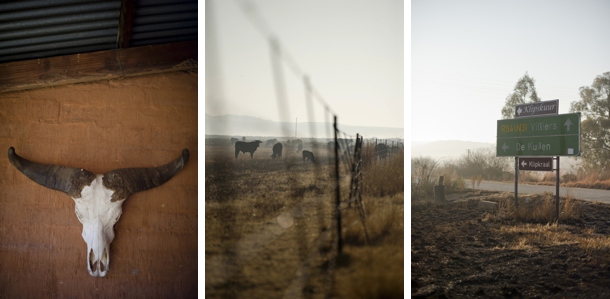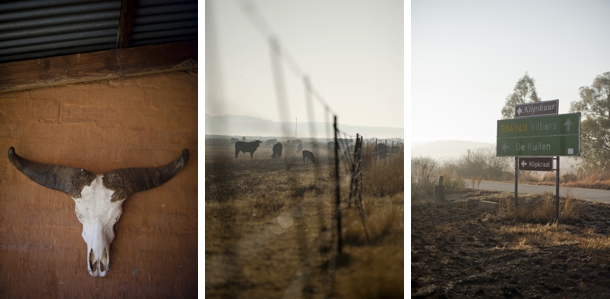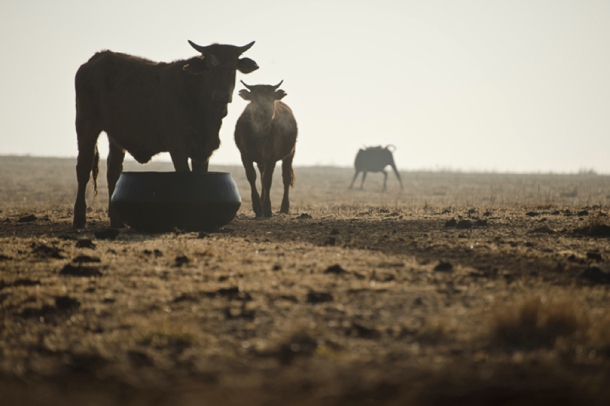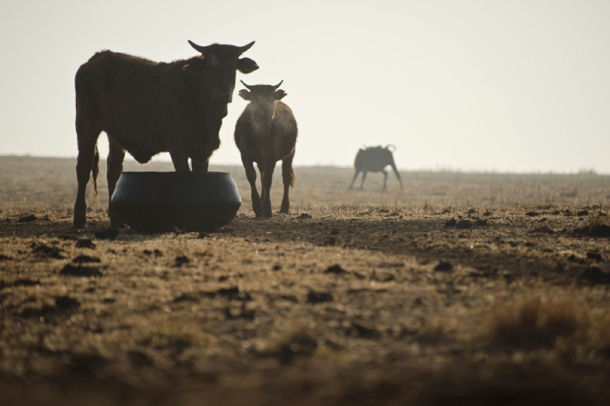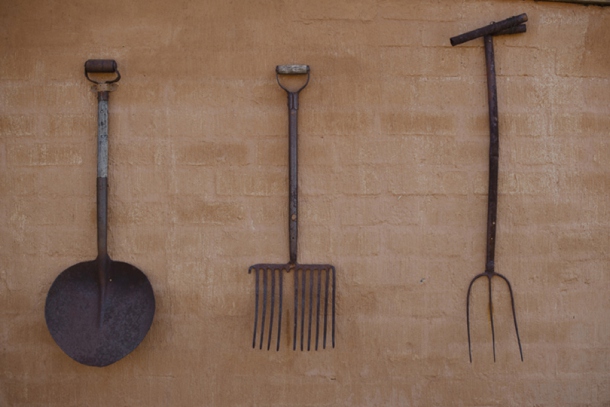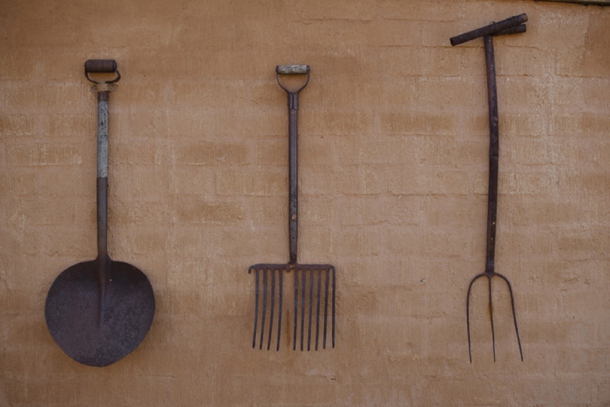 Wedding Style
My wish for our wedding day was for it to be nostaligic and a bit unusual. Casual, but with a hint of class. The truth is that our wedding was basically a farewell, and a celebration of being together with special people we truly love and adore.

The Venue
Klipskuur, near Heidelberg, was the only venue that agreed to have an intimate morning winter wedding. The farm is classy and traditional, and I was totally overwhelmed with the feeling I had there in the bushveld. I fell in love with the smell of nature and the open, clean sky. The bonus was the most delicious food and the warm, openhearted staff – I'm so thankful for all of them. Celeste was so helpful, generous and friendly every time we spoke and always available!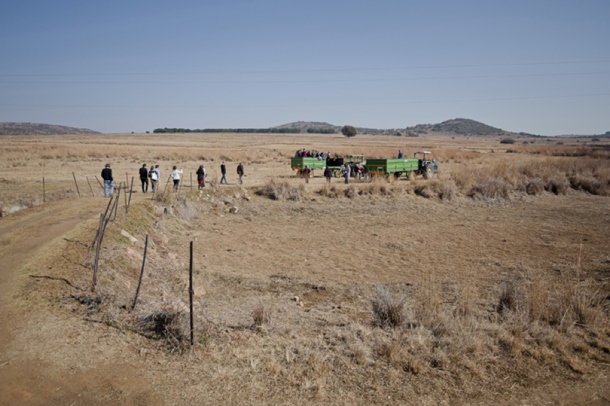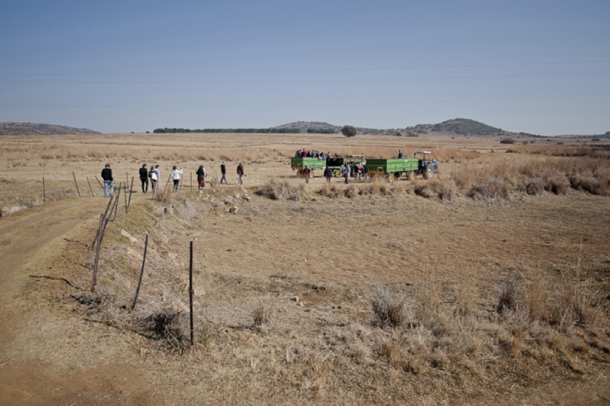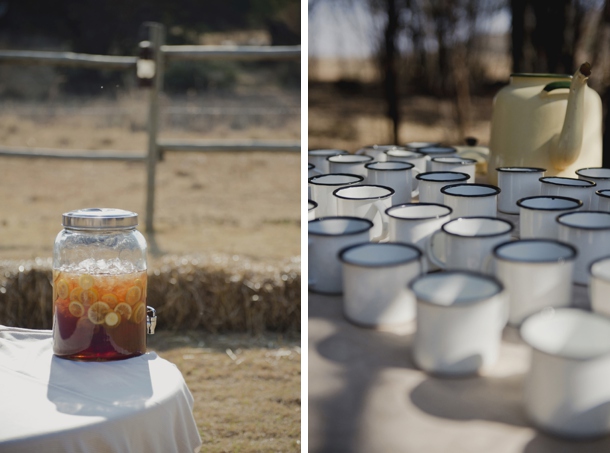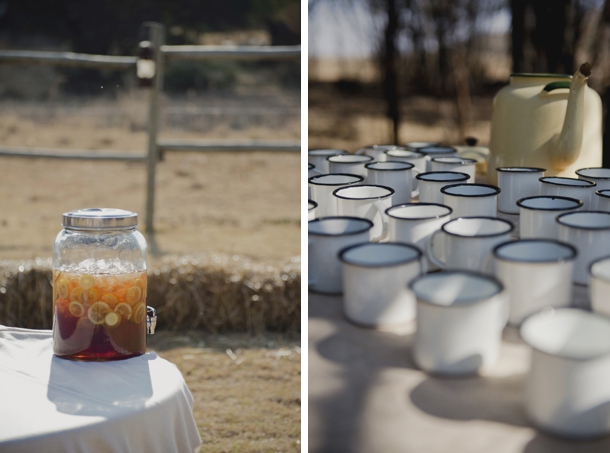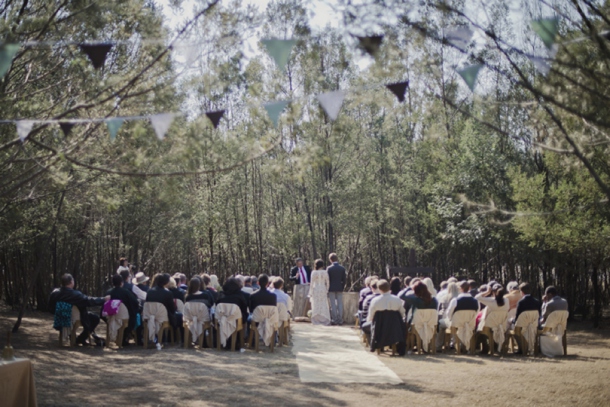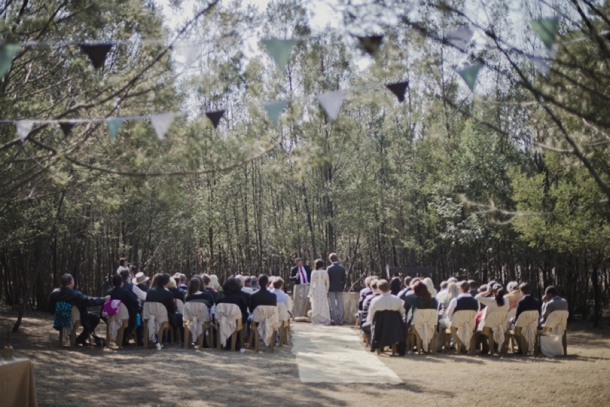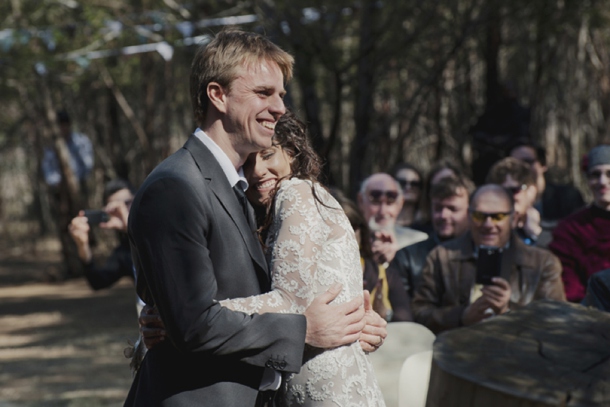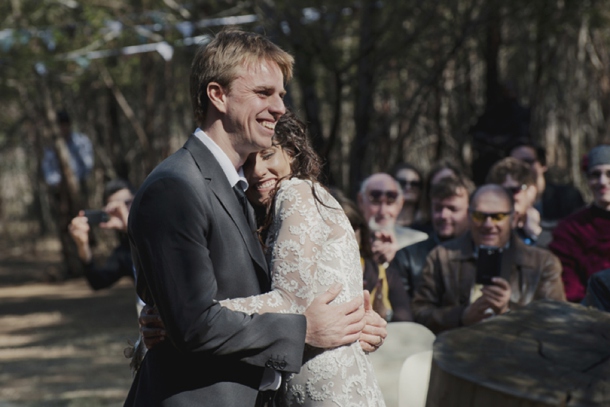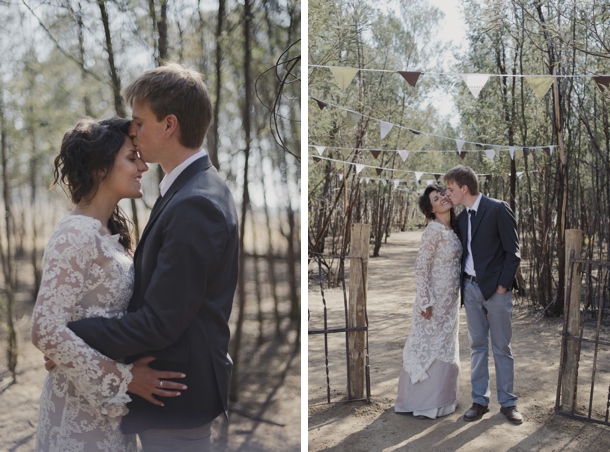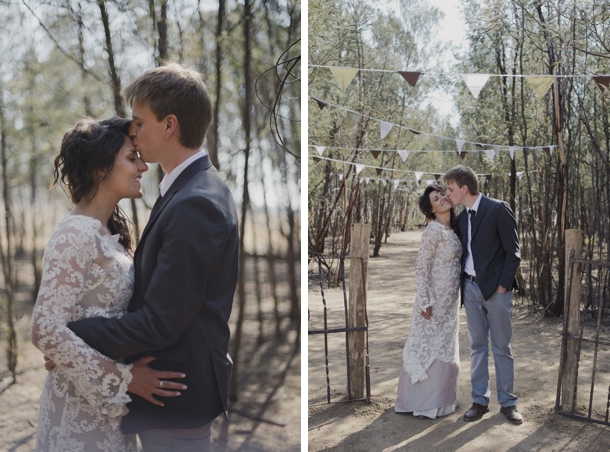 Wedding Details & DIY Elements
We both love outdoor adventures and attempting the impossible. Sharing and giving back to others is food for our souls, and we re-use and recycle for our own peace of mind. We wanted our ideas to represent us and our personalities, and wanted everyone to be part of our wedding. Friends and family jumped in and we made almost everything by hand. My father made the hand bells we gave guests for the ceremony, and my mom made metres of bunting and the napkins. The small wooden containers for the centrepieces were made by the kids at the school where I worked, and will be re-used for other school occasions and functions. I bought succulents, stones and plain white candles for the tables, and also re-used glass bottles and containers. Afterwards, we gave the plants to family and friends to plant in their gardens. The old crochet tablecloth on the main table was my grandmother's. I made all the guests' gifts myself – necklaces for the ladies and tongue-in-cheek 'Idees Vol Vrees' for the men that were printed on badges and pinned to fancy ribbon. We folded little paper boxes for all these gifts. I used paper doilies for the escort cards and table plans. My sister-in-law helped me with my hair and makeup. A friend knew someone who could bake lovely cakes, and she used the cotton lace I had used on the tables to decorate it. Everyone that was invited had a contribution of some kind – it was very special and intimate. As we were moving to America, I knew we could only take the minimum with us, so instead of gifts, we asked our guests to bring new or old blankets and we donated all of them to an old age home in need in Sasolburg.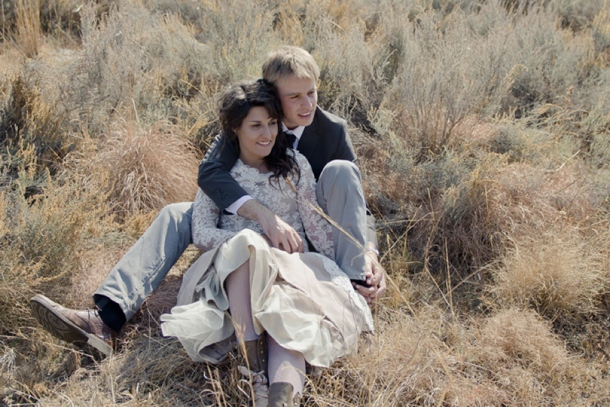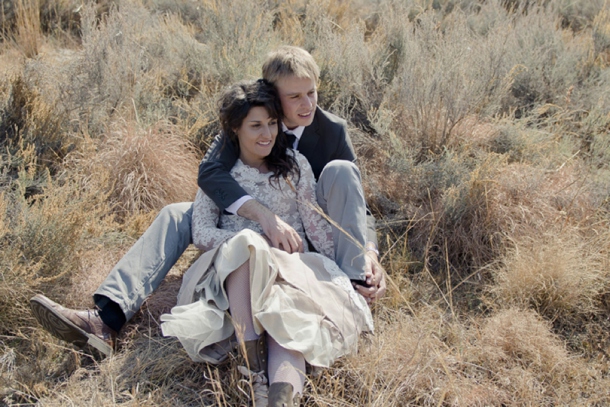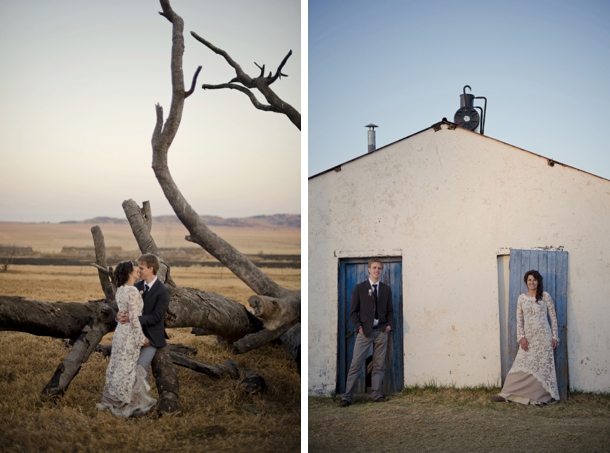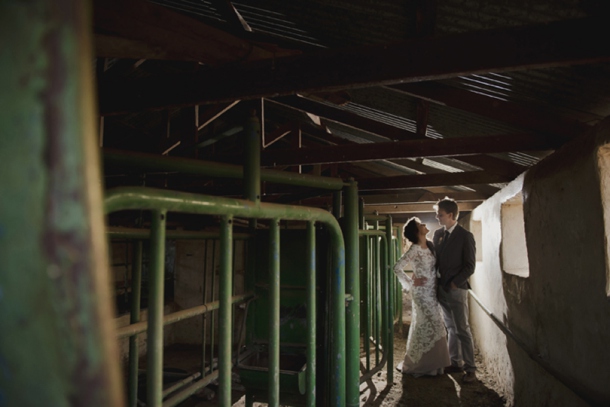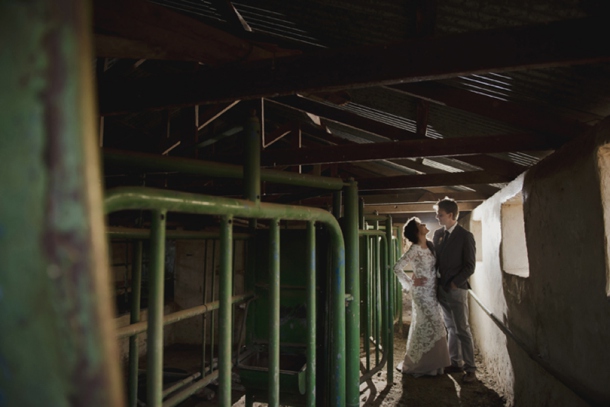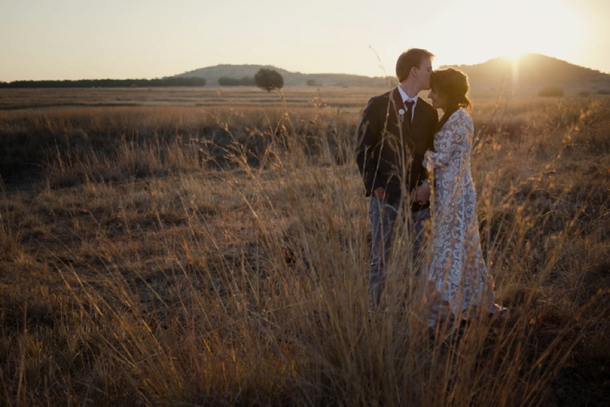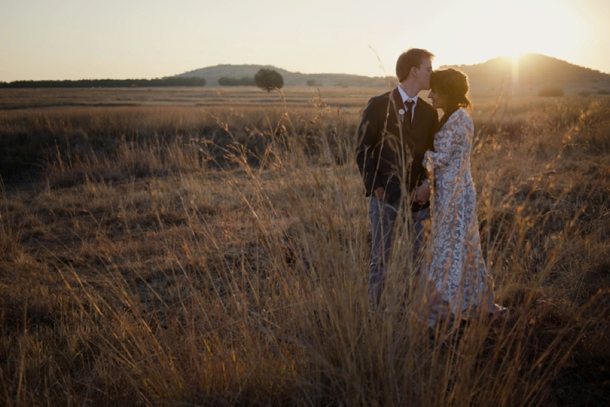 The Flowers
A family friend is gifted with plants and flowers – she made a heavy ball of succulents on a string of ribbons for my bouquet.
The Dress
My knowledge on weddings was zero – I had to ask for a lot of advice from friends and the internet helped tremendously! I couldn't find many choices for winter wedding dresses, but I had a few ideas and asked a seamstress to make it for me. Putting all those inputs together, I had a gown!


Memorable Moment
The long walk through the trees with my dad towards the bush altar, as my father-in-law rang the old school bell (it is as old as the school, about 45 years). Together with the sound of the guests' small bells and ribbons flashing in the winter morning sun in open nature. And of course, my husband's face. It was moving.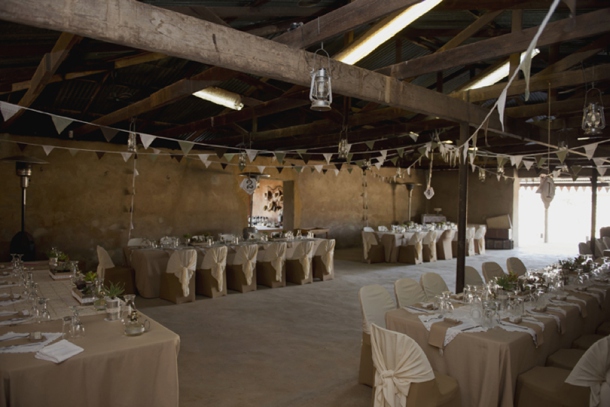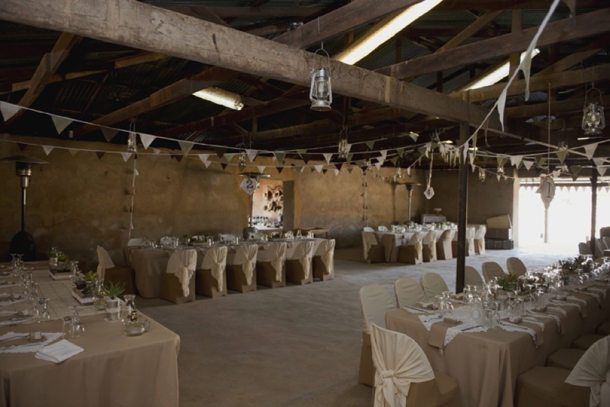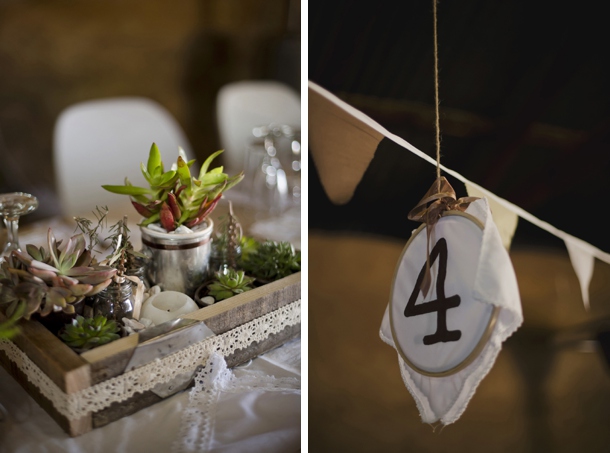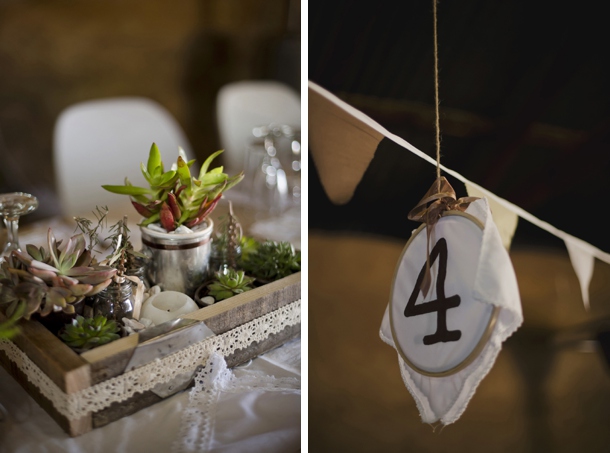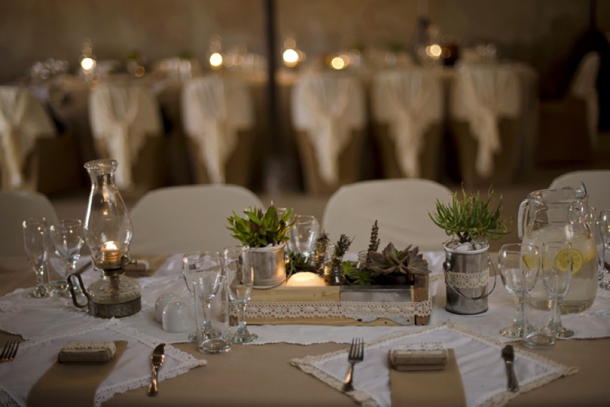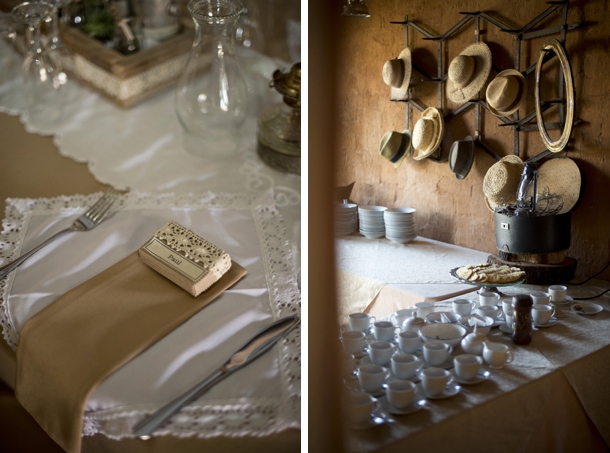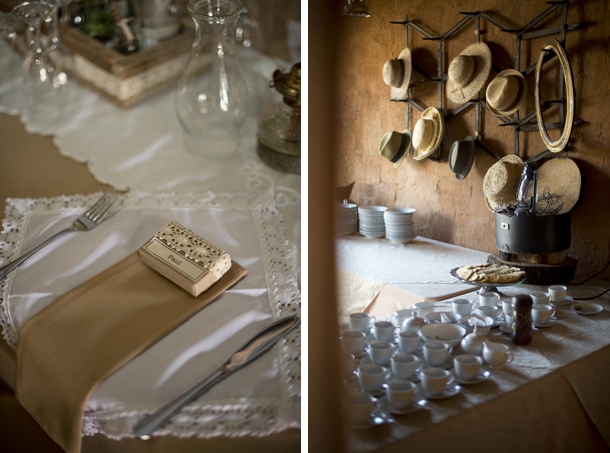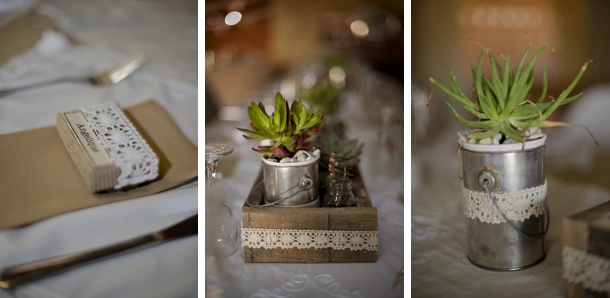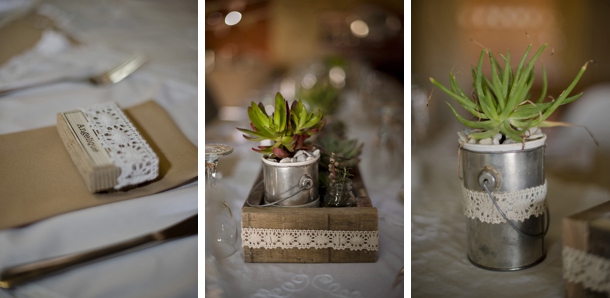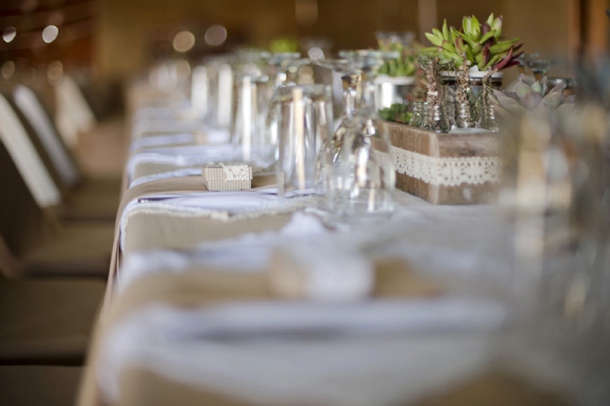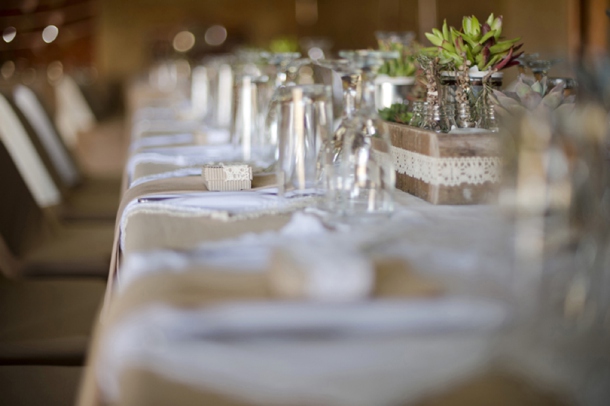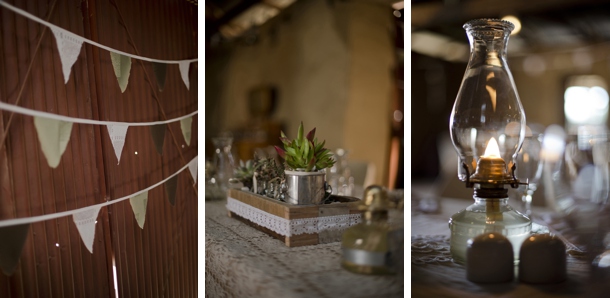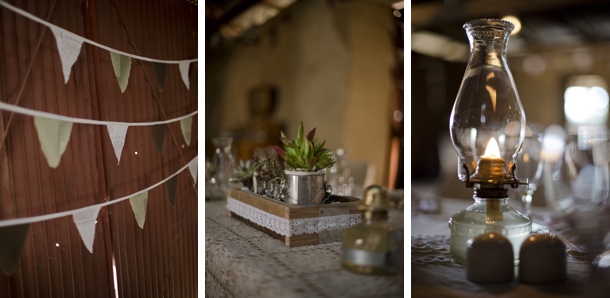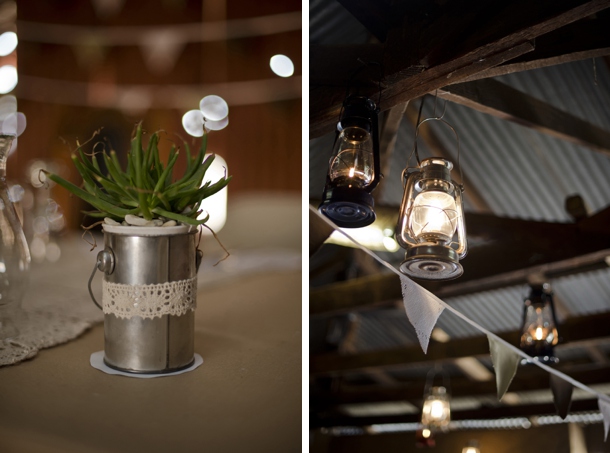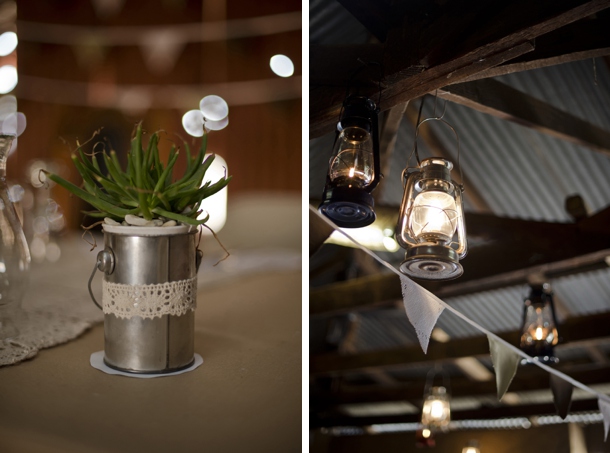 Proudly South African Details
The traditional Sunday lunch and the farm set-up. And I must say, the 'Idees Vol Vrees' badges broke the ice!
The Honeymoon
Our honeymoon was in Seattle, Washington – the city that invented Microsoft, Amazon and Starbucks coffee, and where legends like Kurt Cobain and Layne Staley are forever young. Where Jimi Hendrix, Bruce Lee and his son are  buried. The capital of the grunge scene and home to the Space Needle. It was truly a great experience.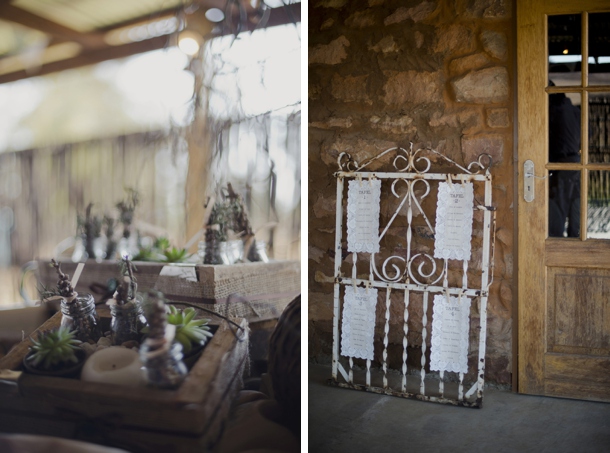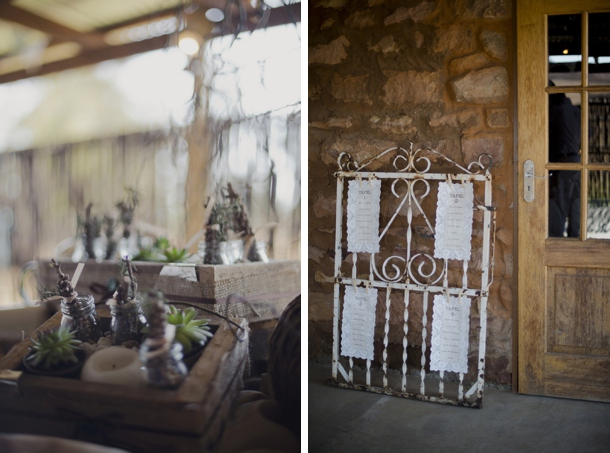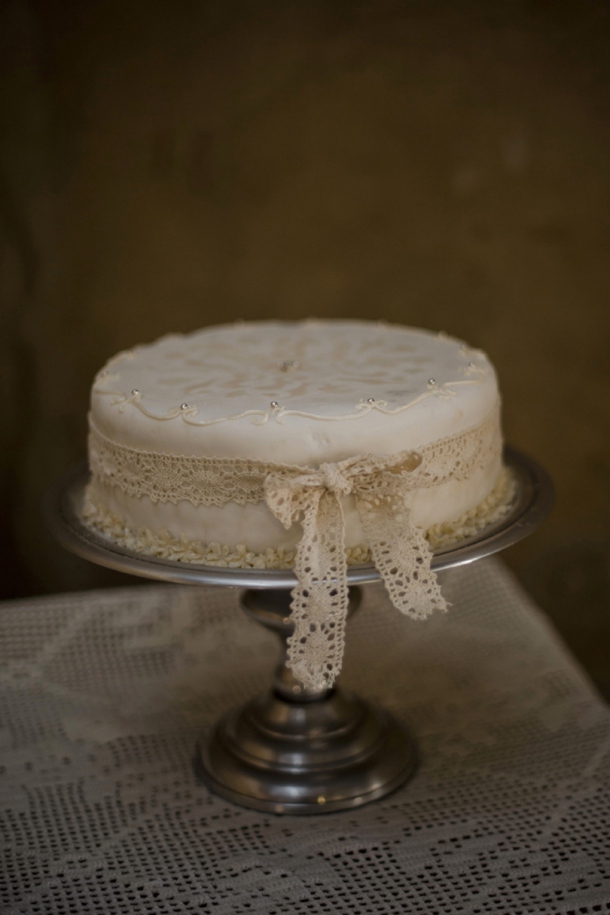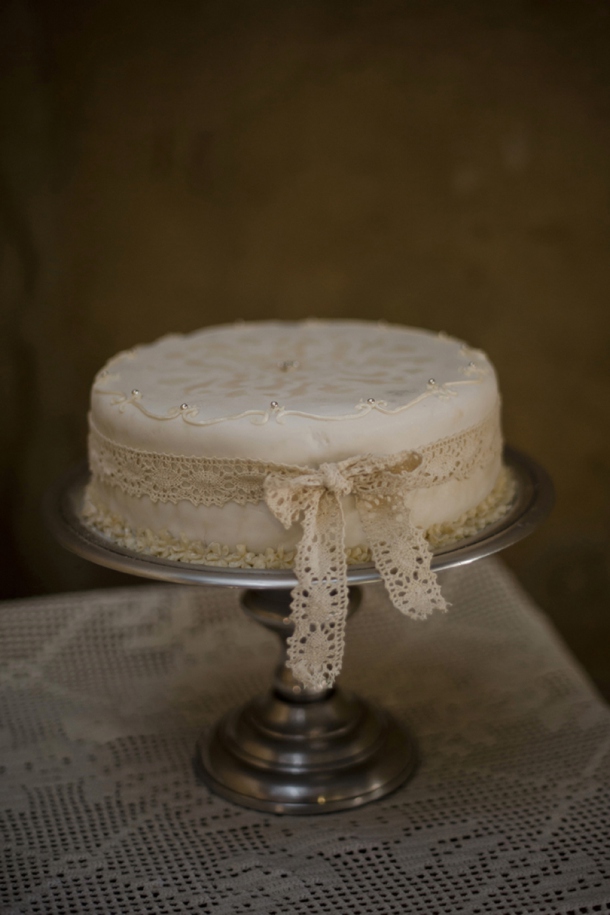 Advice for Future Brides & Grooms
Because I planned the wedding in two months, things had to get done. There was no time to re-think every single thing. I listened to advice and input and was open to anything, although I'm very stubborn. Enjoy every moment, even the frustration – it's all part of the process! It's over in the blink of an eye.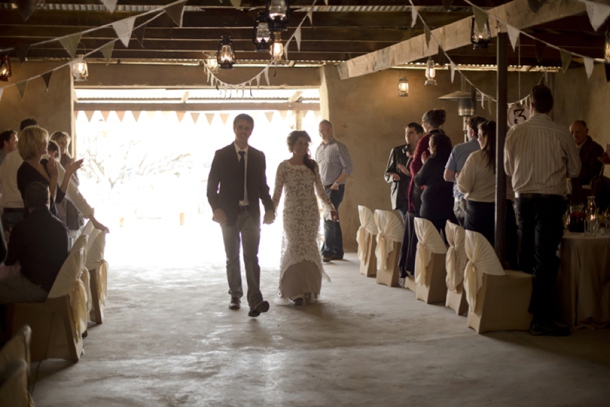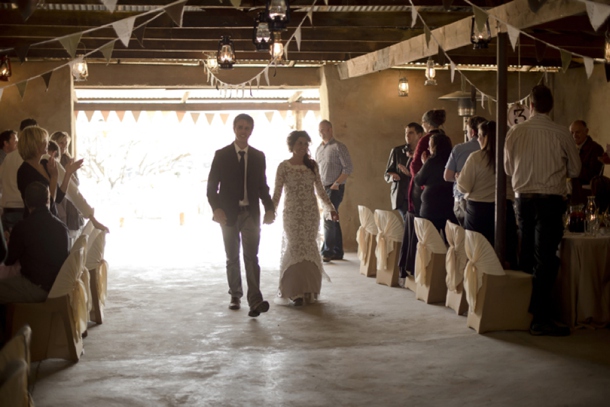 You can see more from this wedding on the GingerAle Photography blog.
SERVICE PROVIDERS
Venue, catering & hiring: Klipskuur | Photography: GingerAle Photography