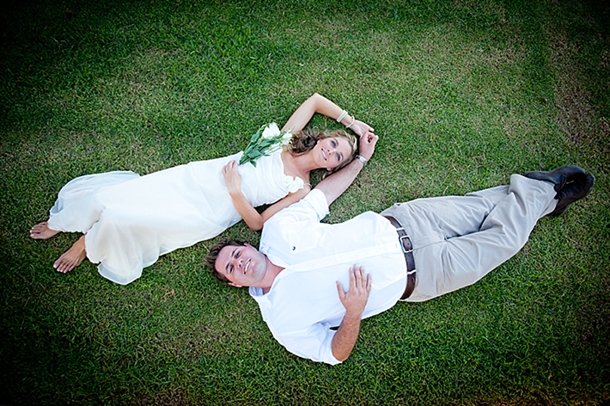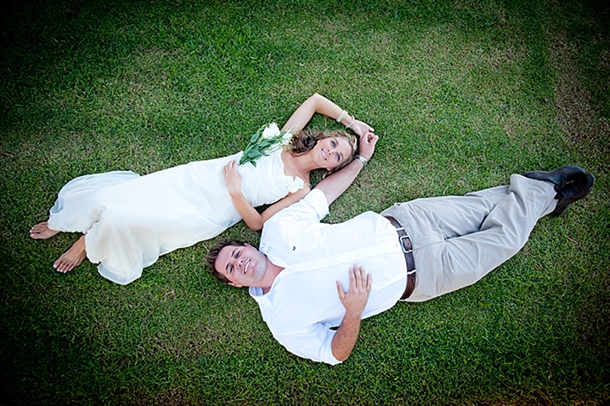 They say when you know you know, and that must have been true for Johnny, who first fell for Mariaan when they were children! So cute. This pair of barefoot farm kids grew up to be free-spirited adults, and threw a laid back country wedding that had a touch of carnival celebration. I LOVE that they used what they had, and this turned into fruit on the tables instead of flowers (Johnnie is in the fruit business), barrows and crates full of fynbos, and what is without doubt my favourite bar of all time. I also love the boho flowergirls and the little pageboys in top hats! The relaxed vibe was perfectly captured by Carmen Visser, who's been kind enough to share her beautiful pictures with us today. A farm wedding is actually super appropriate for me today, since I'll be spending it styling a special inspiration shoot in a farm setting – hold thumbs for me that we get some unseasonably fine weather!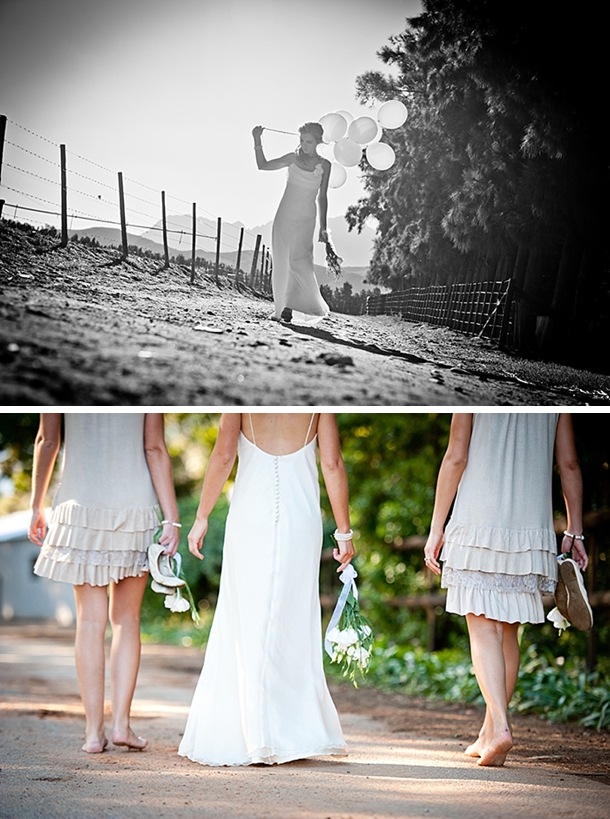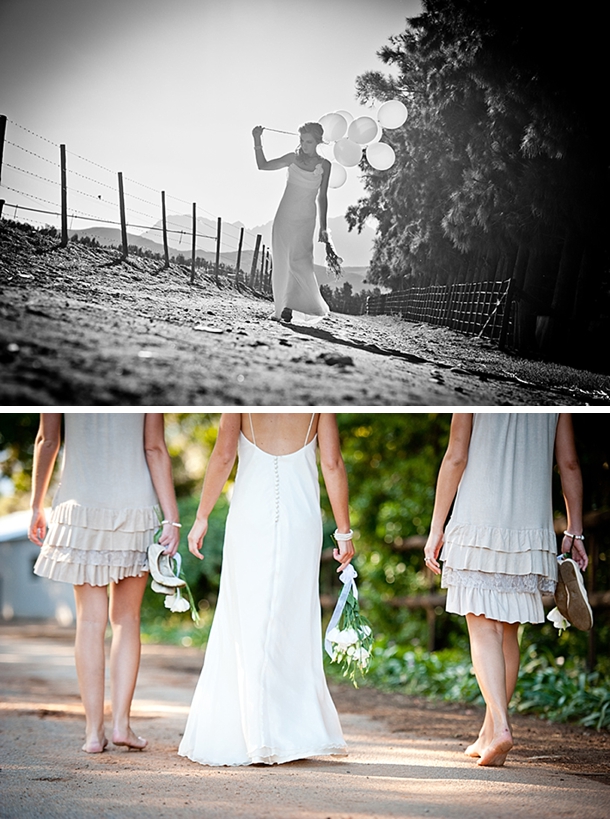 From the lovely Mariaan:
Johnnie and I actually knew each other from when we were children – he grew up on a farm not far from ours and we went to each other's birthday parties. We went to different schools and completely lost contact, so much so that I didn't even recognise him when we met again through a mutual friend when I was studying at Stellenbosch. And the rest is history! The first time he took me to meet his parents, they told me the cutest story – apparently after his fourth birthday party he had told his mother that one day he was going to marry me! (Be careful what you wish for!)
Both of us love a camp fire and to travel, and last year we took a Topdeck camping trip to Europe. We visited various countries, but Switzerland was one of my favourites. We camped in a 'postcard picture' village surrounded by the most beautiful mountains covered in snow. The top of Jungfrau, the highest mountain in Europe, is about an hour's train trip away. We went up the mountain for the day with a few friends and the scenery was absolutely magnificent. Since we love adrenaline, Johnnie took me down the zip wire ride with him, and it was there at the end of the ride, with snowflakes falling from the sky, that he got down on one knee and asked me to marry him, with a wooden ring he made himself. When we got home he gave me a diamond and allowed me to design my own ring, but I still wear my wooden ring and love it!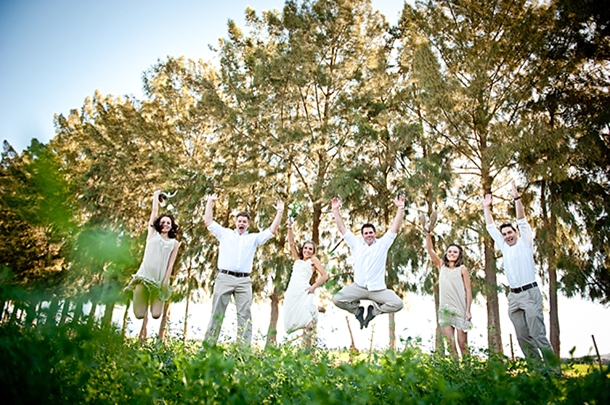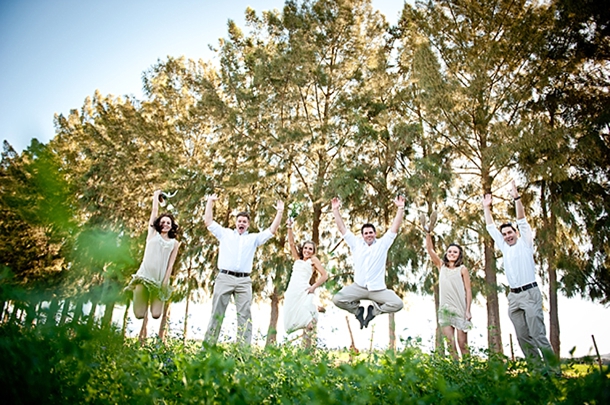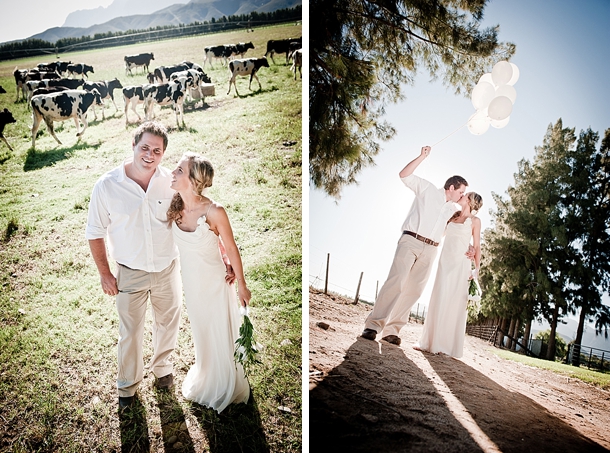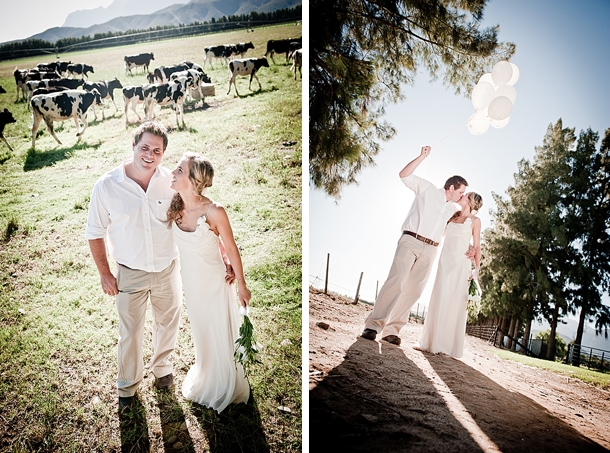 I've dreamt about getting married on our farm since I was a little girl, so the venue was an easy pick. For décor, we decided to use whatever we had and could find on the farm – it was, after all, a farm wedding! We had the ceremony on the lawn and the reception in the shed, hay bales for the ceremony, and a horse cart for the wedding entourage. Drinks were served from wheelbarrows, and we had wild flowers in barrows and wooden crates outside. Inside, we had no flowers, only fruit – the colours were amazing! Since I grew up on a wine and dairy farm, we used a lot of wine barrels and milk cans. I'm a Plain Jane, barefoot farm girl, so my dress was VERY plain and I was barefoot! Loved it! Johnnie and my dad also hate wearing a tie, so no ties and no suits!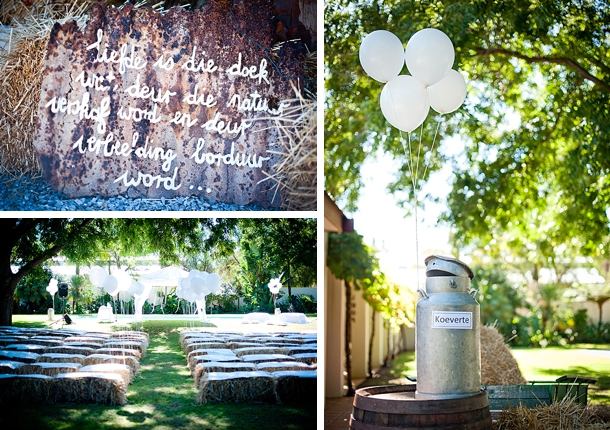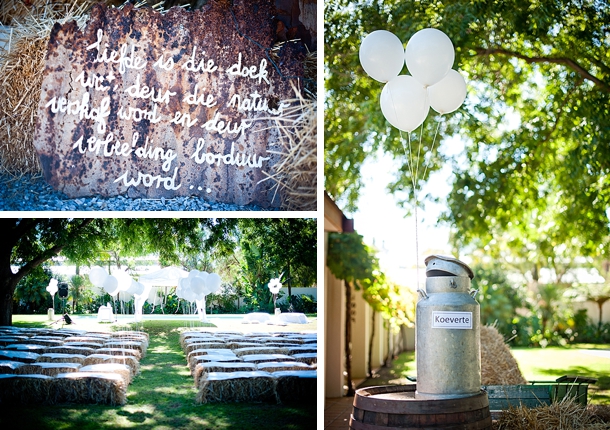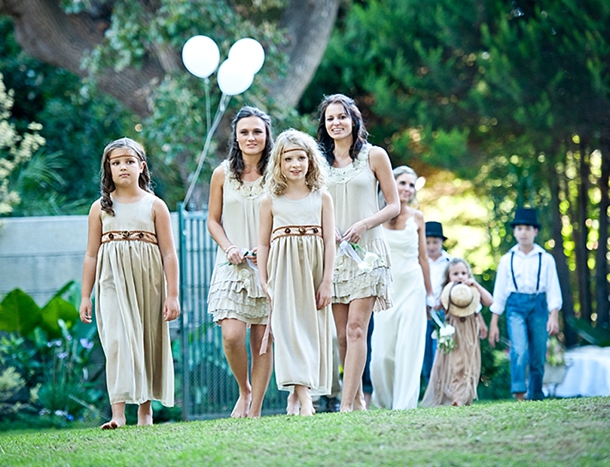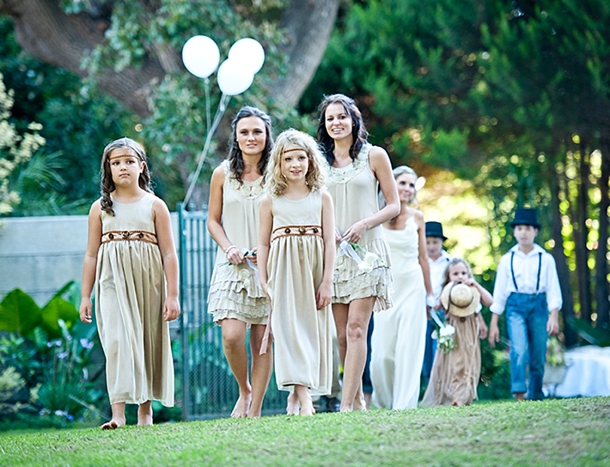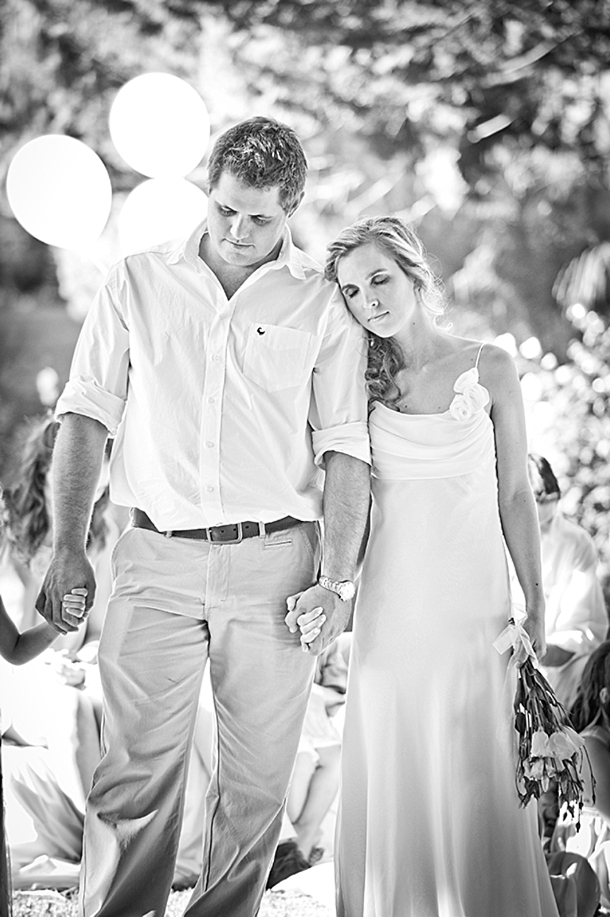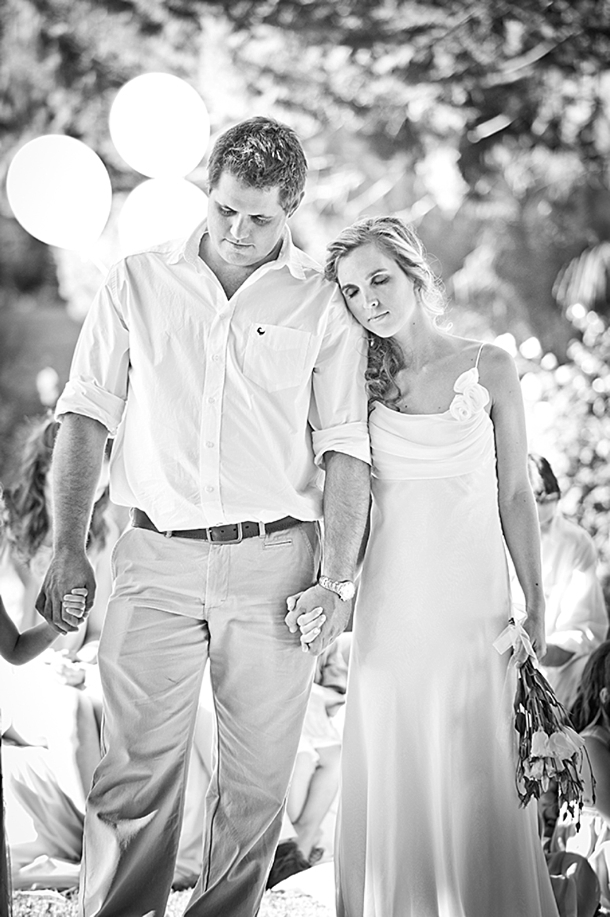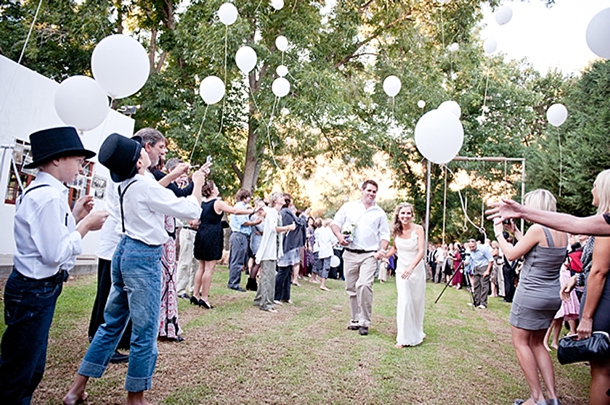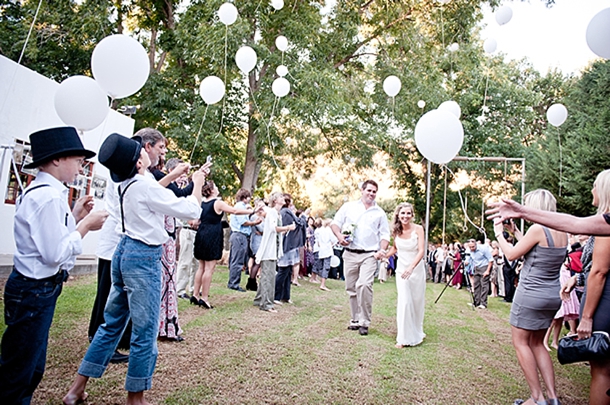 We had games to play during pre-drinks: wine barrel walking, hop scotch and catapult (kettle) shooting. Guests were given helium balloons with blessings from the Bible inside, instead of confetti, and later in the evening we also released a few Chinese lanterns.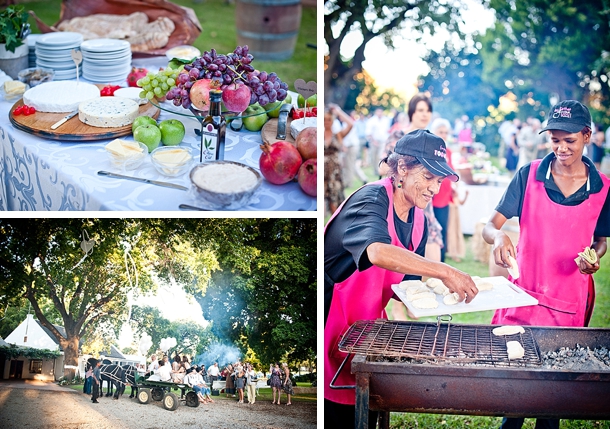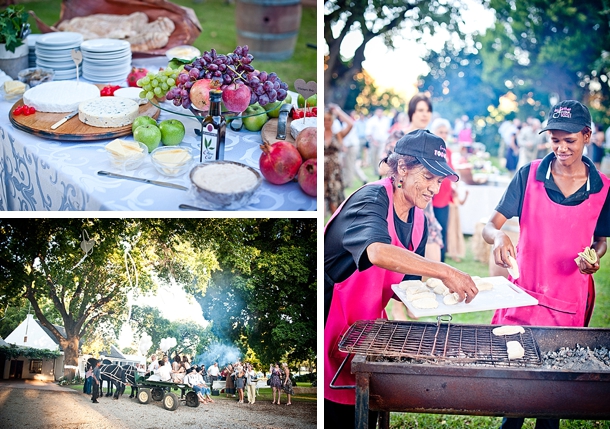 The whole thing was really a team (family) effort – it was the event of the year in our community! Everybody was involved, from the farm workers to my grandmother. One of my uncles performed the service, another one drove the horse cart and the other one was master of ceremonies. My nephews and nieces were part of the entourage. Everybody came to check in daily just to see how things were coming along. We made a lot of the stuff ourselves – my mom made huge ribbons for the trees, and a white gazebo for the ceremony, and we made a lot of hearts, wooden ones and metal ones, to hang from the trees. One of my brothers cut the lucerne so that the vehicles could park, while the other turned the garden into a fairytale paradise with lights everywhere. It was so beautiful in the evening. Inside, my dad built the coolest bar ever! It was a tin shack with pumpkins and an old broken bicycle on the roof.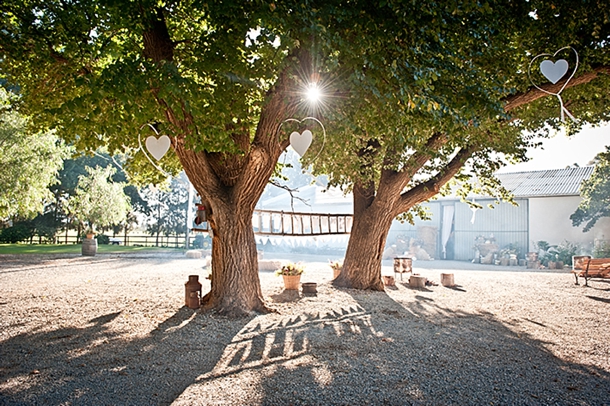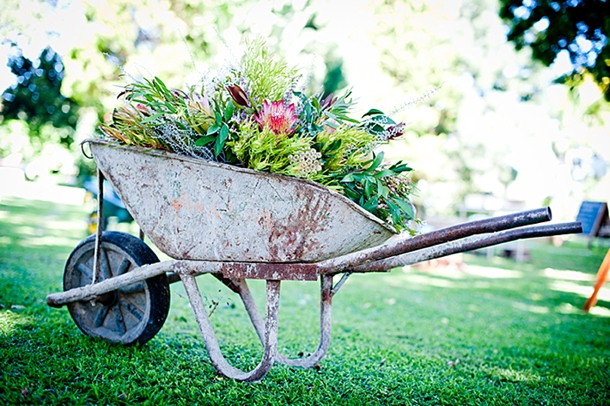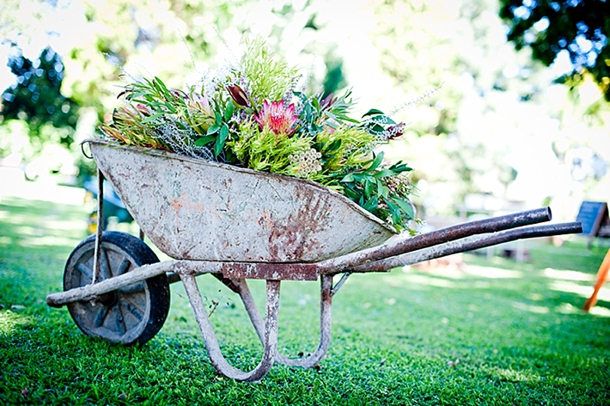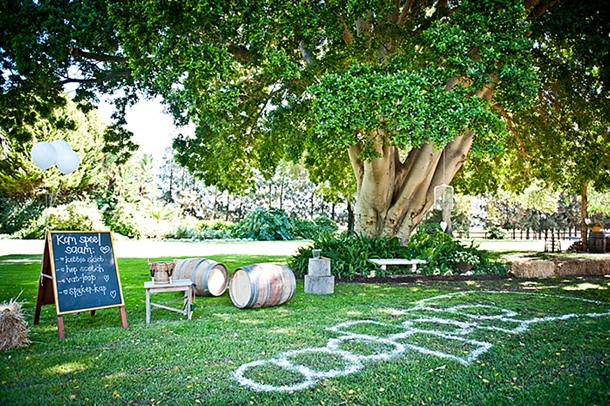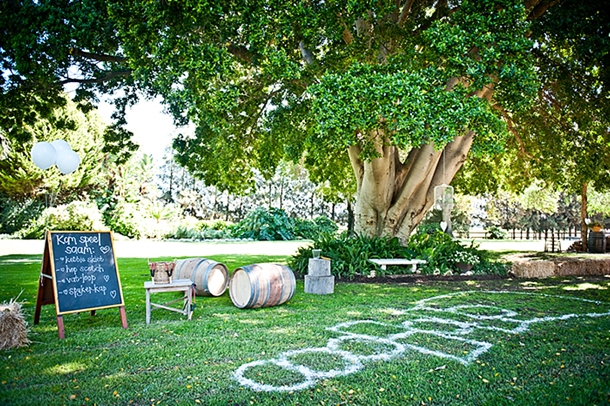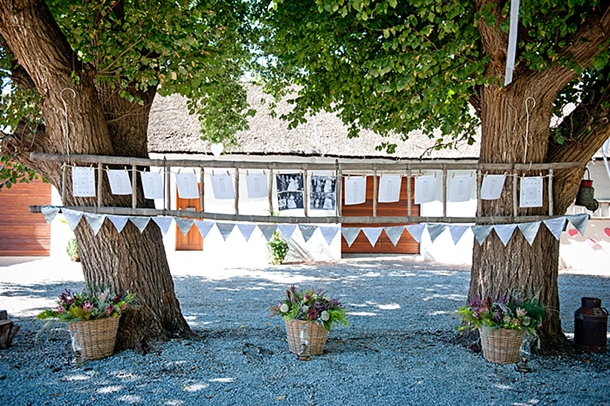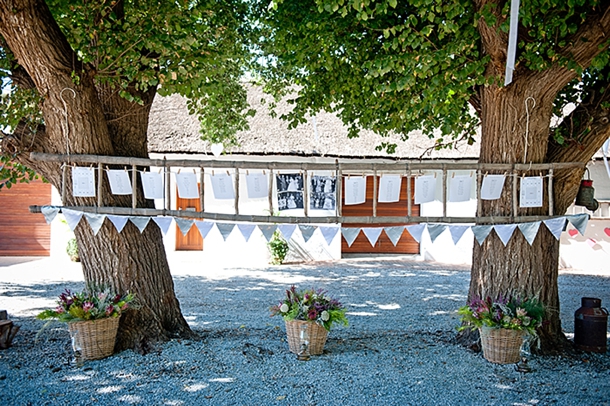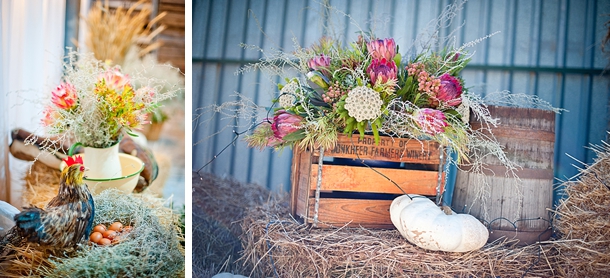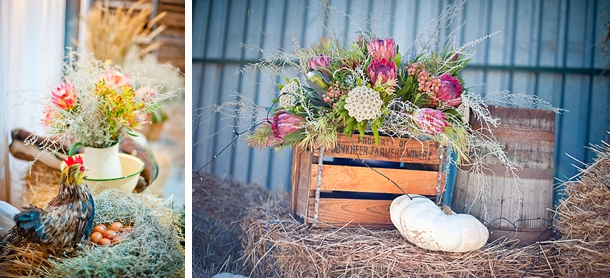 Johnnie's wish was that it would be a good party… and it was! we had masks and dress up hats, etc. on the dancefloor for everyone to wear (such a good icebreaker!) – everyone, even the older people, had a great time dancing in a circle. We carried on until 4am!
From the first preparations up until the last song, our day was filled with laughter – it was fun, and it was different. God was our guest of honour, part of everything and every decision, and thanks to Him we stood totally amazed at how beautiful everything looked.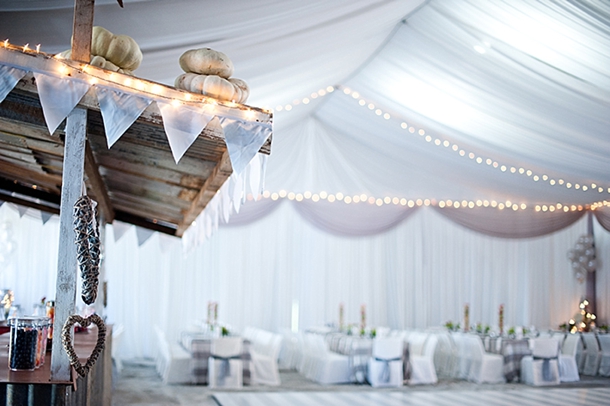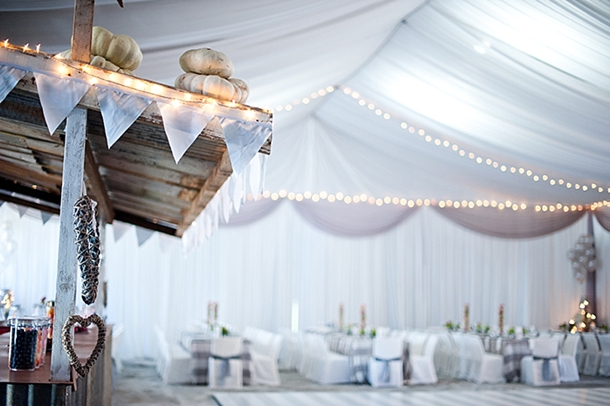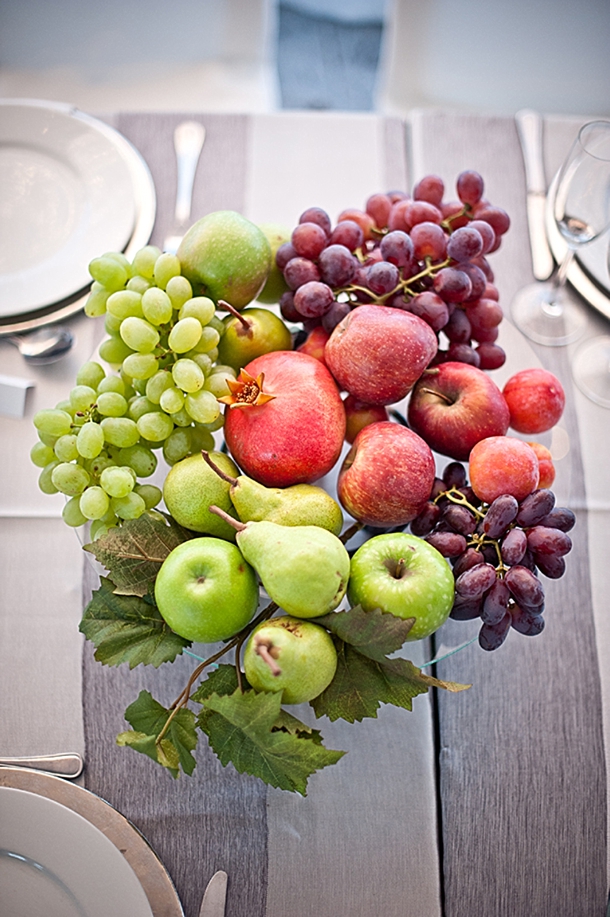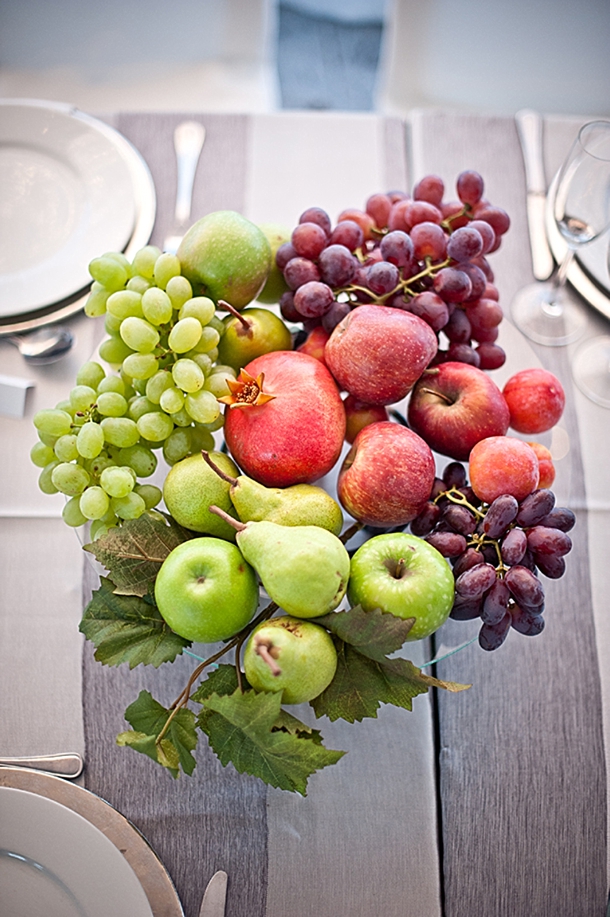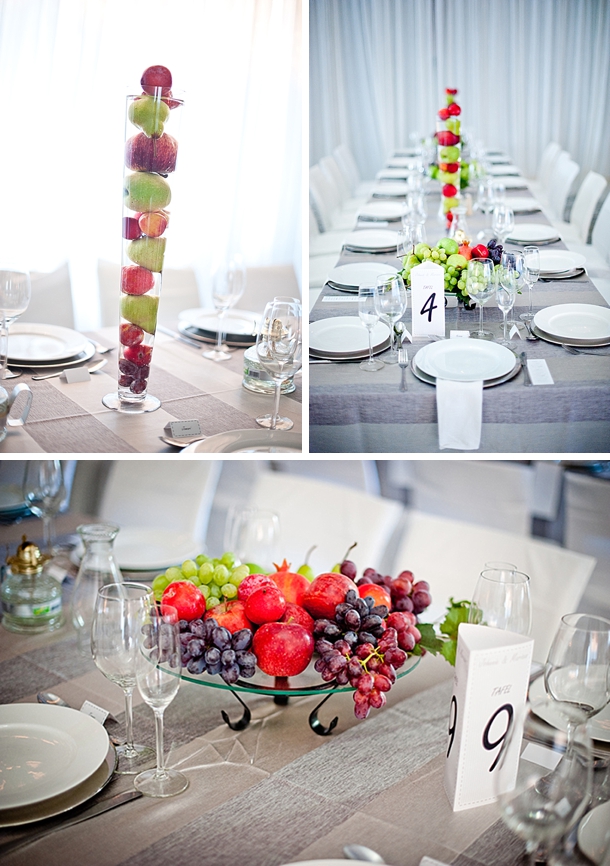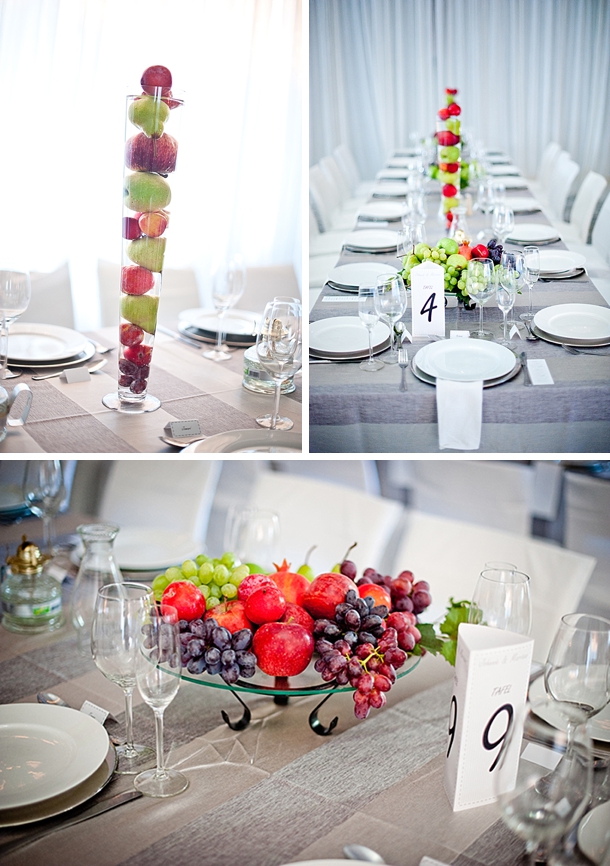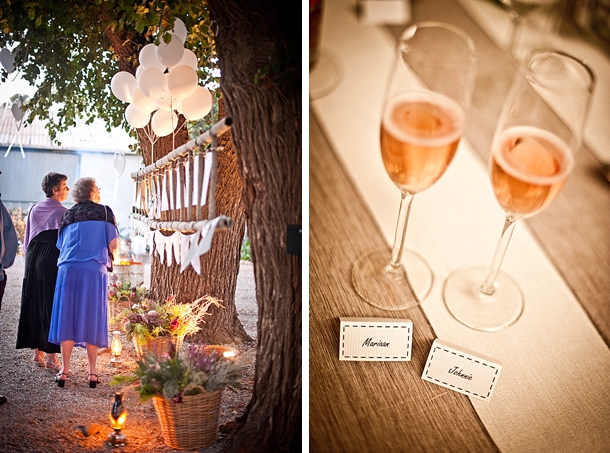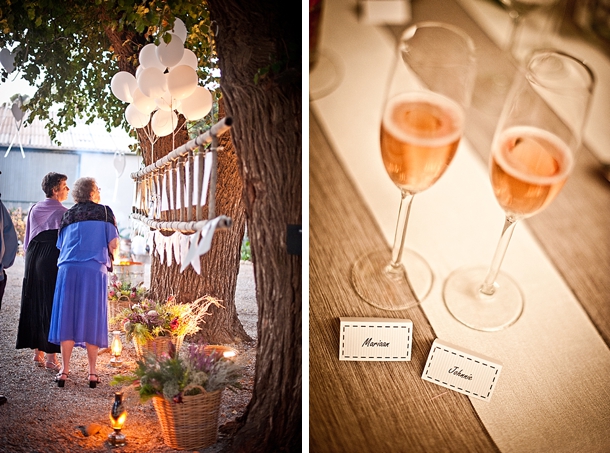 My advice to future brides is to listen to everyone's opinion but follow your own heart – you can do whatever you like, however you like, as long as YOU are hapy and enjoy every minute of it! Another suggestion is to take the couple photographs before the ceremony – we had to do this to work around the farm dairy, but it turned out to be a great idea as we could enjoy the pre-drinks and mingle with guests, and once we got inside we didn't have to worry about greeting everyone.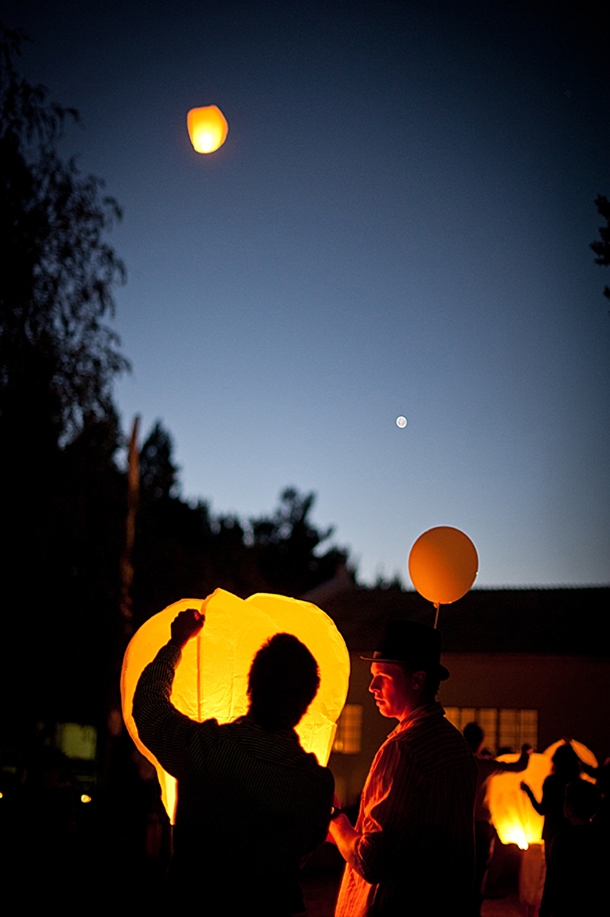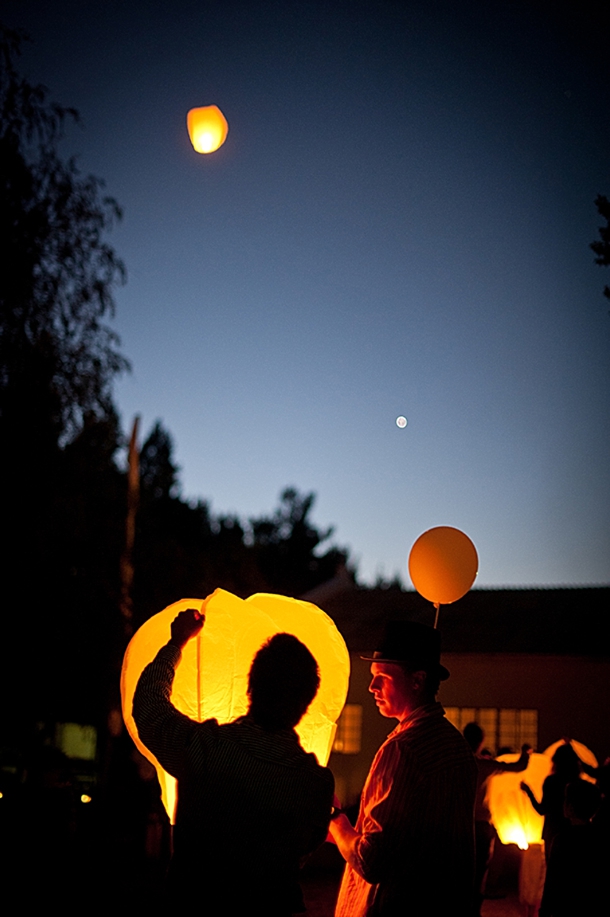 Congratulations, Mariaan and Johnnie! Thank you for sharing your day with us. Big thanks and love to Carmen for allowing us to feature her pics – you can of course head over to her blog for more.
SERVICE PROVIDERS
Catering: Wilinda Hanekom (022 433 3513) | Photography: Carmen Visser | Draping: Dine Décor | Hiring: To-Nett's | Bride's dress: Perfectly Jules, Worcester | Hair: Inge Werth | Makeup: Elet Conradie | DJ: Musiekland
Carmen Visser is a member of the SBB Directory