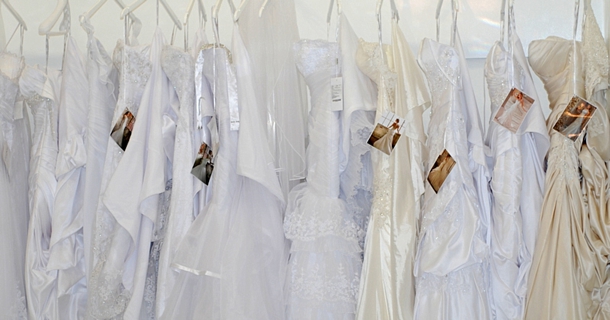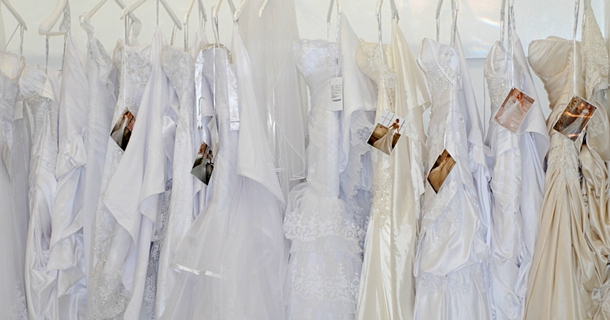 So… you've met the man of your dreams, you've dated, you've met each other's parents, you've realised you want to spend a lifetime together, and the moment you've been waiting for since you were a little girl has finally arrived. Not THAT big moment (we'll assume he's already popped the question) – the moment you get to go into a wedding boutique and play dress up. The first time you really get to feel like a bride, when your mom will well up and your best friends will sigh, and you'll all drink champagne and say yes to the dress. But if there's one thing I've learned from visiting both high end boutiques and (sometimes slightly dodgy) budget ones with friends, not all dress fitting experiences are made equal. And nothing makes you feel less bridal than getting stuffed into a shabby sample by a grumpy assistant in a tiny changing room with peeling wallpaper and a curtain hanging precariously off the rail.
Fortunately, that doesn't have to happen to you. If you read the blog regularly, you'll know that a brand new branch of Olivelli has now opened in Cape Town, and as well as drop dead beautiful dresses, Olivelli is all about personalised service. Owner Natasha Colson, who was inspired to open her own branch after a blissful experience as a bride at the flagship Gauteng Olivelli store, is passionate about making all her brides and their guests feel like royalty when they come in for their fittings. More than just another wedding chore, it's an experience.
Recently, Olivelli gave away a free consultation to one of their Facebook fans and the winner, newly engaged Estelle Botha, was treated to a deluxe experience that even included a makeup session from Le Look and an accessories consultation with Lily Blue. I asked Natasha not only to give us a peek behind the scenes at Estelle's day, but to tell me more about the steps a bride can expect when buying her dress from the store. All the lovely images in this post were taken by Nicole De Freitas of That Moment.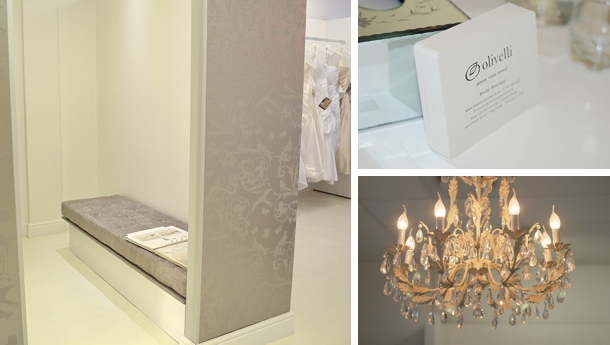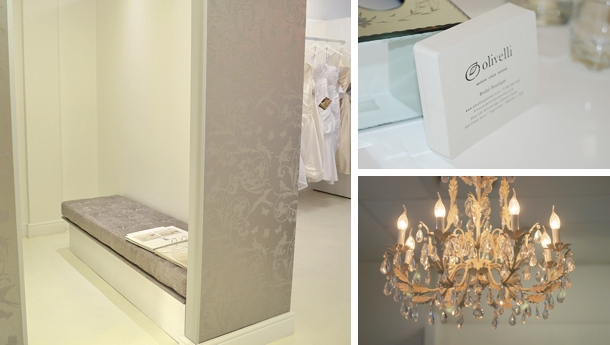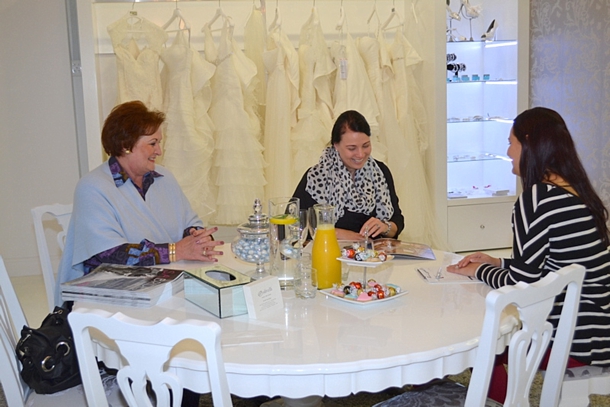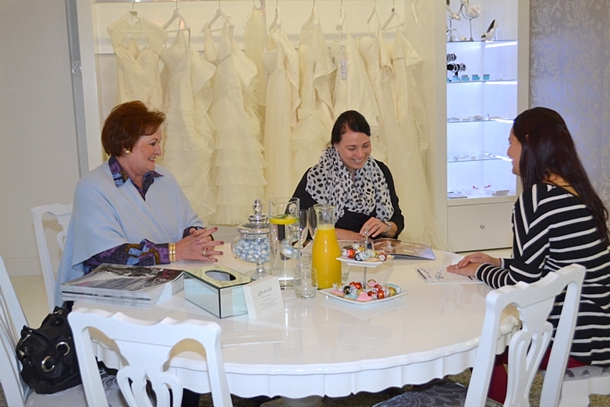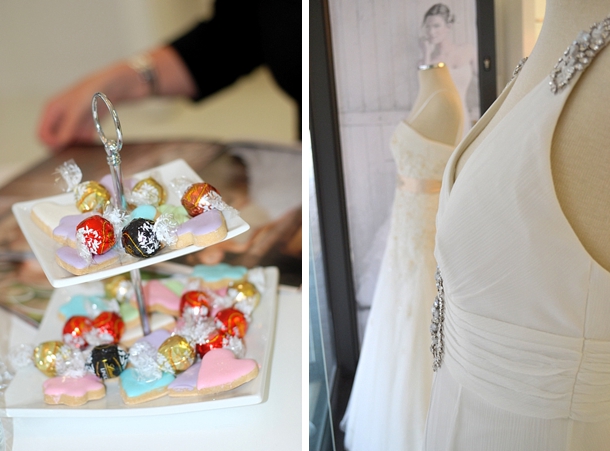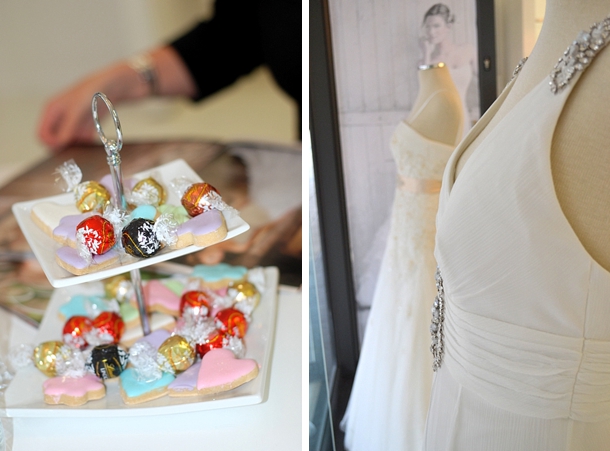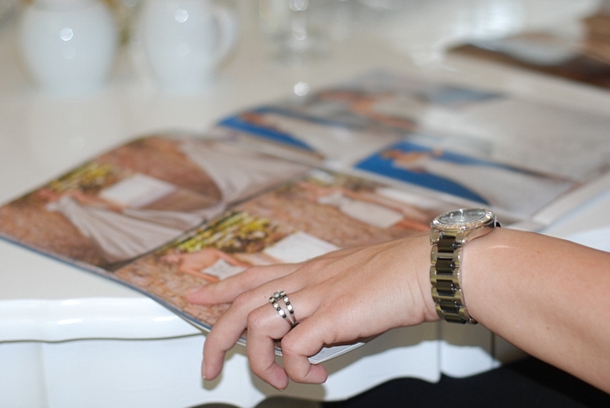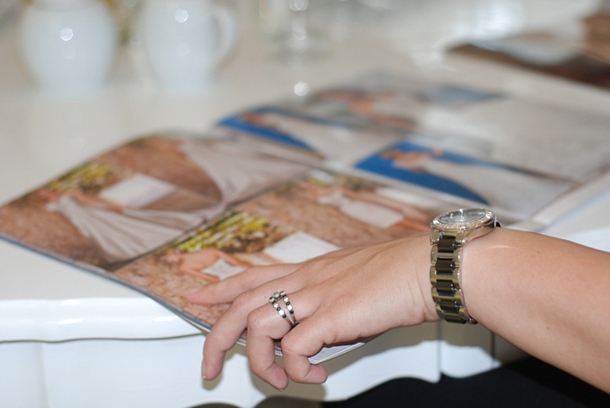 Pictured above: Estelle and her mom arrive at the Olivelli Cape Town store and sit down for a consultation with Natasha over tea and treats. They are shown the collection, which includes dresses from the Rosa Clara Group and Essense of Australia (both exclusive to Olivelli) and Estelle chooses which dresses she'd like to try on.
The Consultation: The bride and her entourage arrive at the store and are made welcome with tea, coffee and juice, and a few tasty treats. Natasha sits down with you and asks a series of questions to establish your needs and wishes, your personal style, and the style of your wedding. As well as chatting all about venue, colours, theme (all the stuff we love talking about, basically!), you are welcome to bring along some pictures of dresses that have taken your fancy, so the Olivelli team can get an idea of what stuff your wedding day dreams are made. They will then take you through all the dresses in the store, and you'll choose the ones you'd like to try on. There's no limit to the number you can sample (although consultation time is two hours). And then it's time to get busy trying on!
At the end of the consultation, you will have a shortlist of dresses for quotation – this quotation will include the dress name and price, and deposit details. Ordering is easy, and once it has been confirmed, the dress will take between three and four months to arrive.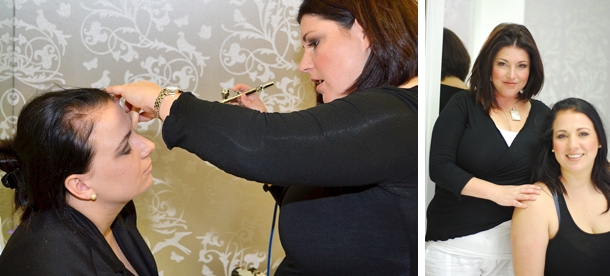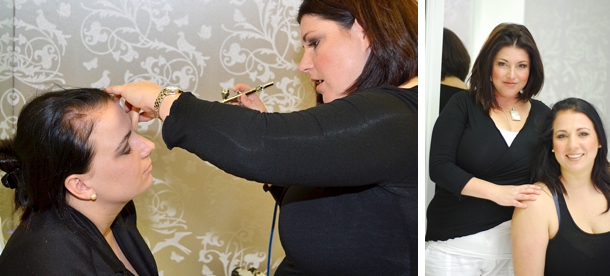 Pictured above: As a special treat, Talita from Le Look was there to do Estelle's makeup.
First Fitting: Once your dress is in-store, you'll come in for your first view where a seamstress and accessories consultant will be on hand (Olivelli Cape Town uses both Lily Blue and Hayley Goodrich accessories at present). Altering begins, and you'll start styling your dress with accessories, shoes and veils. A wide selection of shoes will be in store from this month, and having all of these extras on hand really adds to the memorable experience.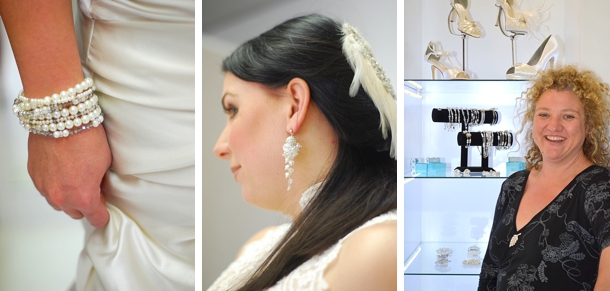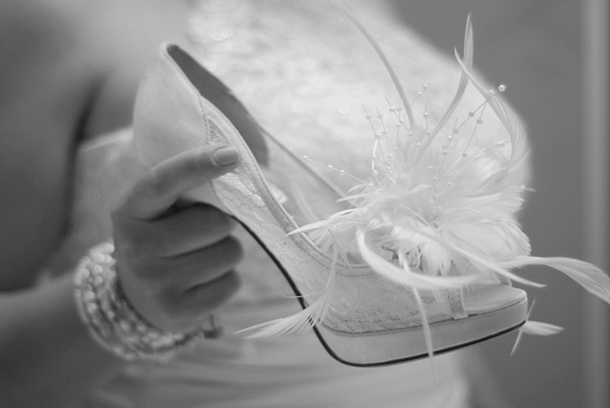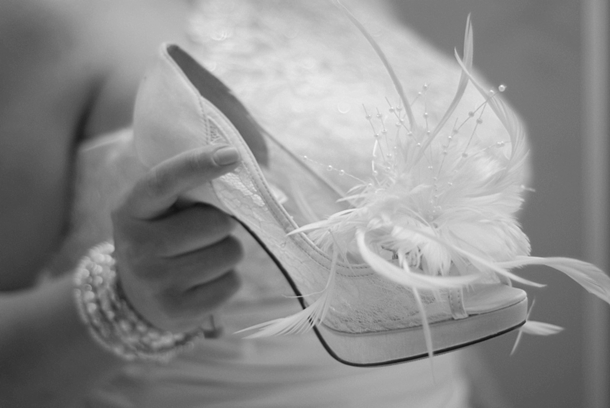 Pictured above: Anina from Lily Blue was also at the store to advise Estelle on her accessories. Olivelli will be stocking a wide selection of shoes from October 2012, and provides accessory consultations at first fittings.
From Fit to Delivery: If necessary, Olivelli will accommodate up to three fittings to make sure that your dress is absolutely perfect. And there's even a very special, super romantic surprise in store for you when you pick up your dress… but you'll have to wait until you get it home to find out!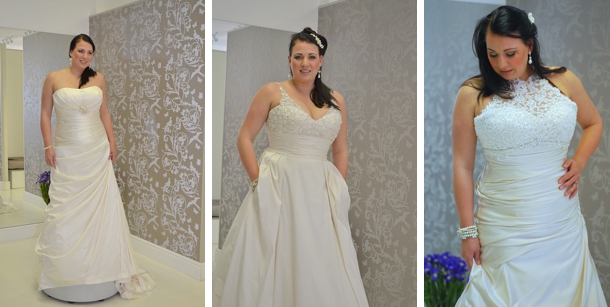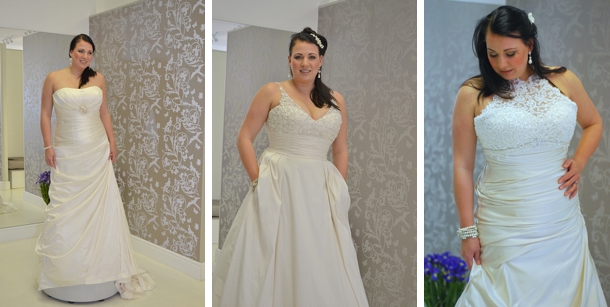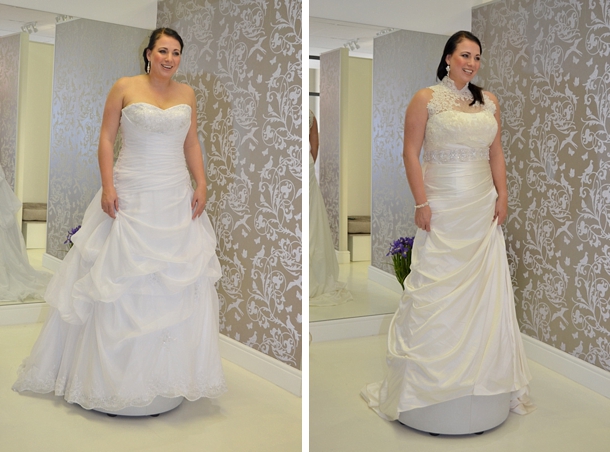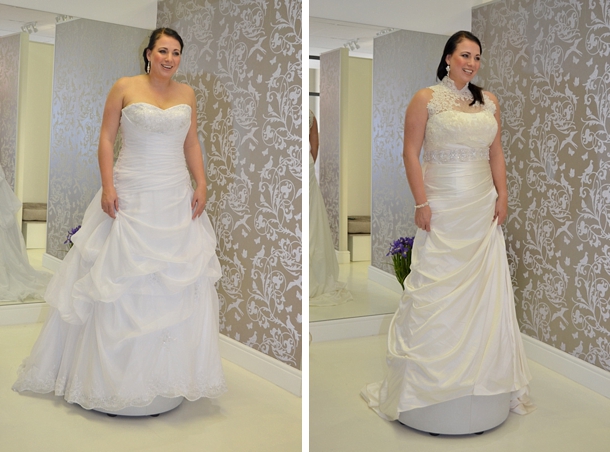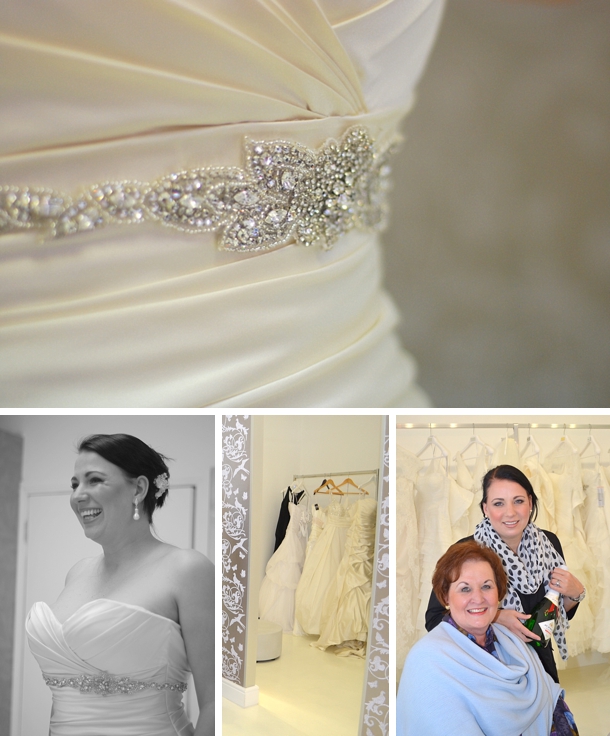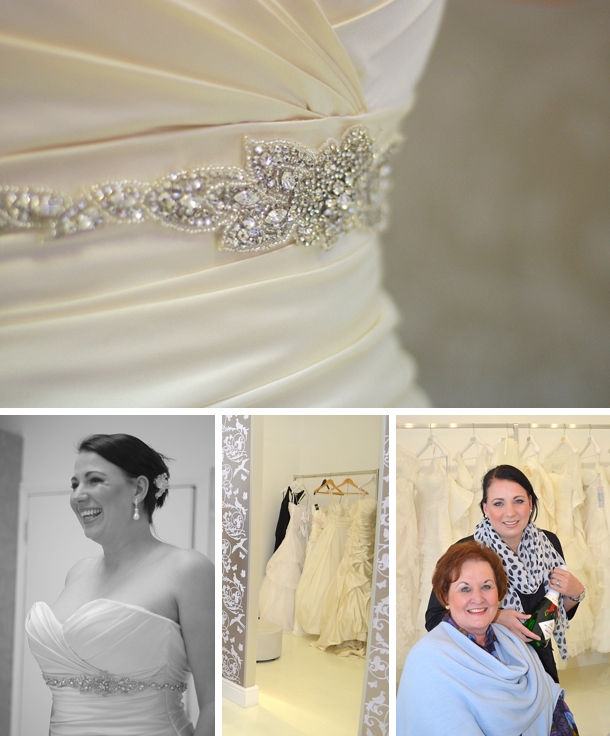 Pictured above: Estelle enjoys trying on the Olivelli collections. Dresses shown are top row: Ella Bridals 5513 (left, without lace jacket); Essense of Australia D1210 (centre); Ella Bridals 'Emery' (right); and Row 2: Ella Bridals 'Eli' (left); Ella Bridals 5513 (right, with lace jacket)
And there you have it! A very unique and special process that every bride will treasure. For more info or to book your consultation, contact Natasha at Olivelli on +27 (0)84 683 0222 or [email protected]. Consultations cost R250.