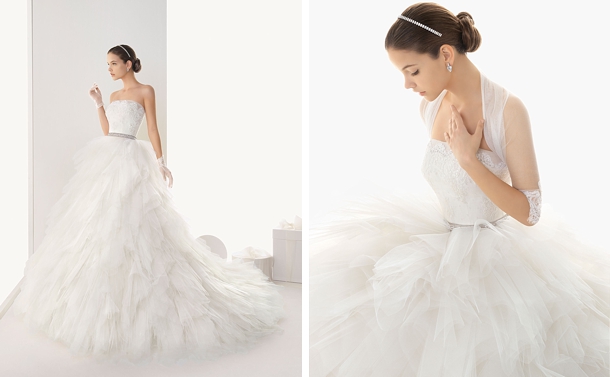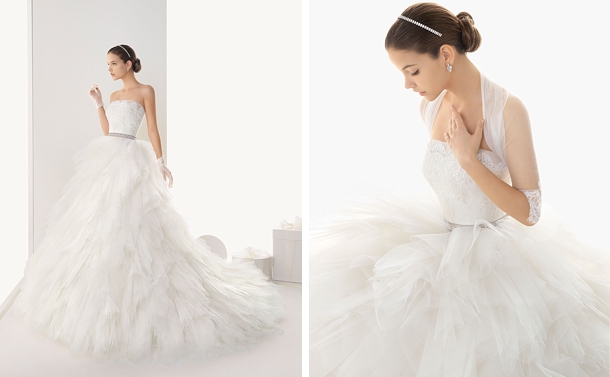 Time for some more dress inspiration, my lovelies! When Natasha of Olivelli Cape Town told me the new Rosa Clara collection was in-store, I popped right over (virtually, obvs) to check out what this beautiful Spanish label had for us and oh my word, I am in LOVE. It's like a cross between all the dress fashions I am obsessing about at the moment. A lot of Holly Golightly-esque 1950s/early 1960s styling, plenty of sheer and lace, a touch of ballet and feathery skirts, sweet pastels and some slinky chic numbers. With over 75 dresses in the collection, there really is something for every kind of bride, but I thought I would round up my Top 10. Okay, slightly more than 10. But whatever, they're BEAUTIFUL.
First is the one at the top of this post: Barcelona. I'm more than a little obsessed with this Swan Lake-esque beauty. It's like a frothy, elegant love affair. Imagine floating down the aisle in her (because you totally would float, right?). I have a feeling that I'm going to see this on quite a few brides, and that I'm going to fall in love with the dress just the same every time I do.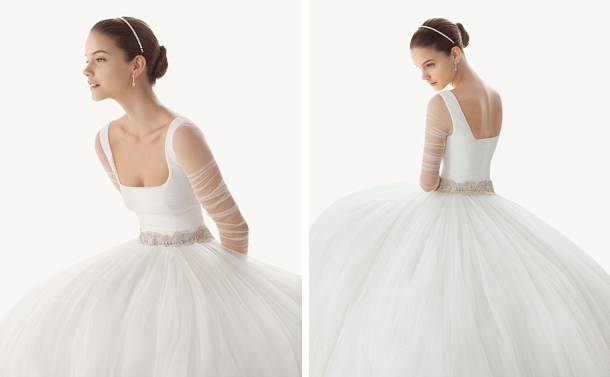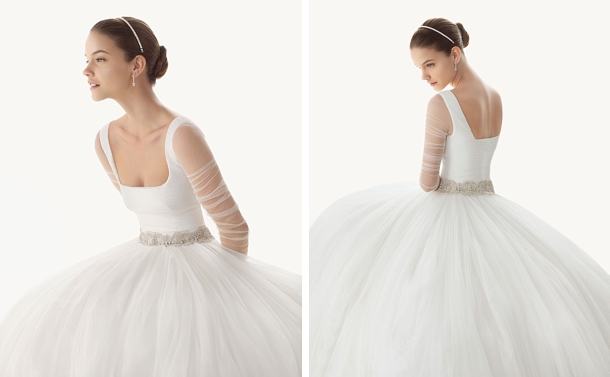 Sticking with the ballet theme, meet Belinda. Isn't she just the prettiest? Although I love the whole look, I think my favourite detail is those unexpected sheer sleeves, which add an extra air of elegance and sophistication. Pair with a demure ballet bun and your dancing shoes!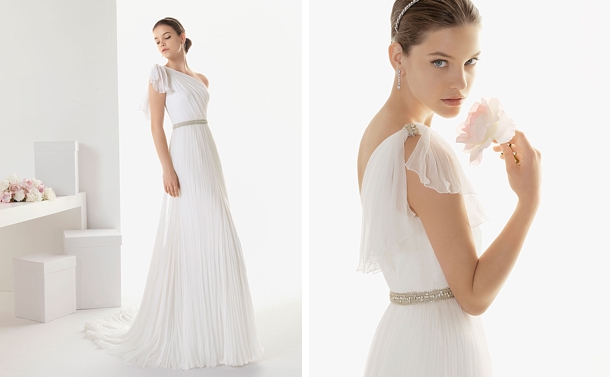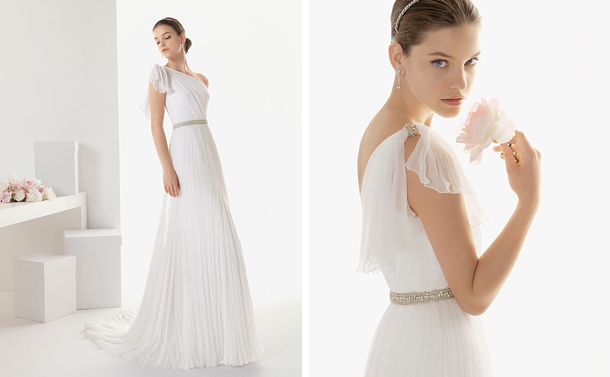 If you'd like a sleeker silhouette, how about Baeza? Those soft pleats combined with a shoulder ruffle and the perfect touch of bling have me swooning all over my keyboard.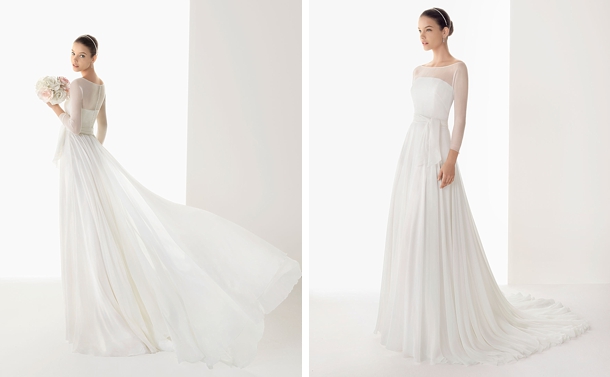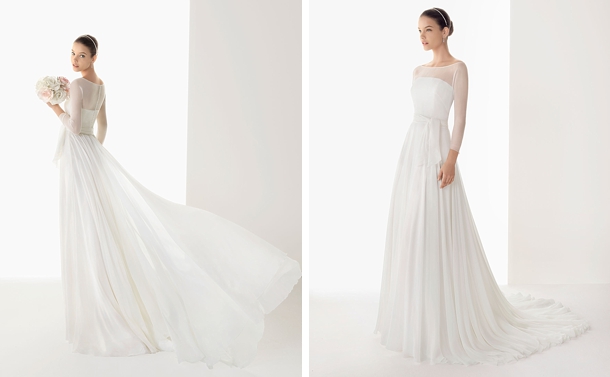 Here's another sheer-sleeved slice of heaven, Bemol. I love that the neckline manages to be demure but sexy in a preppy, sophisticated way, but that gauze skirt and relaxed waist tie add just the perfect amount of softness.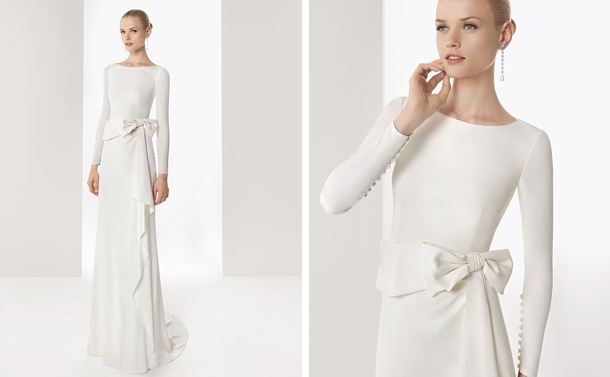 Yep, sleeves are a thing for me with this collection – and why not, with autumn and winter weddings becoming more popular? This is Borgogna – effortlessly chic and grownup, but with cheeky details like those delicious buttons and the bow. I absolutely love this for a city wedding.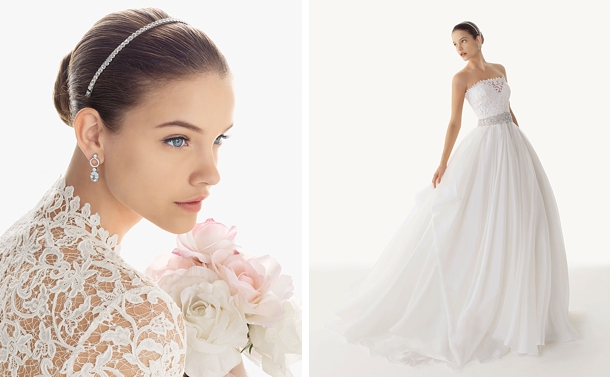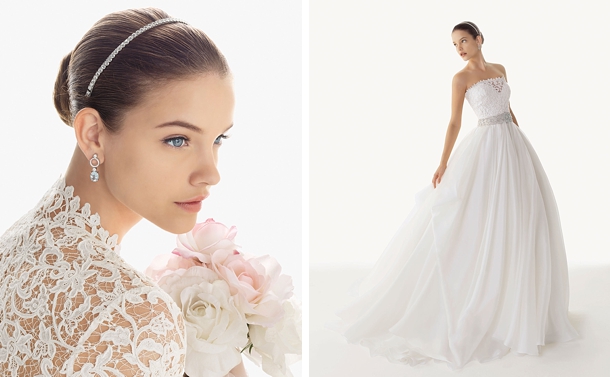 Details are, in fact, my favourite thing about this collection (and Rosa Clara in general. Take Belleza: that combination of lace and swishy organza skirt with a bit of sparkle at the waist is romantic enough, but then add in that amazing little v dip at the front and you have an amazing 'mini' nod to the illusion neckline that would be incredibly flattering. Of course, you can also go the whole hog with a guipure jacket, which is all kinds of lacy goodness.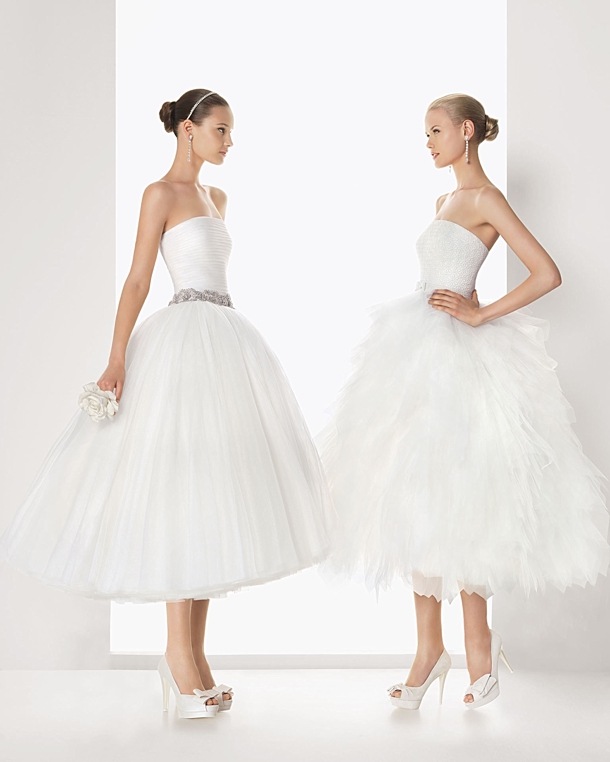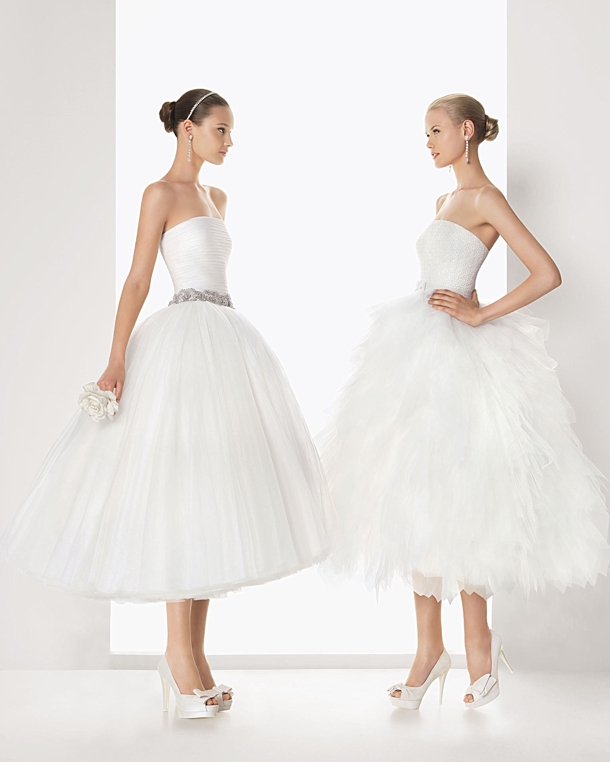 Of course, not every bride wants a long dress, and there are some lovely short alternatives in this collection. But because I'm going through a pouffy phase, these are my besties, particularly Bolonia on the right there. Tutu lovely.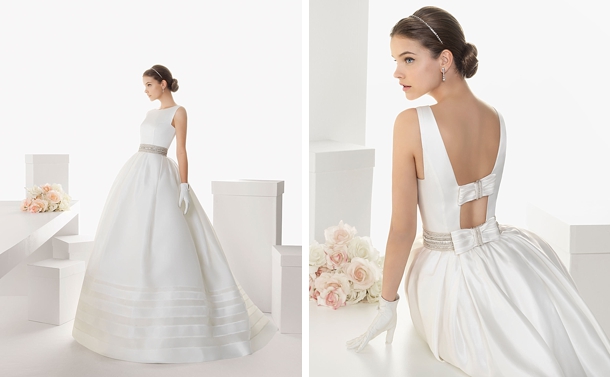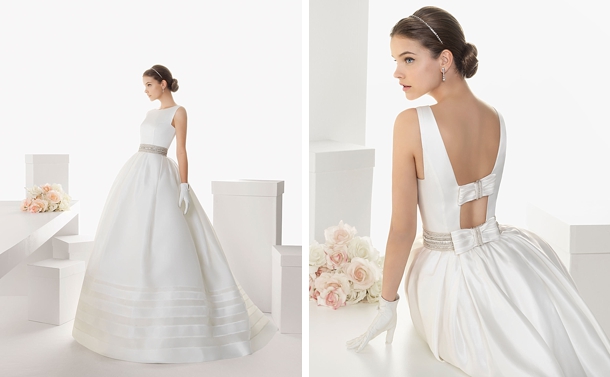 As I mentioned, much of the collection has a '60s edge to it, but think Breakfast at Tiffany's rather than Woodstock. Belfast, above, channels all kinds of Audrey Hepburn loveliness. Loving that bow detail at the back as well as the 'striped' skirt.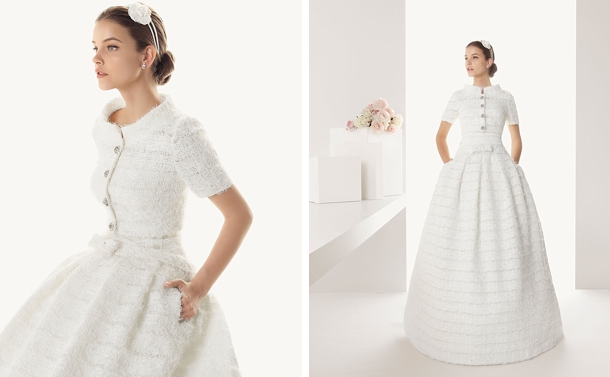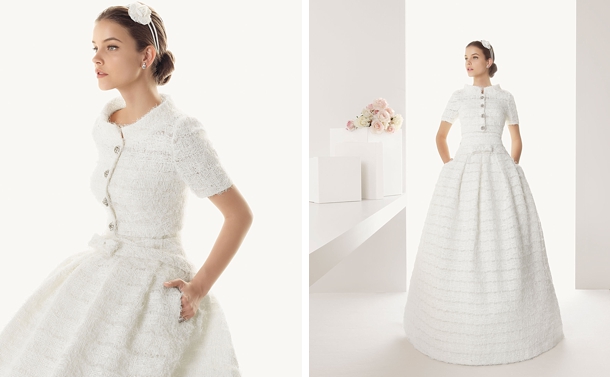 And speaking of style heroines, this dress (Bahamas) is like Jackie O. got reincarnated as a wedding dress. SO chic, and unusual.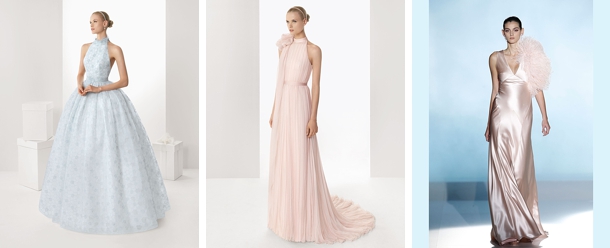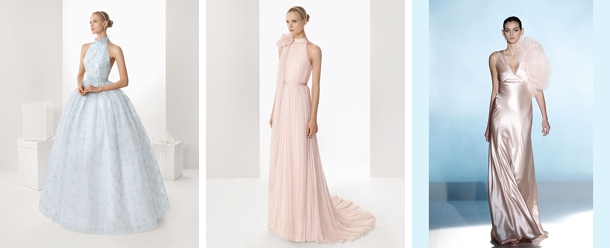 Colour is, of course, BIG news for wedding dresses this season, and Rosa Clara have many of their dresses available in pink, blue or a beautiful sort of sea green. Above are some of my favourites: Bisel on the left, Bosco in the centre (just take a second look at that dress and tell me it wouldn't leave your guests breathless?) and Brisa on the right (if you're considering a dress that's slinky, maybe a bit 1920s, just imagine how much more amazing it would be in peach, especially with that feather detail going on!).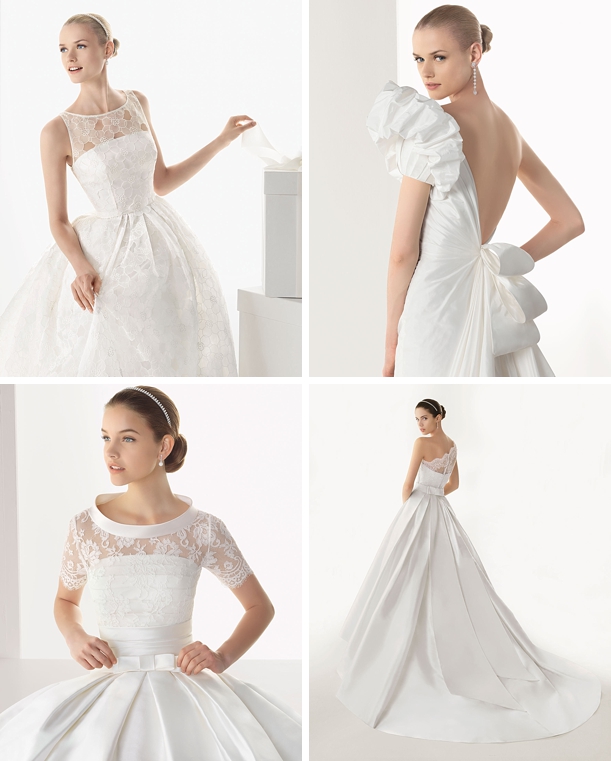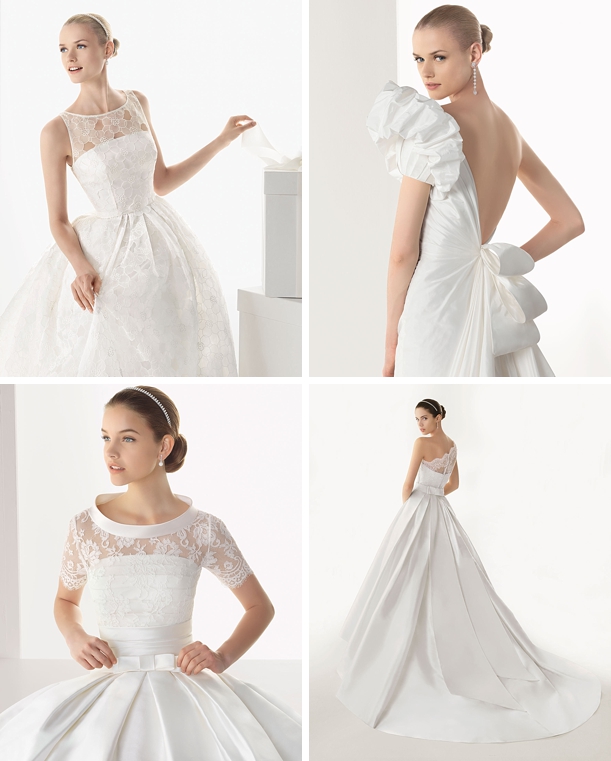 And finally, I couldn't resist sharing some of my favourite details from the rest of the collection: a fun floral take on lace illusion necklines (so pretty for a garden wedding), a dramatic shoulder ruffle for a fashionista bride, a chic lace boat neck and a one-should lace illusion. All of which turn an already lovely dress into a show stopper.
All dresses above available exclusively in store or to order from Olivelli.