I love hearing from my readers. I know sometimes it might seem intimidating to mail a blogger (I feel the same way sometimes) but it's really rewarding for us to hear about your wedding, your planning, etc. And besides, I spend all day working at home on my own with two cats, so a bit of life from the outside world can brighten up my morning. That was certainly the case when I opened up a mail from Caitlin and Matthew, a pair of recently-marrieds who couldn't wait to share the story of their 'hag party' (hen/stag). Caitlin and Matthew's love for their friends (who clearly adore them, considering the effort they put in to planning this shindig) and their enthusiasm for Cape Town really shone through, which I have extracted below and punctuated with snaps taken on the day. I loved that so much thought was put into the activities and that planners Muriel, Brendan and Philip went beyond the typical in organising the day – hopefully this will serve as a great inspiration to bridesmaids and best men, as well as a love letter to friendship and South Africa.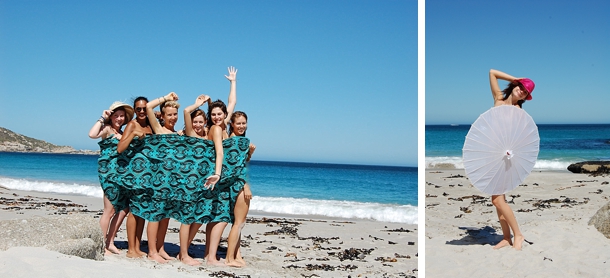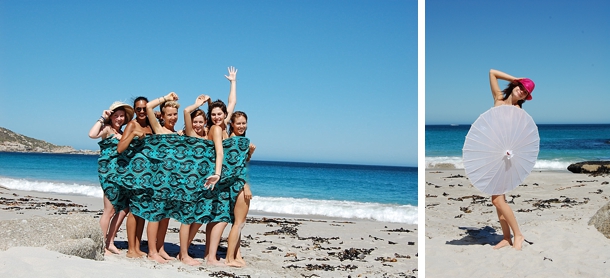 Dear Gaby
Please please bear with us. This may be the longest email you've ever received, but we really just feel like the world needs to know about what our amazing friends did for us before we got married! We are writing to you about the most spectacular Hen/Stag Day in the history of the universe. Take the stunning sunny brilliance of the Cape Peninsula, and against that backdrop put a day full of spunky, comfort-zone crushing, fun-loving, nature-exalting, pure love-filled adventures with friends in celebration of a marriage to take place on the other side of the world without most of the party people at hand. The sheer exuberance and bliss of the day was overwhelming; and we don't know anyone as lucky as we are to have friends such as ours who made it all happen.
Caitlin is from California, and Matthew is from Strand near Cape Town. We met while Caitlin was studying at UCT for a semester during her third year of varsity and officially became boyfriend and girlfriend the DAY before Caitlin left the country. We had no idea when or where we'd ever see each other again. Caitlin went straight to Belize for an archaeological dig in the jungle with no communication for a month and Matt stayed in Cape Town and continued with his Honours year. Over the next month we realised we were in love with each other, and finally said it out loud five months later in San Francisco airport. Over the next two years we went back and forth between SA and the US, eventually both spending another year together in Cape Town. Matt proposed at the bell tower at the Castle of Good Hope, where we had gone the same day we officially started dating, and planned our wedding for July 2012, before we were due to move to our current home in Belgium. Since Cait's family couldn't make the trip out to South Africa, the only choice was to do it in California and have a killer engagement party at the Somerset West Cricket Club with our special South African friends and family who couldn't come to the wedding. Three of those really special people (Muriel, Brendan and Philip) are in fact supercalifragilisticexpialidocious people, and they decided to throw us a Stag, Hen, and 'Hag' party to go down in the books.
This was not just a night out on the town, but a whole day affair. In fact, it all began at about 7 am and didn't end until that evening at 1 am. All the participants had been contacted by the conspirators for a long time before the extravaganza, and had been informed about all the ins and outs of the event. The Hen and Stag knew nothing. We spent the night before the party with Mu and B, who had secretly instructed us to pack a bag of specific items for the other one, so no surprises would be ruined for us. When we woke up, our friends arrived sleepy but ready to roll, and we were all informed that the day was vaguely shaped by a storyline and that the Stag was Mr. Bond, while the Hen was his sexy Bond girl. The women who arrived were the Evil Hens taking Caitlin hostage for the day, and the Stag set off with the guys to complete a series of tasks that were necessary for the eventual reunion with the Hen.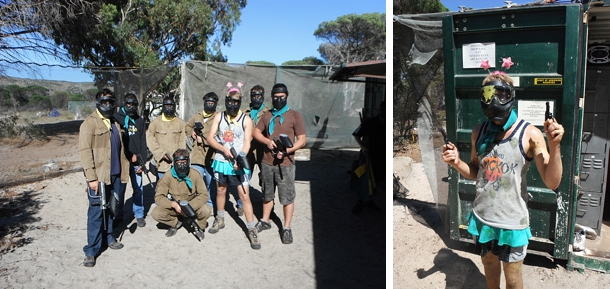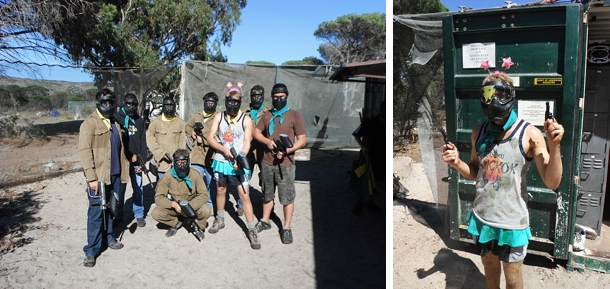 The Stag Party
Matt: That morning I got ready in clothes that I thought appropriate for a day full of unknown events, when Brendan took a look at me and decided to give me a hand with my attire: the t-shirt was swapped out for a vest, the pants for a mini-skirt (with some short shorts underneath for decency's sake) and a sailor hat was placed on my head as well as a pretty pink Alice-band with sparkly stars sticking out on two antennae. I was also given dog-tags and two toy guns to complete the 'Bond' look. My first mission was paintballing it up. A rumour had spread that the Bond girl was being held captive in the area and I had to battle my way to her. Under duress I consented to not wearing any protective clothing and marched into the field to meet my fate. It's difficult to be incognito when you've got stars on your head poking up from behind a bush telling everyone exactly where you are hiding! Alas, the Bond girl was taken away before I could get to her.
After comparing wounds, the boys headed to Long Beach in Noordhoek. I had received intelligence that the abductors of my fiancée were in a boat just offshore. There would be an NSRI boat waiting there to help me chase them down and a high-speed chase would naturally ensue! Unfortunately though, the NSRI boat had to be on standby in case of a "real" emergency and the event had to be cancelled. It's a bummer we didn't get to actually do it, but just the fact that something like that had been organised for my party really shows the extent to which our amazing planners went! So the boys just enjoyed the beach, braved the icy waters, and filmed me doing my Bond-strolls-out-of-the-sea-in-hot-pants impression.


From the woods, to the ocean, to the mountain top, the Evil Hens had taken Caitlin to their fortress on top of Table Mountain, and I would have to scale its cliffs to get to her. A three hour hike up one of Table Mountain's most daunting routes was ahead of us. We arrived at the top of the mountain where I would soon be reunited with my future bride, bringing the perfect day to a close on top of one of my favourite places in the world. In the meantime…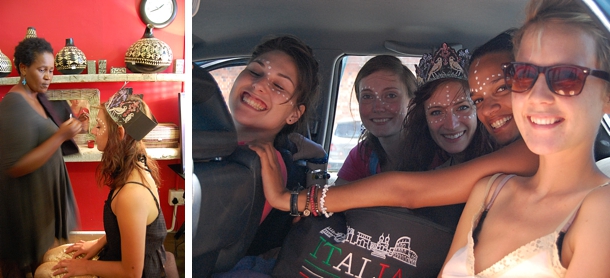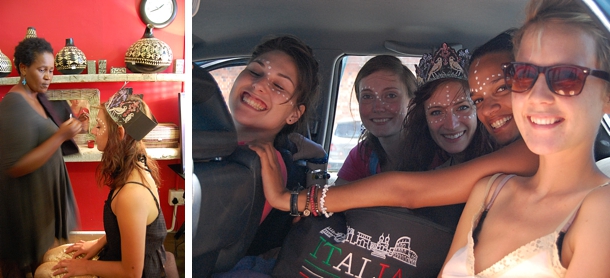 The Hen Party
Cait: The ladies headed off past the Lion's pretty head toward the sunny sea. When we came to a fork in the road, and when I saw that one of the choices was Sandy Bay, I knew there was no way we were headed in the other direction. Sure enough, with the girls grinning mischievously, we took off towards Cape Town's nude beach! They told me that we weren't just going to Sandy Bay, but we were about to have a photoshoot! After the lovely walk down to the beach, there were a few lovely gifts given to me and then they showed me the props they brought along to use in the photo shoot. Sparkly hats, a cat tea cozy, all manner of nonsense to replace my clothing in some photos for my soon-to-be husband in the silliest and most wonderful boudoir shoot I've ever heard of, with the stunning beach and ocean as the background. I did as instructed and freed myself of the bounds of clothing, and after a while one of the girls thought it a fine idea as well. Pretty soon they all jumped on the bandwagon and we were soaking up more of the sun more than anyone on Clifton was that day! It was such a special thing to do with these wonderful, wild women – encouraging each other to be free and natural and joyful and to merge our own natural beauty with the natural beauty of the world around us. 
We drove along the gorgeous coast to Hout Bay, stopping at the Bay Harbour market for lunch. Afterwards we decided to have our faces painted, and when our friend learned it was my Hen day she did the traditional Xhosa bride design for me. The girls got their own dots painted and, proudly South African, we were now all decked out. Since Matt and I would be leaving the country soon, it was truly special and poignant for me.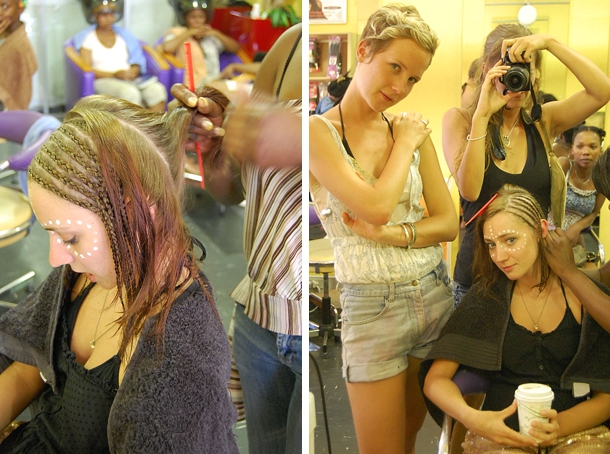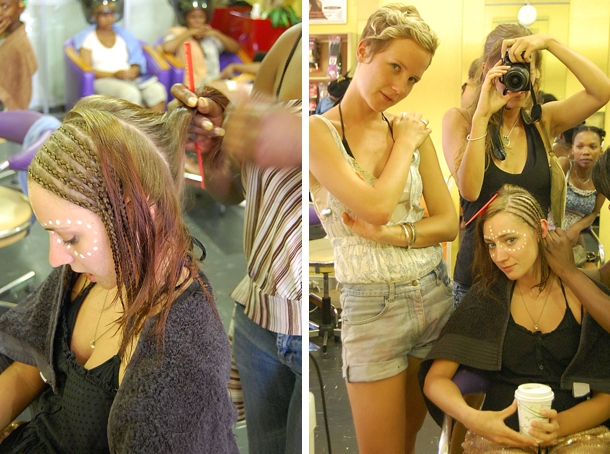 From there, we made are way along Chapman's Peak Drive one last time before I'd leave South Africa and ended up at the famous Brass Bell pub in Kalk Bay for a round of delicious cocktails. Then it was on to our last Hen-only activity at Okuhle hair salon. Ohhhh yes! The Hen was about to be cornrowed! Despite my apprehension (I have slightly elvin ears that I like to cover up with my hair), I knew that this Hen day was about empowerment and love – and a celebration of South Africa – so it was fitting that I let my friends teach me a lesson in self-confidence. Then it was time to meet up with the Stags. We planned to go up the cable car and meet on top of the mountain for a picnic dinner, but they had stopped sending people up due to windy conditions, so the boys came down instead.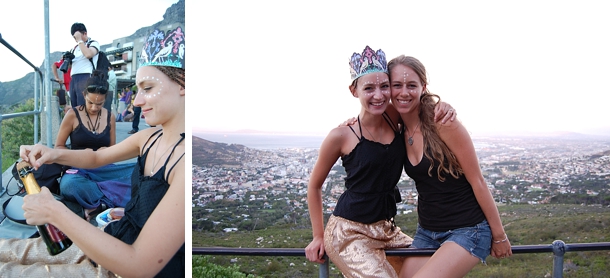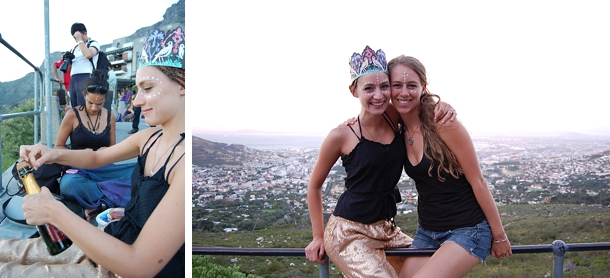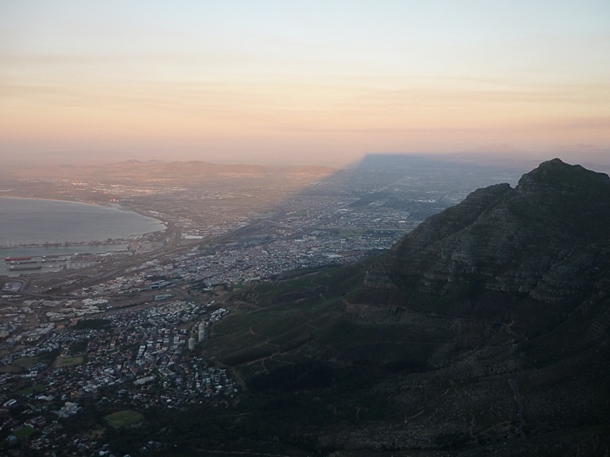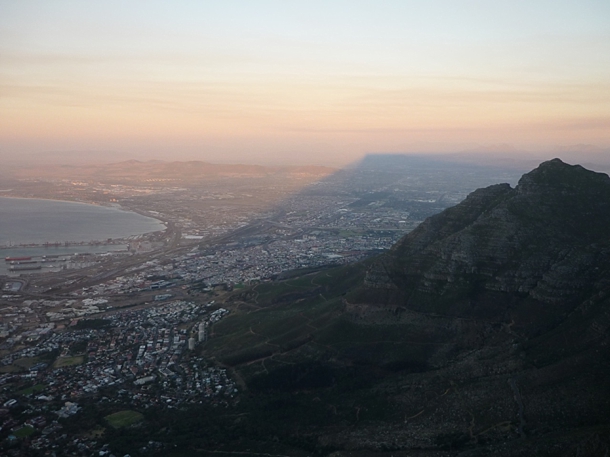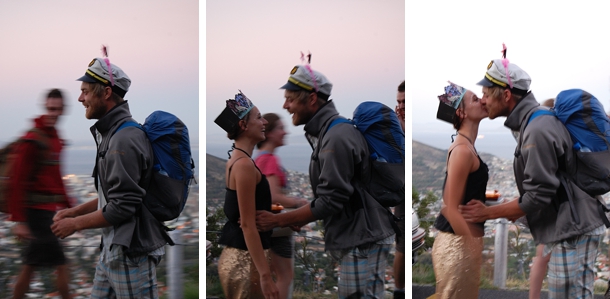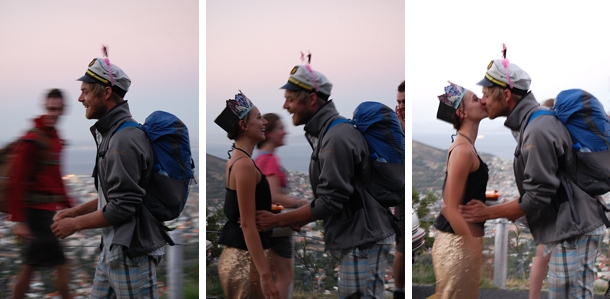 The 'Hag' Party
A whole bunch more people arrived for the dinner part of the evening – we found a spot in the parking area to sit down and dive into the food and talk about all that had happened. Following this we were properly attired for a night of attention-seeking and memory-making and headed to Oblivion, a wine bar in Observatory. Upstairs on the rooftop terrace another whole group of friends had come out for the last big hurrah. Some of them completely surprised us because they were not even supposed to be in the Cape. We were overwhelmed by how many people made an effort to be there and continued to be overwhelmed throughout the night. Phil WROTE US A SONG that he played on his guitar and sang with the help of background singing/dancing/prop handling from some of Matt's buddies and incorporated so much of our personalities into the song, borrowing a couple of South African melodies in a medley towards the end – he ended off by getting everyone to sing to the tune of 'Impi': "Oh Matthew; Matthew and Caitlin! We just wanted to say to you we love you!" Then it was our turn to sing, and Phil accompanied us each as we sang a predetermined song. The live entertainment part of the evening came to an end, and the whole crew danced themselves silly to end of one of the absolute best days we've ever spent. It was unforgettable, and when we saw that you feature Hen parties on your blog about South African love, we just knew you couldn't NOT feature this most exceptionally planned and executed celebration of a love between two people and the love that surrounds them both.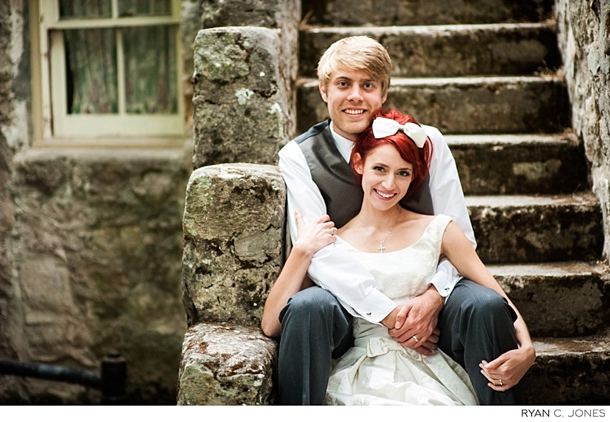 Congrats Caitlin and Matthew – and here's a little peek at the couple on their big day. Thanks so much for sharing, guys!