Here at SouthBound Bride, I love bringing you all the latest trends. As you know, I believe that each wedding should be an expression of a couple's unique style and personality, but it doesn't hurt to get a sense of the ideas that are floating around out there. Eventually, those ideas can get a little repetitive. And while in some ways that doesn't matter (remember that most of your guests don't sit on wedding blogs all day and won't have seen it before), it can be fun to consider fresh twists and new options. So here are eight of my top alternatives for creating your favourite effects.
Here's my disclaimer: I've loved and promoted all of the 'old' ideas here, and I'm nobody's fashion police. So if you love something, you DO IT. This is just about being creative and exploring other avenues along the way!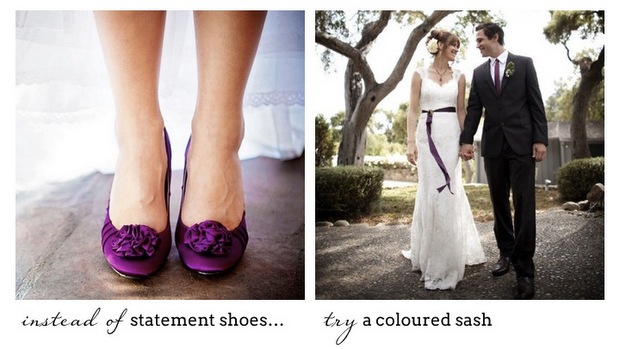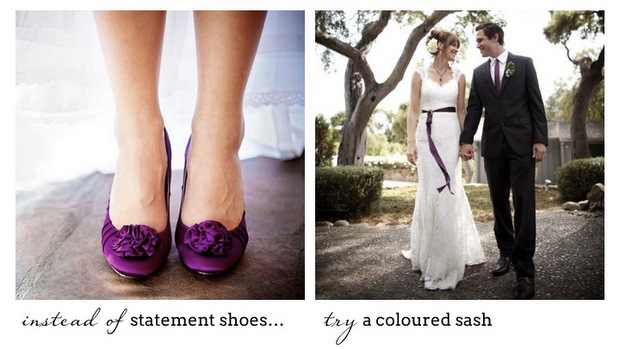 I adore brides with pretty shoes, and pops of colour still look adorable peeping out from under a white dress. But nowadays, just about every bride is doing it. If you'd like to create the impact these did two years ago, try a pretty colourful sash in your wedding colour instead.
Images: Jani B on SouthBound Bride (left) and Halberg Photographers via Wedding Chicks (right)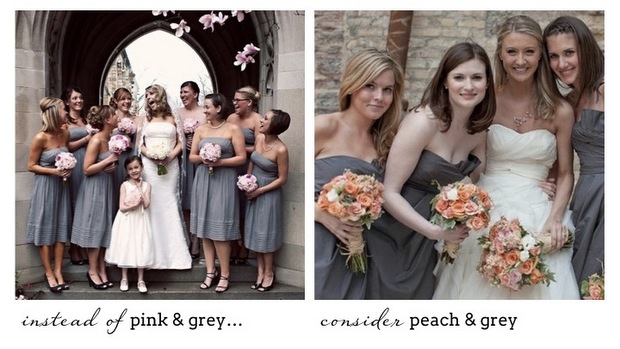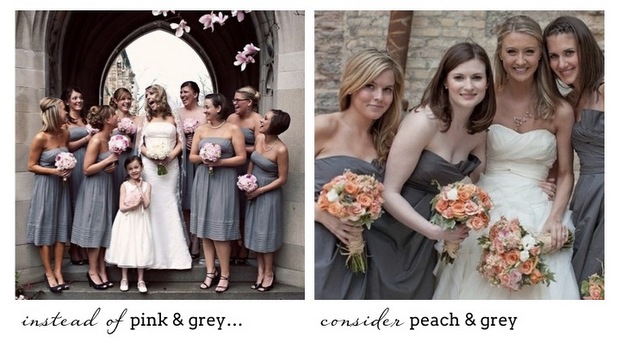 By FAR the most popular palette of the last year, I still think pink and grey are lovely together, but peach (or coral, or even tangerine) offers a lovely and bang-on-trend alternative that doesn't require a sea change in the way you've conceived flowers and decor.
Images: Creative Push via A Delightful Day (left) and via Weddings by Lilly (right)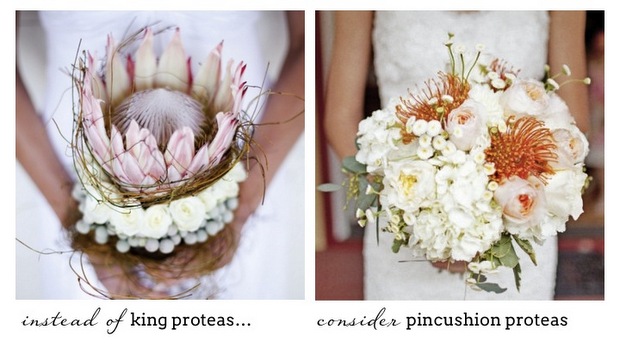 Look, I'm NEVER going to tire of proteas – they still absolutely floor me with their loveliness. But there's no denying that they've become a staple of South African brides. Pincushions offer the same indigenous interest, and they can look romantic, rustic or starkly modern (see more about pincushions here).
Images: Nikki Meyer on SouthBound Bride (left) and Fresh in Love (right)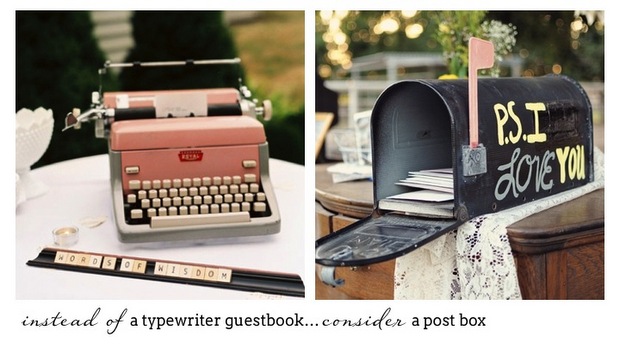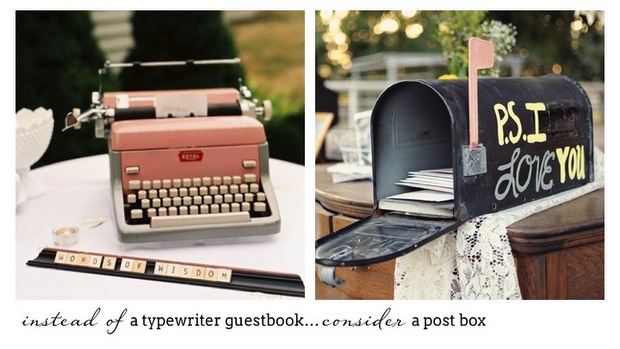 Vintage typewriters were a big part of the vintage look which is starting to turn the corner but recently American brides have been using these adorable mail boxes instead. Something to think about.
Images: You Look Nice Today via Style Unveiled (left) and Kreatid Photography via Bridal Musings (right)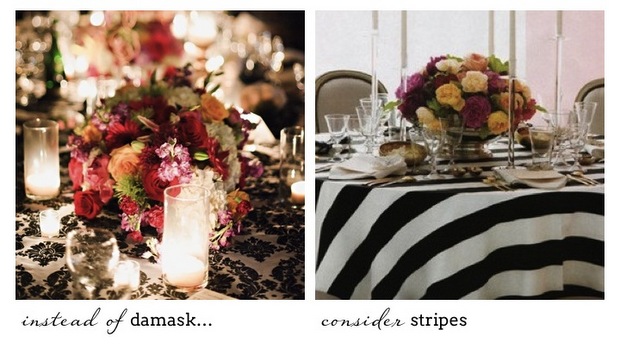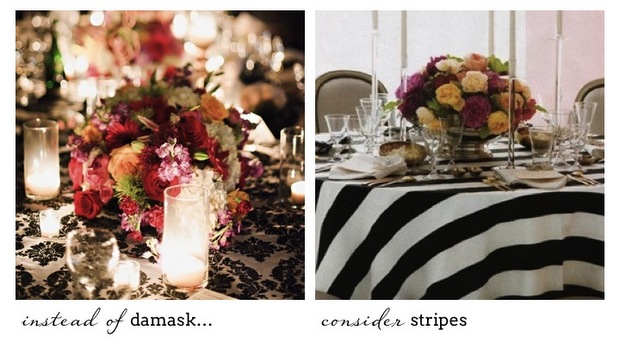 I have to say I am over damask at this point. But if you love the way that bright pops of colour stand out against the black and white, stripes are the way to go. Many venues and hiring companies now also have more subtle neutral stripes, which I also love.
Images: Ashley Gillett Photography via Bridal Guide (left) and via The Decorista (right)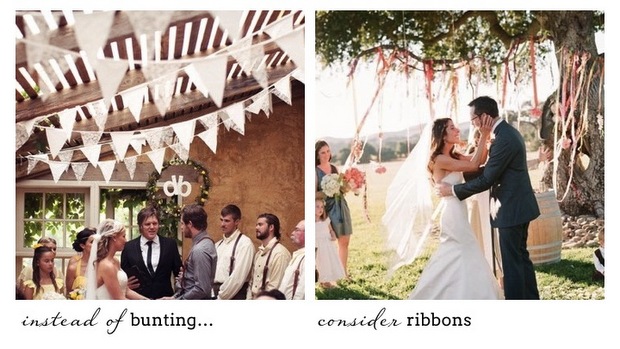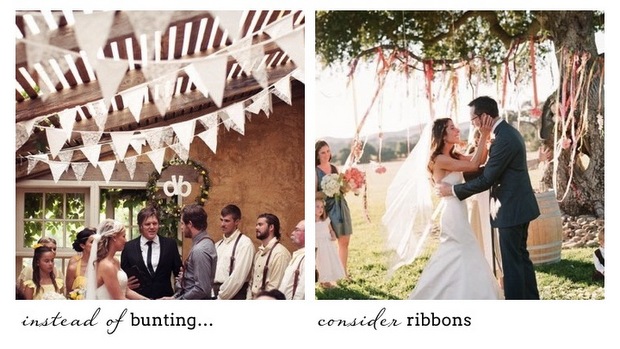 Oh, bunting. I feel like I'm cheating on you by even saying any of this out loud, but if you love the whimsical goodness of the festive flags but have seen too many of them, try ribbons. They look so pretty, and take about the same amount of effort if you're working from scratch.
Images: via Weddingbee (left) and Elizabeth Messina via Intimate Weddings (right)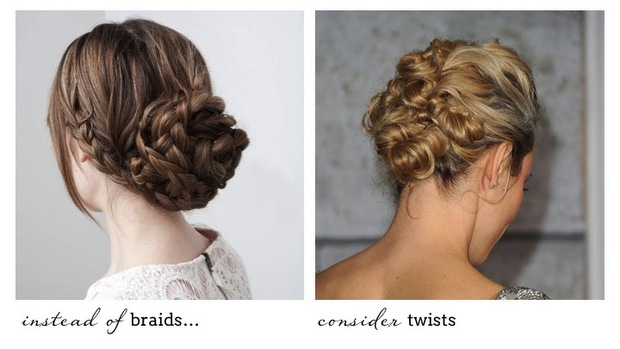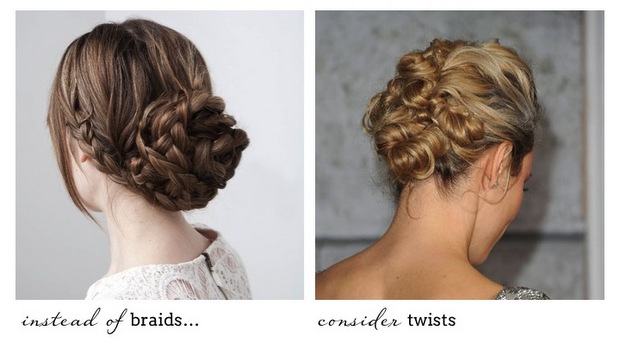 I spoke to a lot of hair stylists in South Africa last month who told me that braids are still going strong, and there's no denying how pretty they look, but if you'd like something similar but different, twists are a new twist on this popular style.
Images: via c-ashmere (left) and Glamour Weddings (right)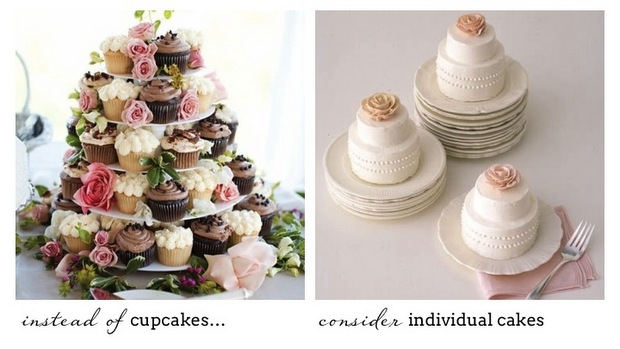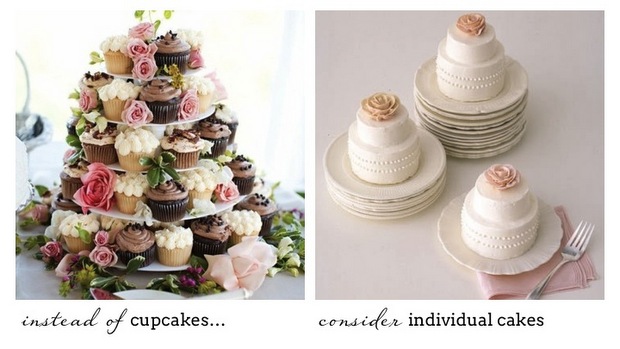 Same goes for cupcakes – they're a great wedding cake alternative and people love them (plus they save all that cutting business) and I don't think they'll be going anywhere. But if you'd like something new (cupcakes have, after all, been going strong for about a decade now), try individual cakes. I worked with some of these on a photo shoot a few months ago, and wow, they look adorable! So they get decor points as well.
Images: via Pinterest (left) and Martha Stewart Weddings (right)