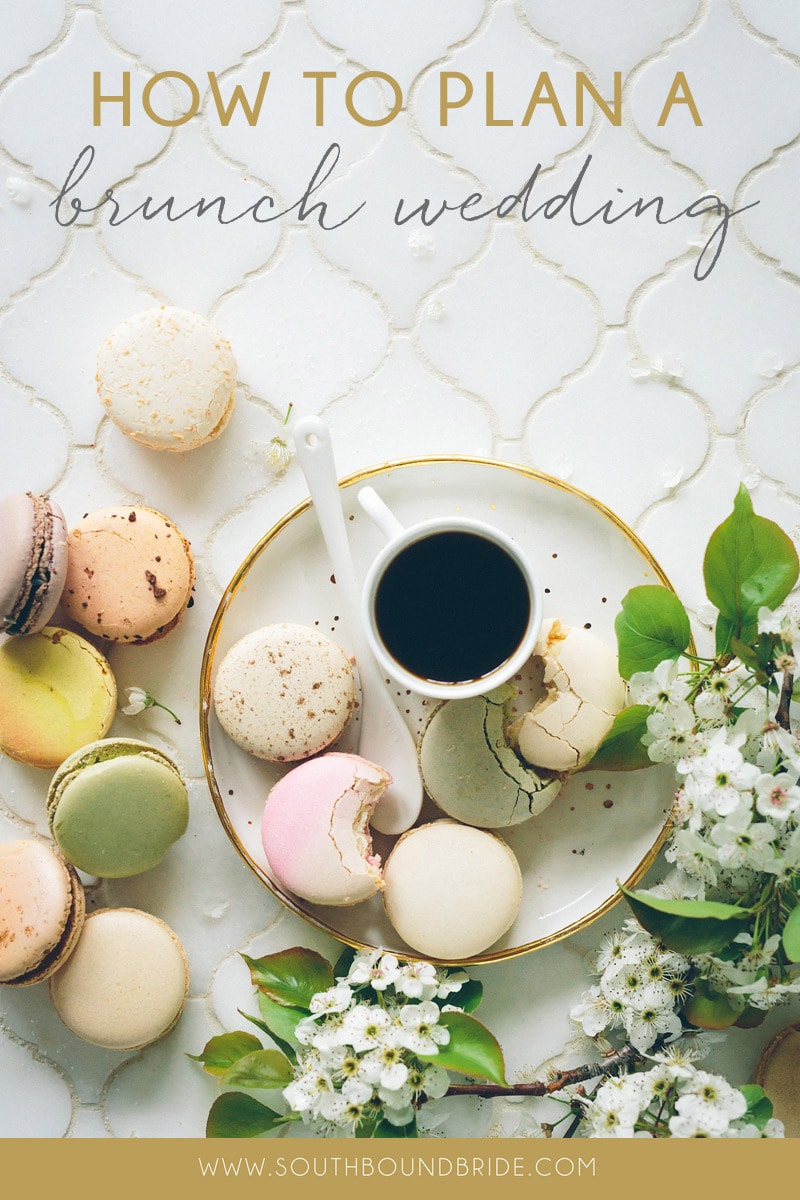 I have just one word for brunch weddings: LOVE. Seriously, morning weddings are one of my absolute favourites (and I've been to a few in my time too). Yes, evening weddings are fun and you can tear up the dancefloor all night long and have your first dance under the stars. But if that's not your thing, or if maybe you want a more intimate gathering or a chance to appreciate the daytime beauty of your venue, or even if you just want something a bit more different, then planning a wedding brunch could be perfect for you. Plus, I mean, it's BRUNCH. Who doesn't love brunch? And some people ask: are brunch weddings boring? Or, are brunch weddings tacky? And the answer on both counts is definitely no. In fact, with a morning wedding, you have the flexibility to make it as casual or as formal as you wish, and with a shorter timeline, you actually have less time to keep your guests amused. And trust me, nothing keeps them amused like great food and drinks, and brunch style weddings are ALL about the menu (foodie couples rejoice)! Bottom line, morning weddings are awesome, so we've put together a comprehensive guide full of brunch wedding ideas to help you plan one!
*Links in bold denote affiliate links. The cost to you remains the same, but SBB may receive a commission for any sales made.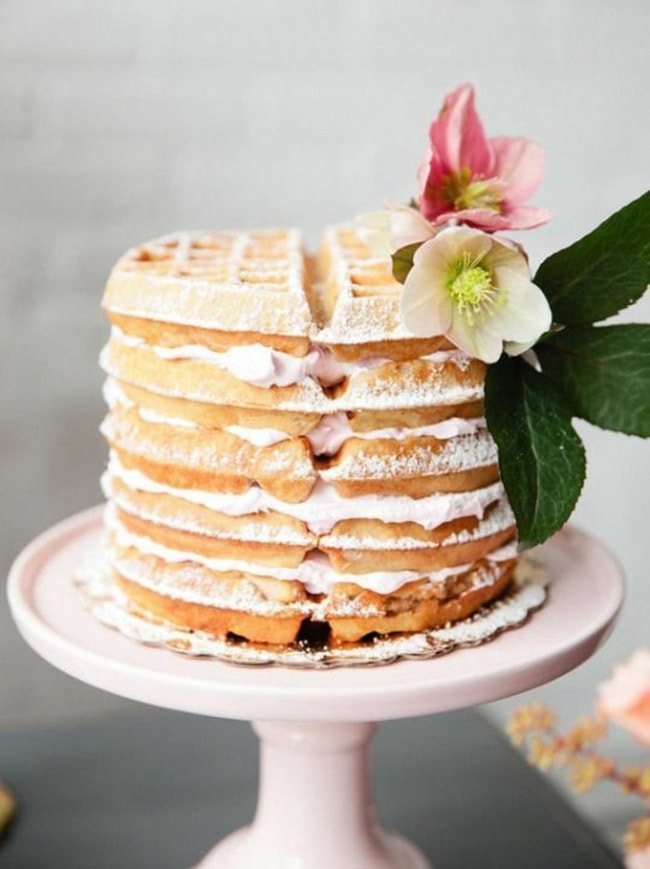 Carly M Photography/Cristen & Co./Sweet Indulgence via 100 Layer Cake
7 Reasons to Have a Brunch Wedding
Brunch weddings are cheaper. Morning weddings can be a more budget friendly option – although of course this also depends on what you have planned, the size of your guest list, venue, etc. You'll likely make savings on venue hire, booze, and entertainment at least.
Brunch weddings are a great opportunity to select an unusual venue, or one that doesn't normally cater for weddings. Pick a favourite restaurant with beautiful décor or incredible natural surroundings and half the work is done for you!
Brunch weddings are chill. With an early start, there's less time to stress. Plus, you'll get to relax and spend time with your guests without feeling like the night is flying past you, and then spend plenty of quality time with the new Mr or Mrs!
Brunch weddings are great for photos. You can take advantage of gorgeous natural light, and your guests won't need to be left hanging about while you have the photo sesh either – just schedule it for after the festivities wind down.
Brunch weddings are shorter. Wedding days can be super exhausting (no wonder you need a honeymoon!) but brunch weddings tend to be a little more compact. If you'd like to spend more time with your guests and have a big party, you could do as two of my friends did and host an evening braai later on. It was a super relaxed way to end off a fantastic day.
Brunch weddings are delicious! Who doesn't love breakfast food? (Although for the record, if it doesn't appeal, you can just as easily serve light lunch food instead.)
Brunch weddings are unusual. It's definitely something your guests won't forget in a hurry!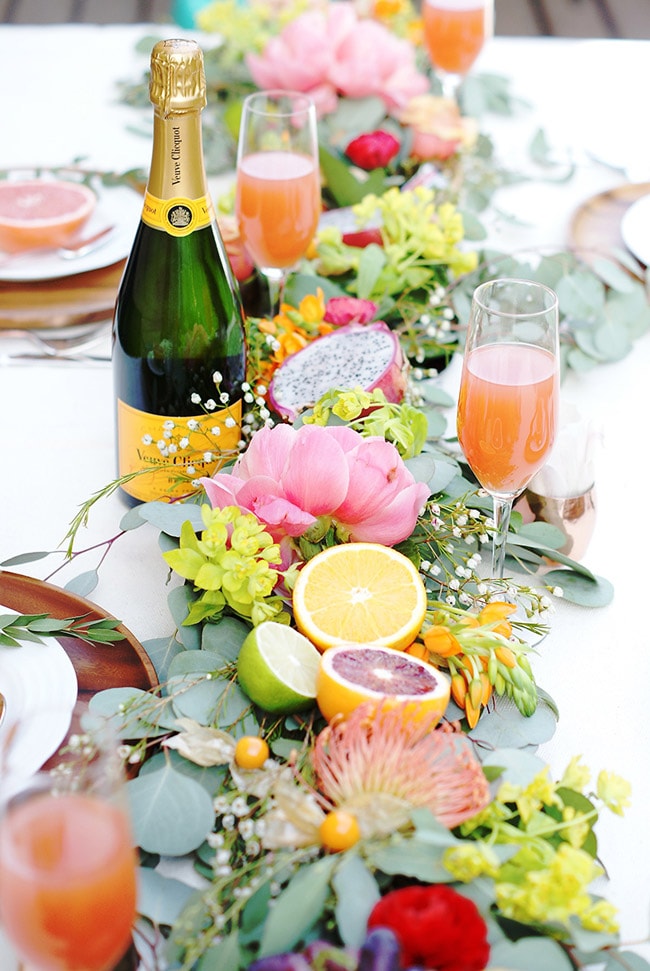 With Love From Kat via The Posh Home

When planning a brunch wedding, you'll want to keep the décor light and pretty. Embrace the natural beauty of your location, especially if its spring or summer. Since food is a big highlight of proceedings, make a design feature of it with food stations, bars and displays. You can also add whimsical touches like paper flowers, hanging lanterns, and simple florals. For a more formal atmosphere, set tables with fine linens and china.
Brunch Wedding Invitations
Here are some of the prettiest invitations we found – some are for post-wedding brunches, but can easily be adapted slightly for the main event.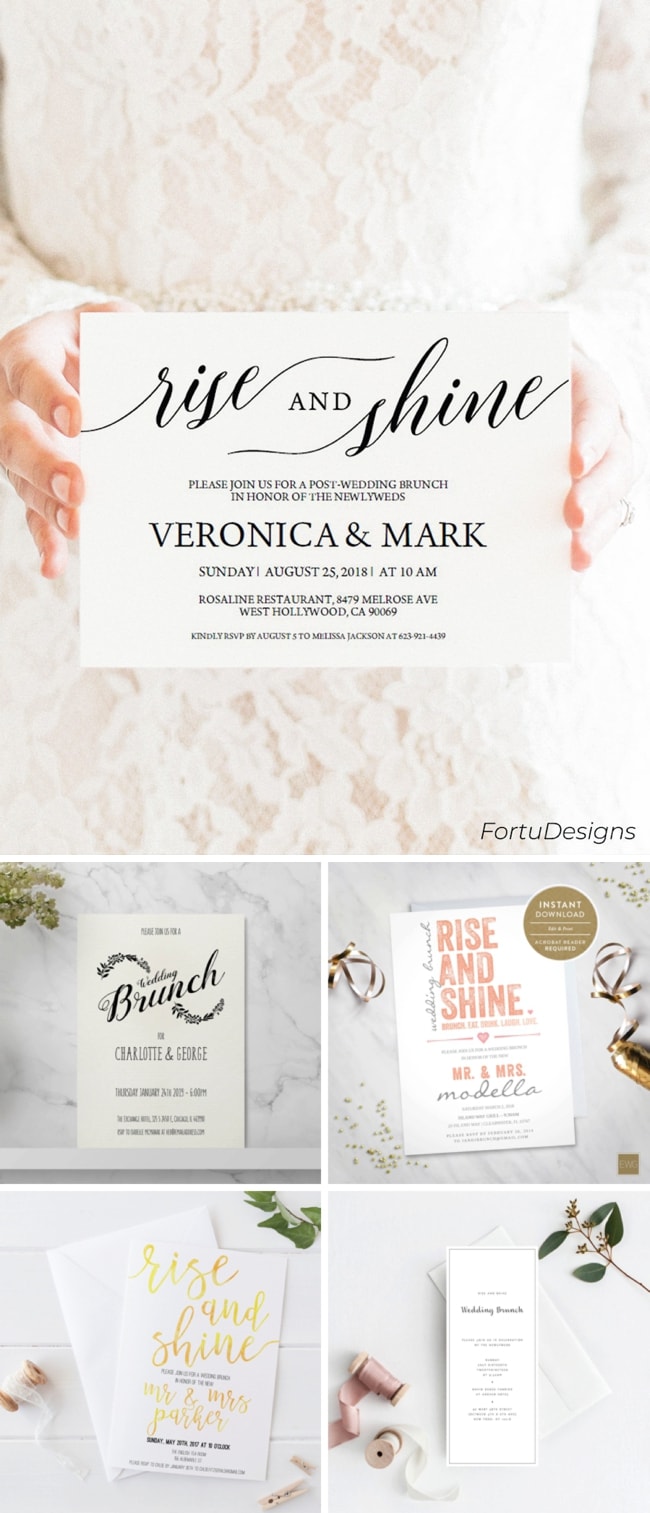 Row 1: Rise and Shine Wedding Brunch Invitation by Fortu Designs | Row 2: Wedding Brunch Invitation by Papier Design Boutique (left); Rise and Shine – Wedding Brunch Invitation by Events with Grace (right) | Row 3: Wedding Brunch Invitation by Key Paper Company (left); Simple Minimalist Wedding Brunch Invitation by Blanche Paperie (right)
Elegant Wedding Brunch Menu Ideas
As I said, food at a brunch wedding can be a real feature. For a brunch wedding, you can serve food buffet style, bowl food style and through food stations, or sit-down for a formal feel. I personally love the idea of adapting the classic dessert table styling concept to show the buffet off if you have one. For example, you could turn a display of cakes, croissants and muffins into a Parisian style patisserie display, or have a pancake or waffle bar (guests LOVE interactive food stations!)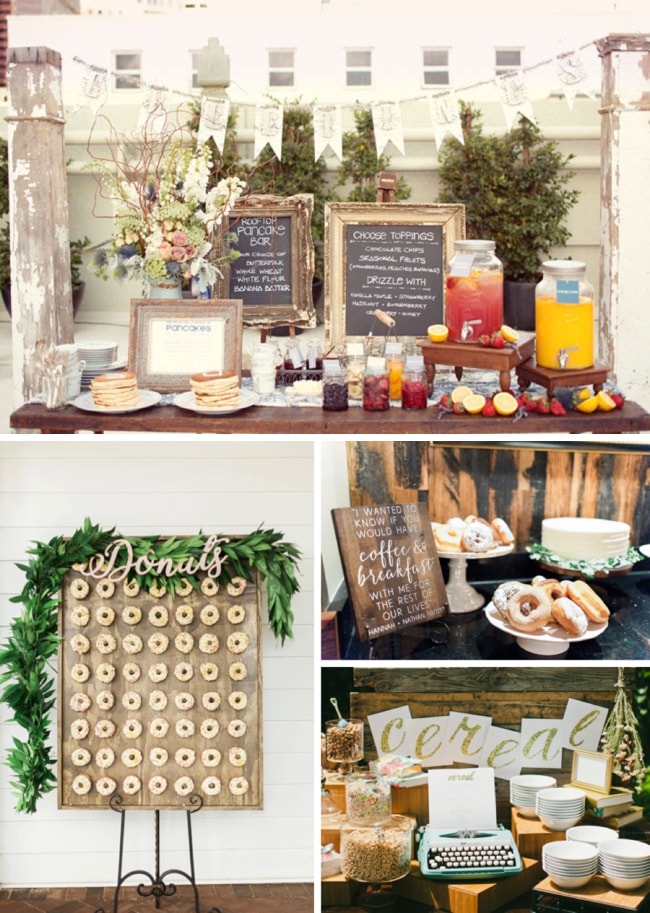 Row 1: Sarah Yates Photography/My Bride Story/Green Wedding Shoes/Lauryl Lane via Green Wedding Shoes | Row 2: Donut Bar Hanging Sign by ZCreateDesign (Image: Harmony Lynn Photography/Melanie Paige Events/Rose Hill Cakes) (left); Coffee and Breakfast Sign by OAKY Designs (top right); Onelove Photography/Pluck via MODWedding (bottom right)
Some of the savoury options you can consider are an omelette bar where guests can choose what they fancy in theirs, frittatas, tartlets and quiches, sandwiches, or a bagel station. If you decide to go down the breakfast food route, there are so many fun food ideas to consider. Mini anything is super trendy right now, and canapé-sized breakfast food sounds like heaven! There is of course the traditional eggs and bacon, and you could also create a granola and yoghurt bar, or serve lots of fruits.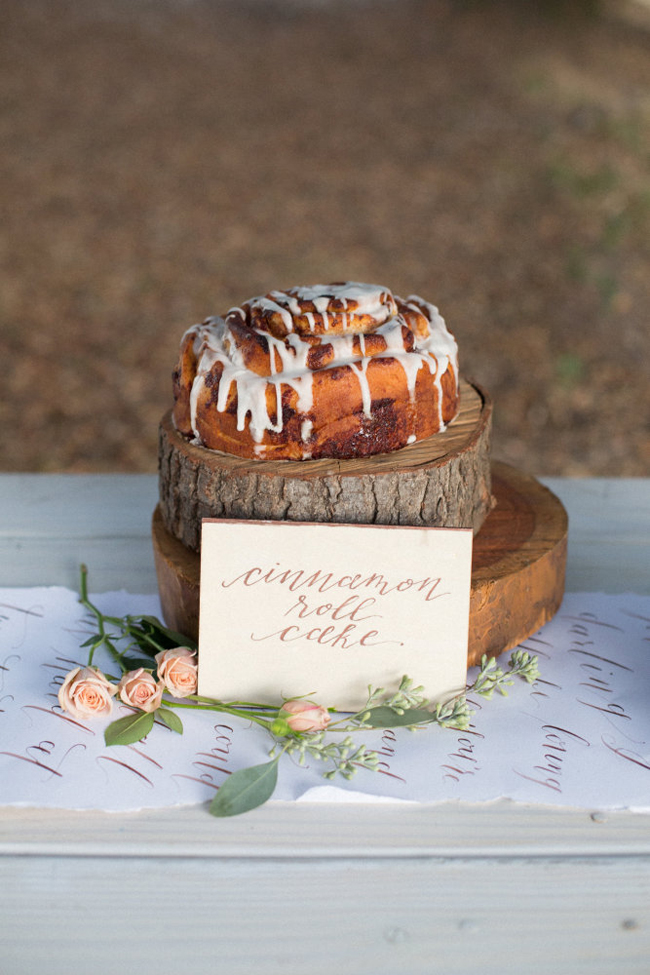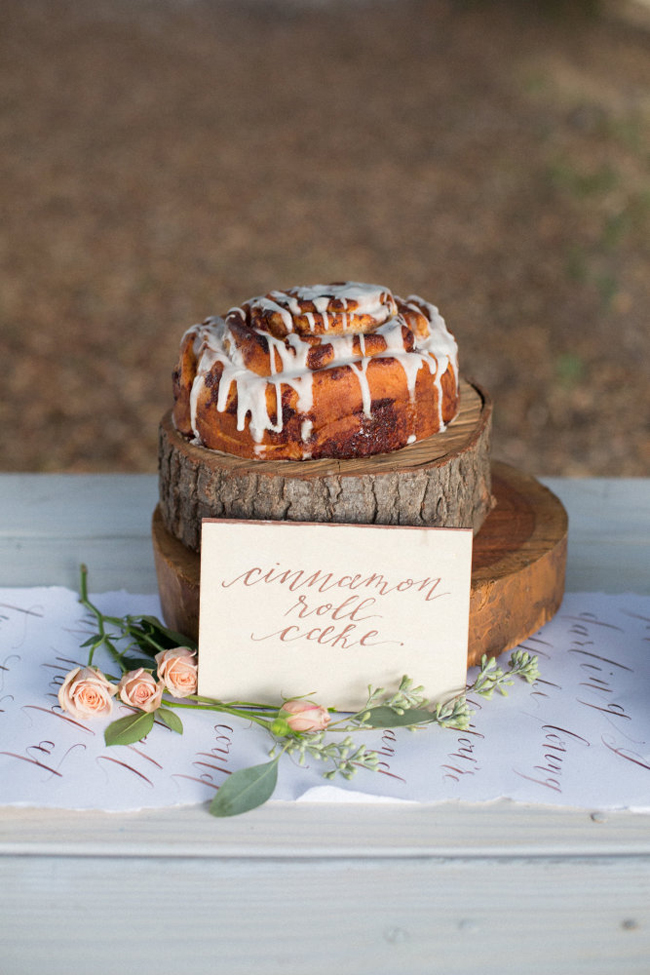 Jenna Joseph Photography/Kelsey Rae Designs/Hey There Cupcake on SouthBound Bride
For a wedding 'cake' there are so many cute ideas (we rounded up some of them here) like crepe cakes, donut stacks, and even cinnamon roll cakes!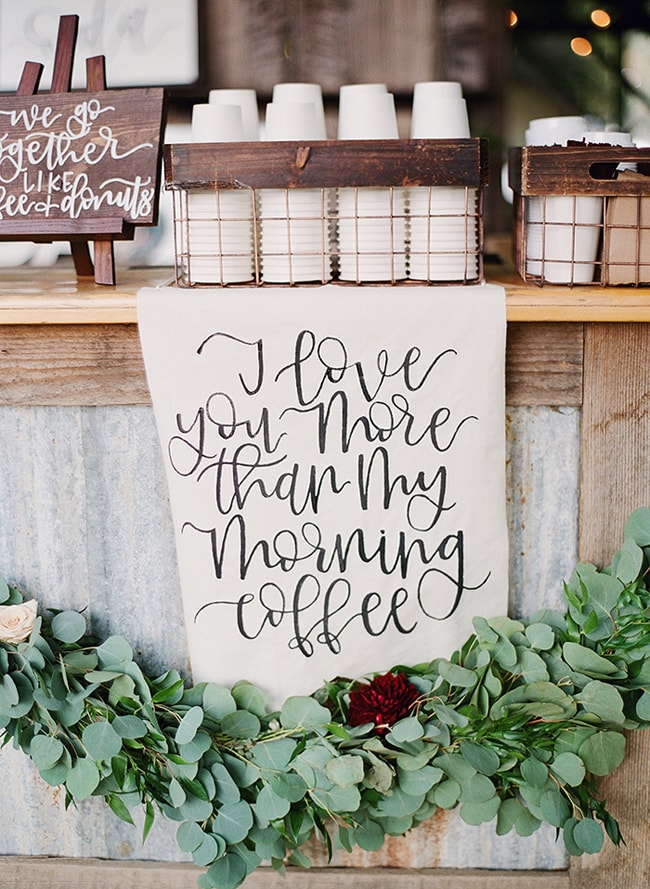 Row 1: Radostina Boseva/Olive and Birch Vintage Rentals via Hey Wedding Lady | Row 2: Harmony Lynn Photography/Melanie Paige Events/Rose Hill Cakes via Hey Wedding Lady (left); Coffee Bar Sign and Labels SET by penandpaperflowers (right)
And let's not forget the drinks! One of the brunch weddings I attended had bottles of homemade lemonade, and a special coffee stand which always had a queue of happy guests behind it. They also served alcoholic drinks past about 11.30. Just because you're starting early doesn't mean you can't have a signature cocktail – take a page out of America's book and serve mimosas, bellinis, or (such a fun idea!) build a Bloody Mary bar! If you'd like to keep it tame, you could also create a tea station with all sorts of blends in pretty jars and milk (or OJ) in pretty bottles, or a hot chocolate bar always goes down well!
How to Create a Bloody Mary Bar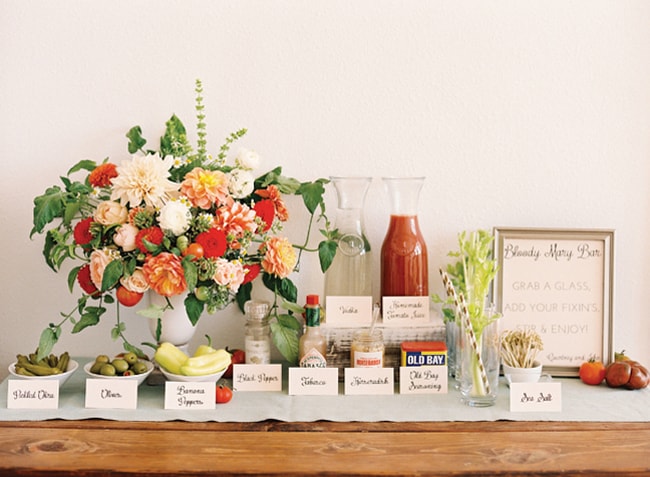 Jessica Burke/Lovely Little Details via Southern Weddings

One of my favourite brunch wedding ideas was the Bloody Mary bar, and today I'm going to tell you how to create it! The classic cocktail is made by pouring tomato juice and vodka into a shaker with ice, Worcestershire sauce, Tabasco sauce and lemon juice, and garnished with a celery stick. Cayenne pepper (or black pepper) and celery salt are also often added. One idea is to print up the classic recipe on napkins or coasters in your wedding colours or write it on a sign for the table. Then provide a series of fun variations – flavoured vodka as well as plain (try pepper or citrus), gin, whisky and tequila (this is called a Bloody Maria). You could even offer beer or Guiness as variations on the spirits. Then include a series of garnishes on top of the celery: olives, lemon wedges, lime wedges, red peppers, gherkins and other pickled veggies, cucumber sticks, horseradish, cherry tomatoes. You should also include a number of hot sauces, including piri piri, wasabi, or habanero, for example. And there you have it!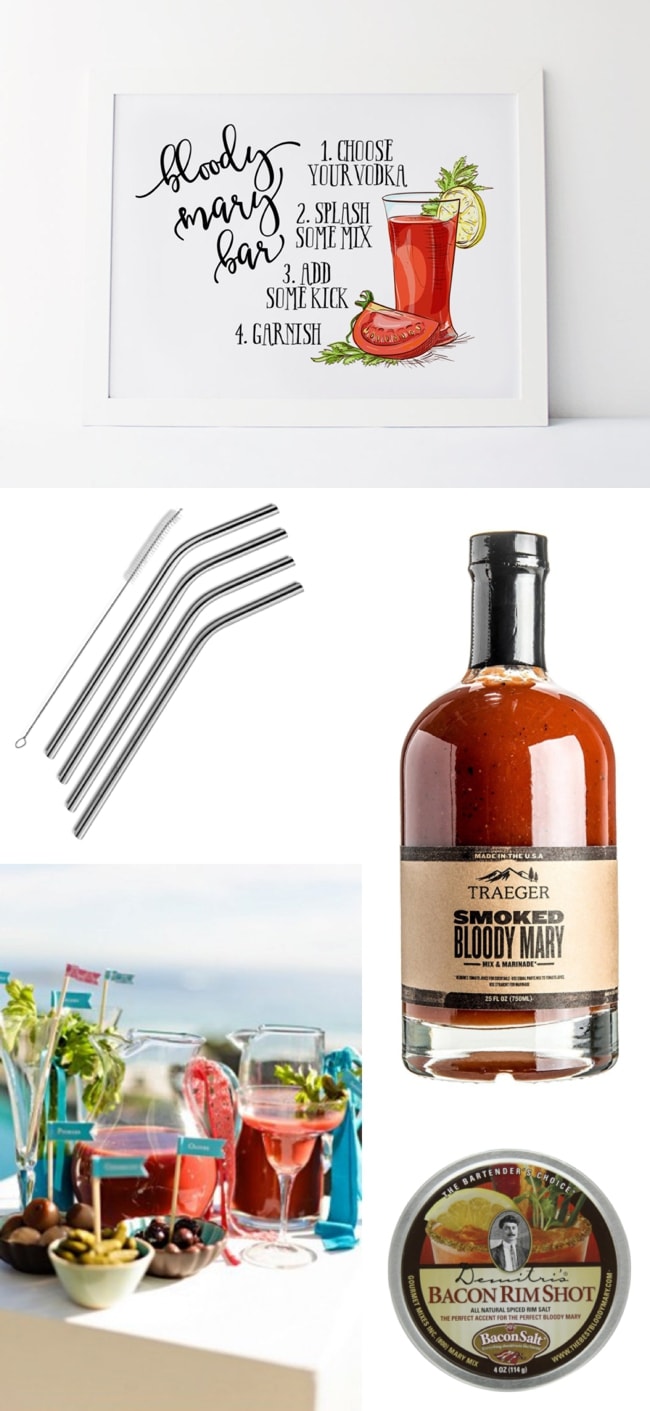 Row 1: Bloody Mary Bar Print by saltandcove | Row 2: SipWell Stainless Steel Drinking Straws (top left); Annemari Ruthven/Wedding Concepts on SouthBound Bride (bottom left); Traeger MIX002 Smoked Bloody Mary Mix (top right); Demitri's Bacon RimShot (bottom right)
Brunch Wedding Favors
There are lots of lovely ideas for brunch wedding favours, but again, I would go food related. What about granola or pancake/muffin mix in jars? Tea and coffee sachets? Or spread the love with honey, jam, or marmalade in pretty jars (you could even do homemade Nutella!). A non-food alternative I love is producing the 'morning papers' – custom newspapers that have fun stories about you and the wedding (don't forget the crossword!)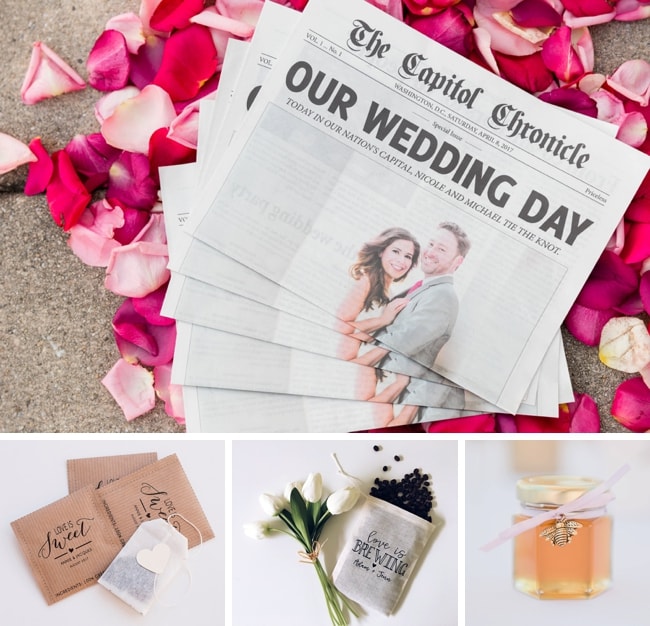 Row 1: Newspaper Wedding Program Personalized by The Wedding Press | Row 2: Tea Bags Personalized Wedding Guest Favor by By Yolanda (left); Coffee Bag Wedding Favor by Keep Life Simple Design (centre); 24 Honey Jar Favors by Beeyond Paradice (right)
Brunch Wedding Entertainment Ideas
Brunch reception activities may sound like a challenge, but remember you're probably working with a compacted timeline (most brunch weddings last around four hours – see our sample timeline below). Lots of couples want to include many of the traditional elements, like cake cutting, a first dance, speeches, etc. With that, food, and socialising, you'll easily fill the time, but other ways you can keep guests entertained include lawn games, a live artist, a live band (love jazz bands for a morning wedding!), and of course, a photo booth!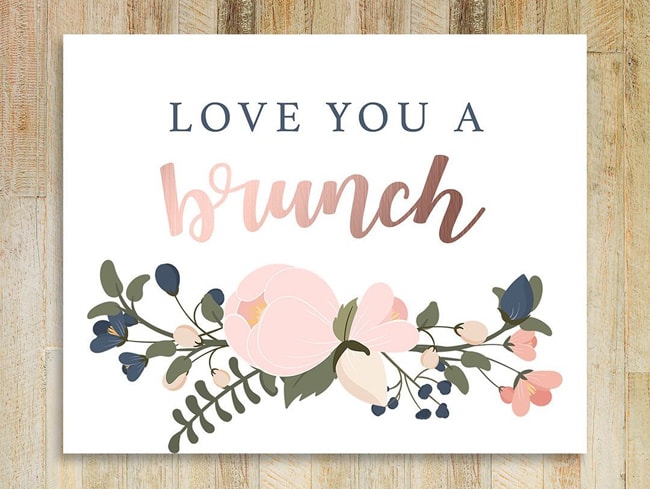 Bridal Brunch Sign I Love You a Brunch by Cait K Design
Brunch Wedding Timeline
Brunch wedding receptions generally take place between about 11am and 2pm, which allows time for getting ready and a 10am ceremony. You can, of course go earlier – 9am is the earliest I would go (although I did see one couple who had a sunrise ceremony – must have had very understanding/enthusiastic friends!). Here's an outline of how a brunch wedding timeline might look:
07.00: Hair & makeup begins
09.00: Bridal party photos (and First Look photos, if you choose)
09.30: Guests begin to arrive
10.00: Ceremony begins
10.30: Coffee/mimosa hour begins (couple/family photos or mingle with guests)
11.30: Reception begins, buffet served
12.00: Speeches
13.00: Cake cutting, first dance
14.00: Couple departs (couple/family photos if not before)
14.30: All guests depart
Brunch Wedding Dresses
Another nice thing about brunch weddings is that you have a lot of flexibility on your look and can go as casual or dressy as you like – and as suits your style. You can, of course, attend in the whole works: formal wedding gown, morning suits for the boys, etc. Another alternative is to pick a shorter gown for your brunch wedding dress, or one in a gorgeous pastel colour or even a print, or just pick a simpler silhouette. Here are some gowns I love for a morning wedding.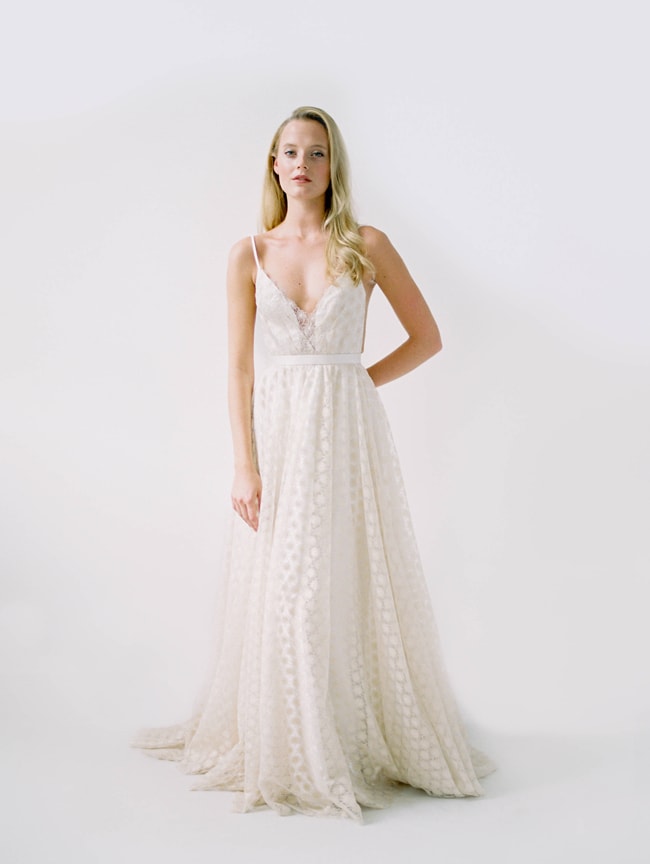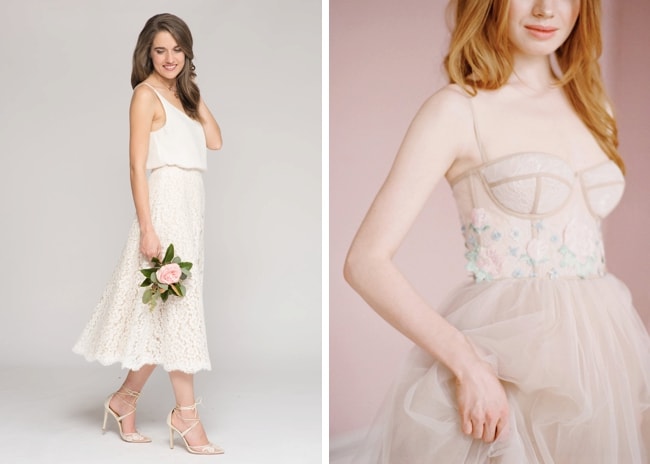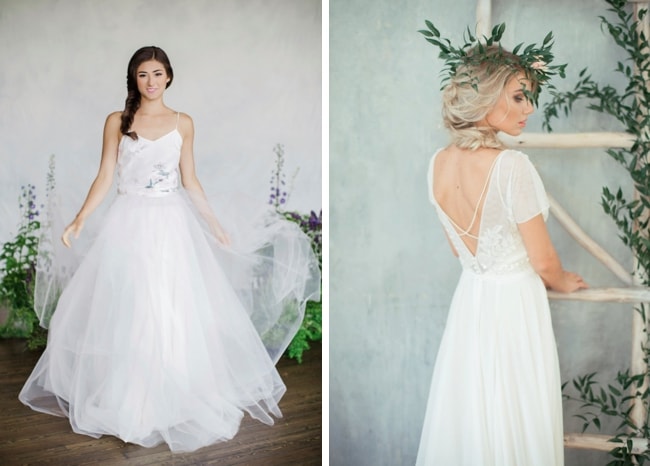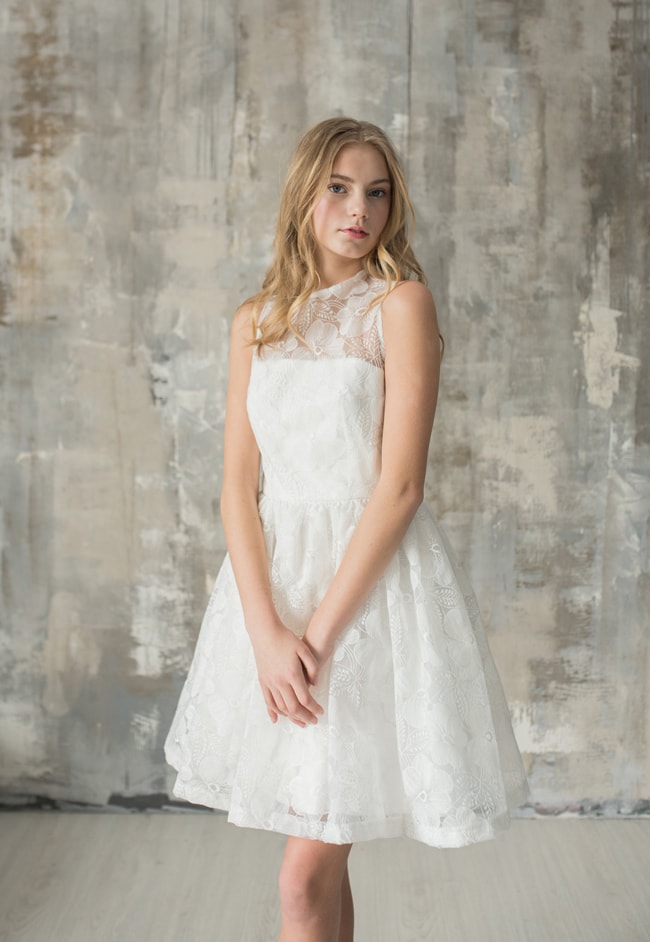 Row 1: Samantha Wedding Gown by Truvelle | Row 2: Romantic Lace Midi Skirt by Shop Love Tanya (left); Courtney Wedding Dress by Milamira Bridal (right) | Row 3: Floral Print Camisole by Pure Magnolia Couture (left); Boho wedding dress 'TEONA' by Alex Veil Bridal (right) | Row 4: Floral Lace Mini Dress by Jordan De Ruiter (Image: Sounds like Yellow Photography)