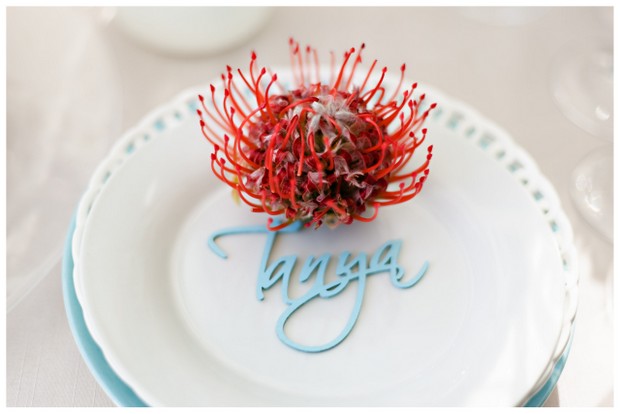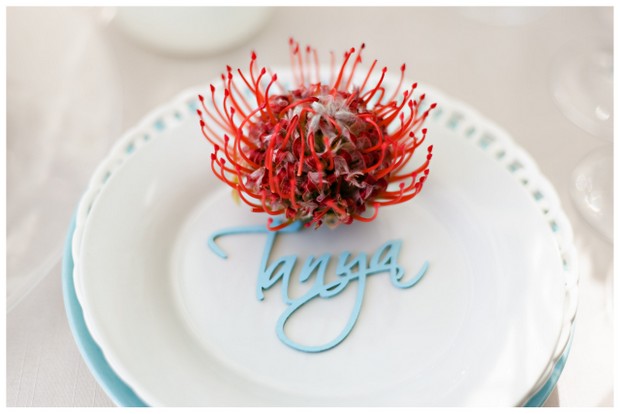 My goodness am I excited to share this little beauty with you! I spied with my little eye, something beginning with coral and aqua on the Wedding Concepts blog last year when this shoot, which was styled and co-ordinated by the WC team, was featured in Wedding Inspirations magazine. That single pincushion protea place setting really stuck in my mind, and I was so thrilled to get hold of a copy of the magazine and devour every gorgeous pic by one of my photography faves, Annemari Ruthven. So you can imagine I was even happier when the lovely Hannes of Wedding Concepts asked if I'd like to feature it right here on SBB. Um, yes please, Hannes! The thing with styled shoots (and it's a reason some blogs don't always feature them) is that it's unlikely you can replicate the whole thing on the grand scale of a wedding, unless you're getting set to be a Real Housewife of Constantia maybe. The art of it all is to be inspired, by the mood of the shoot perhaps, by the colours (although don't forget you can translate a look you like to a whole new palette), or by a single detail or set of details. And that's what's so great about this one, because it is just teeming with original and inspiring ideas. First, the colour scheme – we've seen it before, and both coral and aqua are huge colours right now. But this shoot shows you how to be bold AND classy in the way that colour is used. Natural textures like the pincushions and coral itself, set against the clean lines of milk glass and graphic stationery are the way to  go. The table base is neutral, but through ribbons, flowers and lovely homeware items, the palette comes through. And that's not where it ends. I love unexpected touches: the bride's boho styling, the macaroon lollipops, the Bloody Mary bar, or DIY details like the ribbon garland or the paint dipped glass vases. It's awesome, and I hope you enjoy poring over it just as much as I have!
If you'd like to recreate this look (using coral & aqua, or something else altogether), here's some top tips from Hannes:
Don't make your colour combinations overtly matched or obvious.  Instead of limiting yourself to just two colours, rather work within a selected scheme of different hues and tones all belonging to the same colour family (we ensured our colours ranged all the way from light blue to pale pink).  This makes things feel less contrived and adds points of interest or focal highlights throughout your set-up.  Don't hesitate to be bold though – this is not a look for the faint at heart!
Don't utilise the colour in absolutely every element on the day – add some neutrals.  This helps to create strong contrasts and spreads out the impact more effectively.  Use Perspex Tiffany chairs, stone coloured linen and plain crystal glassware to create a strong, unassuming base.
Add character and complexity by adding mismatched crockery, interesting floral arrangements and frisky bunting.  Use fragrant flowers such as Tuberoses to liven up the ambiance, and neat posies of carnations for a tongue in cheek element.  Spray paint twigs in your favourite hues of aqua and coral to lend a touch of abstraction.
Stationery is very important and one should again opt for bold fonts and patterns in order to do the colour justice.  Design playful lolly-shaped Order of Service cards and laser cut guest names to demonstrate your attention to detail.
Apply the theme to your food by preparing similarly coloured cocktails such as Cosmo's and Blue Hawaii – we set up a fantastic Bloody Mary station with cute little flags identifying the respective ingredients where guests can help themselves and interact.
Spend time to hunting down a unique pair of shoes, handmade shirts and eye catching bridesmaids dresses – your options should be vast!  Round off your personal look with unusual jewellery pieces, hand bouquets and boutonnieres.
Big thanks to Wedding Concepts for sharing, and to the team of talented service providers they worked with. These are…
SERVICE PROVIDERS
Concept & creative styling: Hannes Loubser for Wedding Concepts | Production & co-ordination: Kate Rawbone for Wedding Concepts | Additional styling, stationery and bespoke bridal fascinators: Donna Christie Gibbob for Lovely Things | Photography: Annemari Ruthven | Venue: The POD Boutique Hotel | Flowers: Aspen Flowers & Co. | Hiring: Urban Tonic | Lighting & chandeliers: Something Different | Cake & cookies: Roxanne Floquet | Menu: Food Fanatics | Wedding dress: Kobus Dippenaar | Coral dress & belt: Mungo & Jemima | Candelabra, Vivienne Westwood shoes, blue necklace: Imagenius | Crockery: Plush Bazaar (021 447 6495) | Jewellery: Baroque (021 426 4247) | Suits & belts: Fabiani | Shirts & tie: Blue Collar White Collar | Lasercut stationery: Doodles Laser | Models: Kristi Launder & Bunnie Loubser
SBB ♥ Wedding Concepts, a featured member of our Directory