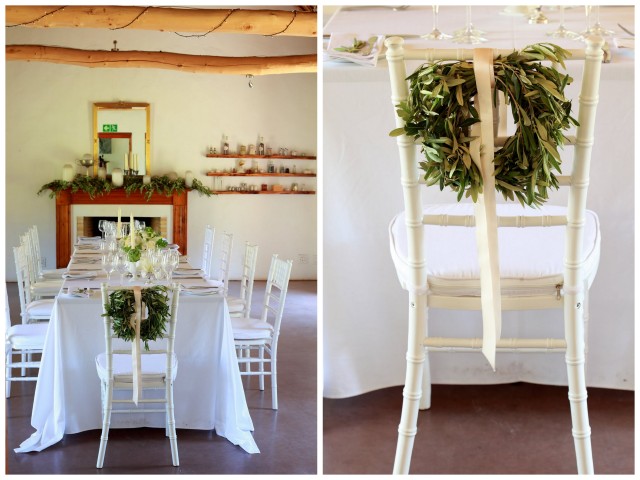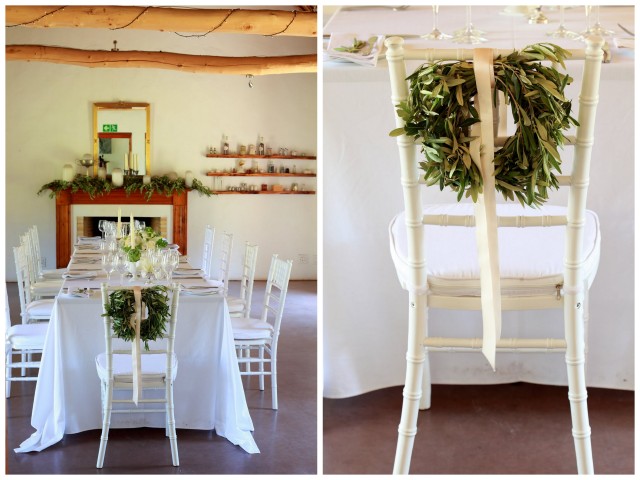 So we went to France for inspiration this morning, and we're keeping it Mediterranean this afternoon with a gorgeous styled shoot that reminds me a little bit of my beloved Italy. Long tables and long lunches in the sunshine, an abundance of food and wine, white linen, the laughter of children in the background… This was the idyllic inspiration for Theresa Lazarevic of Creation Events when she set about creating this styled shoot for new Somerset West venue Sofia's @ Morgenster and wow, it is pretty. I kind of just want to jump into the pictures and live there. It's not just how lovely the winelands venue is (and it is lovely), it's the way Theresa has used materials local to the farm (which also grows olives) – how gorgeous are those olive leaf details? Not to mention how delicious that food looks! Sigh. Excuse me while I go to my happy place for a while.
Here's a bit of background from the wonderful Theresa on the venue and the shoot:
The rustic aesthetic elements, breathtaking mountain views, fine wines, olive groves and close proximity to Cape Town will have any future bride and groom longing to host their special event at Sofia's @ Morgenster. The minute you drive through the gates you enter a different world, away form the hustle and bustle of town. You are welcomed by lush green oak trees, beautiful olive groves and excellent wine. The mountain views are to die for and most of the buildings on the estate are still the original architecture. Morgenster is a working farm so everything about it is real, nothing pretentious and that is what makes it so special… it is naturally breathtaking. Somerset West also has very few estates that offer facilities to host weddings and none of them has a forest option for a ceremony. I am totally in love with the idea of a bride and groom getting married under a roof of age-old trees with a rustic leaf carpet under their feet.
The setting allows you to have an informal, relaxed celebration close to nature and yet have all the sophistication and elegance that are so synonymous with weddings. This is exactly what we tried to translate with the shoot. To us, it was more about portraying the lifestyle than necessarily focusing on the details. A couple who has food high on their list of priorities will not be disappointed as the well known Craig Cormack is the chef and can offer clients a gastronomic experience of international levels.
SERVICE PROVIDERS
Venue: Sofia's @ Morgenster | Co-ordination: Creation Events | Styling & Photography: Henrique Wilding | Flowers & Stationery: Paradiso | Hair & Makeup: Candice Leigh Arnott | Bride's dress: The Dress and Decor Lounge | Suit Hire: Smart Men Suit Hire | Hiring: Urban Tonic | Cake: Cocobella | Models: Imke Wever, Darron Meyer, Barry, Diana, Carine, Michael, Catharine & Thomas