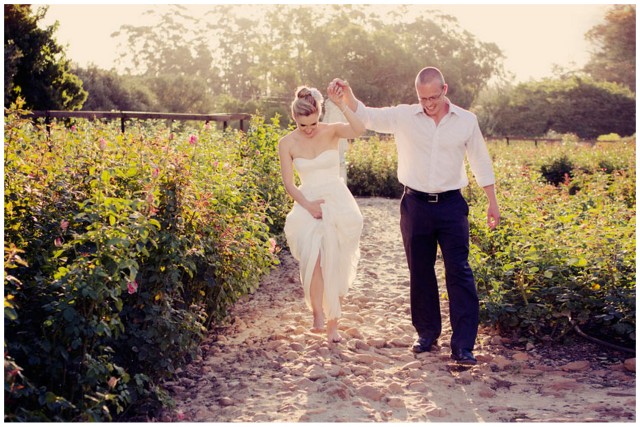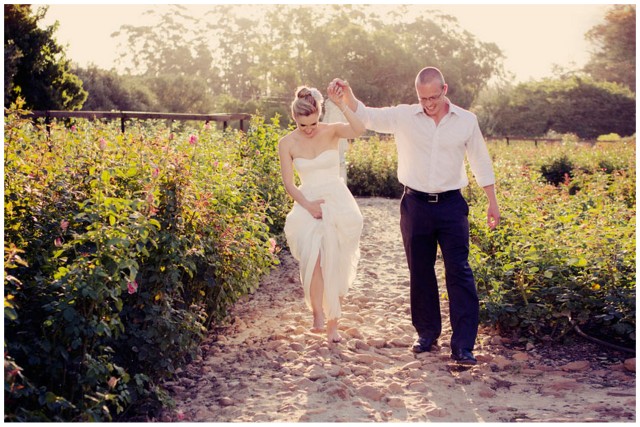 I am so torn. On the one hand, I LOVE THIS WEDDING. I absolutely, positively, cannot wait to share it with you guys because It. Is. Amaze. On the other, I feel like I want to hold on to it, because it's the first wedding I'm featuring at a venue so fantastic that I sort of want to keep it secret. Here's the thing – I know Langkloof Roses. I know it because only last week I was there with a Dream Team shooting some gorgeous inspiration (which I AM keeping secret for now, sorry!). And when Zoe, today's lovely bride, says that she walked around with her mouth hanging open when she saw it, she's not lying. It is beyond awesome, and now that I have told you, you need to go forth and book it for your weddings. So that's just the venue, which as we have established, is breathtaking. Then you add in pretty, whimsical French details – stripey bridesmaids dresses (how much do I love these bridemaids dresses?), sheet music roses, stamped hessian (burlap) and lace runners on outdoor tables, beautiful pink roses, and personalised paintings for every guest (not to mention pictures full of joy taken by Moira West) and you'll see why I am blown away. But another reason I love it, is that Zoe is a bonafide SBB bride – she used us loads in her planning, and knowing that someone with such great taste loved the site makes me feel like I have great taste too. So here it is. Ready: swoon.
From the lovely Zoe:
We met on Gumtree, believe it or not! But not in the 'desperately seeking' section, luckily! I had recently moved back to Durban and was searching Gumtree for a bachelor flat to rent, when I came across an ad that caught my interest. It wasn't the little bachelor flat I was looking for; in fact, it was the complete opposite! The ad was placed by a group of four soon-to-be newly graduated doctors, who had rented a huge house in an upmarket area of Durban and were looking for another housemate to join them. They posted pictures of the place and it looked amazing… pool, tennis court, panoramic views… the works! The ad was very tempting, but being a pretty nervous person and not one to take chances, I didn't know if it was such a great idea to move in with a bunch of strangers from the internet. I replied to it anyway, not really thinking I would actually go through with it, but after emailing back and forth with them for a day or two I decided that I really needed to go against my "safe" streak and take a chance! A month later I moved in. We got along really well and found that we had a very similar sense of humour and taste in music, so we would often stay up late talking rubbish and joking, and after a month or so, I realised that I had a crush on him and ended up telling him about it after having a few drinks one night… luckily he felt the same way, and the rest, as they say, is history!
We moved to Wellington last year and one day Paul emailed to say he had arranged a big night out for us and that I should be ready by 7pm. When I got home from work, there was a bottle of champagne waiting for me and Paul had set a timer on his laptop that started playing a song as soon as I walked through the front door. Perfectly timed! The plan was to have each course of our meal at a different restaurant and then go dancing. Anyone who knows me, knows that I am obsessed with food and so this sounded AMAZING to me! However, after the first restaurant, the plan started falling apart as we stayed a little too long there; didn't enjoy the second place and after that, things started closing! 
I suggested we call it a night, but Paul started getting antsy, snapping at me for not liking his plan! I couldn't understand why he was acting so strange. Eventually he agreed to go home but I noticed we were going in the wrong direction and that he was actually driving up Table Mountain. We stopped at a lookout point and he asked me to marry him. He had brought along another bottle of champagne and two glasses so that we could celebrate our engagement while looking out over the city at midnight. It was perfect!
Our theme was vintage & rustic French. The colours were a mixture of blues (navy, French blues, baby blue), creams and a very light peach. We spent ages looking for venues online but eventually decided to ride around the winelands and see what we could find. The first place we went to was closed that day & we stumbled across Langkloof Roses in Wellington. We drove in, spent approximately three minutes with our mouths hanging open and then booked in straight away! It is so ridiculously lovely that no other place could compare and the atmosphere of their venue fitted in perfectly with our theme.
I am creative and came up with most of the ideas, but lack organizational skills – Paul is great with planning and getting things done so was pretty much our wedding co-ordinator! His style is more classic and refined and this helped a lot in keeping our theme elegant and not too gaudy. We used a whimsical, eclectic mix of textures and all of the décor was handmade or set up by either myself, Paul or friends and family – there wasn't one hanging heart of fairy light that wasn't stitched, glued, strung, cut, draped or folded by ourselves or somebody close to us. It's such a special feeling to look around at every little detail and know just how much work, energy and love (and sleepless nights!) went into all of it. This included little paintings I did created for each guest and sheet music roses made from Paul's old music files from when he was in an orchestra.
It was a fairly small and intimate wedding, and I loved having all of our friends and family together, dancing the night away with everyone. The food and cakes were also AMAZING! But of course, the BEST part of the wedding was the getting married part!
The internet, especially wedding blogs, was pretty much the only source we used for wedding info and inspiration. It's amazing what you can find and how other peoples' clever ideas can spark hundreds of your own. However, I went about planning our wedding completely backwards! I had no set idea on what I wanted and every time I went on to the internet I would find a thousand more things that I loved which made making a final decision impossible! Therefore my advice to future brides would be to have a little bit of direction before opening every site possible. Or even if you start without a plan & pore over hundreds of glorious pages, try to limit looking at them once you've decided on your theme, unless it's for something specific. Otherwise you keep finding more & more things to add to your wedding and it will end up looking like a Christmas tree!
Zoe and Paul – THANK YOU for sharing, and good luck for your new adventures abroad! And many, many thanks to the lovely Moira – see more from this wedding on her blog.
SERVICE PROVIDERS
Venue: Langkloof Roses | Catering: Linda Bruyns ([email protected]) | Photography: Moira West | Flowers & decor: Adelaine Breedt of Langkloof Roses | Cake: Vanilla Haus | Bride's dress: Janita Toerien | Bridesmaids' dresses: Woolworths | Hair: Ida Webster | Makeup: Yolandi du Toit | Hiring: Peggy's Place | Hiring: To-Nett's | Audio equipment: Sound FX