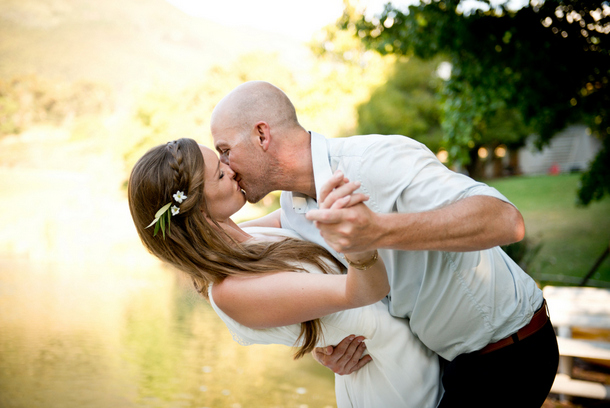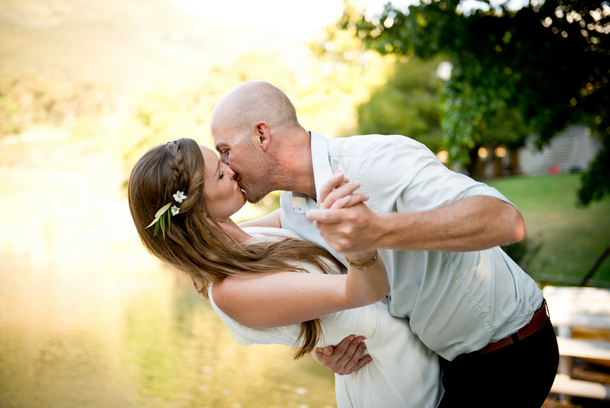 Once upon a time I did a business trip to some incredibly random place up in the north of England, and stayed overnight at a B&B full of chintz and plastic flowers. The new owner picked me up from the station (yep, this town was so small there were no taxis) and on the way he told me he'd spent the whole of the last week learning how to make this soup that was the old B&B owner's speciality. Vegetable soup made with chicken stock. So, alone in the dining room that night, I ordered the soup. It was good. And that is LITERALLY the best thing that ever happened to me on a business trip. Because as we all know, most of the time they kind of suck. But today's bride and groom have a far, far better story – they went home with the beginnings of true love! Of course, their sweet 'how we met' story was just the first thing I fell in love with about Chloe & Keith's wedding. Chloe, who just happens to be a talented florist herself, built her wedding inspiration from the flowers forward, resulting in the most beautiful, natural, rustic arrangements on long tables. Everything about it is pretty and breezy and laid back, like a cool sip of lemonade on a summer afternoon – just like Michelle Van Heerden's photographs of the big day. And here's a fun fact – this wedding makes it a hat trick for Langkloof on the blog this week, since both yesterday's wedding and styled shoot were set there too (pure coincidence, I promise!) – I just love how it demonstrates that a great venue can be the backdrop for a celebration that is truly you, no matter what your style!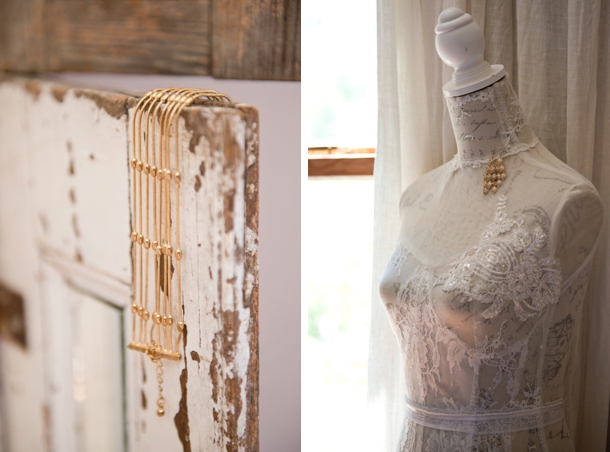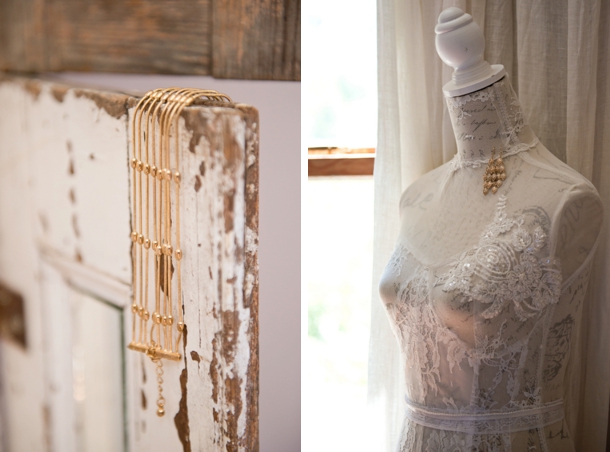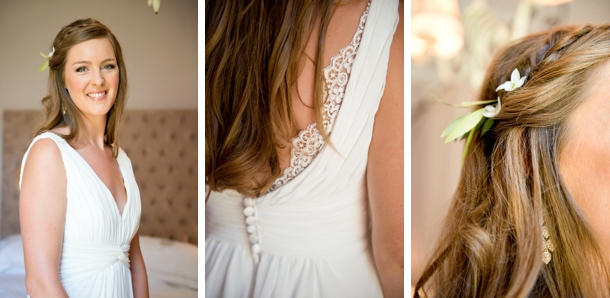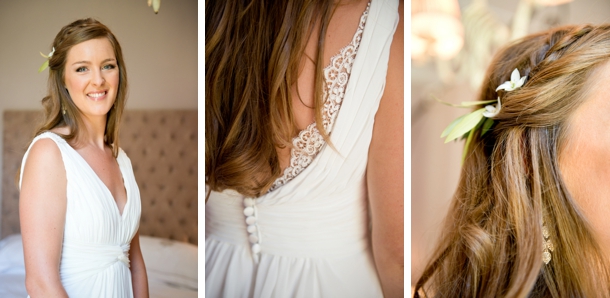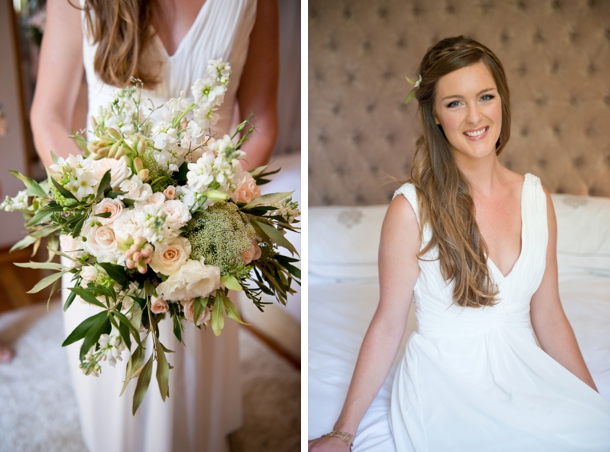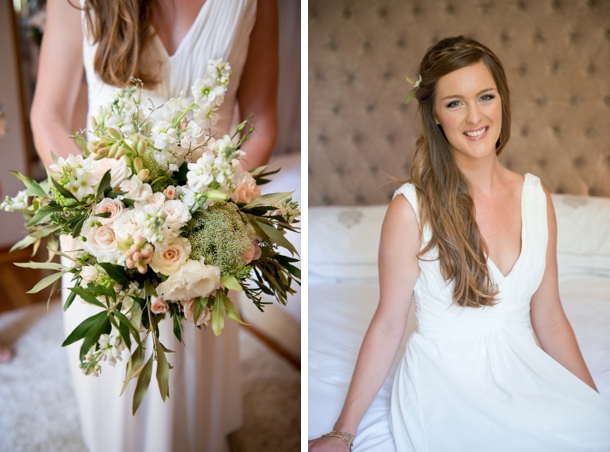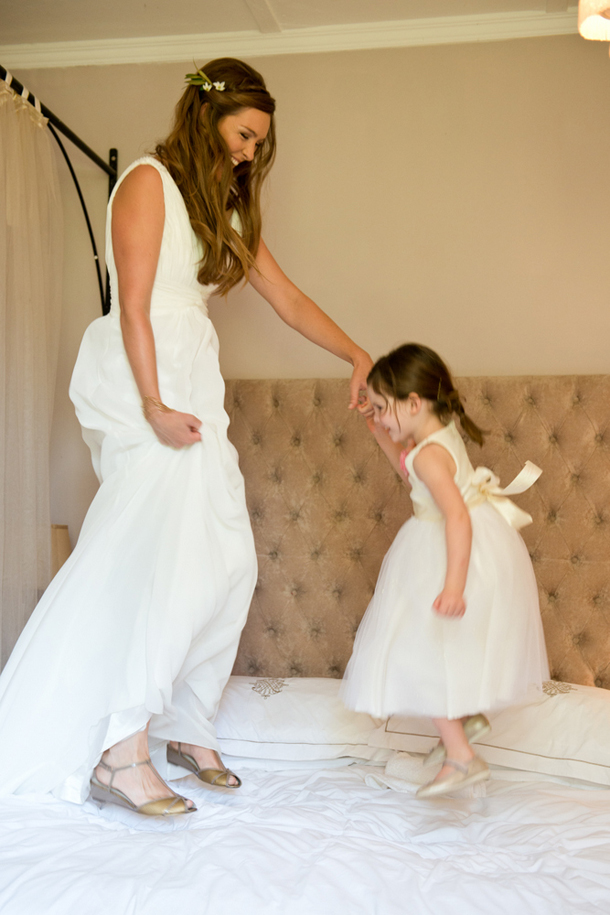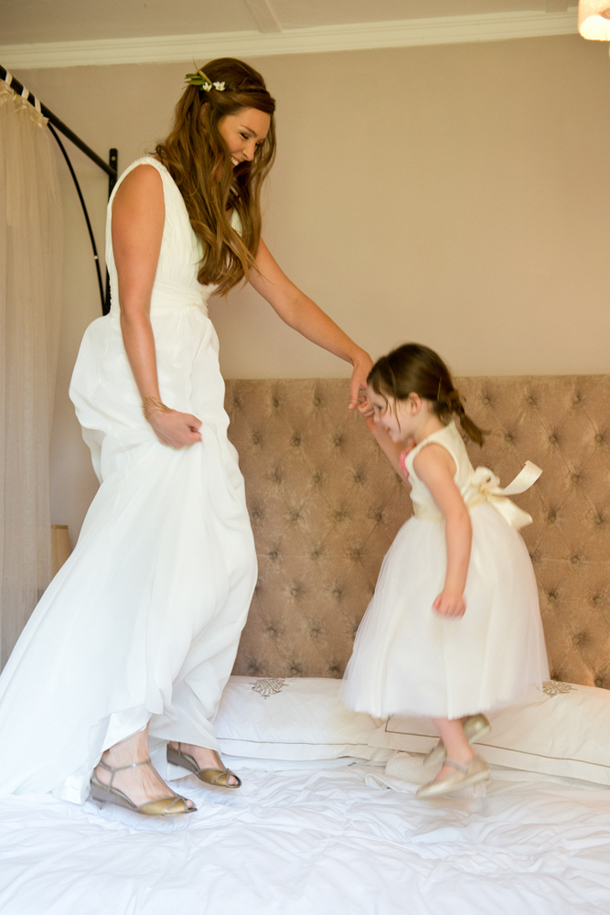 Love Story
I was working for a children's charity in London, and went on a work trip to Zambia. My colleague Caroline persuaded me to take a few days' holiday after the trip and go to a lodge on the banks of the Zambezi with her for a few nights. The only other people staying there were Keith and seven of his colleagues, who were on a work retreat. The ten of us had an awesome late night party, but they had to leave the next morning. A few days later we had dinner in Lusaka and had another amazing night. We swapped email addresses and said our goodbyes, and I left thinking 'he was nice, but how would this ever work with him between Cape Town and Lusaka and me in London?'. Suddenly we were chatting on Skype every night, and two months later he arrived in London to visit me. After a whirlwind year and seven visits later I moved to Cape Town, and the rest they say, is history!
The Proposal
One of my good friends was getting married in India, and as I was between jobs I went on a six week hippie adventure with my friend Erica, which finished with a big, traditional Rajasthani wedding. As she's in the UK and I'm in Cape Town it was such a special time to spend together. Keith came out to join me for the last two weeks, and we travelled round Kerala together. As soon as he arrived in India I thought something was up! He was so loved up and just wanted to talk about our future, he's rubbish at keeping secrets!! Sure enough, on New Year's Day we were on a private house boat on the Keralan backwaters, and as we moored for the night he got down on one knee and popped the question. It was simple and sweet and perfect. We were in the middle of nowhere, so it was quite strange that we couldn't tell anyone for four days until we were back in civilization, but also lovely that it was our secret for a few days!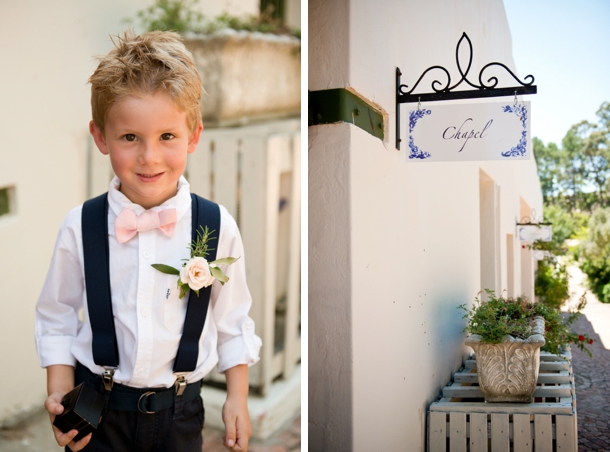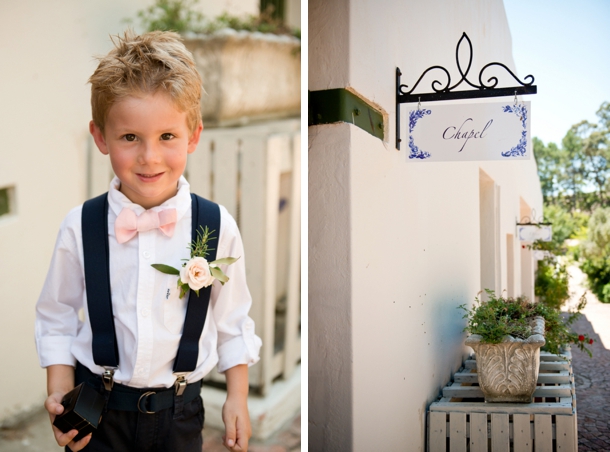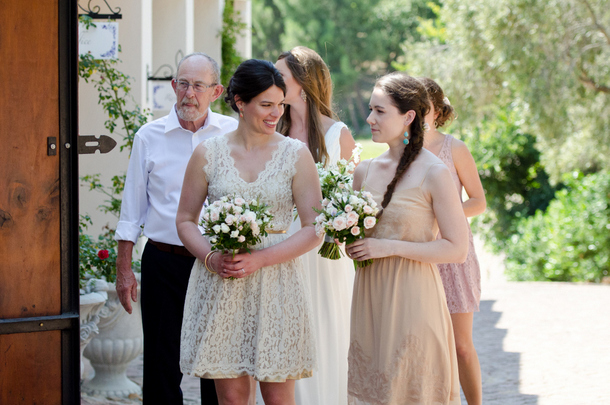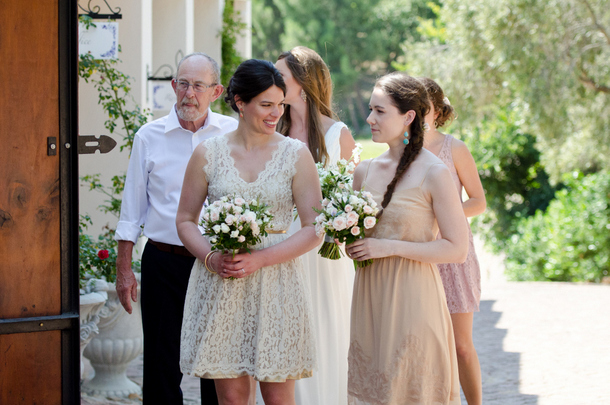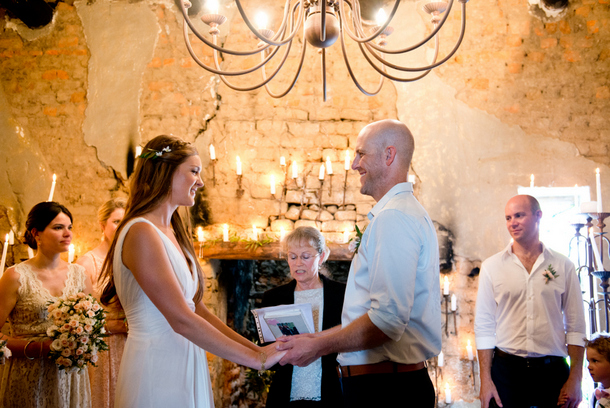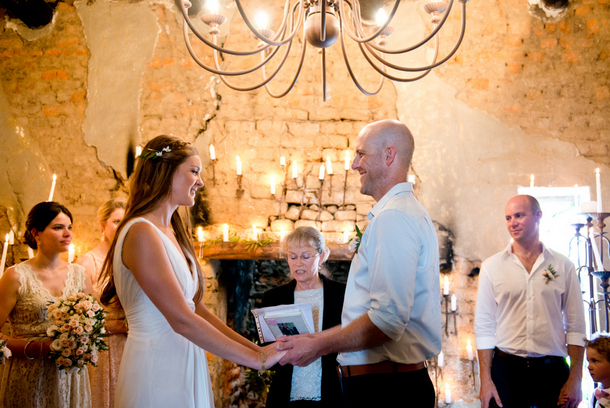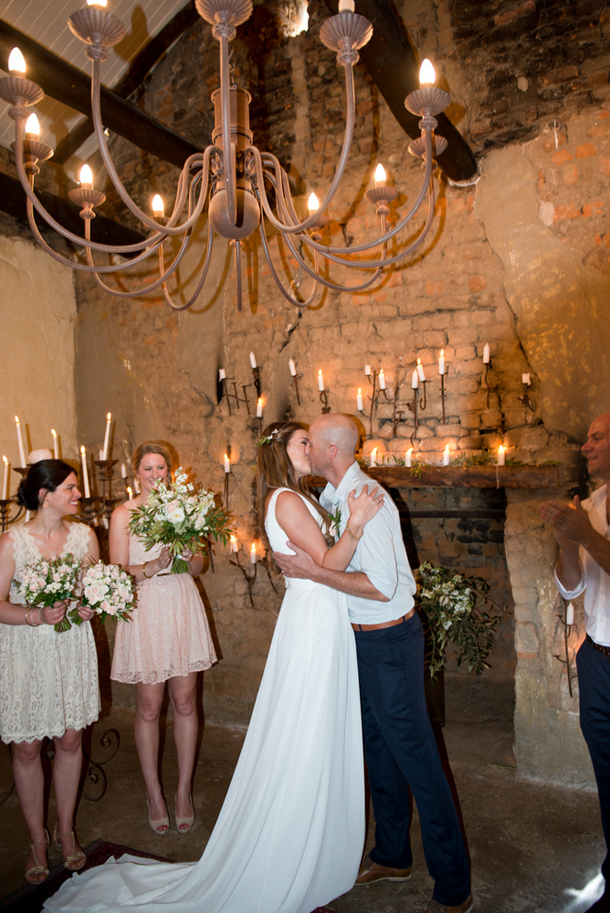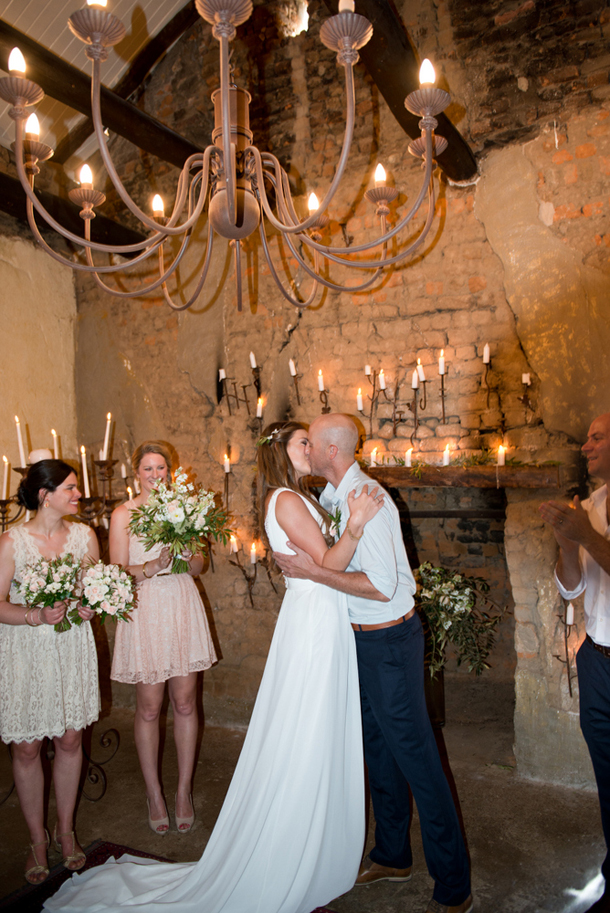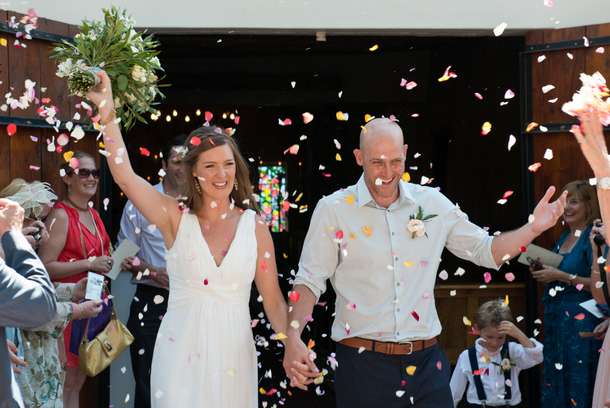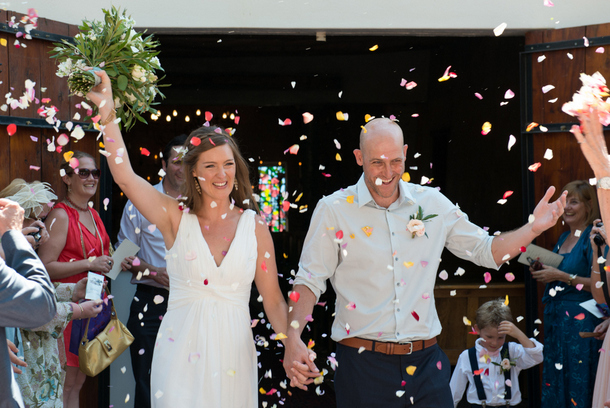 The Venue
Langkloof was only the second venue we visited, but as soon as I saw it I knew it was perfect. I loved the Cape Dutch manor house and the romantic chapel. The whole venue had a natural, relaxed feel to it along with beautiful gardens and views. As we walked around I was gasping and grinning ear to ear and said to Keith 'What do you think?' he laughed and said 'that doesn't really matter as I can see you've already fallen in love with it!".
Wedding Style
We wanted a relaxed, intimate wedding that was romantic without anything being too contrived. This was reflected throughout the day, in the flowers and decor, the wedding party attire, and even the seating plan! For me, it was all about the flowers, so I chose those first and then tied in the rest of the wedding. We chose a palette of pale pink, peaches and creams with gold and pale green coming through in the decor too. The men wore open necked shirts and the bridesmaids picked their own dresses from the range of colours. We didn't want a traditional head table, so Keith and I sat in the middle of a long banquet table surrounded by our bridesmaids and groomsmen, and all our parents, aunts and uncles and family friends were on another long table close by. The menu was a 'feast to the table' with guests tucking into shared platters and salads. I wanted the theme to suit the rose farm venue and outside areas without being too rustic.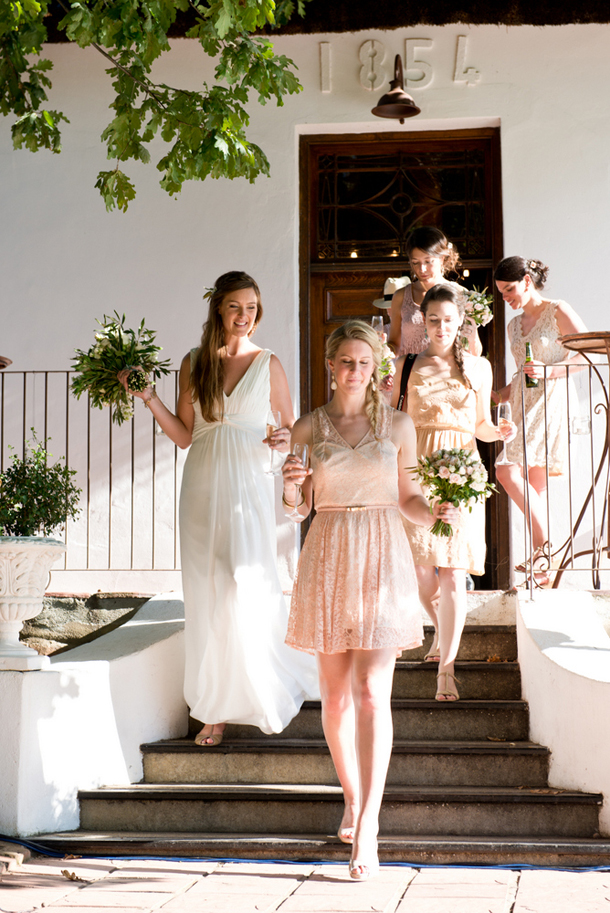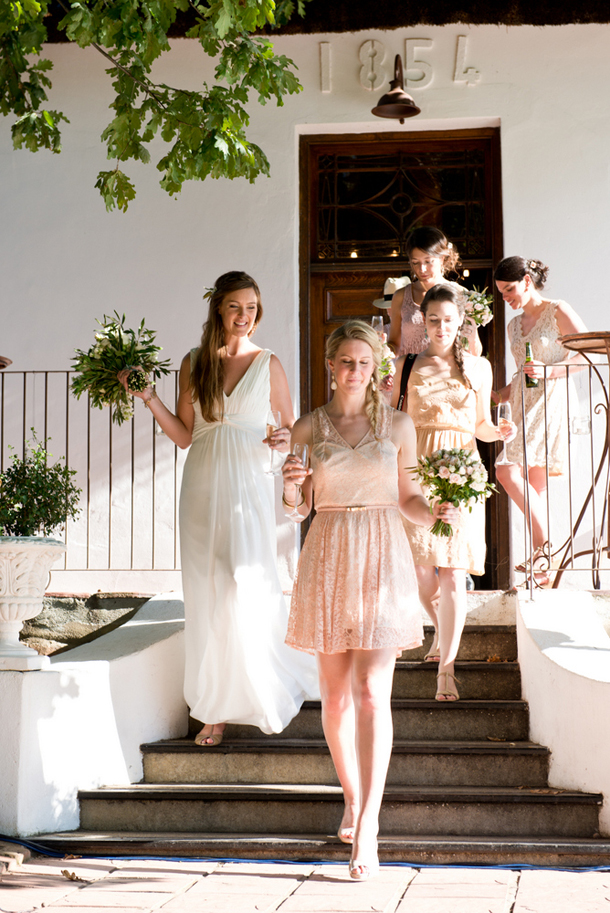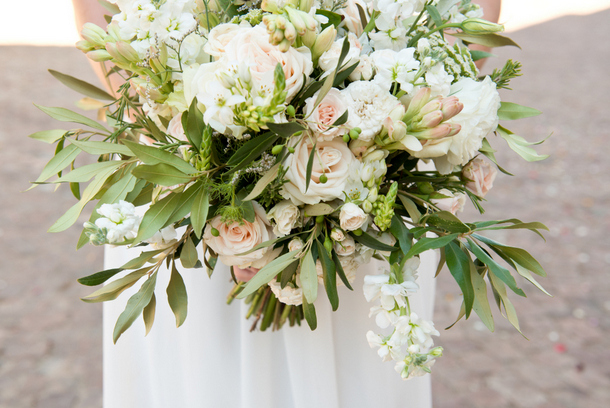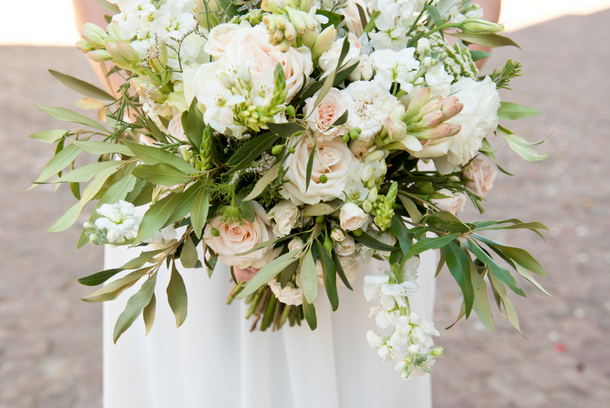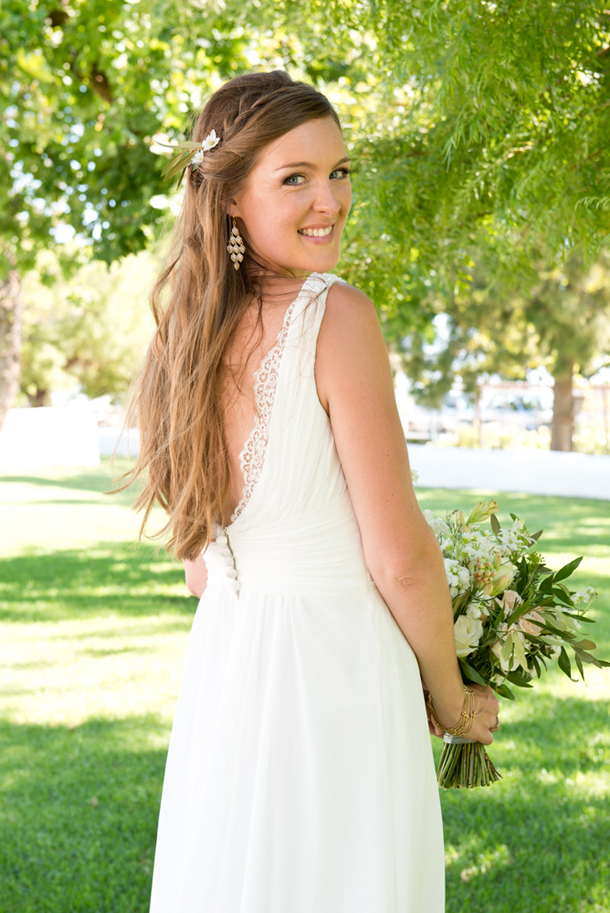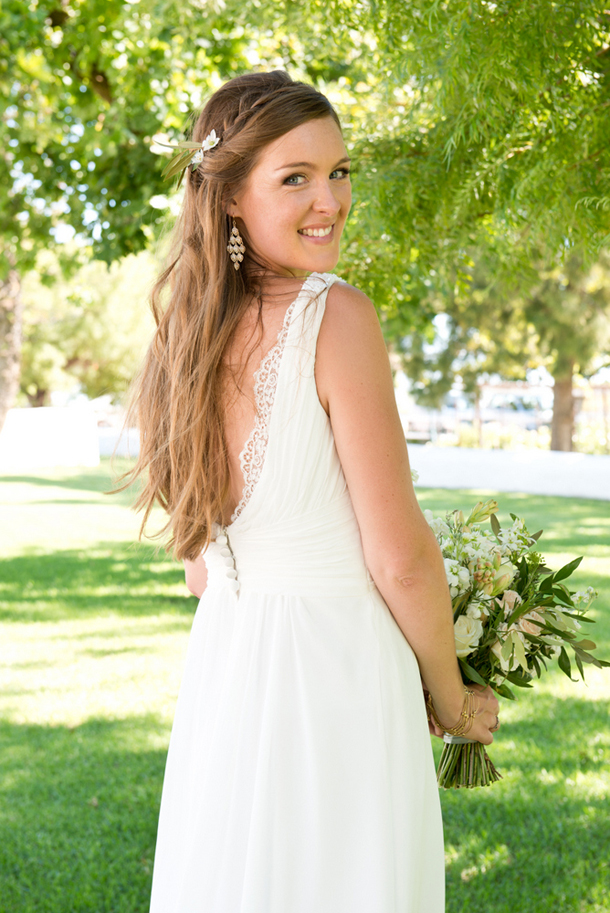 The Wedding in 3 Words
Hot, happy, full-of-love!
Wedding Details
We both grew up in the countryside, so the gorgeous setting at Langkloof felt just right for us. We didn't want a traditional ceremony but wanted to make it special to us and as personal as possible, and our amazing celebrant Tzili did an awesome job and gave us the confidence to do something a bit different. We wrote our own vows and had lots of quirky twists during the ceremony.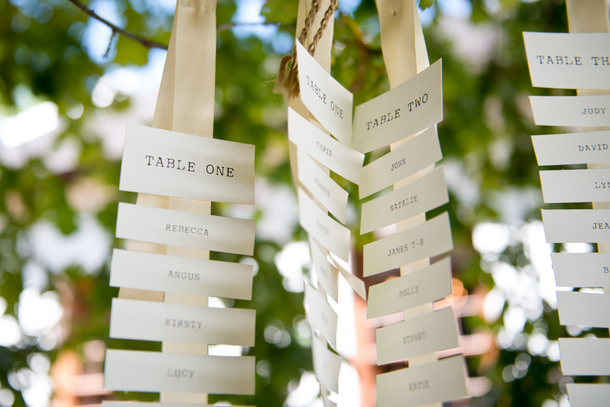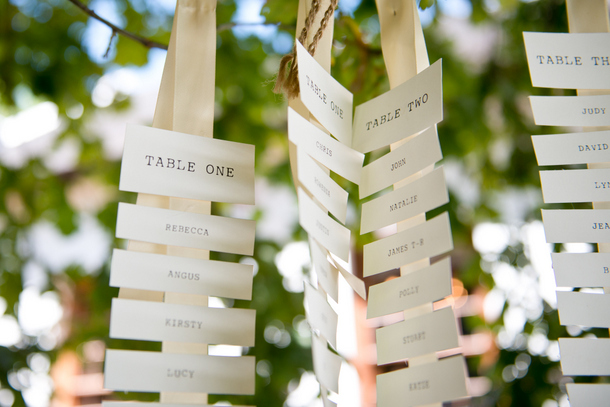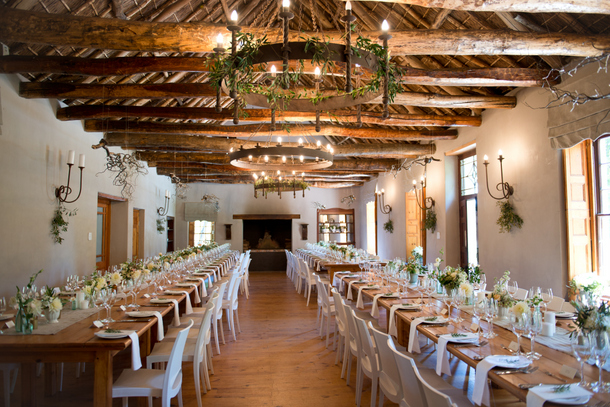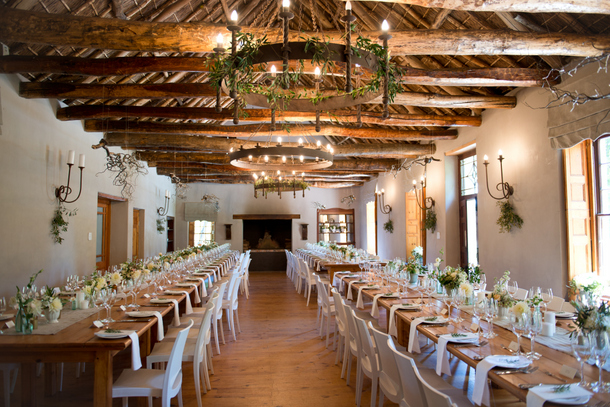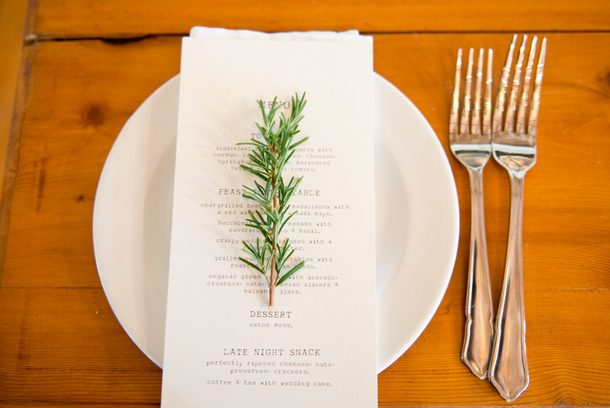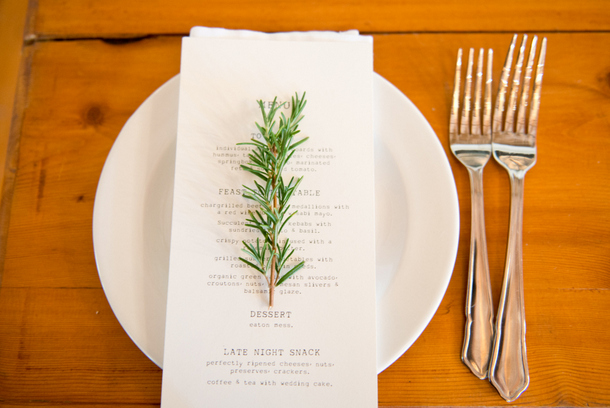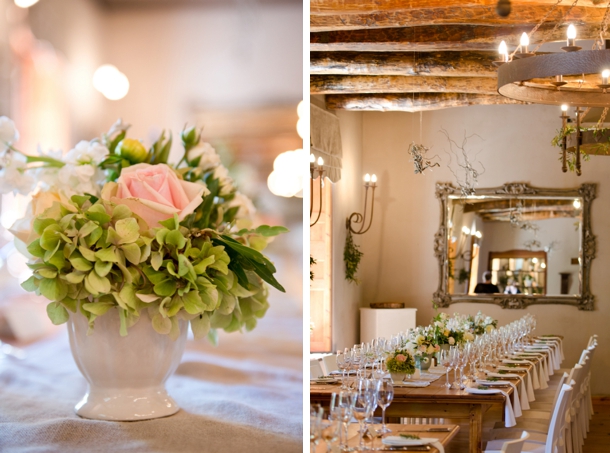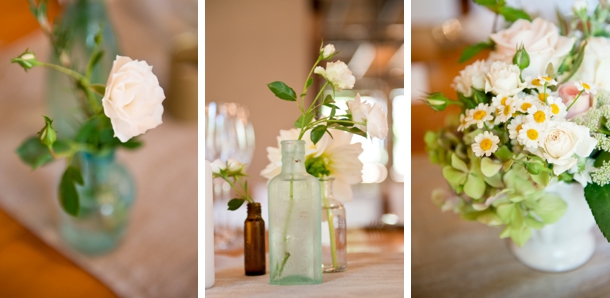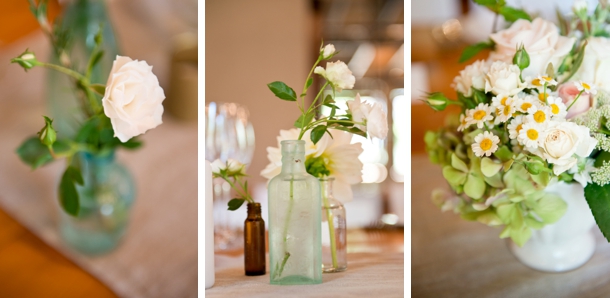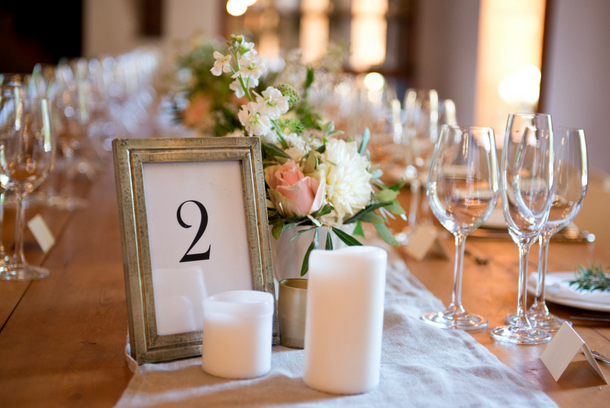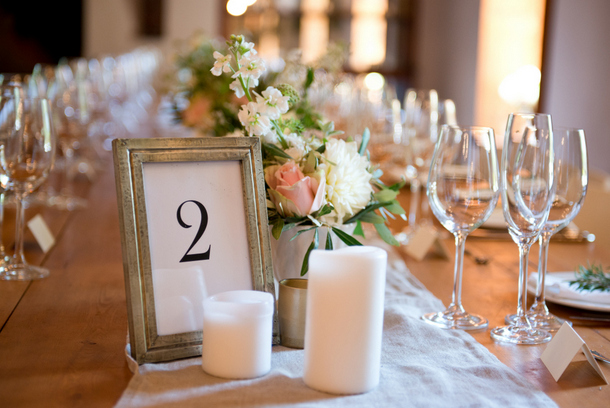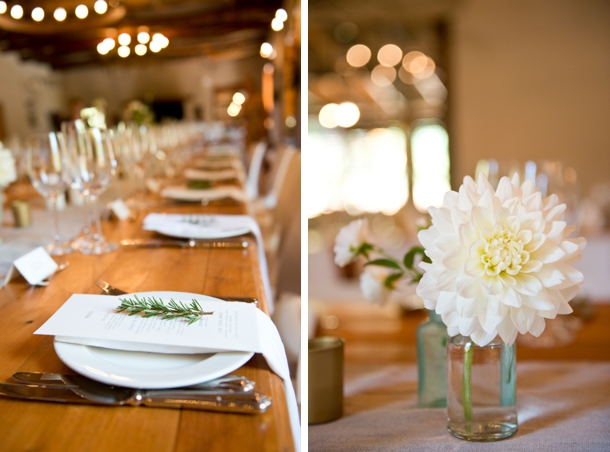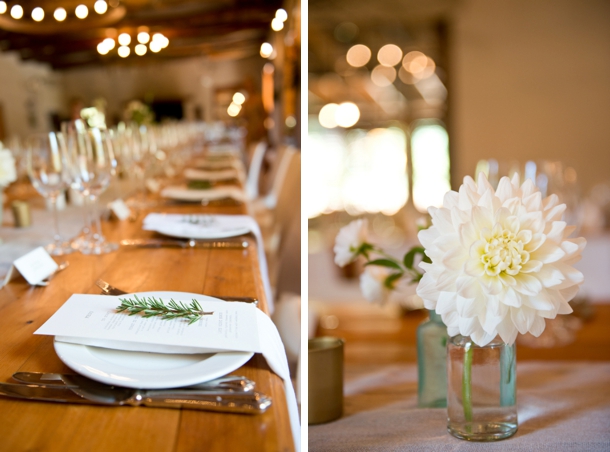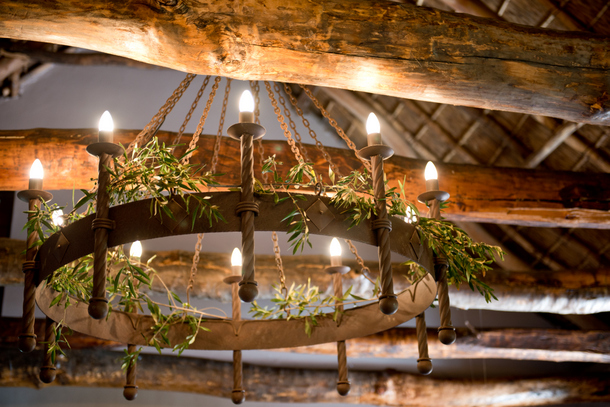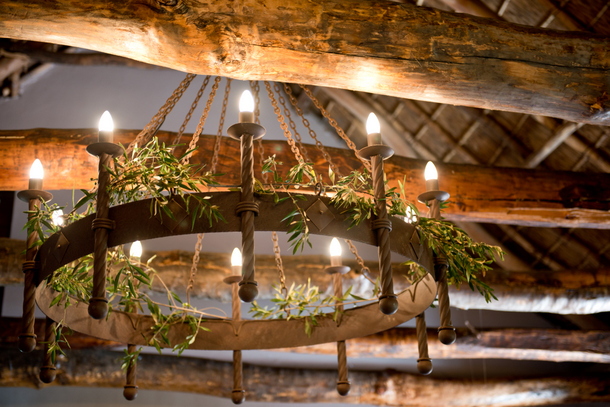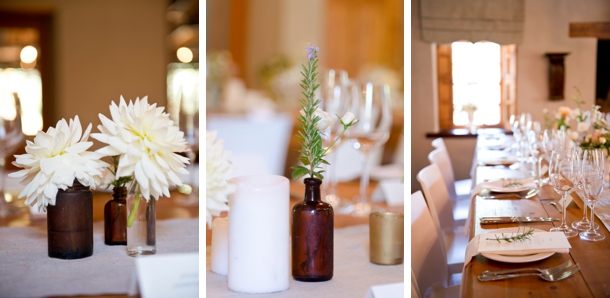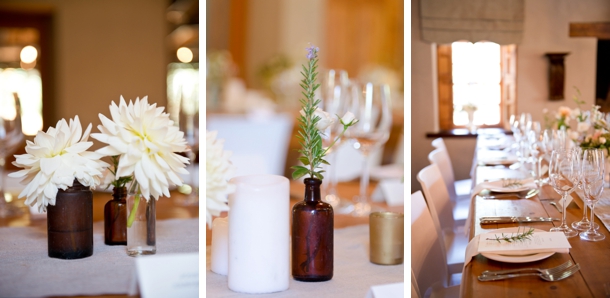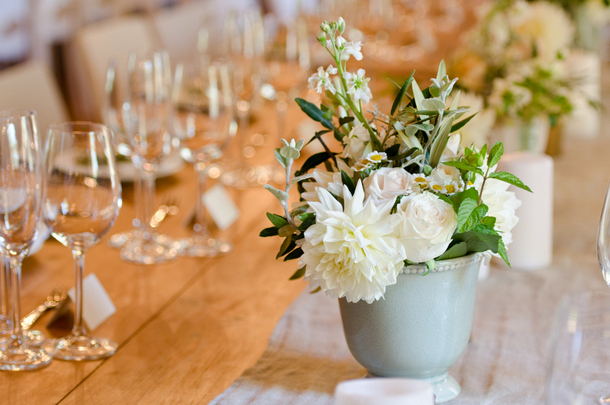 DIY Elements
There were so many! We have so many creative friends and family, and people were amazing at helping us. My friend Erin made our beautiful stationery, Keith's sister Nikki made the most incredible three storey, delicious carrot cake. I didn't want a sleek wedding band, so found some street musicians in Green Market Square, and they drove out to Wellington and played during cocktail hour. The singer, djembe player and general entertainer Joe has this amazing gravelly voice that reminds me of Louis Armstrong, so we got him to sing 'Wonderful World' as we walked out of the chapel.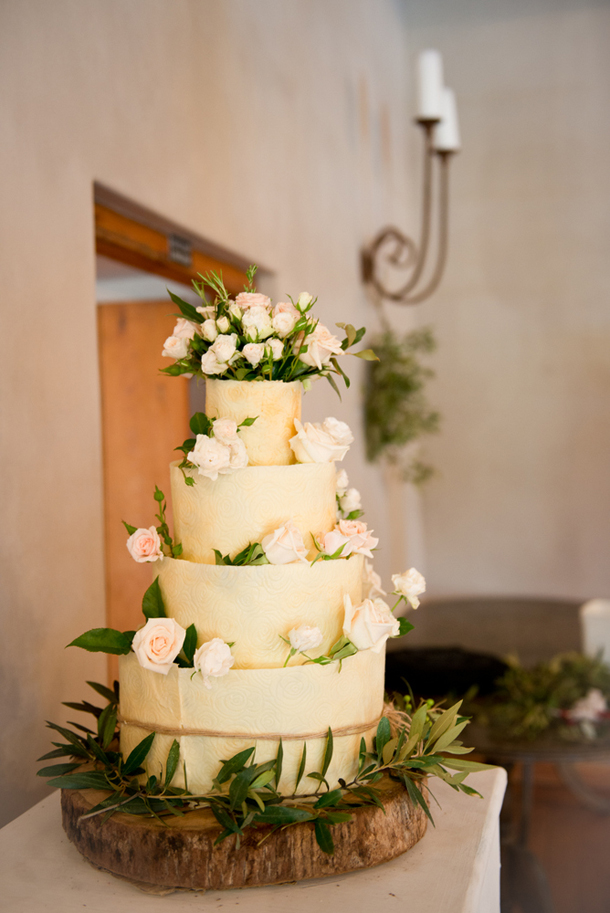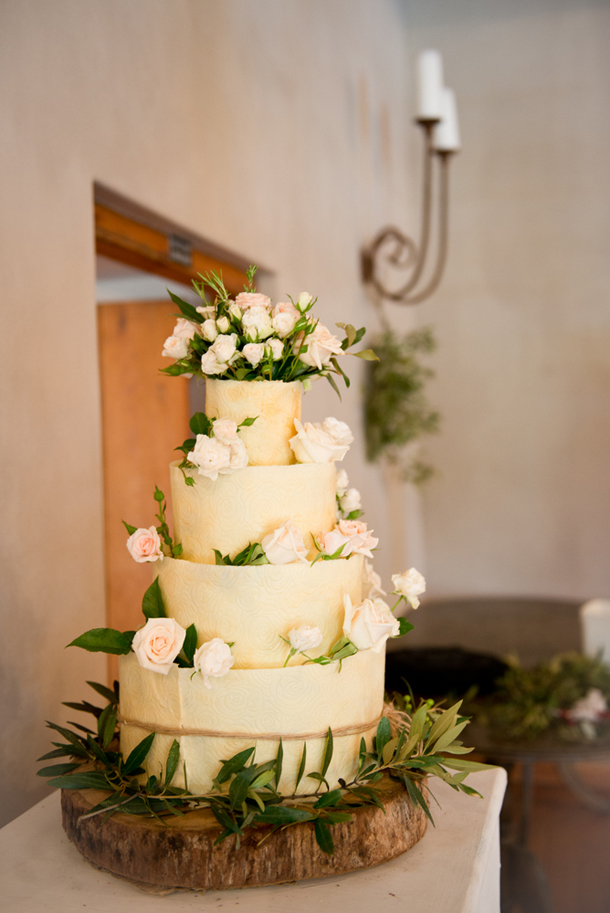 The Flowers
Being a wedding florist and coming across so many different ideas and colour palettes daily, this was a really hard decision! My amazing business partner Rowenna was such a help throughout the process, and finally I decided on really loose, natural flowers in creams and a touch of pale blush and peach, and incorporated lots of rosemary, mint and olive, as well as garden roses, cluster roses, hydrangeas, stocks, dahlias, tuberoses and chinks. We used a mix of antique pale green glass bottles and ceramic urns on the reception tables, with gold tea lights and pillar candles dotted throughout. We hung bunches of olive on the walls and overhead strung willow wrapped with fairy lights. The bridesmaids carried simple bunches of cluster roses and rosemary, and I made myself a huge, loose bouquet in creams, peach and white that I was totally in love with and didn't want to put down!
The Dress
I visited quite a lot of boutiques in Cape Town, and then decided to have a look online. I found a dress I loved from overseas which was a bargain, so took a risk and ordered it! I then had it quite heavily altered, and had the lace and buttons added to the back. It was pretty and simple and I felt like Jane Austen in it!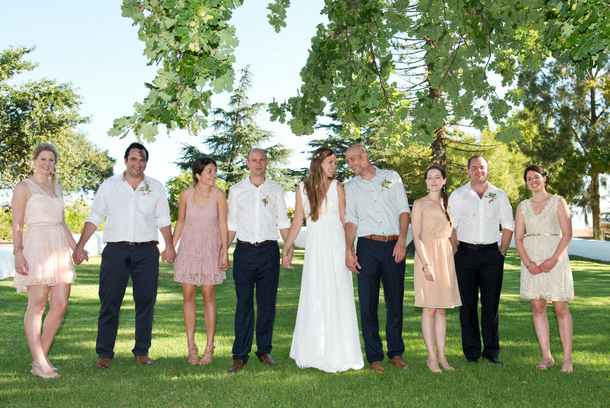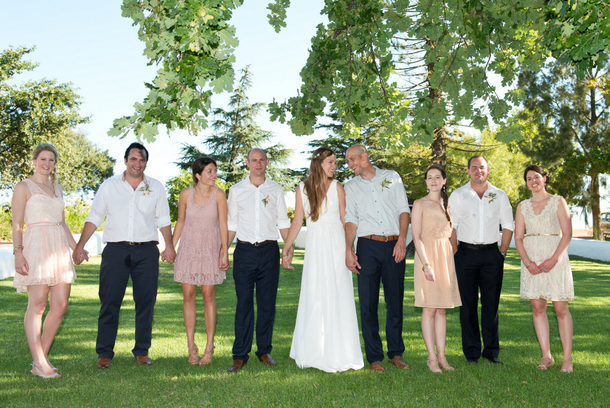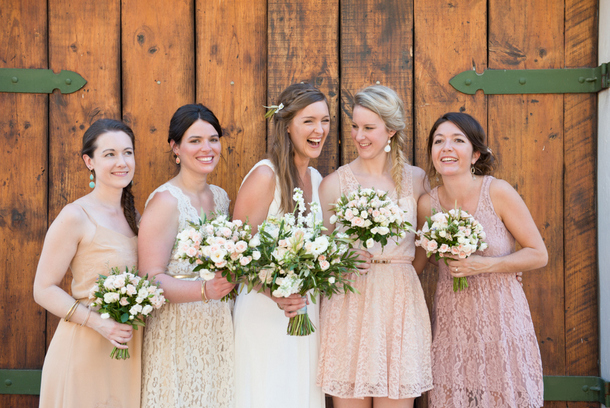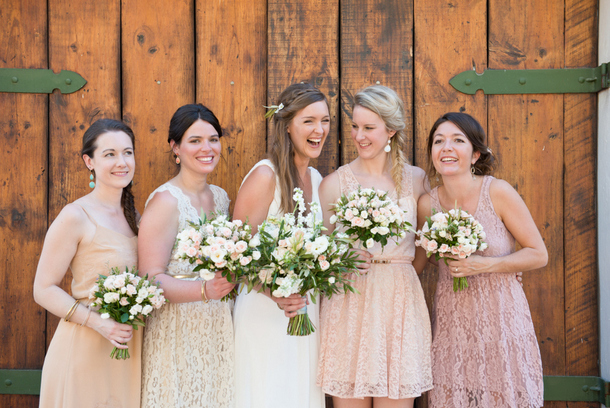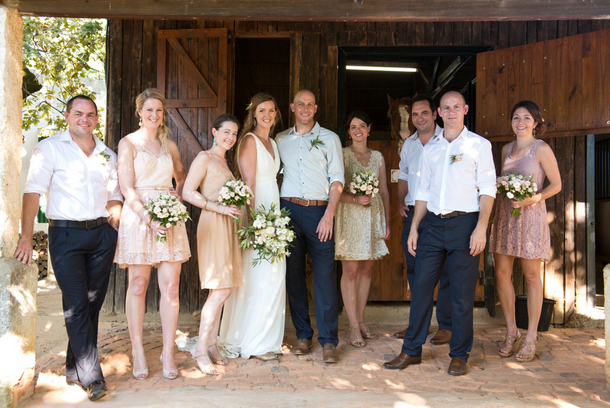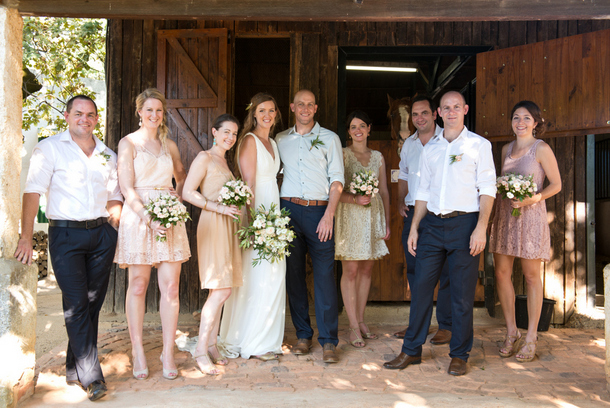 Memorable Moment
My favourite moment was walking up the aisle to 'La Vie en Rose' by Louis Armstrong and seeing Keith's reaction. I was sure I'd be the crier but it was him who got watery eyed (he still maintains he had something in his eye!). I couldn't take my eyes off him during the ceremony, and beforehand I thought I'd be nervous, but actually enjoyed every moment, and it was so special looking round the chapel at all the faces we love!
Proudly South African Details
We had springbok Carpaccio on the starter mezze boards for our overseas guests to try something South African, and finished with a very English dessert – Eton Mess.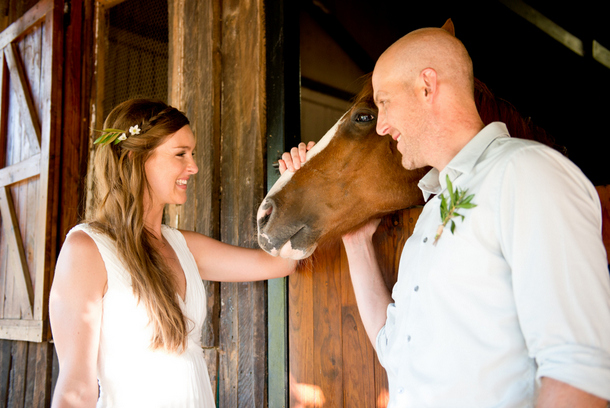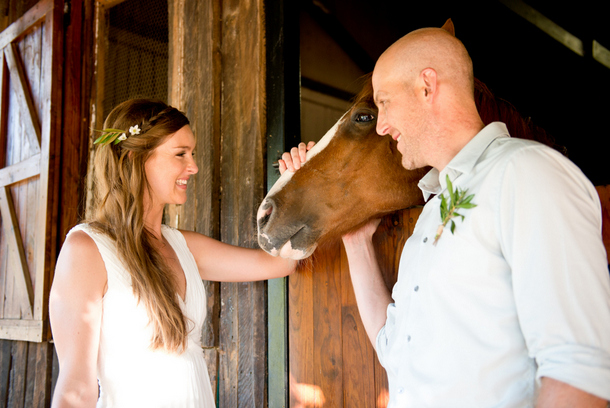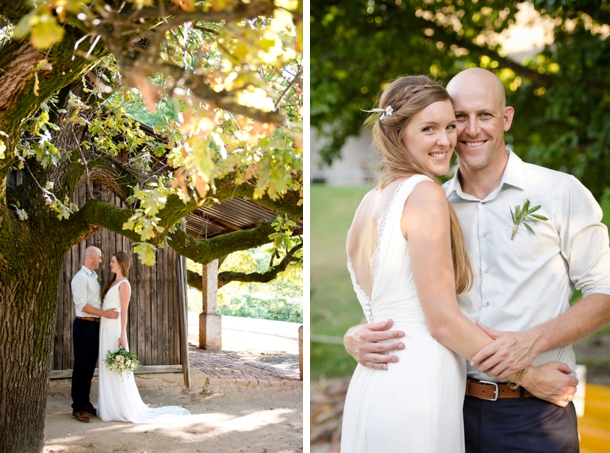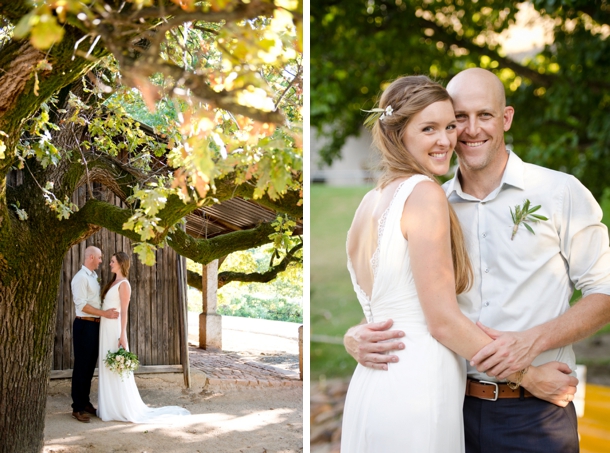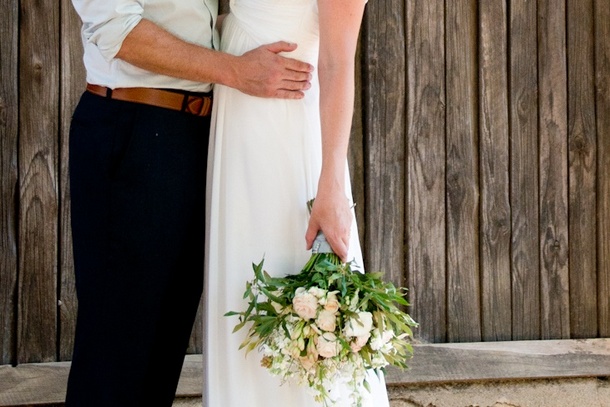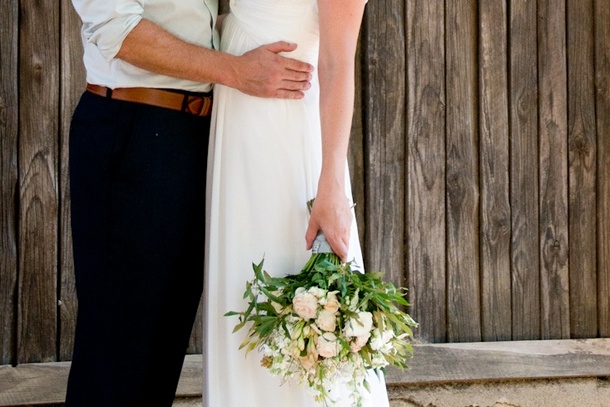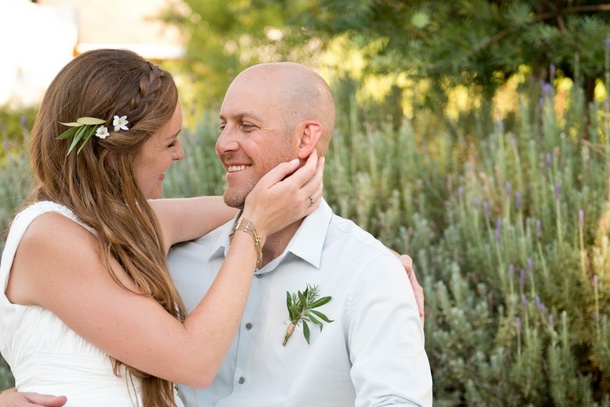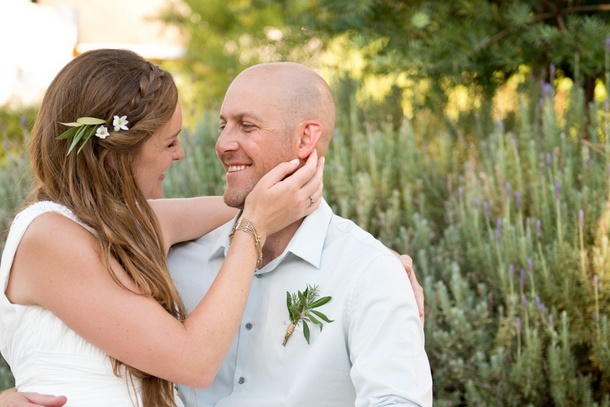 The Honeymoon
As we had so many visitors in Cape Town around the time of our wedding we didn't want to go on a big honeymoon at the time, but took four days to relax after the wedding, spending two blissful days in Paternoster and two in a cottage on a fruit farm in Tulbagh. In July we had an amazing two weeks in Sri Lanka.
Advice for Future Brides & Grooms
Make sure you organise the day for you, to be a reflection of you and your love. Also don't be afraid to think outside the box and do things a little differently.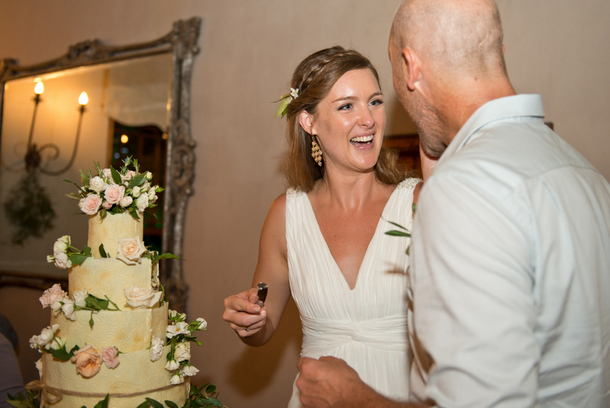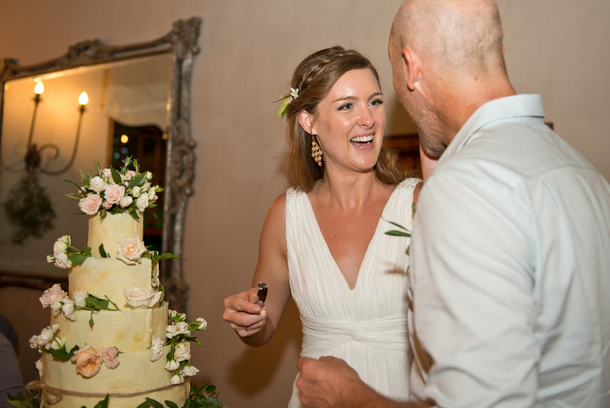 You can see more from this wedding on Michelle van Heerden's blog.
SERVICE PROVIDERS
Venue & catering: Langkloof Roses | Catering: Linda Bruyns | Photographer: Michelle Van Heerden | Cake: Keith's sister Nikki Kimberg | Flowers & décor: Botanica Flowers | Stationery: Erin Joy | Hair & makeup: Corlé Barnard | Groom's attire: Country Road at Woolworths | Hiring: Shading canopy and coffee tables by Goeters | DJ: Willem Steenkamp