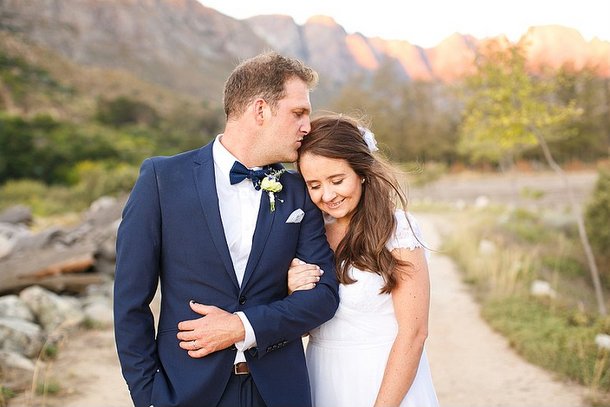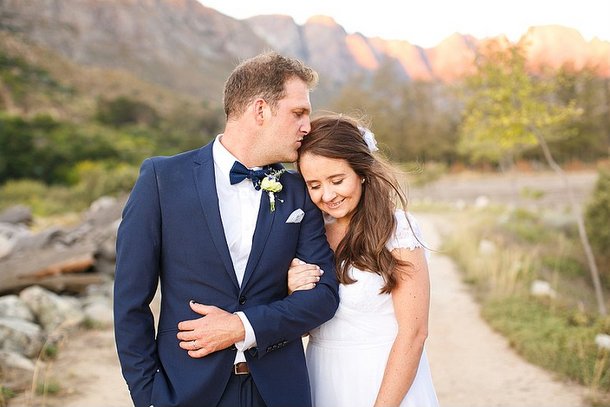 One of the things that not a lot of people realise about wedding pros is that this is really not just like any other job. I mean, yes, plenty of people care about what they do, but not all of them have the responsibility weighing heavy on them of making two people's most cherished day come to life. Cheesy as it sounds, they're in the business of granting wishes. And I think that's why so many of them will go above and beyond to make a wedding perfect. Take, for example, today's wedding – a relaxed garden soiree awash with pastels. Not only was photographer Adene on the scene to capture gorgeous shots, she stepped up as a fairy godmother when a crisis almost stopped it all from happening. Or take Ro of Botanica Flowers (one of SBB's cherished Directory members), who took the time to listen to her bride, right down to the finest detail. Everyone – from mothers to dressmakers to the couple (and their woodworking friends) made this particular dream come true, and when you think about all of those hands creating a labour of love, it makes it that much more special to enjoy.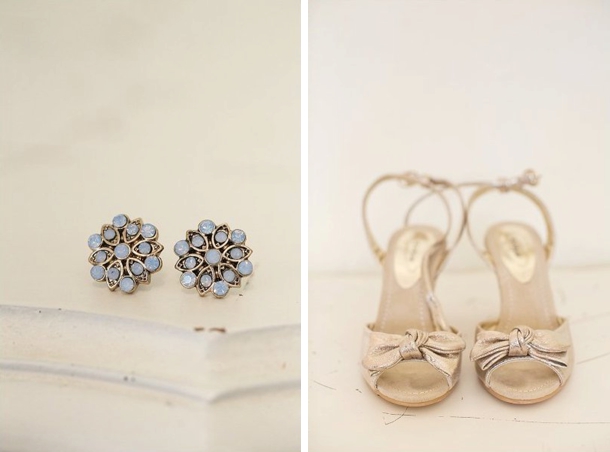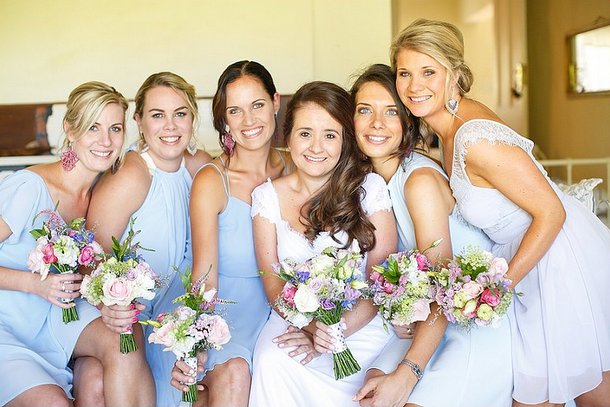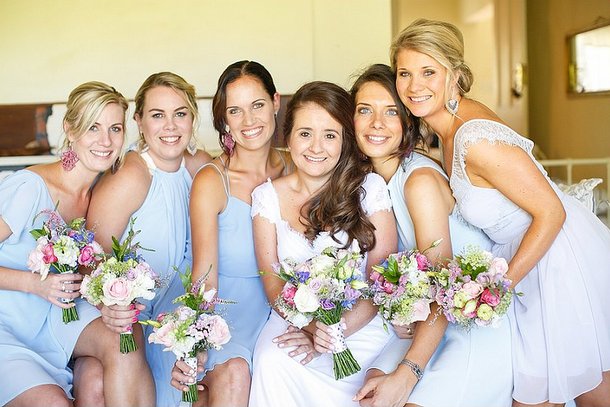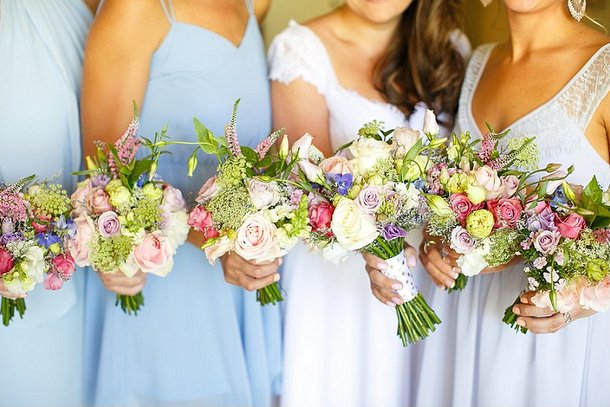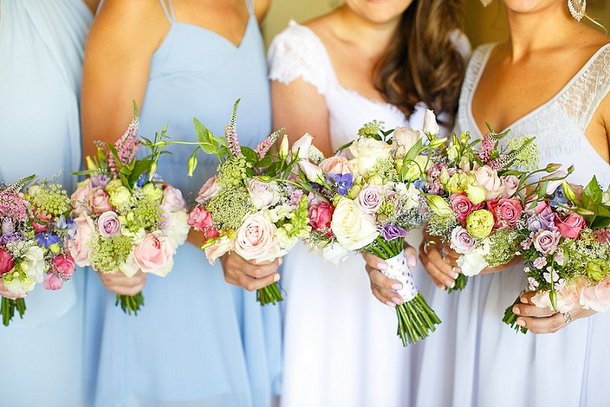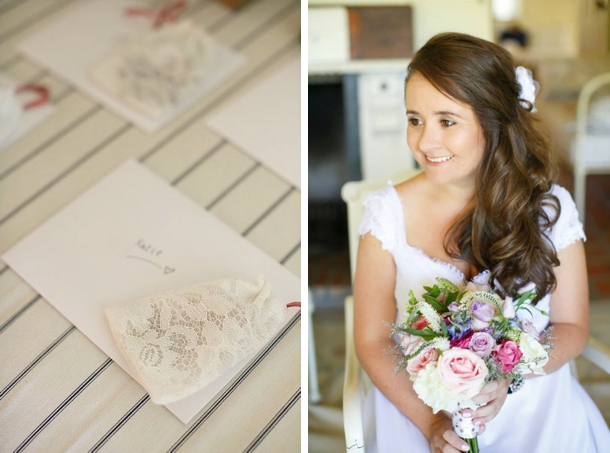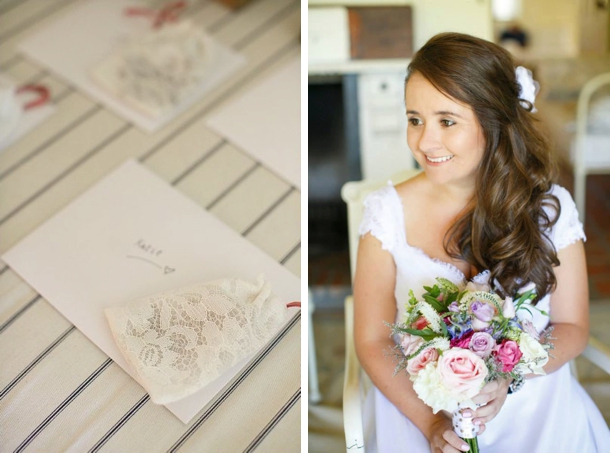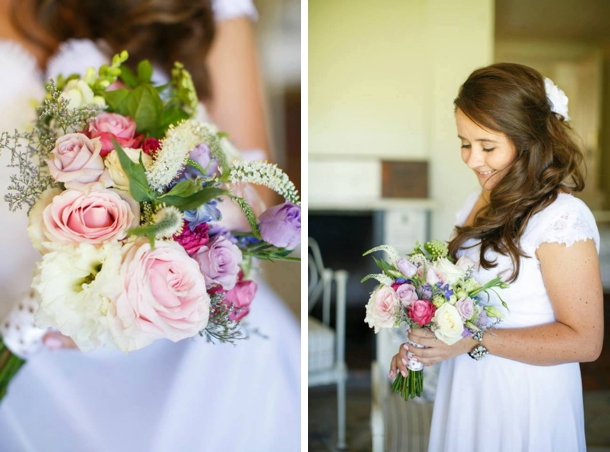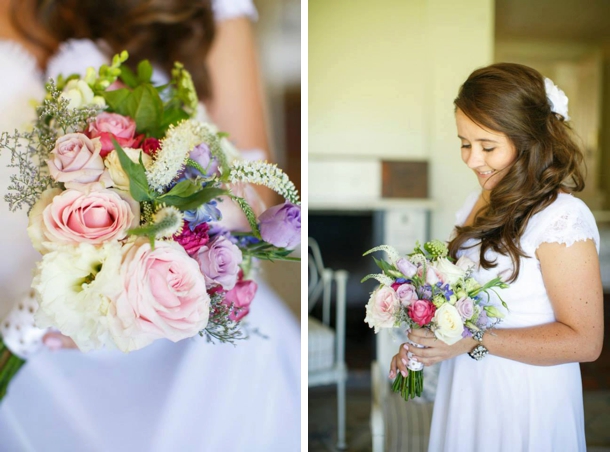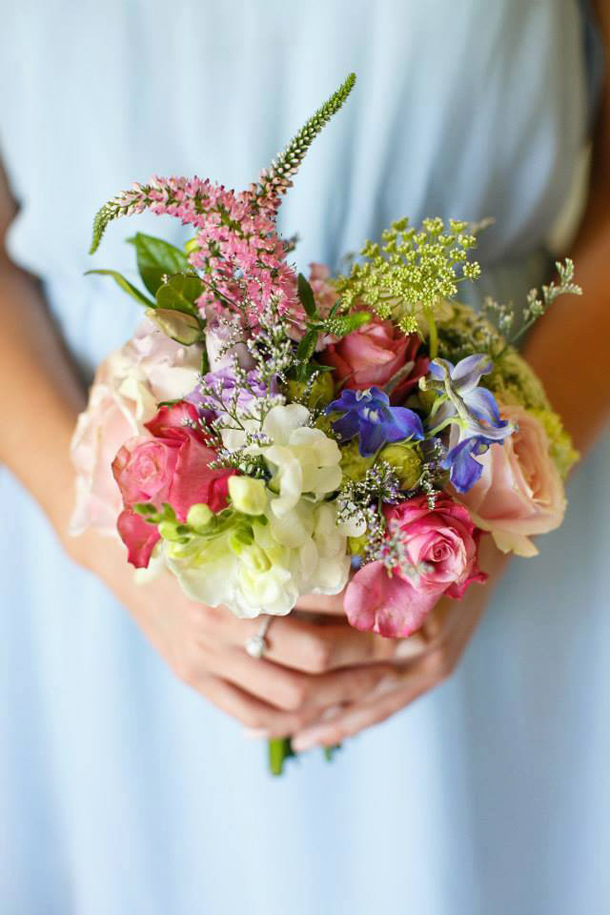 Love Story
We met through mutual friends at a dodgy pub in London, over far too much tequila, and have been together ever since. 
The Proposal
We lived in Thailand for two years and while there, Tim gave me a book that he had made (handstitched and all) about how we had met and about our time in London before moving to Thailand. I had always told him he had to do a Part 2 sometime. Fast forward two years and we were living in Cape Town, when a friend called and said she had won two hair salon vouchers. So off I went for some pampering and when I arrived home there were tons of flowers all over the patio and a beautiful table set up with a present on it. It was something I had not so subtly mentioned that I would like for Christmas and so I thought it was just an extravagant early Christmas gift (as Tim isn't one to shy away from romantic gestures!) After a three-course meal that he had cooked and some bubbly, he gave me a little book, the "Part 2" of our time together. On the last page it asked if I would marry him. By then he was on one knee and I was ugly crying and completely forgot to say yes which left him a little confused!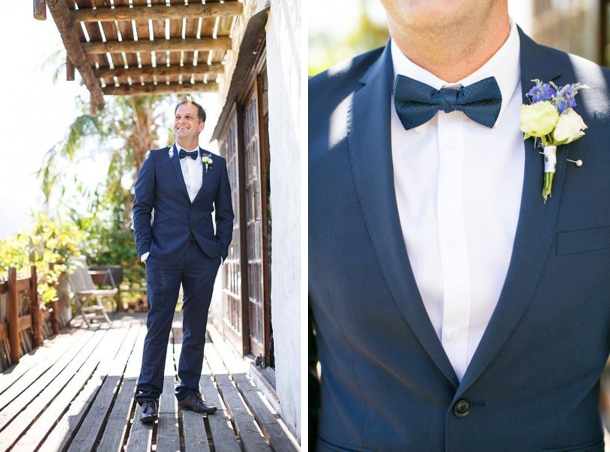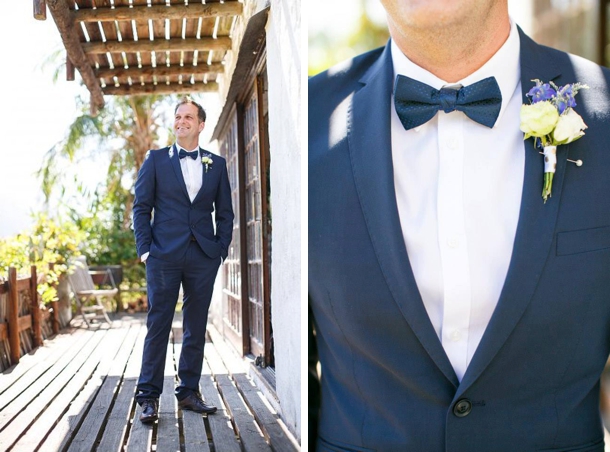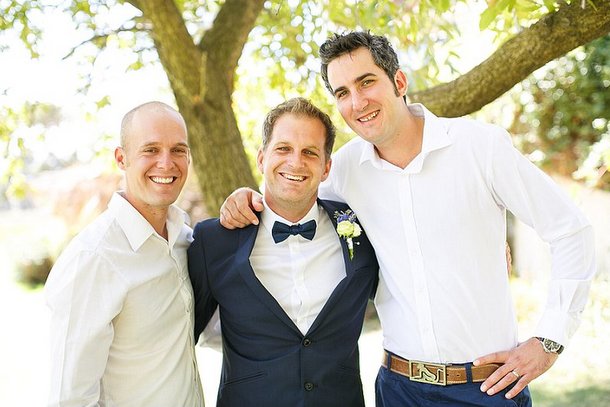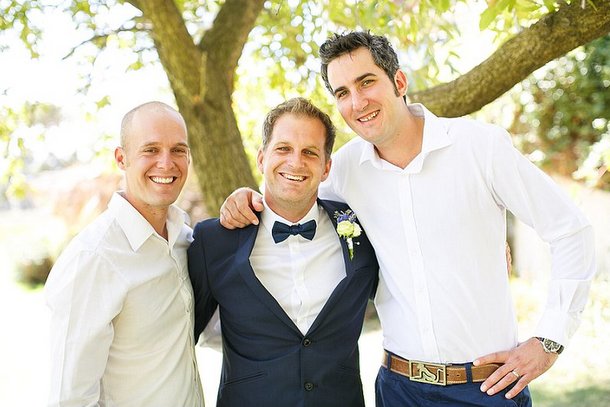 The Wedding in 3 Words
Unpredictable, memorable and fun
The Venue
Our must-have list for a venue included a back-up venue in case it rained (as our reception was planned for outside), the ability to have both the ceremony and reception in one area, good food with a flexible menu, beautiful views, a blank canvas to work with, flexible times, outside of Cape Town and nowhere that you would hear any cars or traffic. After visiting 22 venues the only place that ticked all the boxes for us was the gorgeous Olive Rock and we were so happy with our choice!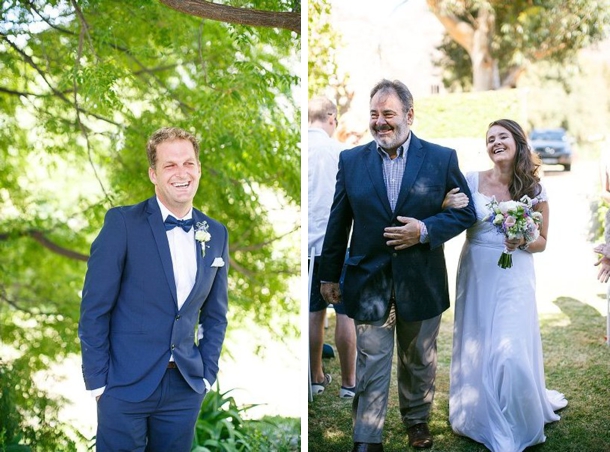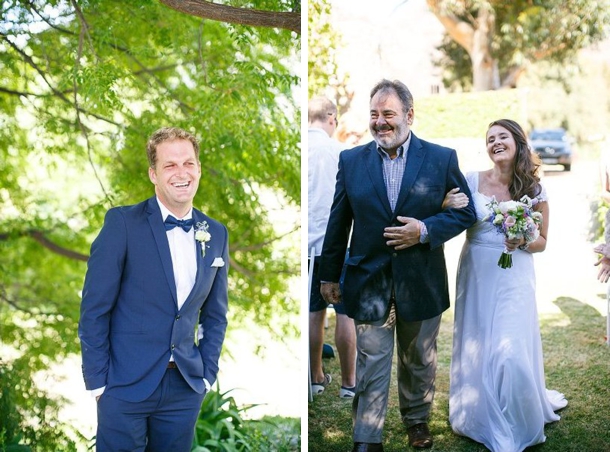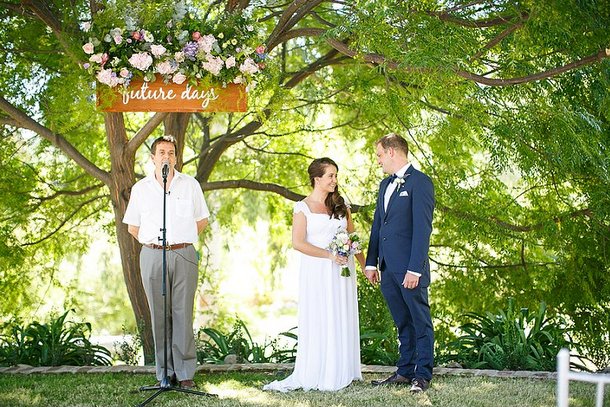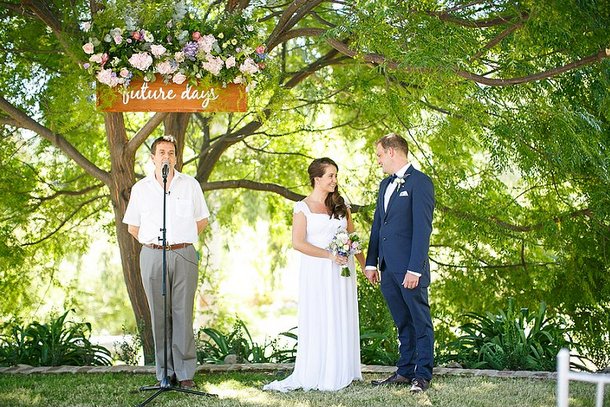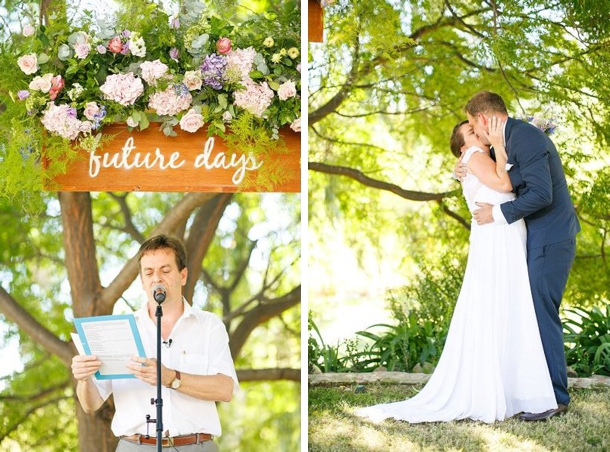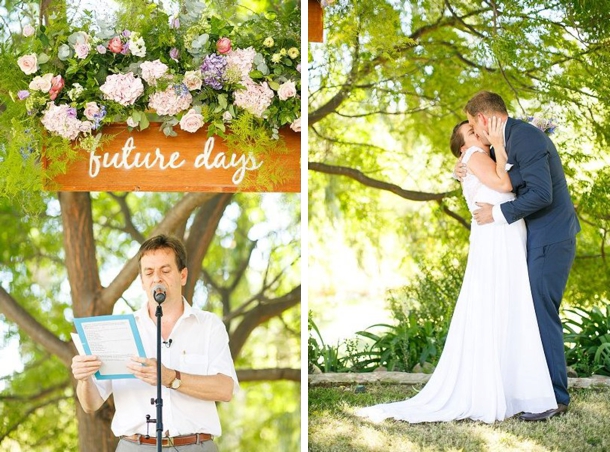 Wedding Style
We knew we wanted something casual and outdoorsy. I liked the idea of pastel pinks, purples and blues but didn't want it to be all pastel and so added bright pink and pops of gold. I found fabric with pastel florals and bright pink in it, and then just went from there. I didn't know if any of it would work but we just did whatever we wanted. My amazing mother and mother-in-law made us cushions and table runners for the lounge areas with the fabric, and we added gold dots to the table runners on the seated tables. I bought gold vinyl dots from @home which we added all over the dance floor. 
Wedding Details
We wanted the day to be unpretentious and relaxed with more of a garden party atmosphere than anything too traditional and formal. Having lived overseas for a number of years we had many friends and family that were making a lot of effort and sacrifices to join us from all around the world for our wedding in the Western Cape, so we really wanted our day to be focused around spending time with them. We decided on an early reception with lunch and lots of dessert, lawn games and live music while the sun was setting. We opened the dance floor at 7pm, which allowed for hours of dancing while mini burgers and pizza were brought out throughout the night for guests to snack on.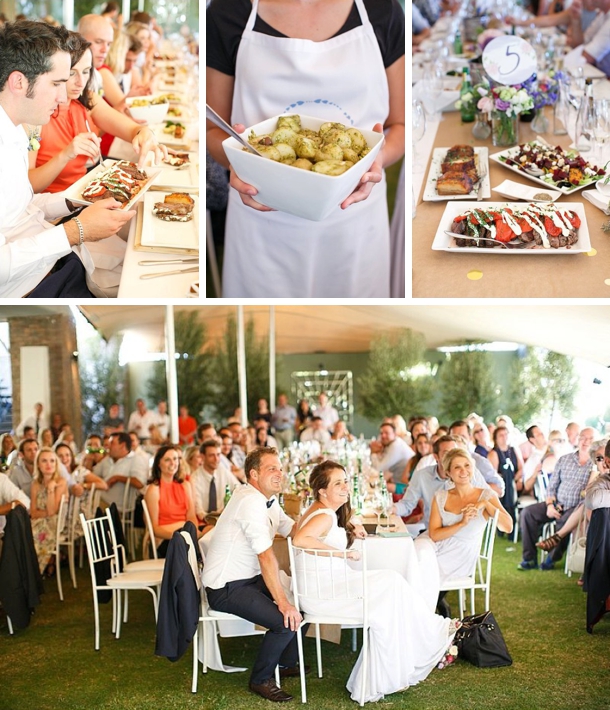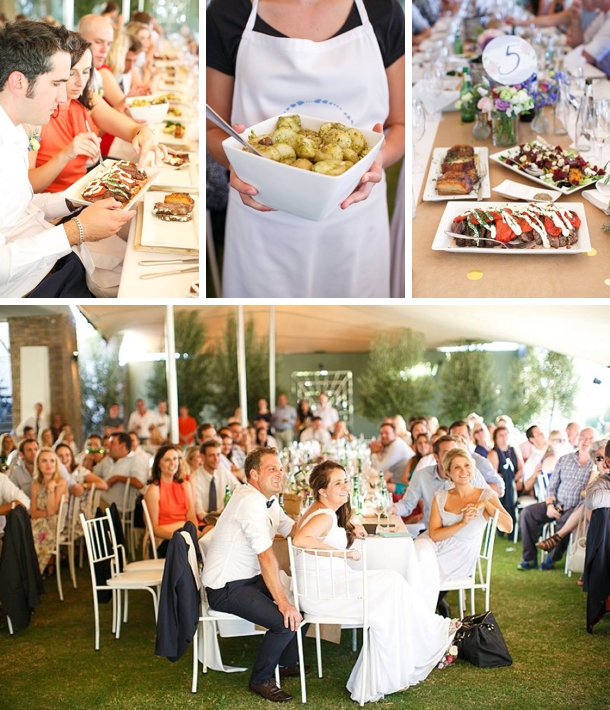 DIY Elements
We chose to have a long engagement of a year and a half, one of the reasons being that we could do lots of creative things ourselves which we loved. My husband, with some help from his brother and our awesome MC, made 120 wooden boards which I then stamped using a monogram we had made for the day. These doubled up as placemats and wedding favours. We were convinced we would have loads left behind as is often the case with favours but at the end not one was left and we have had so many guests since send us pics of them using the board as a cheeseboard at home etc which made all the months of board making worthwhile! Tim also made signs and the table seating plan, as well as an ice-cream cart filled with Marcels frozen yoghurt, which we love. We had personalised fortune cookies made and I wrote each person's fortune with something humorous or situational about each guest, which was also a great ice-breaker. My wonderful mother made aprons for the waitresses with our wedding monogram on them and between my mom and mother-in-law they made all the table runners and cushions for the dessert area.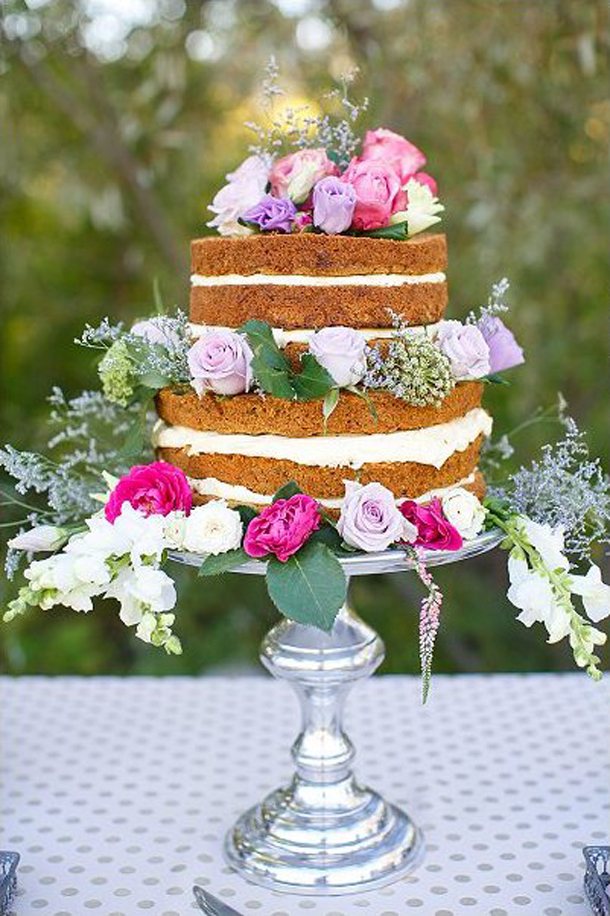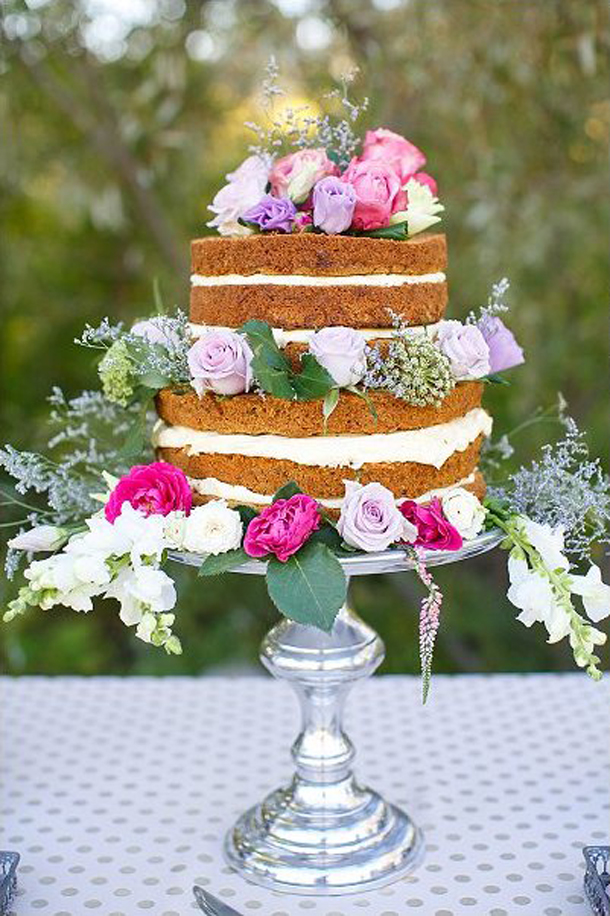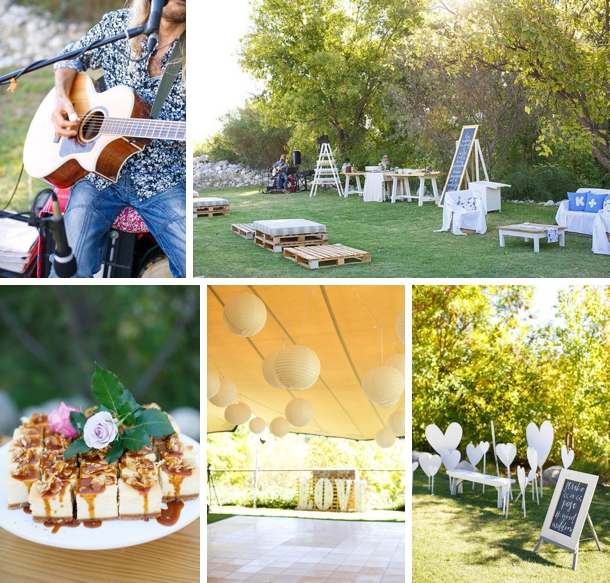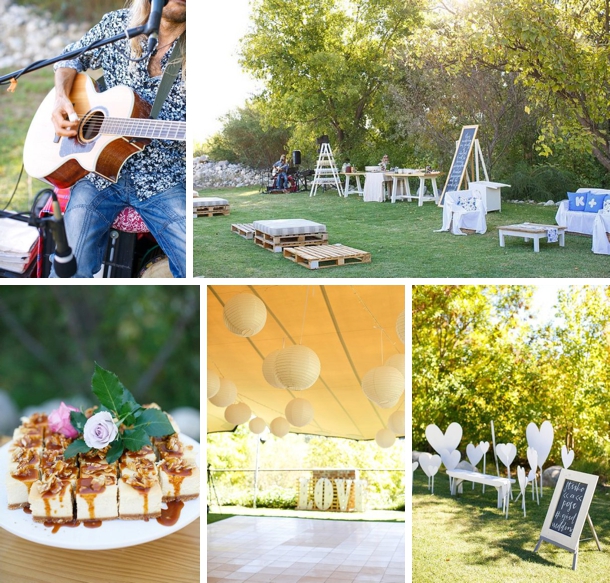 The Flowers
The only thing I really knew I wanted was low arrangements so that guests could chat easily – that, and lots of hydrangeas. The rest I pretty much left to the amazing Ro Rood from Botanica Flowers who was an absolute dream to work with. We got so many compliments on the flowers and it was all due to her. At one point I casually mentioned to her that I was going to get some fabric and add gold dots to it and we could use that to tie the bouquets which I then promptly forgot to do, but when our bouquets arrived they were tied with white ribbon with gold dots on it that Ro had specially sourced! 
The Dress
I really wanted to buy a dress so that I had a good idea of what it would look like on me, but after searching and having no luck, I popped in to Robyn Roberts and was so happy I did. Robyn was a huge help and after only four visits, I had exactly what I had hoped for.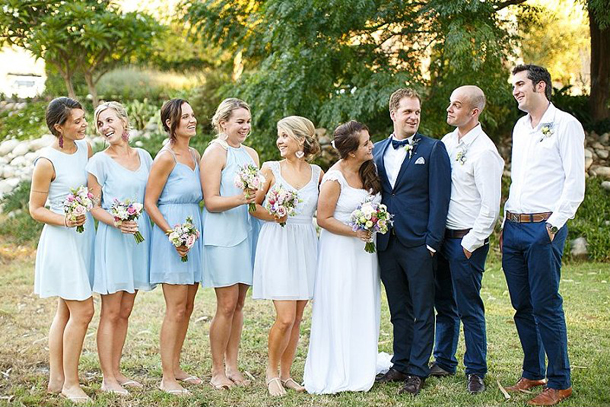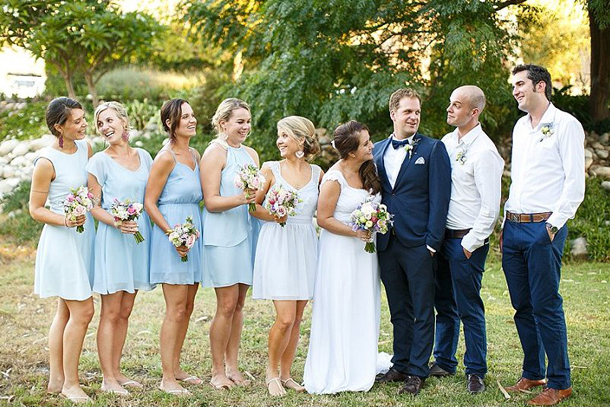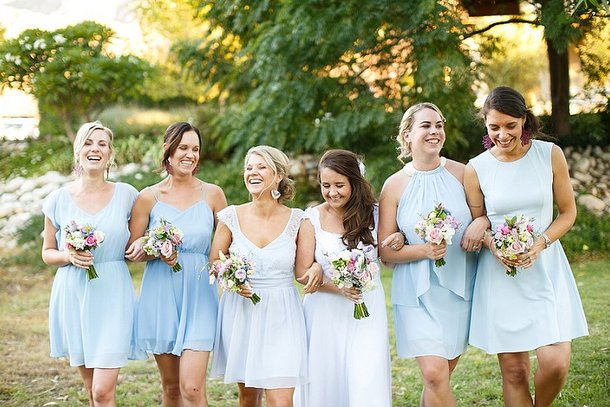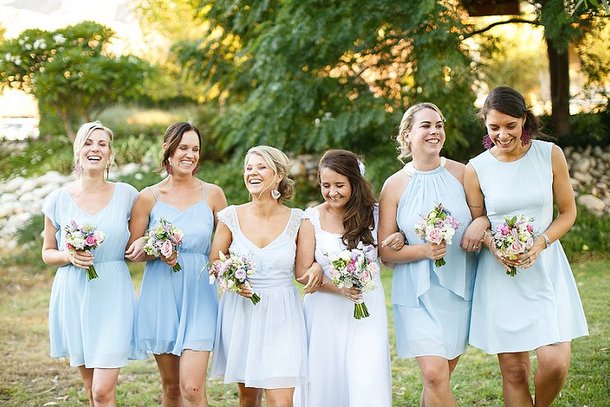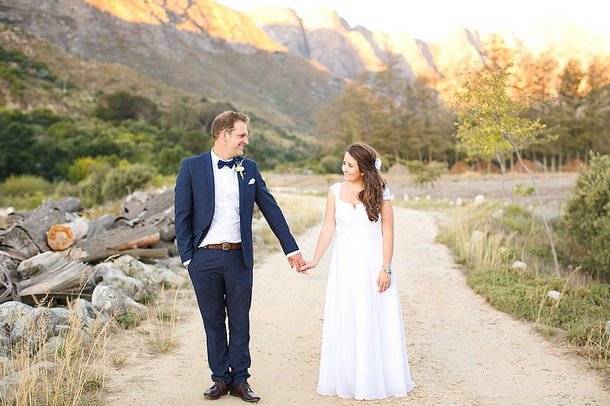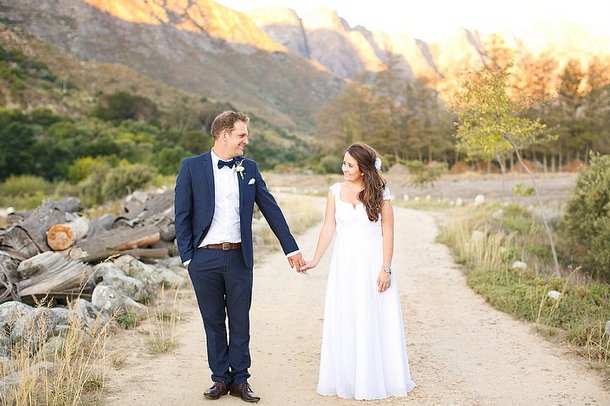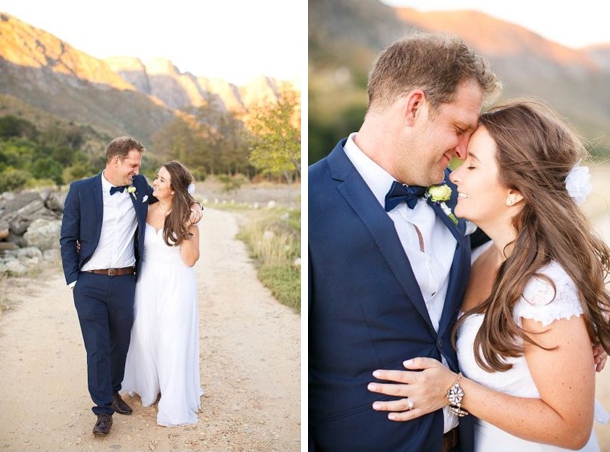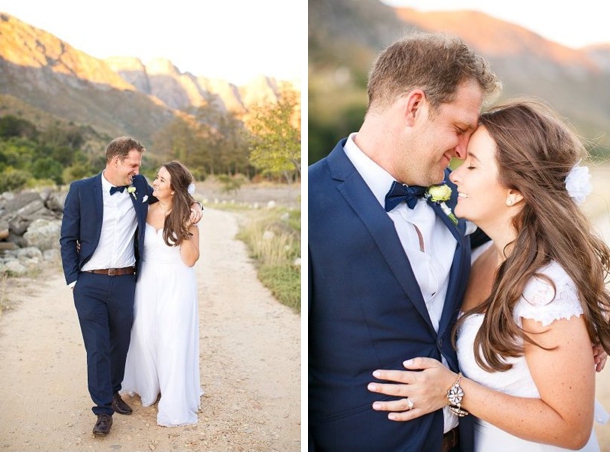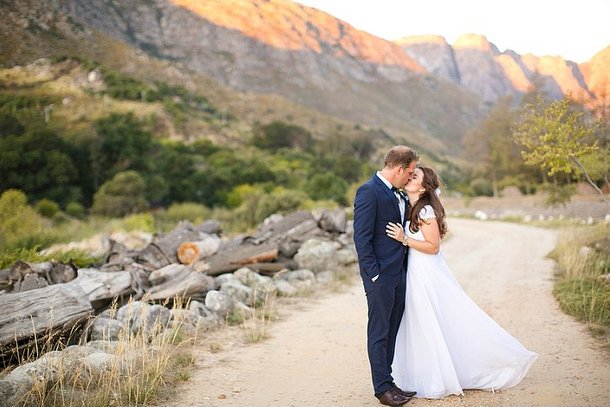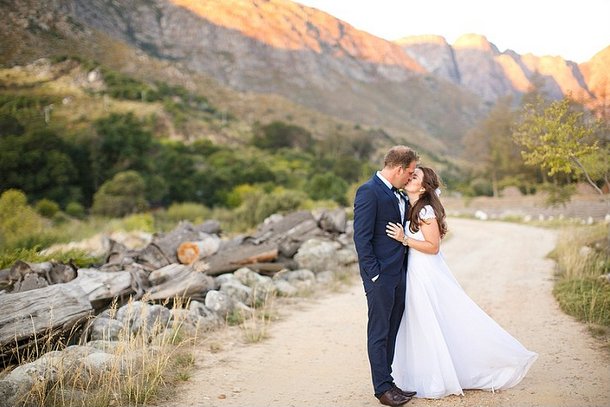 Memorable Moments
The moment you see each other at the ceremony surrounded by your favourite people is as special as everyone says, but another moment was when we got back from having our couple photos. We stood together and watched all our friends and family below us on the lawns having fun and catching up, with perfect weather and a beautiful sunset and we could not believe how lucky we were. 
Something unexpected…
The bizarre and entertaining definitely followed us throughout our wedding planning process. The day after my fiance's bachelor party he woke up to find himself on the front page of the Sunday Times dressed in nothing but a tutu and a cricket ball bra! The day before our wedding, the dance floor company told us they had given away our dance floor by mistake and the linen company said their machines were down and so none of the linen we were meant to have was clean, both of which were quite something to sort out, but my personal favourite was when our priest didn't arrive. Both of us are notorious for being late for events and so we were both chuffed with ourselves when we arrived exactly when we were meant to for the ceremony. However, on arrival Tim discovered that the only person who was not there, was our priest, who lived two hours away and was only just leaving as he had gotten the time wrong. While our guests had canapes, our amazing photographer Adene arranged for a local dominee to come and marry us! The dominee had done his first English wedding the weekend before (I grew up in Botswana and can't speak a word of Afrikaans) and he kept forgetting our names, but he was the sweetest man who saved the day. While our guests sat, drink in hand having a chuckle at the chaos in front of them, it really set the tone for a relaxed and memorable day, and also served as karma for all the times we have been late!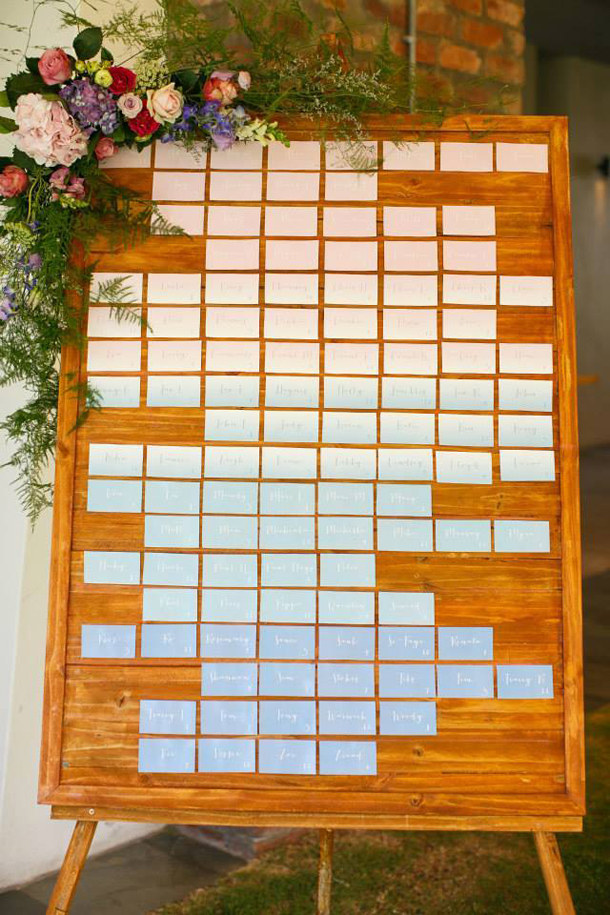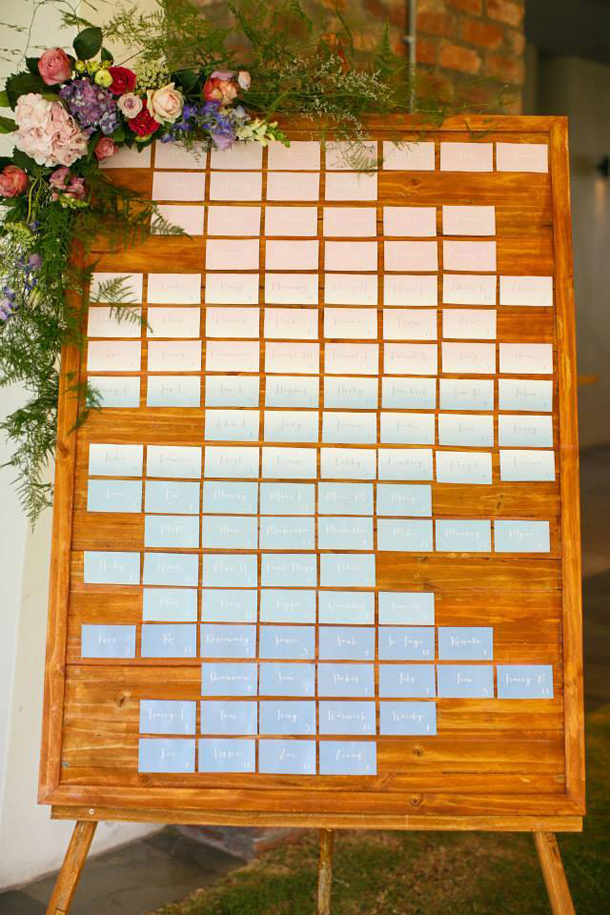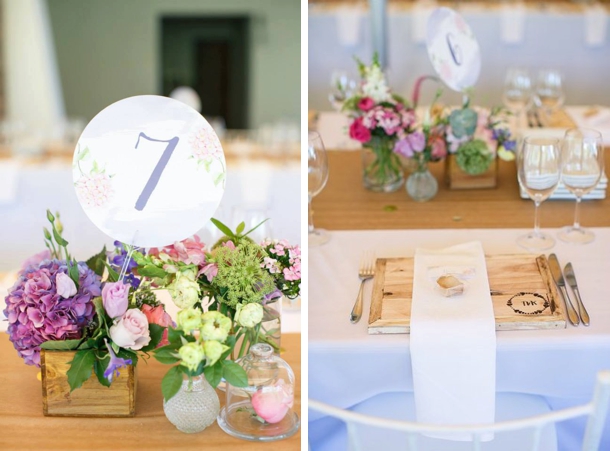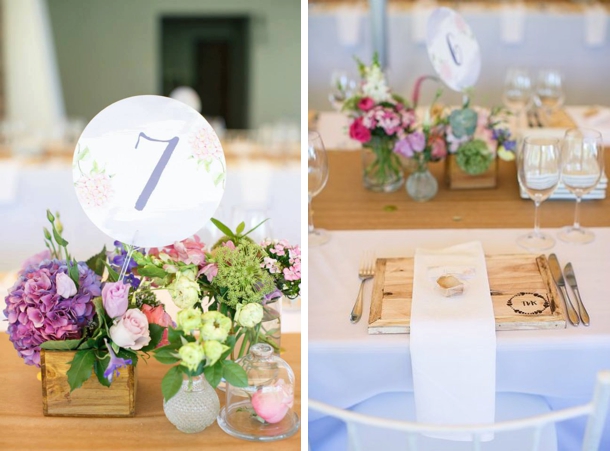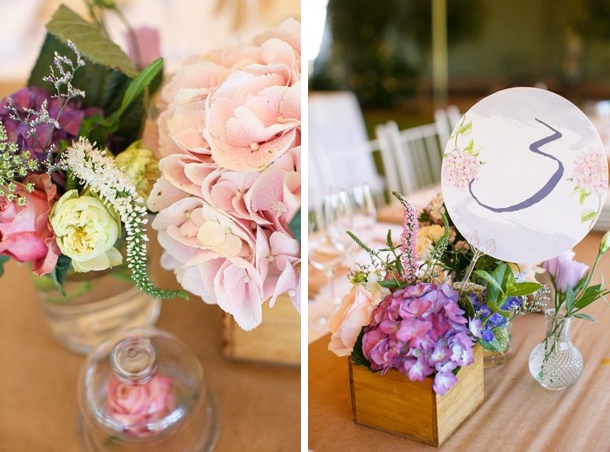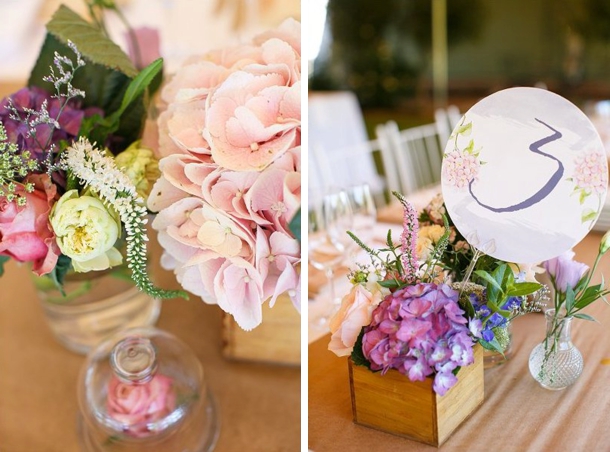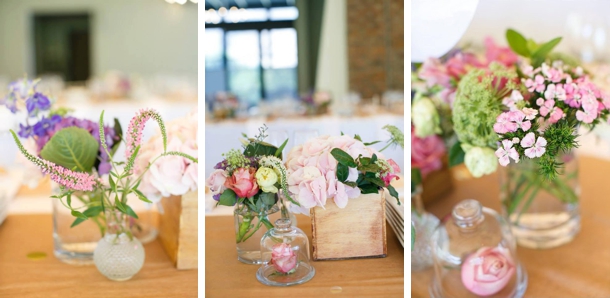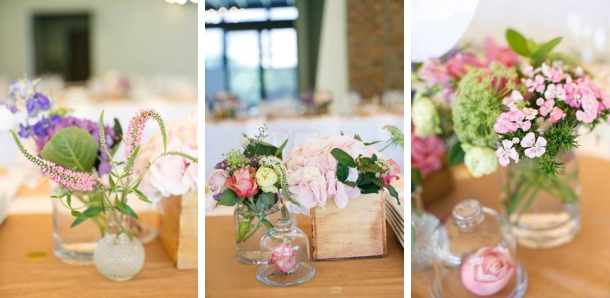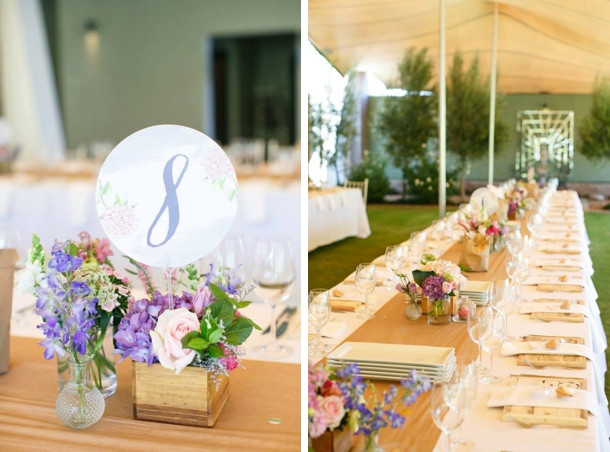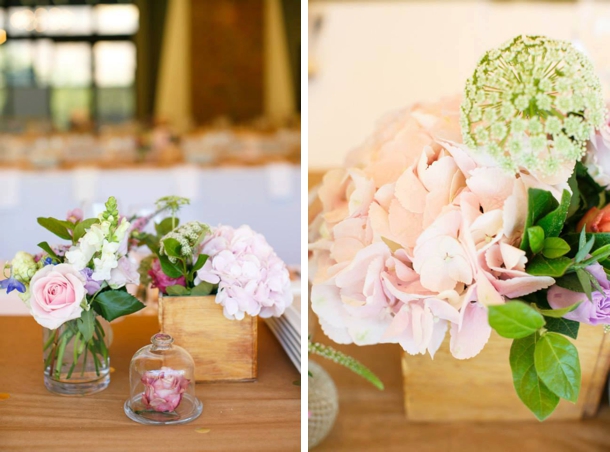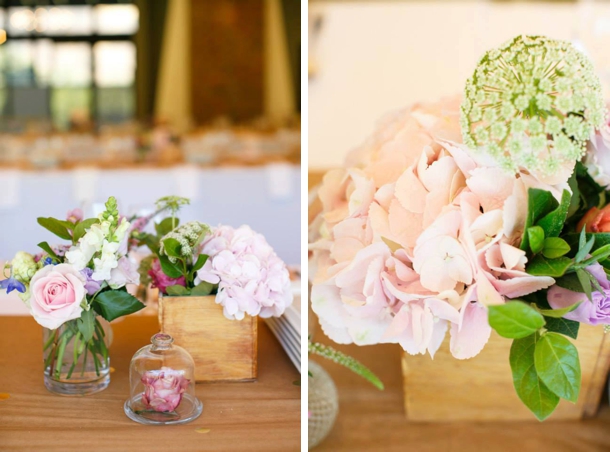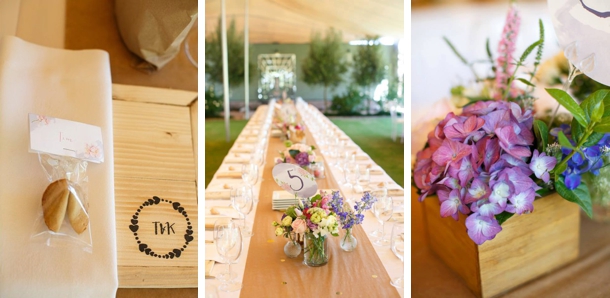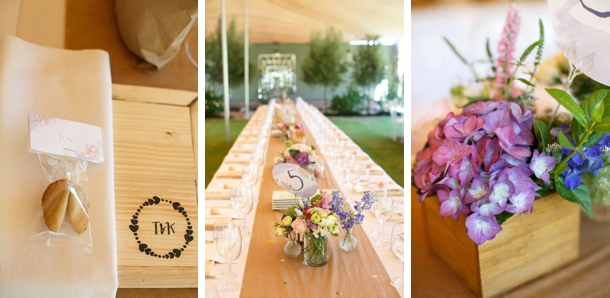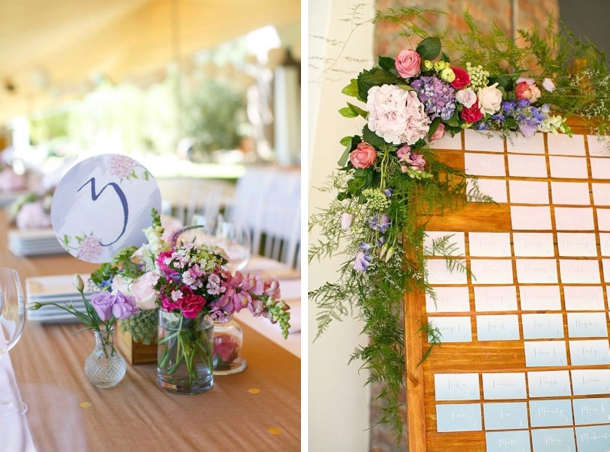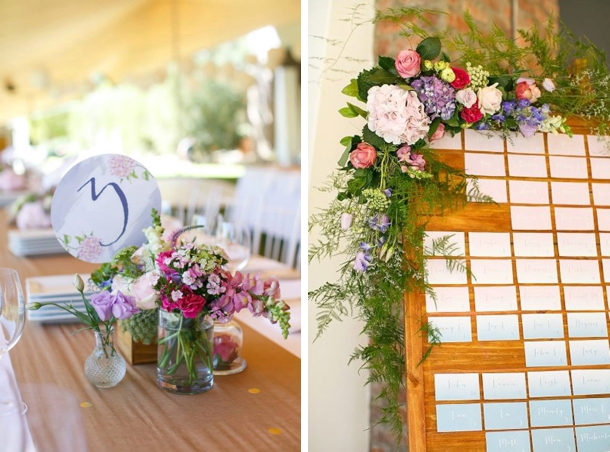 The Honeymoon
We are doing a long trip through Botswana in December which we can't wait for! 
Advice for Future Brides & Grooms
Invest in a good photographer and videographer because when everything is over, that is all you will really have to remind you of the day. We were completely blown away by our photos by Adene and love that we are able to watch our speeches and ceremony again with family and friends. Do your research; blogs such as Southbound Bride were a huge help and money saver and I would highly recommend all the service providers listed below!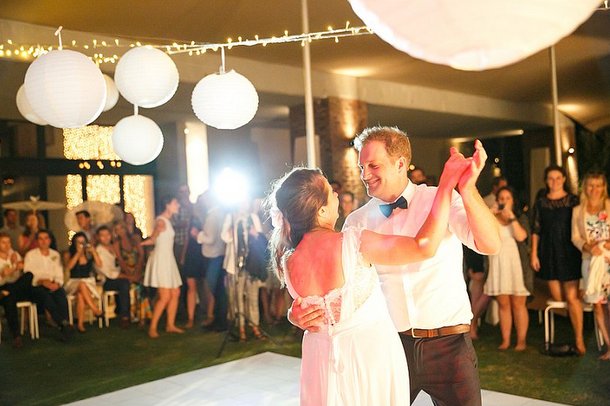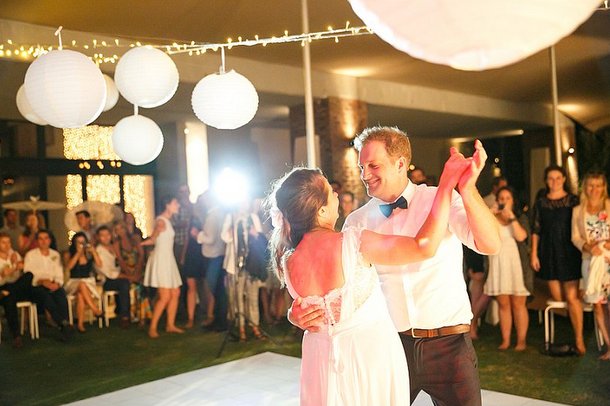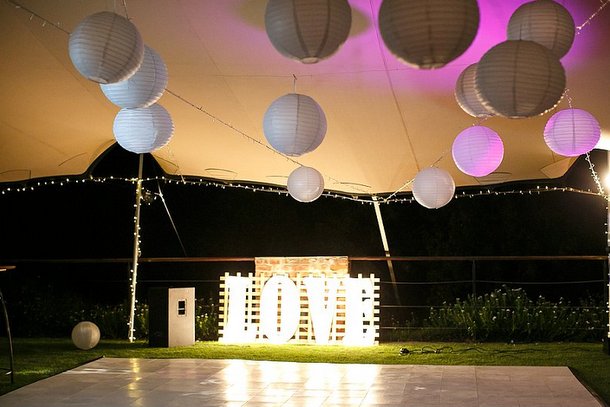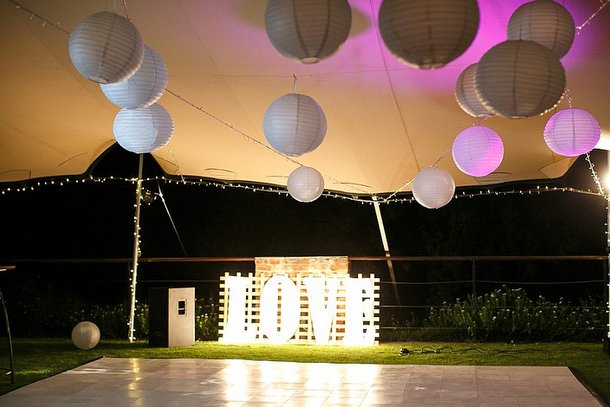 You can see more from this wedding on the Adene Photography blog.
SERVICE PROVIDERS
Venue, catering & cake: Olive Rock | Photography: Adene Photography | Video & DJ: 25 Weddings | Flowers & décor: Botanica Flowers | Stationery: Susan Brand | Bride's dress: Robyn Roberts | Bride's accessories: Accessorize, Swarovski & Black Key Diamonds | Hair & makeup: Lindsey E. and Deline from Anuk | Bridesmaids' dresses: ASOS | Groom's attire: Country Road, Woolworths & Topshop
SBB ♥ Botanica Flowers, a featured member of our Directory