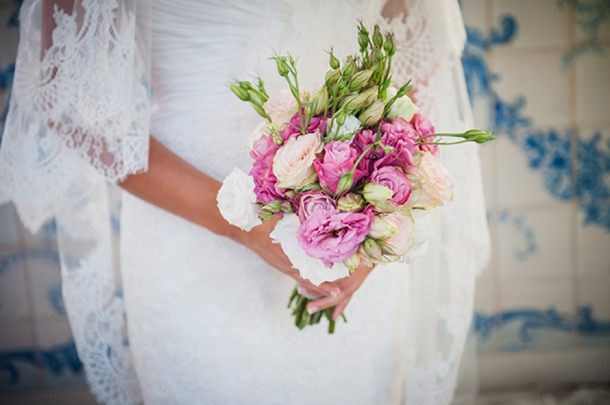 Time to meet another SouthBound bride and groom, and today's stroke of candy pink gorgeousness comes to you courtesy of Carol and Carl, two South Africans who currently live in Copenhagen, Denmark. They share a love of nature and animals, especially their miniature wire-hair Grayhund, Puppy Choo. Carol's a former lingerie designer who loves being creative and has a passion for fashion, so when it came to planning the big day from abroad, she put it in the hands of the equally creative Megan Fleitmann of Mr & Mrs In Love. I've been a huge fan of Megan's stationery for a while, so I wasn't surprised to see that she has a fabulous flair for event design too, and she gathered a really brilliant team of suppliers to make Carol and Carl's dreams a reality. From the striped linens and soft pink and white florals to the hanging bottles of blooms, right down to the sweetest cake topped with a miniature version of Carol, Carl and Puppy Choo, it's everything you could want from a garden wedding. Oh, and how much do I love the bride and bridesmaids' statement necklaces? The fantastic Lauren Kriedemann was there to make it look even more luscious and lovely with from behind the camera.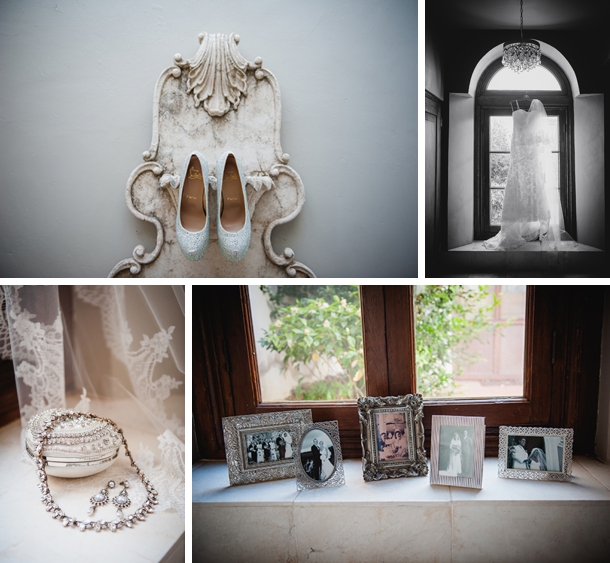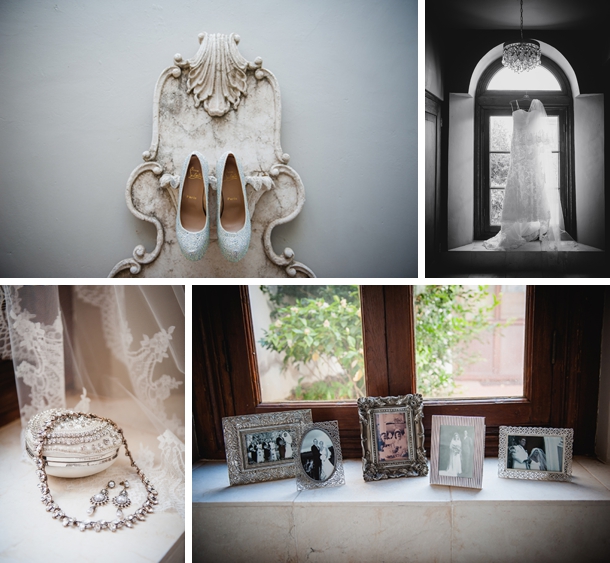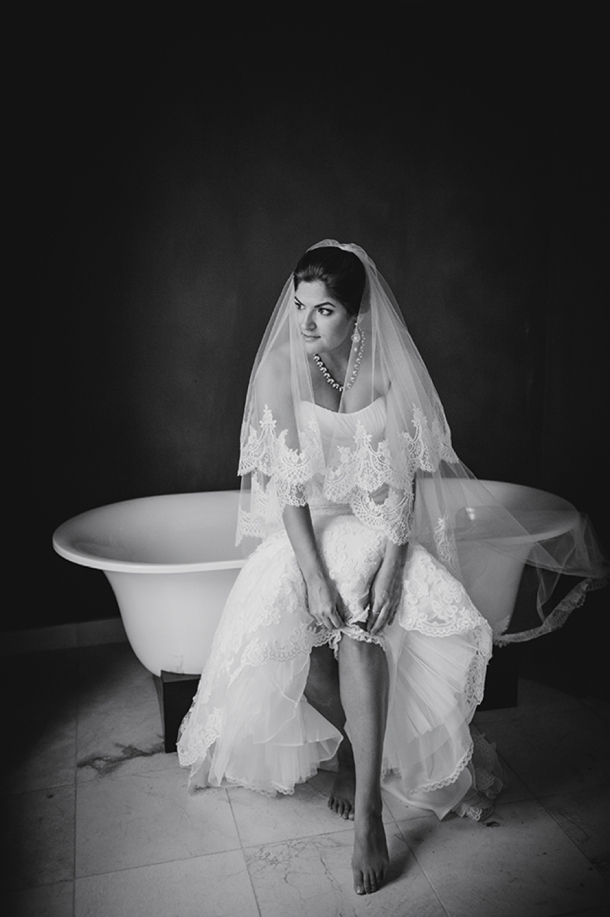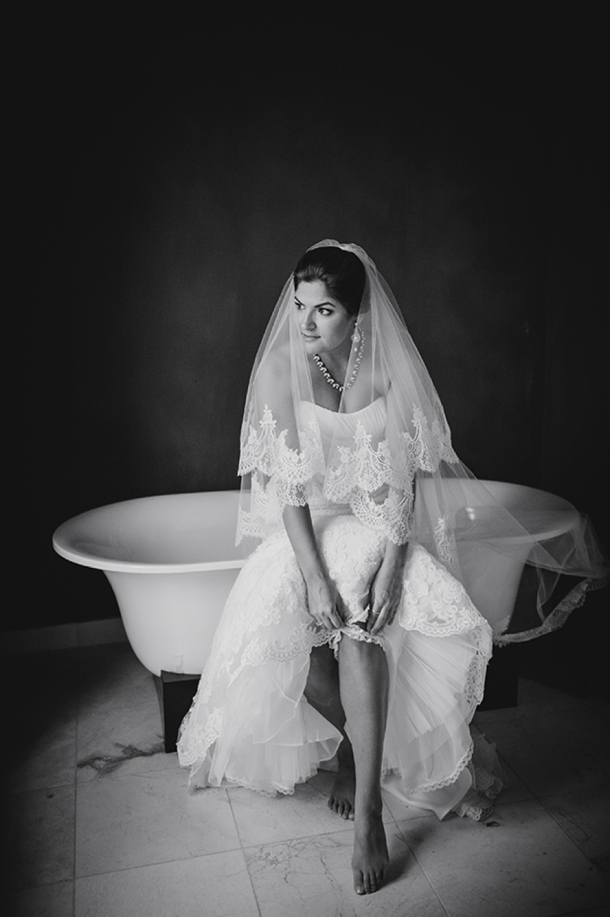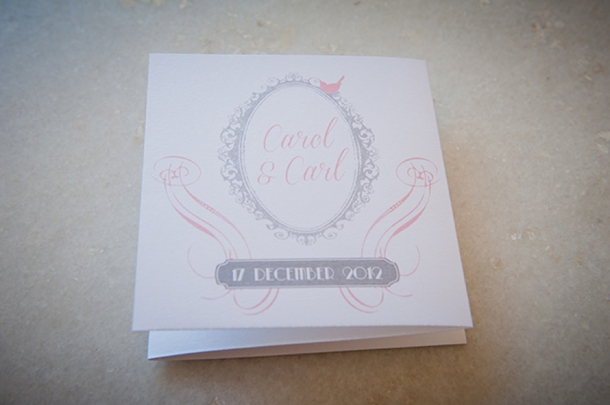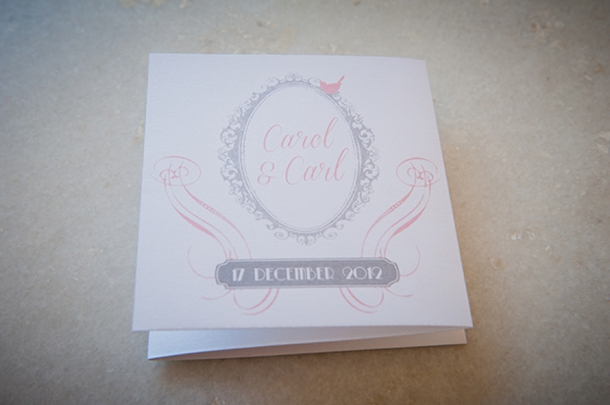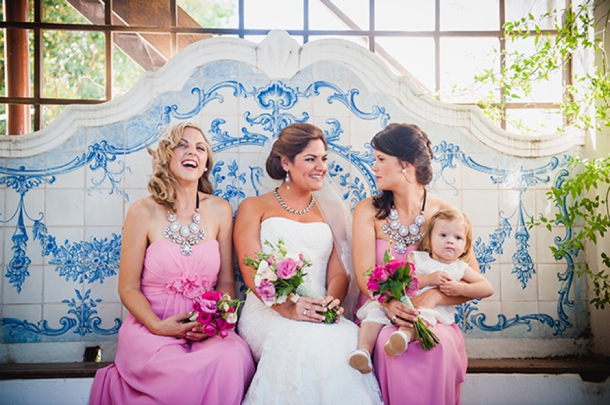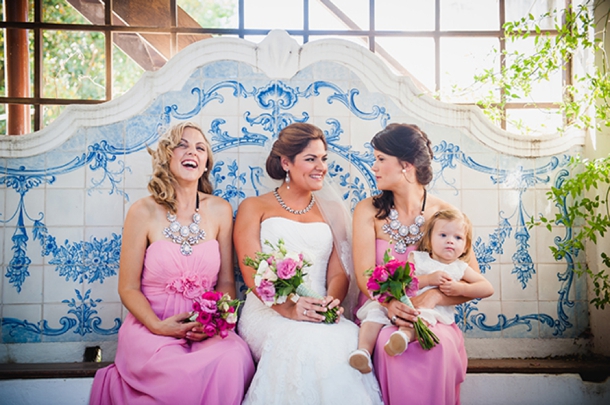 From our bride, Carol:
Carl and I met at his apartment in Durban when he was hosting a dinner party for friends. I was actually there as the date of one of the guests, Hilton, and Carl was in a relationship at the time. Six months later, I bumped into Hilton in Cape Town and mentioned that I was hosting a poker night. He gave me Carl's number as he was now single, and I invited him. He declined, but instead asked me on a date that very Friday evening to the Oyster Box Hotel, and the rest as they say, is history!
Being the romantic that Carl is, he hired out the wine cellar at Five Flies Restaurant in Cape Town for his proposal. After a few glasses of champagne, he went down on one knee among all the candles and rose petals that had been strewn on the cellar floor and popped the question.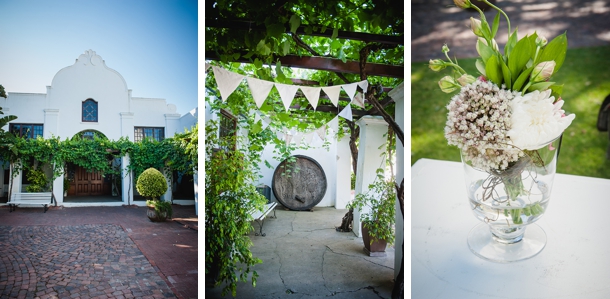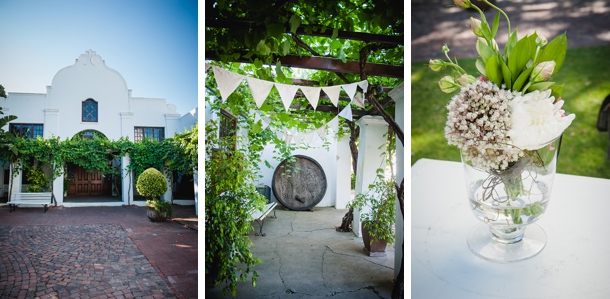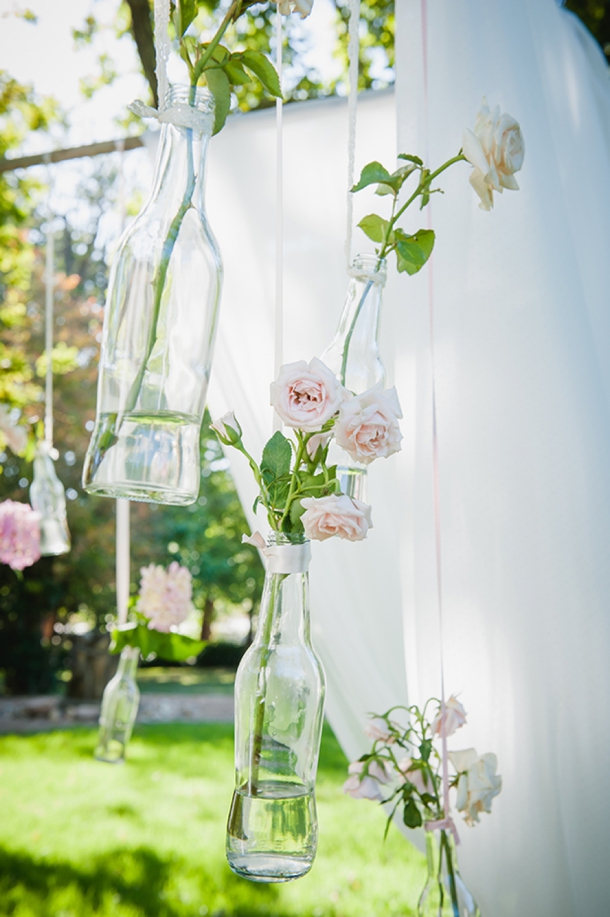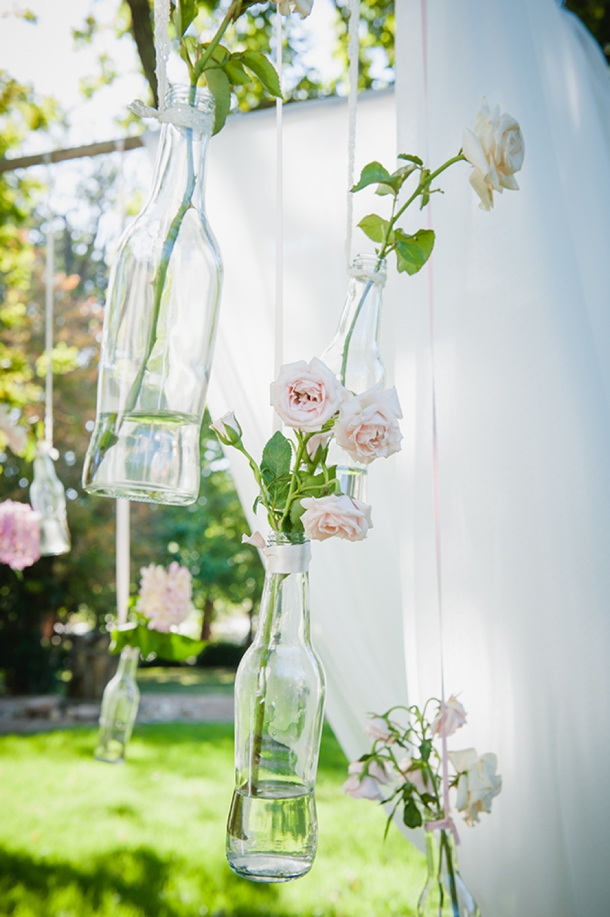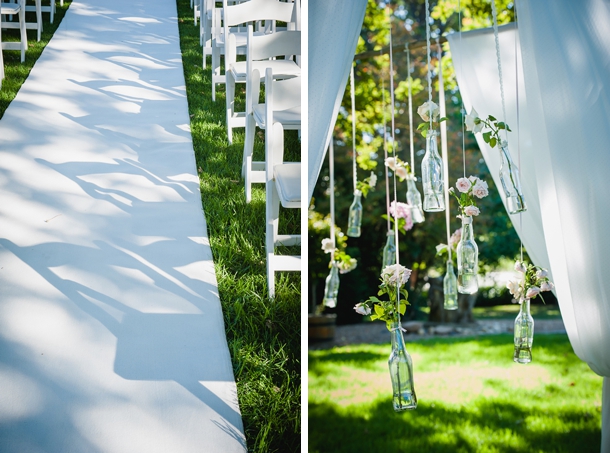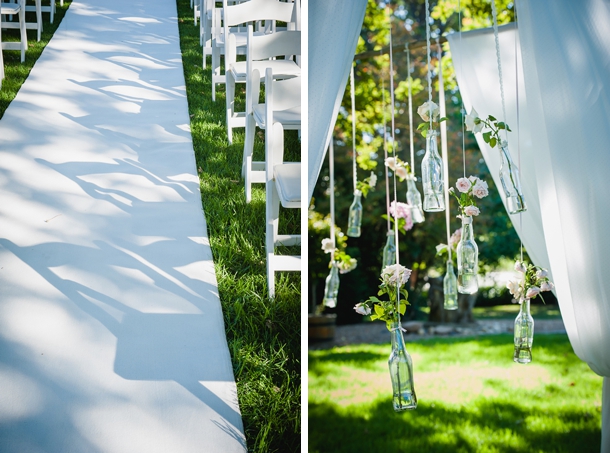 We dreamed of a beautiful garden wedding in the Cape winelands and decided on Nooitgedacht, Stellenbosch, as our venue. It was the first wine farm I had visited many years before, with my mother. Stellenbosch has always been a special place for Carl and I – he studied there, and I am a big wine collector and wine tasting enthusiast/wannabe sommelier. We wanted an elegant white wedding with a French touch – details included crystal candelabras, vases and candle holders, antique silver cutlery and crisp table linen with a French stripe detail, as well as bunting.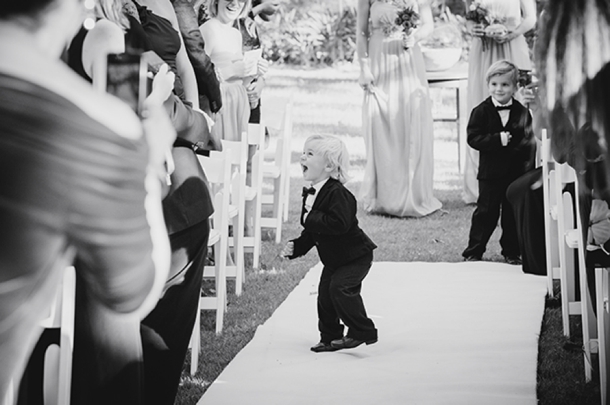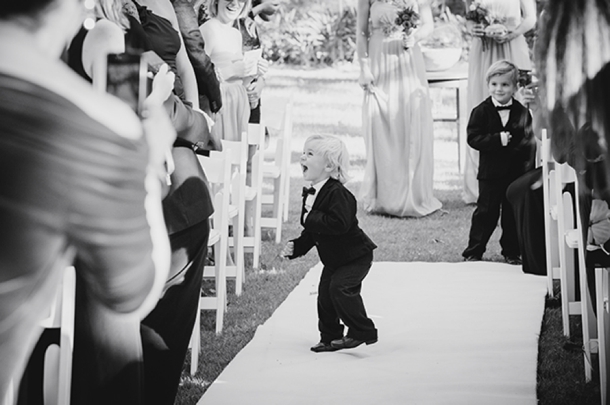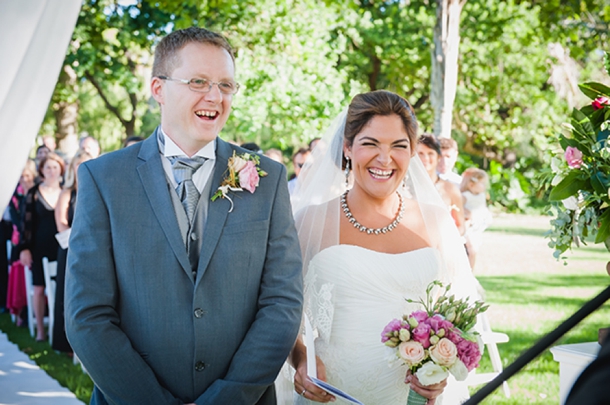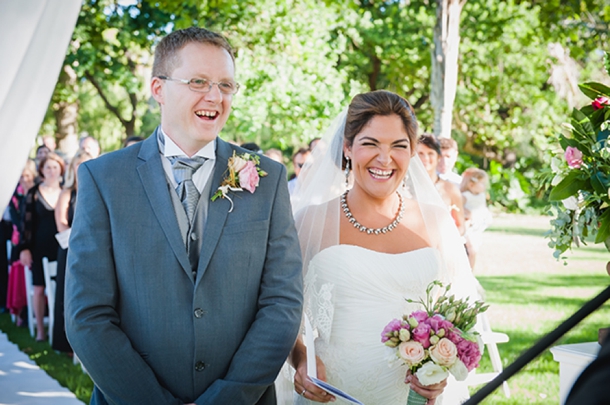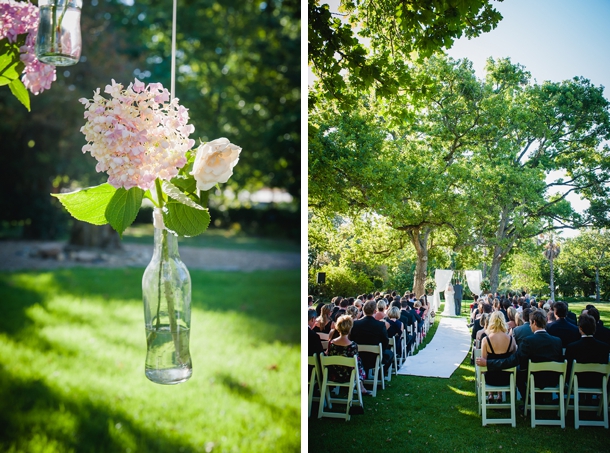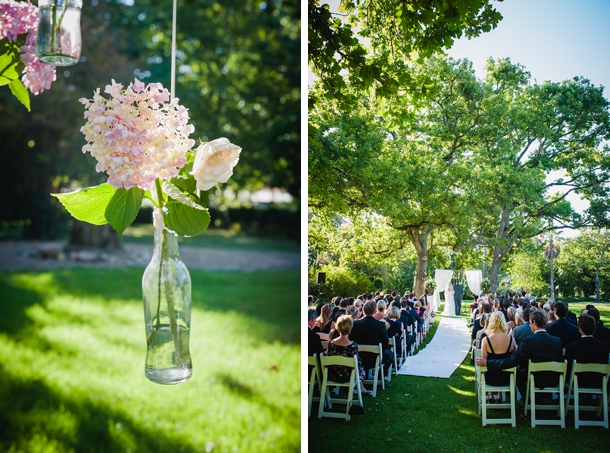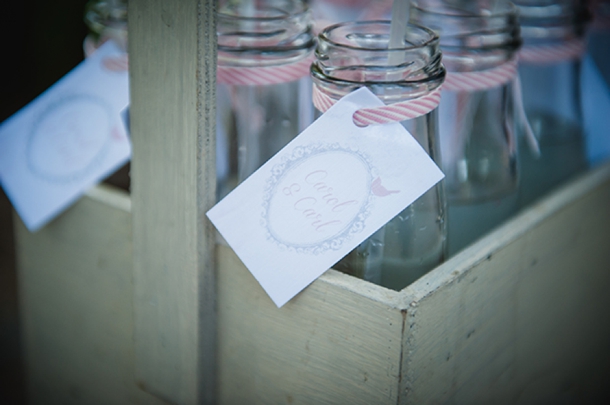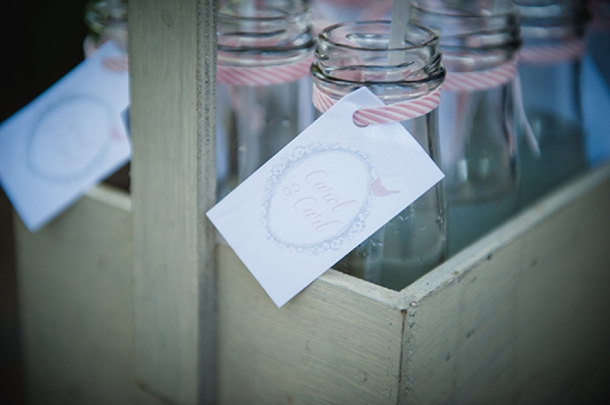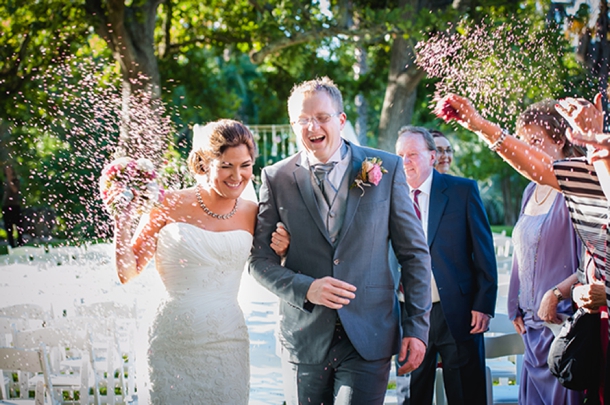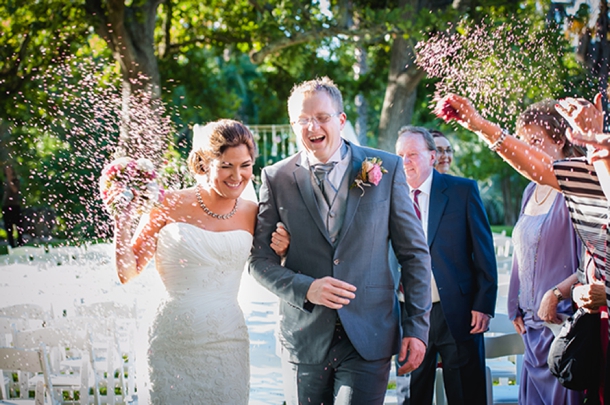 Our wedding planner, Megan, came up with a great theme – something old, something new and something borrowed. We wanted to make use of the venue's old barn, which was ingenious as it kept our guests in one space. Megan had a bar special made for us using pallets from Nooitgedacht, which complemented the bistro lights hanging over the dancefloor and bar area very well. We included a corner to relax with a borrowed chaise lounge, with a lovely side table decorated with flowers and books. We also incorporated a 'pamper tray' in the ladies' room, using a vintage silver tray with pink glass vintage perfume bottle, vintage glass bowl filled with peppermints and vintage hand mirror with matching comb. We wanted to add something personal to the coffee table, where guests could spend time writing a personal message into our guest book, so surrounded it with large framed photographs of our siblings, parents and grandparents on their own special wedding days.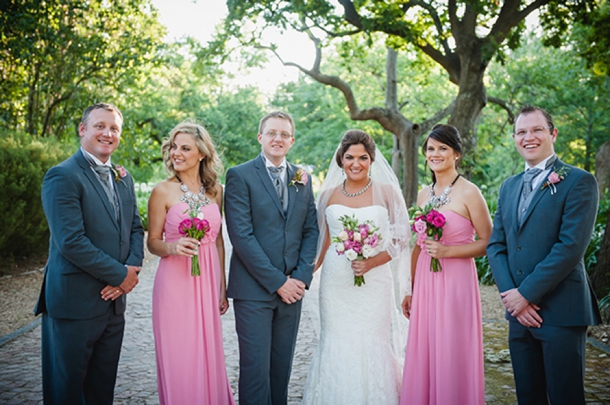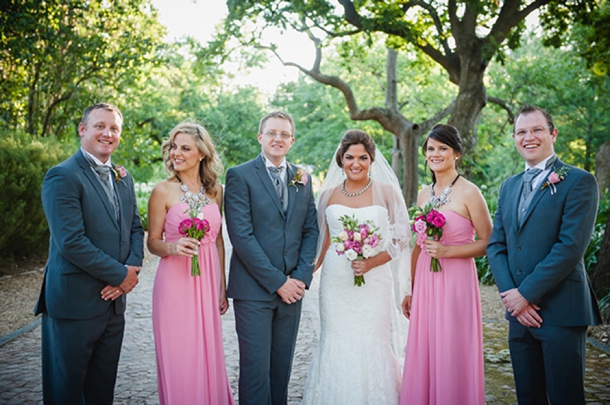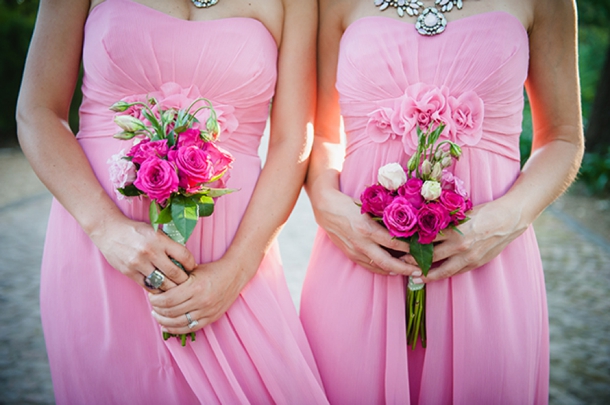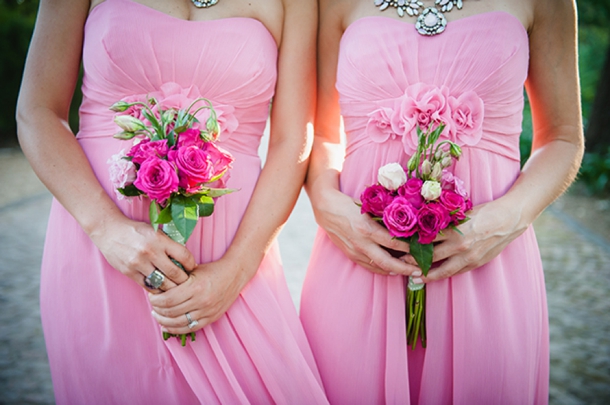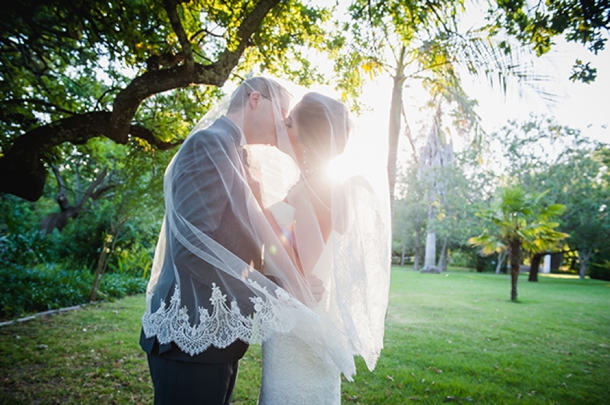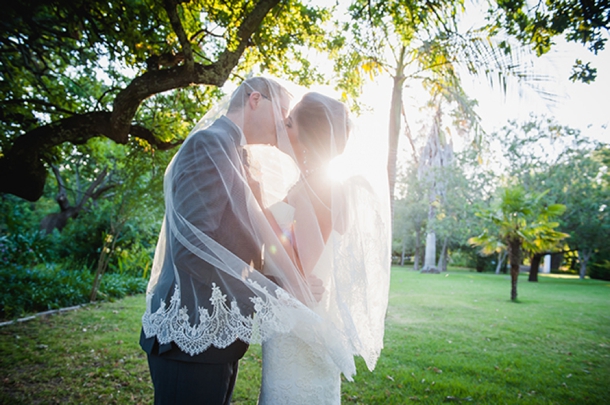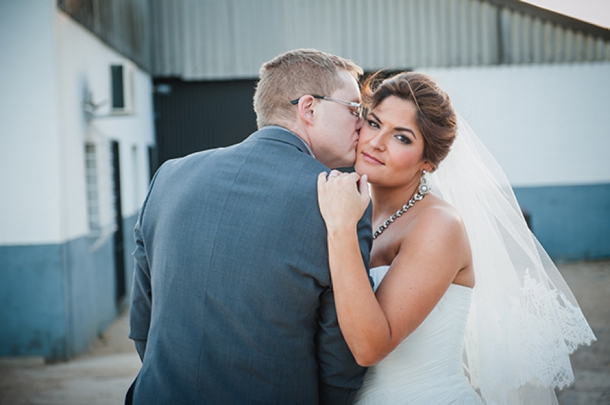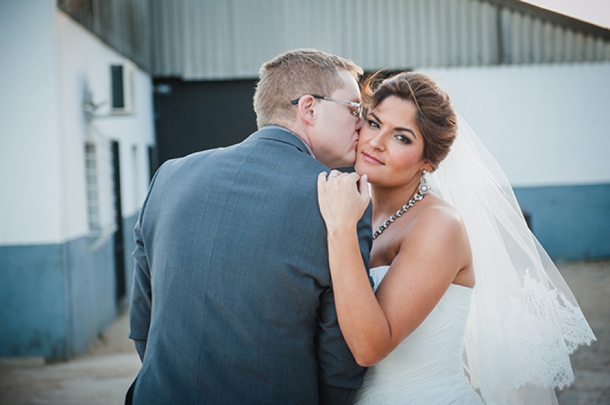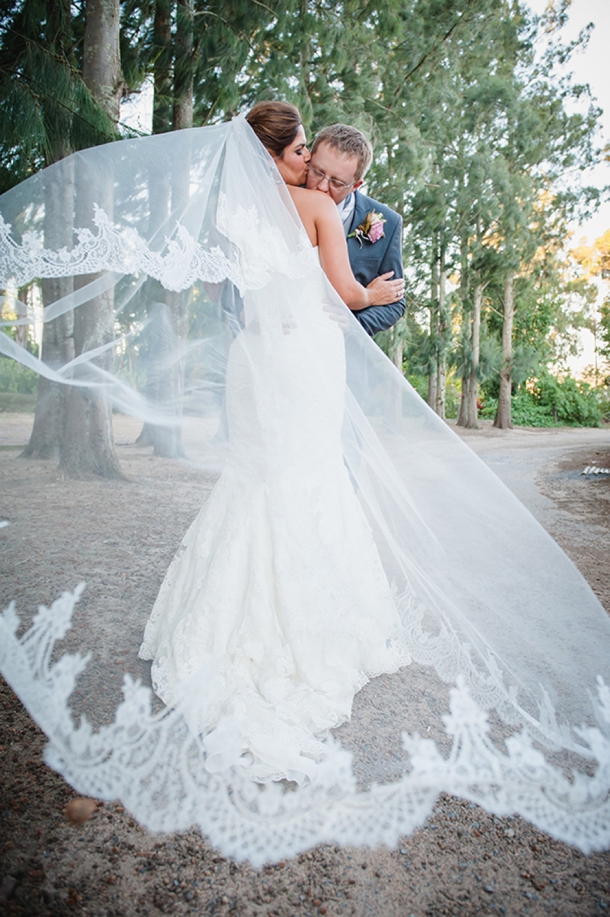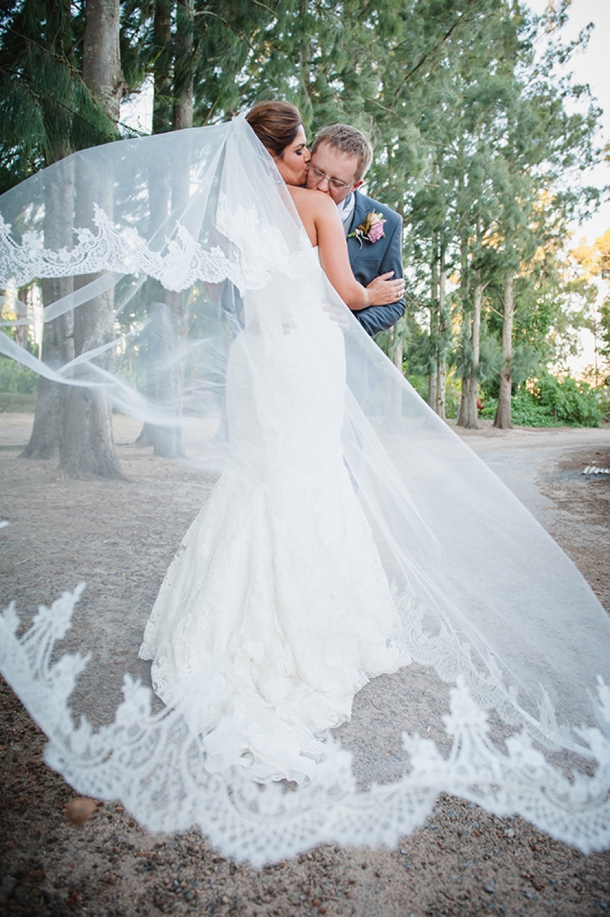 We made our vows to each other on a perfect warm December day, during the golden hours in Stellenbosch. After the service, we served lemonade as a refreshing drink (since we believe in the saying 'when life gives you lemons, make lemonade'). Megan added lovely name tags to the bottles and they were carried to guests by the Nooitgedacht staff in vintage wooden crates. We also added a personal touch with our stationery – Megan designed us an 'all in one' wedding programme that included the guest list (with nicknames), hymns and the menu.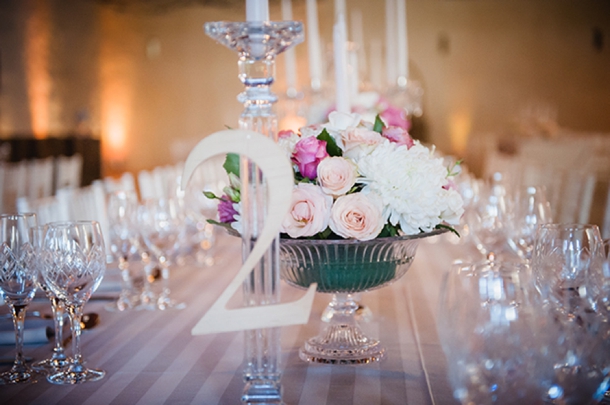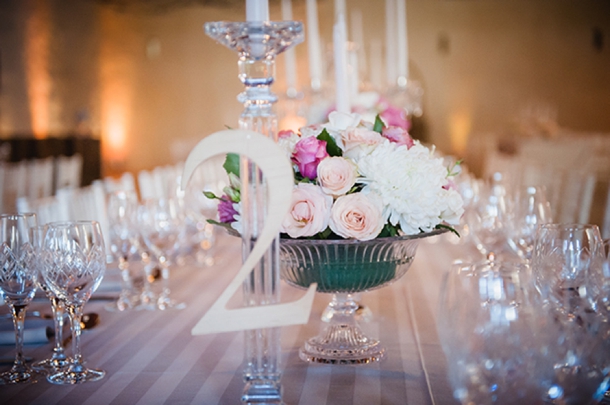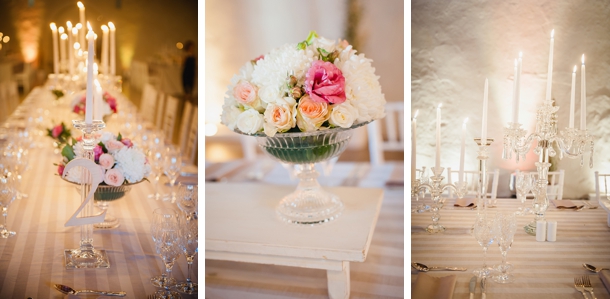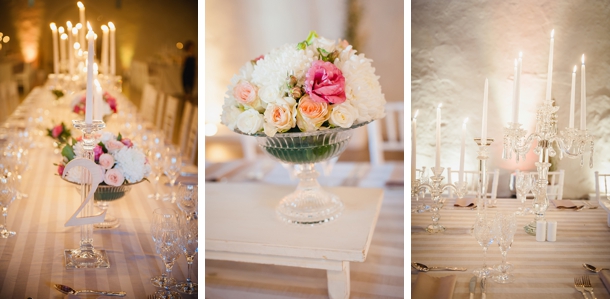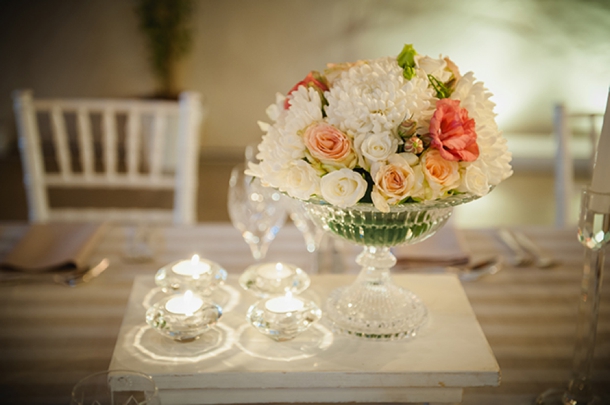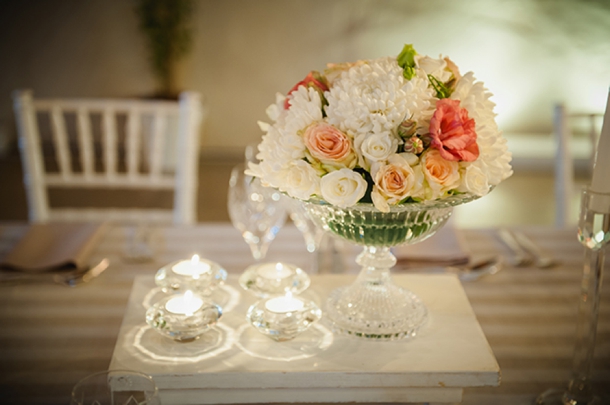 We believed that one of the most important aspects that could make our wedding a memorable experience for all our guests was to ensure the music and food was the best. We chose Baha Entertainment to provide the entertainment for the evening and they did not disappoint. Because our wedding theme was Elegant French, Nooitgedacht offered to personalise our menu and suggested classic French food options such as a variety of cheeses for our canapés and Fillet du Boueff for main course.
Our emotions on the day were very much 'in the moment' – it was all about celebrating our love for one another first, then the importance of everyone coming together and sharing this special day with us, and lastly, the celebration itself – eating, drinking, dancing and laughing together. We were all so happy on the day, and it went down without a glitch. And Carl made the day even more special when he spoiled my bridesmaids and I with a surprise gift of Christian Louboutin heels! He is such a Prince Charming!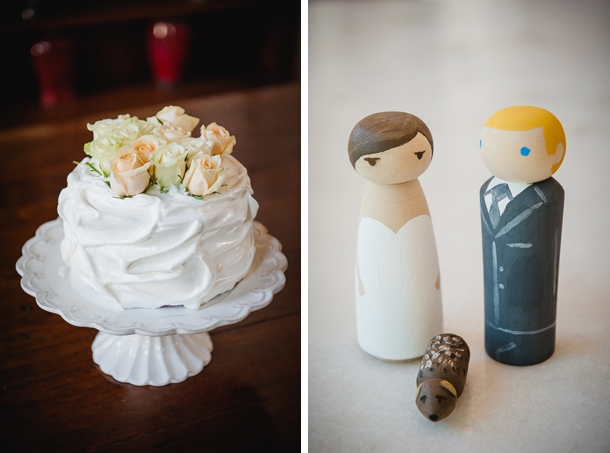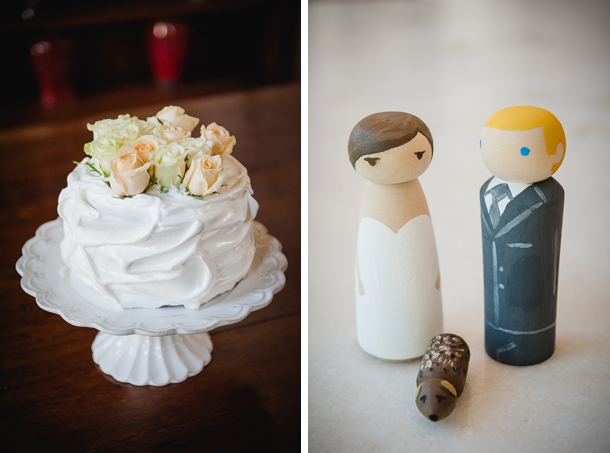 My advice to future brides is to hire the best people you can. We cannot reiterate enough the importance of hiring a highly reputable wedding planner. We were very lucky to have Megan Fleitmann from Mr and Mrs In Love provide us with her wedding planning services – she comes highly recommended. Without her our wedding day would not have been the perfect day we experienced, in fact my husband and I are of the opinion that we would still be delegating to each other if it was not for her proficient, professional and highly proactive planning!
It is every bride's dream to look and feel every bit like a princess bride. I wished to feel transformed on my wedding day and wanted the best makeup and hair stylist in the industry. Merlene Joy and Ida Webster both were highly recommended and after my trial I was confident that my bridal party and I would look and feel our best on my wedding day. Finally, Lauren Kriedemann proved to be the perfect person to capture our special day forever.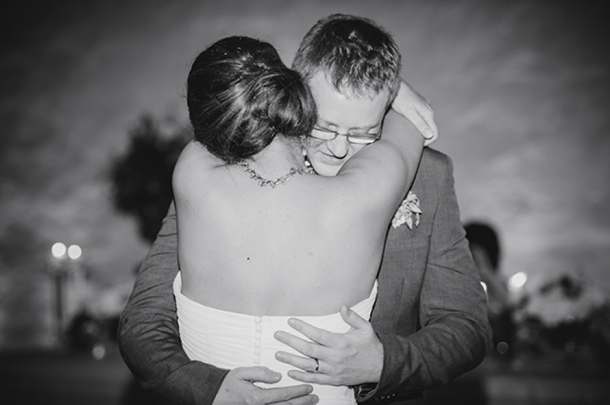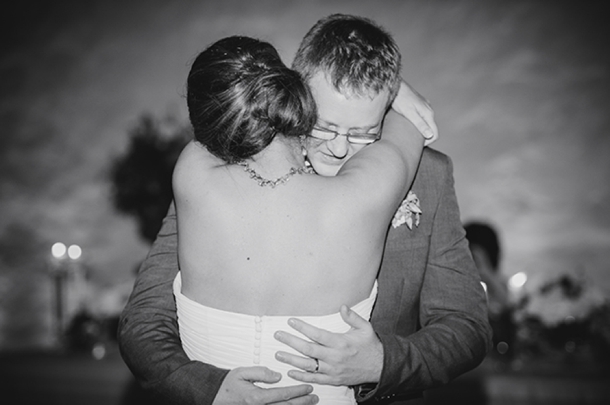 Thank you so much to Carol and Carl, and to their fantastic team of suppliers, for sharing their wedding with us today! You can as always find more from their talented photographer, Lauren Kriedemann, over on her website.
SERVICE PROVIDERS
Venue & catering: Nooitgedacht | Photography: Lauren Kriedemann | Co-ordination & stationery: Megan Fleitmann for Mr & Mrs In Love | Cake: Treat Patisserie | Bride's dress: Blue by Enzoani Casablanca | Bridesmaids' dresses: Bride & Co. | Makeup: Merlene Joy | Hair: Ida Webster | Hiring: My Pretty Vintage | Hiring: Exclusive Hire | Hiring: Hire Co. | DJ & lighting: Baha Entertainment | Keyboard: Pierre-Henri | On the day co-ordination: Jade Customised Events